As there is always room in the market for quality gay gifts, I have created a series of one-of-a-kind watercolour paintings which I have sold to appreciative guyz in the UK and abroad. Below is a sample of my most recent work. None of these paintings is available for sale as they already have happy homes; however, I can create similar pieces upon request. Turn-around time is usually less than a week from the time of order to delivery on your doorstep. I am also very happy to discuss subject matter with you and create your very own masterpiece. E-mail me to place an order or discuss a project.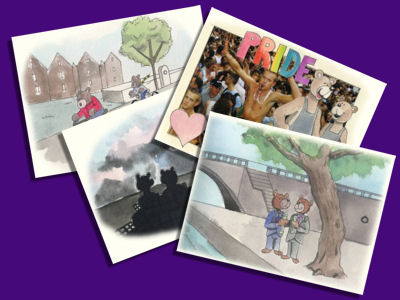 I designed the memory album above for our ninth anniversary. Click the image to see more.
Similar commisions can be undertaken
Each painting is rendered in watercolour and ink on 8.5 X 11" (A4) Bockingford 300g/m2 (140 lb) quality paper. Prices vary upon complexity of design. Postage usually costs £2 in the UK for first class, $6 air mail to the USA. Will ship worldwide and payment is accepted via PayPal, cheque, postal order, or an agreed amount of good quality chocolate.

Camp Counsellor
Similar pieces cost £15 ($28 US dollars).

Click for detail

Ahoy Boy
Similar pieces cost £15 ($28 US dollars).

Camp Cowboy
Similar piece costs £15 ($28 US dollars)

Click for detail

Pool Boy
Similar piece costs £15 ($28 US dollars)

Camp Kilt
Similar piece costs £15 ($28 US dollars)

Click for detail

Seaman on the Sofa
Similar piece costs £15 ($28 US dollars)

Surfers
Similar piece costs £25 ($46 US dollars)

Click for detail

Nice Tackle
Similar piece costs £20 ($37 US dollars)

Pink Wedding
Similar piece costs £20 ($37 US dollars)

Click for detail

Happy Couple
Similar piece costs £25 ($46 US dollars)

Click for detail

Chip Ahoy!
Similar pieces cost £20 ($37 US dollars).

Heaven & Hell
Similar pieces cost £25 ($46 US dollars).

Cutting the Cake
Similar piece costs £25 ($46 US dollars)

Builder
Similar pieces cost £20 ($37 US dollars).

Fireman
Similar pieces cost £20 ($37 US dollars).

Naked Chef
Similar pieces cost £20 ($37 US dollars).

Over the Threshold
Similar piece costs £25 ($46 US dollars)

Getting Ready
Similar piece costs £25 ($46 US dollars)