In April, 2000, I performed in "Cabaret". The show was quite a success for all involved and I enjoyed getting into the character of Herr Schultz,, the sympathetic Jewish fruit-seller who has a doomed relationship with German landlady, Fraulein Schneider. Many friends, pupils, and my Loved One came to see the show, and that made it a lot of fun each evening.
Review from The Daily Echo

ATMOSPHERIC PRODUCTION

There are some chilling moments in Cabaret as the Swastikas unfurl over the decadent world of 1920s Berlin.

The society catches the menace well in their polished production .
In the Kit Kat Club the girls are suitably seedy, genders are confused and the MC's songs comment on the dark side of life. As the Hitler Youth distribute their propaganda among the guests the threat of Nazism builds.

The singing is powerful but most striking is the acting strength of this company. The gentle middle-aged romance between Fraulein Schneider and Herr Schultz is played movingly by Monica Charlesworth and George What's-his-name. David Curtis as Cliff Bradshaw convinces as the American drawn in but never totally enveloped by the evil around him.
Excellent choreography, clear direction and a real sense of atmosphere combine to make this a very enjoyable evening.
Barbara Hart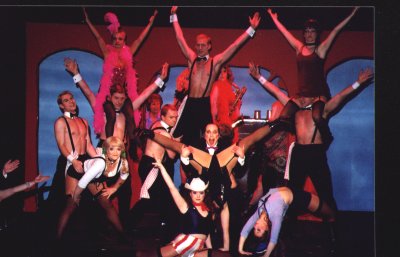 Wilkommen im Cabaret! (I'm not in this shot, but doesn't it look fun!)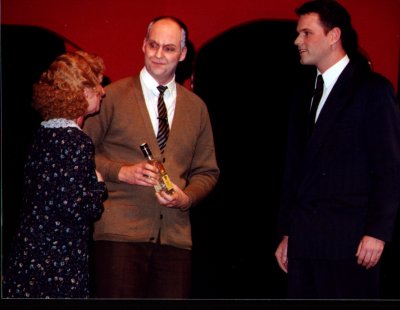 I offer schnapps to Fraulein Schneider. Cliff looks lustfully on.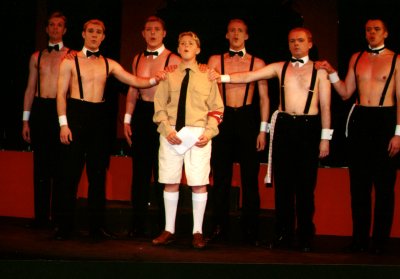 The wardrobe department saved a fortune on the waiters' costumes. Here they sing "Tomorrow Belongs to Me".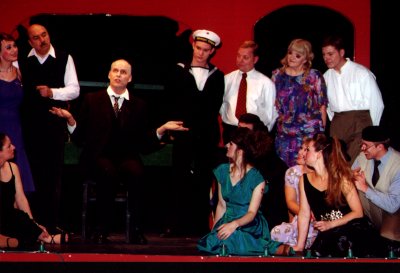 My big party piece: the "Meeskeit" song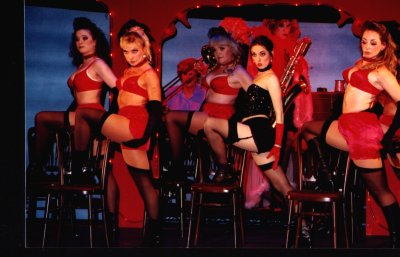 Sally Bowles and the Kit Kat girls sing "Don't Tell Mama".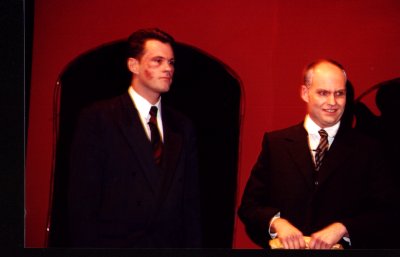 A bruised and battered Cliff says goodbye to Herr Schultz.