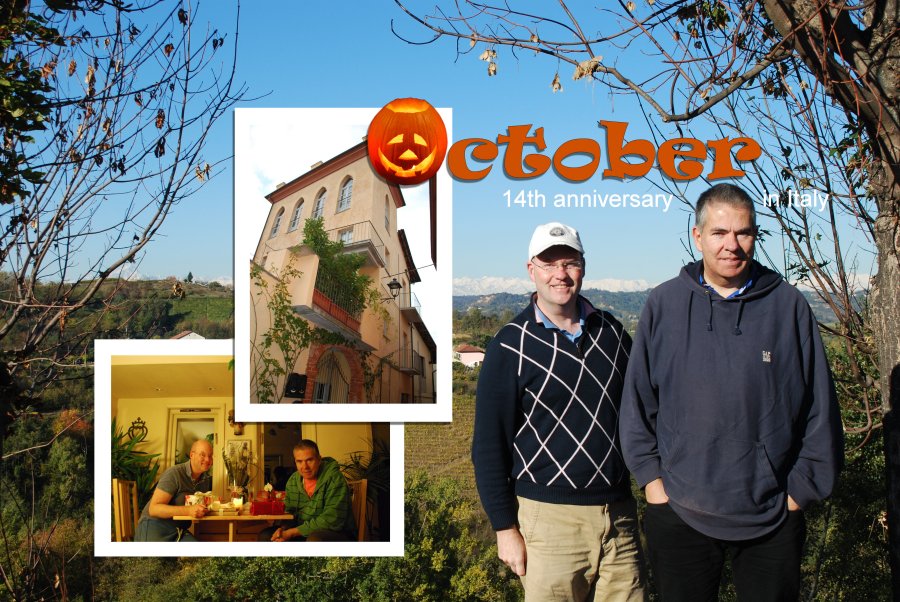 We celebrated our 14th (ivory) anniversary by staying in a tower in northern Italy. We visited this area in 2008 and more recently in 2017. Click HERE to see last year's anniversary in Venice.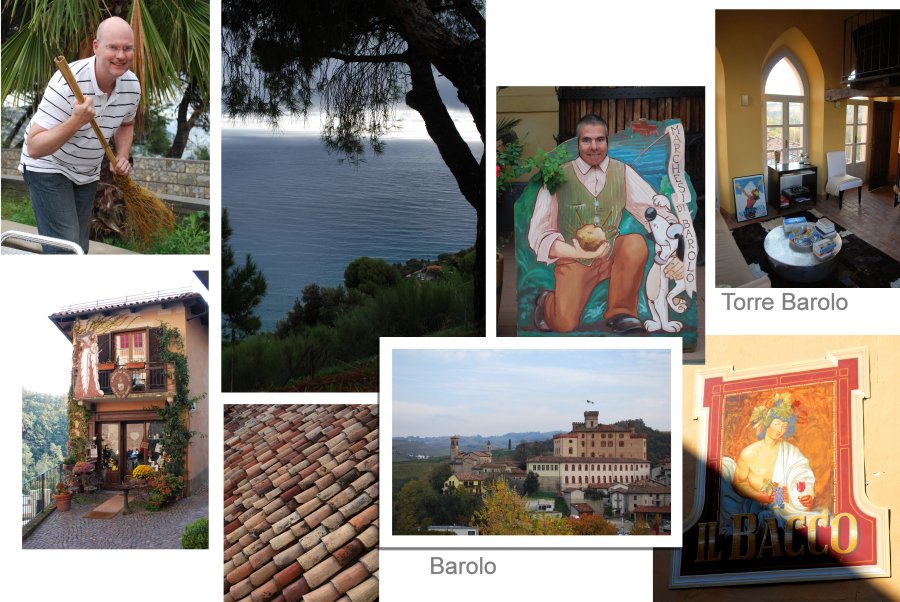 After stopping for lunch on the coast, we arrived in Barolo for the start of our week long holiday. The town is home of one of Italy's finest wines.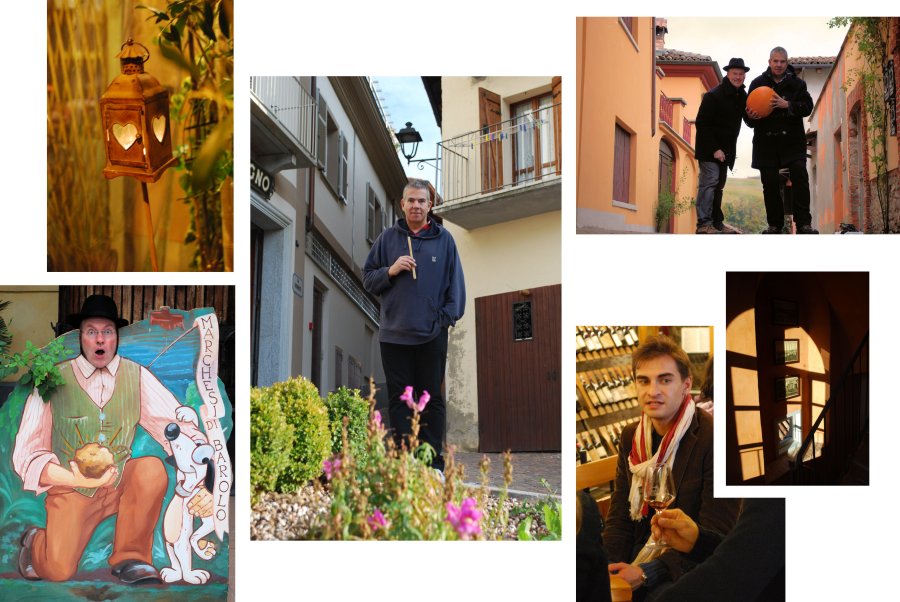 Our tower was conveniently located near the castle, shops, wine tastings, an open air market, and a bakery where breadsticks are made.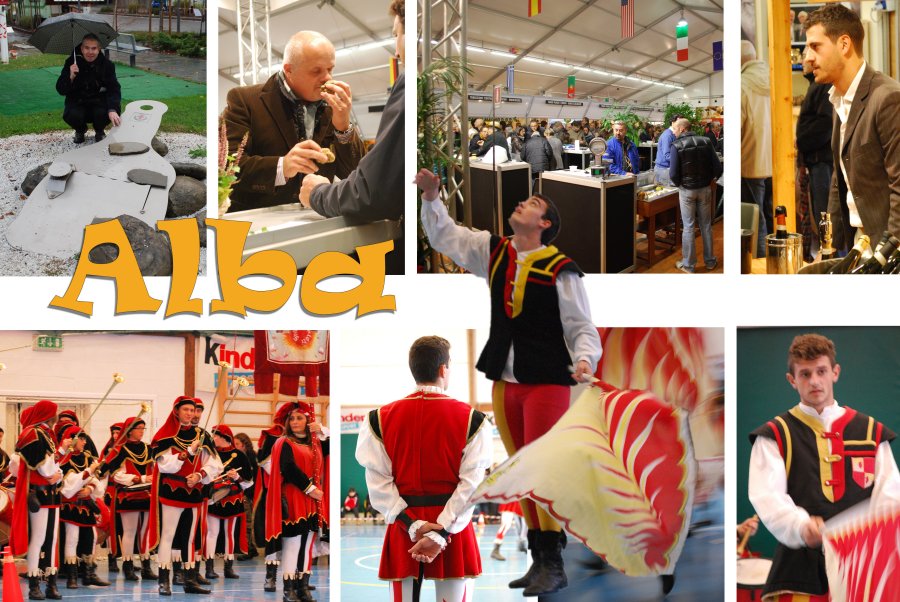 We visited the world famous truffle fair in Alba and bought a 200 Euro white truffle. We also saw the flag tossing competition, indoors because of the rain.

Back home, we prepared several meals using our truffle. As it was Halloween, George carved a pumpkin, which we displayed on the roof one day.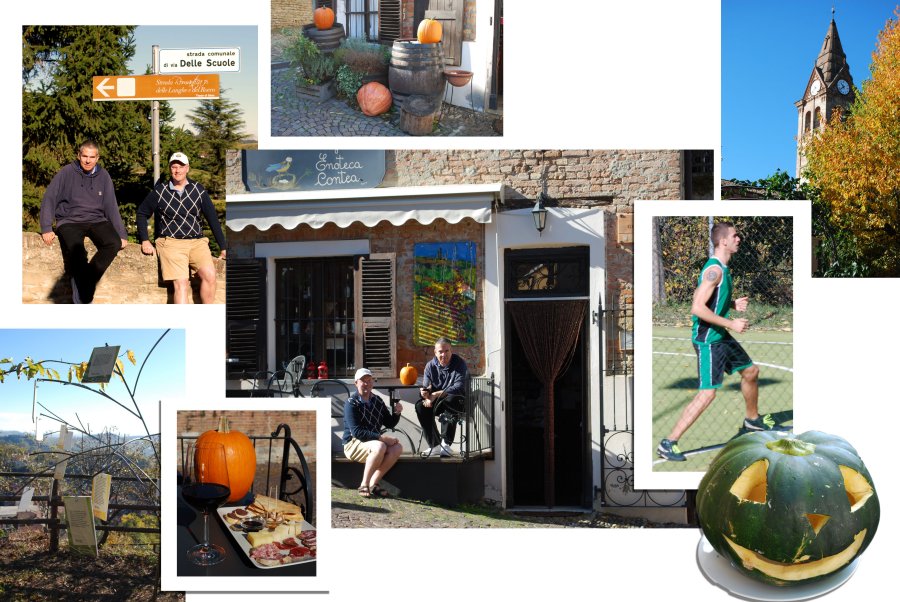 The Strada Romantica was a fantastic day out, taking us through lots of little villages. In Neive, we enjoyed wine, cheese, and salami in the sunshine.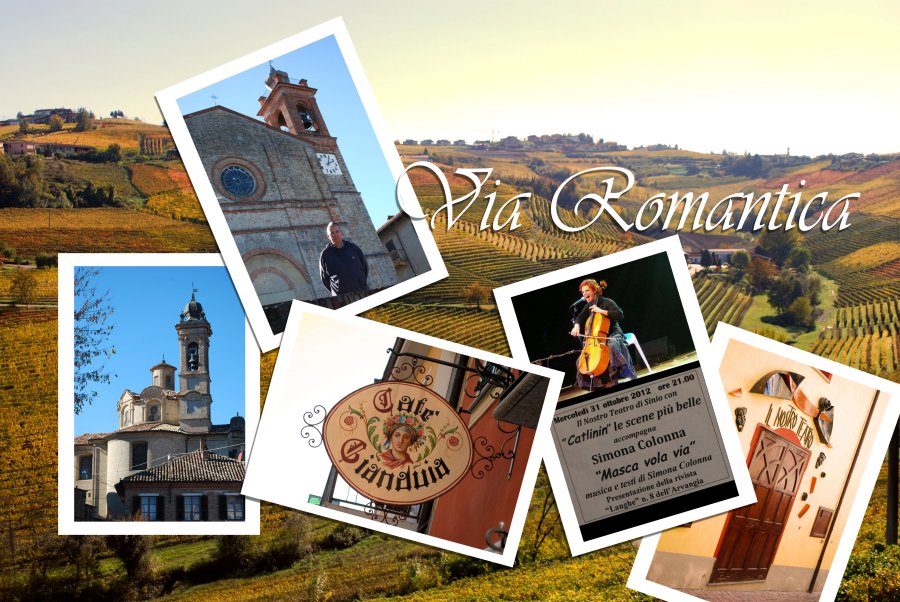 We attended an incomprehensible amateur dramatic production in Sinio, which featured the terrific Simona Colonna, singing and playing songs about the local witches (masca).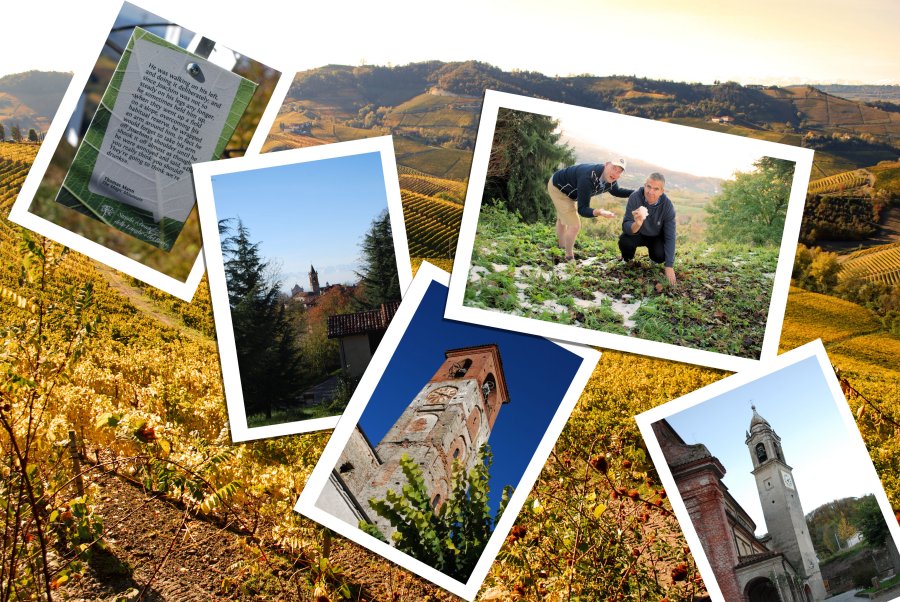 Hanging on wire trees along the Strada Romanica were excerpts of literature and poetry to enjoy. We also encountered snow on our outing!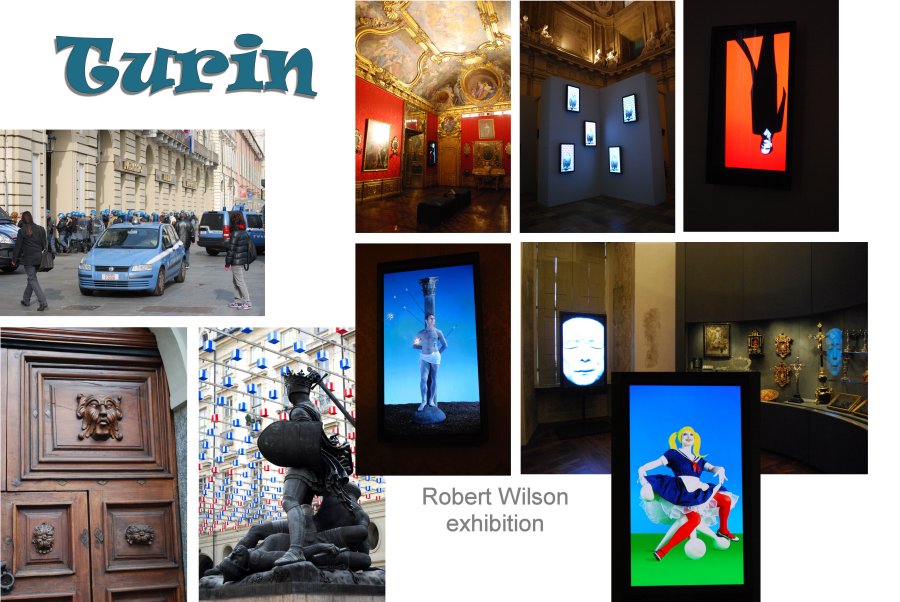 During our day trip to Torino (Turin), we encountered a police riot and Robert Wilson's video installation featuring mostly still or slow moving celebrities. Above are Mariane Faithfull as a bat, Baryshnikov as St. Sebastian, and Isabella Rosellini as a speeded-up manga girl.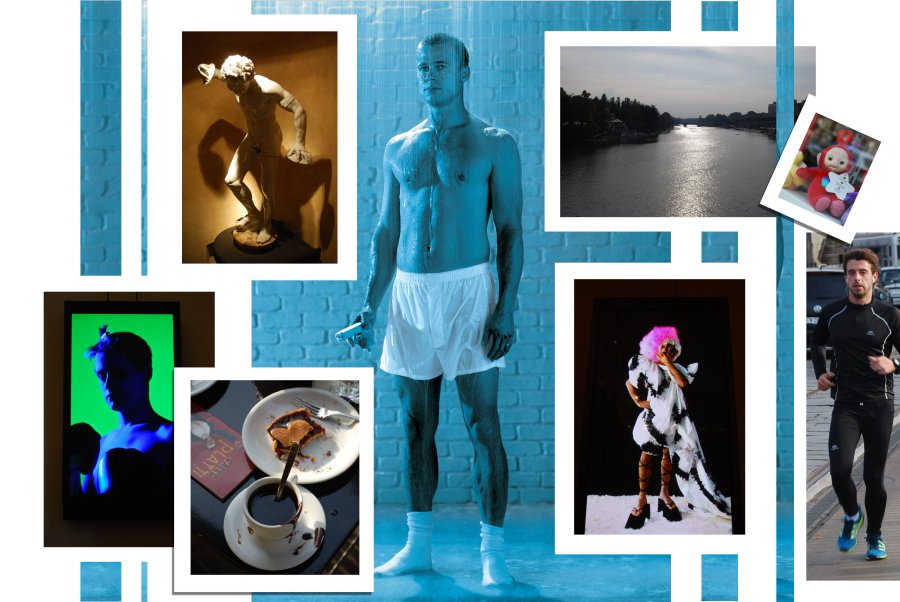 (clockwise) McCaulay Culkin boxing, a statue with shadows, the River Po, the Teletubby Po, a jogger, Alan Cumming eating a Reece's cup, the best chocolate I've ever tasted, and Brad Pitt in wet boxer shorts.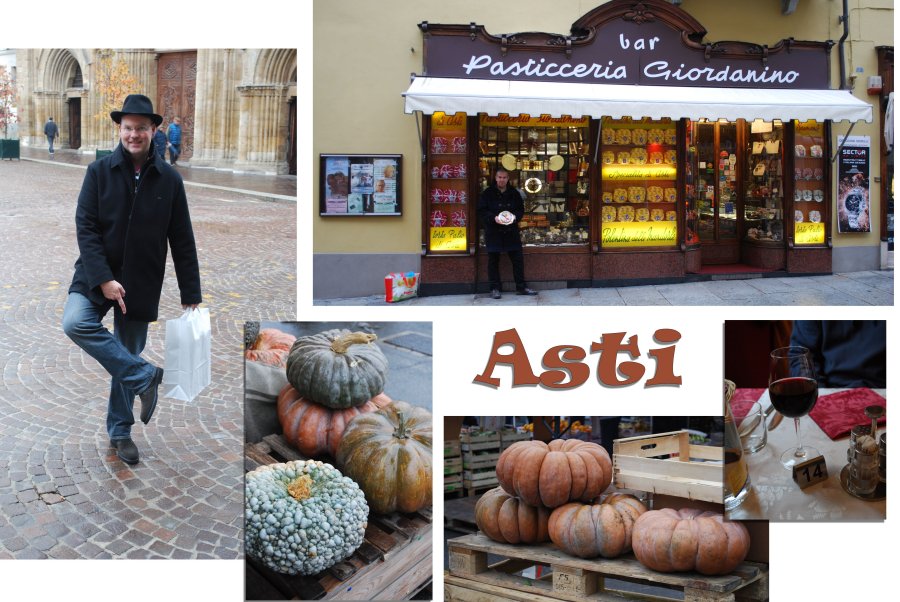 We went to the farmers' market in Asti, bought pumpkin cake at the famous Pasticceria Giordanino, and sat at table number 14 by chance at lunch. George bought new Italian shoes.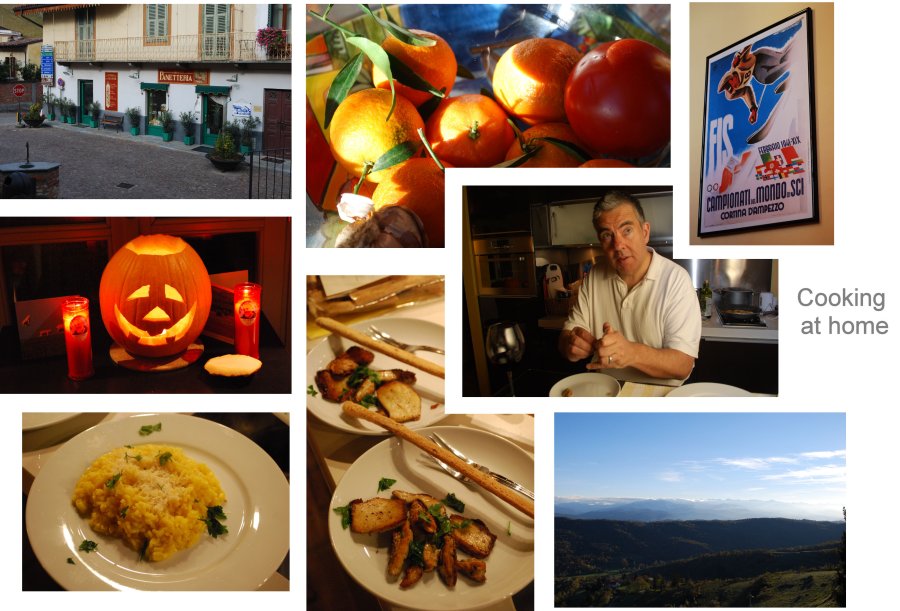 Scenes from Barolo (above): the bakery, our fruitbowl, the tower's Nazi propaganda poster, Nick preparing truffles, fried porcini, risotto Milanese with homemade stock using chicken from the local butcher, and our pumpkin, surrounded by saint candles and anniversary cards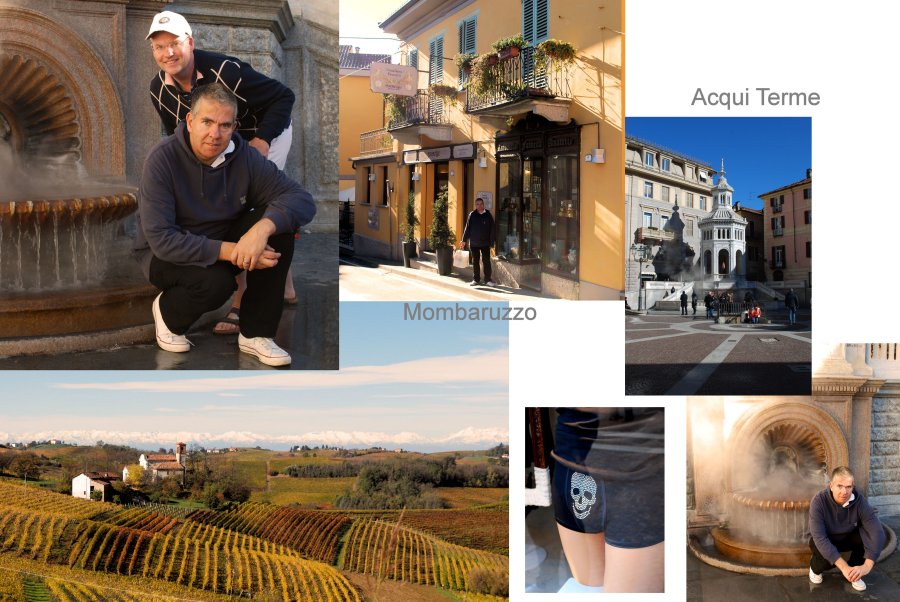 We stayed in Mombaruzzo in 2008 and wanted to return there to buy the town's specialty, soft amaretti. We also re-visited Acqui Terme and ended up eating at the exact same restaurant for lunch we chose four years ago.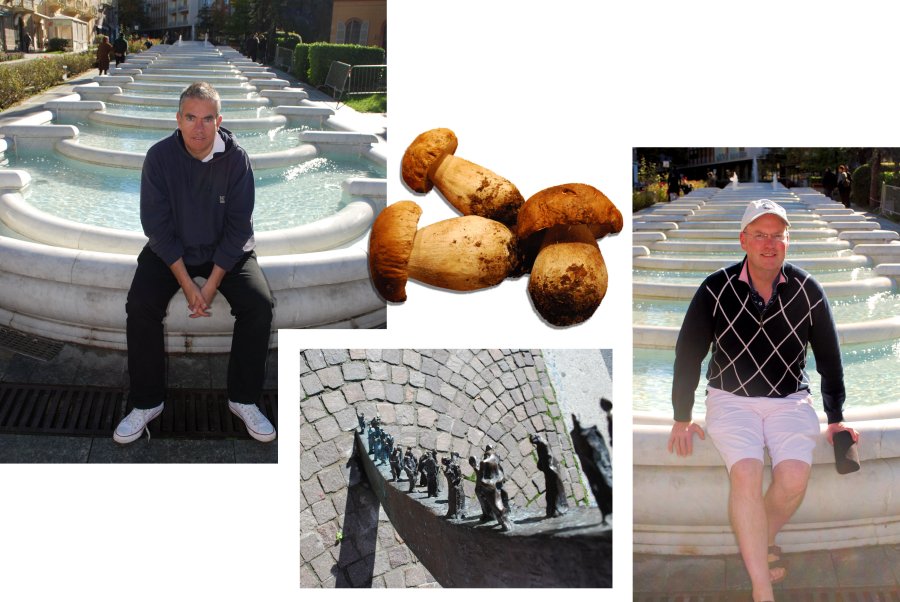 Above, in Acqui Terme and the porcini we bought in Asti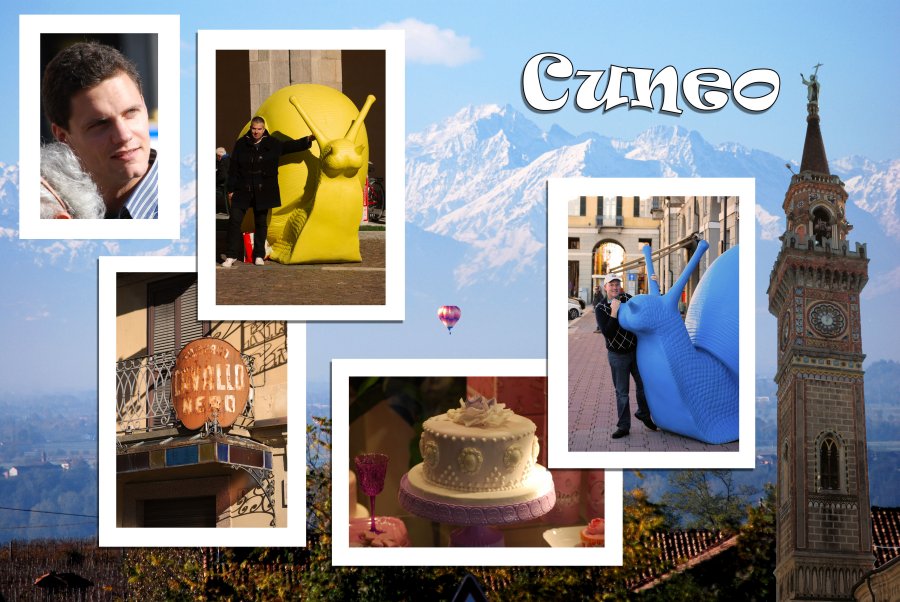 Cuneo must be the home of the slow food movement. It is at least home of lots of giant plastic sculptures. The mountains on the way into town were breathtaking.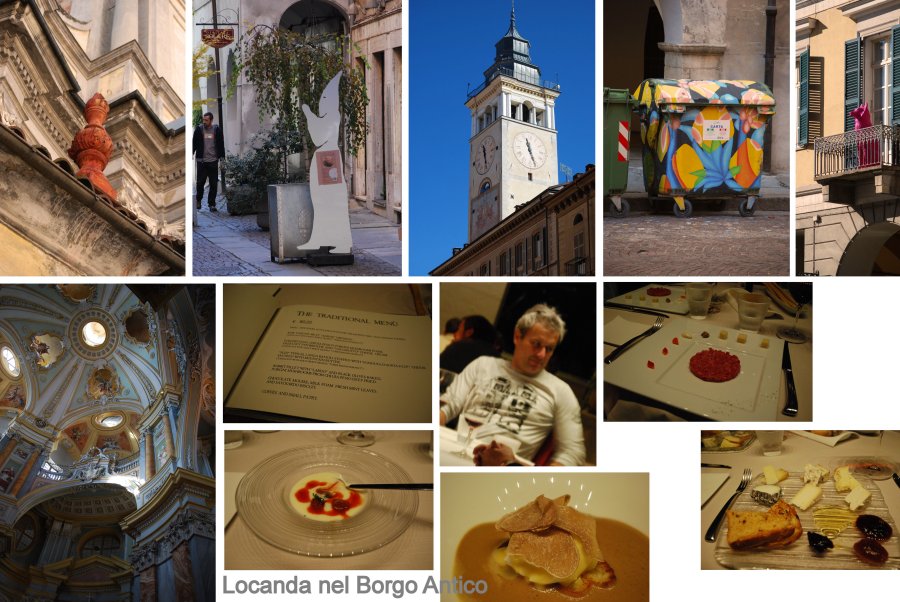 Above, more Cuneo, a baroque church in Bra, and the most expensive meal we've ever eaten (over 400 Euros) at Locanda nel Borgo Antico. Worth every penny! We had white truffles shaved over two courses and a wonderful wine paired with each dish. By the cheese plate, I was too full to finish.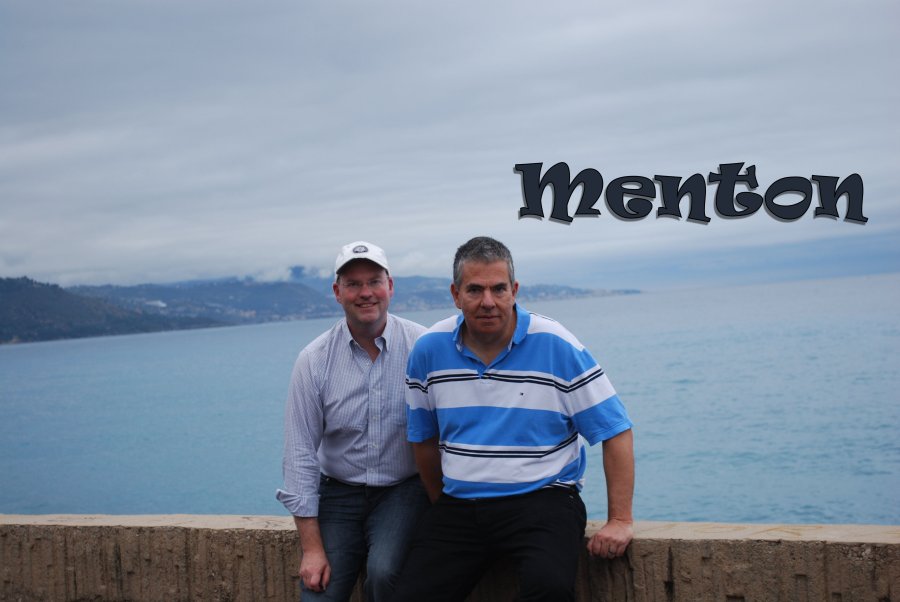 We returned to Menton for a night on our way back to England. We were here last in 2006. What fun to discover a new Cocteau museum! Click HERE to see our summer visit to his house outside Paris.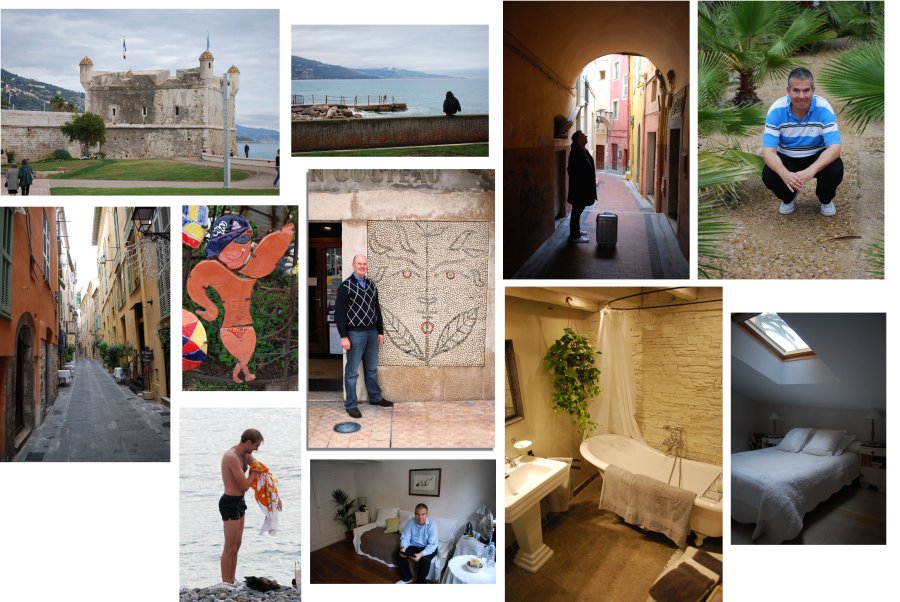 We stayed at La Petite Maison, one of the most wonderful surprises ever, hidden away behind graffiti covered walls, it was a quiet oasis and a relaxing way to end our trip.