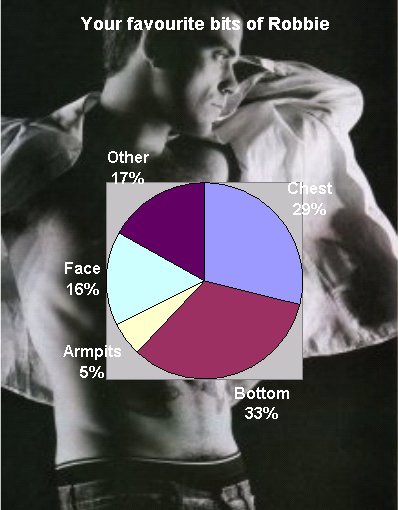 The results of a survey recently posted on our website are pictured (left). Robbie's bottom was the clear winner for favourite body part, followed closely by chest. When asked to specify which part the 17% "other" preferred, the results were overwhelmingly obscene!

What gift would you give Robbie for his birthday?

When asked this on February 13th, our site visitors showed their naughty sides by giving answers I can't possibly publish here; however, a sample of the others are:

Myself
A home cooked meal and a saucy night in
Love
The keys to my home
Kiss from me
A journey to Ibiza
A family
Chocolate
True love
I'm sure that Robbie would be pleased. Happy birthday, Robbie.