George's birthday comes but once a year, but we celebrate it for a week or more! Click HERE for last year's birthday and HERE for our last Paris trip.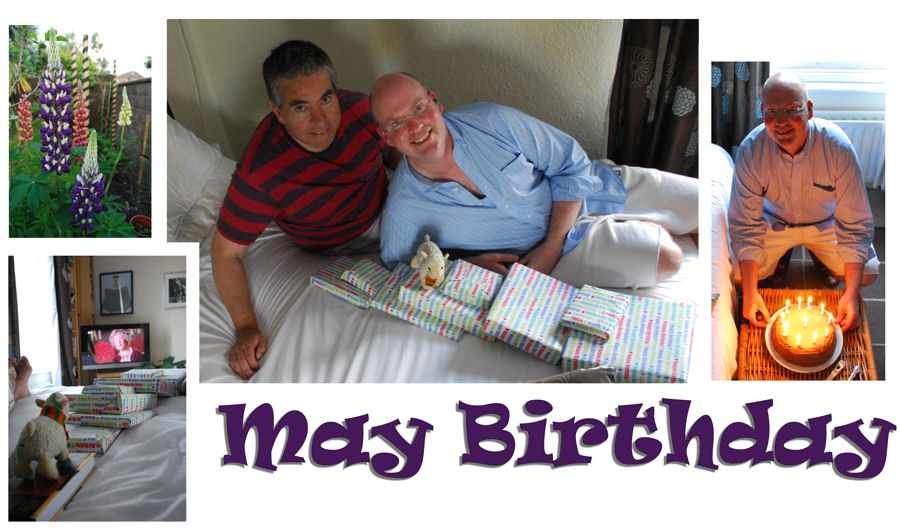 Above: lupins in the garden, and an array of gifts, including Nigella Lawson's Chocolate Guinness cake, made by Nick. The Sheep watches Marple.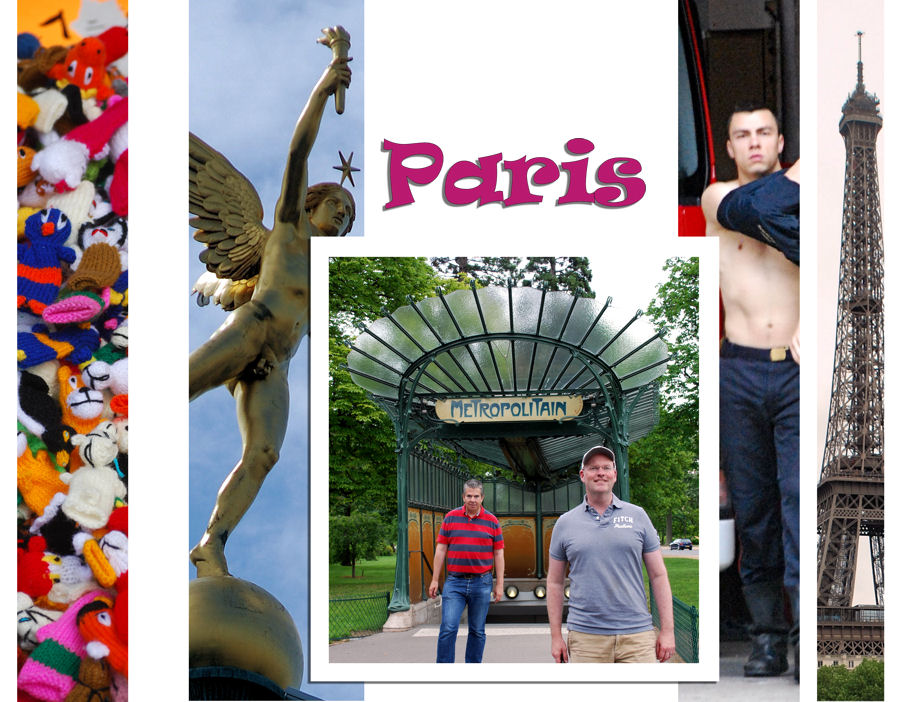 We looked forward to our return trip to Paris for months! Spring weather, cute firemen, what's not to love?
Our handy guidebook, Secret Paris, took us to all sorts of hidden courtyards and unexpected sights.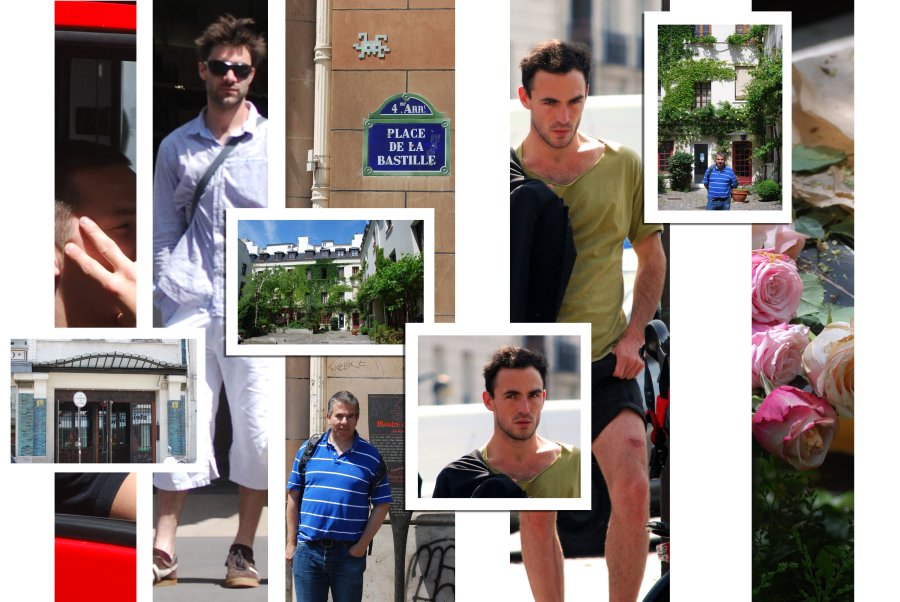 For years, I've photographed Invader's mosaic artwork in European cities. This trip to Paris revealed loads of new ones!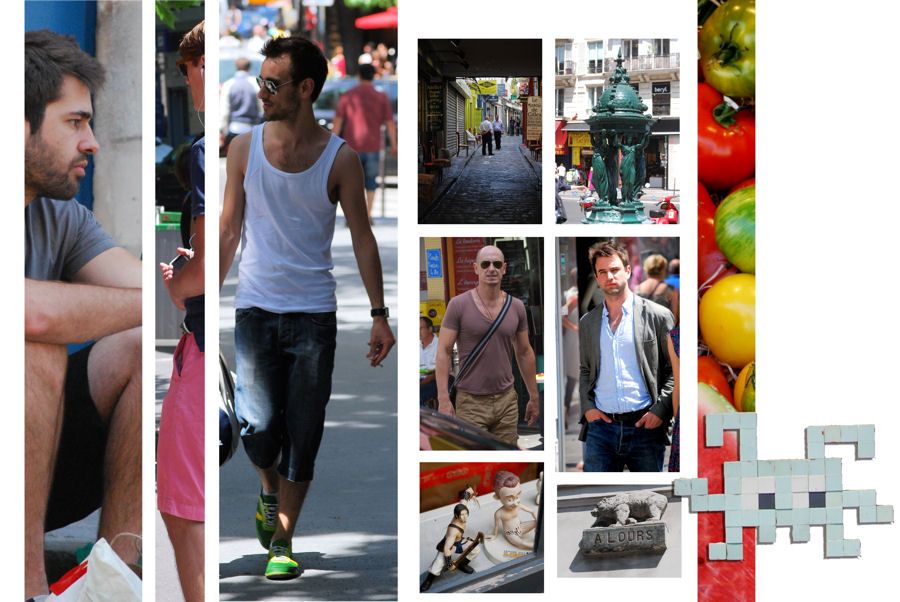 On this trip, we became aware of the huge number of Art Nouveau structures, edifices, and metro stops by Hector Guimard.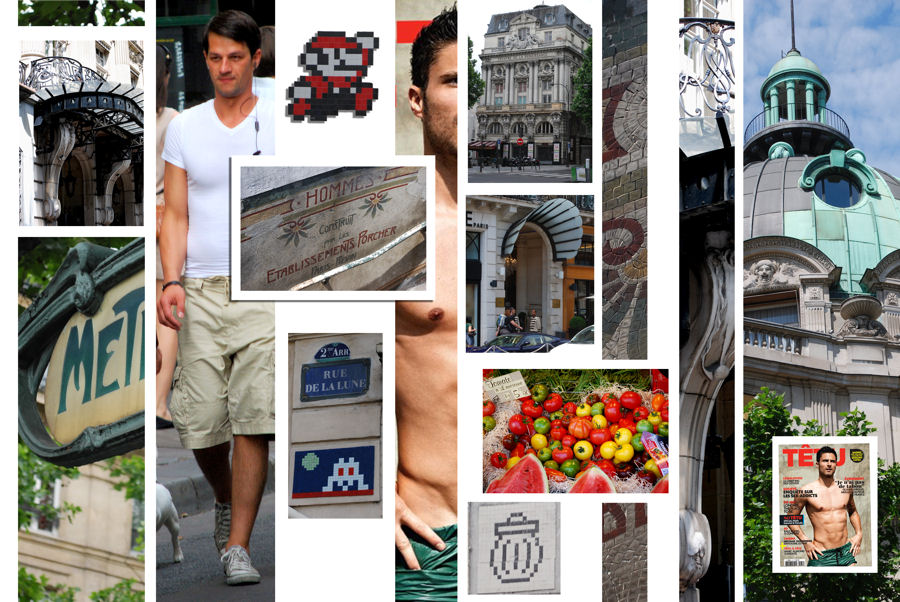 Everywhere Tetu magazine was displayed, it was next to a photo of the Pope. Below, we enjoyed a fantastic tasting meal at Le Gaigne, including little savoury gingerbread amuses bouche, courgette and artichoke salad, monkfish, and raspberry and rhubarb Baked Alaska. Next day, we breakfasted on food bought at the Bastille Market, the largest in Paris.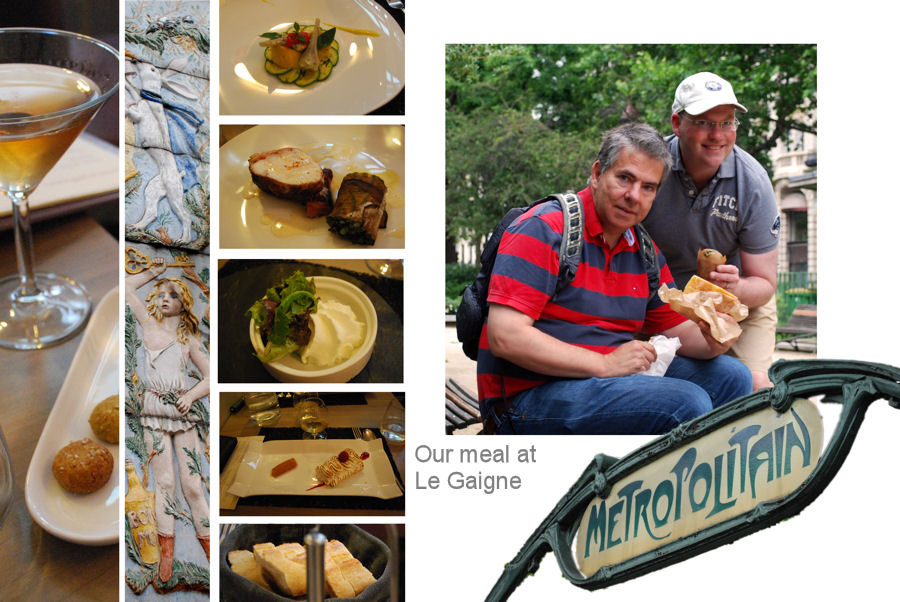 Mon Dieu! We struck gold when walking through the Marais area. Suddenly scores of cute firemen emerged to admire their new fire engine.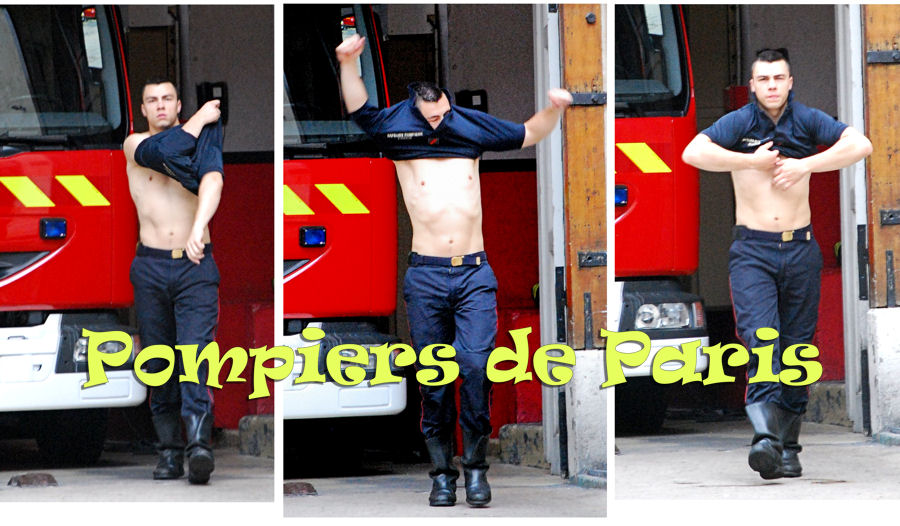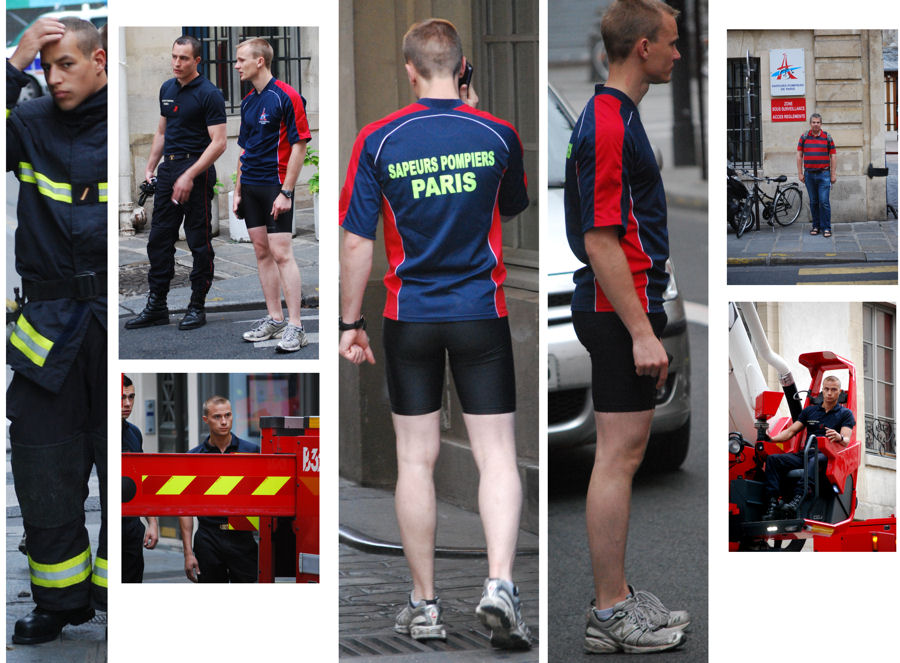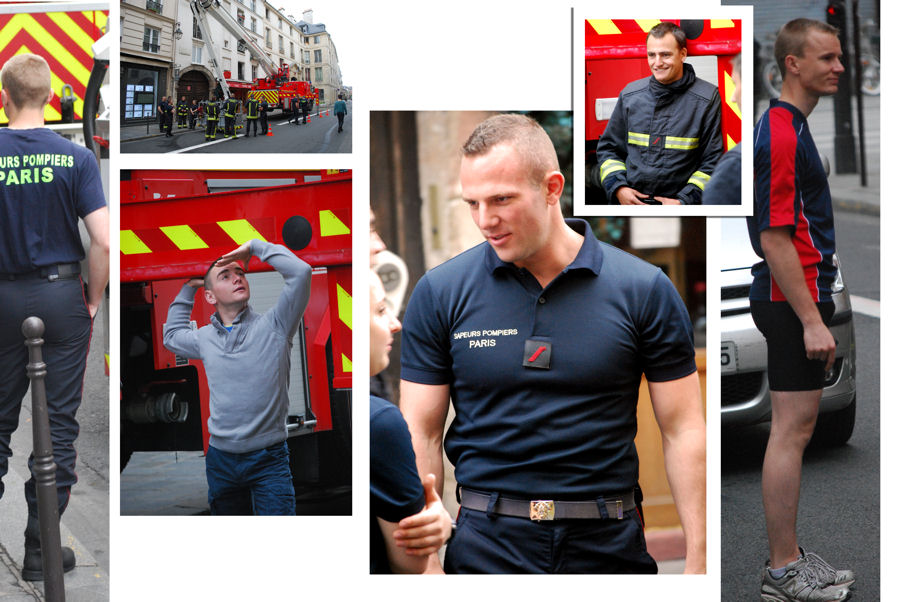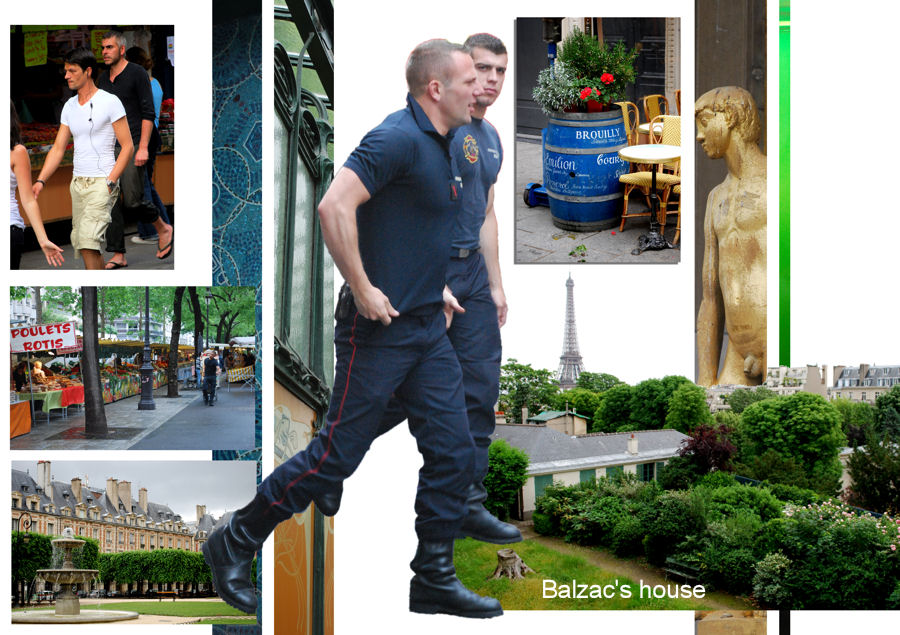 The Musée du Vin was another recommendation from Secret Paris.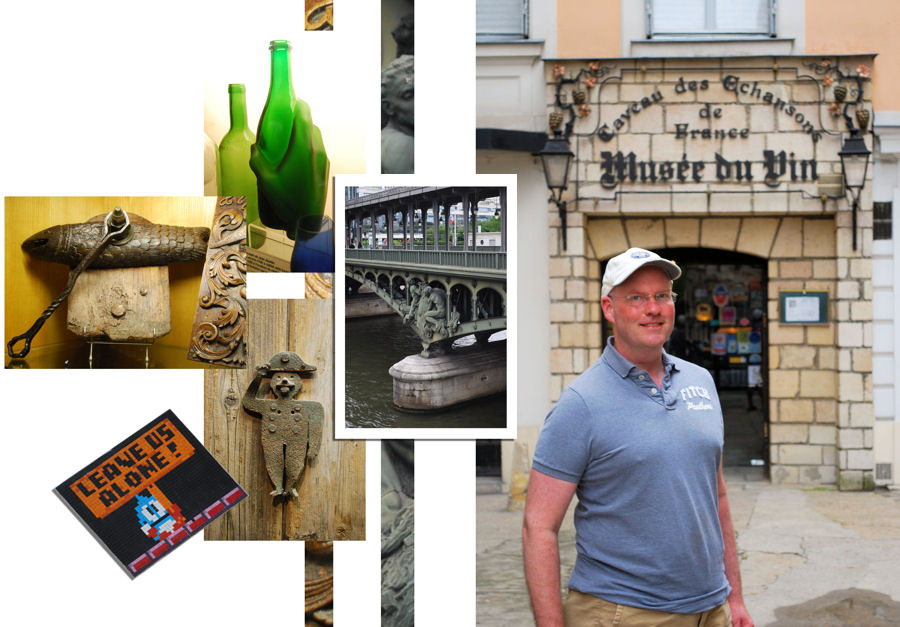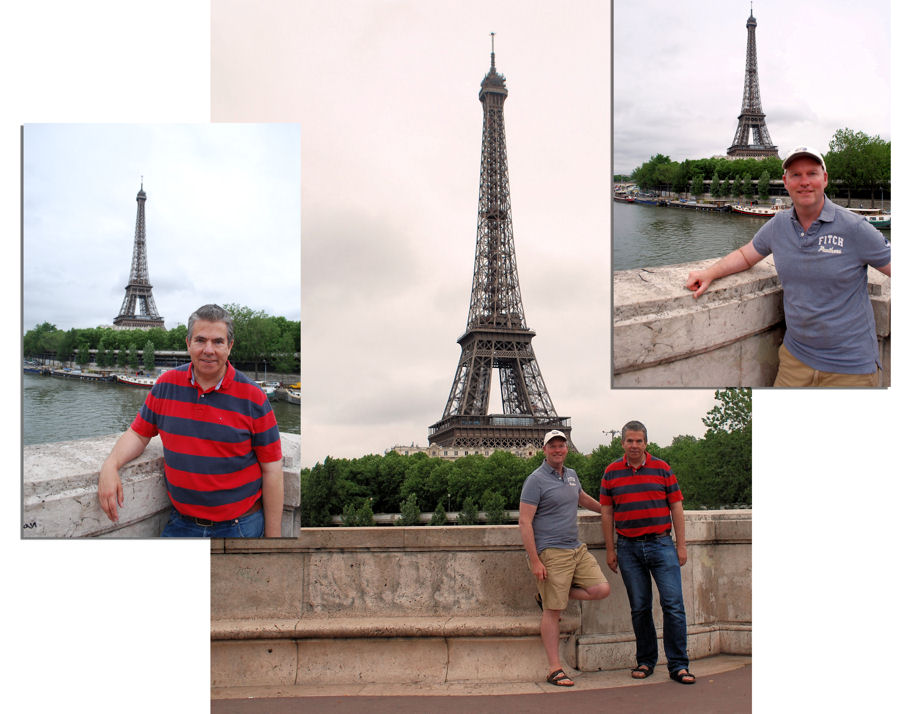 Below, Hector Guimard's "Dragonfly" metro stop at Port-Dauphine (note the cute jogger superimposed to the left).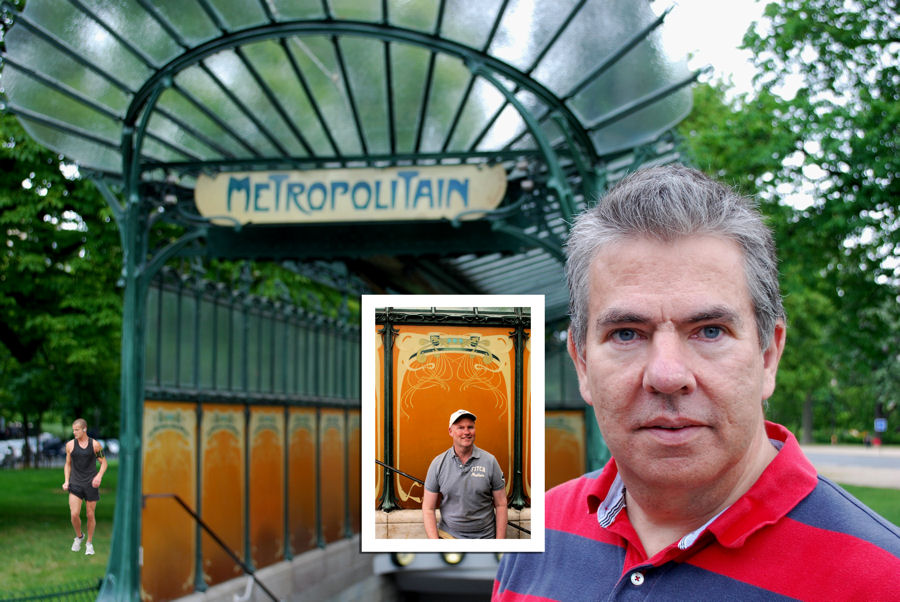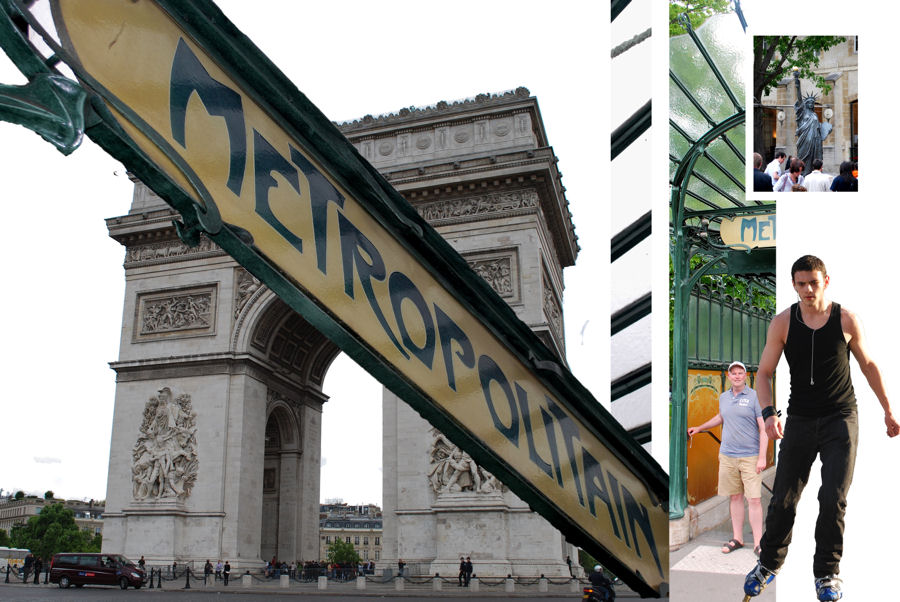 Below, the masks showed up on walls, much like Invader's work. Also, I love the way that French people stop to eat, no matter what their job or class.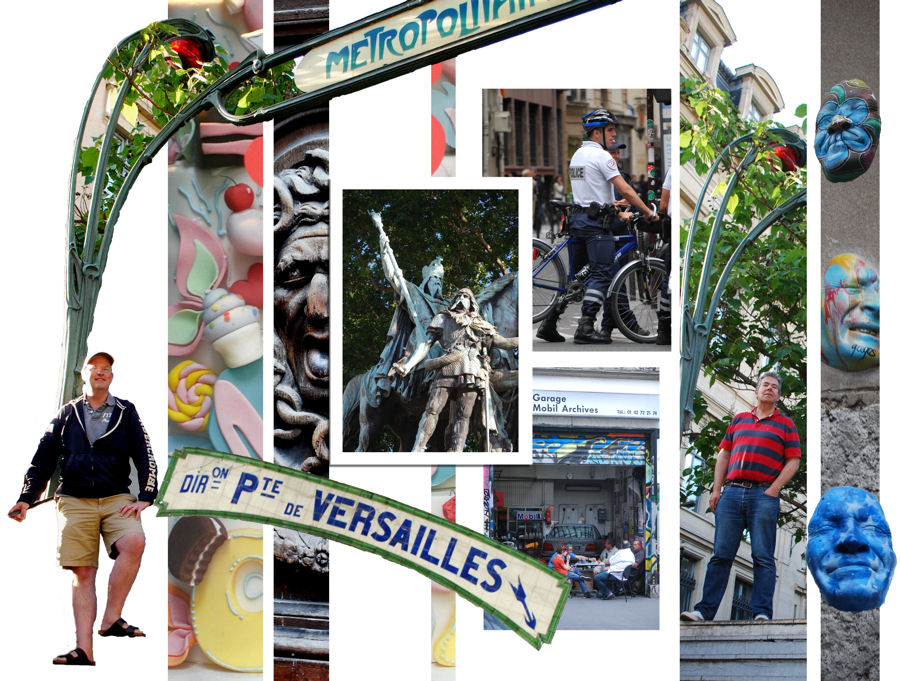 Below is our special bench on the Ile St Louis. We have had a champagne picnic there on every trip to France, including our Wedding Day in 2007.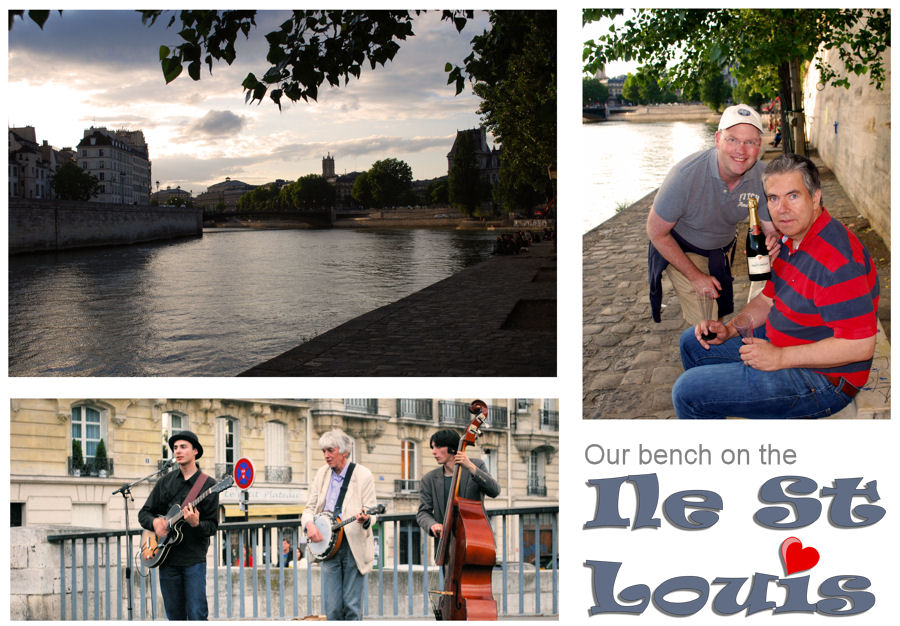 Below, Nick at the Pompidou. We explored Montmartre, focusing on Avenue Juno and Rue Lepic. We saw the Moulin des Gallettes, ate an ideal breakfast on the Rue Caulaincourt, and admired the house designed by Adolf Loos.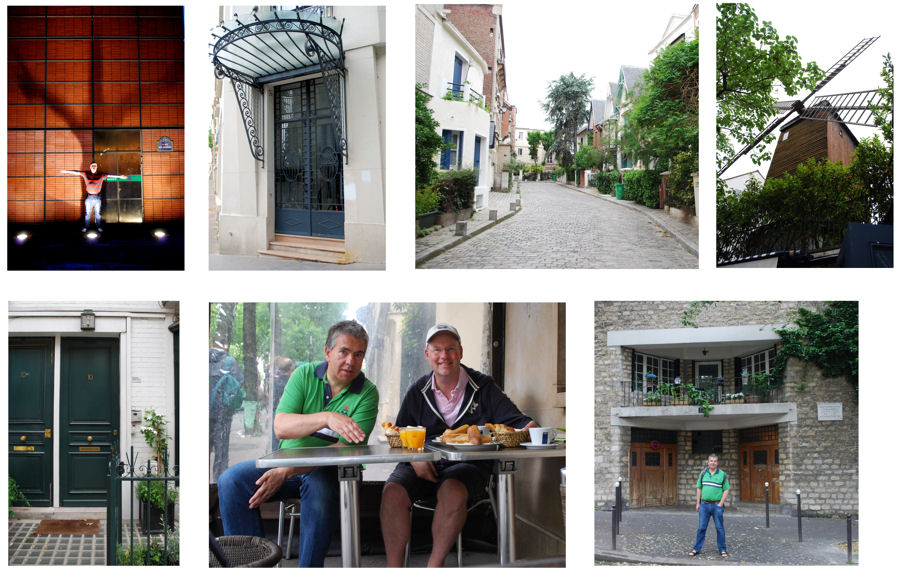 Below, medieval-style woodwork and two unexpected courtyards right off the bustline Boulevard de Clichy, including the Cité du Midi, with its public baths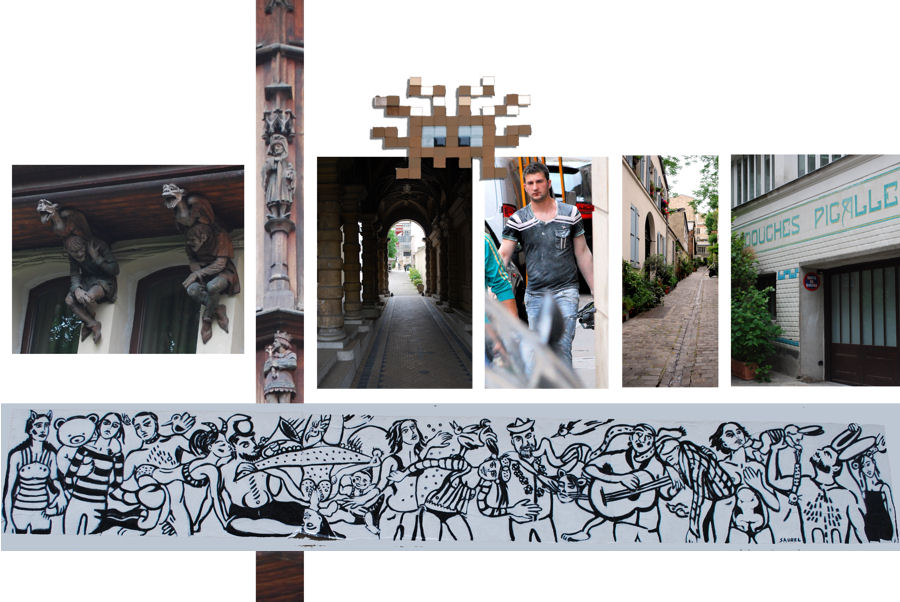 Below, wonderful faience panels depicting scenes from childhood, mostly by Francisque Poulbot in 1910 (plus a cute baker and another Space Invader)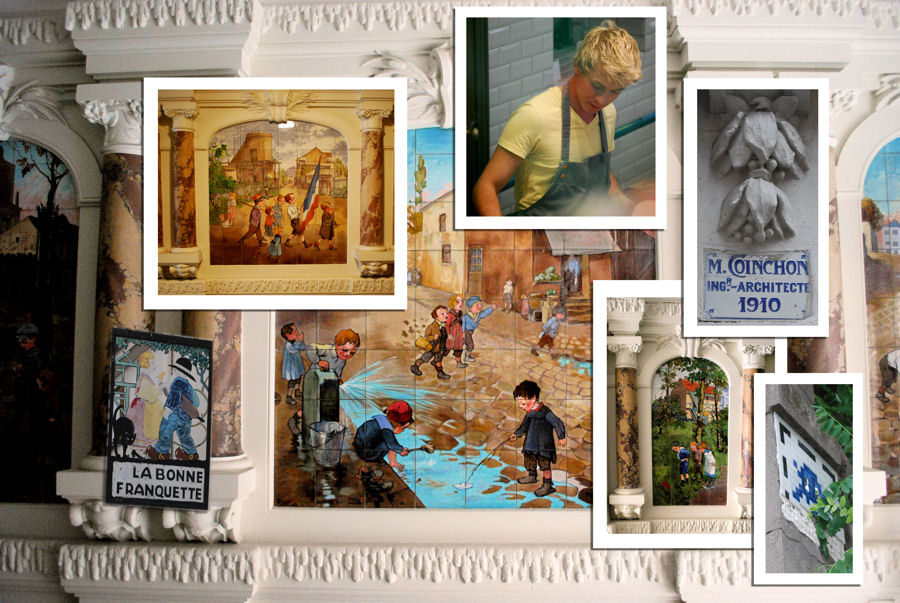 Below, we finally went to the Musée de Montmartre, which gave us splendid access to the famous vineyard. The house, once used by Renoir, Van Gogh, and Satie, is the oldests in Montmartre.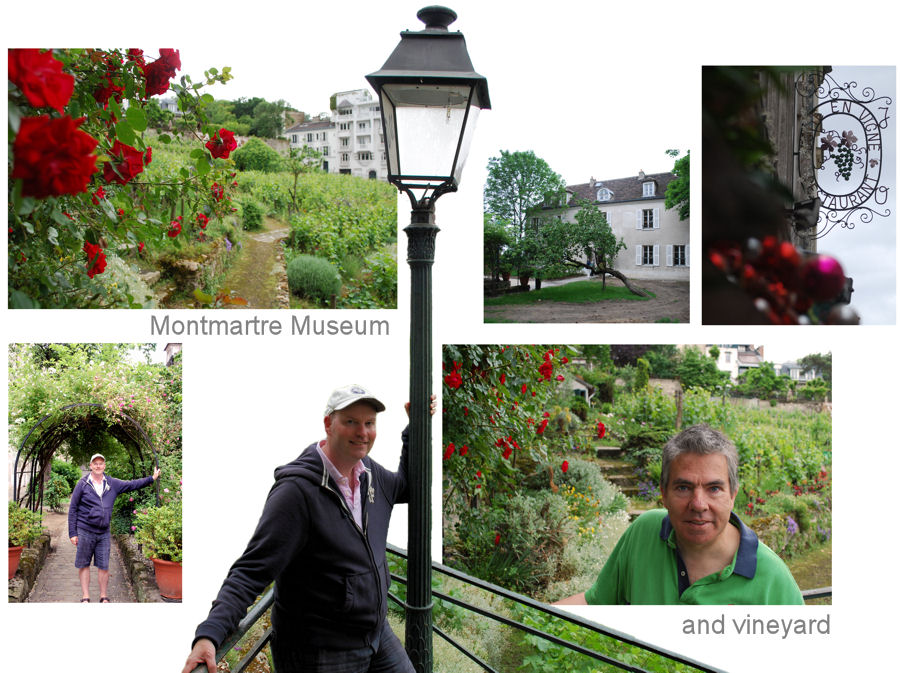 Below, we ate lunch at the quaint La Maison Rose and took photos at the Lapin Agile, once painted by Picasso and written about in a play by Steve Martin.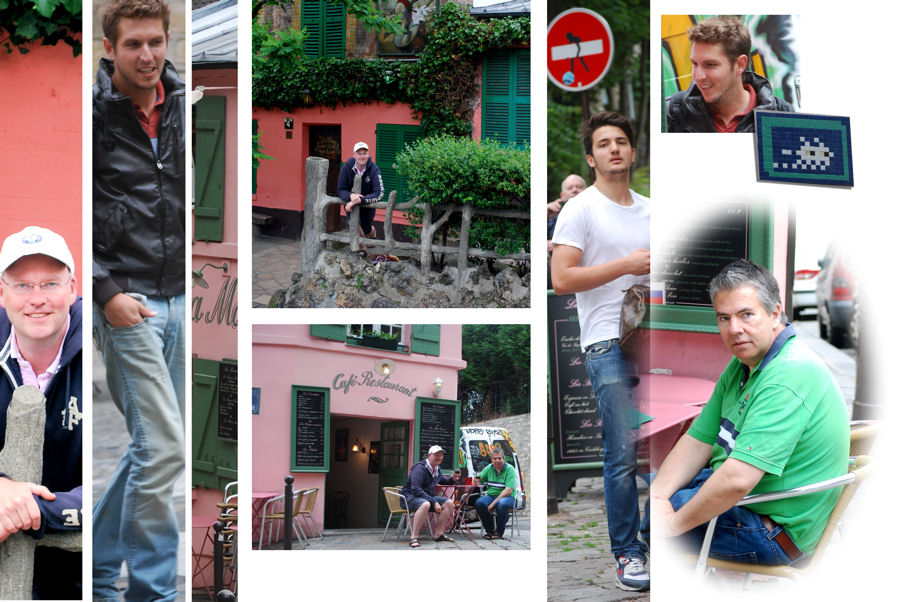 Below: What luck! Even more firemen, Space Invaders, and Tintin, hanged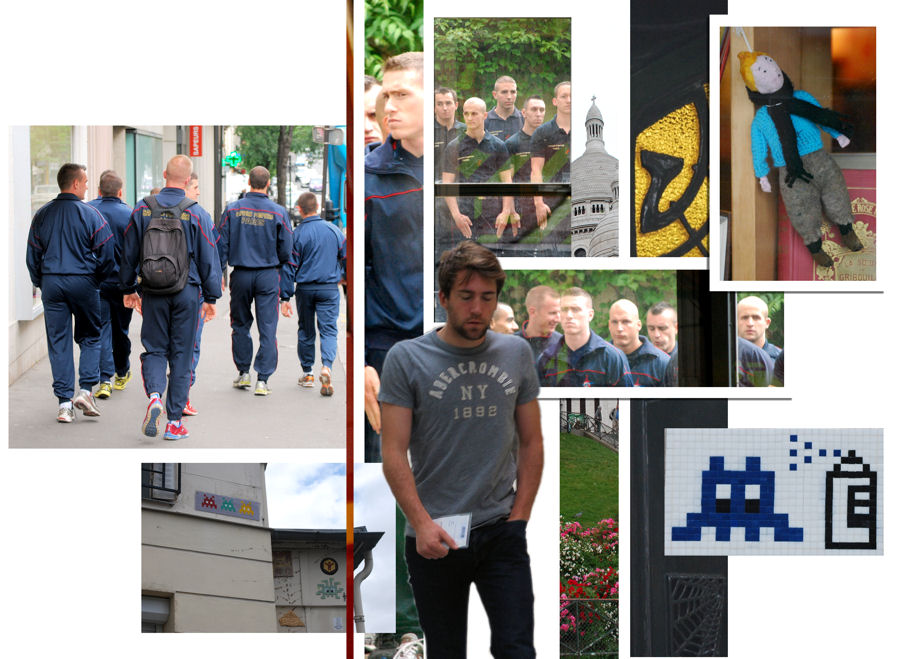 Trip Advisor led us to Marguerite - we went there a day early, mistaking our reservation for Le Gaigne - where I had the best steak of my life. The molten chocolate pudding with sharp raspberry sorbet was also amazing.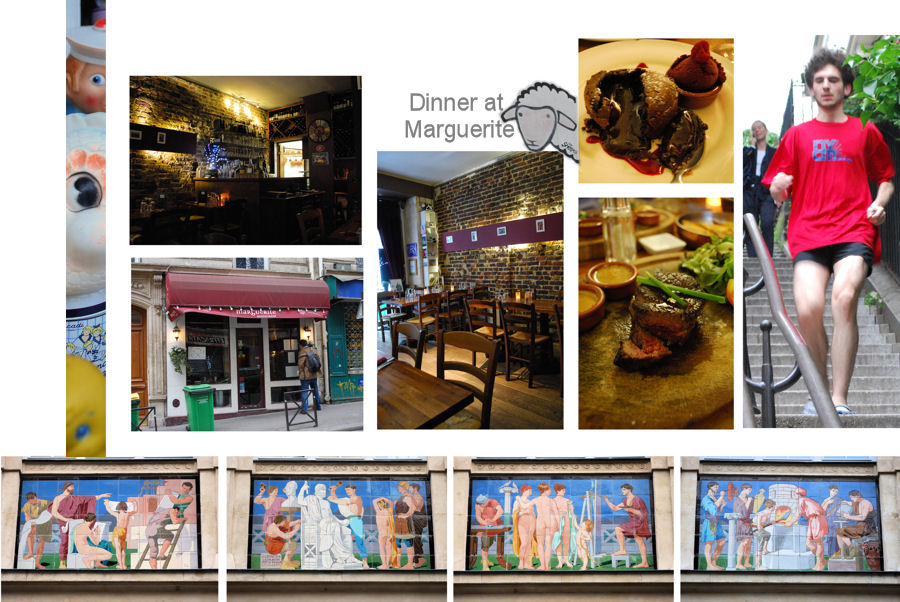 Above, these tiles adorn the building where most of the city's metro station tiles are from.
Below, Studio 28 was a wonderful find. We showed up at just the right time to view Cocteau's light fixtures before the film started, then we enjoyed a brandy in the courtyard and looked at all the famous autographs and memorabilia (Jean Marais, Susan Sarandon, Marion Cotillard, etc.). The statue commemorates Marcel Aymé who wrote The Man Who Walked Through Walls.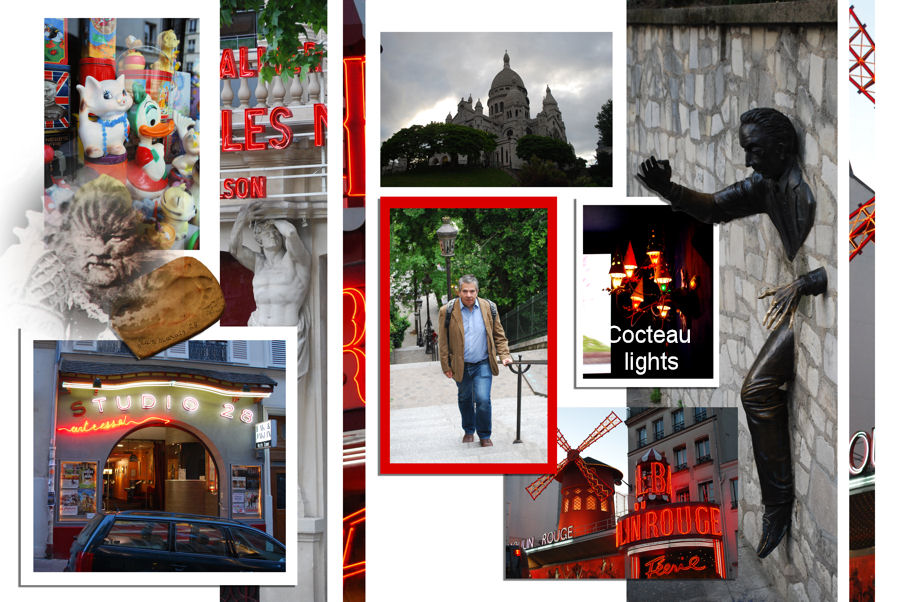 Below, scenes from Studio 28, plus another market and George holding a loaf of Poilâne's famous bread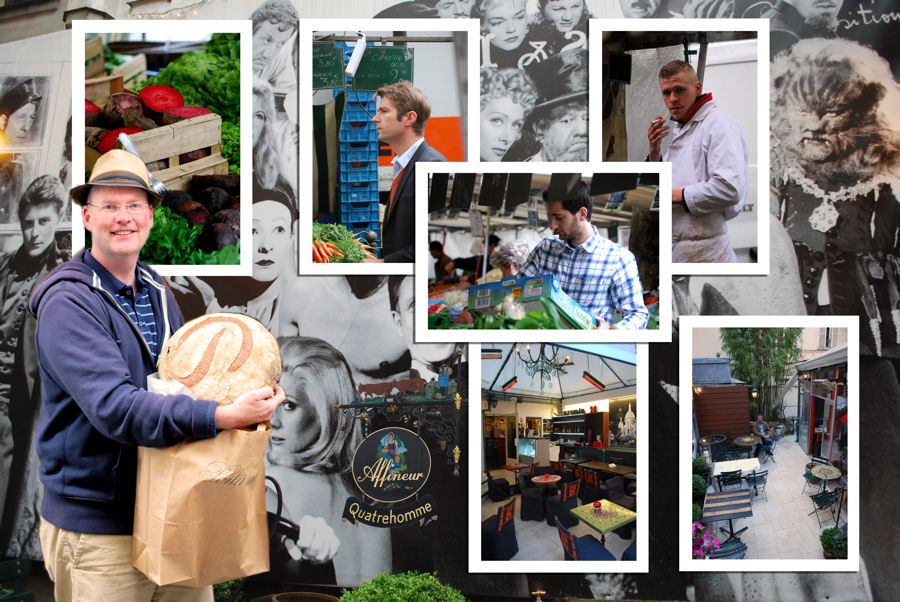 Below, Gym Bunny, Le Bon Marché's food hall, more Art Nouveau metro art, and "love locks", first seen in Florence, then Salzburg.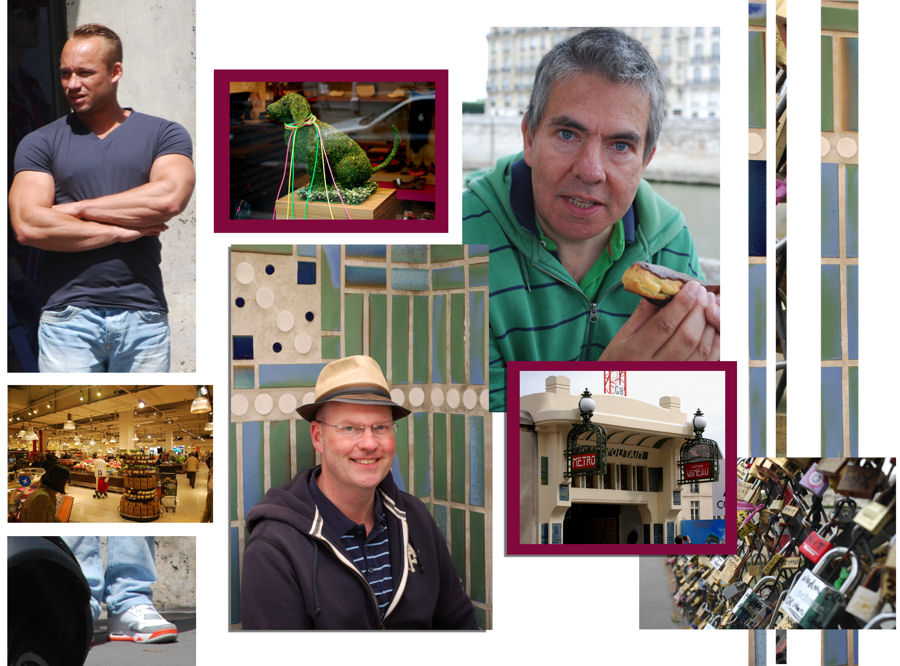 Below, back to our bench for a picnic on our final day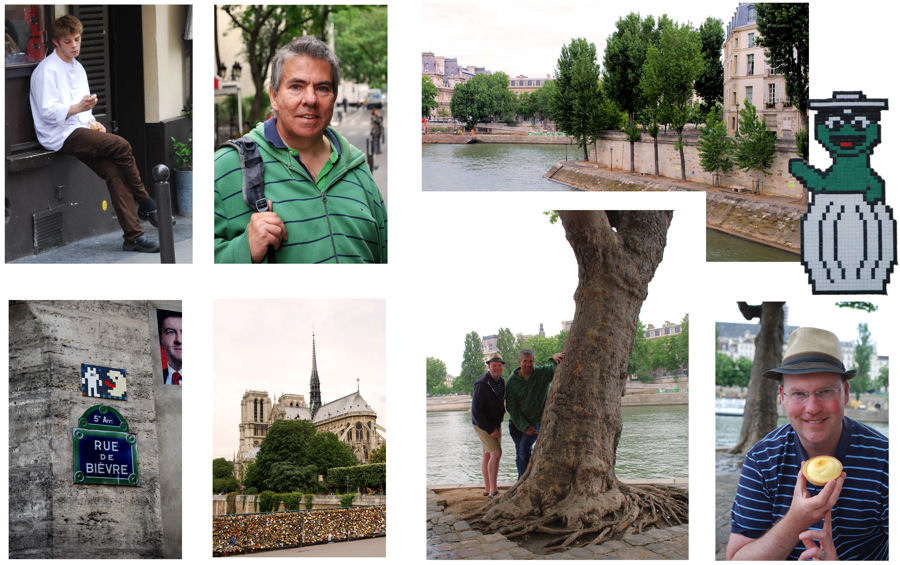 Below (clockwise from top left): picnic food, Maris cop, a little girl on a photo shoot modelling umbrellas, the French Open viewed from the Hôtel de Ville, More Invaders, another cute civil servant wearing the coveted "Neil Hat" (later discovered to be a military cap, which George ordered from Amazon), the man in green reminiscent of our friend Gordon, pink "Todger" underwear bought at BHV, a swimsuit ad from Le Cap, our new mer-man Christmas decoration (to add to our collection), and George outside E. Dehillerin, home of wonderful copper pans.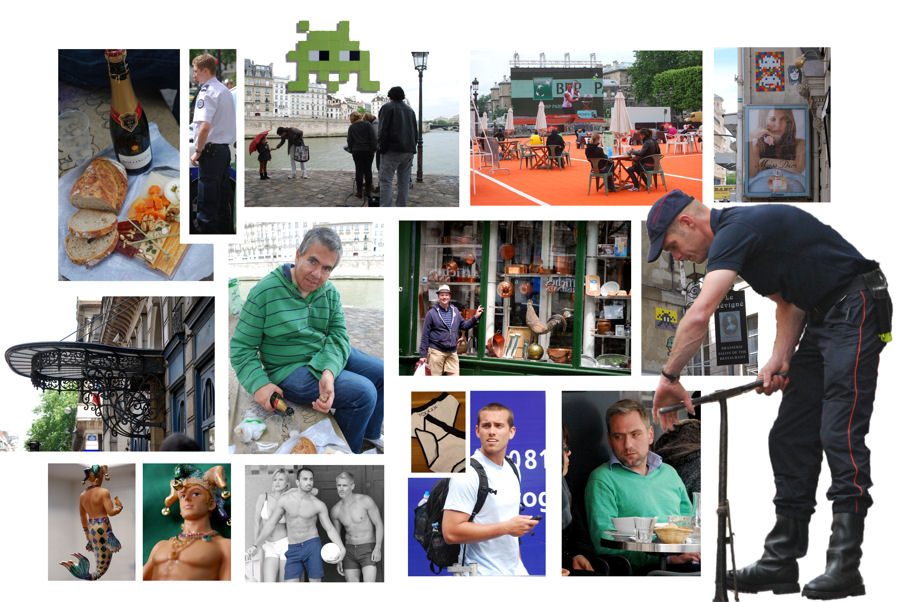 That's it until next time! Thanks for looking.