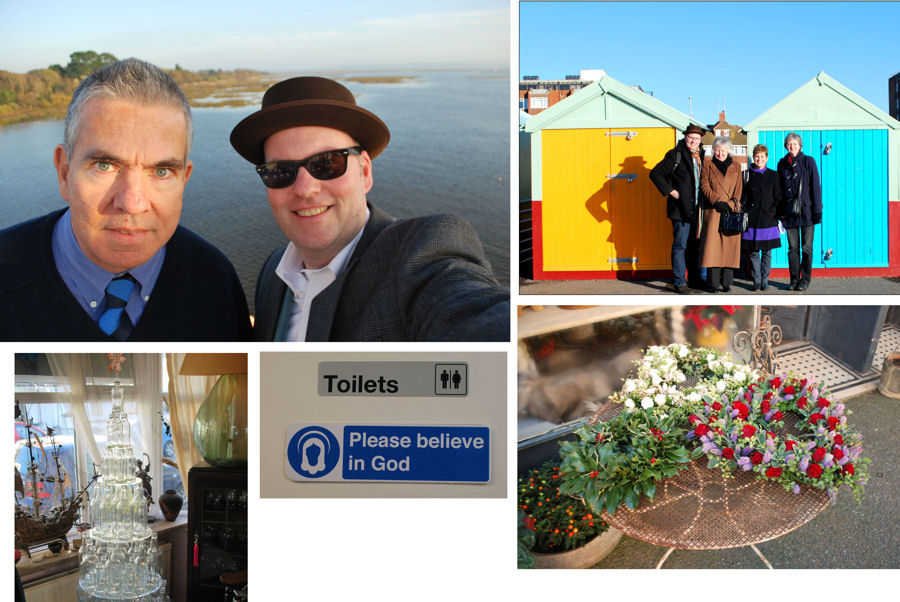 We went to the Isle of Wight for a Thanksgiving meal cooked by chef Robert Thompson. Later, George met up with old friends for a reunion in Hove..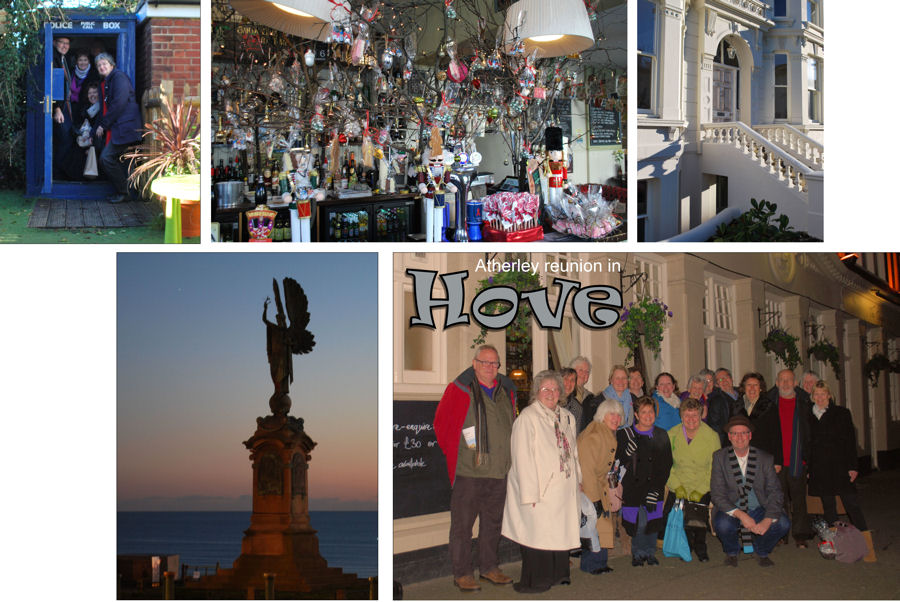 The day in Hove involved Christmas shopping, artists' open houses, and a lovely meal.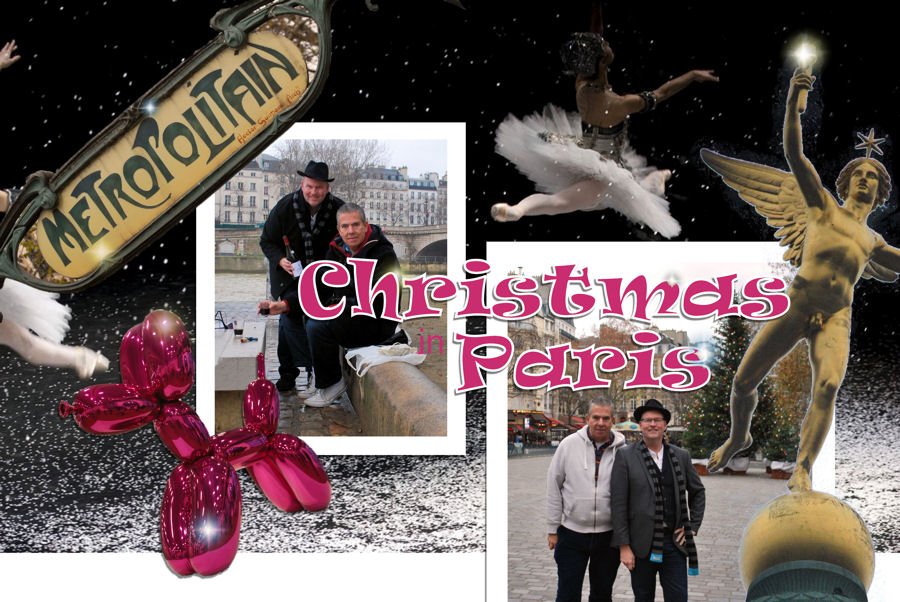 We continued our tradition of spending the holidays away from home, this year returning to our favourite cosmopolitan destination, Paris. Click HERE to see last year's birthday trip to Paris and HERE to see 2013's Christmas in Freiburg.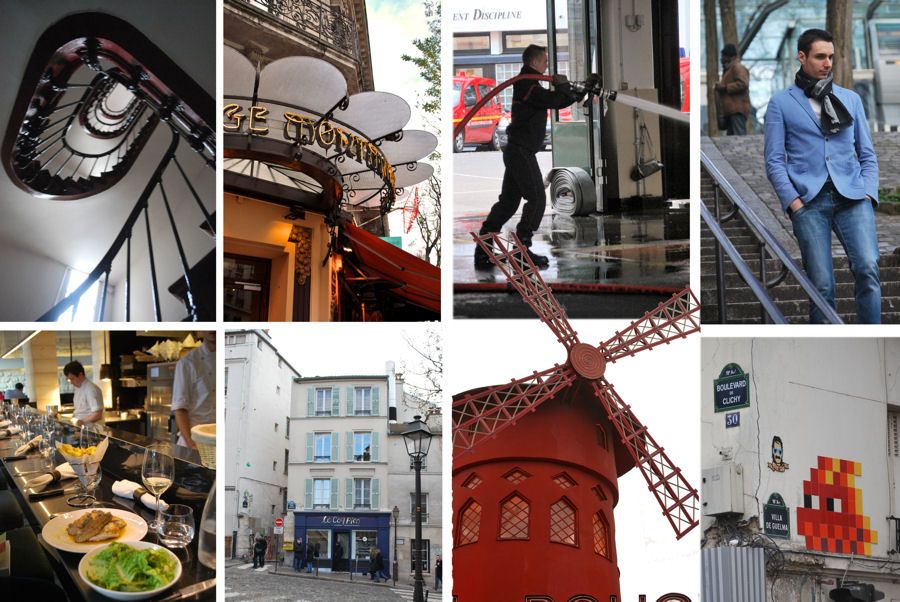 Thanks to Owners Direct, we found a wonderful apartment in Montmartre, just near the steps of Sacre Coeur. On our first day, we had roast chicken and truffles at Le Coq Rico, as recommended by our Gourmet Paris guide.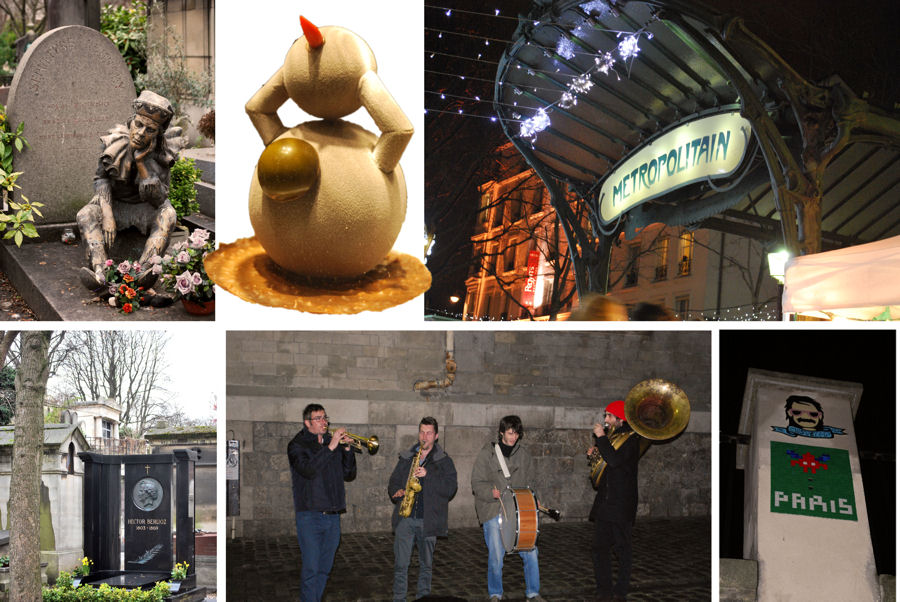 Above: Nijinsky and Berlioz's graves in the Montmartre cemetery, a chocolate snowman, the Anvers metro stop, and some great buskers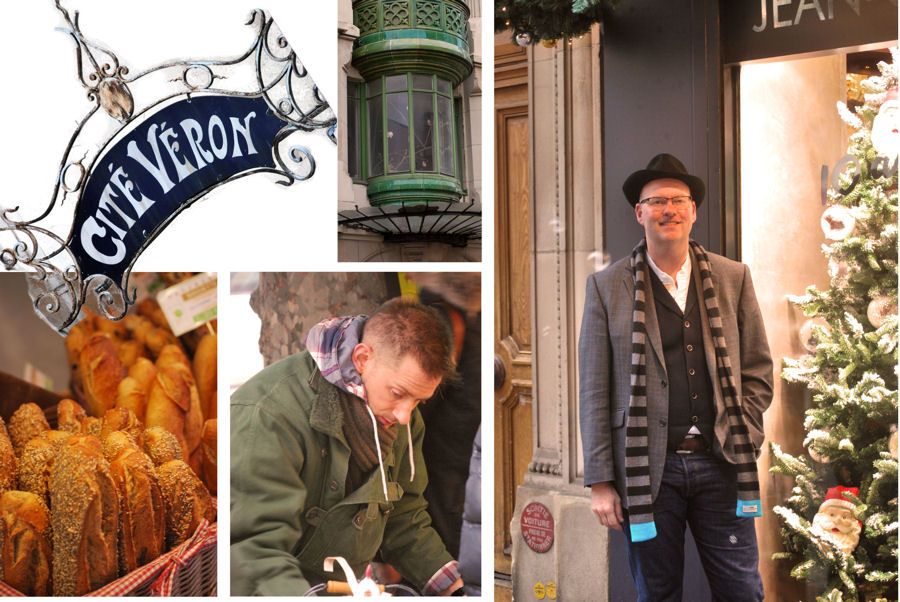 Above: We visited the Raspail organic food market early morning on Sunday.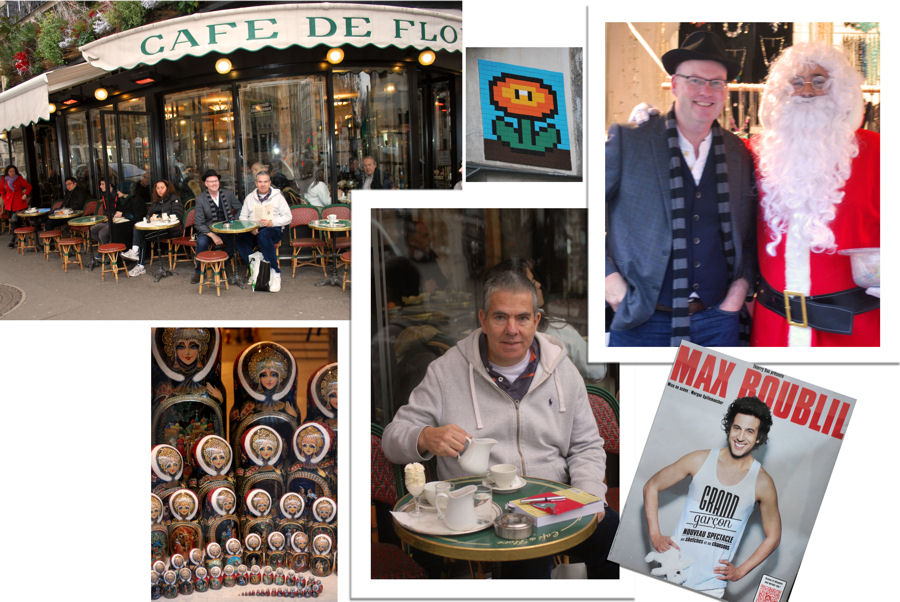 In the St Germain area, we had hot chocolate at Cafe de Flore and bumped into Père Noël, who smelled of cigarette smoke.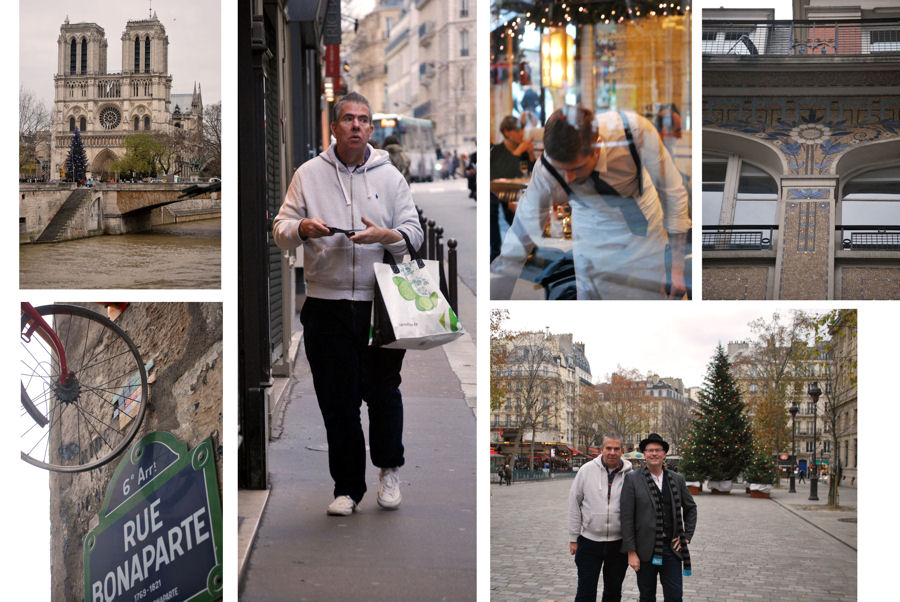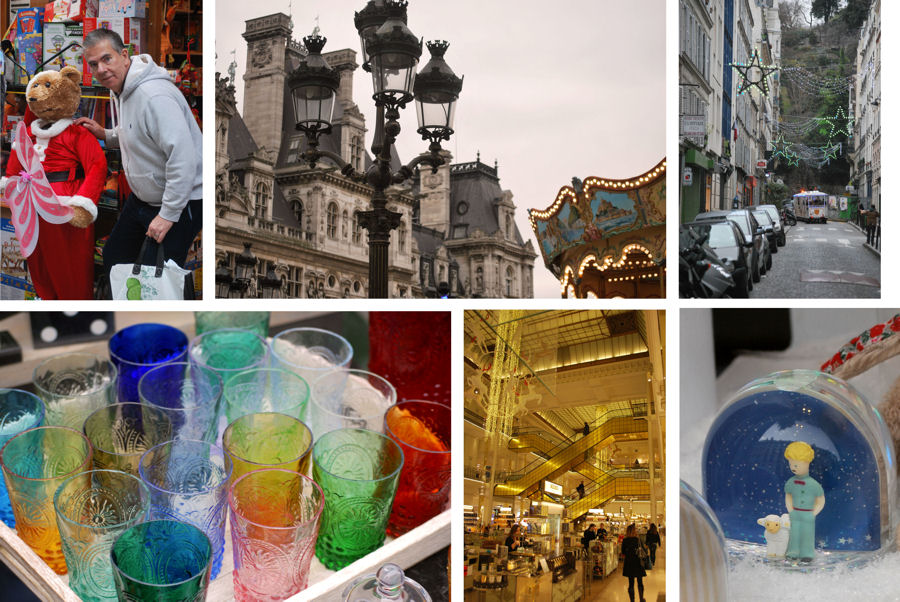 We did some last minute Christmas shopping at Le Bon Marché.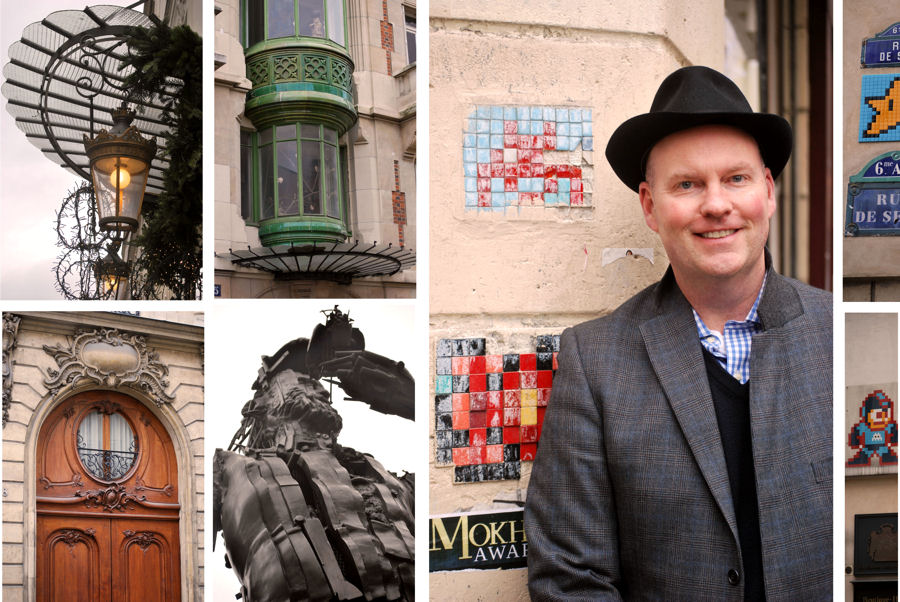 One of my favourite things to do in Paris is to find Invader's mosaic artwork. These were at street level.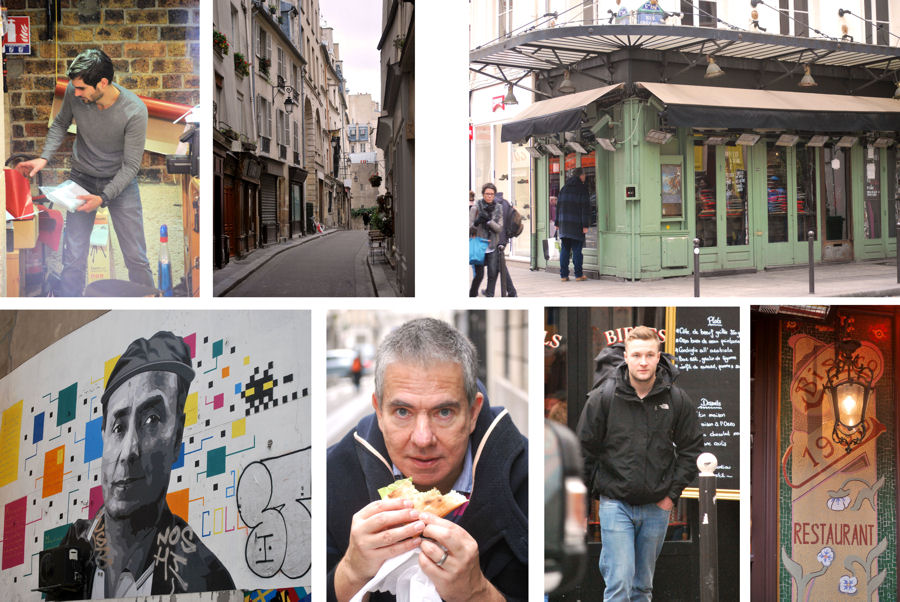 We enjoyed great lunchtime sandwiches from Cosi. .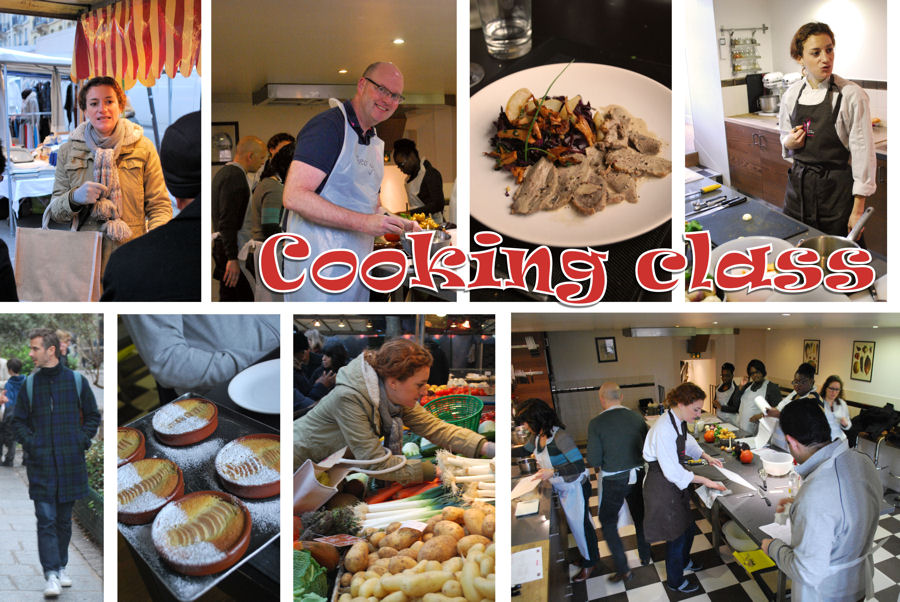 My exciting gift from Nick was a day's cooking class provided by La Cuisine Paris. We met the chef in the morning and shopped for seasonal ingredients at a small street market, then went back to the kitchen and prepared a delicious three-course meal of pumpkin soup with truffle oil, crispy duck with mixed peppercorn sauce, and pear and almond tarts. We also had amazing cheese.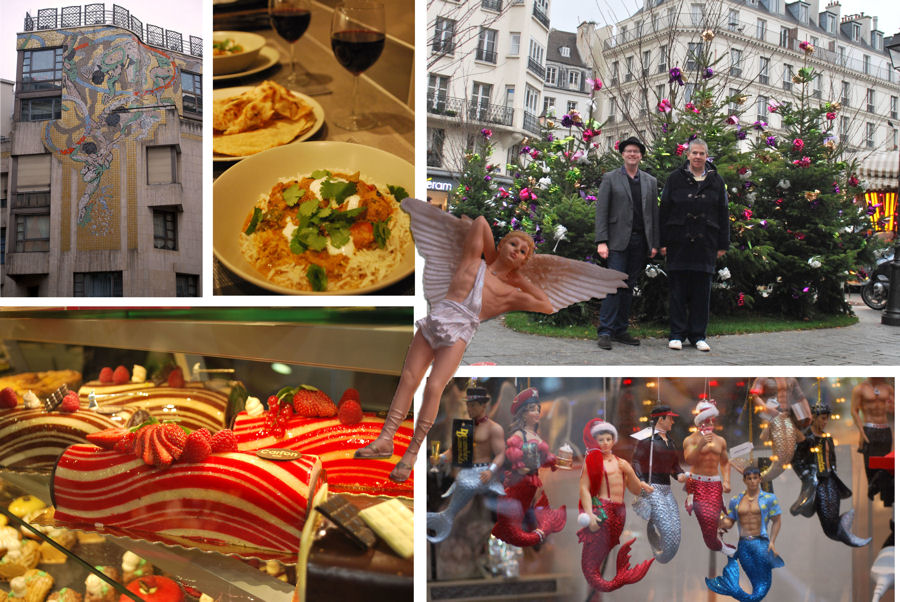 After the cooking class, we strolled around the St Paul area before returning home to make Jamie Oliver's chicken tikka masala on our two-hob stove.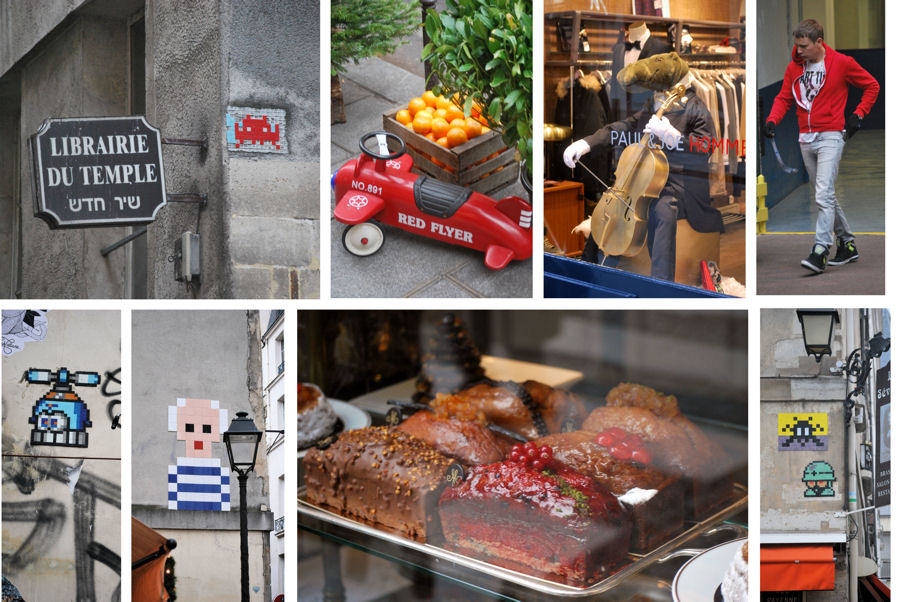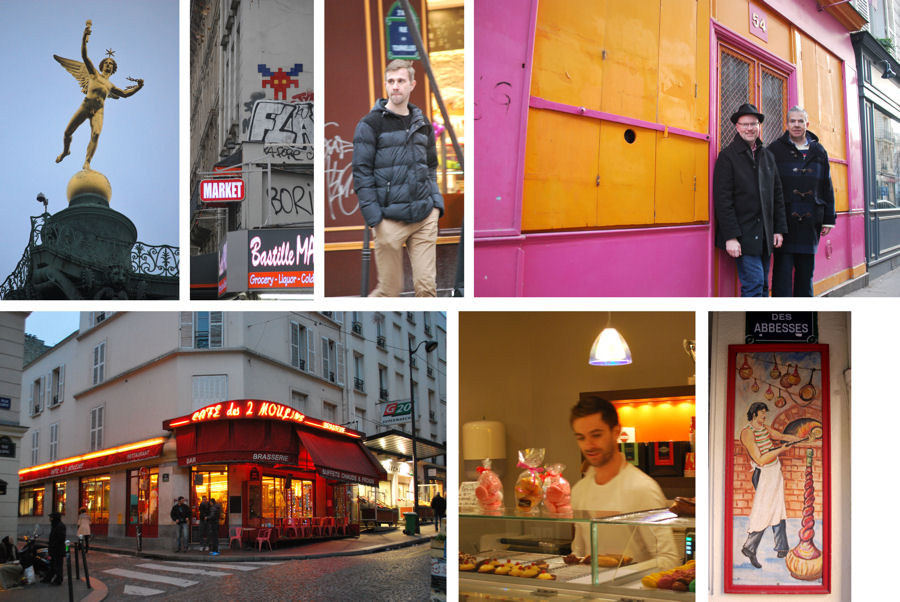 Our Montmartre neighbourhoodhad all we could need for food, especially on the Rue Lepic, where we discovered the Cafe des 2 Moulins, where Amelie worked in the film.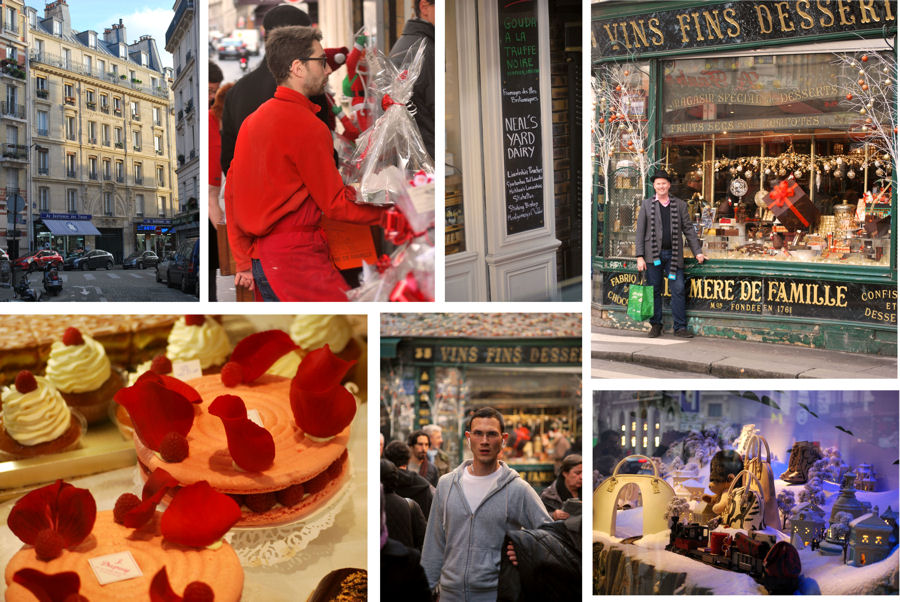 I own the rather impractical and technical cookbook from À la mère de famille, which among other things, tells how to candy a whole pineapple, and I was excitied to visit the original shop in Paris.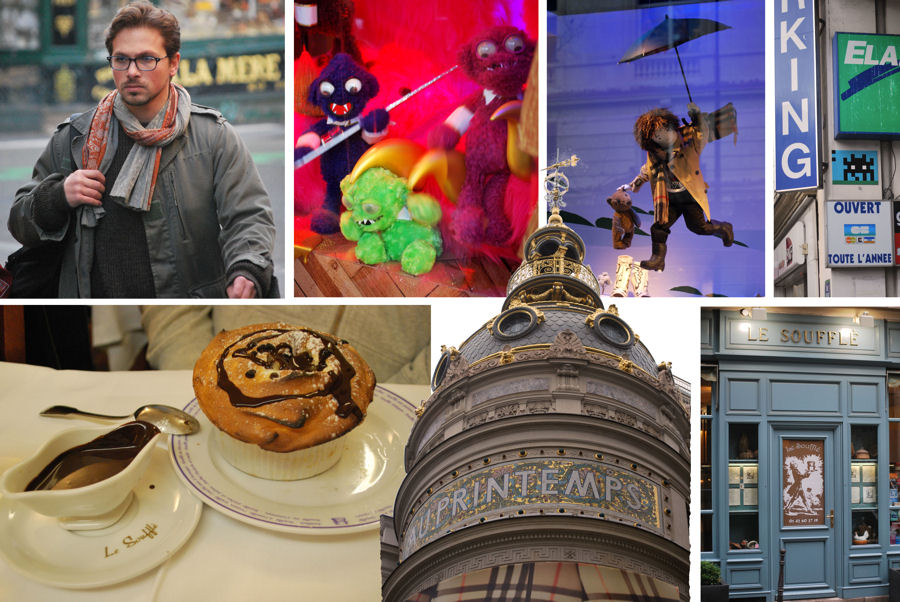 Above: window displays at Galleries Lafayette and lunchtime dessert at Le Souffle.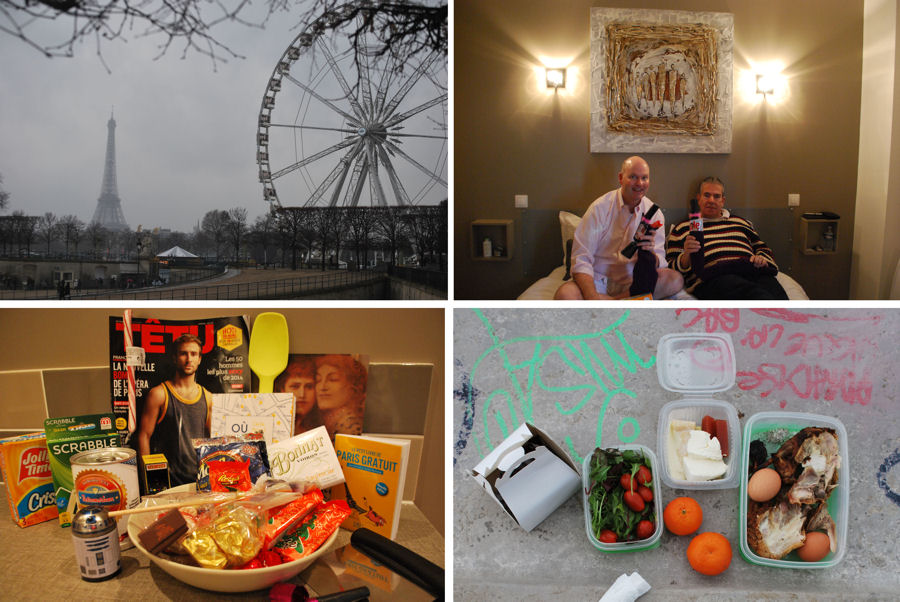 Above: we rode the big wheel on Chrismtas eve. On Christmas day, we opened our stockings and took a picnic to our bench...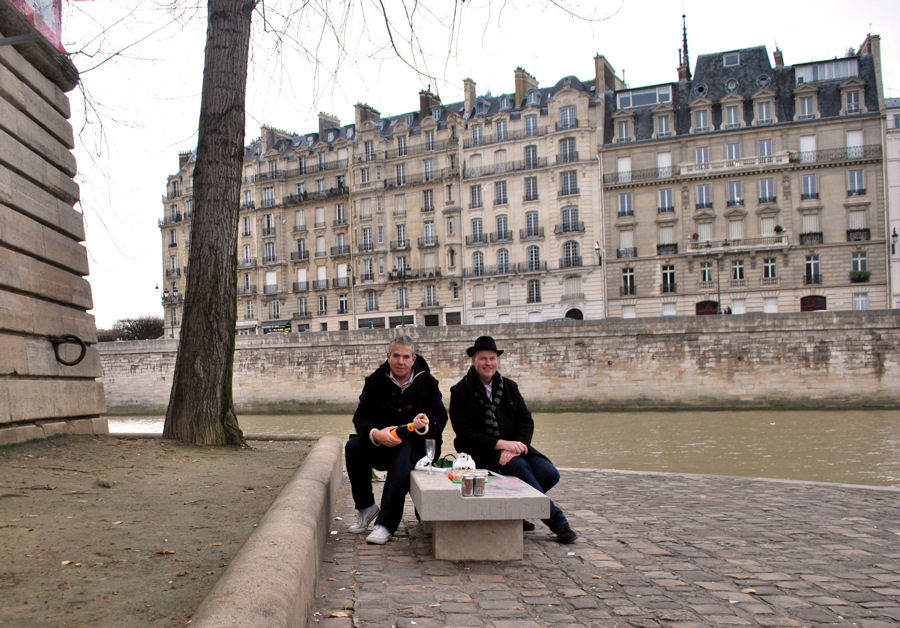 Every time we go to Paris, whatever the weather, we have a picnic on our bench at the end of the Ile St Louis. On this very spot we had our meaningful wedding ceremony in 2007. We first went there in 2001.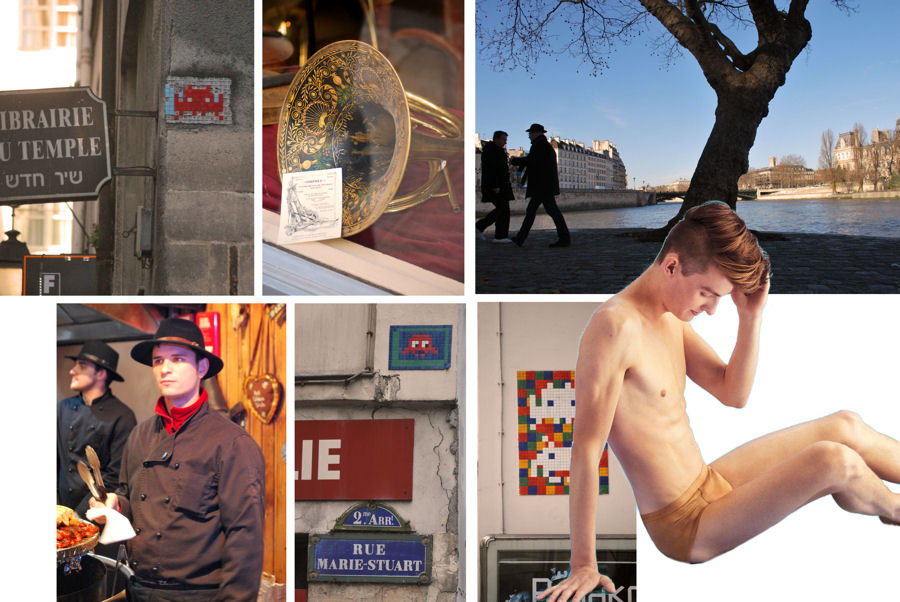 Above: An old horn in a shop window, a Germanic sausage seller at the Champs Elysees market, more Space Invaders and Acne Studios' underwear model.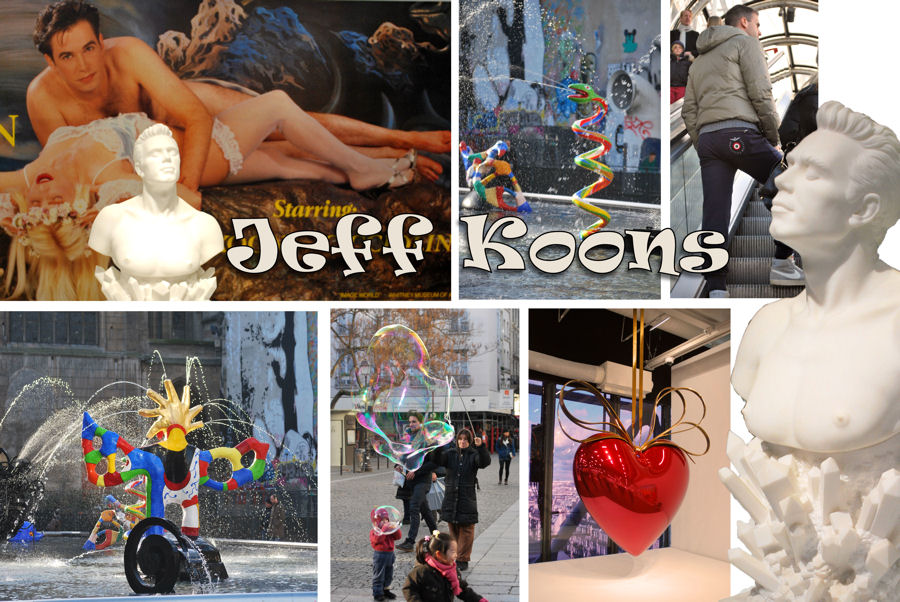 The Pompidou Centre was open on Christmas Day, so we went and enjoyed the Jeff Koons exhibit.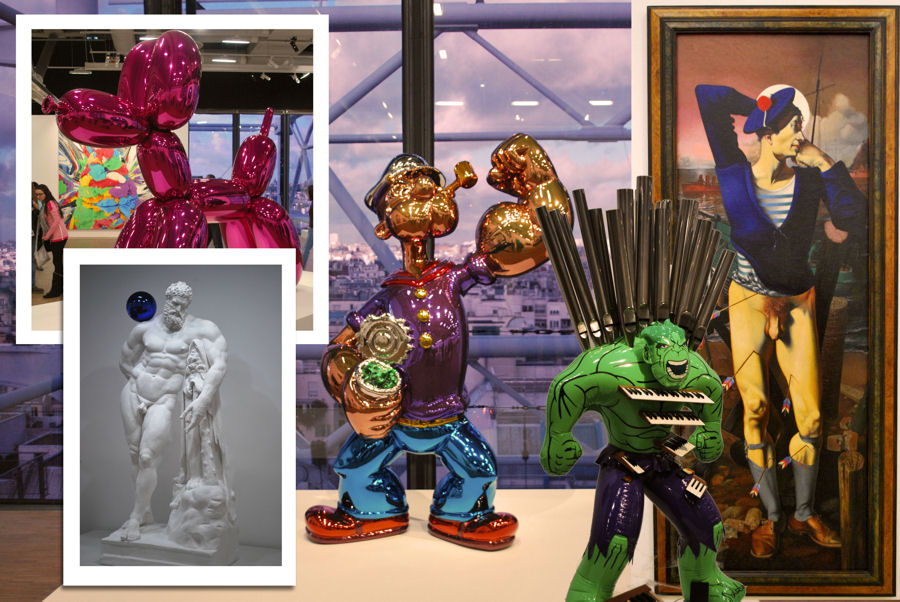 Not by Jeff Koons, but the nautical Saint Sebastian above was eye catching. .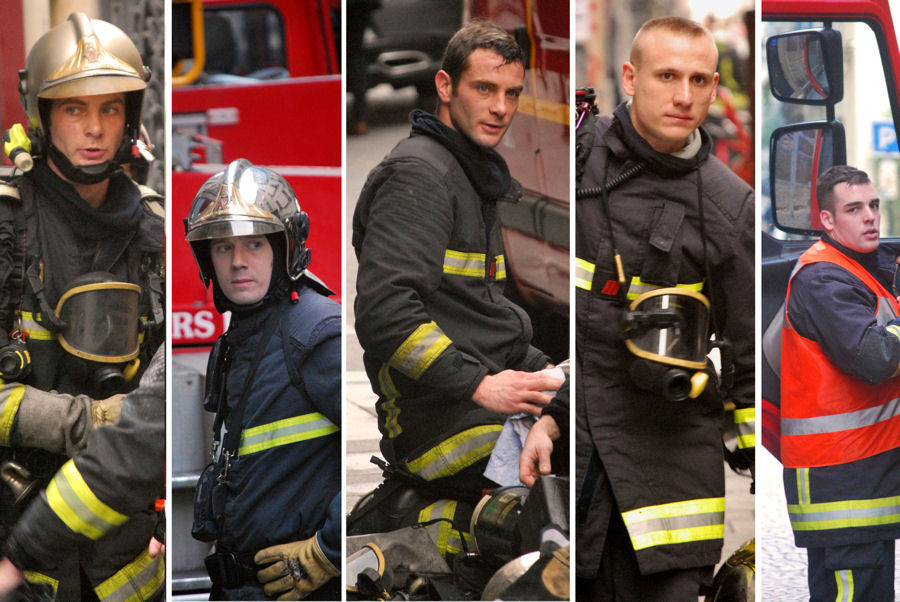 Every time we go to Paris, we see hunky pompiers (firemen) going about their duties. This group was attending a small apartment fire, we think. The best pompier photos I have, including a shirtless specimen, are from 2012.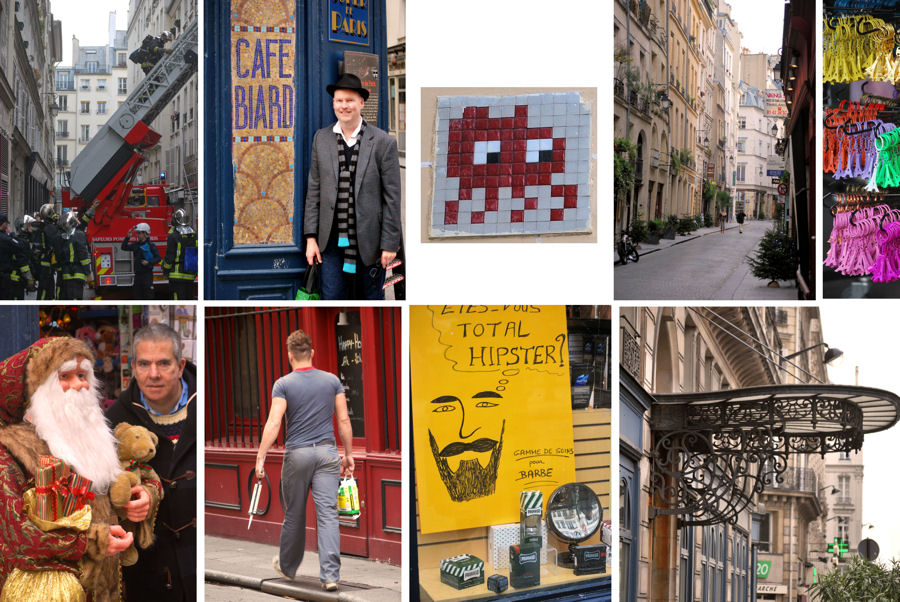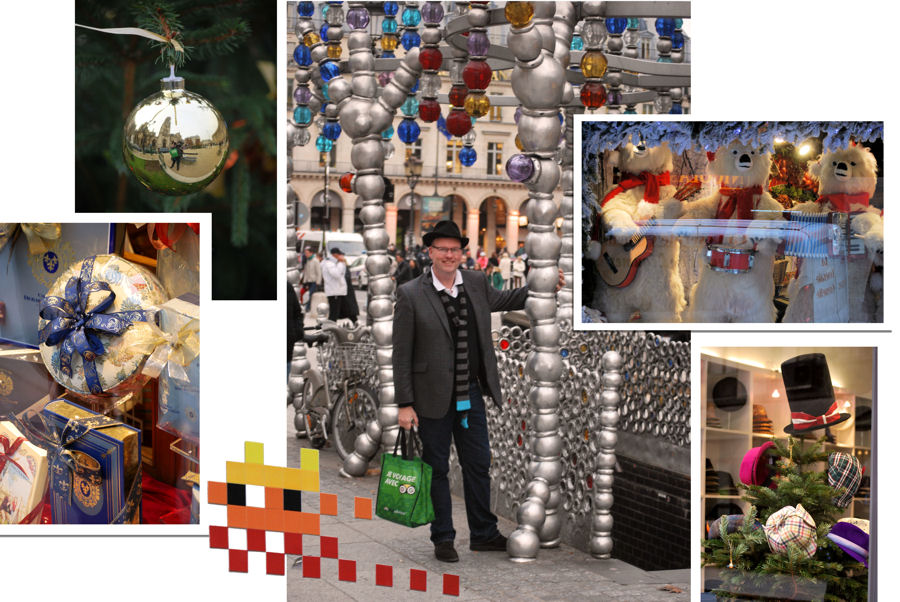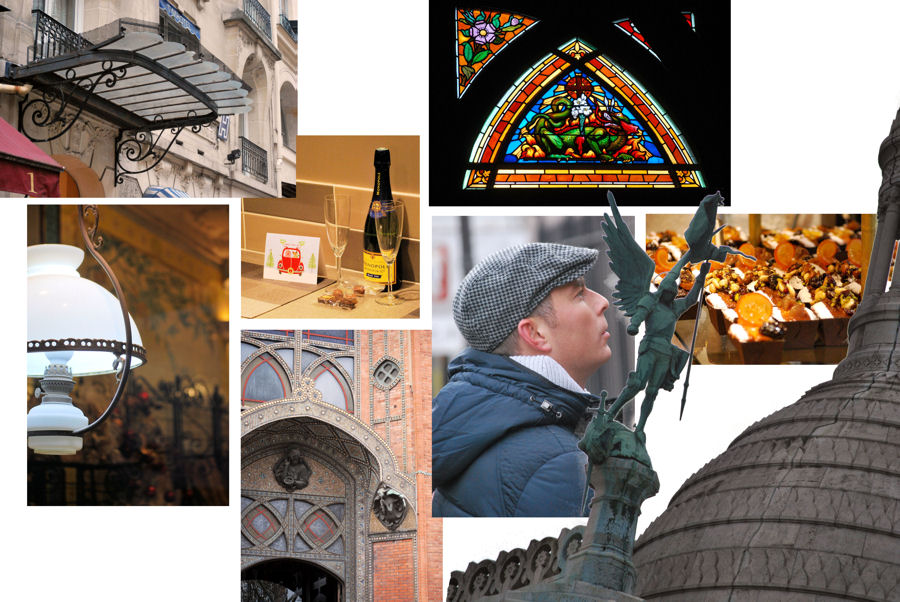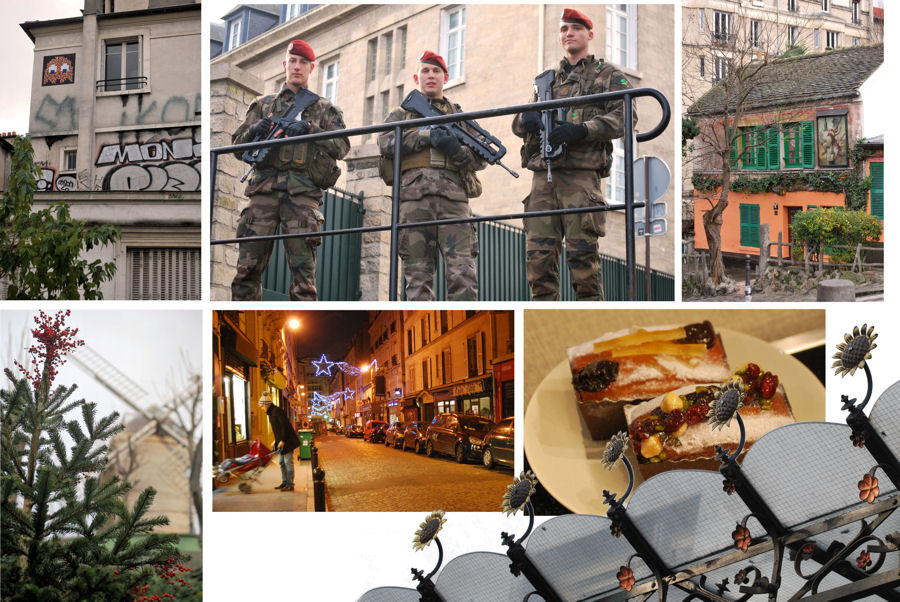 Above: Back in Montmartre, we went to a night-time cabaret performance at Au Lapin Agile, where a group of performers sang French chansons until 1.00 a.m. We lasted until around midnight. The soldiers posed for a photo, a week before the horrible attacks on Charlie Hebdo.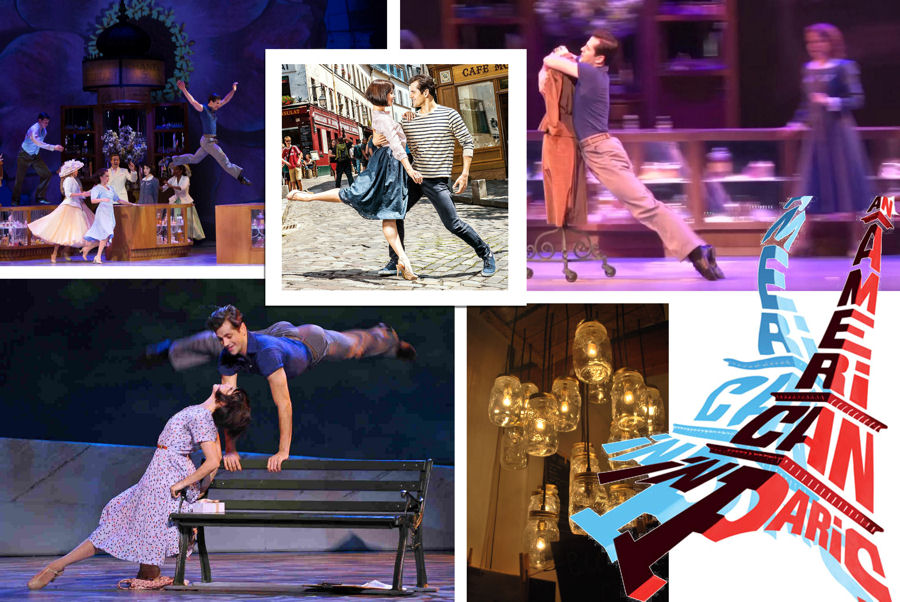 On Sunday the 28th, we went to the Théâtre du Châtelet to see their production of An American in Paris before it transferred to Broadway. The singing and dancing were superb.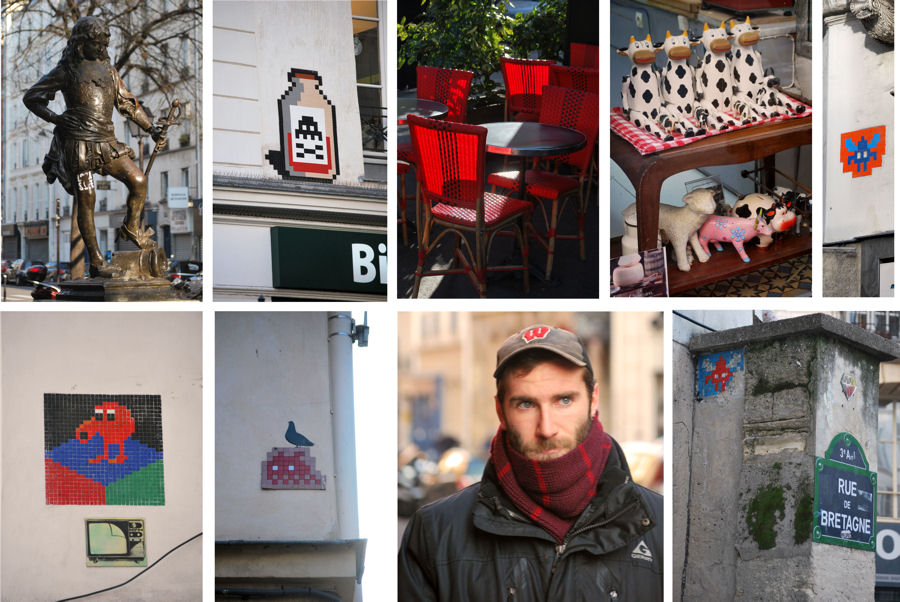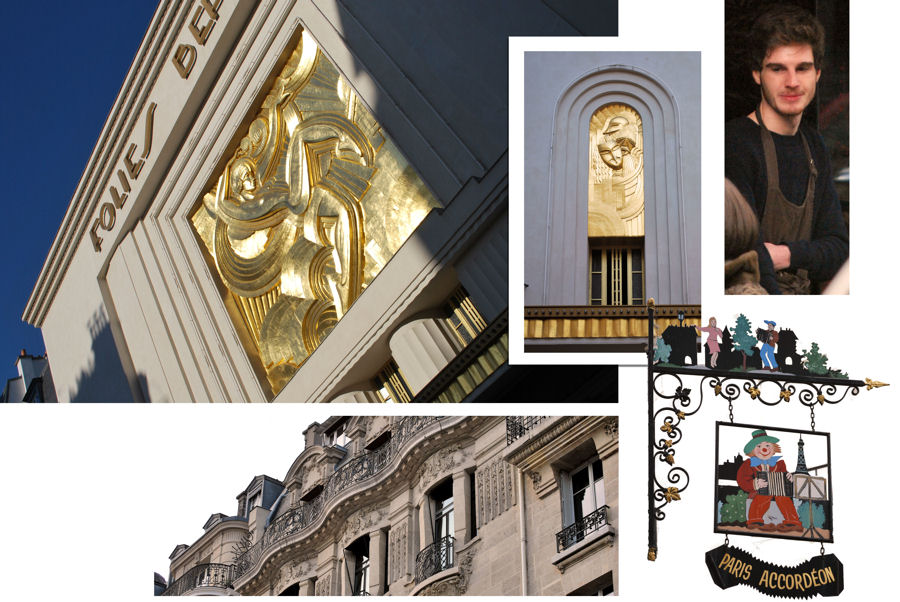 On a quest for Art Deco, we discovered the famous Follies Bergeres. I can't believe we'd never been here before!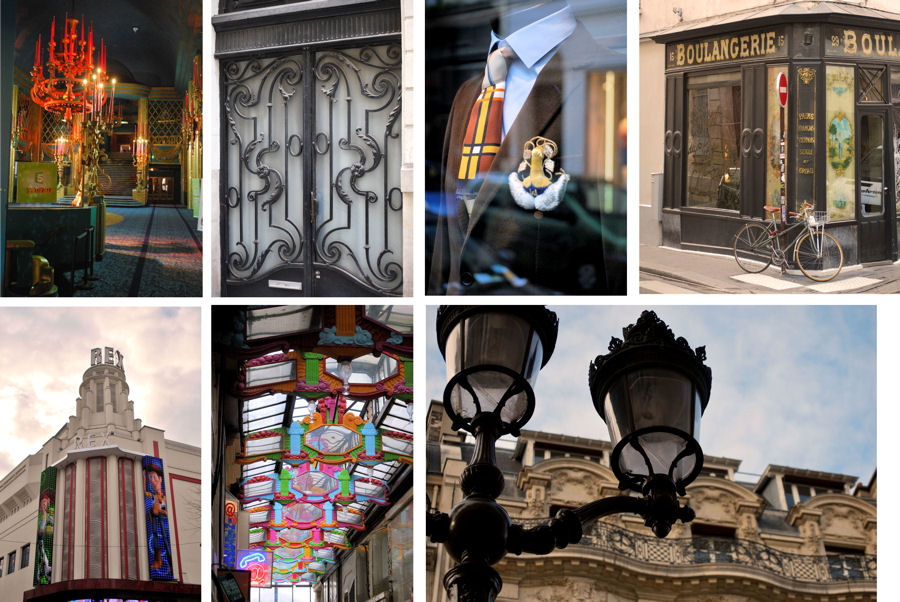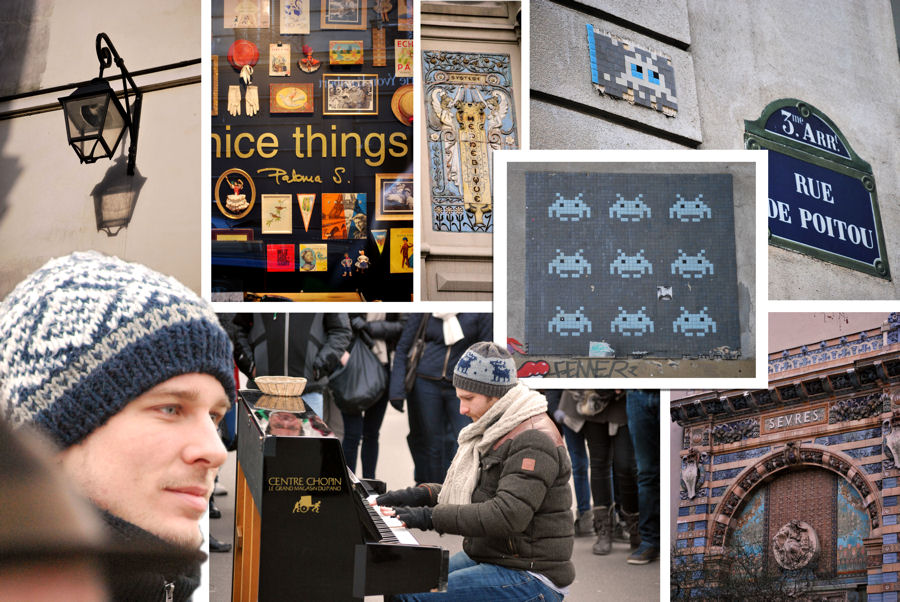 The busker above was playing Beethoven's tricky Waldstein Sonata, while wearing fingerless gloves against the cold. He was one of the best musicians we've heard.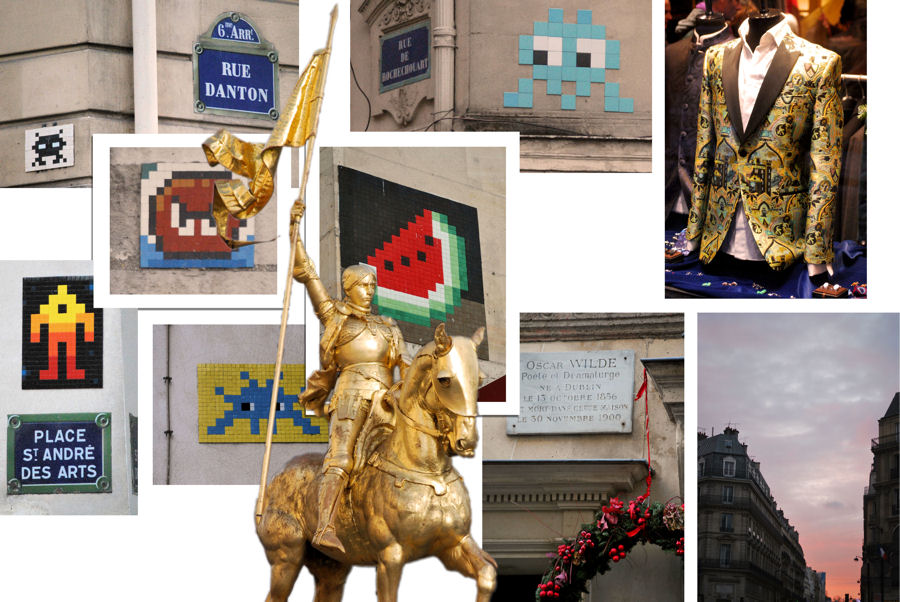 Above and below: We went on an Oscar Wilde tour, provided by L'Hotel and had the guide all to ourselves. He took us to lots of places where Oscar Wilde "might have gone", including the cruising spots in the Tuilleries gardens. Afterwards, we enjoyed a Michelin starred lunch at L'Hotel.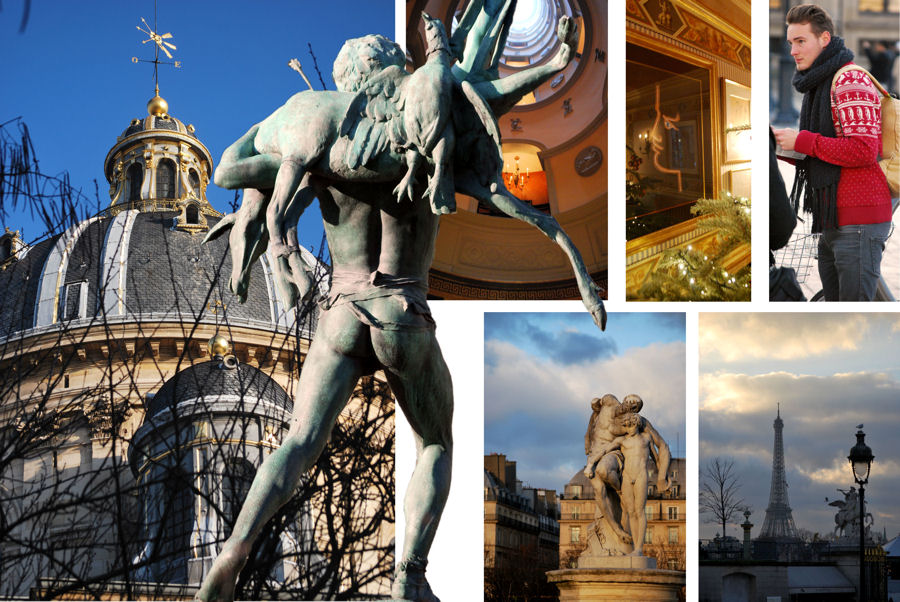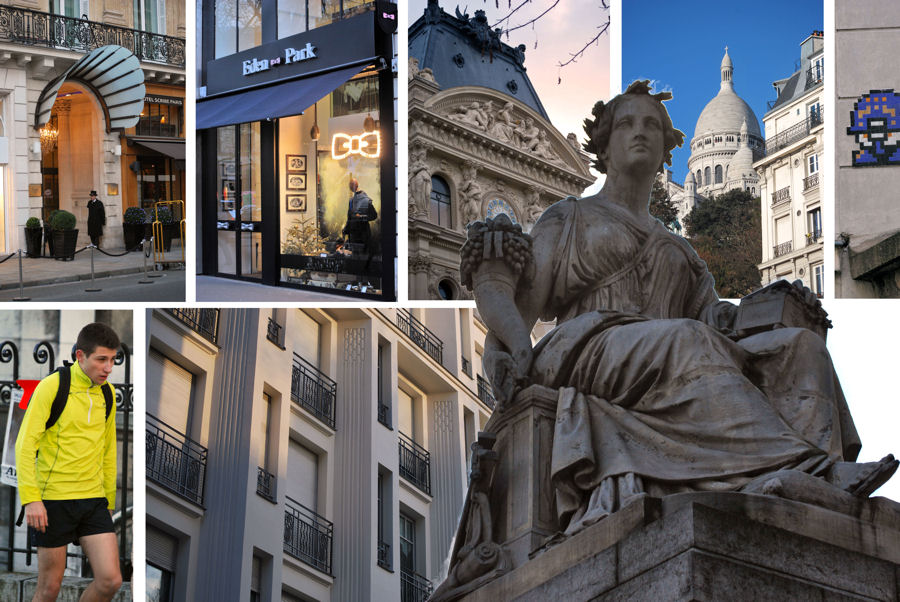 Above: No trip to Paris, or France, for that matter, is complete without a visit to Eden Park, my favourite clothing store.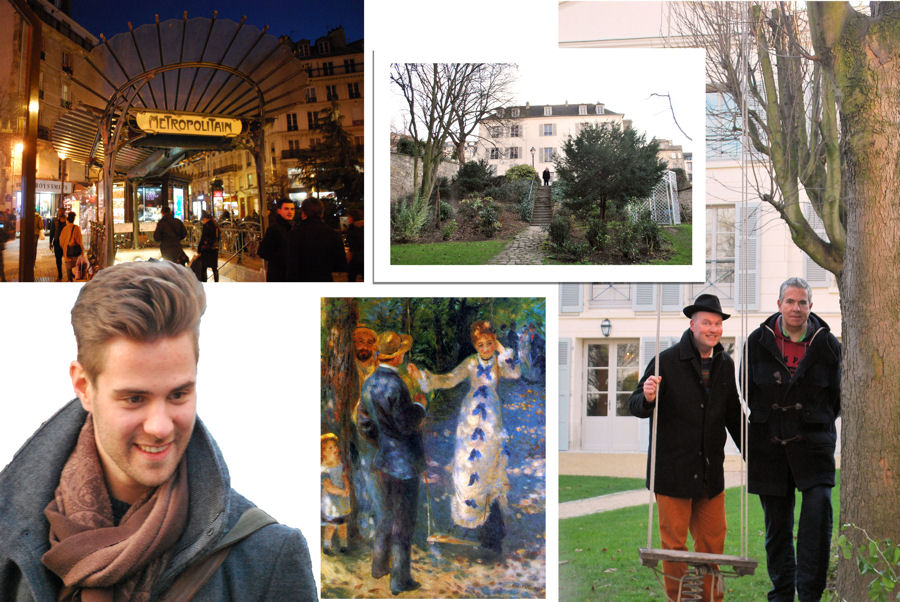 We returned to the Museum of Montmartre, where we recreated Renoir's swing paiting beside the actual tree.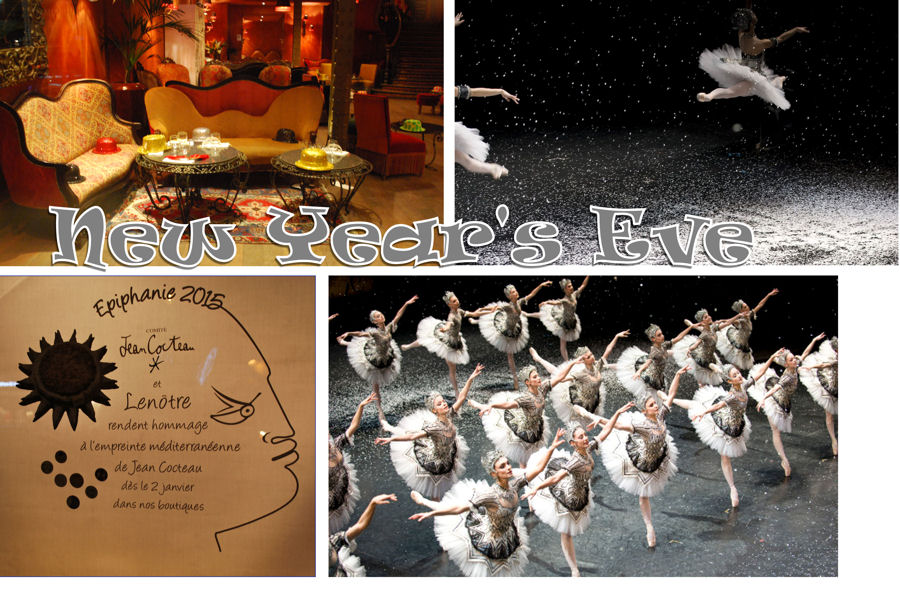 On New Year's Eve, we saw Nijinsky's version of Swan Lake, complete with vampires and lots of rats, at the Opera Bastille. Afterwards, we saw a poster in a bakery window for a Jean Cocteau epiphany bread. We returned the following day to buy some limited edition porcelain "feves", little discs that are baked into pastry, like Christmas pudding coins. Click HERE to see our first encounter with Cocteau in 2003 and HERE to see our visit to his house in 2012.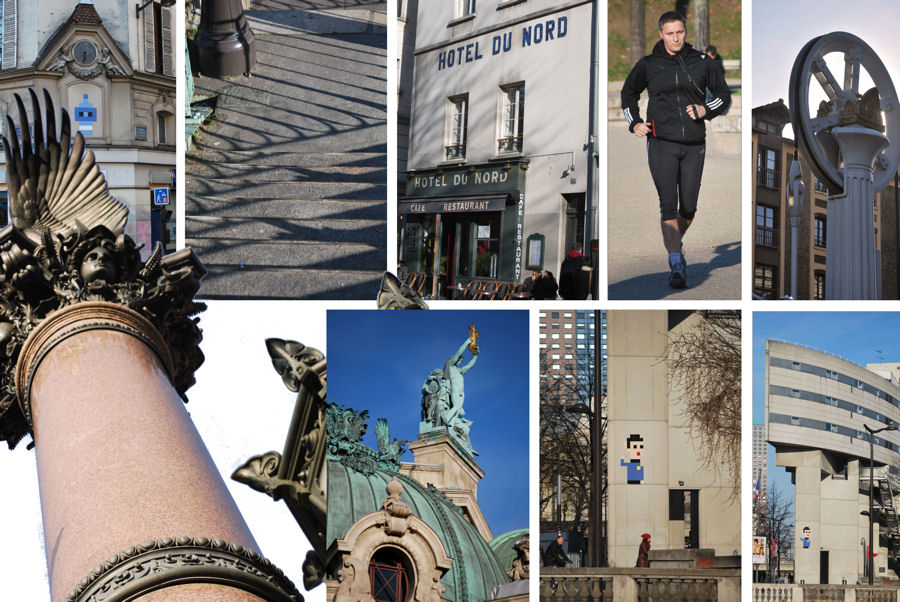 We strolled along the Canal St Martin for much of its length, having coffee at the Cafe du Nord and seeing a Spock Space Invader.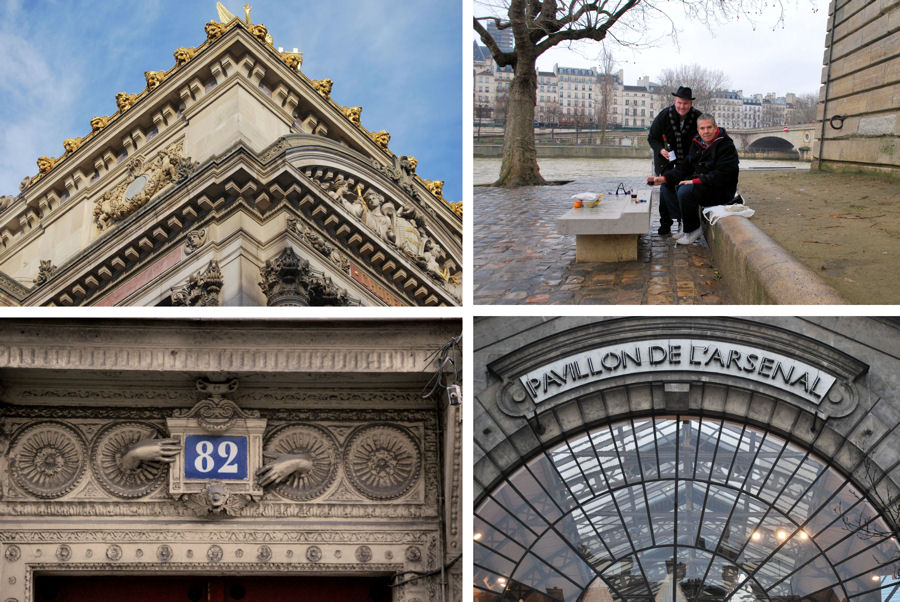 We returned to our bench for a New Year's picnic and did some more art and architecture explorations.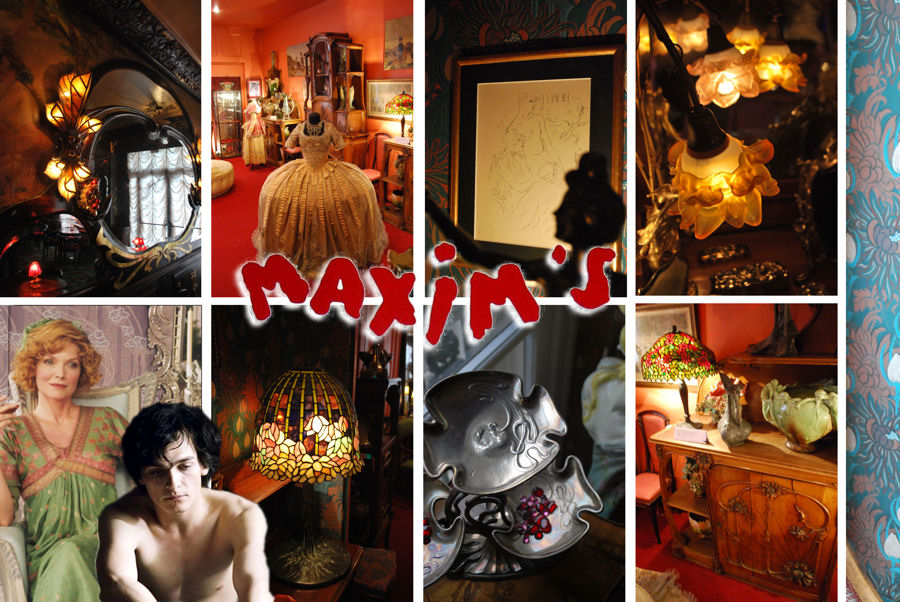 Probably the biggest surprise find of this trip was the Art Nouveau 1900 museum at Maxim's. Three floors of art owned by Piere Cardin, and once again we had the place and a guide all to ourselves. The guide showed us some of the furniture that was used in the 2009 film, Chéri, with Michelle Pfeiffer.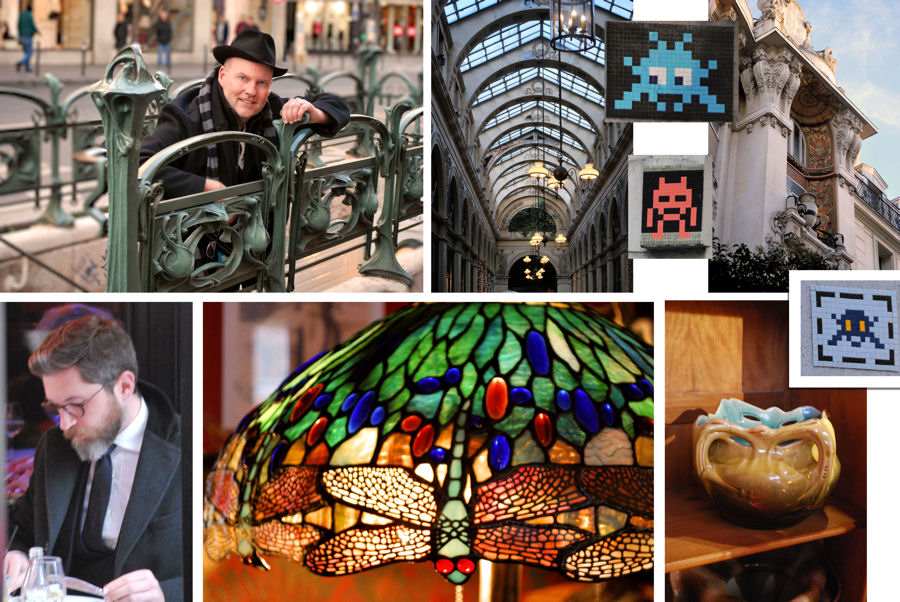 Above: The green "frog" vase on the bottom right was designed by Hector Guimard, who created the wonderful metro stops. The eyes provide ventillation.