The weather was warm and the snow artificial, but Christmas 2015 was full of memorable surprises and delcious foods. Click HERE to see photos from Christmas 2014 in Paris.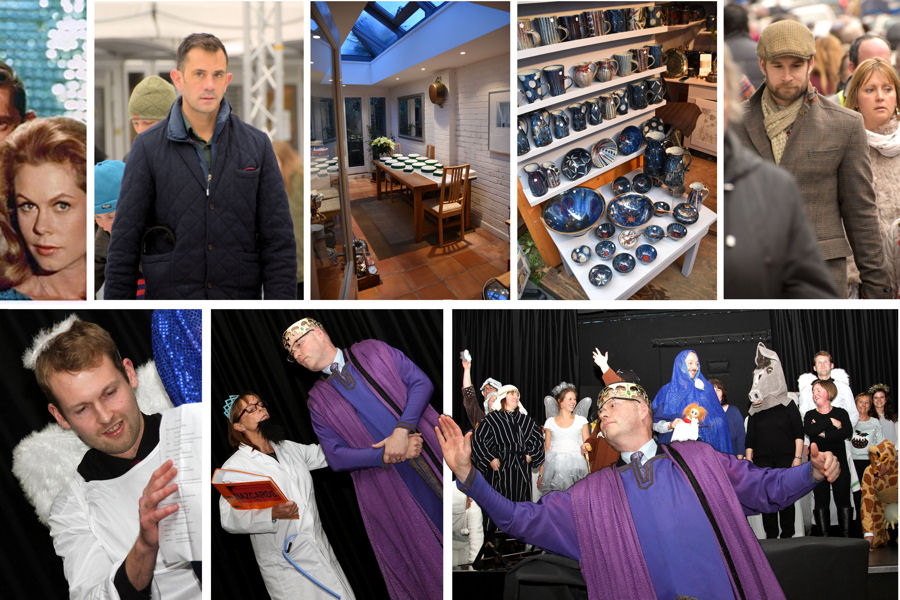 Above: Cake decorating while watching Bewitched box set, the local Christmas market and George as Herod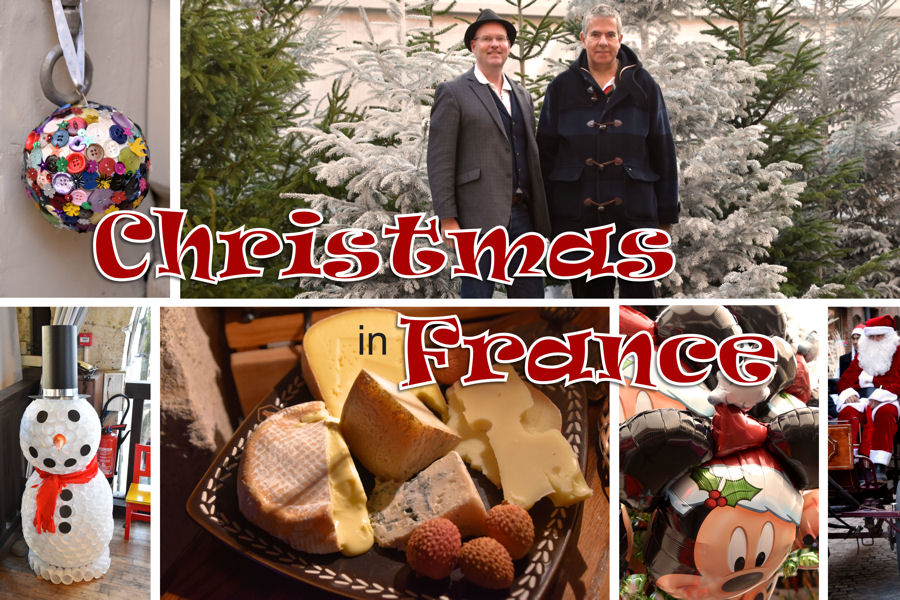 We stayed for two weeks in the Gers area of France, enjoying festive decorations and a variety of cheese.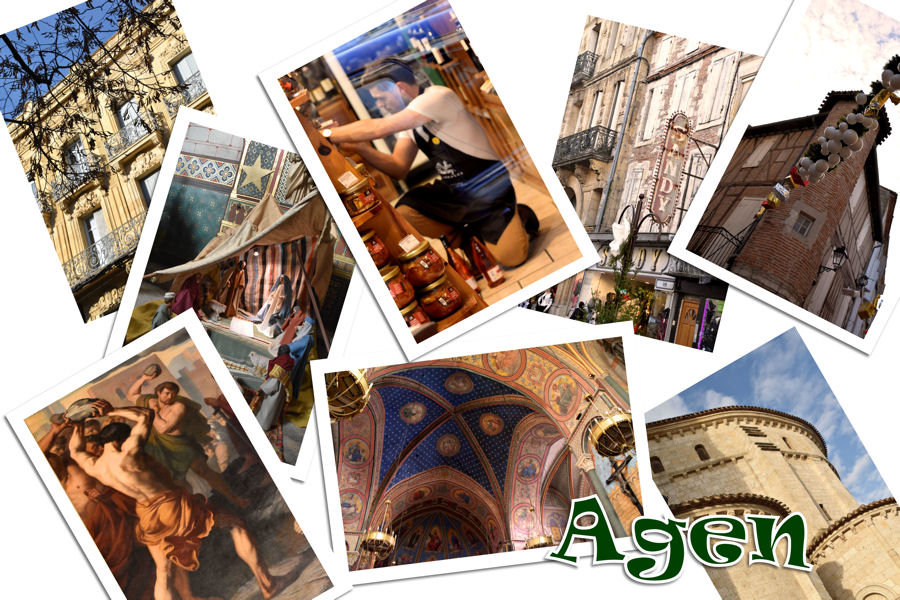 Our first stop was Agen, home of the famously luscious prunes.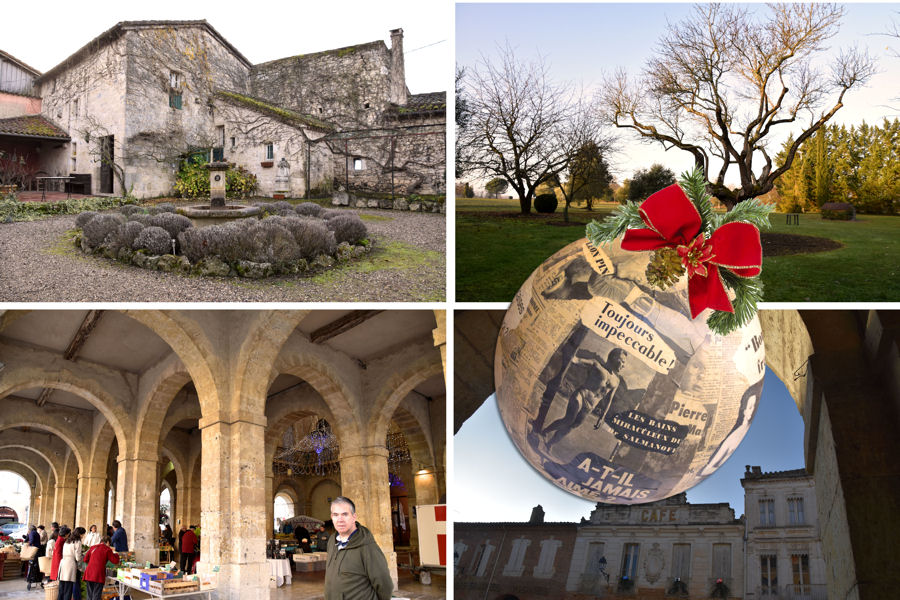 We stayed in a rennovated 13th century chapel and visited the farmers' market in Fleurance on our first day.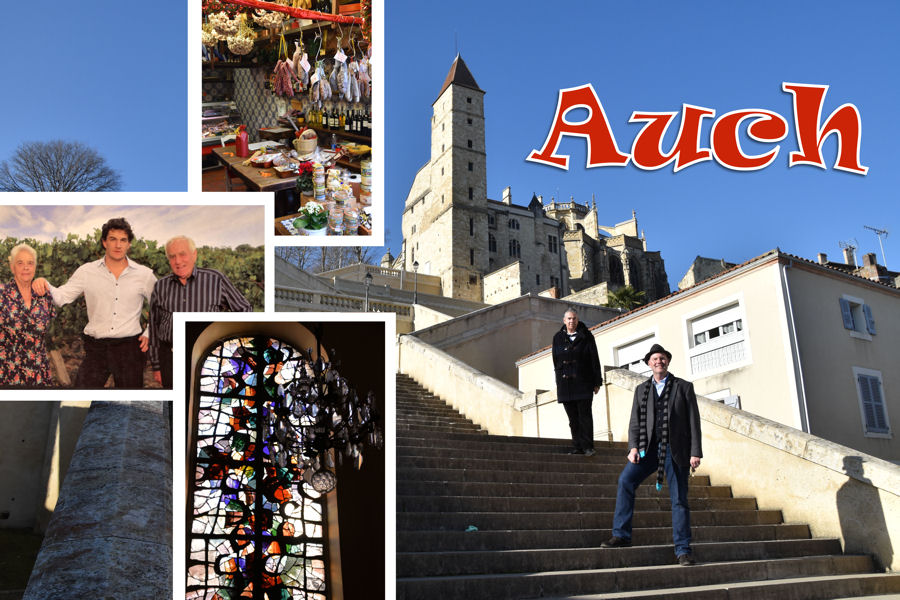 The grand staircase in Auch was one of our bingo card sights.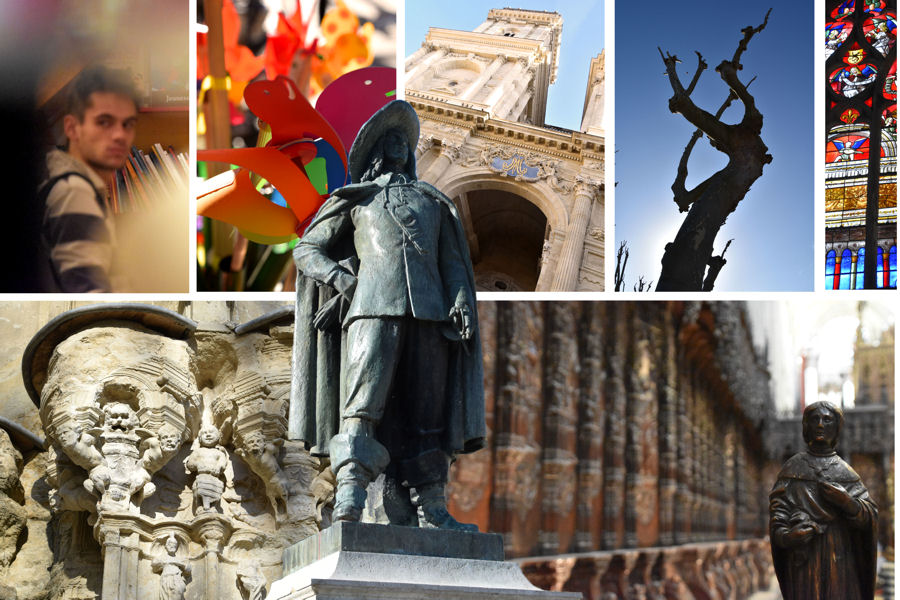 This is D'Artagnan country and the cathedral is famous for its carved wooden choir stalls.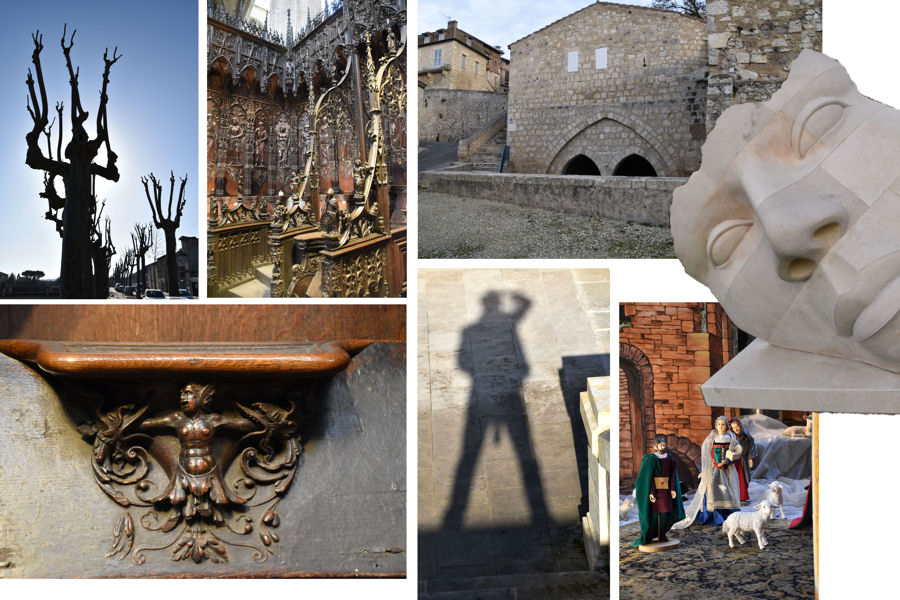 Above: more Auch, Fontaine Diane in Lectoure, and photographing shadows with my scarf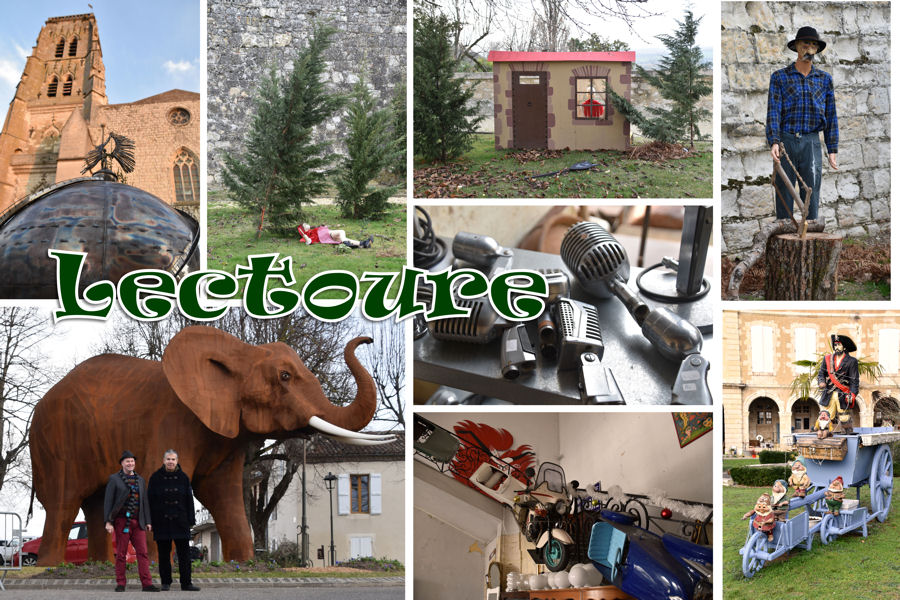 Lectoure was our nearest town and has an amazing, huge antiques market. We also found some disturbing Little Red Ridinghood mannequins in the park.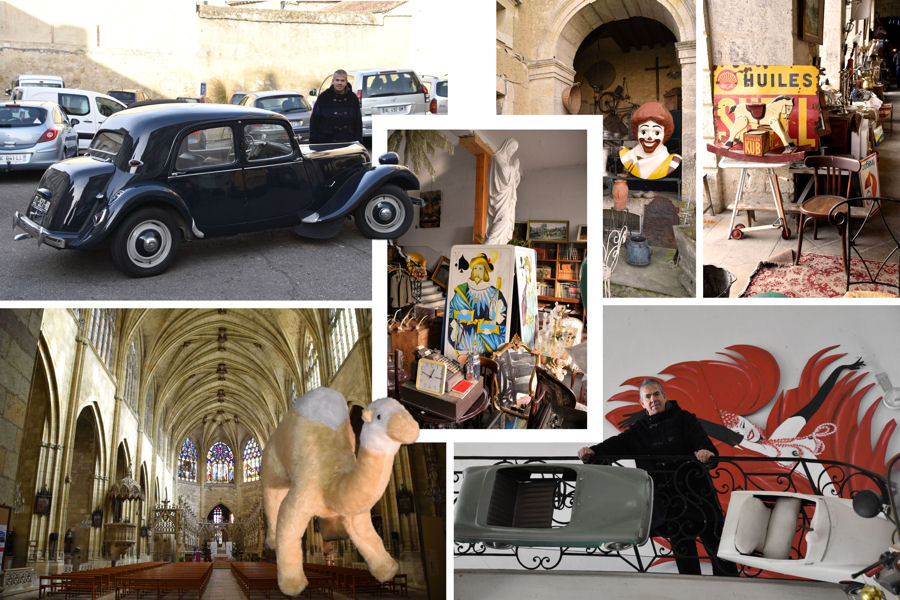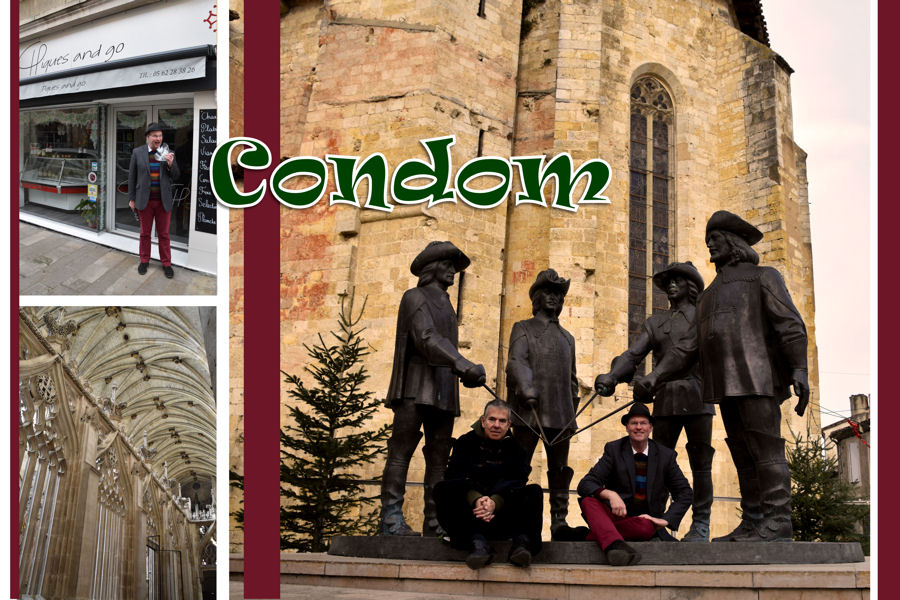 We bought our black truffle at a butcher shop in Condom. I wonder how long you have to live here to get used to this town's name.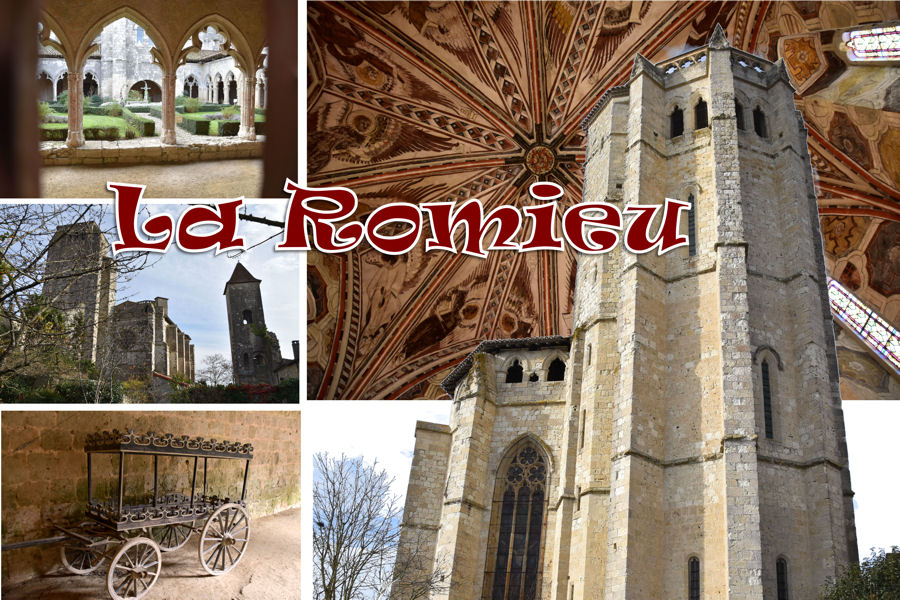 La Romieu, home of Collégiale St. Pierre and the legendary Angeline and her cats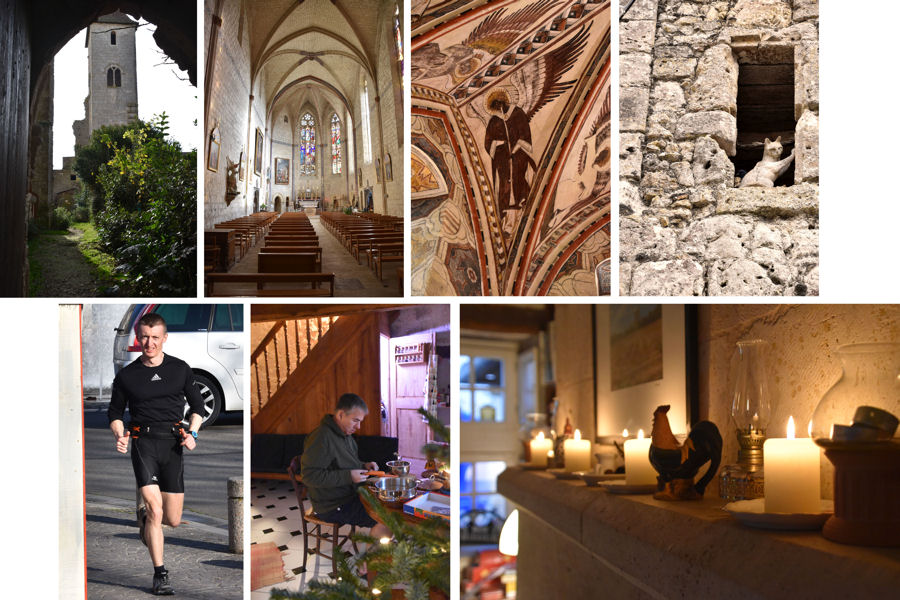 Back home, Nick prepares carrots for the soup stock.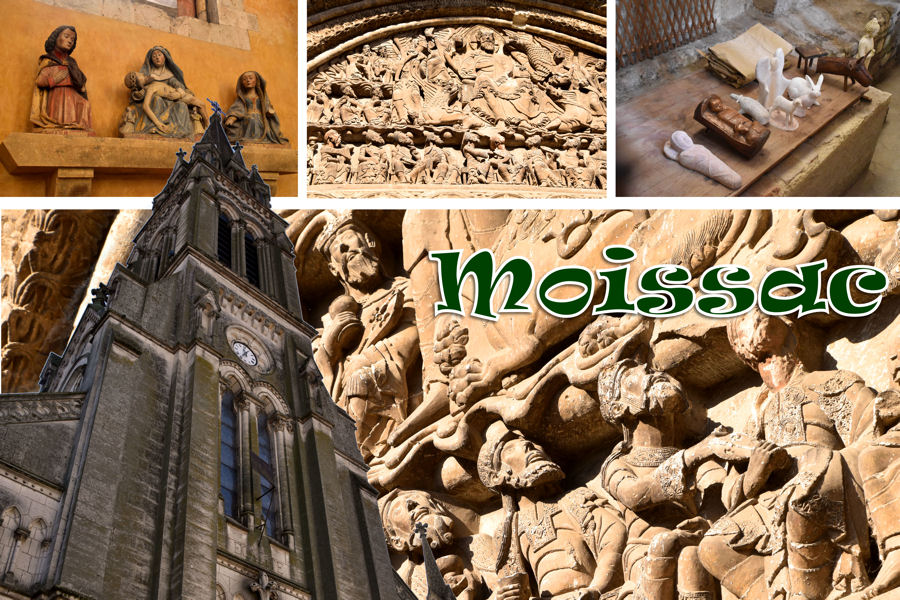 The doorway of the Moissac cathedral is described in The Name of the Rose. I liked the selection of possible Chrismtas Day additions to the crèche.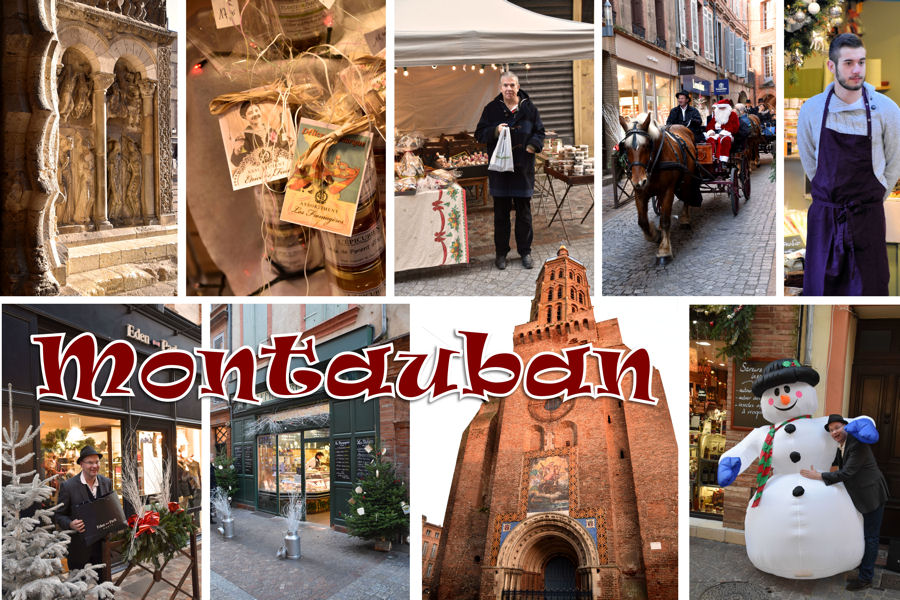 Montauban merited return visits, not least because it has an Eden Park store. We bought vanilla pods at a gourmet shop.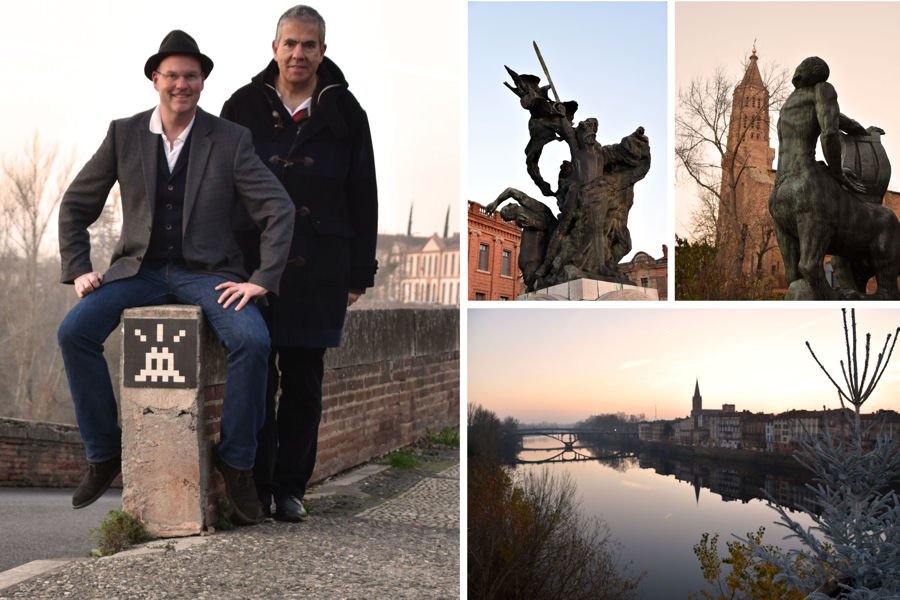 It was in Montauban where I saw my first Space Invader! We saw lots more last Christmas in Paris.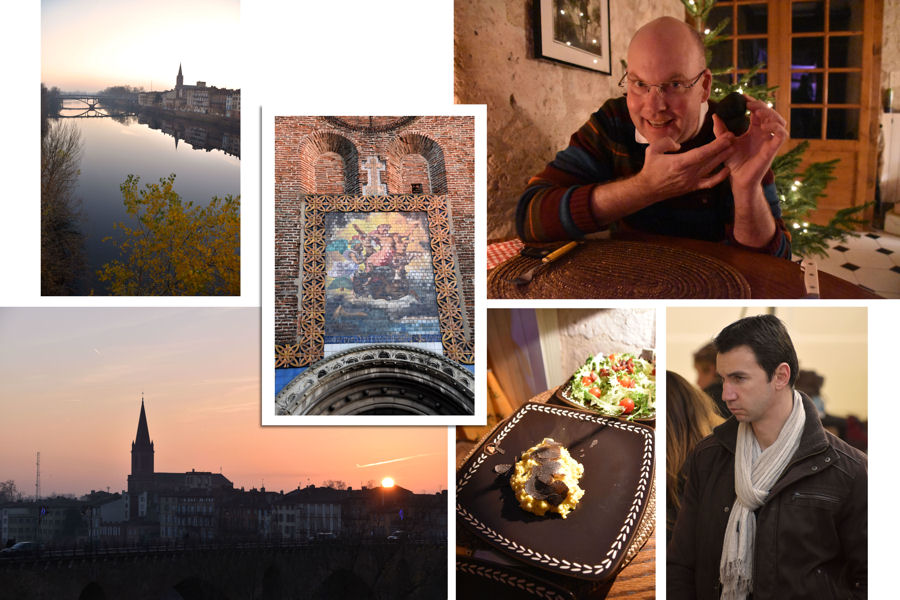 Montauban and scrambled eggs with black truffle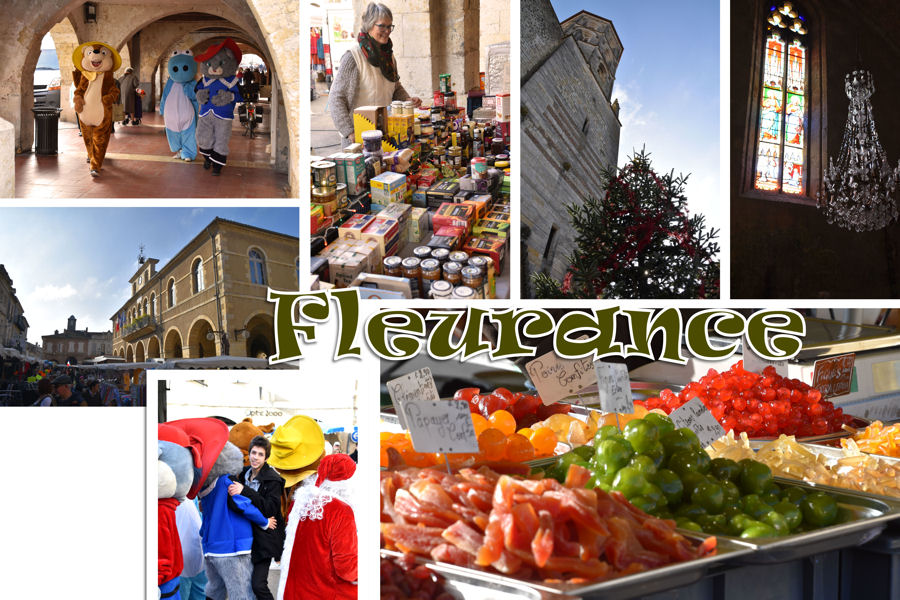 We saw some enchanting cartoon characters come to life in Fleurance, as well as a wonderful market, including a British ex-pat stall.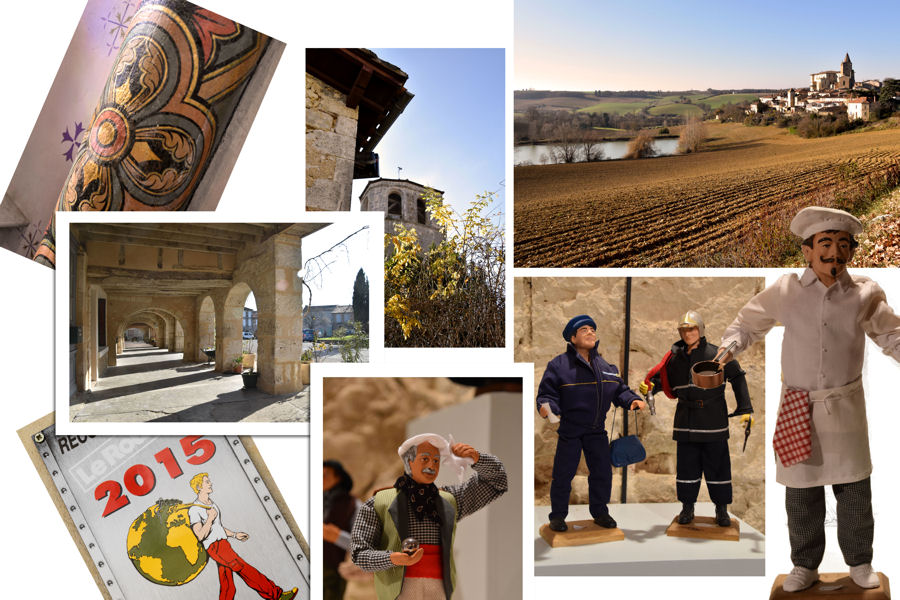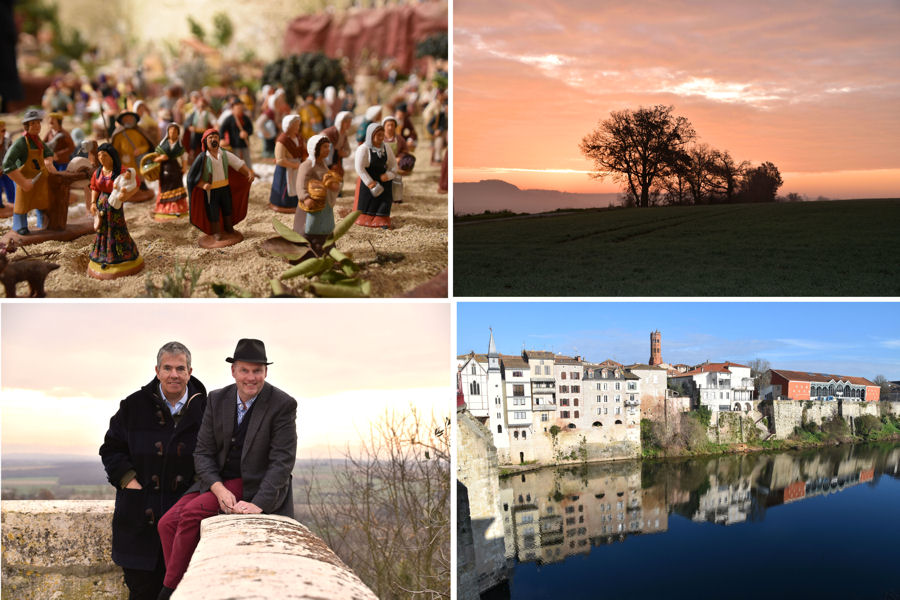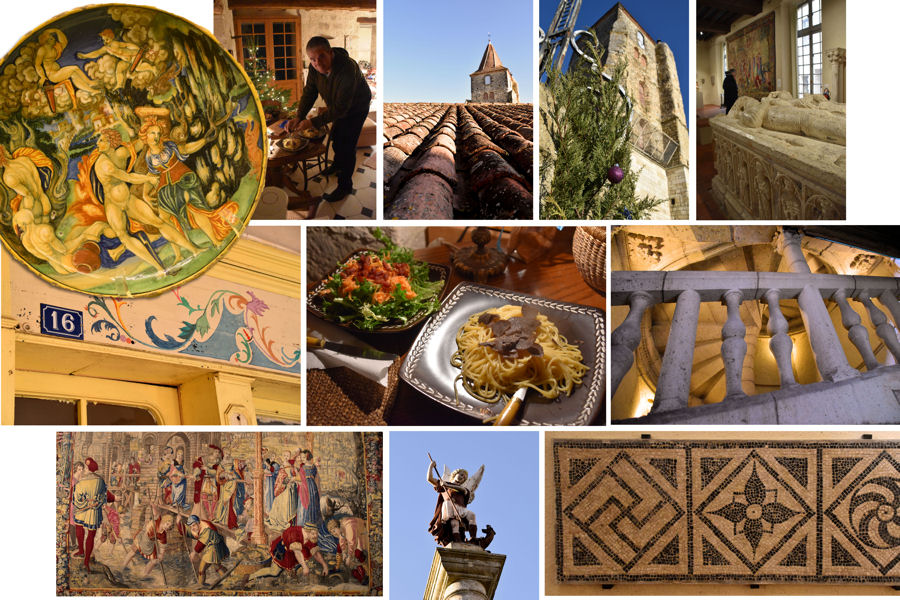 Agen's Musée des Beaux Arts had some nice things, including an ancient mosaic swastika.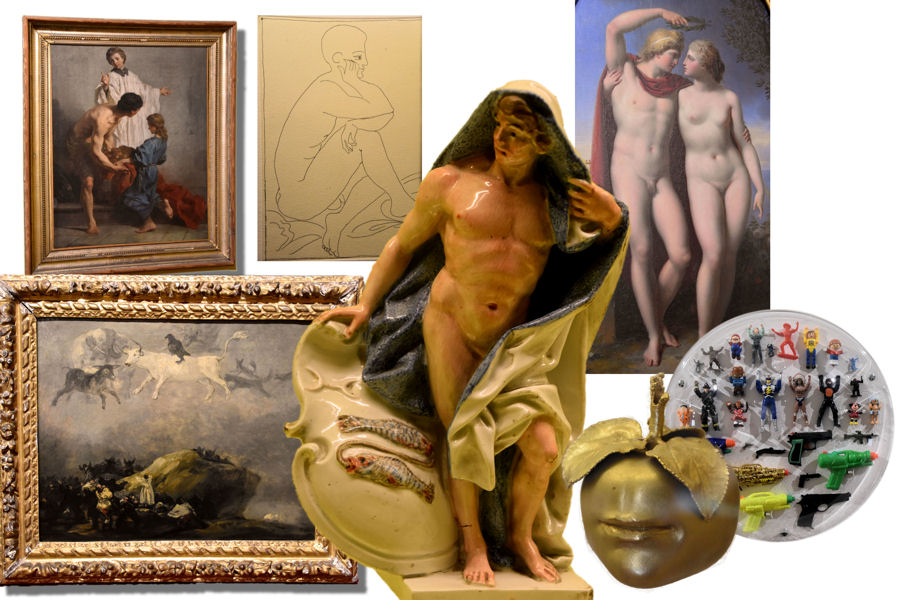 Some of my favourite artwork, including a fantasy painting by Goya with floating livestock.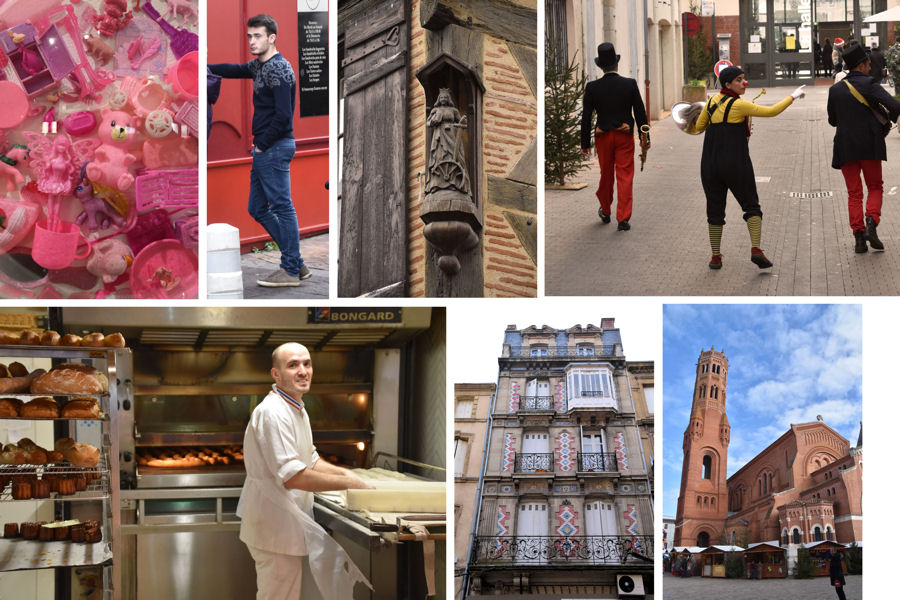 The baker in Agen provided us with a tasty lunchtime panino.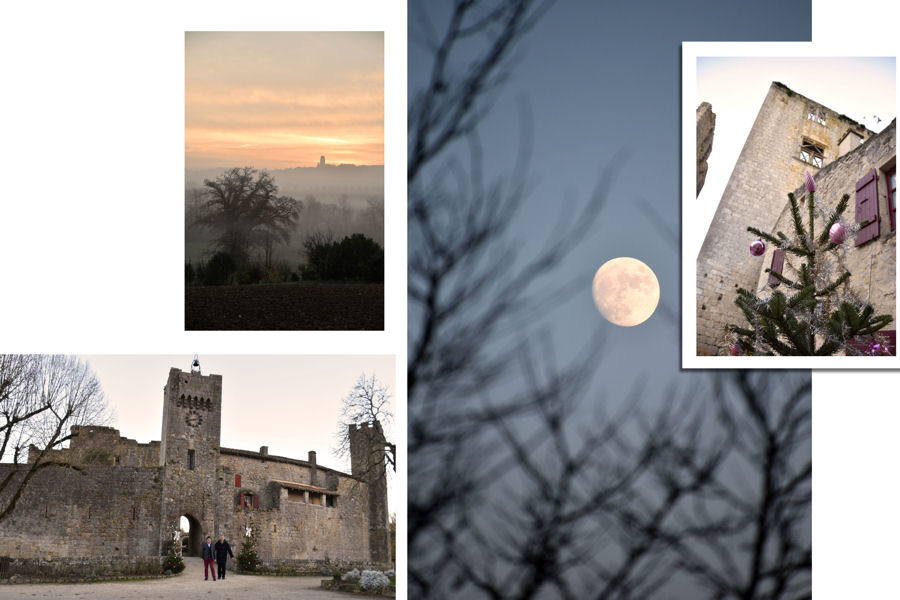 Sunrise over Lectoure and moon over Larressingle.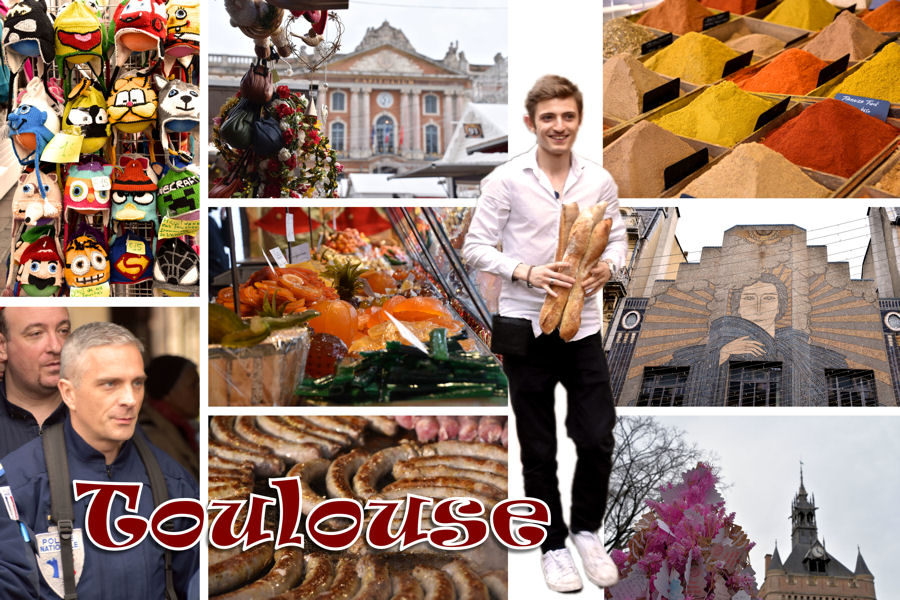 We went to Toulouse to see Giselle and enjoyed the Christmas market.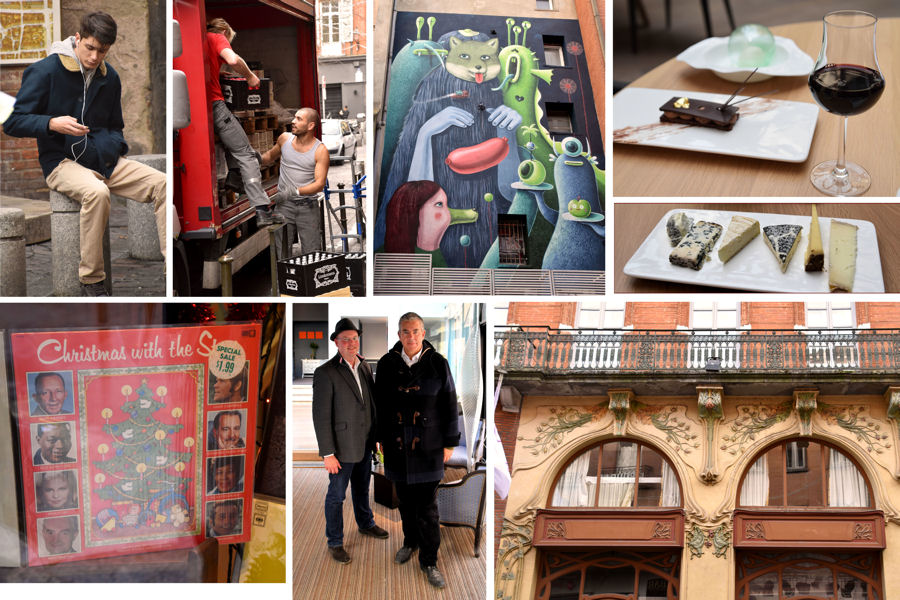 We discovered a posh restaurant, an album I had as a child, and some wonderful Art Nouveau buildings. Click HERE to see some of Budapest's Art Nouveau.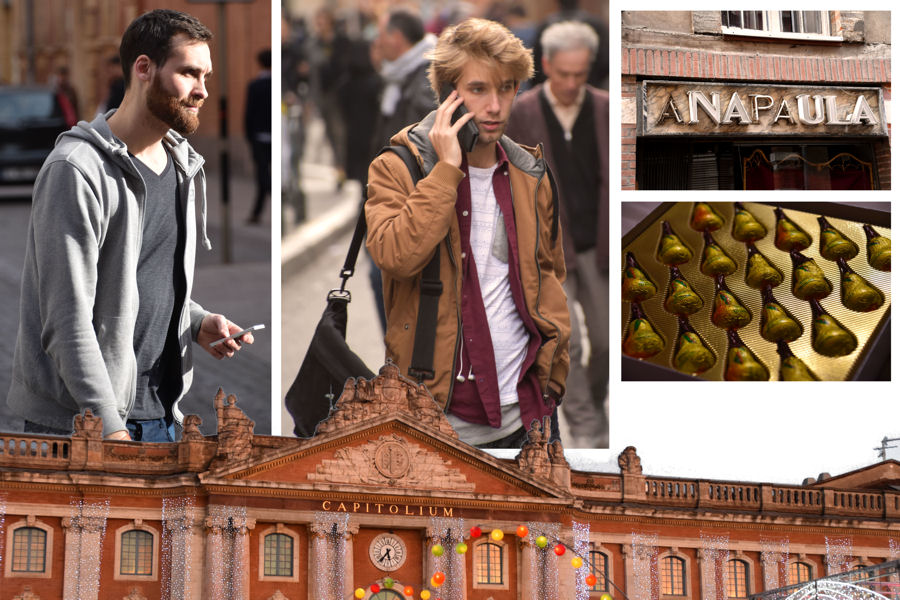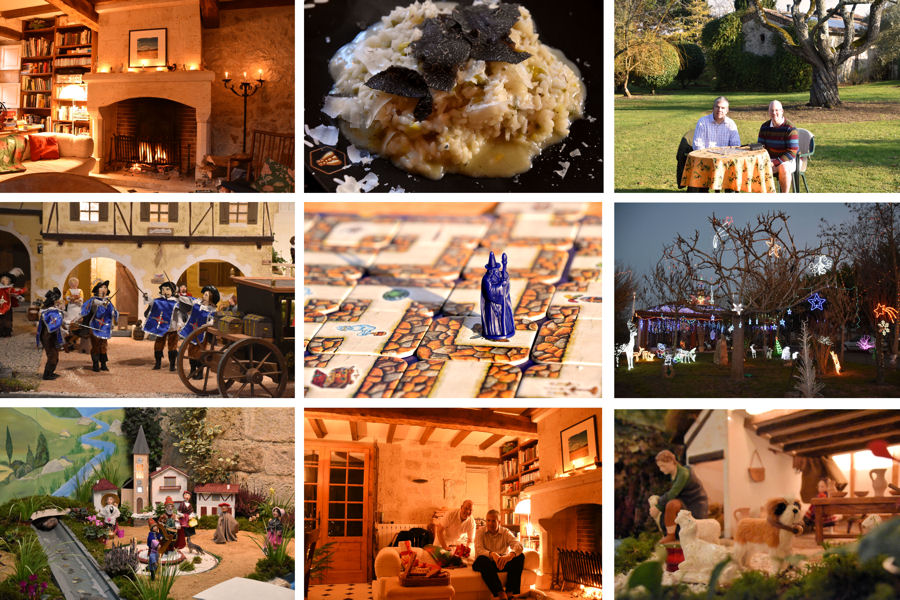 The warm weather let us play Labyrinth outside in shorts. The Ronde des Crèches gave us a focus for our days out and some were enchanting and very elaborate. Opening presents on Christmas Day.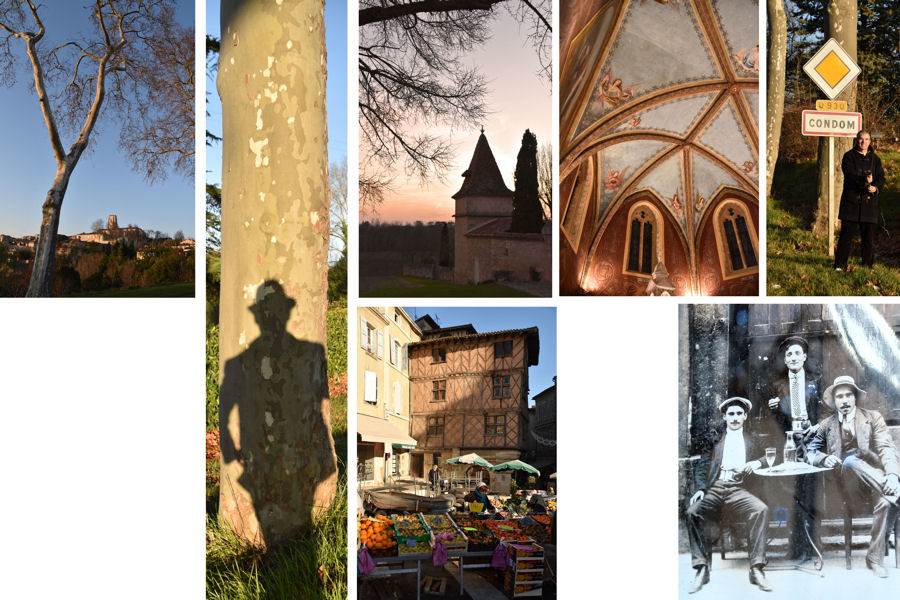 Return visits to Condom and Auch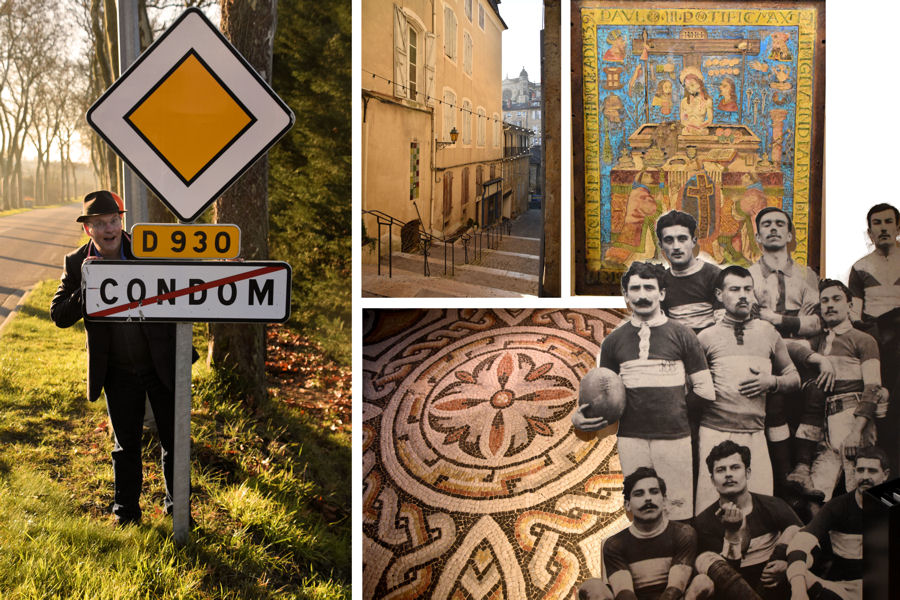 The museum in Auch had some important Mexican art - some of the first Christian imagery from that part of the world, and rendered, our guidebook said, in feathers.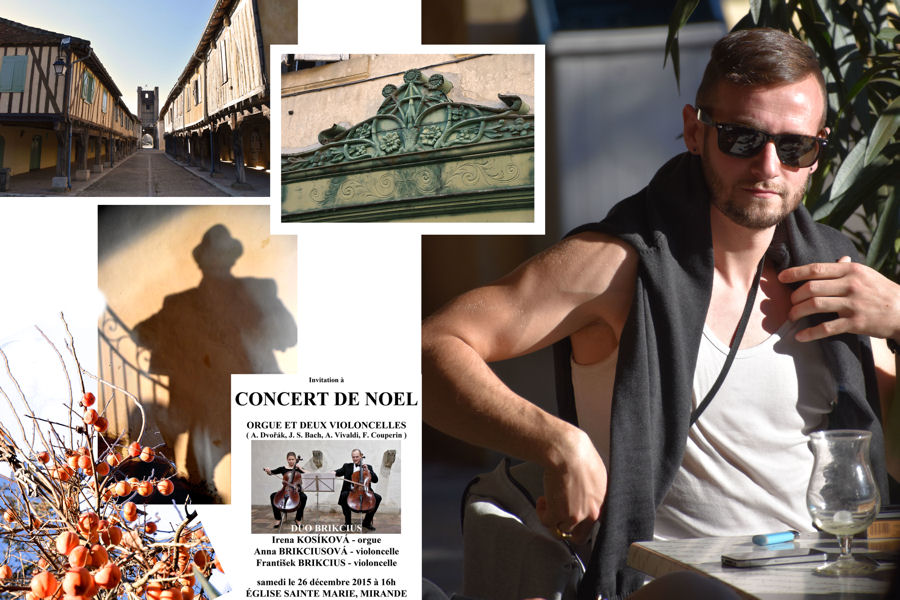 We heard a brother and sister cello duo on Mirande, where the warm weather caused this man to shed layer after layer of clothing. This is how we left him.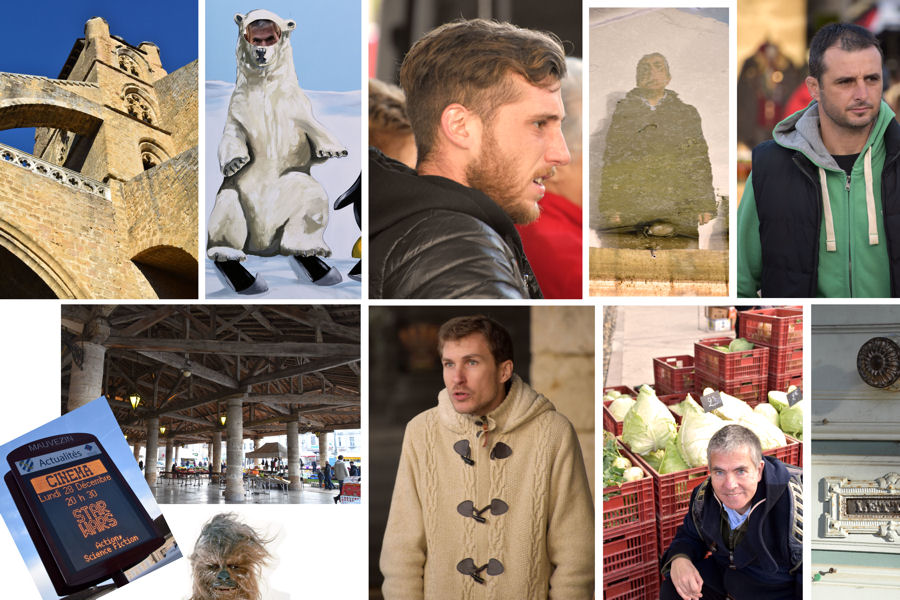 The new Star Wars film had just been released, and we wanted to see it, but there were no showings in English, so we waited until we got home.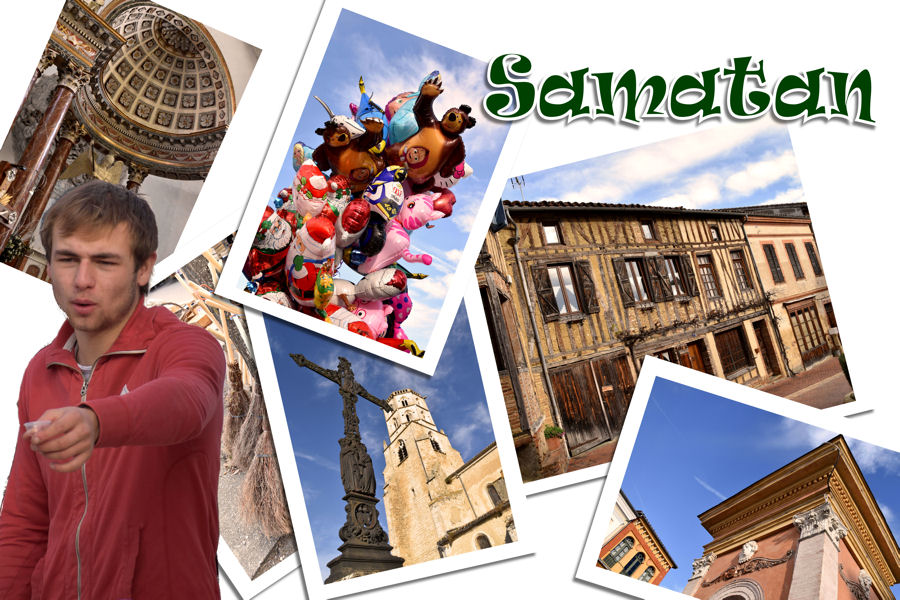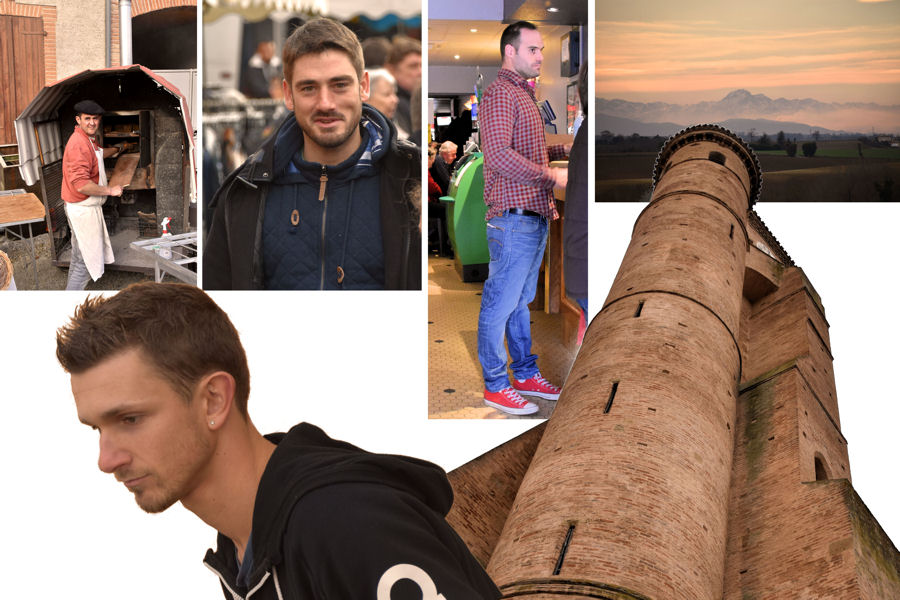 The Pyrenees in the distance speak of holidays yet to come.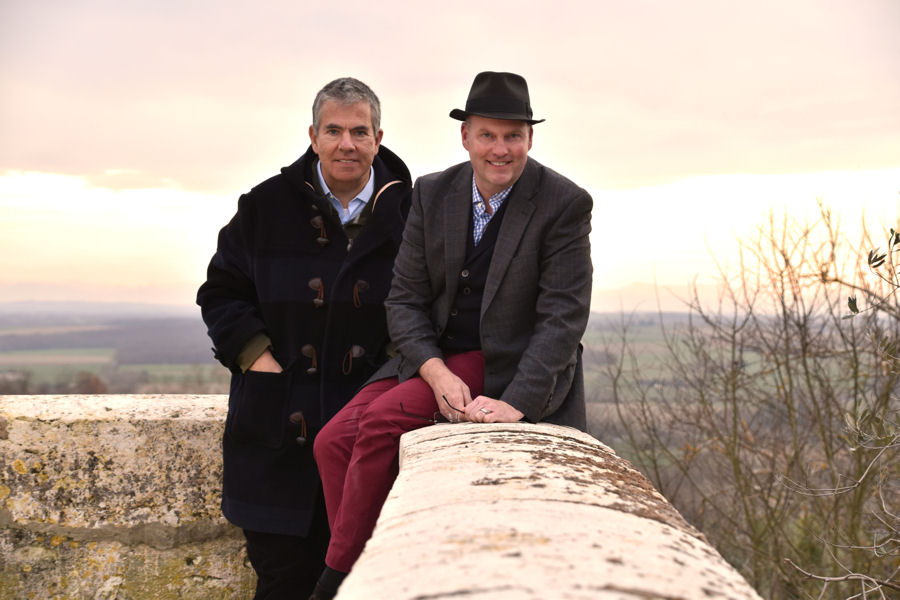 Lectoure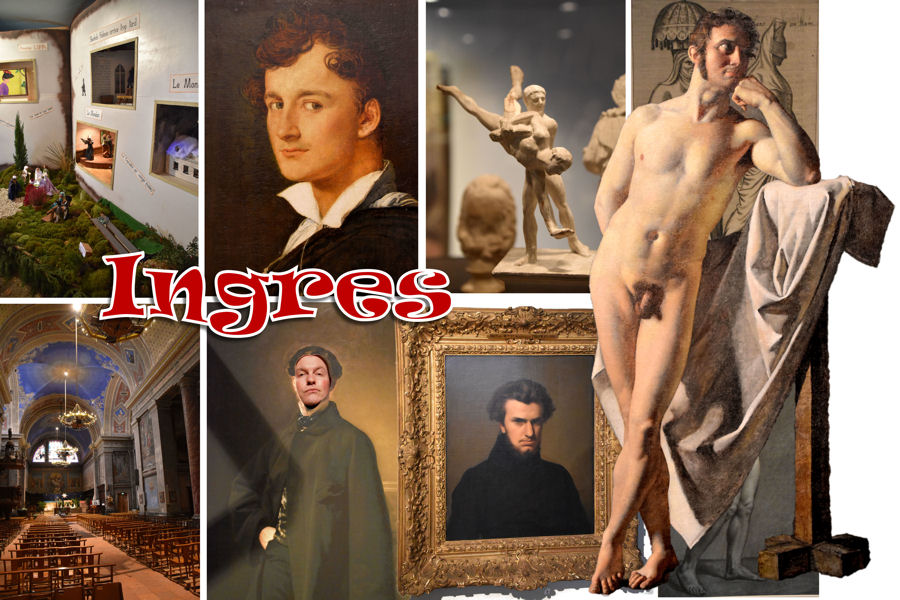 The Ingres Museum in Montauban was well worth the visit.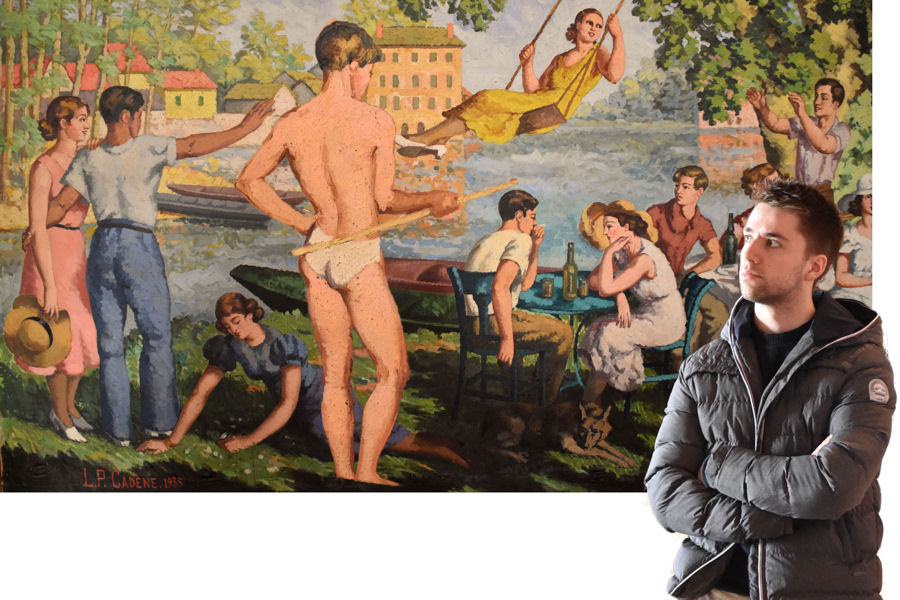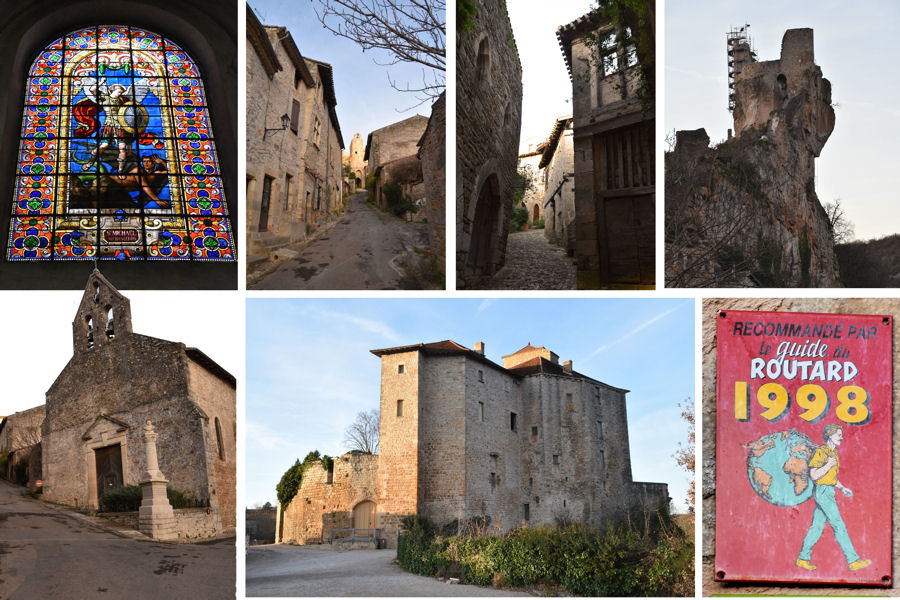 We drove a long way to visit Bruniquel and Penne at sunset.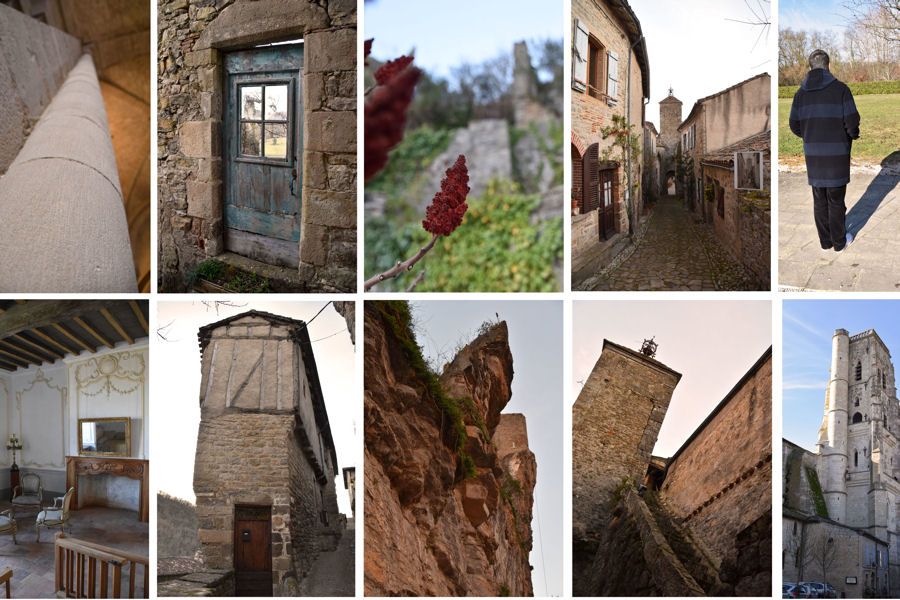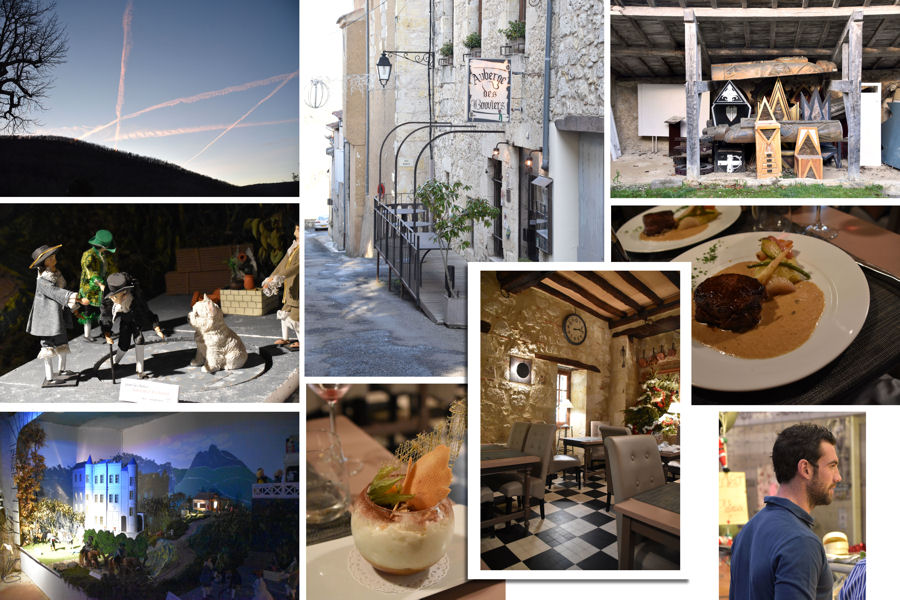 The Best restaurant we found was the Auberge des Bouviers in Lectoure. I would definitely go back!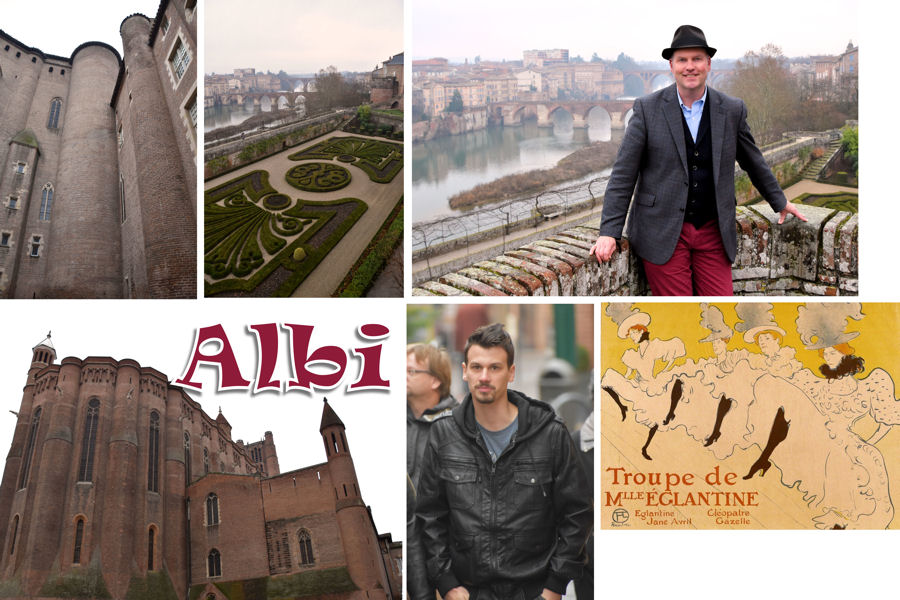 Albi was home to Toulouse-Lautrec, and it was thrilling to see all those iconic posters close-up.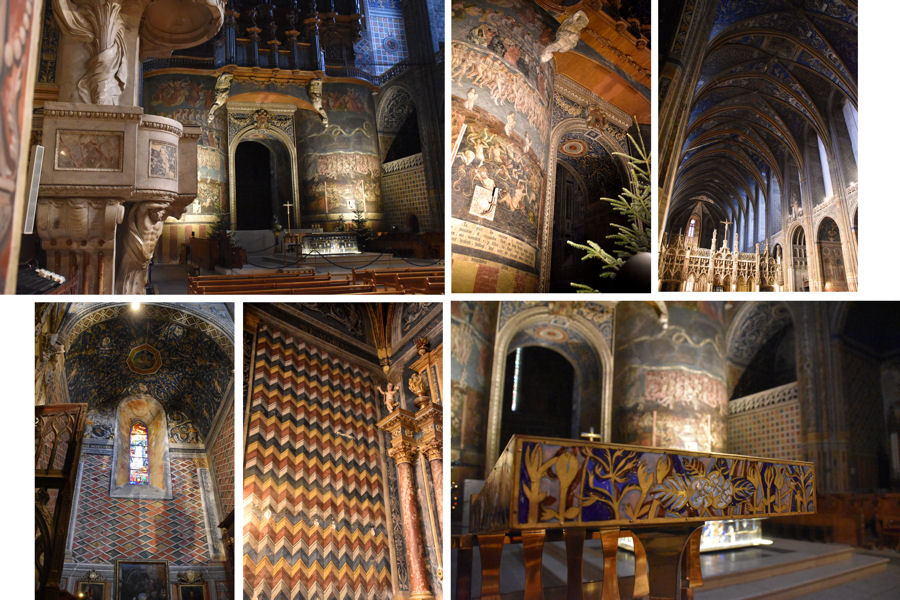 The cathedrail in Albi was beautifully decorated, with prominent scenes of afterlife for the naughty.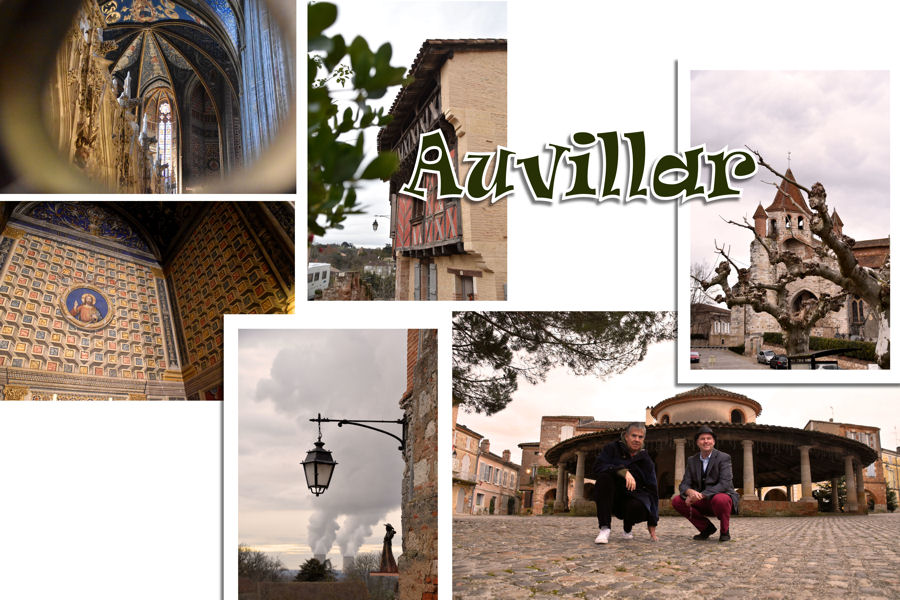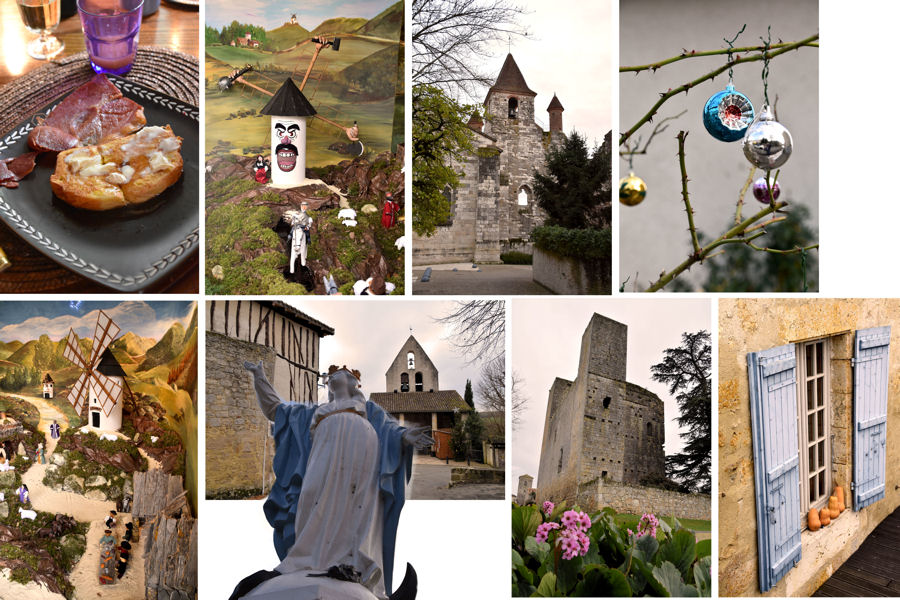 We only had a single hotplate to cook on for two weeks, but we managed meals such as brioche French toast and pasta with truffles. The smoking Don Quixote windmill was our favourite from the Ronde des Crèches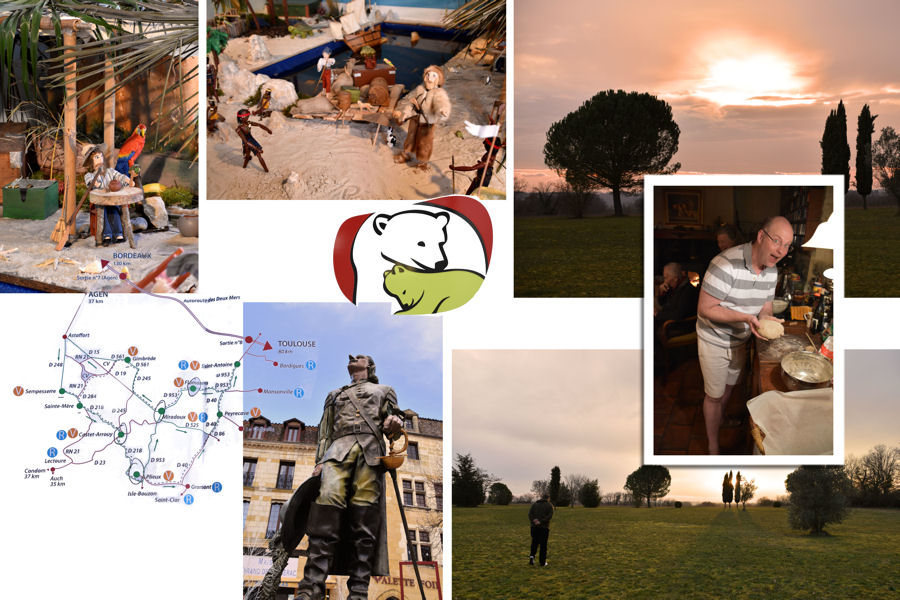 Our final days in the Gers, looking forward to 2016.