A LOW-FAT MEAL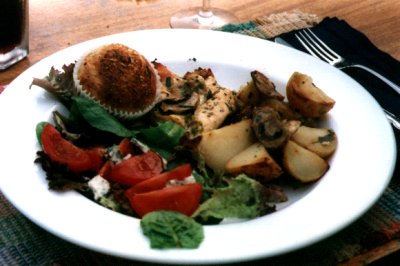 Despite the tenor of these web pages, I ty to be health conscious (eating cream substitute on my chocolate cake counts, doesn't it?) and I often cook using low-fat or no-fat recipes. The meal below was enjoyable and eaten in the back garden on a warm spring evening with a bottle of chilled sparkling wine. The muffins are delicious and the chocolate sauce is sublime served over low-fat ice cream, fruit, or the body parts of your choice.

Cheese and Rosemary Muffins
1 cup (250 ml) buttermilk
1 egg
1+1/2 tbs (22 ml) vegetable oil
1 cup (250 ml) unbleached all-purpose flour
1/4 cup (60 ml) whole wheat flour
1 tsp (5 ml) baking powder
1/2 tsp (2 ml) baking soda
1/4 tsp (1 ml) salt
6 Tbs (90 ml) freshly grated Parmesan cheese
1/2 tsp (2 ml) dried rosemary leaves, crushed
Beat together the buttermilk, egg, and oil. In another bowl sift together the flours, baking powder, baking soda, and salt. In another bowl combine the cheese and rosemary, and add this mixture to the flour mixture, reserving about 1 tablespoon (15 ml) for topping the muffins. Pour the liquid mixture into the flour mixture and stir just enough to combine. Pour the batter into 12 lightly oiled muffin cups and sprinkle the reserved cheese mixture on top. Bake in a preheated 400F (200C) oven for 15 to 20 minutes, until a toothpick inserted in the center comes out clean. Cool on a wire rack. Makes 12 muffins.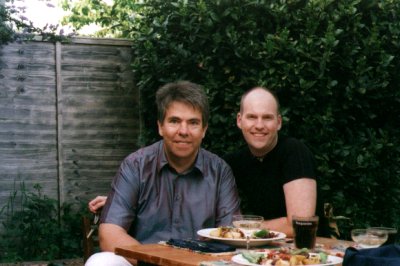 Dining al fresco
Chicken Mediterranean
4 - 6 skinless, boneless chicken breast halves
3 - 4 large potatoes, unpeeled and quartered
1 Tbs (15 ml) olive oil
1/4 cup (60 ml) fresh lemon juice
1 Tbs (15 ml) finely chopped fresh rosemary leaves, or 1 tsp (5 ml) dried
2 - 4 cloves garlic, finely chopped
1/4 cup (60 ml) chopped scallions (spring onions)
Salt and freshly ground pepper to taste
1/4 cup (60 ml) Kalamata or other black olives
1 cup (250 ml) sliced mushrooms
Place the chicken and potatoes in an oven-proof casserole. Drizzle with olive oil and lemon juice. Sprinkle with rosemary, garlic, scallions, salt, and pepper. Marinate in the refrigerator for 30 to 60 minutes, turning occasionally. Bake covered in a preheated 400F (200C) oven for 30 minutes. Add the olives and mushrooms and bake an additional 30 minutes. Serves 4 to 6.

And finally...Low-fat Chocolate Sauce
4 Tbs (60 ml) sugar
4 Tbs (60 ml) unsweetened cocoa
2 tsp (10 ml) cornstarch (cornflour)
1 cup (250 ml) water
1 tsp (5 ml) vanilla extract
Combine all ingredients in a small saucepan and bring to a boil over moderate heat, stirring constantly. Boil for 1 minute, stirring constantly. Remove from heat and cool, stirring occasionally. May be frozen for up to 2 months. Makes about 1 cup, to serve 6 to 8.