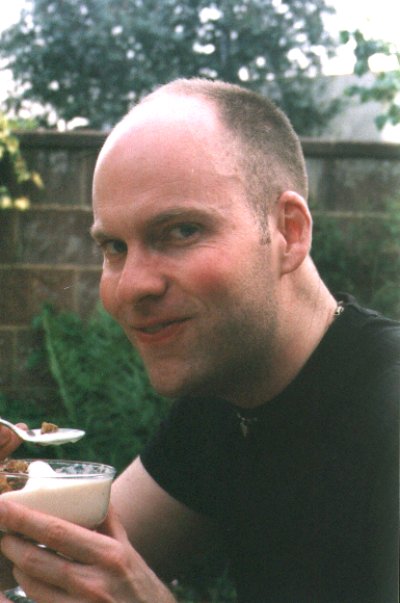 I have a real love of food which includes poring over cookbooks, shopping for ingredients (I refer to my local Sainsbury's as The Temple), preparing meals, and eating. My love of food, however, does not extend to washing the dishes. I sometimes think it would be fun to run a Bed & Breakfast that serves delicious and unusual food to its appreciative, wealthy, and generous guests. Maybe that would spoil my enjoyment? For now, I remain satisfied cooking at home and welcome the opportunity to share with visiting friends and family.

| | | |
| --- | --- | --- |
| Our Valentine's Day meal, 2001... | ...complete with heart-shaped, rosemary bread | Nick about to "tuck in" |
I have included some of my current favourite recipes for you to try at home. In order for you to fully recreate the George Experience, you should light some candles, put on a Sondheim CD, pour a glass of wine, and...what's that smell? Aaaagh! I forgot to take the pine nuts out of the oven! THEY'RE RUINED!

CLICK ON AN ICON BELOW TO SAMPLE SOME OF GEORGE'S FINEST:

German Chocolate Cake

A Low-fat, but delicious meal

Texas Margaritas

Asparagus Rarebit

Roasted Peppers with Goat's Cheese
Leek and Roasted Pepper Pizza

Pecan Pie That Contains No Roasted Peppers Whatsoever