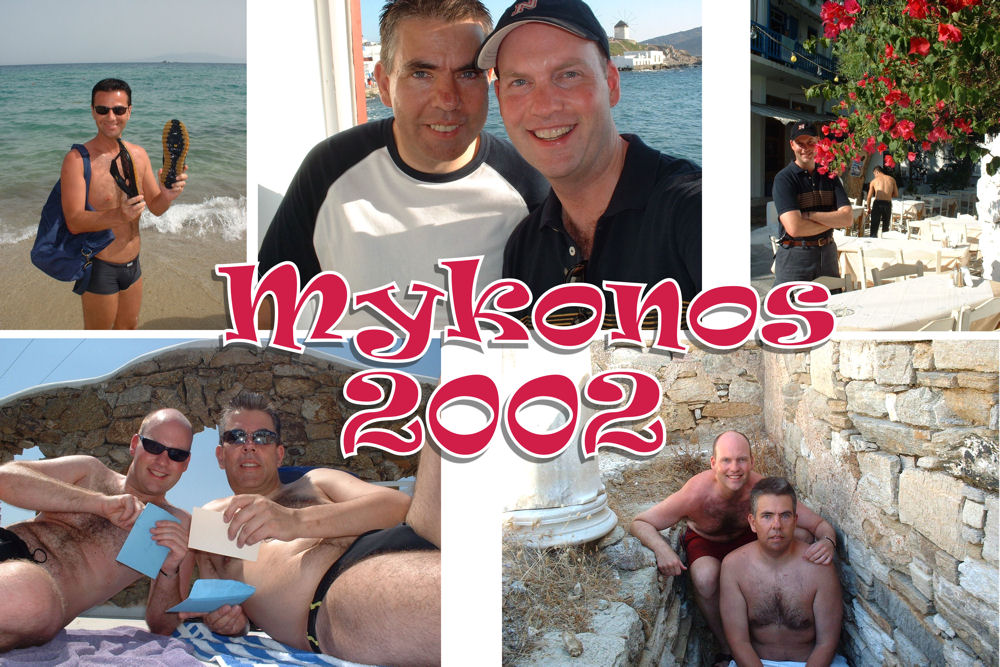 In August 2002, we made our third and most relaxing trip to the Greek island of Mykonos. Click HERE for photos from 2000 and HERE for 2005. Many of the things we saw and did this time were not new to us, but instead were reassuringly familiar. The night before we flew to Greece, we stayed overnight at the Europa hotel at Gatwick airport. The hotel had a gym and pool and even an aerobics class which I attended with three other people. All this exercise was to prepare us for the Mediterranean food we knew lay ahead of us.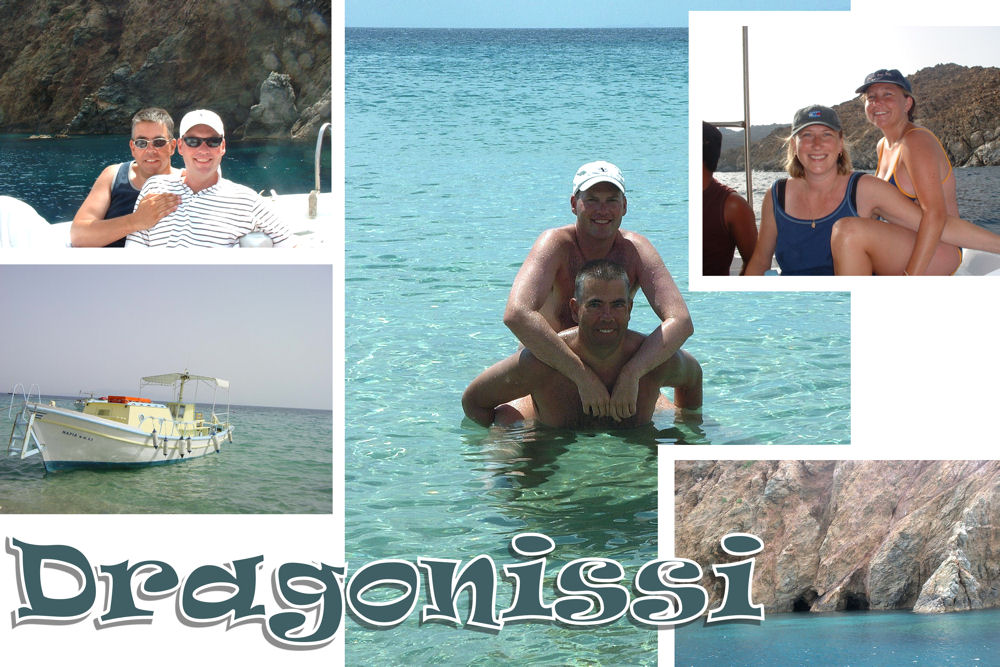 The best source of new acquaintances came from the gay cruise we took. On a much smaller scale than our American friends' ship, about twenty of us met on Sunday at Platys Gialos and took a small boat to the uninhabited island of Dragonissi.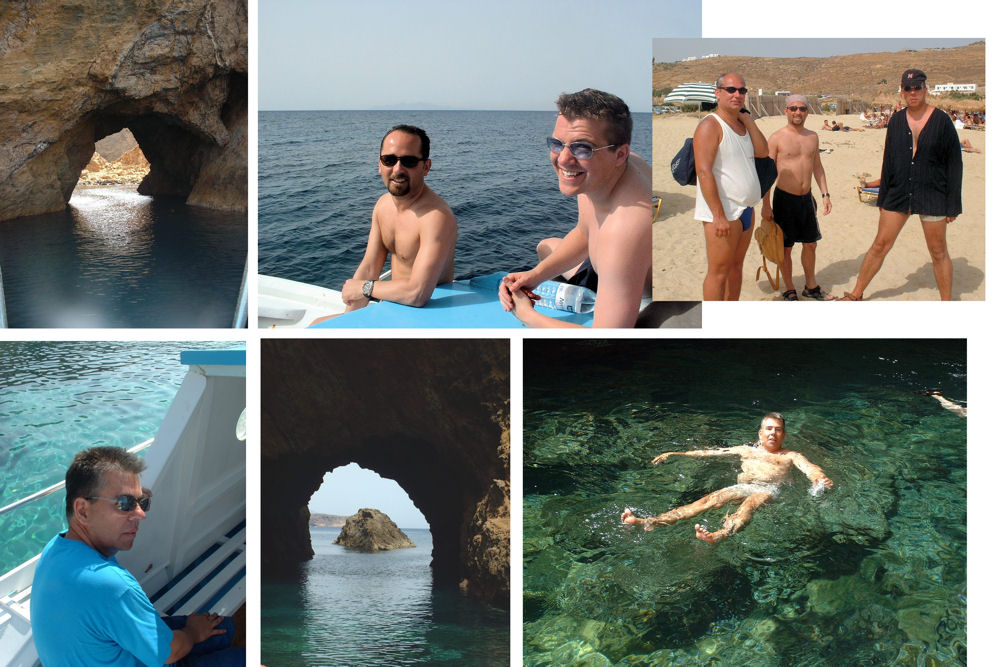 There we explored caves and swam in secluded coves where bright yellow jellyfish drifted inches away from us. We had an ouzo break with olives and bread and it was there that we struck up friendships with Ed and Russ from London and Tammy and Clare from Plymouth. Ed is a transplanted American just like me who understood references to the Brady Bunch and Spring Break and Russ is a recruitment consultant who taught me the dangers of ill-placed Sun-In. We enjoyed their company later in the week on a trip to Elia beach. Clare and Tammy are two Out and Proud teachers who were completely at ease among a boat full of men. I sensed that they could each organise anything from a barbecue to a search and rescue mission and it was Clare who arranged for us all to meet up on our last night for a meal. We had drinks in the shady bar on the next beach of Agrari and agreed to continue our fun that night at Rhapsody Bar in town. The cruise was one of the highlights of our trip due to the spectacular scenery, but mostly because of all the friendly people. We would definitely do it again.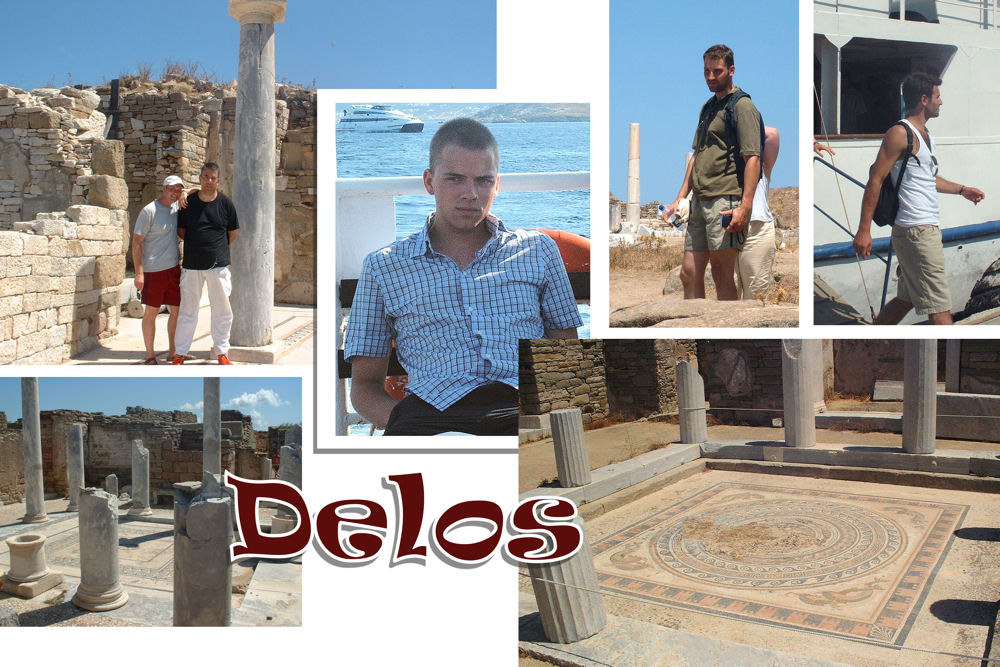 Another exciting day out was spent visiting the ancient birthplace of Apollo on Delos island. We were all set to be disappointed this time as we had such an exclusively pleasurable experience two years earlier; however, our expectations were once again met and exceeded. Our first destination was the ruined stadium to find out if the Hidden Cave we discovered last time was still there and unspoiled. (You never know when a Starbucks is going to come along and set up shop next to your favourite secret place). Once we got off the boat, everyone else went to the right and we headed off to the left guided by instinct and memory. About fifteen minutes later, we were descending the steps into our own private cave, which must have been a well around 800 BC. The day of our visit, there was a shallow pool of turquoise blue water at the bottom of the steps and light filtered in from a boarded up opening at the top of the well. We spent some time here, enjoying the quiet, ancient solitude and then we went outside to take photos among the ruins.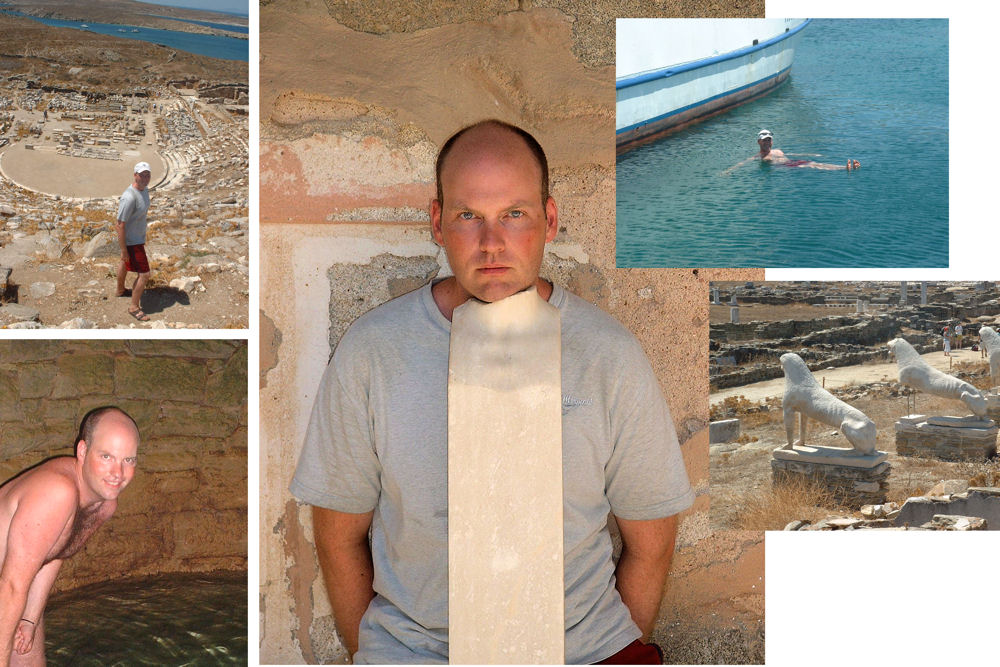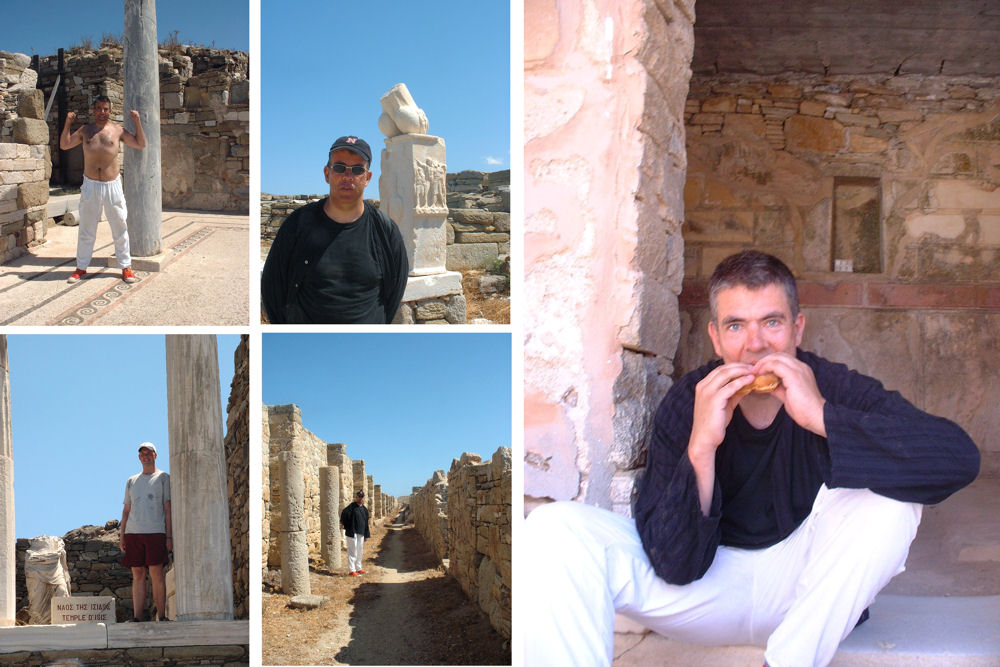 A lot can be said for being prepared and this visit to Delos we were just that. Halfway through our visit, after seeing the wondrously restored row of lions and the indisputably phallic statuary near Apollo's Sacred Lake, we had lunch inside a cool marble house that must have been even more magnificent in its day.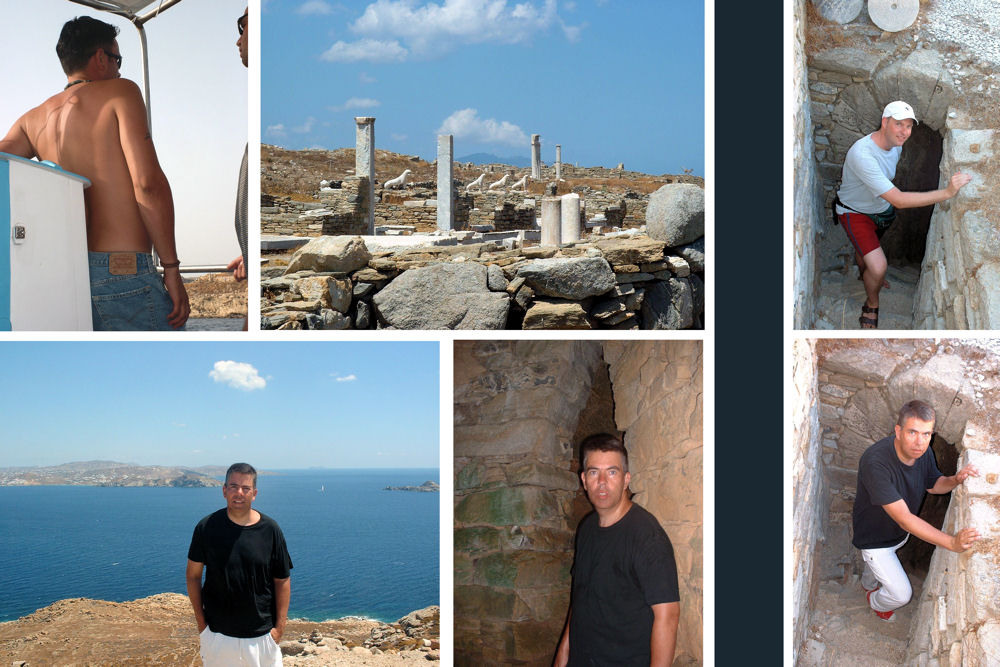 After that, we trekked past the temple of Isis and up the 112-meter hill where we could survey the whole island and see Mykonos in the not-too-distant distance. On the way down, I photographed a Cute Guy and we visited the amphitheatre, the House of Dolphins, and treat of all treats, the snack bar, where we bought the World's Coldest and Most Delicious Lemon Slushies. Honestly, Delos is so hot, these drinks easily earn a place in our top ten list of best ever things to eat or drink. A highlight of Delos is always swimming in the lagoon while waiting for our ferry to depart. Floating there in the clear azure sea, it is easy to imagine people thousands of years ago shedding their togas and sandals and doing the same in exactly the same spot. But they didn't have slushies…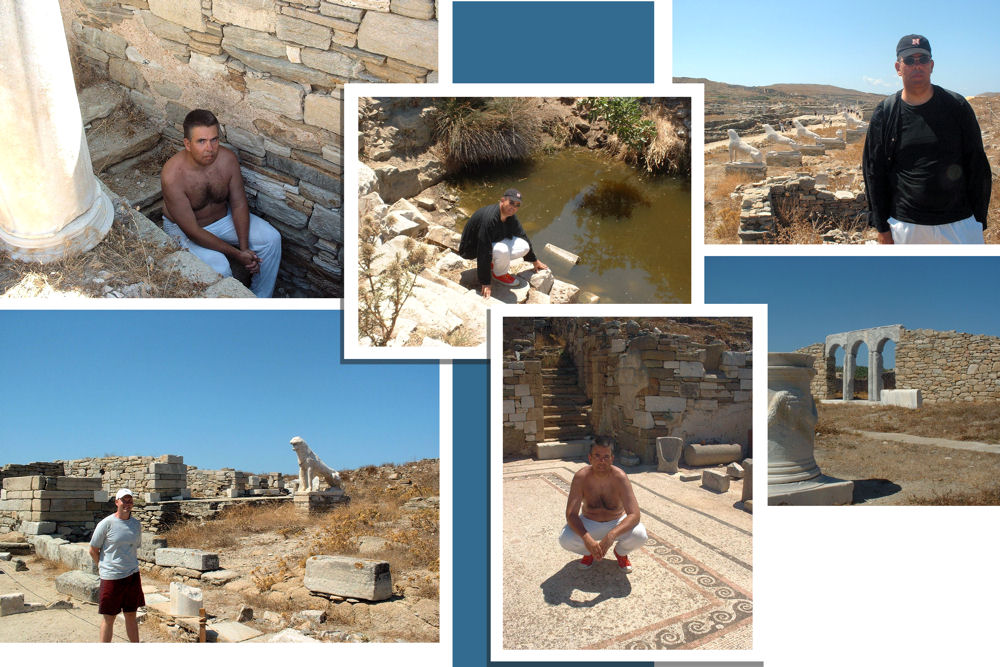 Nick at the Hidden Cave and frog pond and us both with the lions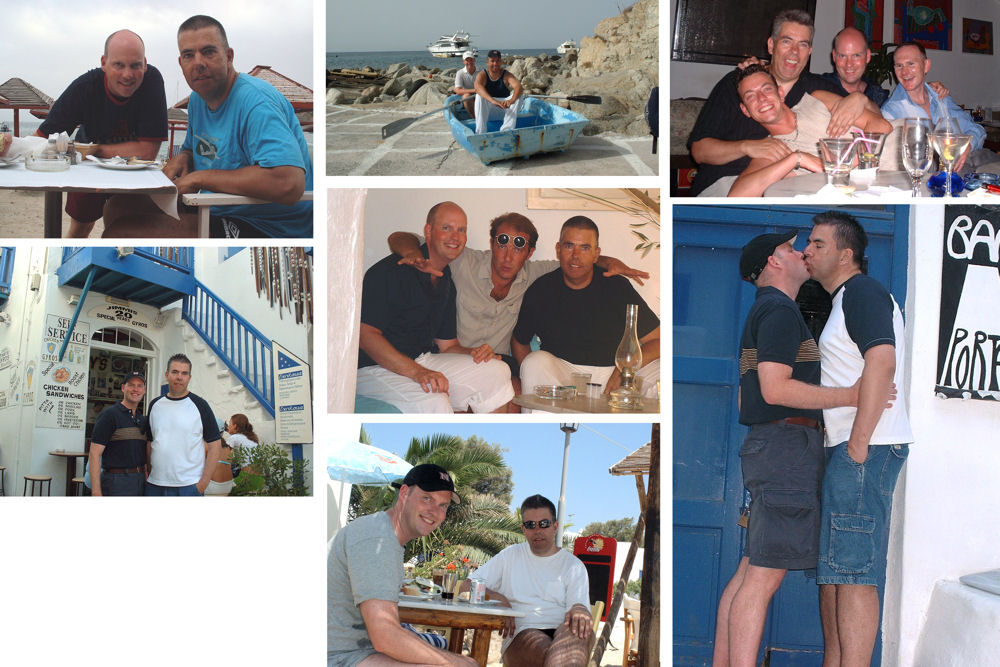 Another piece in our "Let's Recreate the Fun We Had Last Time" puzzle of Mykonos fell into place when we discovered that Milan Josipovich, photographer extraordinaire, was indeed still working on the island. As soon as we saw his wife's stand, we eagerly made an appointment to have our photos taken on our last day on the island. This would give us sufficient time to get tanned and gorgeous. We had brought the requisite changes of black and white clothing with us and our guidebook recommended the eccentric barber Kosta whose colourful establishment we both visited. Kosta's place is beautiful and cool, complete with lazy Greek dog and alcoholic brother - or so we assumed - who entertained the neighbourhood with his ouzo-fuelled shenanigans. My haircut was rapidly executed and Nick had worked up the nerve to have his cut really short as well, something that I had been urging him to do for a long time. His mother may think he looks like a "thug", but I think the results are fantastic.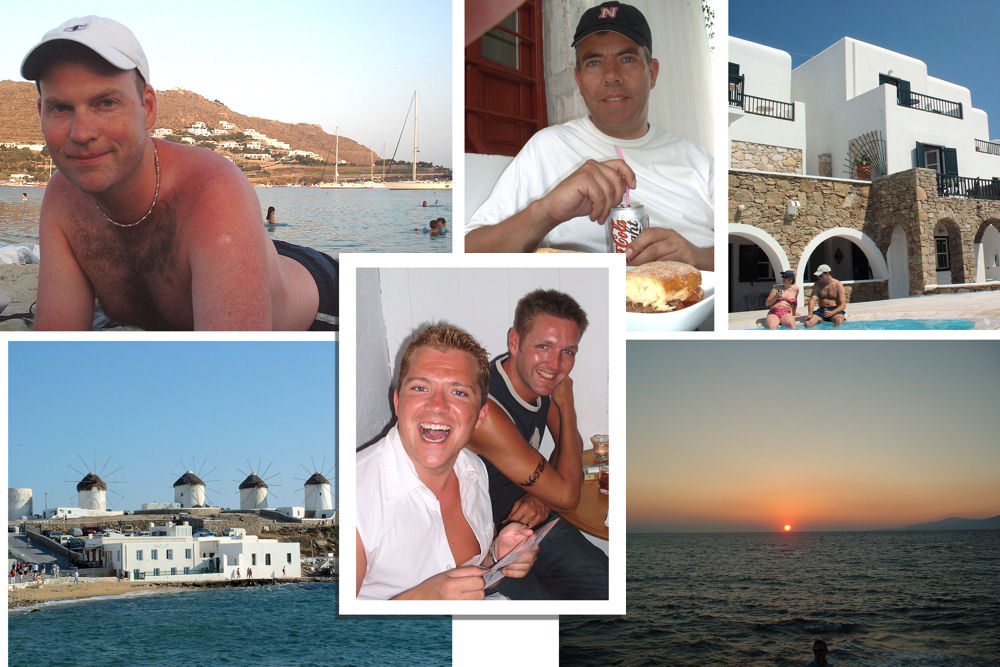 We were even more pleased with Milan's photographs this time and we take our hats off to the artistry that Milan shows. We went for a nice social drink with Milan afterwards to Caprice where we changed out of our wet clothes and watched the sun set on our last evening there. Click here to see more of Milan's photos.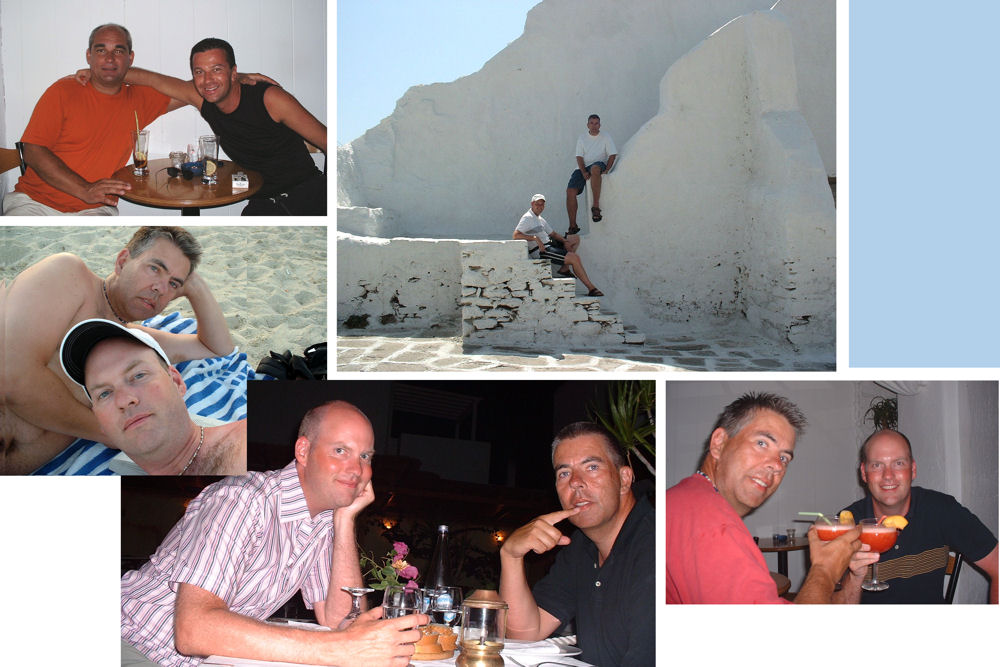 After Dragonissi, we visited a couple of other beaches, one of which had a grand total of two other people on it when we arrived. They must have been thrilled. We played Frisbee in the waters there before heading off to Kalo Livadi beach where we had an excellent lunch of Greek salad, grilled pork chops (Homer Simpson sized), and carrots that everyone mistook for little round tomatoes. I got to use my knowledge of the German language a couple of times this year, once with a very nice Austrian couple we met on the cruise. We sat next to them at lunch and had some interesting conversation about distance. The other time I spoke German extensively was to two gay priests (Protestant) from Salzburg. They were very friendly and I am pleased to report that one of them was wearing leather shorts!

The pool at our apartment was small, but nice, and we swam in it nightly after returning hot from a day's activities. Most days the pool was crowded with Italians who were trying to set the world record for diving over an increasingly high stack of deck chairs into the pool. Not knowing the Italian word for hospital¸ we chose to spend our pool-side time at the Hotel Yannaki in Ornos, where we stayed in 2000. The pool there is beautiful, uncrowded, and has a restaurant run by the friendly Yanni, who remembered us - Nick at least - from our last visit. We concluded that our favourite way to spend a day was reading by the pool. A few chapters of The Night Listener, Future Homemakers of America, The Oversight, or Kitchen Confidential, and then we were ready to jump into the water to cool off or order a watermelon juice and Greek salad.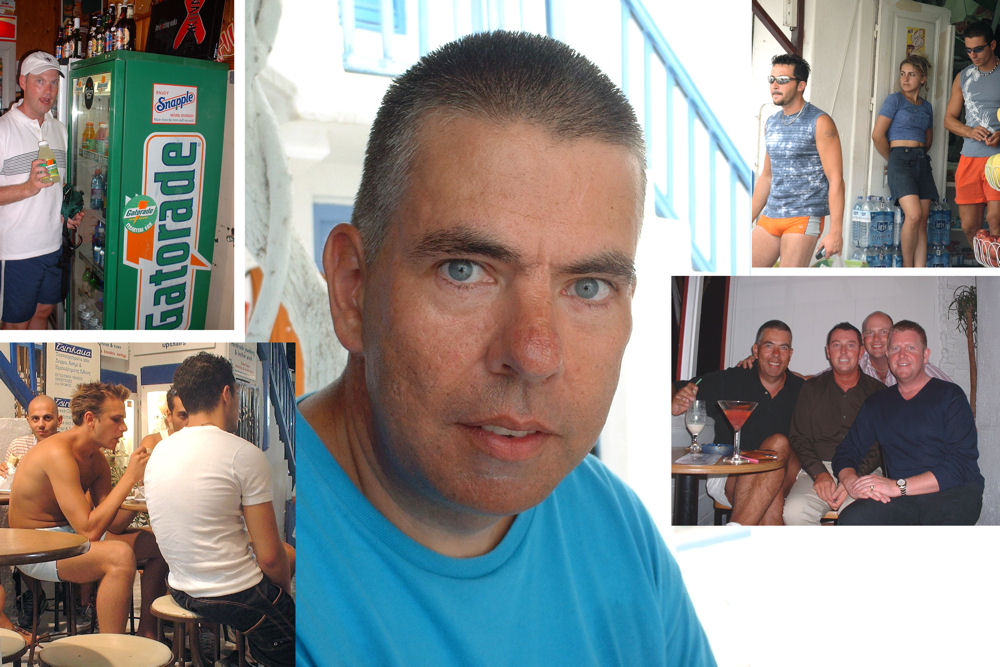 We met some new friends at the pool, Andrew and Gary (to be played by Kenneth Branagh in the film), from The Wirral. Returning visitors like us, they were there to celebrate Andrew's birthday and to provide me with eardrops when I needed them. We met up later in the week for happy hour drinks at Rhapsody Bar. One of the best things about this trip was the way we were able to meet so many new people. Why isn't it this easy back home? Perhaps we made more of an effort, or perhaps it's because visitors to Mykonos tend to have more in common. There were certainly a lot of single sex couples, teachers, professionals, people with a sense of humour and on the "sensible" side of thirty. Whatever the reason, we enjoyed meeting and spending time with such nice people.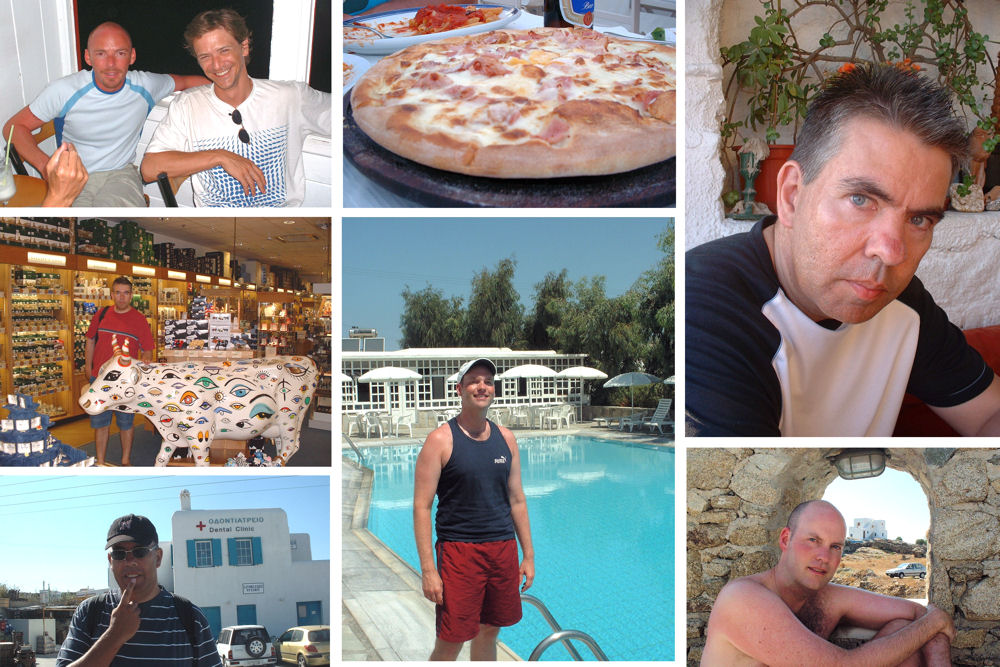 At Yanni's pool and Nick's visit to the dentist.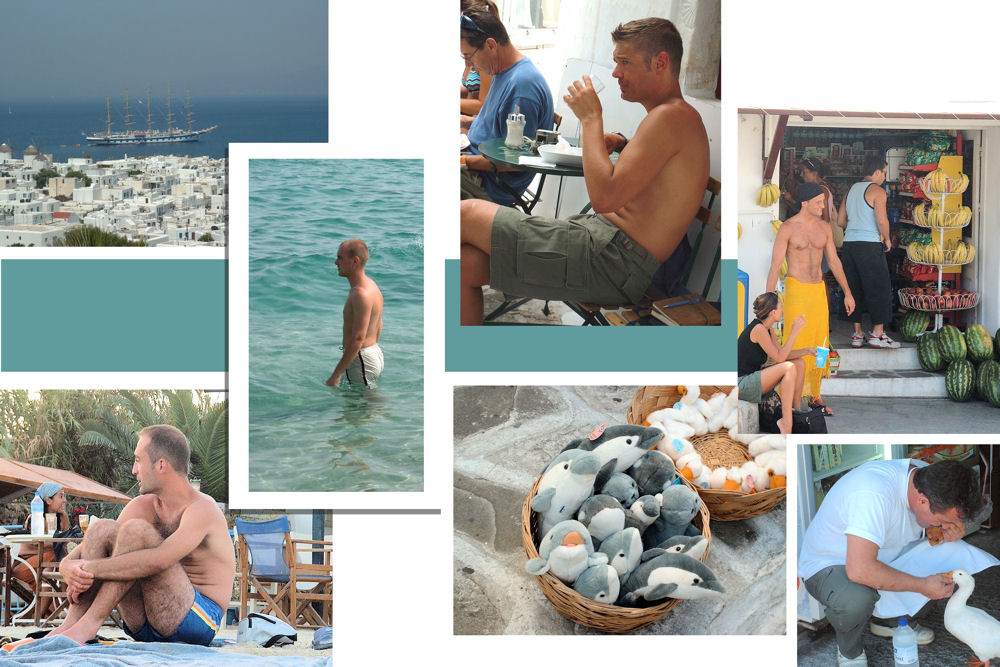 One night we were walking along near the port and suddenly a wave of eager gay men surged towards us. It was like that Ally McBeal episode when she is trying to avoid men and suddenly every guy she walked past is increasingly gorgeous including, surreally, a surfer (don't see many of those during Boston winters). Turned out that our guys had just disembarked from a huge gay cruise ship anchored in the harbour. One of them was a Californian named "Manson".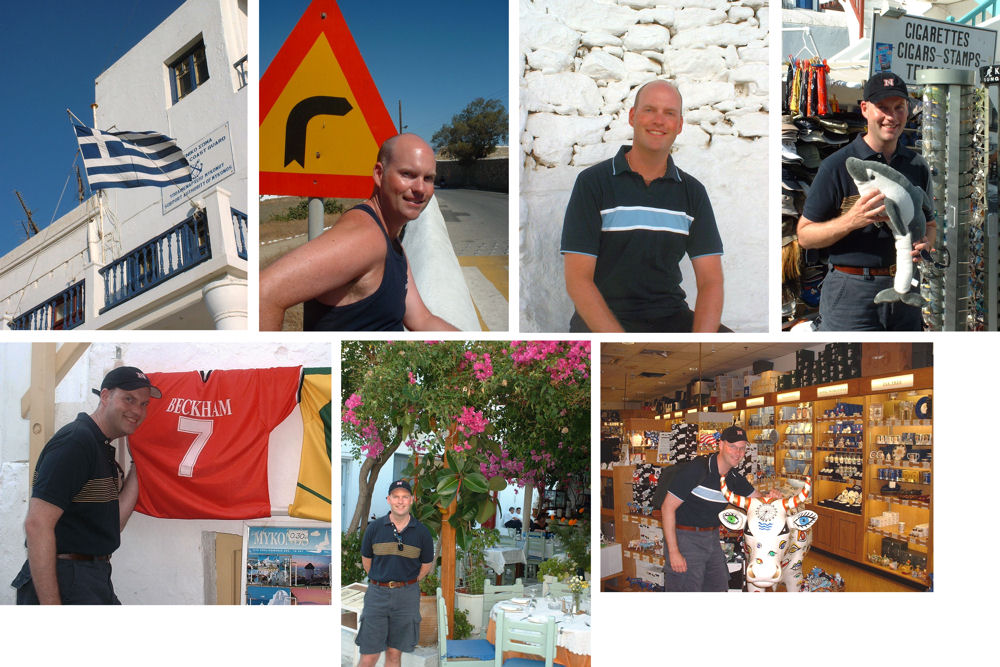 The dolphin is an old friend I visit each time we go to Mykonos. Beckham was on my bingo card.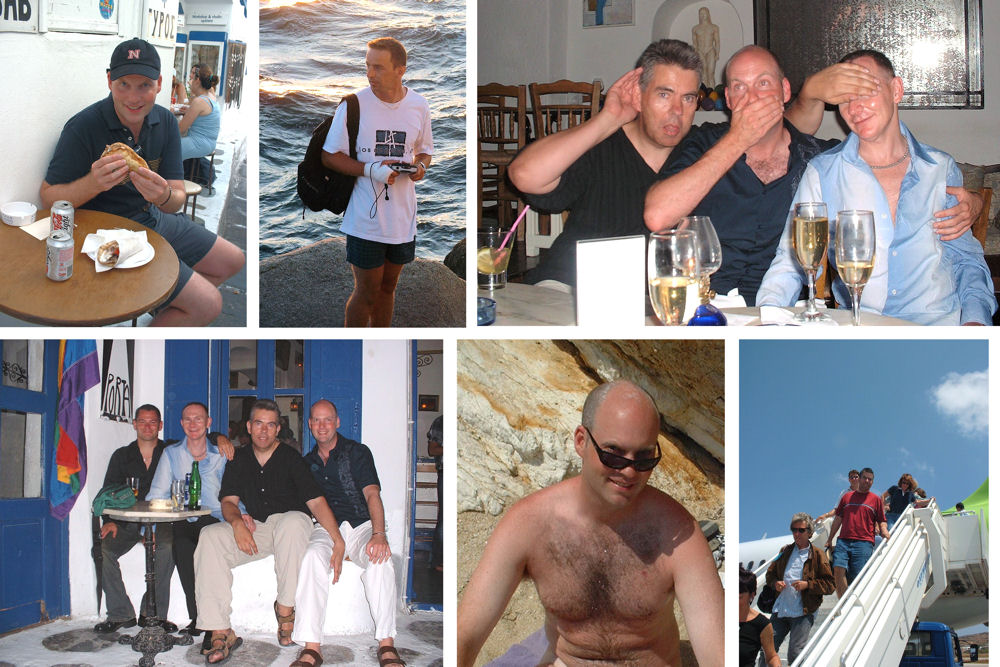 Nightlife on the island starts very late. Nevertheless, we spent many a fun evening out on the town. The first week we frequented Porta Bar, where we met the lovely and flirtatious couple John and Mark. Mark was another birthday boy and the week's holiday was his treat from John. These two stayed at the same apartment complex as us and taught us, after a night of Hansel and Gretel-esque confusion, the short cut way to get home at night. These two introduced us to the gregarious Simon and Rachel, who, engaged to be married, were on their first visit to Mykonos. Rachel "loves gay couples" and Simon was very comfortable with all the attention he was getting from the four of us guys. Jimmis was the place for gyros again this year and we had a nice meal of crispy duck pancakes at Dynasty Chinese restaurant. We bought bead necklaces from a shifty African man one hot afternoon by Paraportiani church. One night we went to an outdoor cinema, complete with canvas director's chairs and a bar and grill, to see Star Wars: Attack of the Clones. It was such fun and when we left the theatre around 1.00 in the morning, who was slumped in a chair, asleep and un-wakeable but Kosta's brother from the barber shop!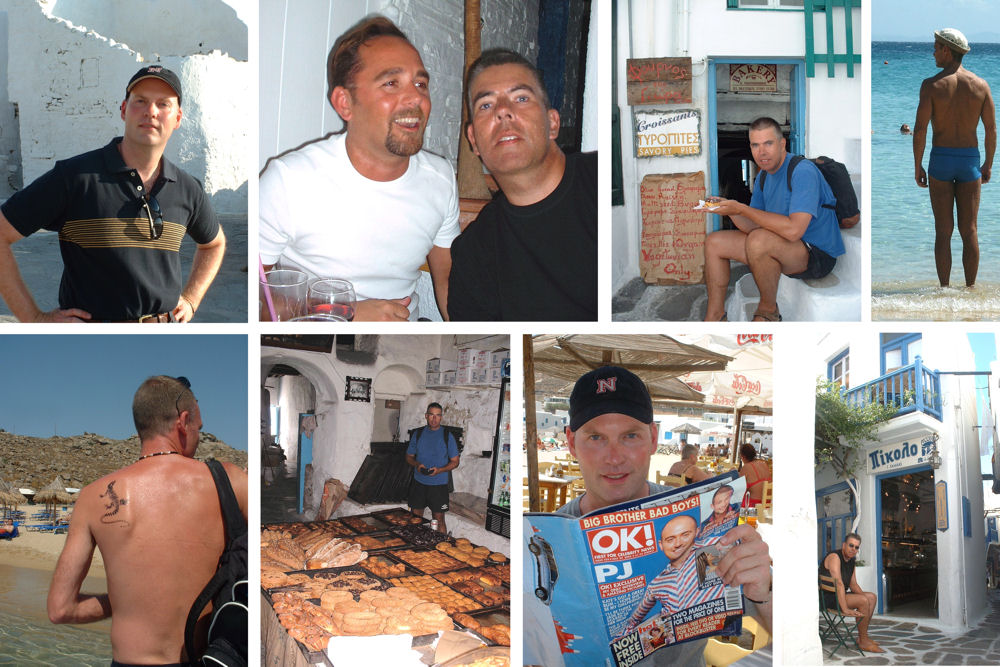 he second week we spent more time at the Rhapsody Bar or eating nice meals at places like Eden, with its swimming pool, and Avra, which has the best stuffed vine leaves and dill sauce ever. Our final meal with the group from the cruise was spent at Avra where we swapped seats after the first course so that we could have a chance to talk to everyone. After our meal, we went to the Montparnasse Piano Bar for our final goodbyes. Nick came away from there wearing a flower that was given to him by Jan, the Czech anaesthesiologist. I will not mention where the flower was put, but picture a builder (construction worker) or plumber kneeling to fix the sink and you'll get the right idea. Loads of other things were special to us on this, our third visit. We made multiple appearances at Piccolo café, where we ordered the most delicious sandwiches made from Mykononian proscuitto and spicy cheese. We also had dessert here quite often - moist coconut cake, orange cake like my grandmother used to make, cherry cheesecake, and honey-drizzled walnut cake.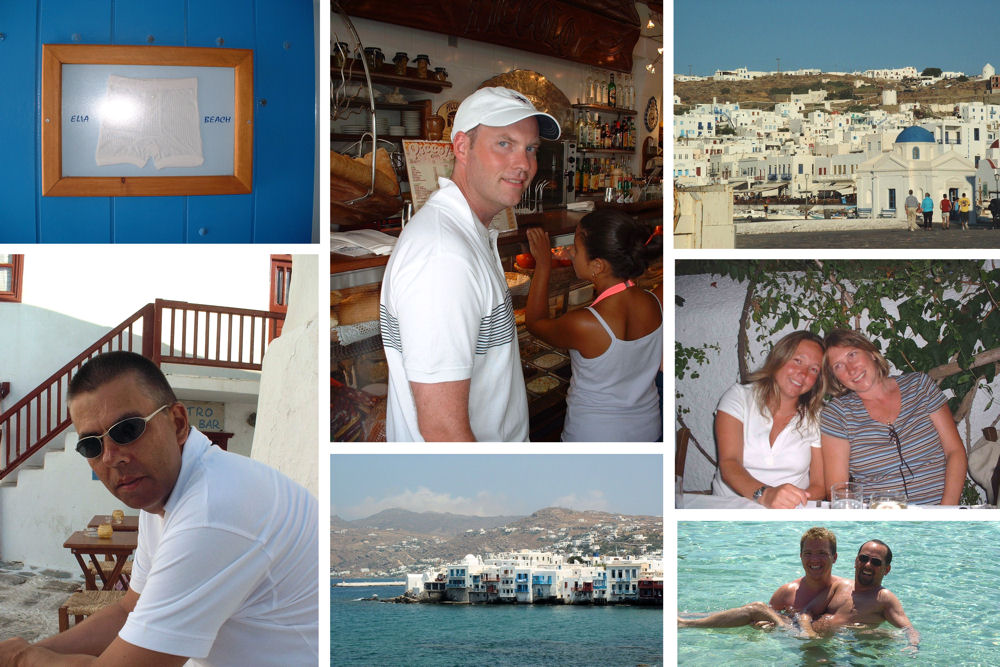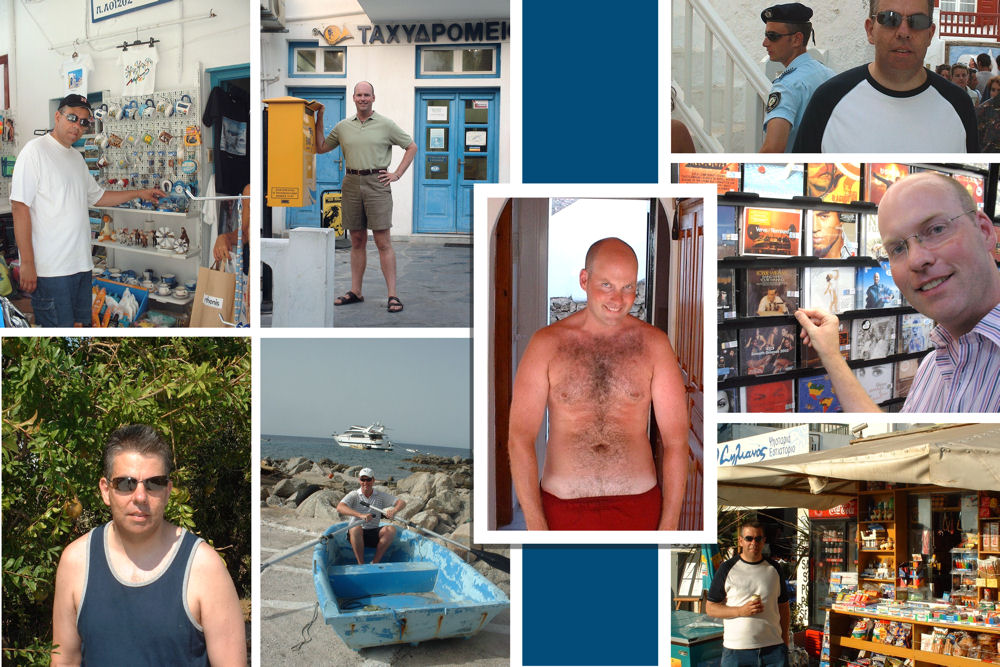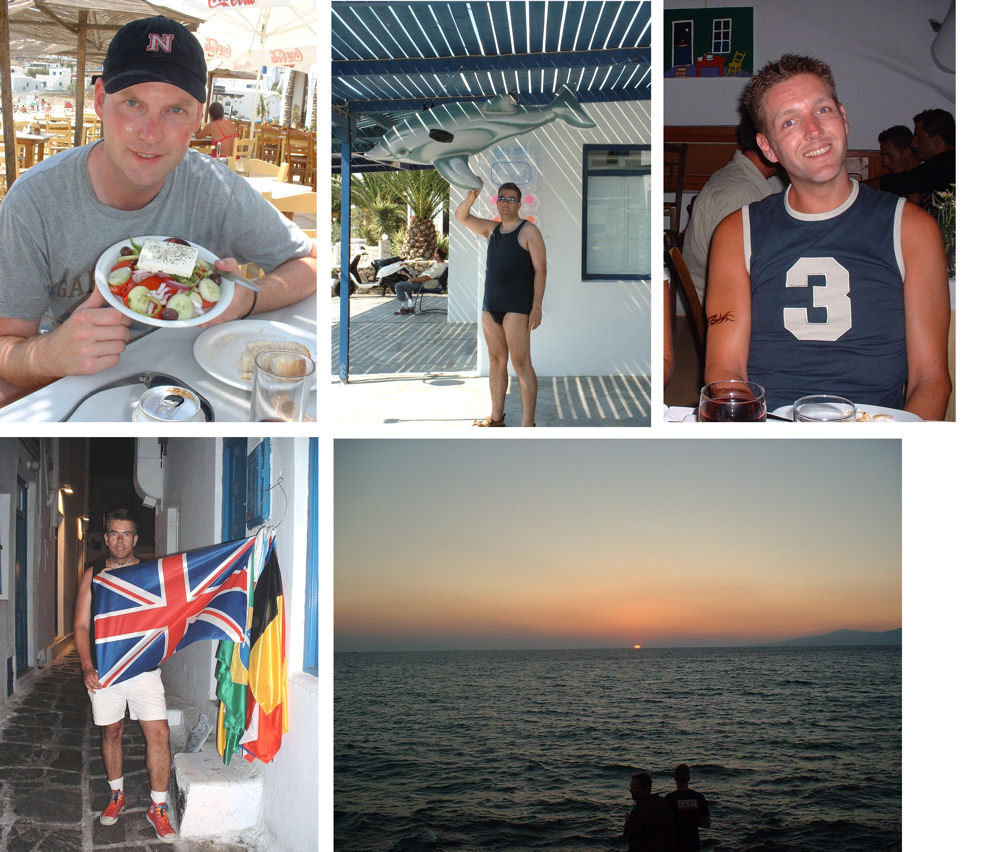 Greek salad, Ornos Beach, Tim, Union Jack, and sunset