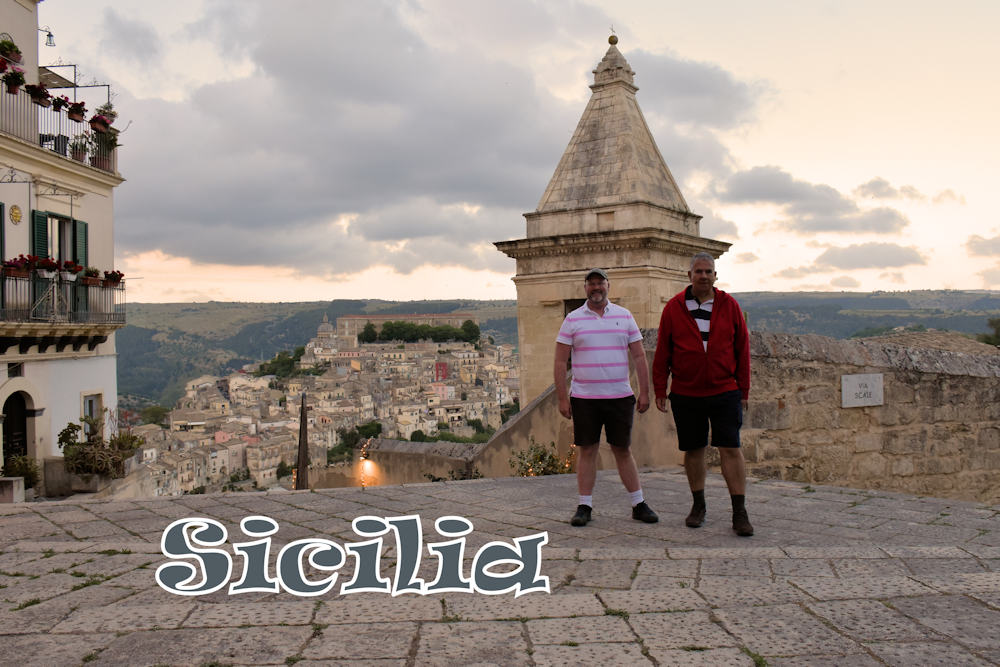 After weeks of re-watching our favourite Inspector Montalbano and planning our itinerary, we returned to eastern Sicily for an exciting birthday week. Here we are, at the Church of Saint Mary of the Stairs, overlooking Ragusa Ibla, a familiar Montalbano location. Click HERE to see last year's birthday celebrations in Kent and HERE and HERE to see our previous visits to Sicily.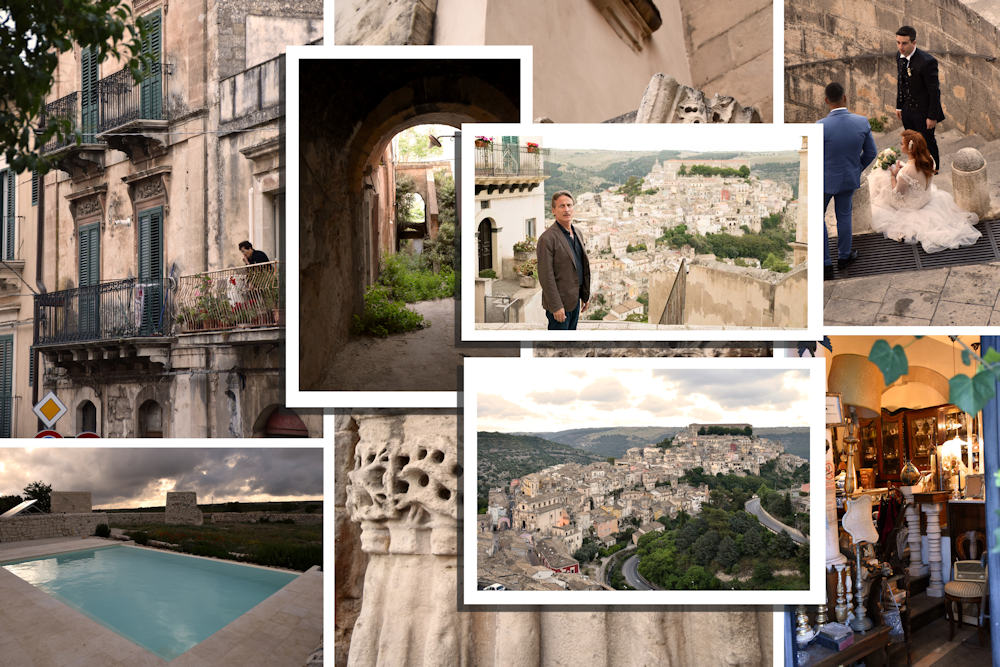 On our first evening, after checking out our lovely swimming pool, we ventured into Ragusa for a wander and a meal, spotting a bride and groom on the way. Superimposed above and below are scenes from the Montalbano TV series.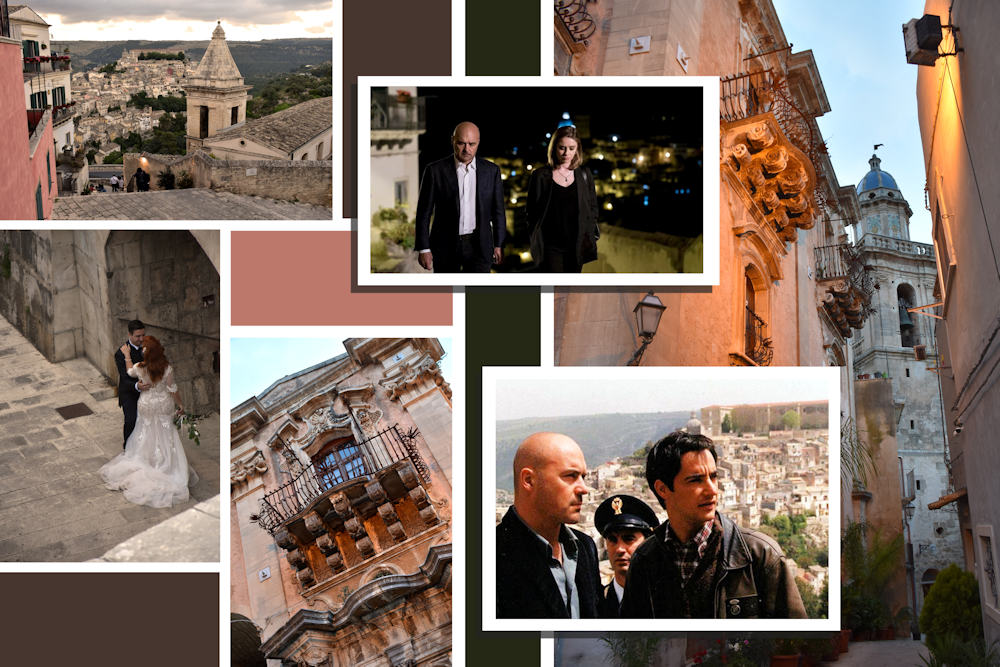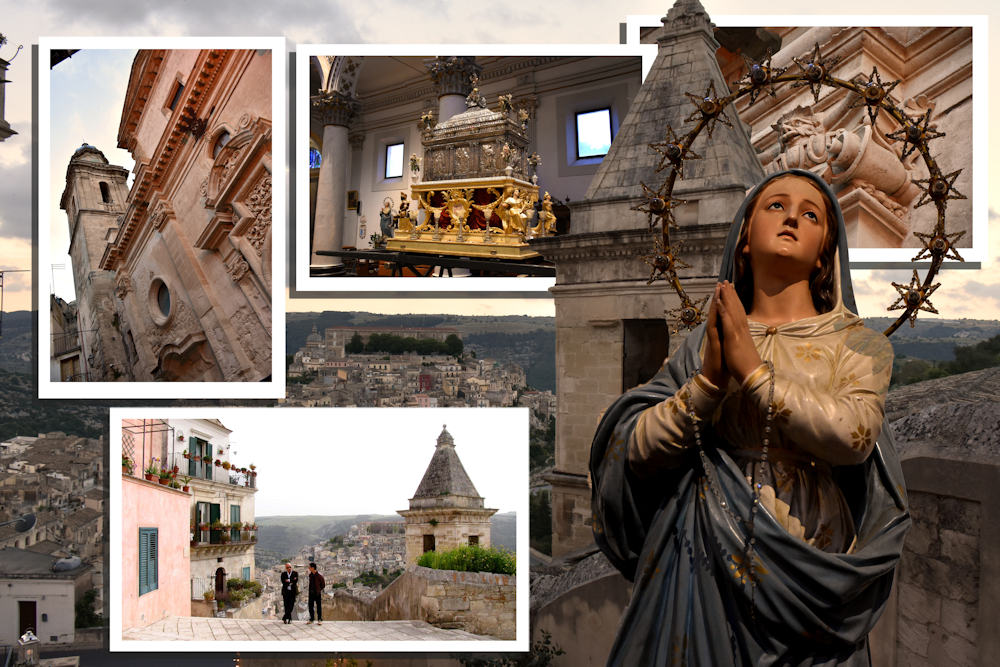 When we reached the bottom of the steps into Ragusa Ibla, there were lots of people around and the silver casket was out on display at the local church. Could something be happening?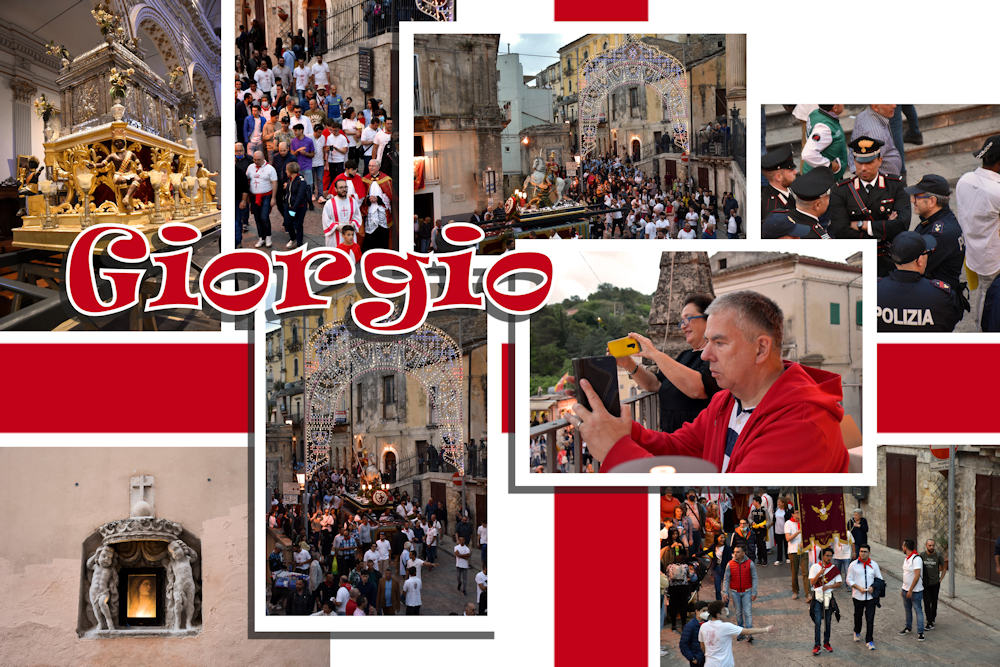 We asked the familiar restaurant if they per chance had a table free, and we ended up right next to the balcony railings. By fantastic coincidence, we discovered that we had arrived just in time to see the Festa San Giorgio, which had been rained out earlier in the month. I'd long dreamed of seeing the festival in person - it was featured in an episode of Montalbano - and tonight we had front row seats!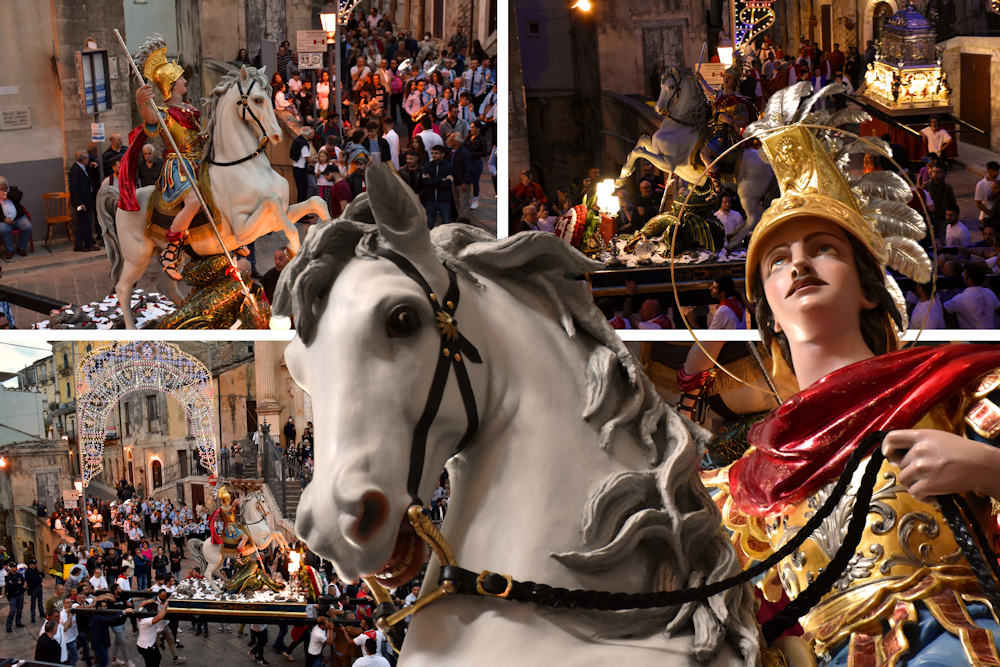 The local men jostled the precious statue of Saint George up and down to mimic horse riding and made it rear up in fright at the fireworks overhead.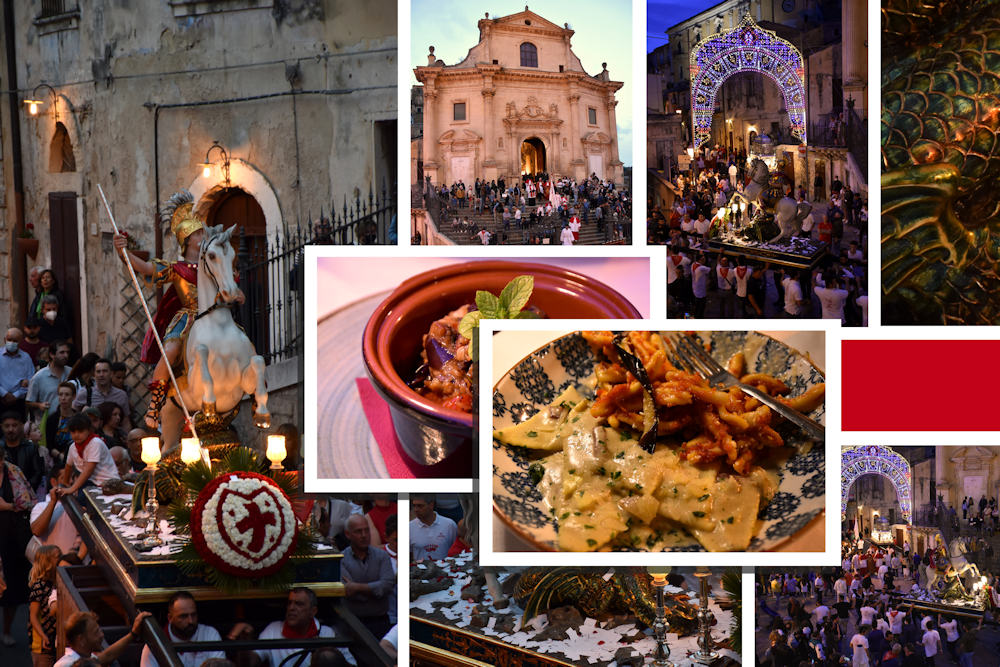 Our meal was delicious, including caponata with Modica chocolate and ravioli with porcini. When we watched the final episode of Montalbano back home, we recognised the same restaurant. The statue and casket were carried up the hill, amid a cloud of confetti that marked the way for days to come. We got caught in torrential rain shortly afterwards and returned home soaked.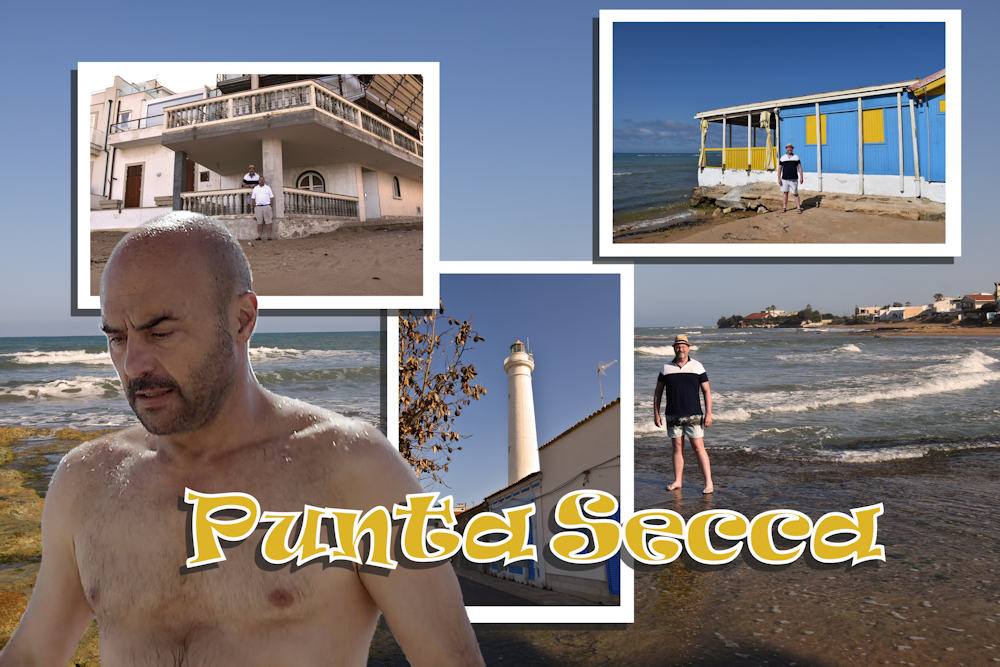 On my birthday morning, we drove to Punta Secca for an invigorating swim outside Montalbano's beach house. As always, arriving early guaranteed us the place to ourselves.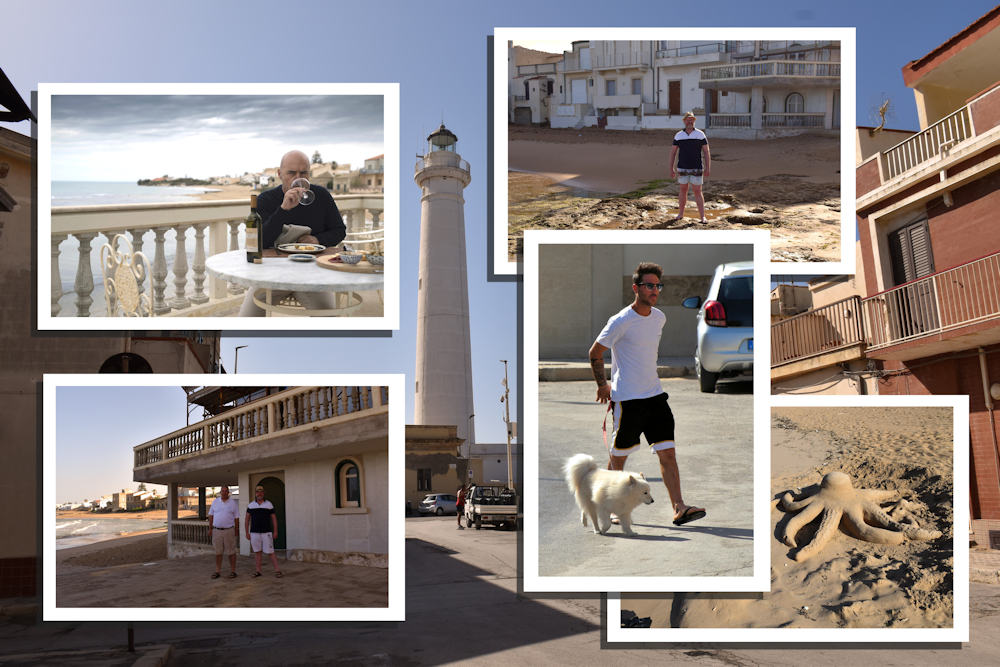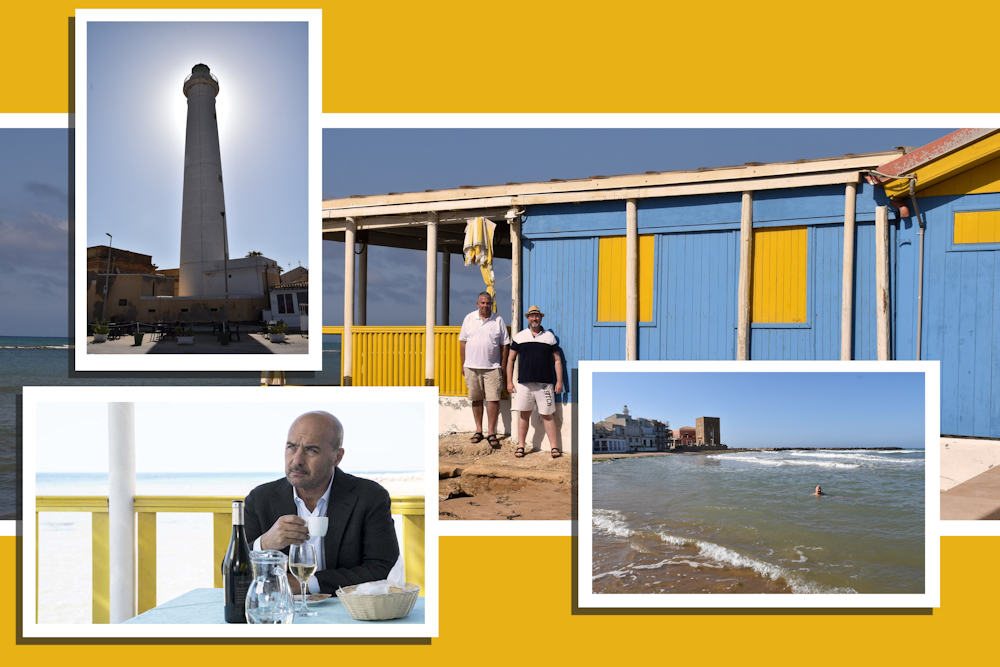 We've still not eaten at Enzo's. It looks closed but comes alive at night, as shown later.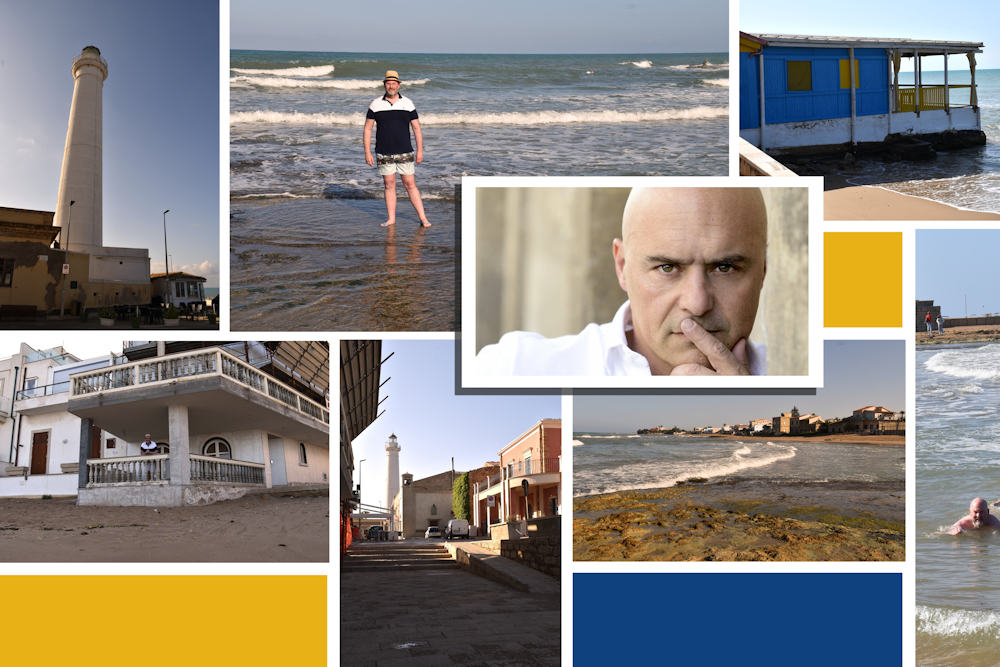 We had coffee and cornetti at the building across from Casa di Montalbano, and looked out over the familiar sea.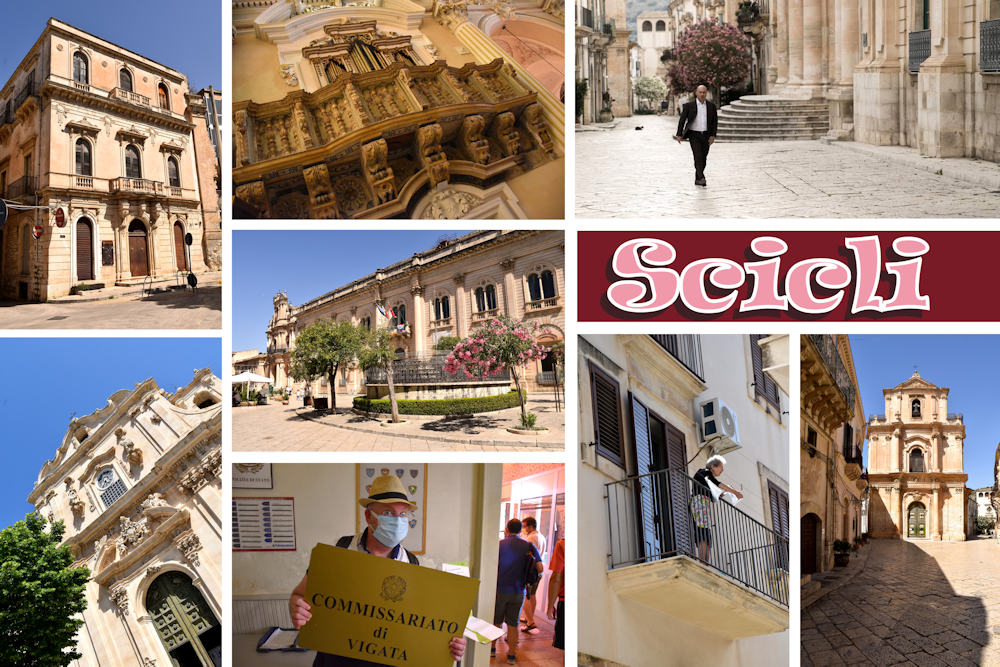 Our main goal in Scicli was to see the inside of the building that doubles as the police station in the TV series. They required masks, which sent us on a long search for them. We were finally given a pack (which all broke) by a generious local and soon we were inside the Vigata station.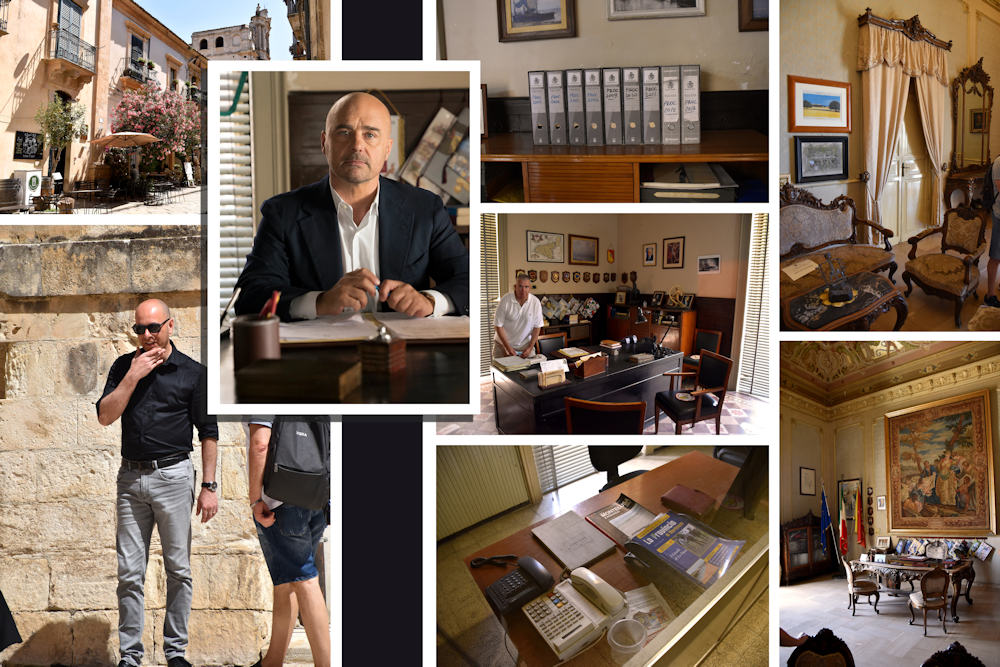 Despite enduring a long-winded Italian tour, it was thrilling to be inside the offices of our TV heroes and see authentic props and furniture from the show. Tiny Cow even got to pose on Salvo's desk.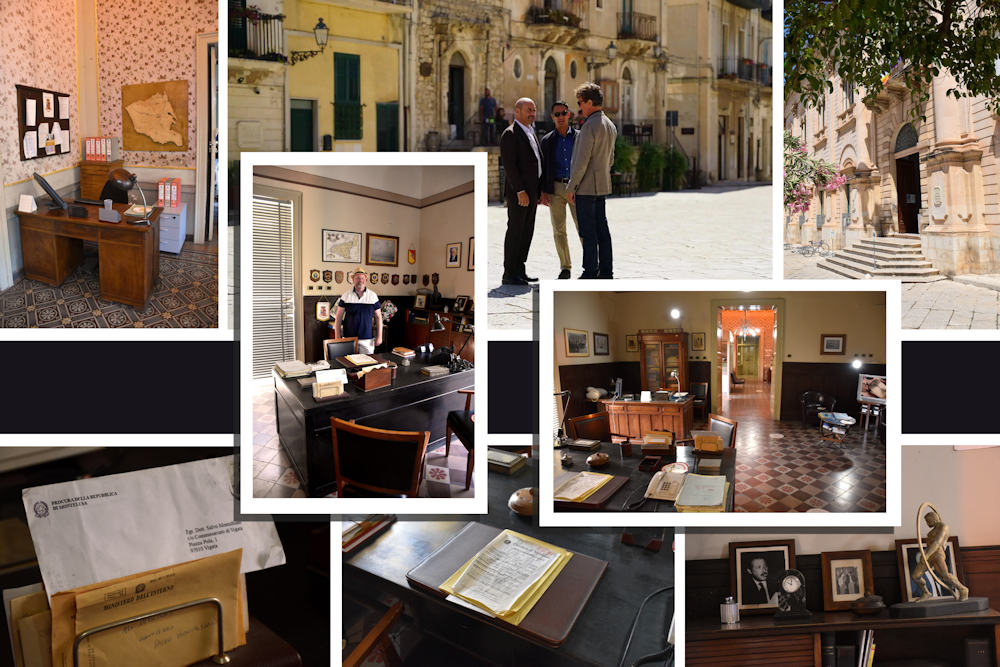 We learned that the door to Mimì's office actually leads to a wall and all those scenes are filmed in Rome.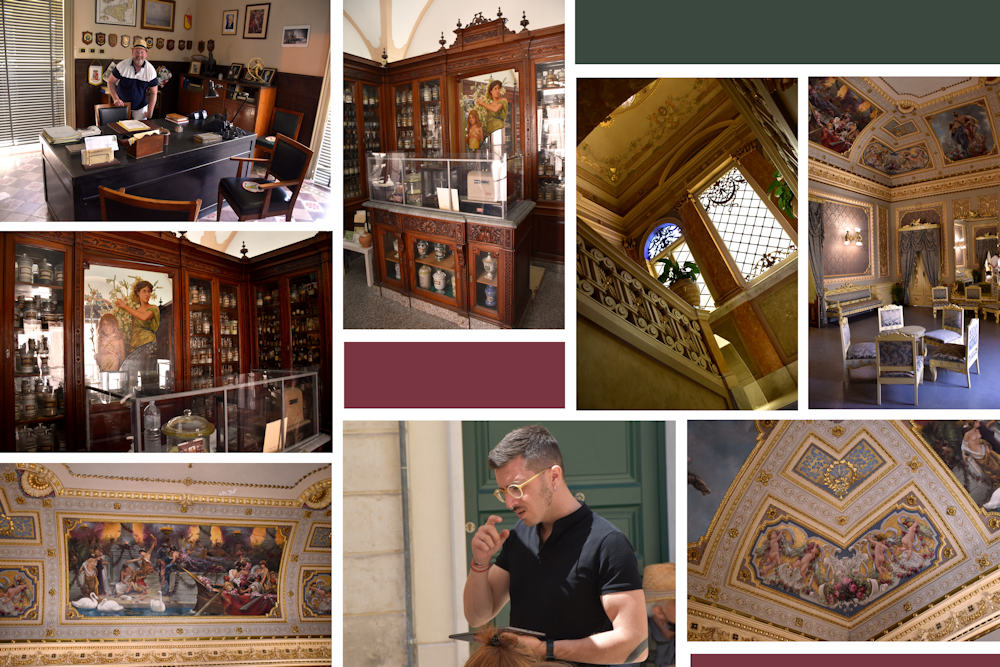 After visiting the station, our next stops were the Antica Farmacia and the Palazzo Bonelli Patane, both full of Art Nouveau treasures.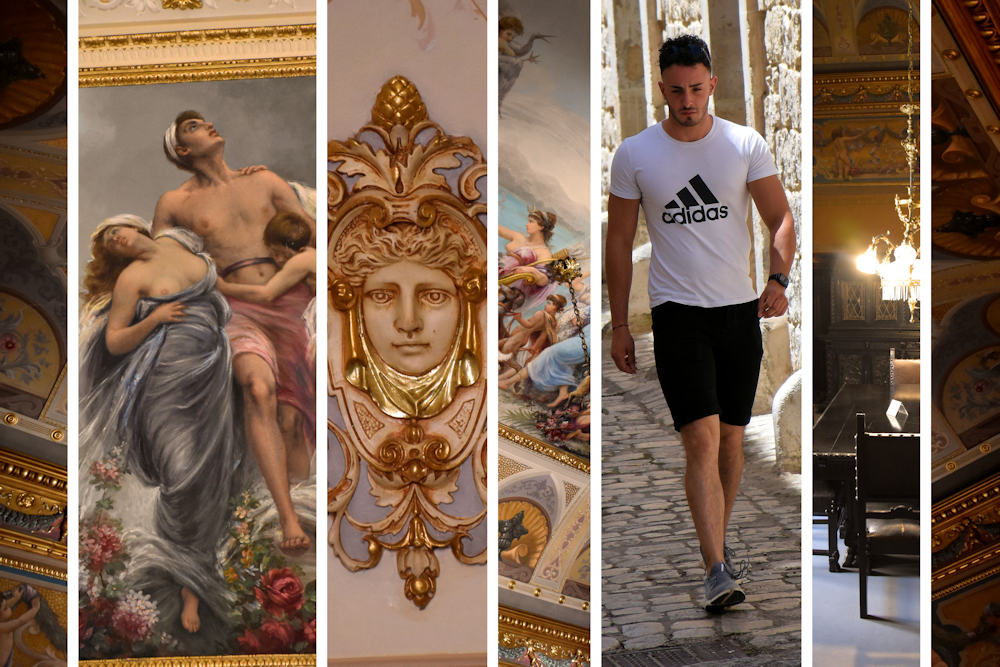 Highlights from the Palazzo Bonelli Patane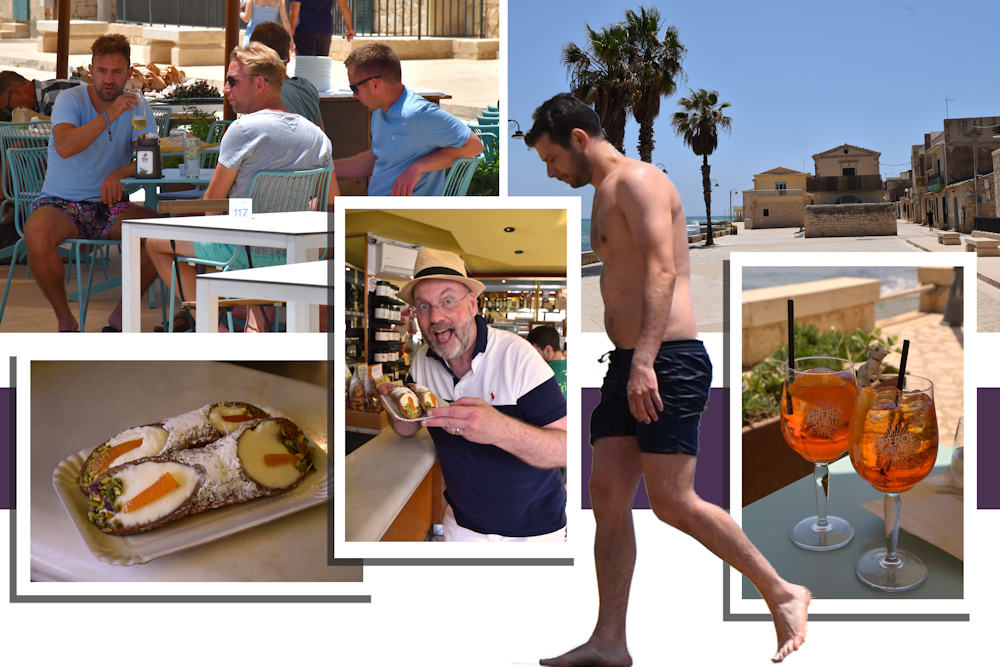 The best cannoli were found at Pasticceria Basile. Afterwards, we went to Sampieri beach, another Montalbano location, and had cheese and salumi lunch with Aperol Spritzes.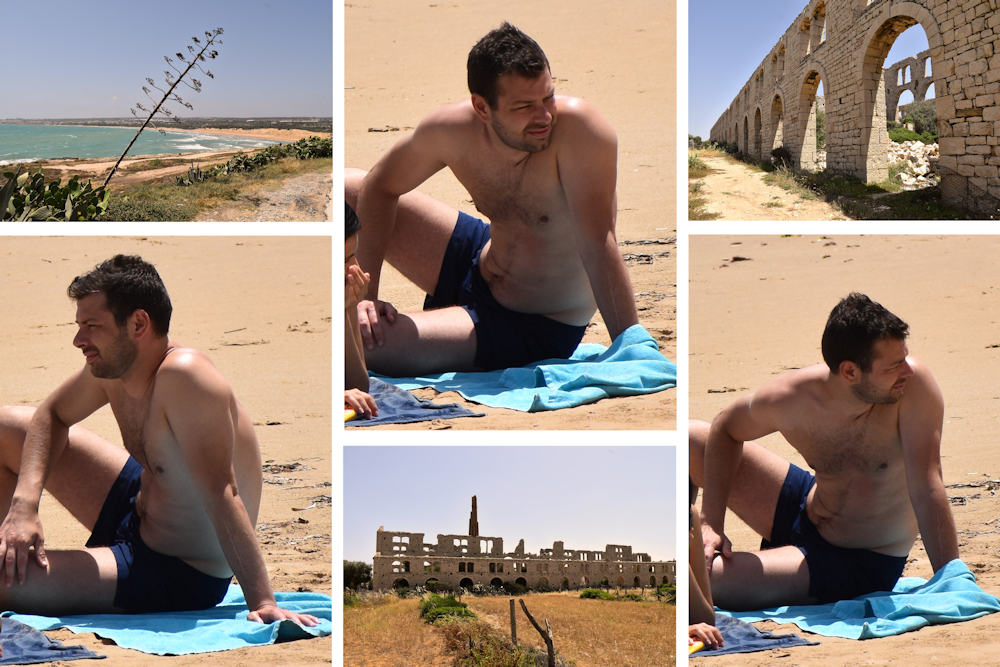 Sampieri beach local and the abandoned tile factory at Fornace Penna, which serves as La Mànnara in the series.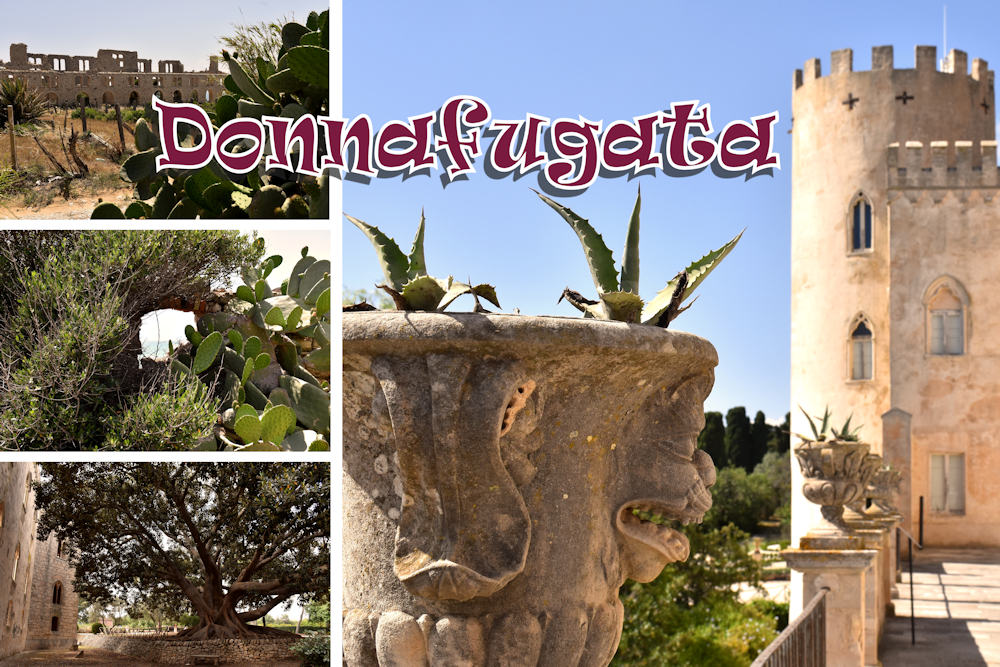 Last time we visited Donnafugata, TV home of mafia boss Sinagra and real-life wedding venue of Montalbano actor Luca Zingaretti, we completely missed the labyrinth, so this time, we headed straight there.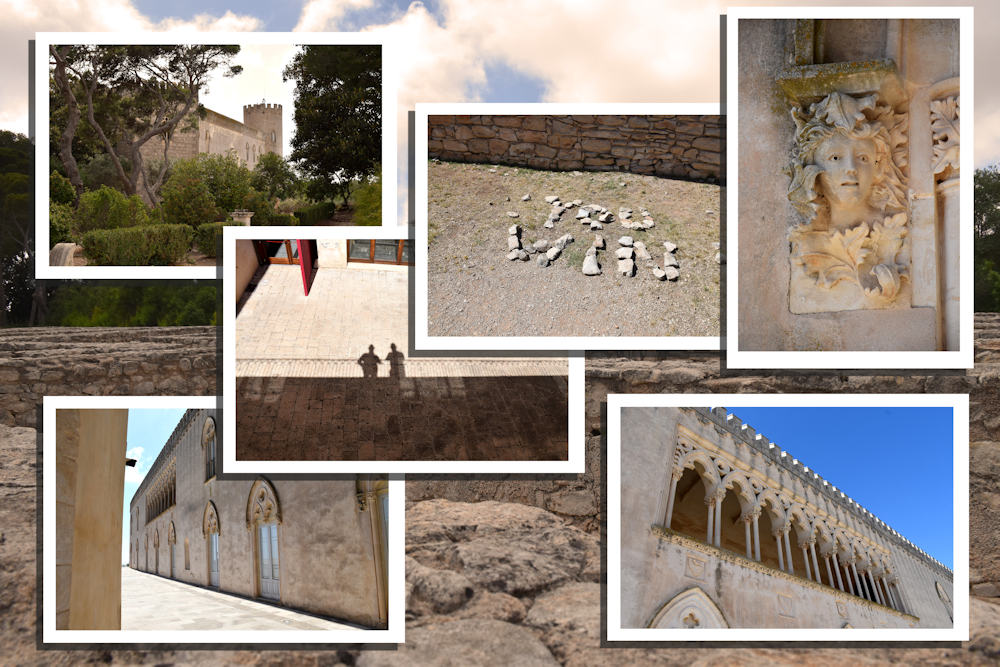 The labyrinth was fairly easy for us to navigate, as we could see over the walls. It was still exciting to be there.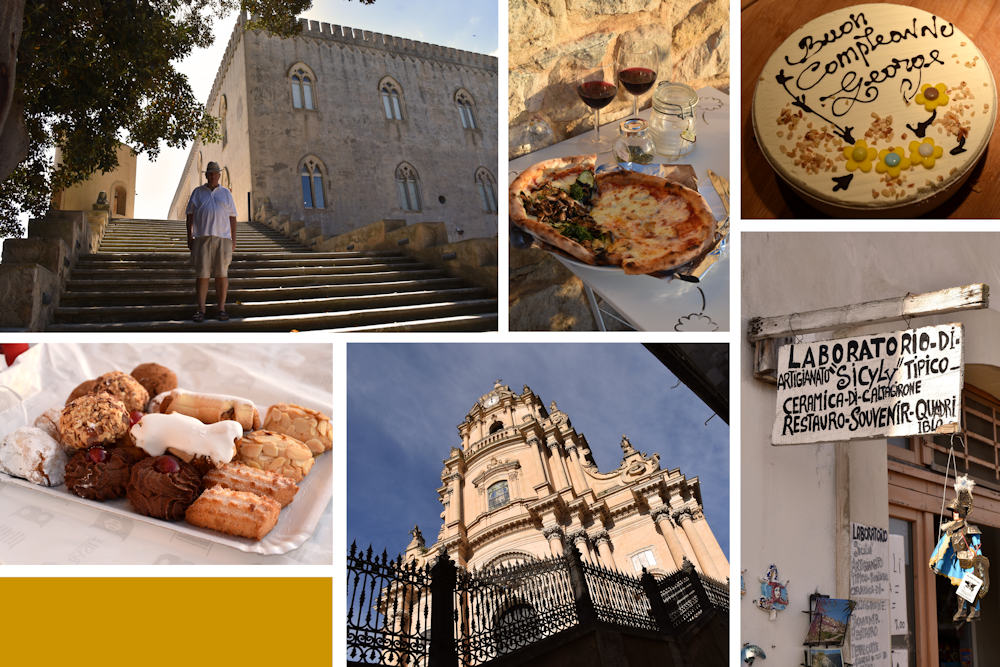 The 2015 film Tale of Tales was filmed on these steps. Back home, we had birthday pizza from the hotel down the road and a better-than-it-looks hazelnut ice cream cake provided by our host. The next day, we returned to Ragusa.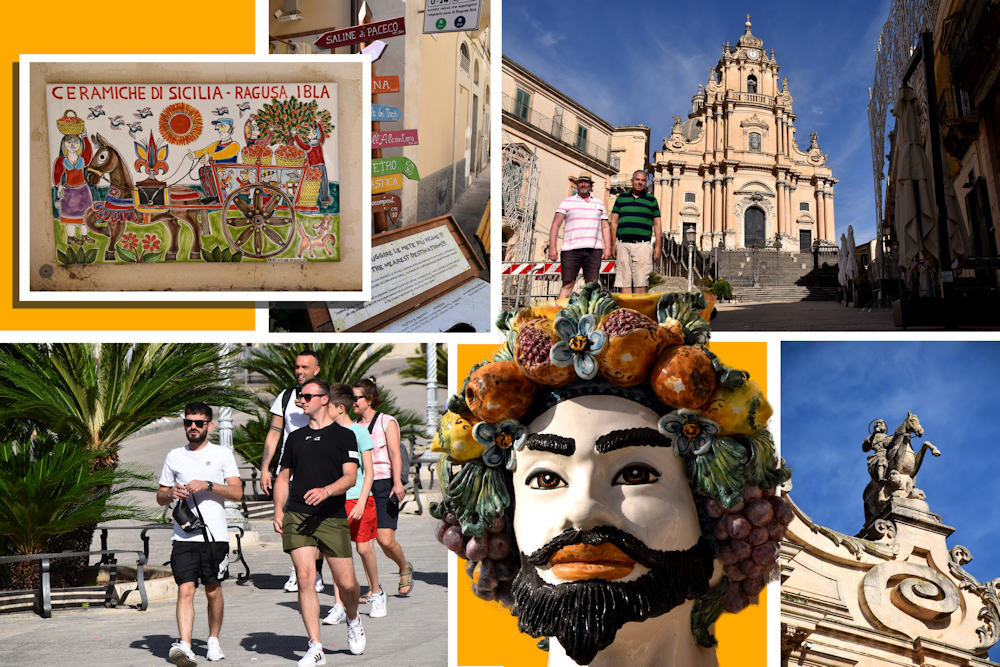 We followed the San Giorgio confetti trail linto Ragusa Ibla, where we bought some perfect souvenirs (shown in the last photo on this page) at the bookshop. The cathedral was still closed.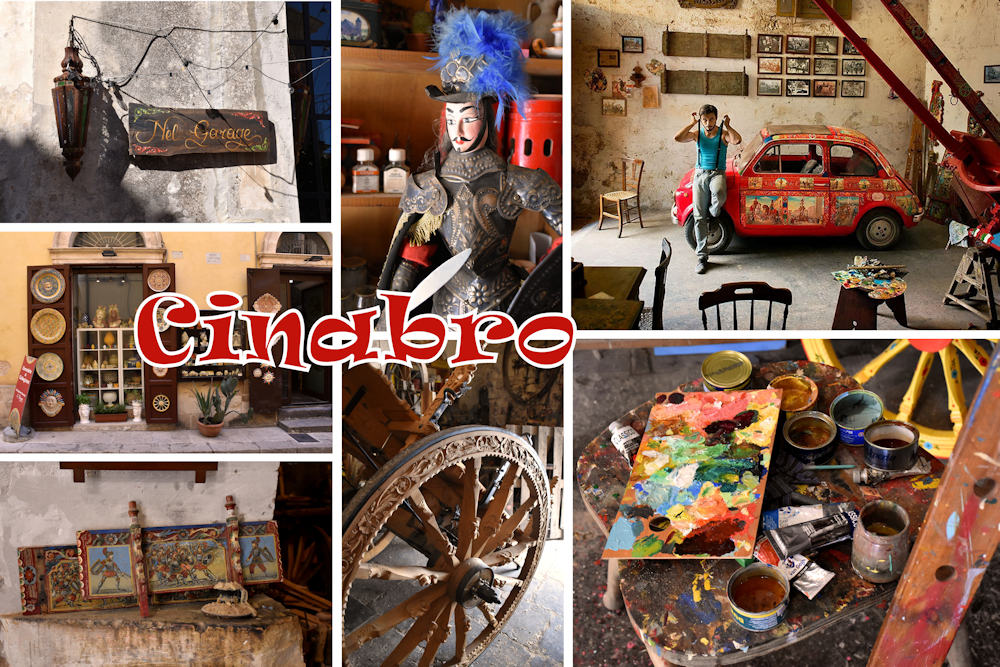 A real highlight of our week was the painting workshop we did at Cinabro Carrettieri, one of the few remaining traditional cart makers in Sicily. We were drawn by the alluring photo of artist Damiano Rotella, taken by Steve McCurry for the Dolce and Gabbana Sicilian range of Smeg toasters and refrigerators.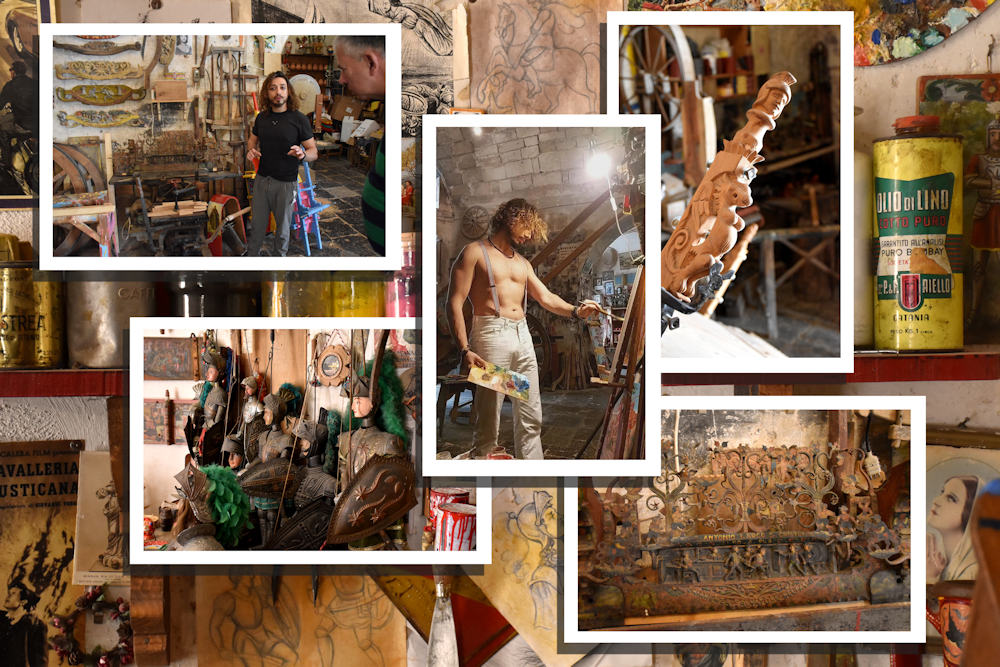 The workshop was a riot of photographable memorabilia and real working tools, and Damiano is anything but camera shy.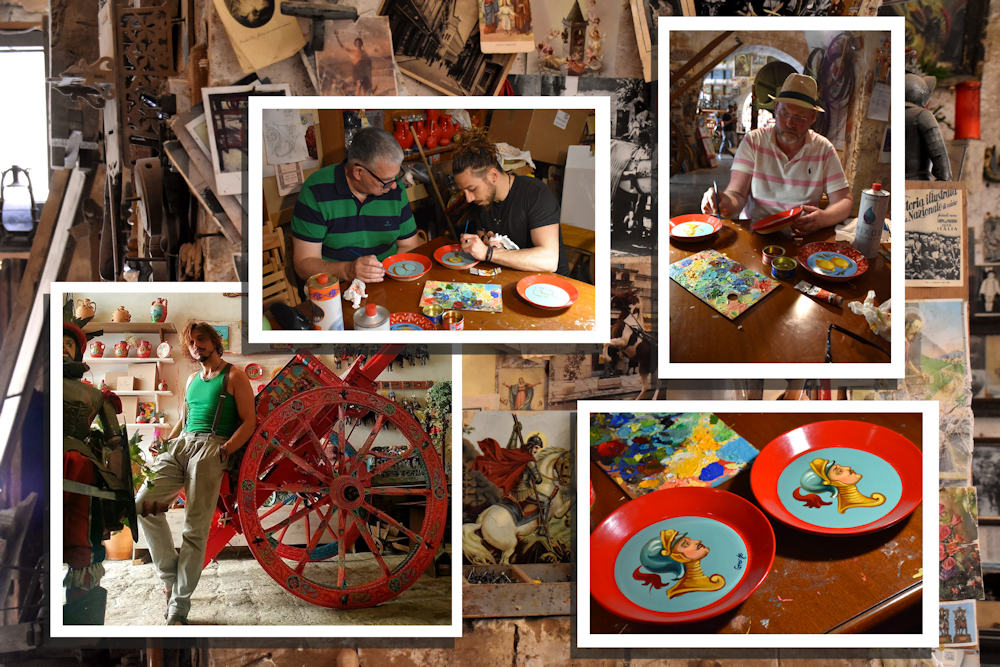 It was a first for Damiano, demonstrating two different plate motifs at once. Nick wanted to paint lemons and I wanted to do a more challenging knight. Damiano showed us how to blend oil paints and start from the bottom layer, working our way through to the final design, which now hangs on our wall.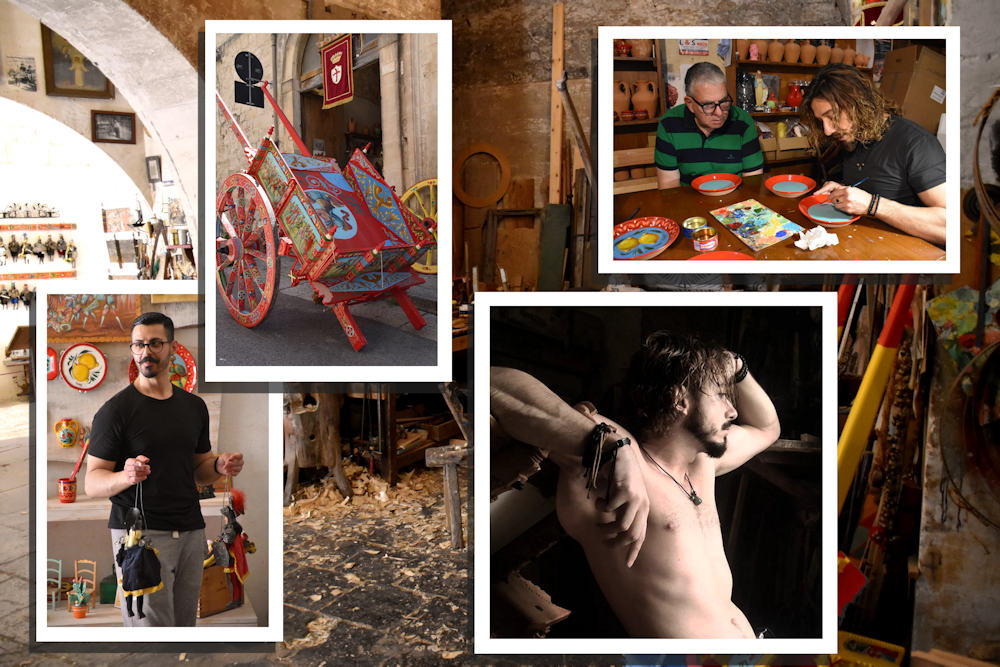 Some more shots of Damiano off-duty, his moustachioed apprentice "helper" and their spectacularly painted Sicilian cart.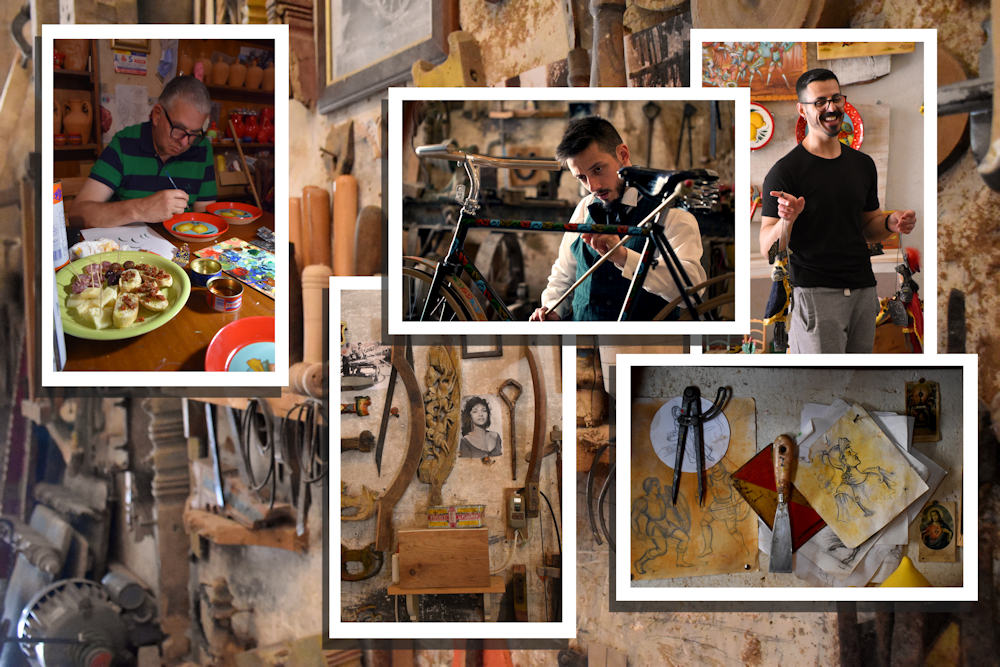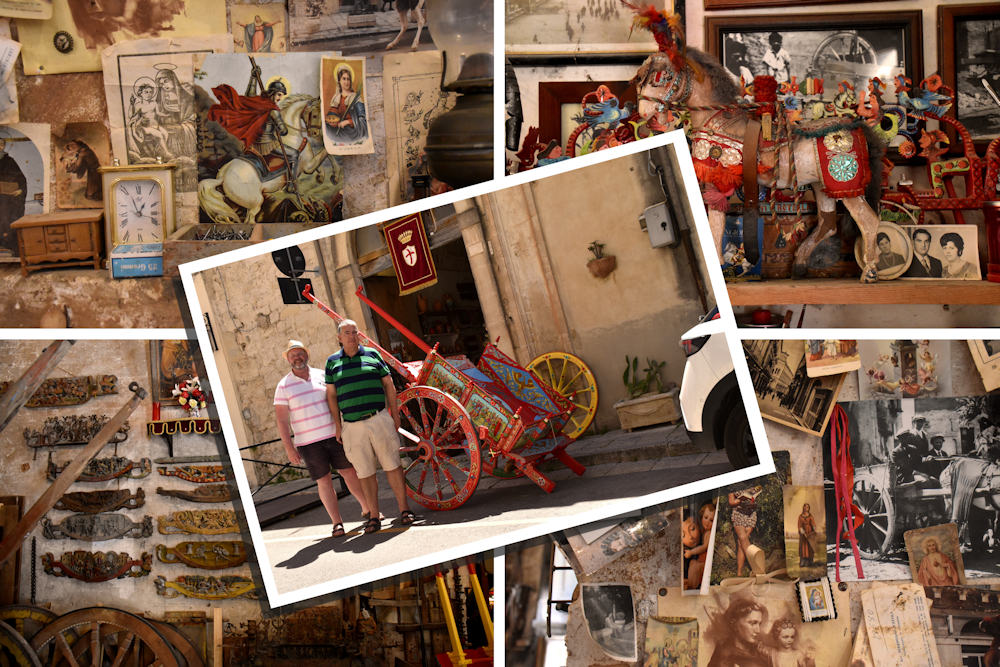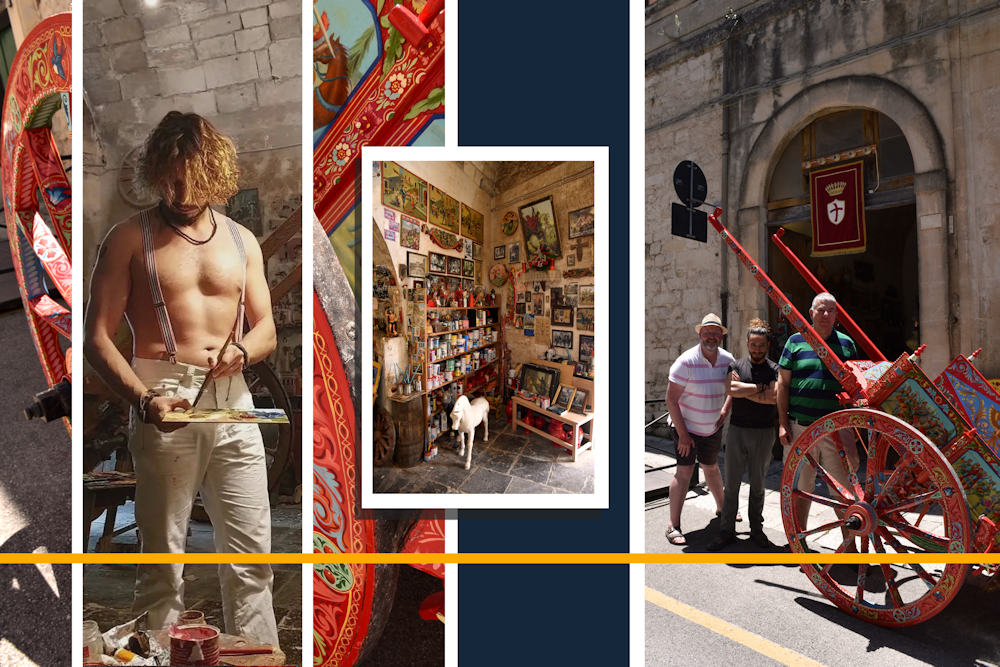 Damiano has perfected the art of making his arms look big for photos.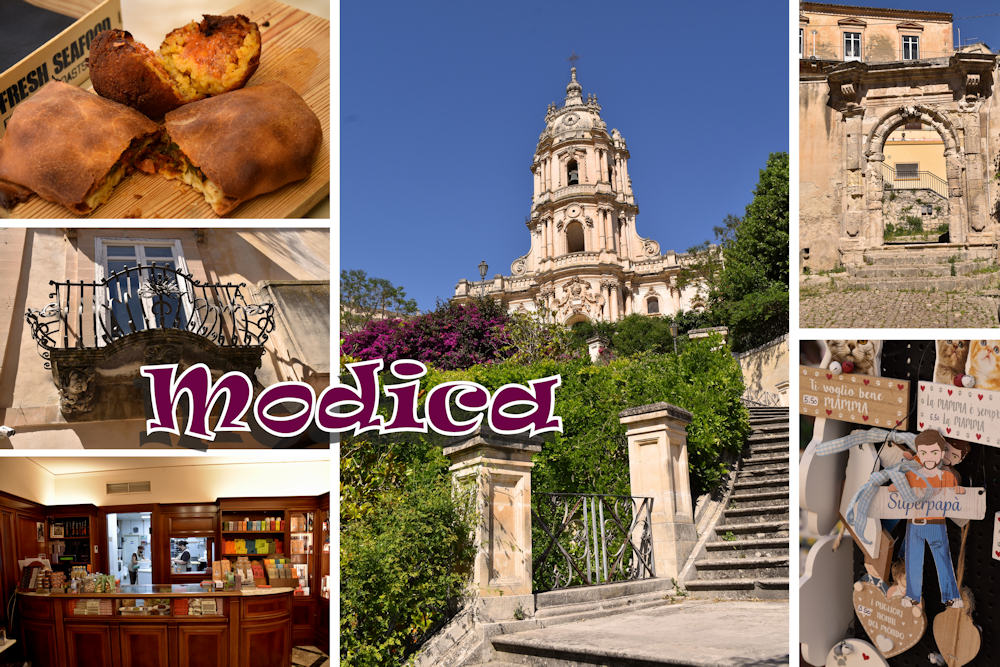 After our workshop, we had amazing arancini at I Bianchi, run by a former Michelin starred chef, before heading to Modica, home of the famous grainy chocolate.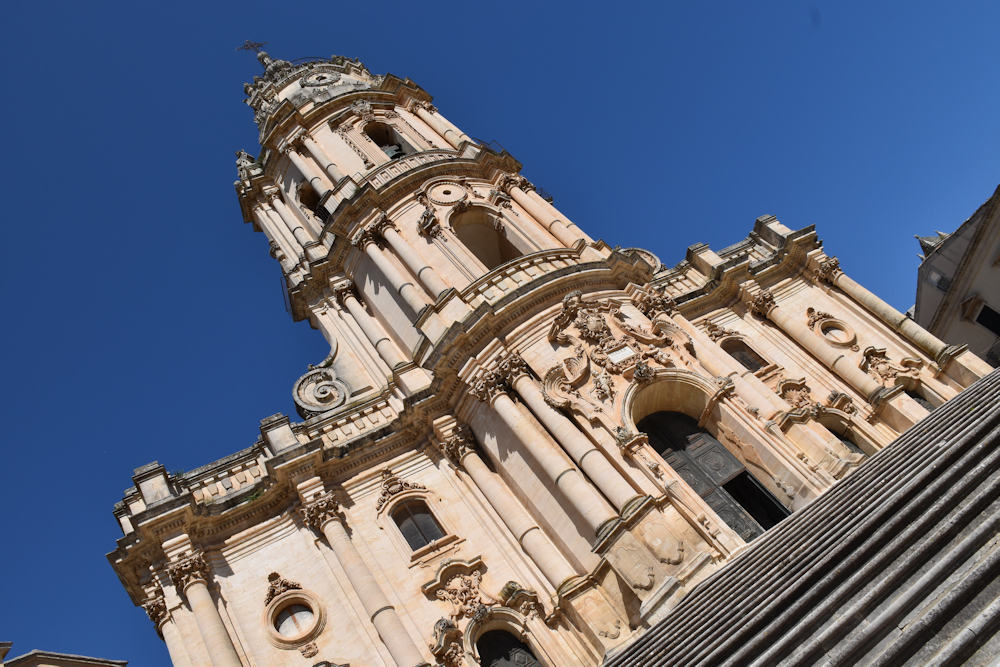 Modica's cathedral, often featured in Montalbano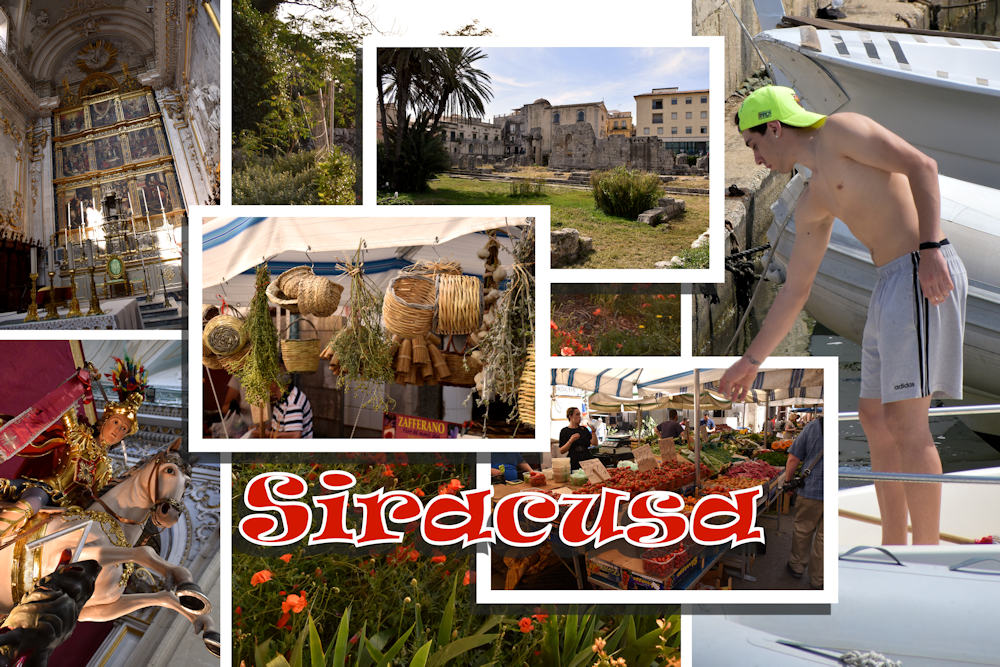 Day 4 was in Siracusa, which provided several of our trip's highlights. First stop was Ortygia, with the oldest Doric temple (Apollo) in Sicily.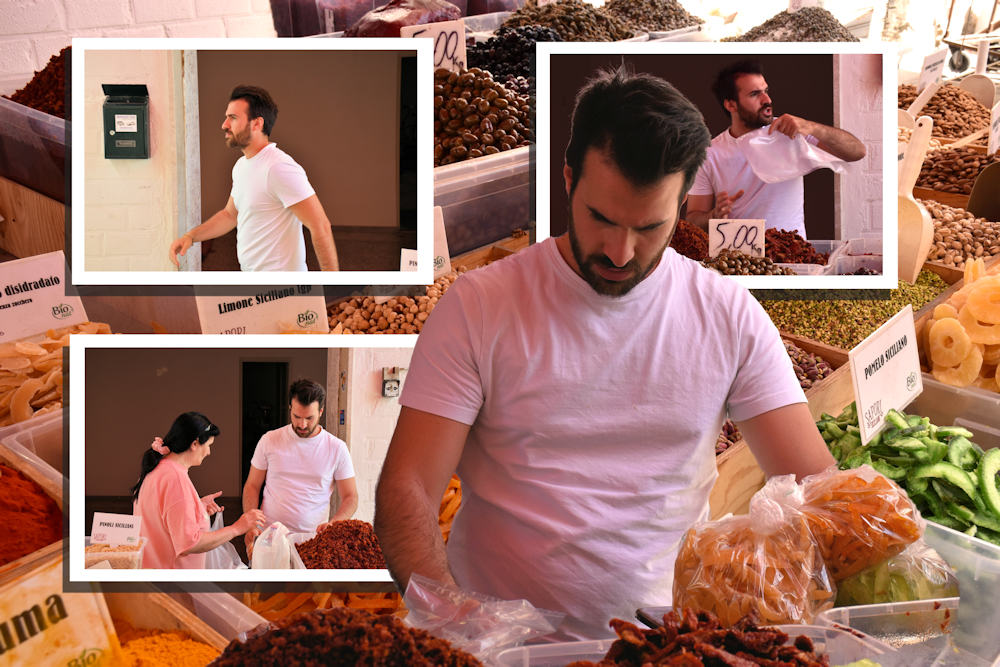 It's not just the t-shirt and beard, but also the organic fruit and nuts that drew me back to this vendor. I bought kilos of candied lemon, orange, and citron peel, sundried tomatoes, Bronte pistacchios, pine nuts, and chilli flakes here.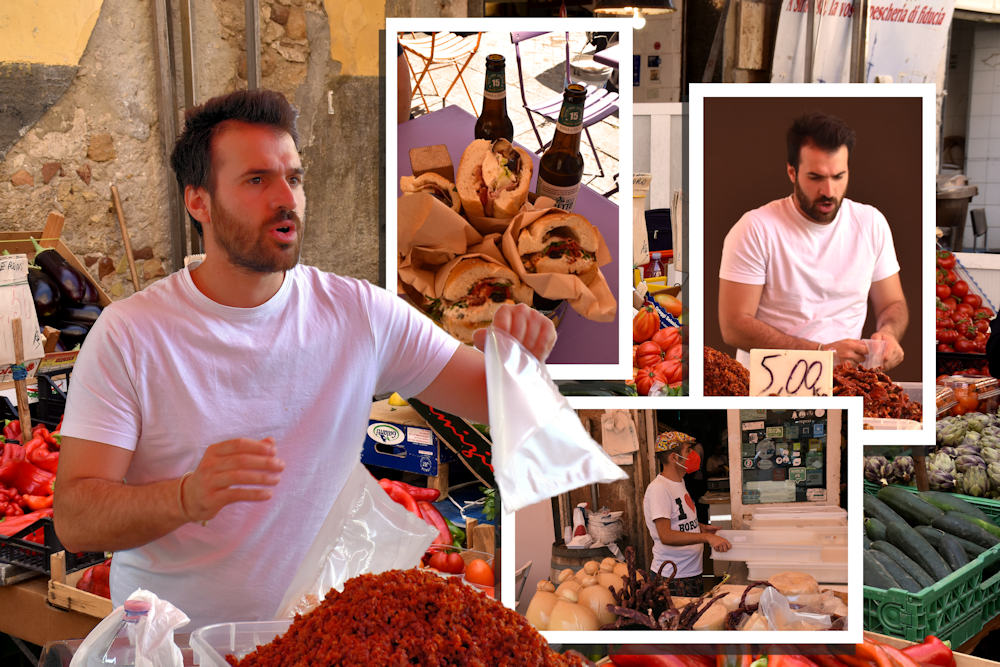 We re-created our gargantuan panini experience at Caseificio Borderi, where we ate with Cousin Linda in 2018. They were just as good in 2022.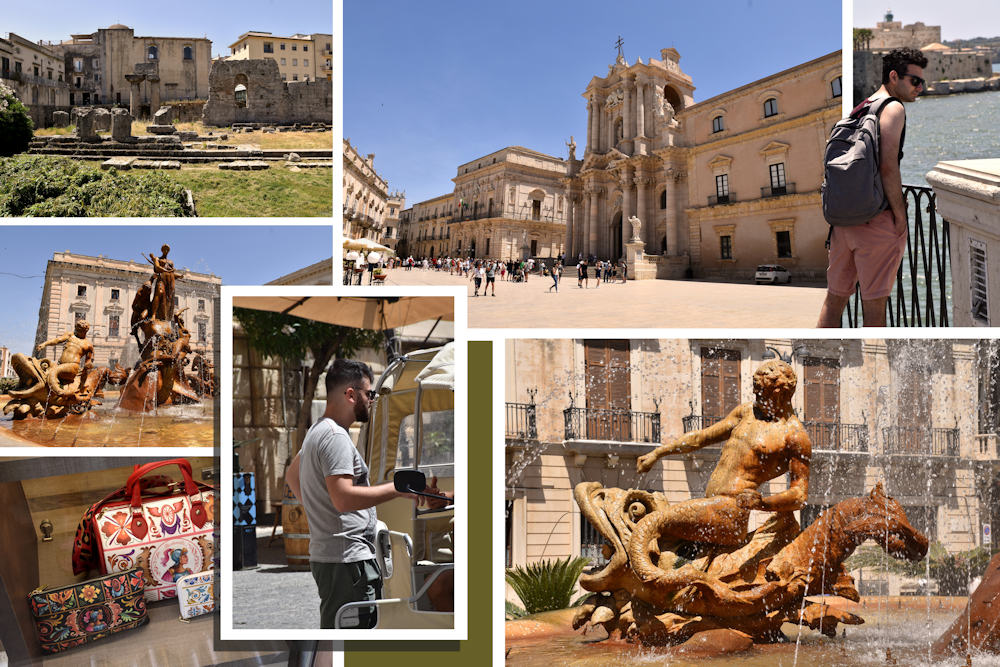 We had more time to sightsee this year and went into the cathedral and walked past the Diana Fountain.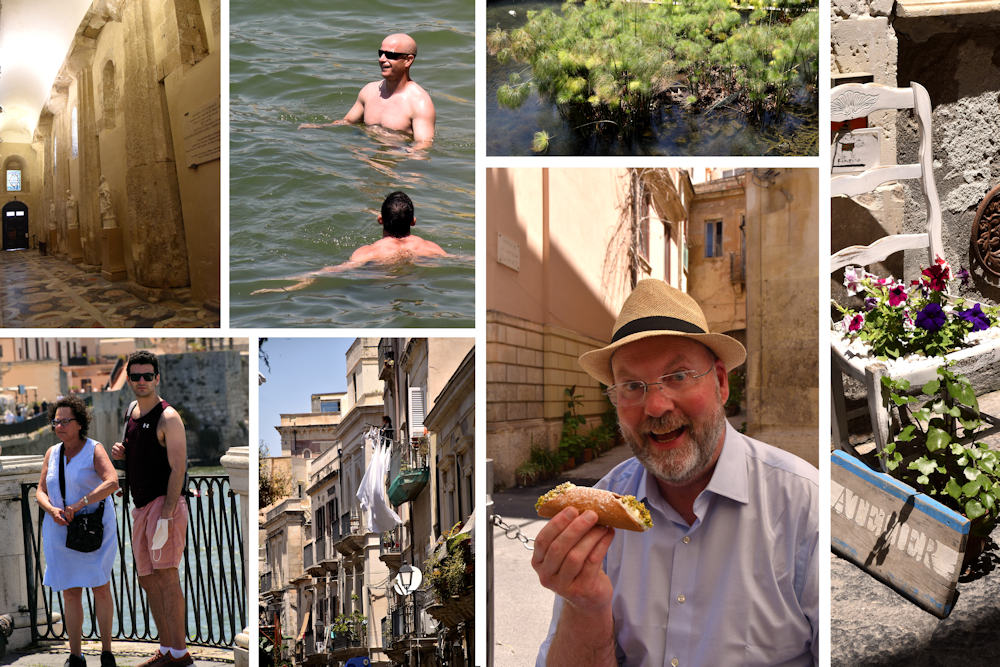 We stopped for cannoli and pomegranate granite. That's papyrus growing above. Note the ancient pillars that are part of the cathedral's interior.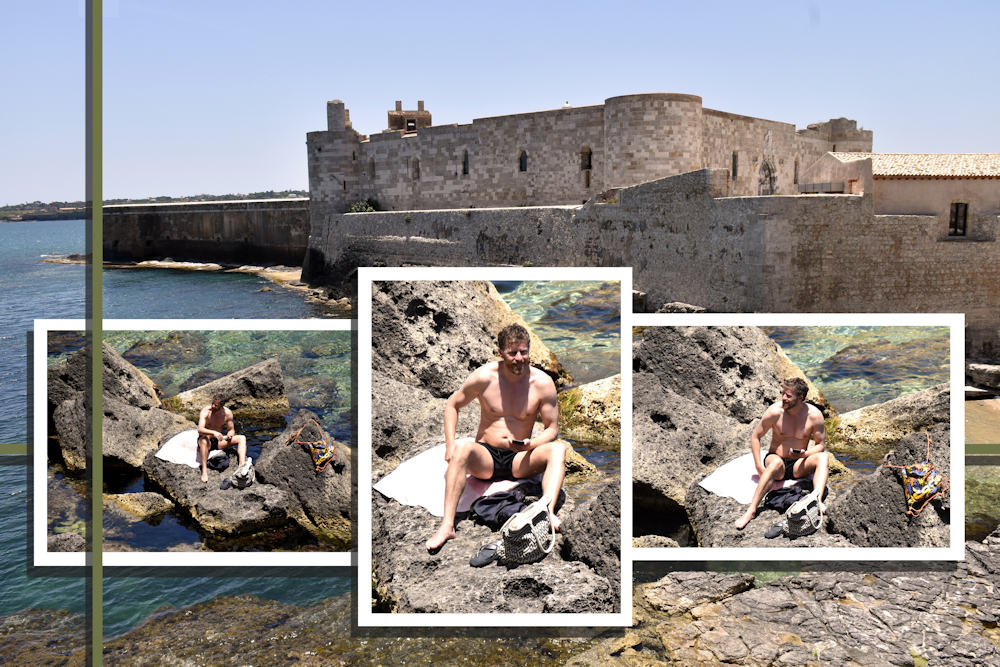 Sunbathing near the Castello Maniace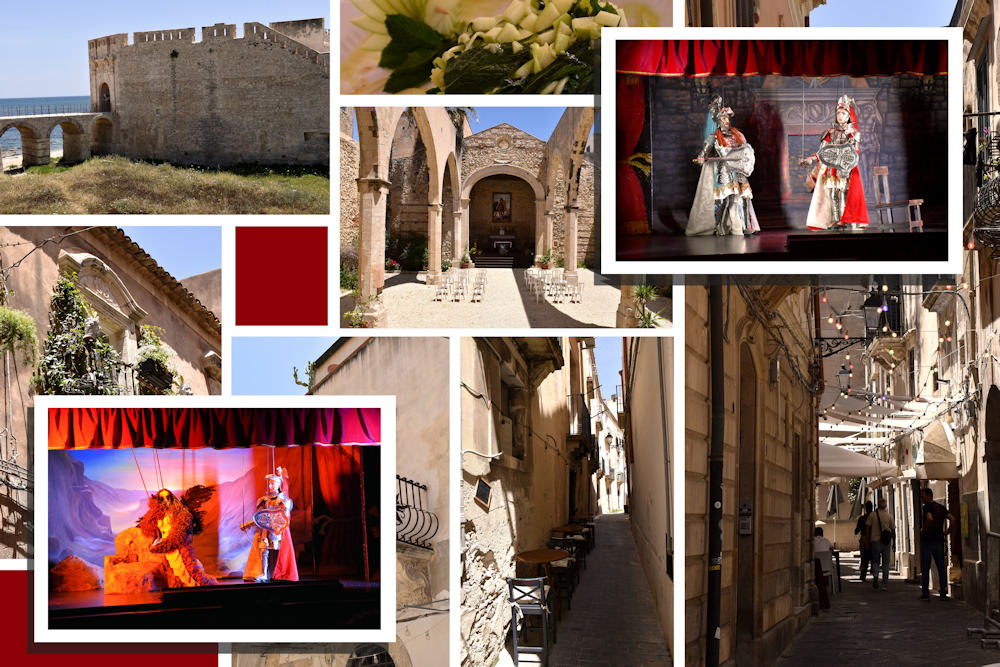 We enjoyed the afternoon puppet show at Syracusa's Teatro dei Pupi, but it wasn't quite as special as the one in Palermo, with its dragon. We were also very sleepy after spending the afternoon in the sun.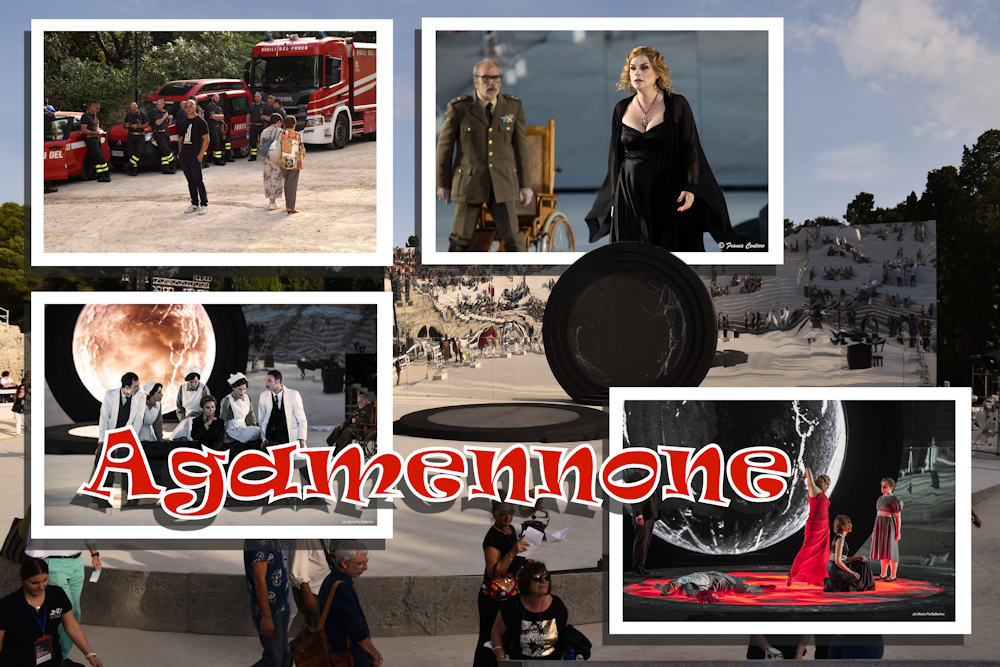 Our trip coincided with the famous festival of Greek theatre at the outdoor amphitheatre in Syracusa. The theatre dates from the 5th century BC and would have held premiere performances of Aeschylus's plays. We were lucky to see Davide Livermore's ingenious production of Agamennone.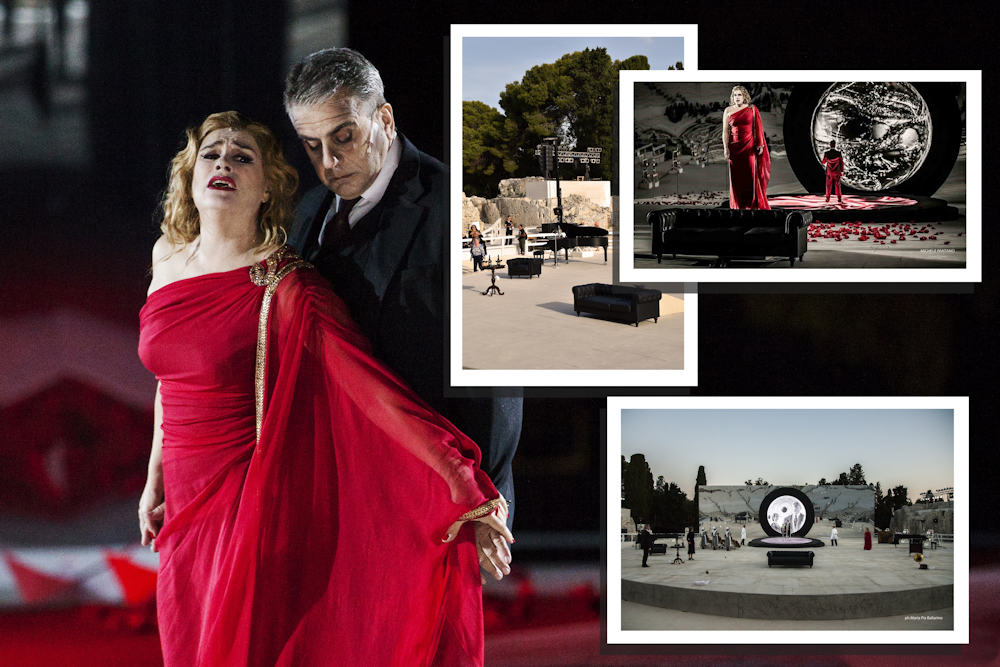 I listened to readings of the play ahead of time to familiarise myself with the story. Highlights for me included the live music provided by two pianists, one striking the internal strings of an upright piano; the ghostly figure of Iphigenia, played by two actors, enabling the character to appear at different locations in an instant; the chorus of nurses and doctors; the Elders, as war veterans in wheelchairs; the projections on the spherical screen; the blood-red poppies; the spellbinding performance of Laura Marinoni as Clitennestra; the rap with robotic dance moves; and the full cast soul song at the end. Although I didn't understand much of the Italian, the performance flew by and I would love to have seen the other two parts of the Orestea.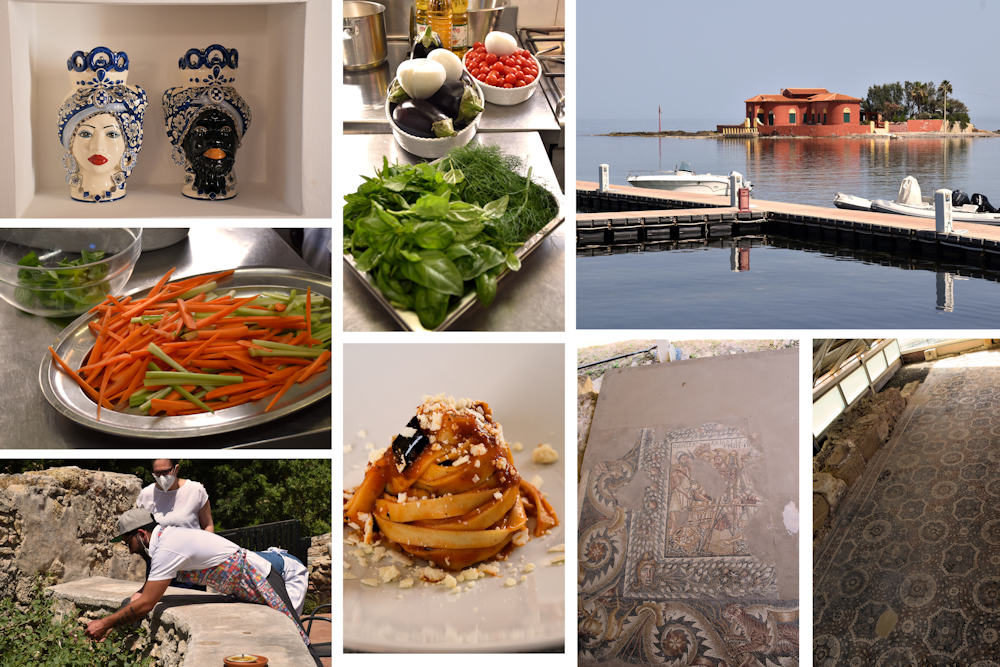 The next day, we did a cooking course at Hotel la Corte del Sole, just outside Noto. There aren't many photos because we had to wear masks the whole time and the sight of them depresses me. We prepared a lot of food, probably to be used at the hotel later. Alongside a friendly American couple, we made Verdure alla Ghiotta, Pasta alla Norma, stuffed chicken, and cannoli. Afterwards, we went to Marzamemi fishing village (meh) and Villa Romana del Tellaro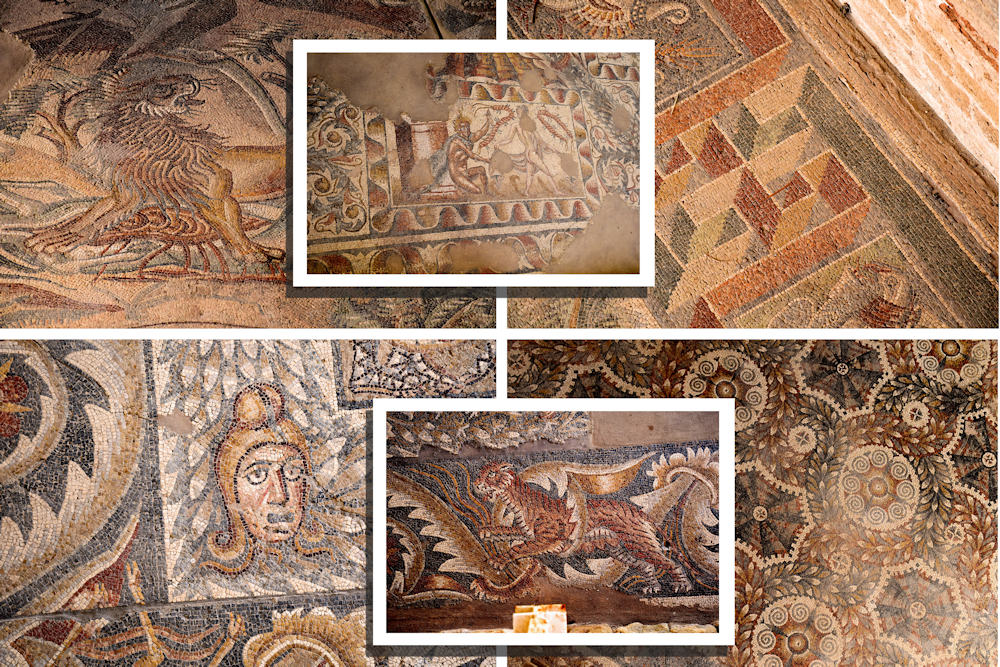 Villa Romana del Tellaro held some spectacular mosaics and we had the place to ourselves.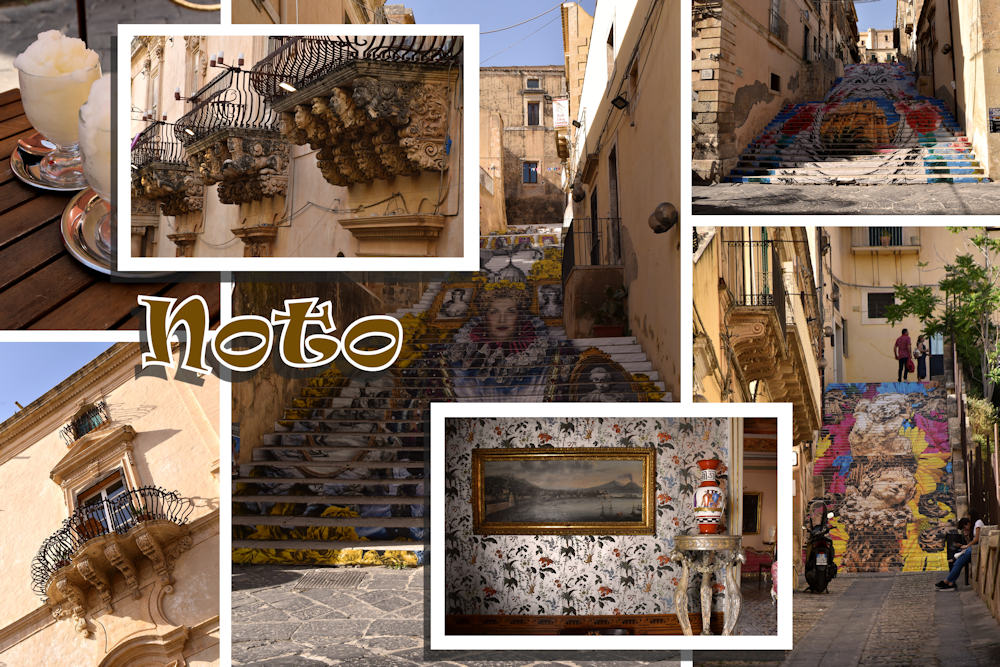 We enjoyed Noto much more this time and admired its painted steps, which are probably convered with flowers for the festival earlier in the year.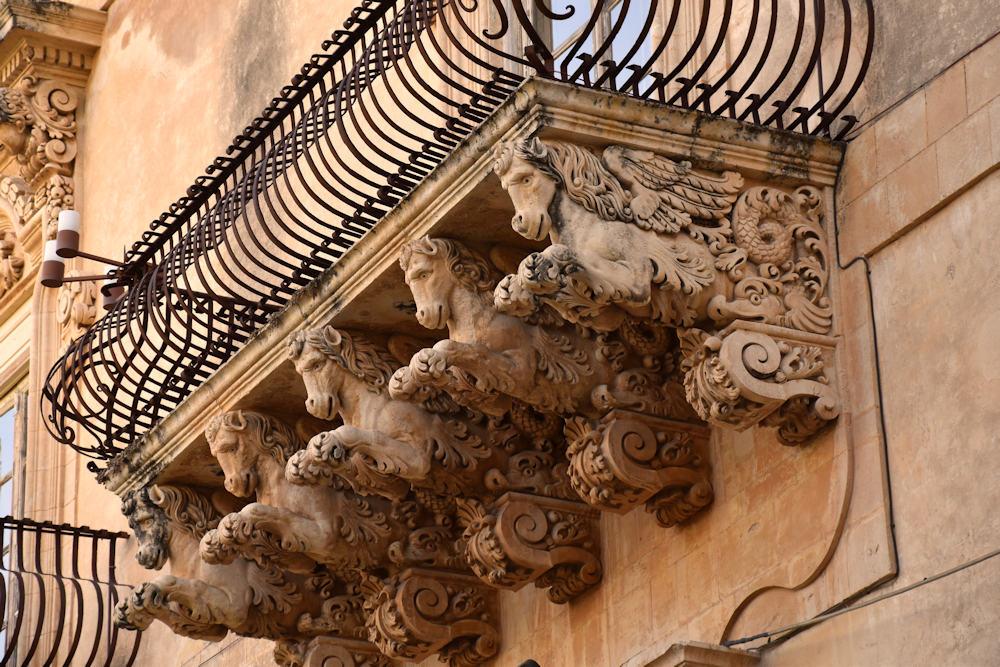 Noto is known for its baroque buildings and balconies.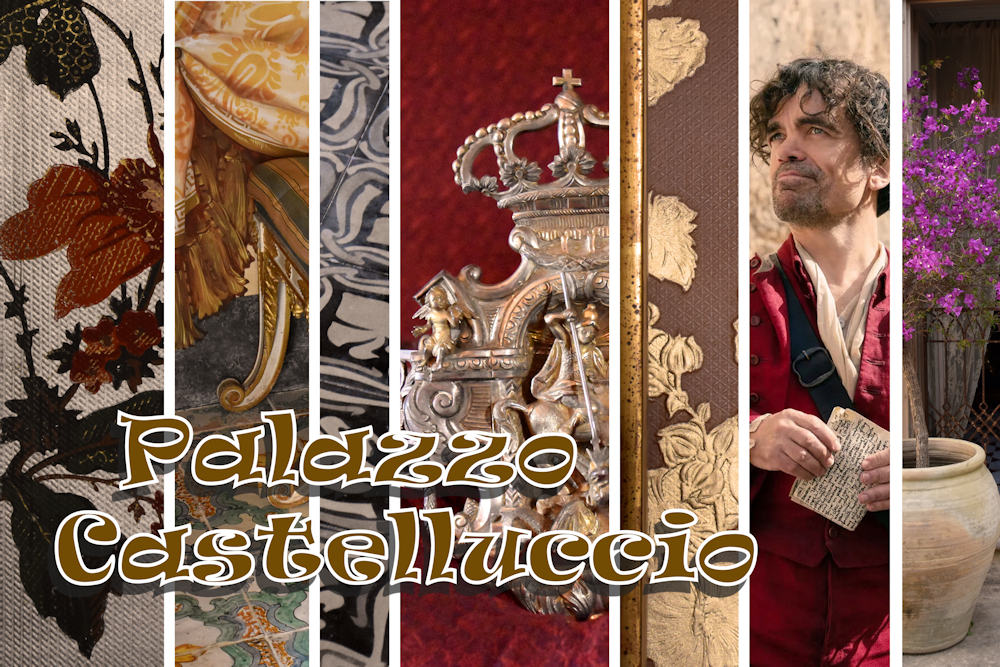 The focus of our Noto visit was Palazzo Castelluccio, now owned by a French documentary film maker, and location for much of the filming of Joe Wright's 2021 film, Cyrano, with Peter Dinklage reprising his stage role.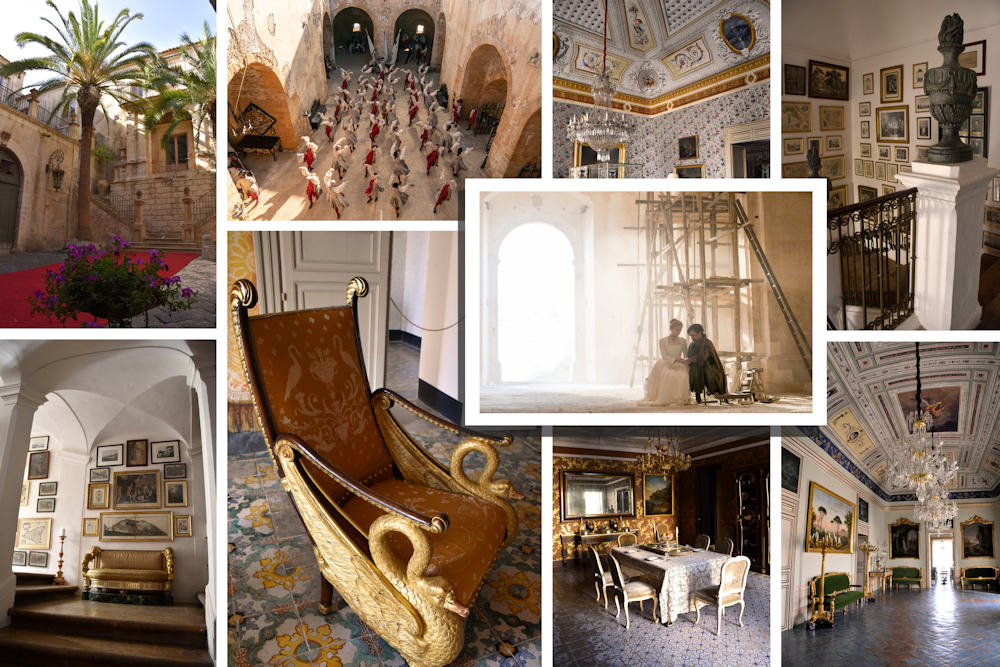 Opulence at every turn, from Trompe-l'œil frescoes to Napoleonic chairs to leopard print tiles to leather wallpaper.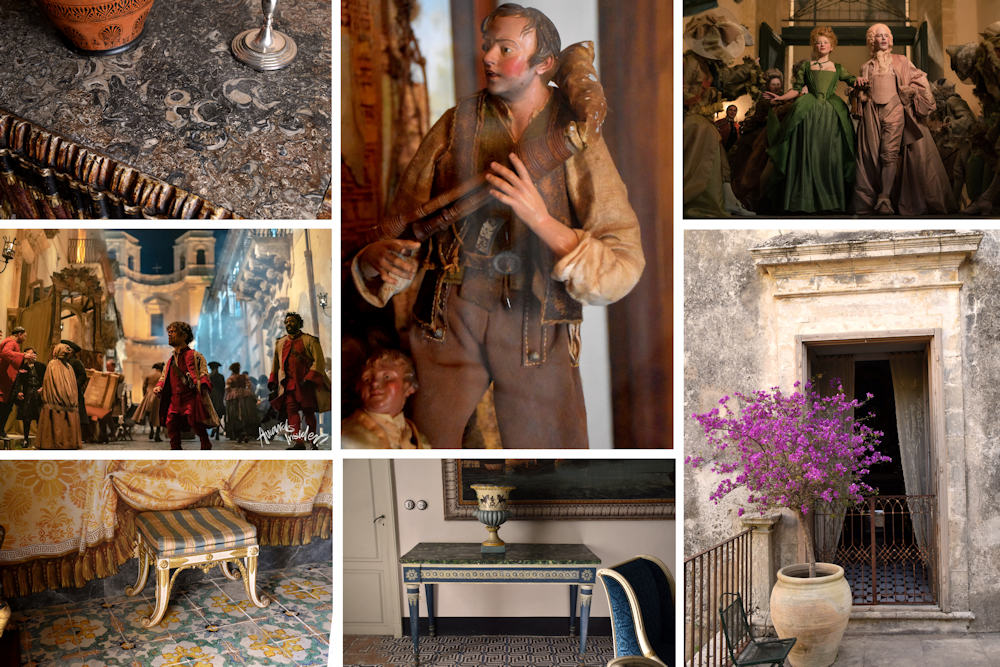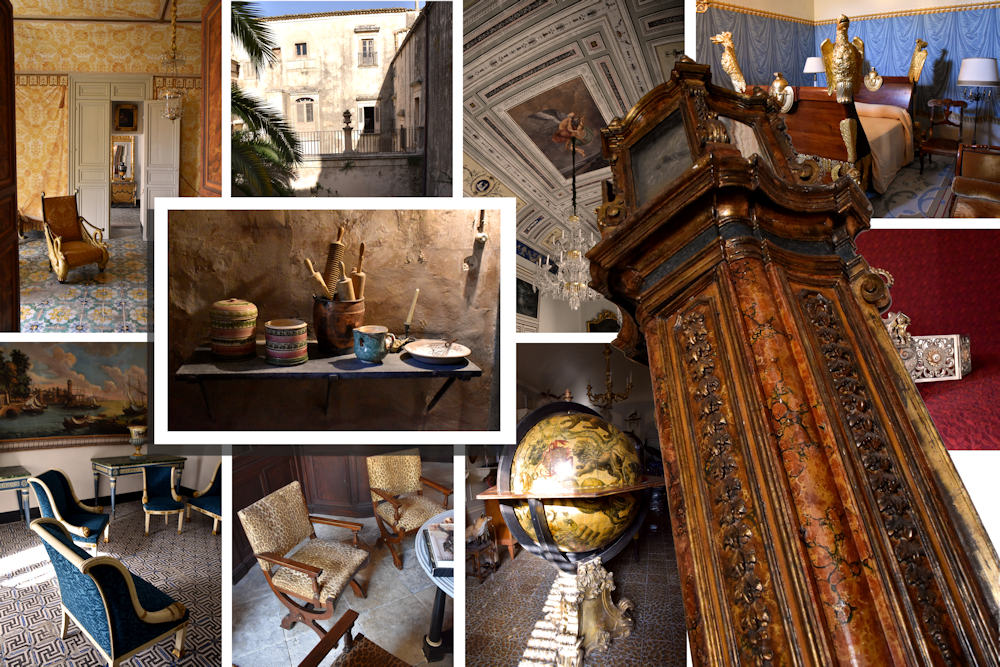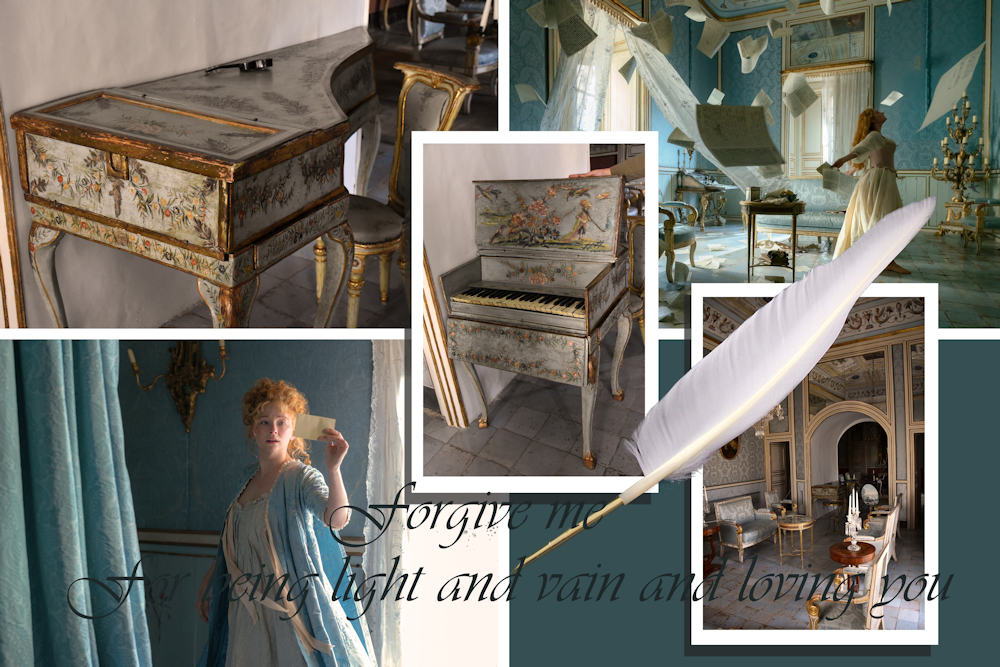 Everyone's favourite duck egg-blue room, which served as Roxanne's room in the film and provided my most satisfying photo collage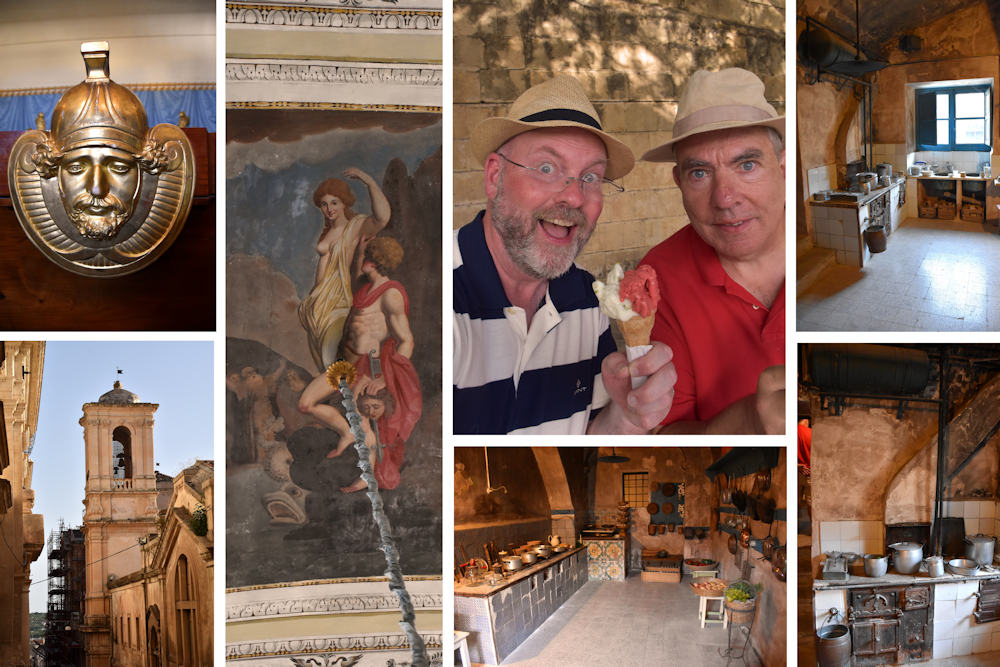 The kitchen served as the bakery in the film. After leaving the palazzo, we sought out gelato. Sadly, Dolceria Corrado, home of the "world's best ice cream" is closed down.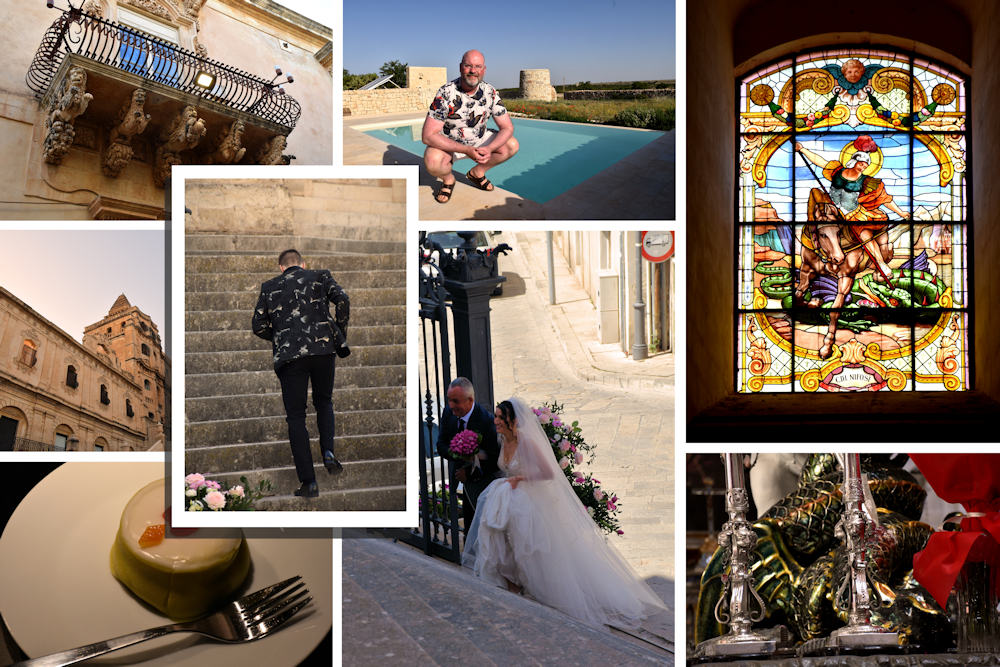 Back in Ragusa, there was a wedding at the church at the bottom of the hill and the cathedral was finally open for visiting.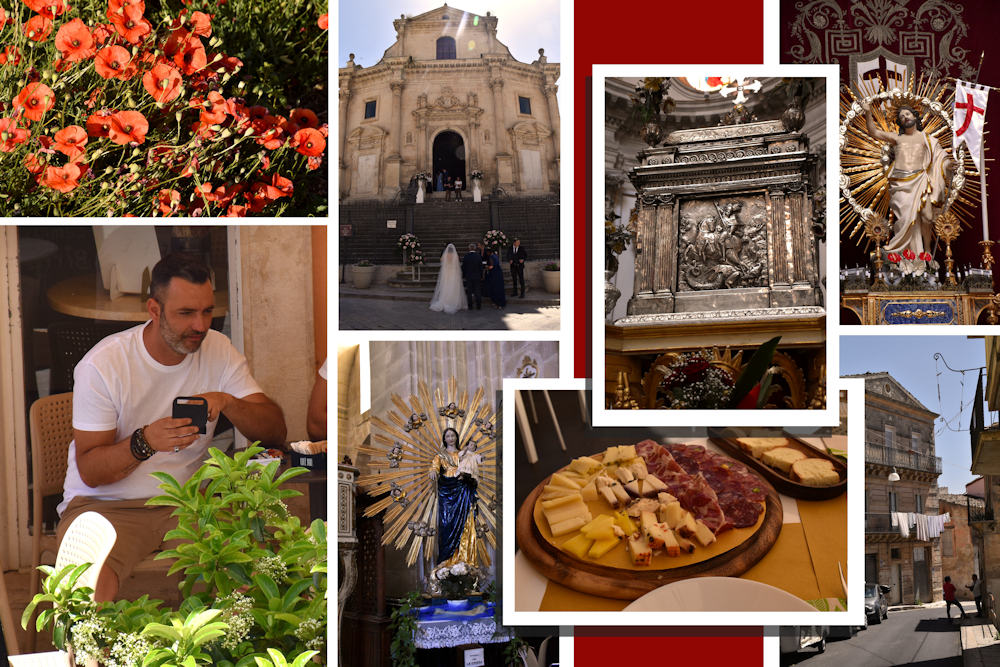 We returned to Salumeria Barocco for a lunchtime platter of cheese and donkey sausage.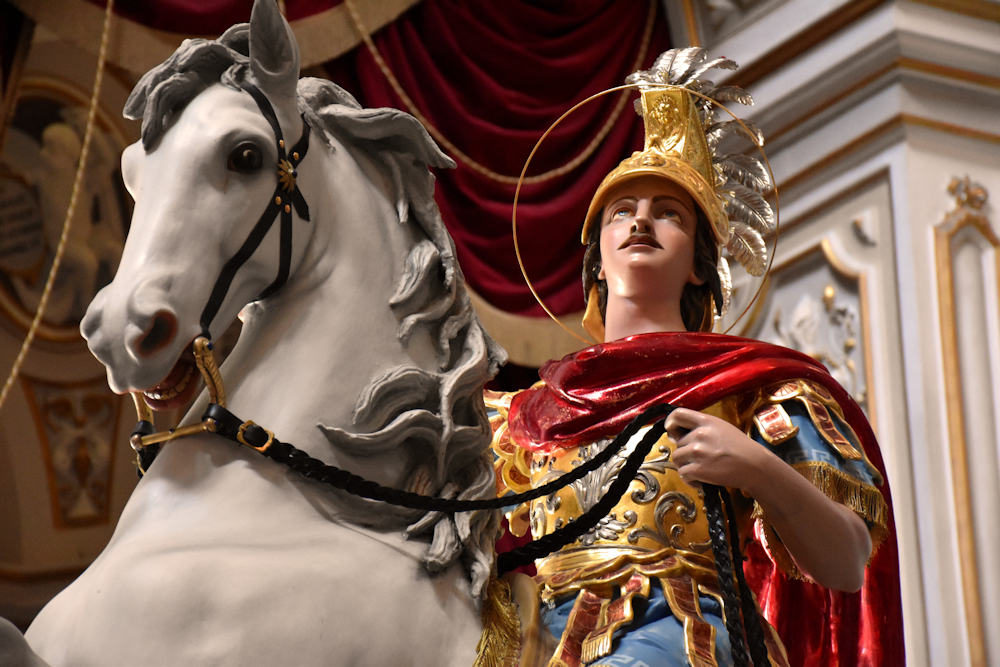 Georgio and Champion, the Wonder Horse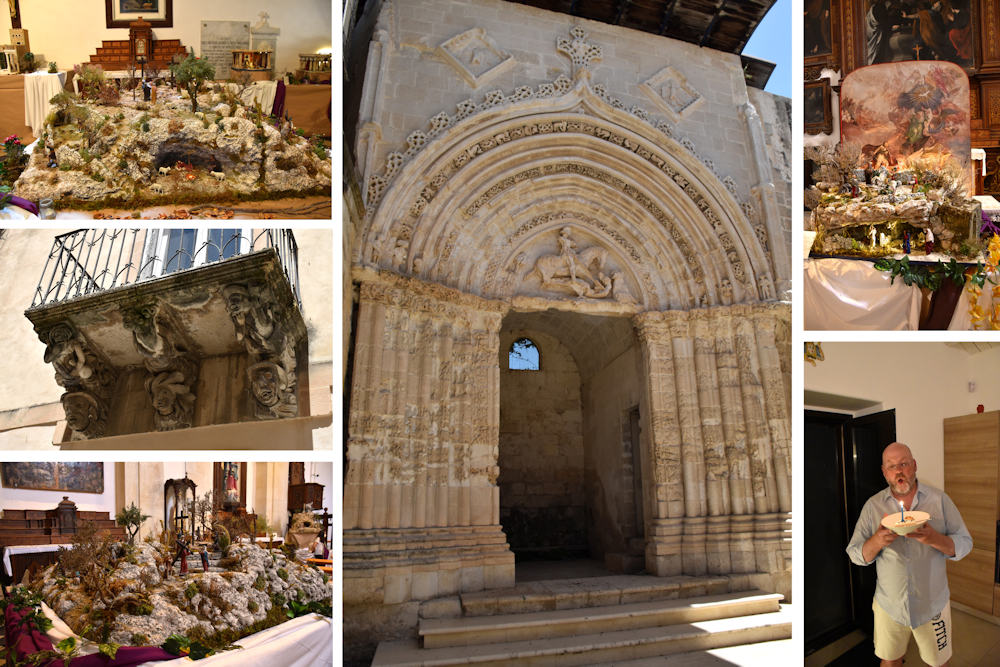 Easter versions of the Christmas crèche, the 12th century Portale di San Giorgio, and birthday candle-blowing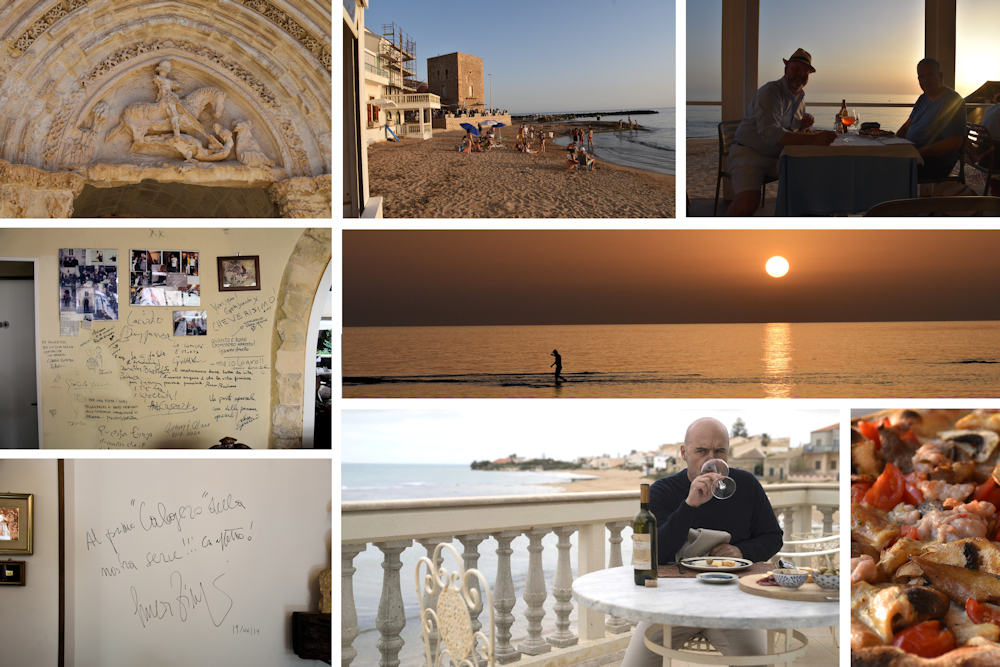 The cast and crew of Montalbano signed the wall of this Ragusa restaurant used in the series. We returned to Punta Secca for pizza at sundown.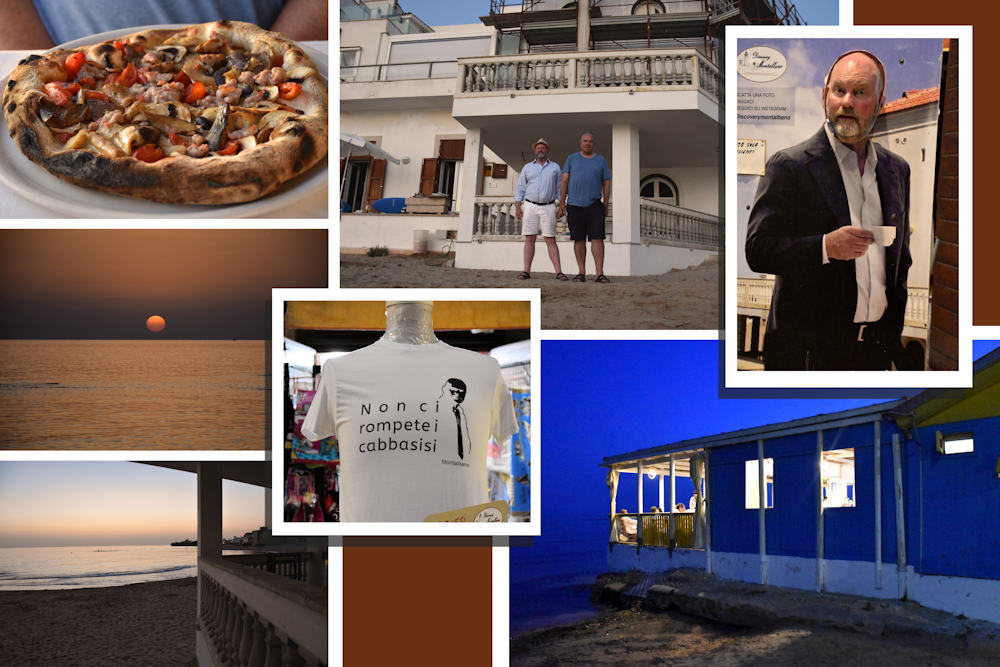 Outside Montalbano's house, an uncanny resemblance to Salvo, Enzo's retaurant at night, and I finally figured out what these t-shirts were saying.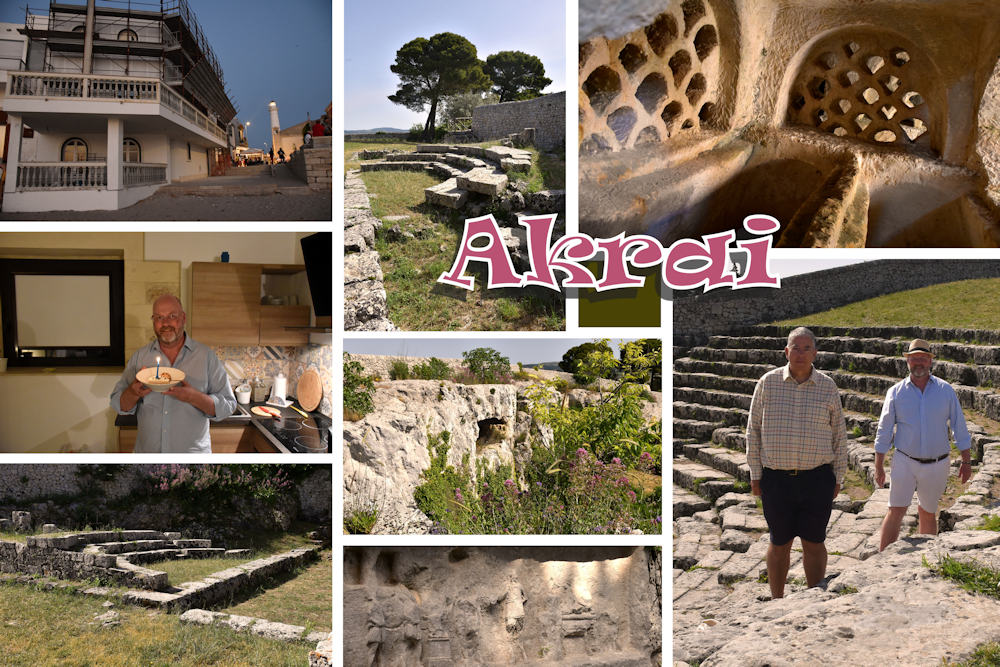 We visited the ancient hilltop settlement of Akrai, founded in 663 BC. It, too, had its own Greek theatre festival just before we arrived.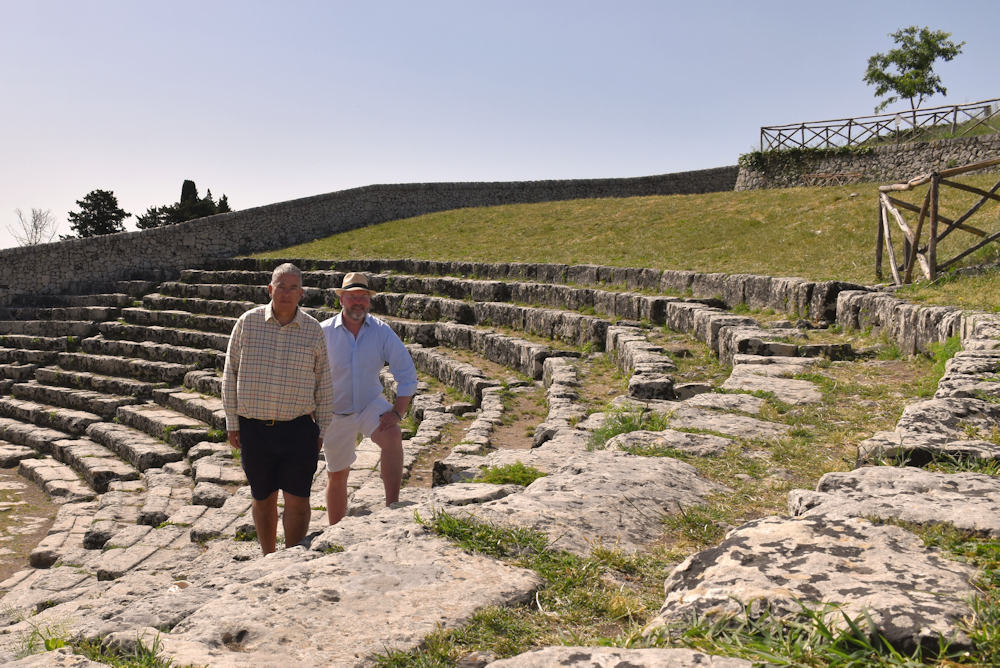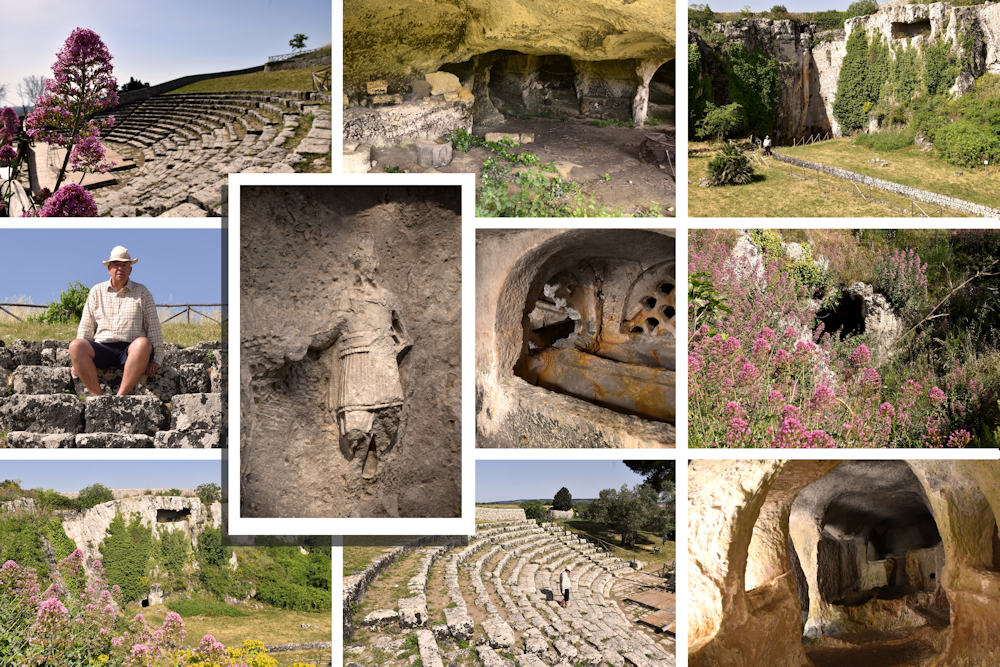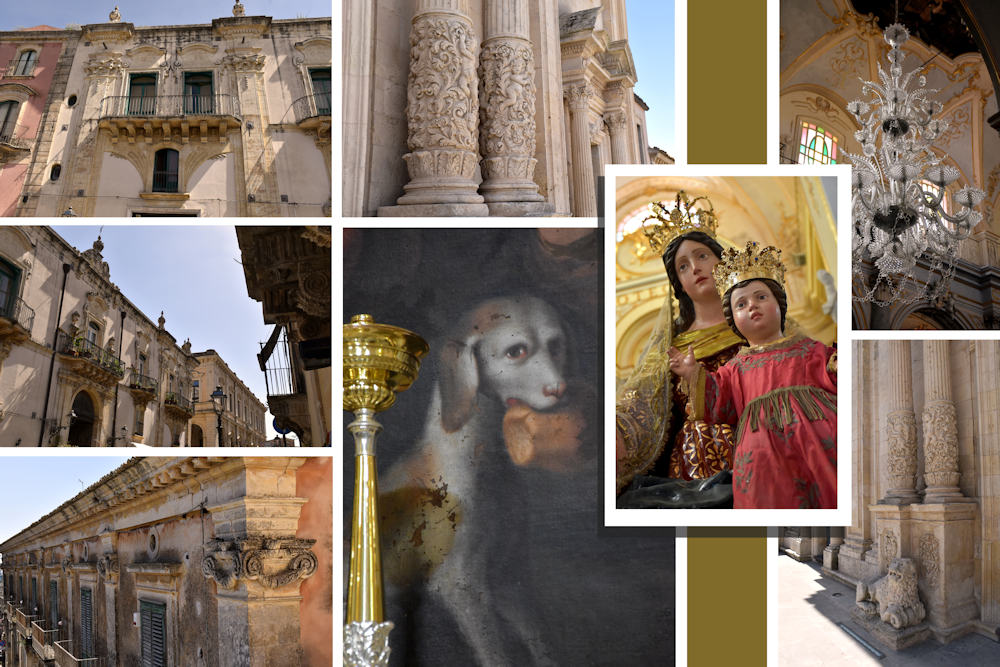 Palazzo Acreide provided baroque and Liberty architecture.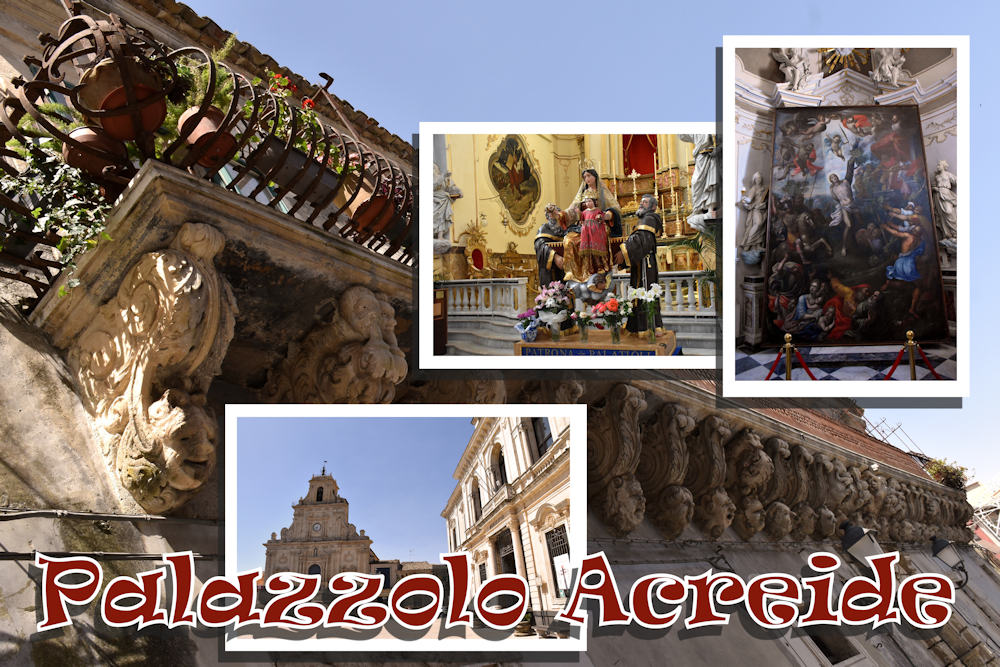 We marvelled at the long, carved balcony that rivalled those in Noto.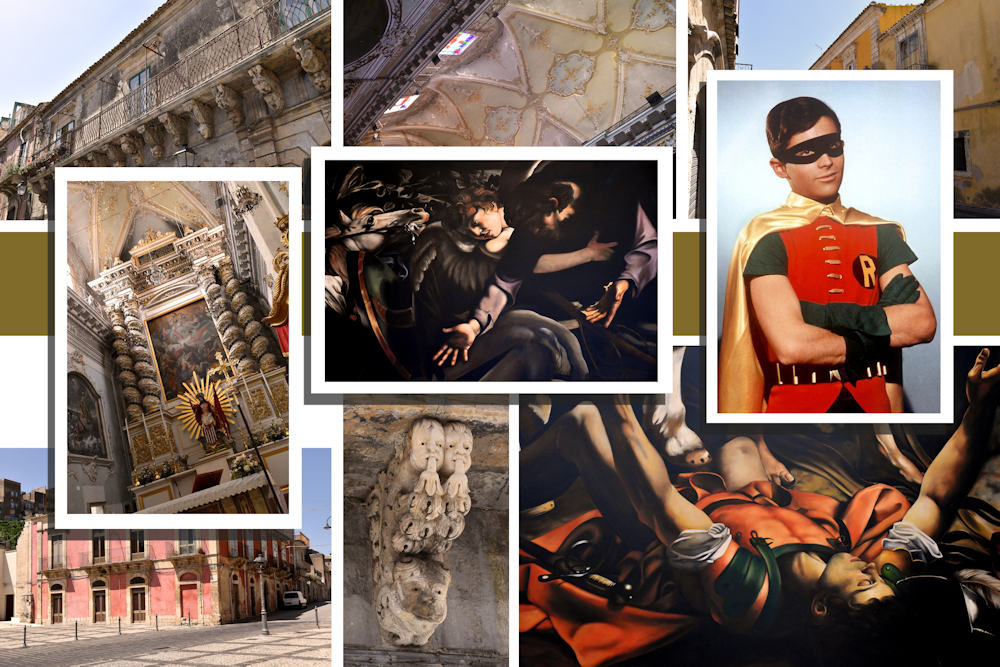 Palazzo Acreide's Chiesa Madre had amazing twisted columns and this reproduction of Caravaggio's Conversion of Saint Paul, rendered by a collective group of local art students. We had seen the original painting in 2018 in Rome in the Santa Maria del Popolo. Like then, the colours of the saint's clothing reminded me of Robin, the Boy Wonder.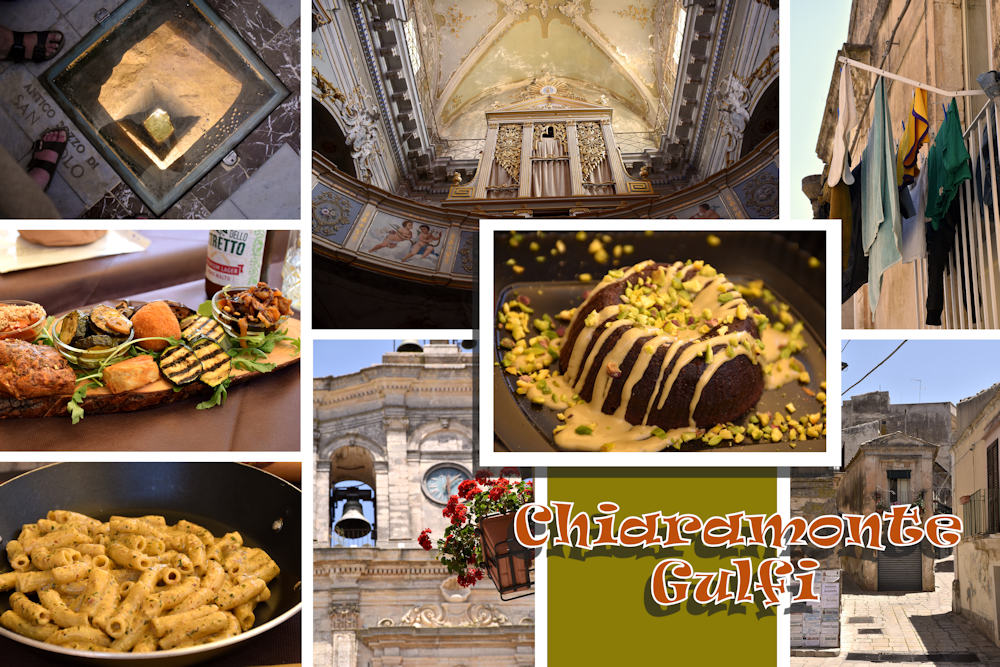 Just off the town square in Palazzo Acreide, we had the best dessert of our trip, a warm chocolate fondant with pistacchio cream in the centre. They made us a pasta dish to take back to our accommodation for the evening's meal.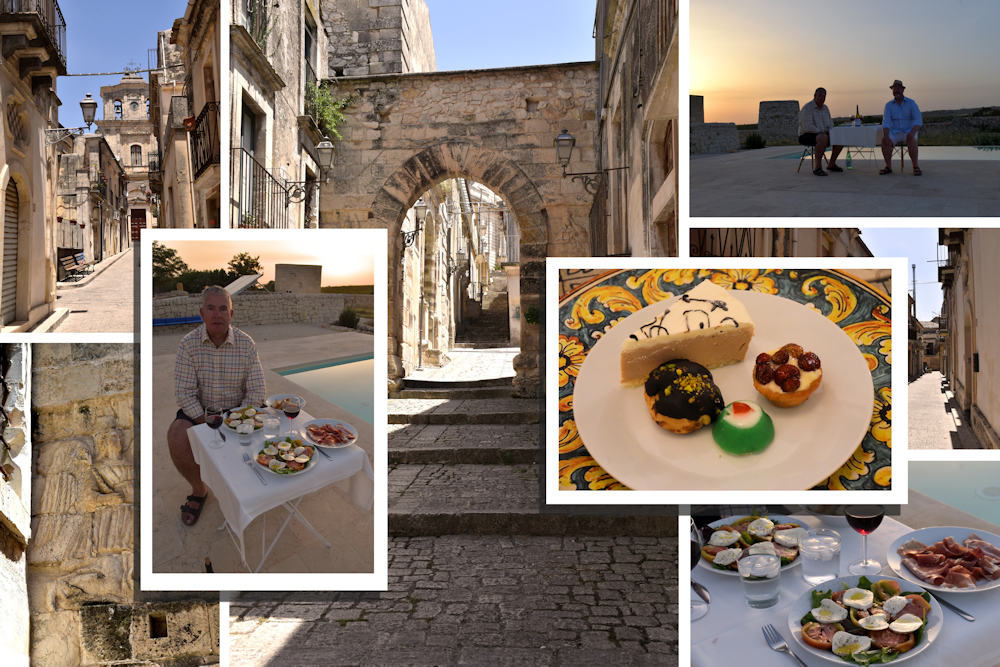 Most things were closed in Chiaramonte Gulfi, including the promsing-sounding Art Nouveau Museum, and there was no sign of the DOP olive oil and pork made famously here. The portal was nice.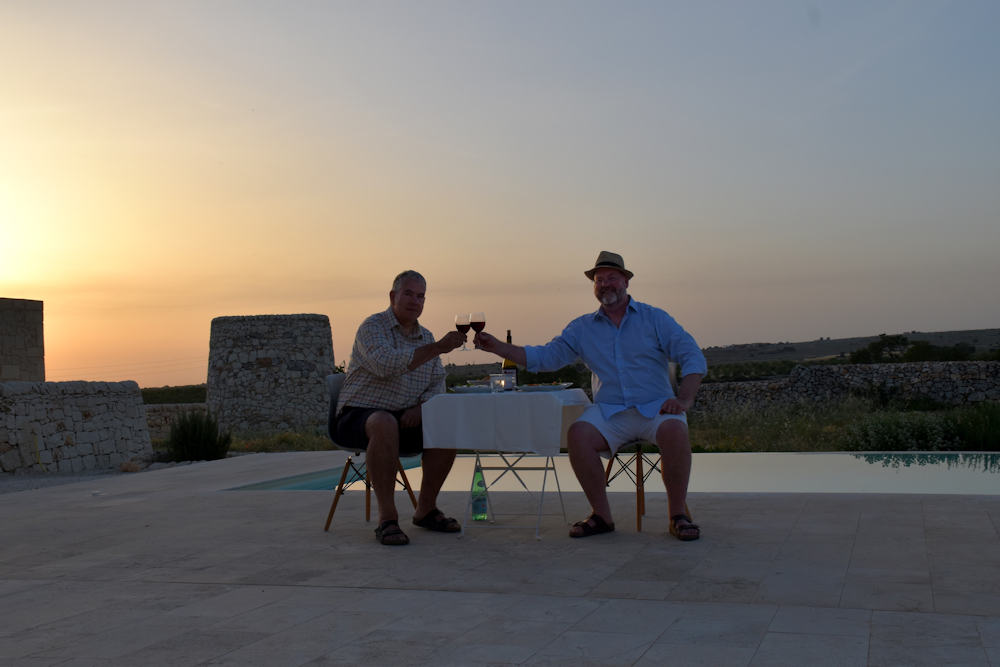 Our final, memorable, poolside meal at home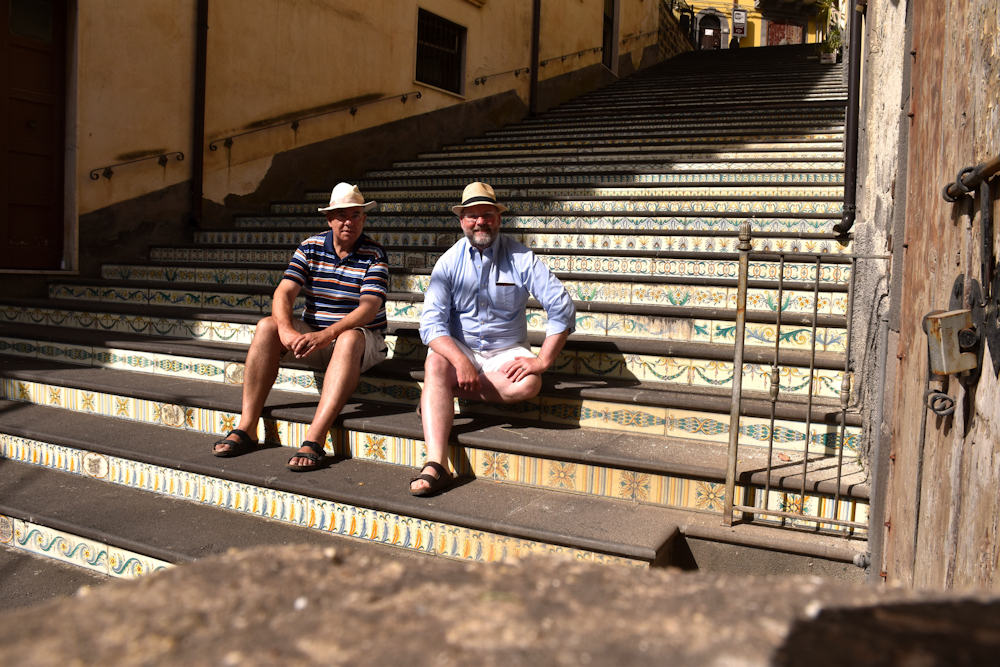 We stopped in Verghiano on the way to the airport and visited the Museo dell'Immaginario, which had displays about photographer Giovanni Verga and composer Pietro Mascagni.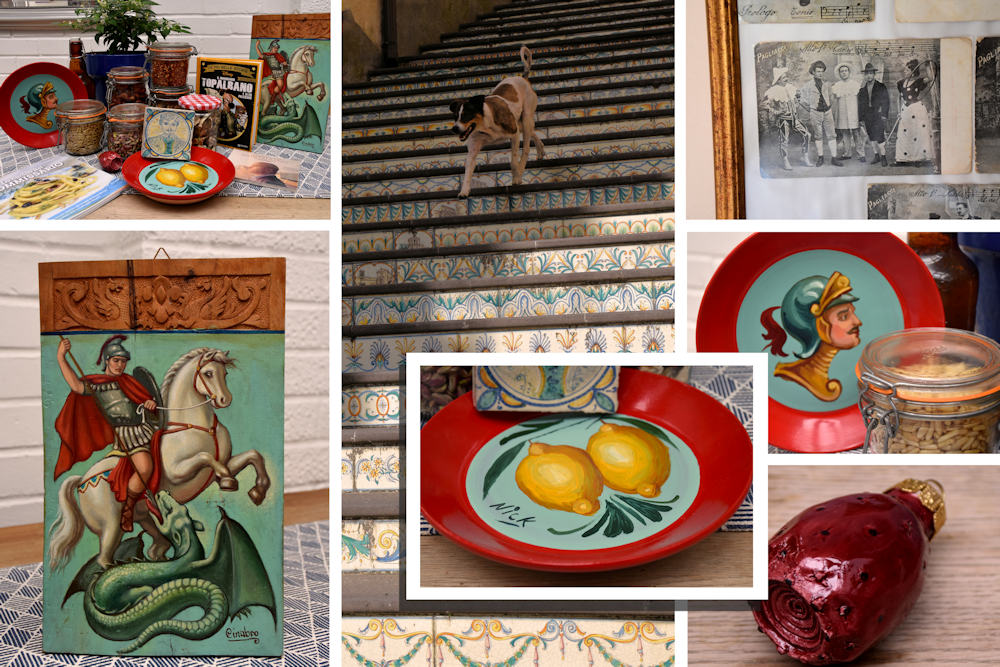 Our haul of Sicilian souvenirs, including this hand-painted Saint George plaque from Cinabro and a ceramic Christmas oranment for our collection.
We plan to return to Sicily in 2023 for a long study break.



Click HERE to see our summer adventures in Amsterdam and Abruzzo.