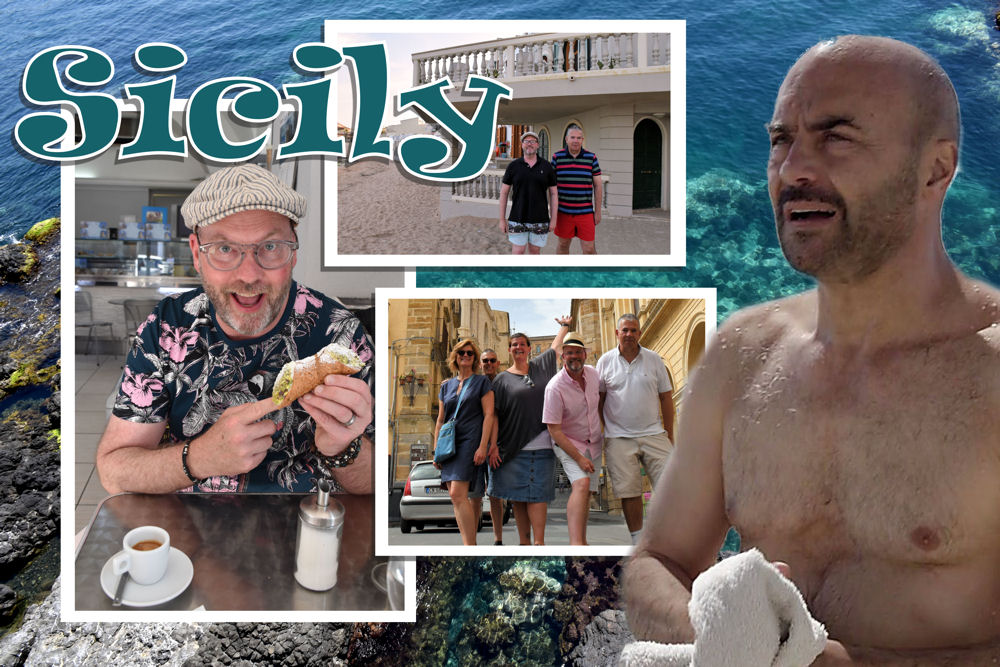 I can't remember looking forward to a birthday more than in 2018, when we went to Sicily to follow in the footsteps of Inspector Montalbano. Once again, Cousin Linda and friends were there to celebrate along with us. Click HERE for photos of 2017's trip to Emiglia Romana and HERE for photos from 2016's trip to Florence.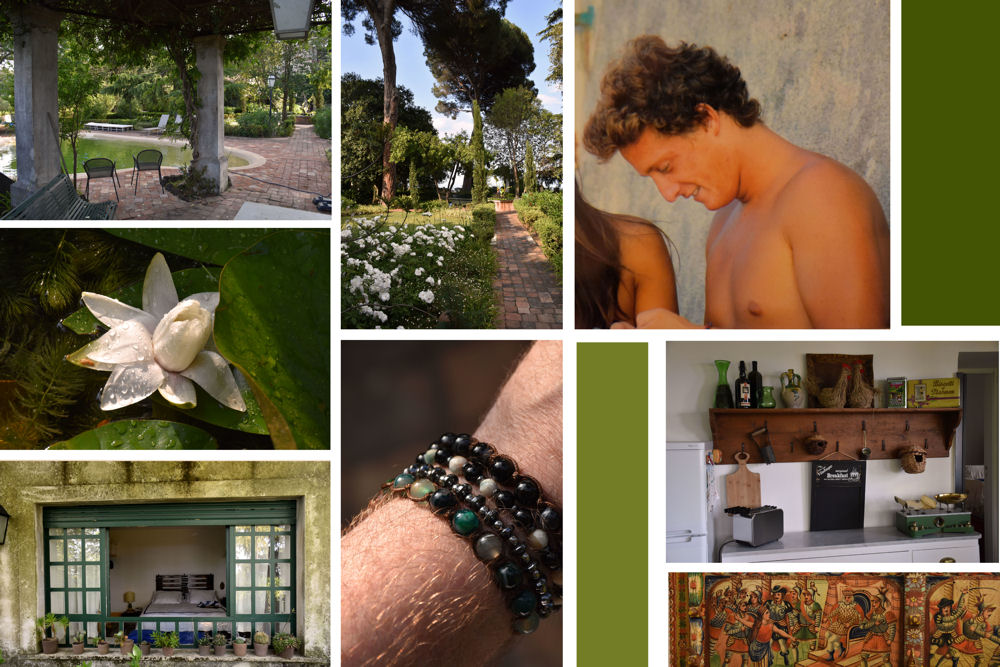 We were astonished when the gate opened to reveal our rental property of the week: a beautiful house, surrounded by a huge garden with a pool and a view of Mount Etna and the sea.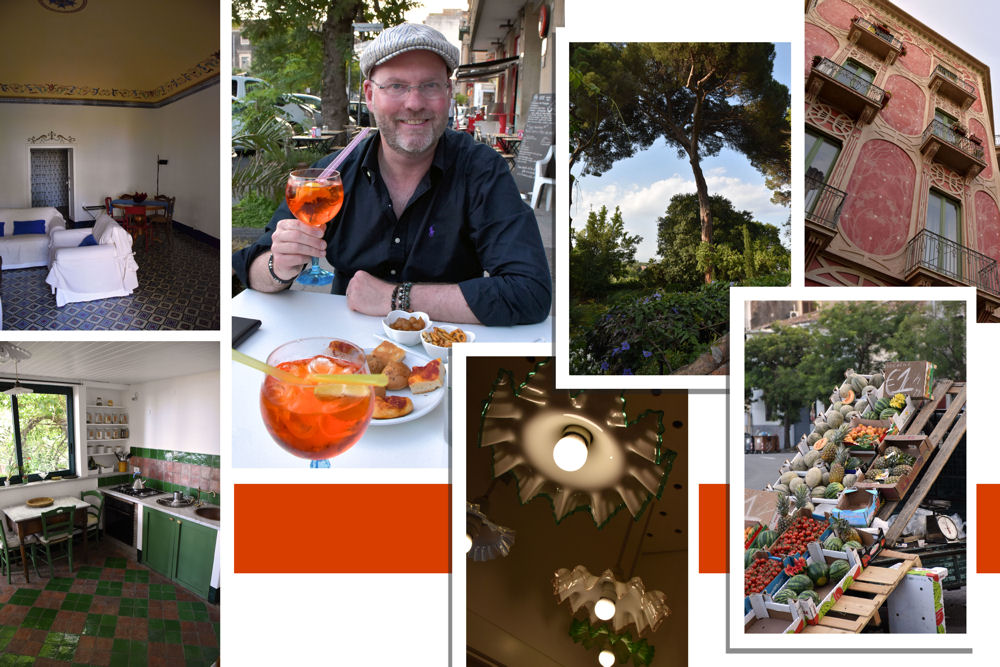 After settling in and photographing the house, we set off to Catania for our first Aperol Spritz.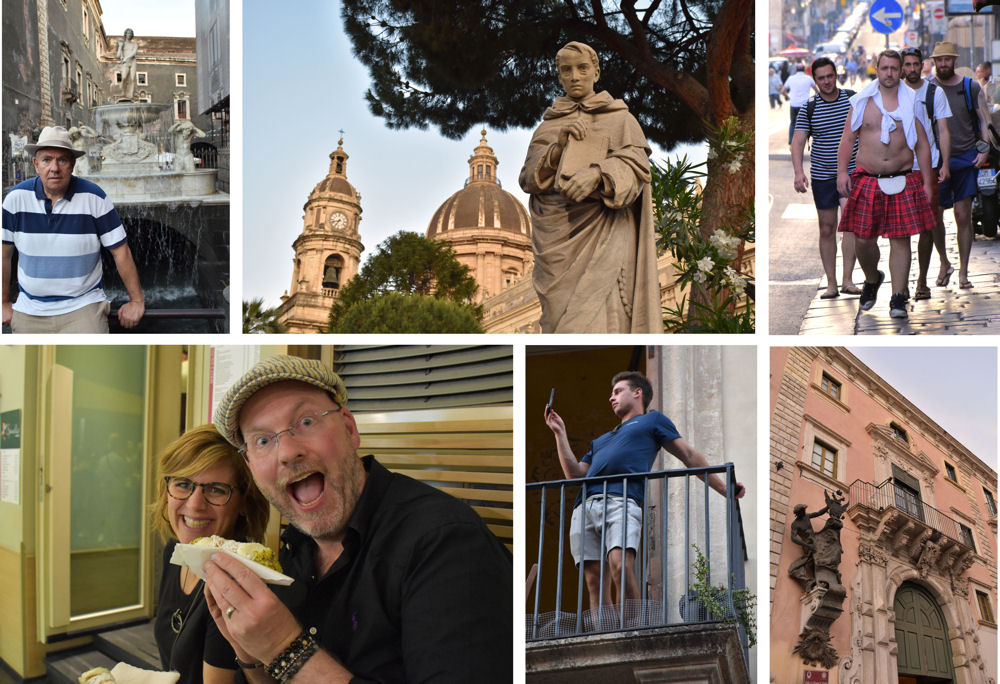 In Catania, we discovered the fish market (closed for the afternoon) and saw other sights before meeting up with Linda for dinner and our first cannoli at Savoca.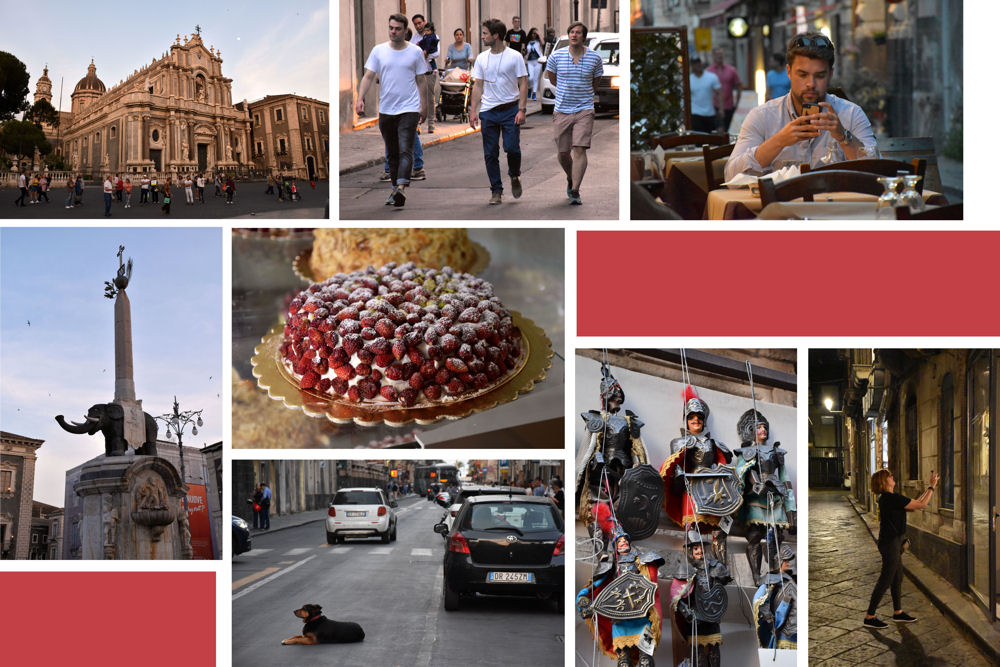 Apart from the cute men, marionettes, and wild strawberry cake, the lazy dog lying down in traffic was the perfect Italian scene.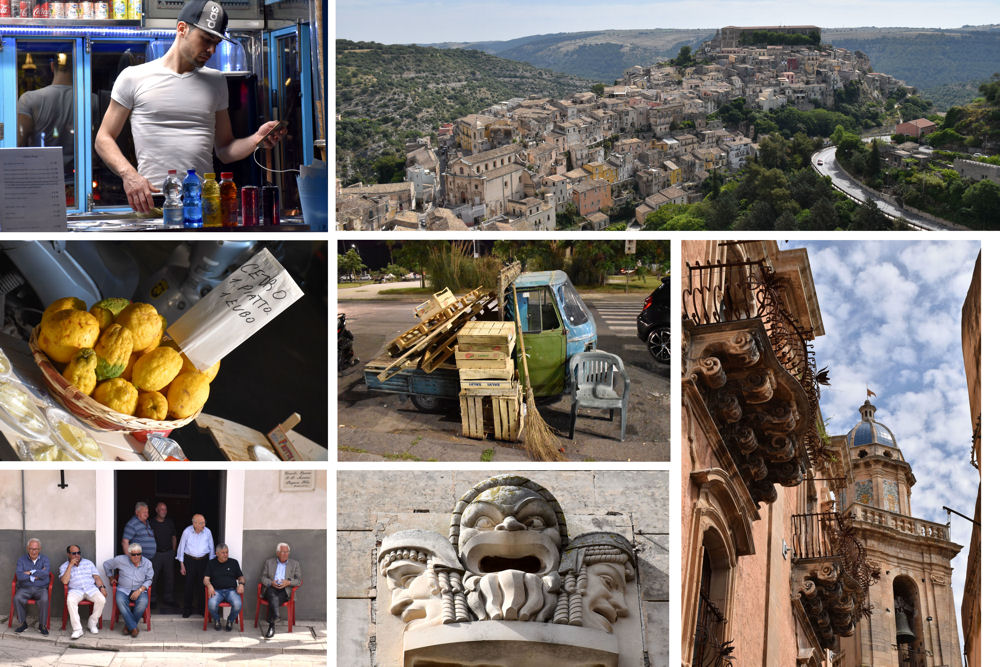 More sights from Catania and the following morning on the road to Ragusa, Montalbano country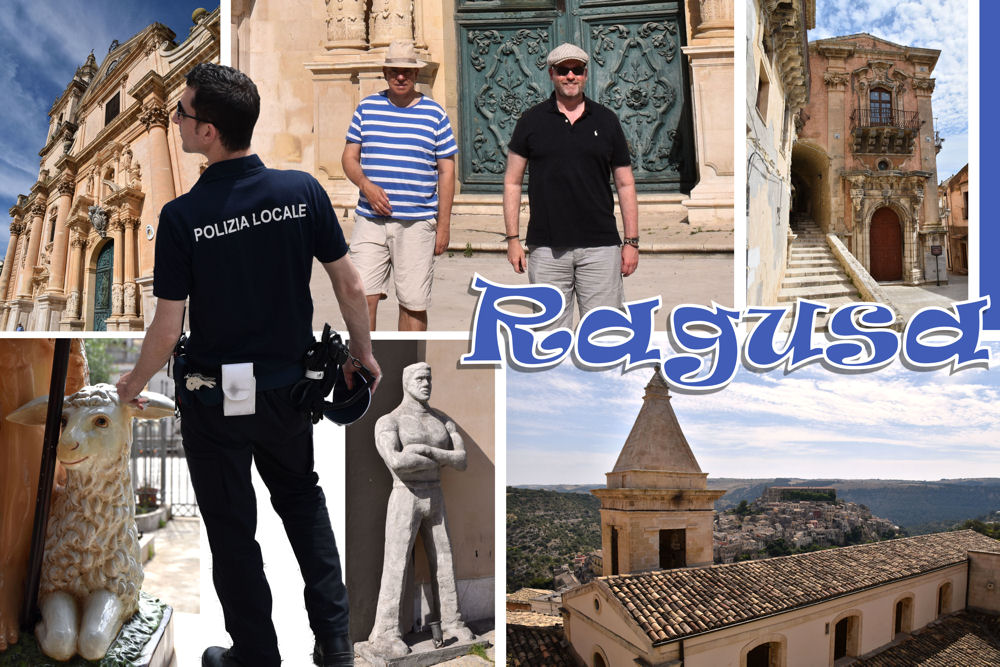 It was San Giorgio Day in Ragusa and there was plenty to see and do. We had a snack in a small café, with our second, superior, cannoli.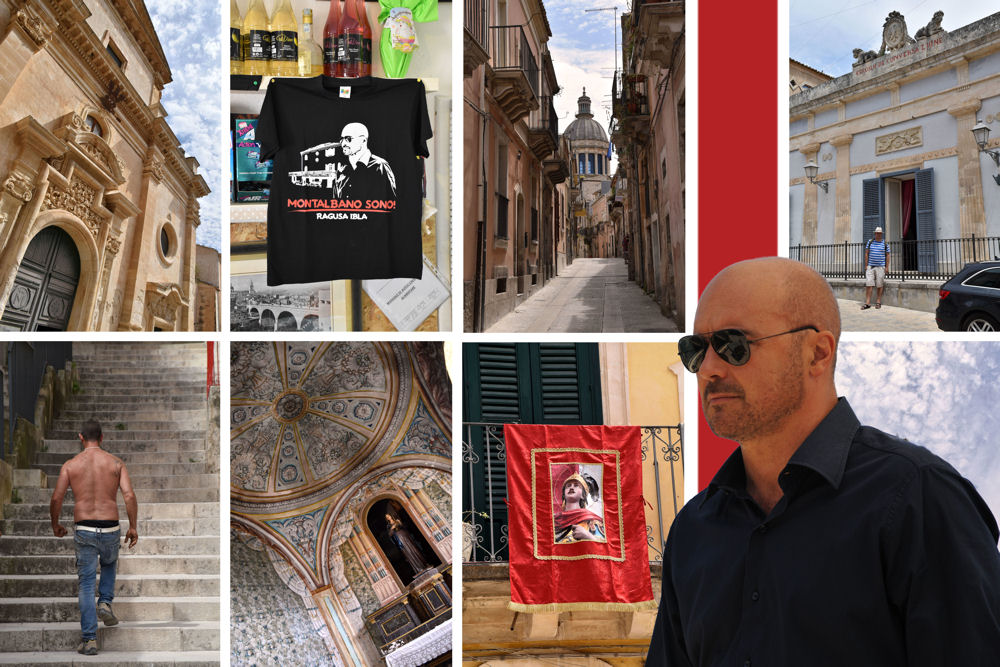 Ragusa Ibla held lots of familiar Montalbano sights and we saw a couple of places selling Montalbano t-shirts.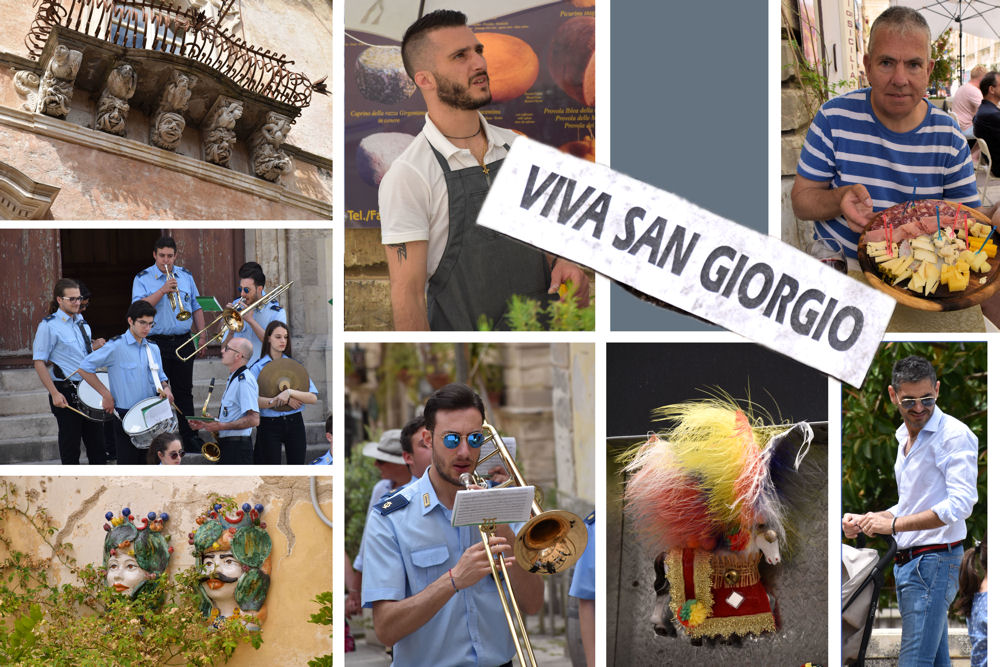 We listened to three local marching bands and had a cheese and salami platter for lunch.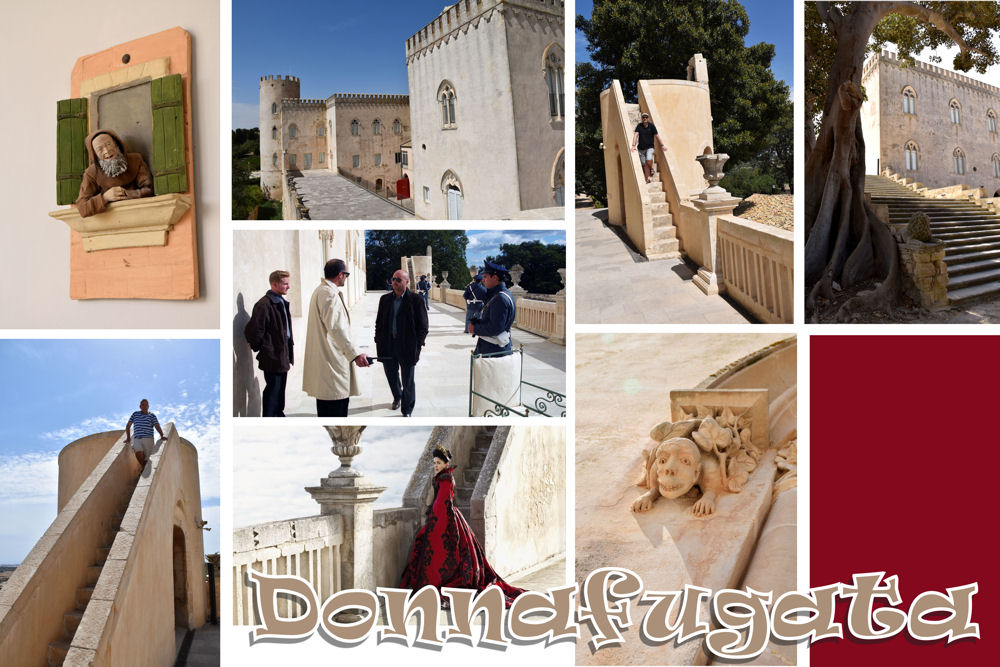 Next stop: Donnafugata Castle, which serves as both the Sinagra family stronghold and Penelope Cruz's residence in Tale of Tales. Click HERE and HERE to see the other two castles used in that film.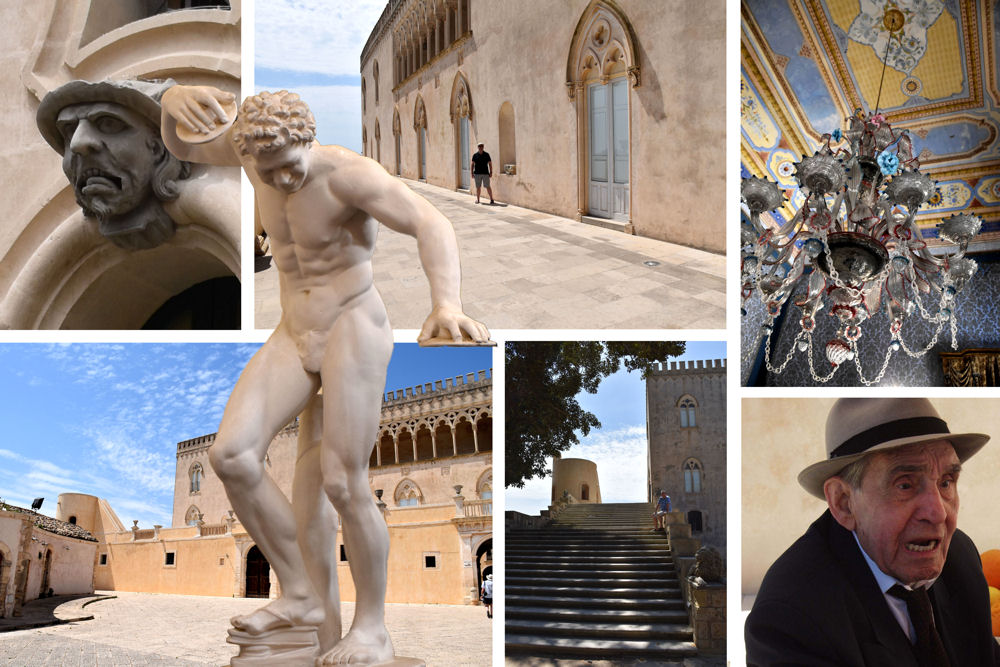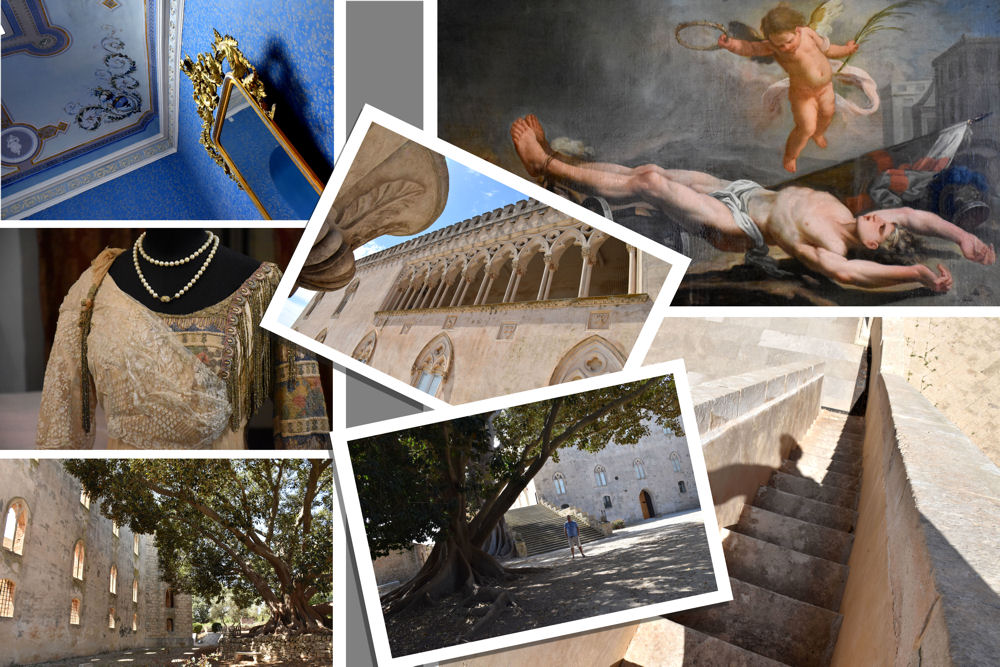 There was an Art Nouveau clothing exhibition inside the castle. Only after we left the place did I discover that we'd missed the beautiful stone labyrinth that is also featured in the films.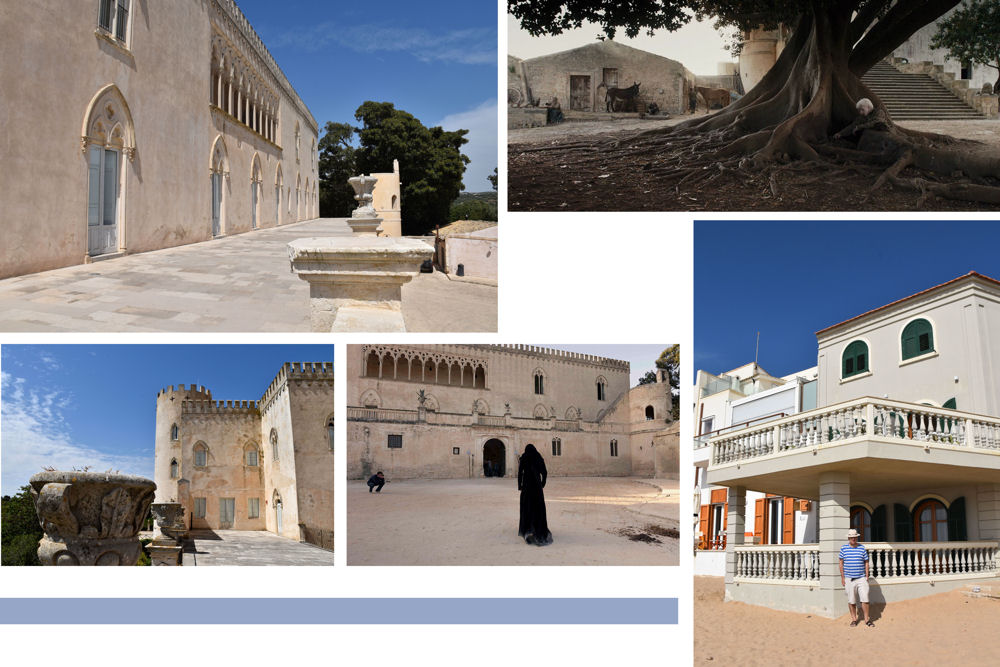 A couple of scenes from Tale of Tales and our first view of Montalbano's house in Punta Secca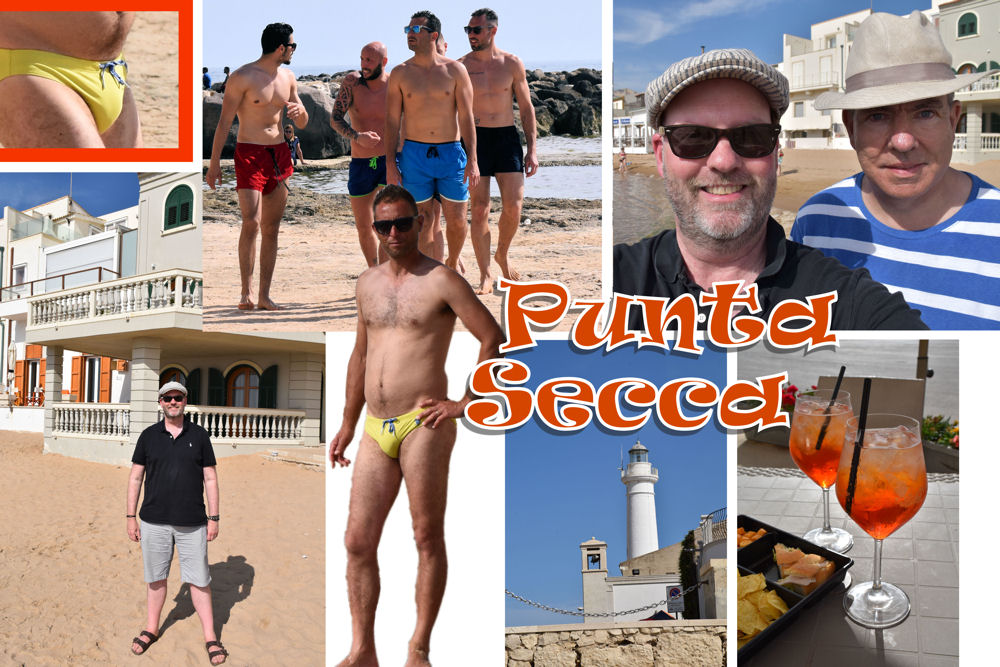 We stayed overnight in Punta Secca to visit the Montalbano house and other sights from the series. Everything was better than we expected it to be.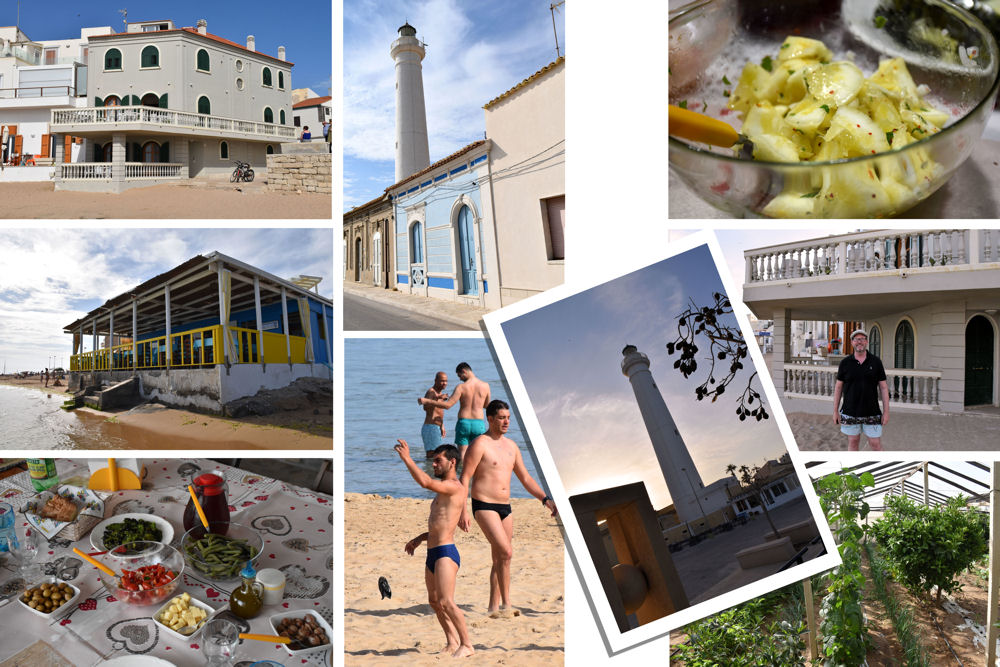 Montalbano's house and the lighthouse and the restaurant where he often eats. Back "home", our host prepared a vegetarian meal where everything was prepared straight from the garden. When we mentioned cedro, the husband went and picked one, with some onion and parsley, to make the salad, above.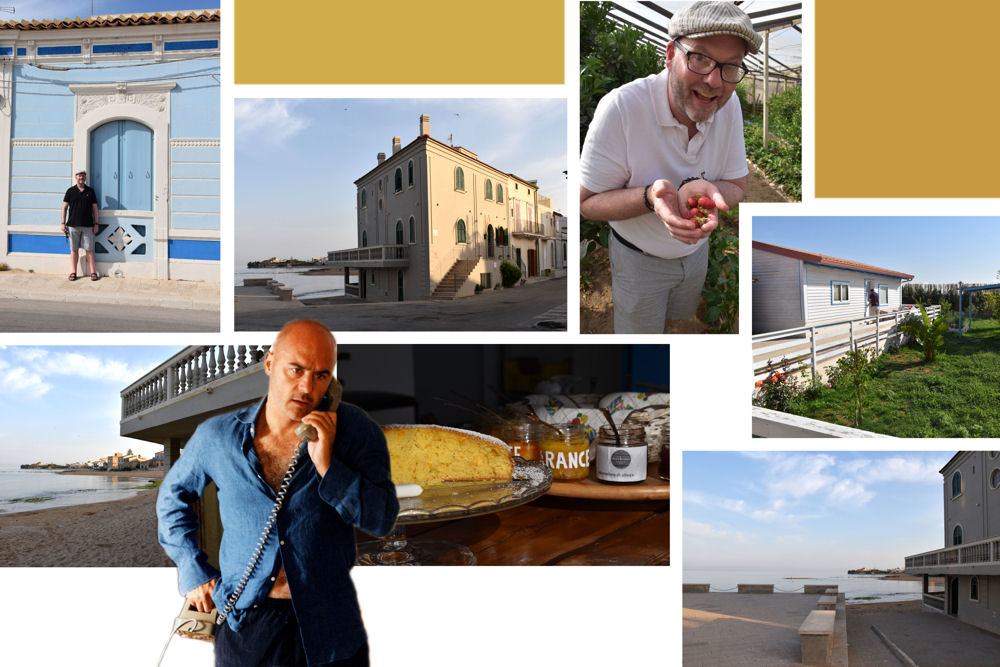 The next morning, we experienced the highlight of our trip by swimming in the sea right in front of the Montalbano house. There was no one else around. Afterwards, we returned to the farm for homemade cakes and croissants with an assortment of homemade jams.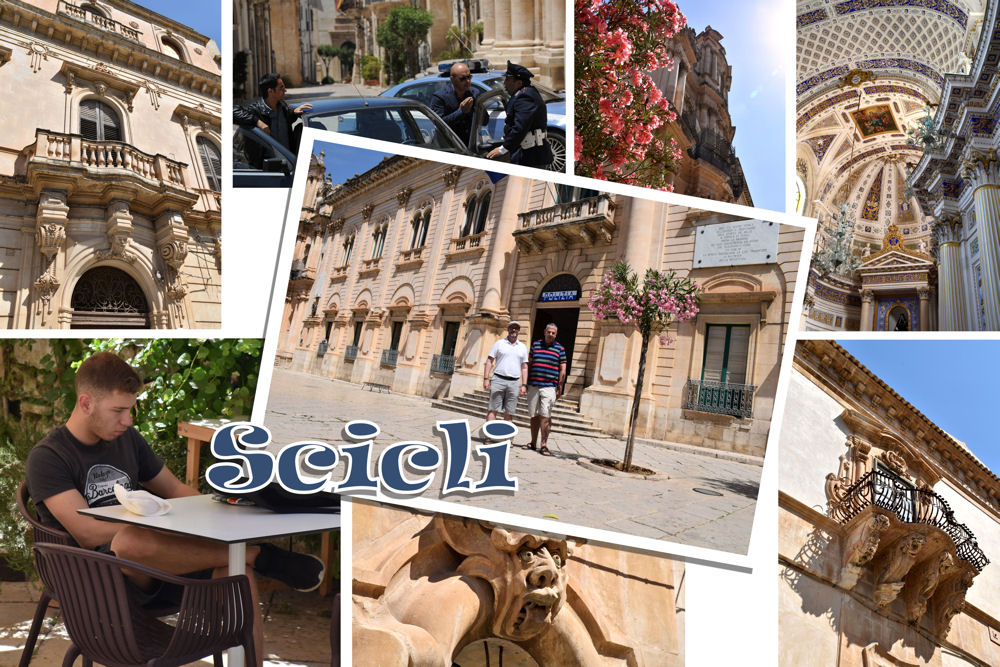 Our next stop was Scicil, where the police station from Montalbano is set. We had another cannolo there.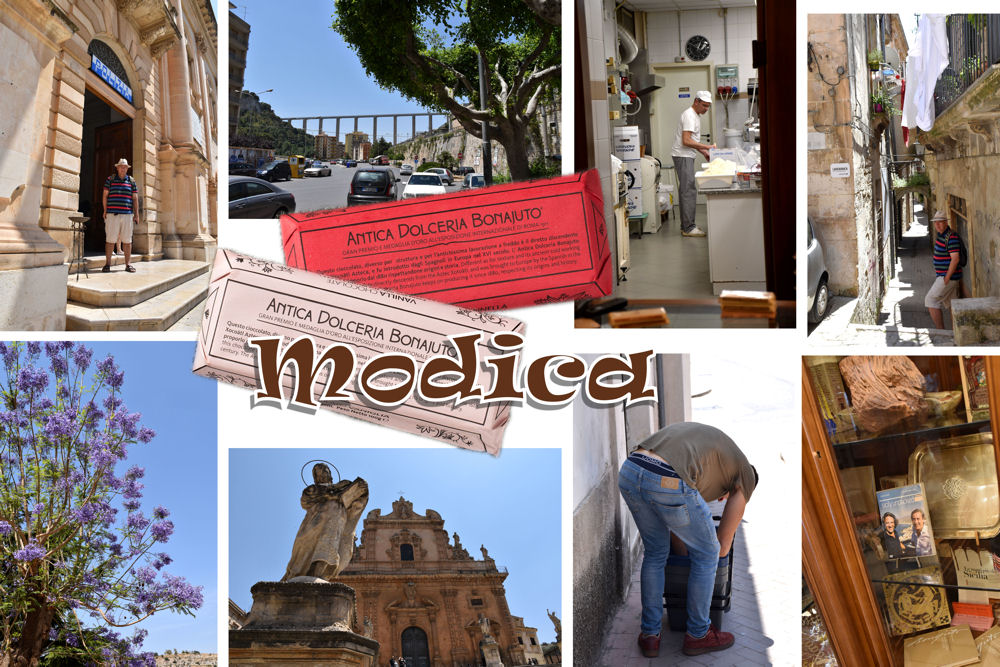 Modica also features in Montalbano, with the aquaduct and the basilica. We visited the ancient chocolate shop that makes traditional gritty-but-delicious Modica chocolate, as featured on Sicily Unpacked.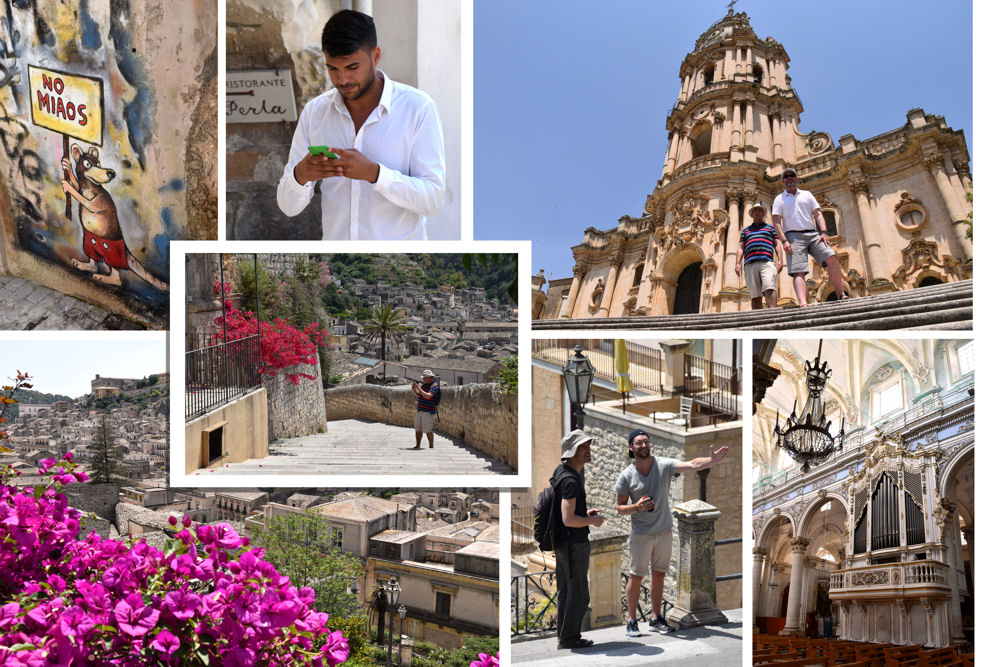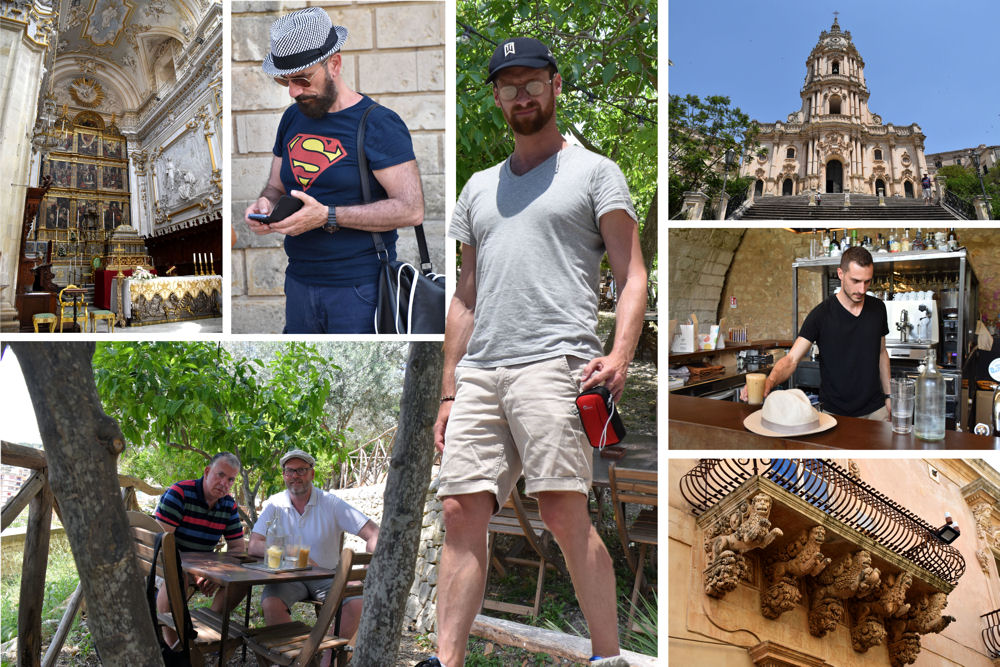 Someone stopped us on the street and told us that we must visit the shady garden cafe at the foot of the basilica, which we did. It was a huge, sprawling place with outdoor tables and a cave-like bar with a cute bartender. We had granita and cold almond milk coffee. For more Supermen sightings, click HERE.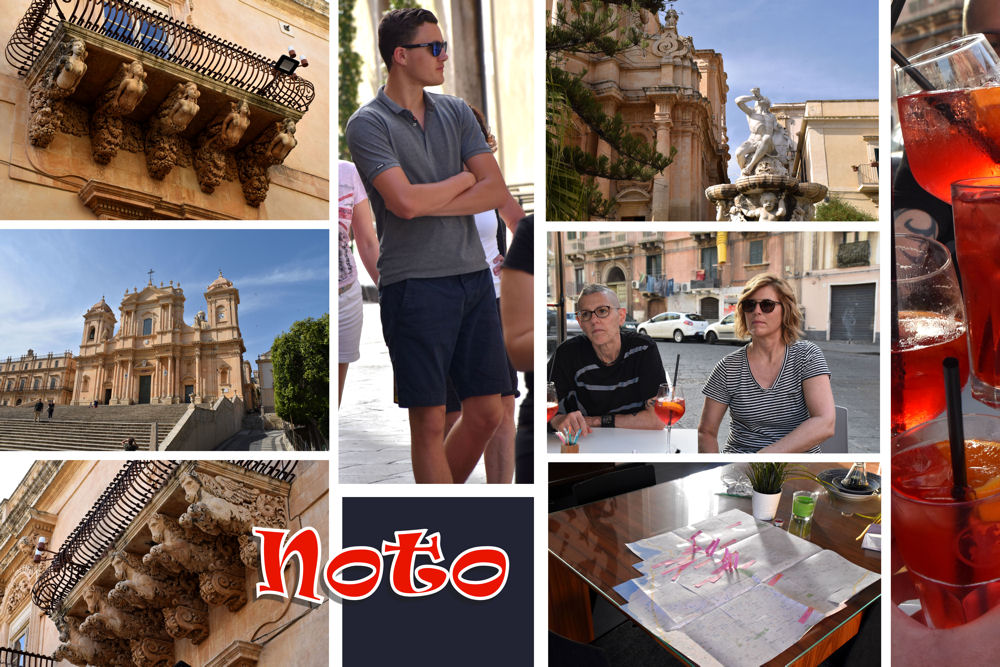 Noto was full of baroque architecture. We had what was supposed to be "the best ice cream of our lives" but it wasn't. Afterwards, we met back up with Linda, Nancy, and Katie in Catania for sprtzes. Have a look at Linda's super-organised map!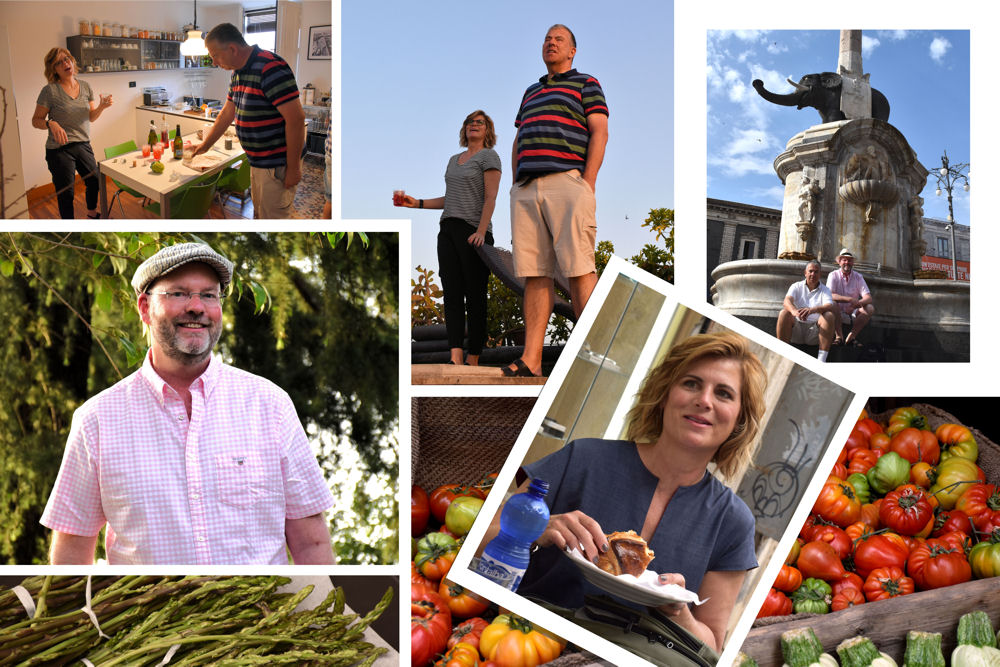 Linda's apartment was amazing, with seven terraces to choose from. The next morning, my birthday, we met up again and went to the fish market, where we bought wild asparagus.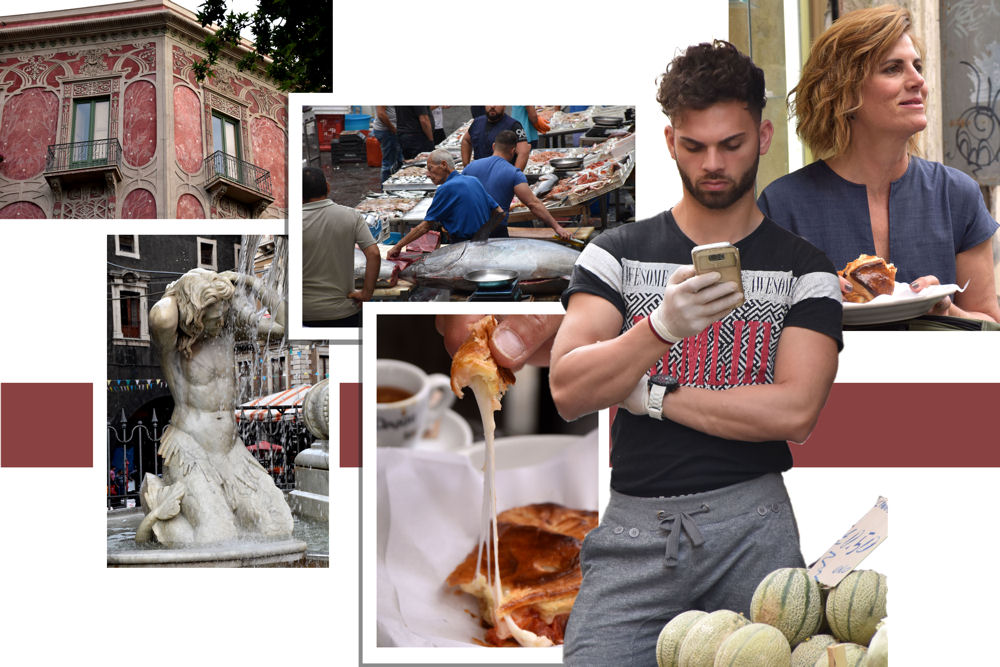 The oozing chipollina was a revelation, discovered on Linda's food tour. Melon Boy was also revelatory. The fish market was fun to walk through.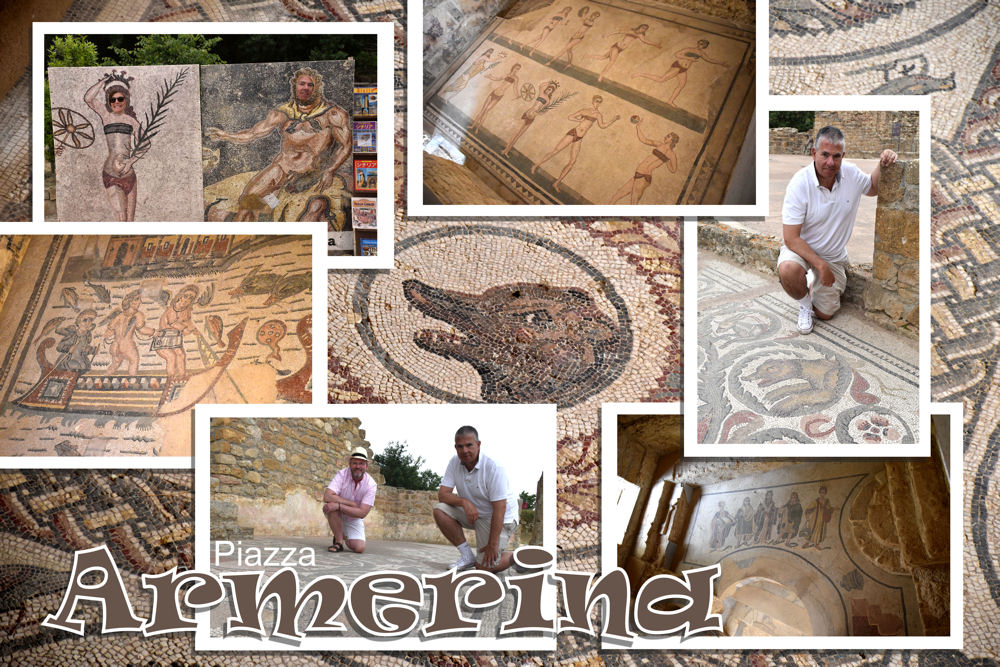 It was a great treat to see Piazza Armerina with its splendid Roman mosaics on my birthday. It seemed like there were miles of mosaics to see. My favourites were ones outside that we could touch.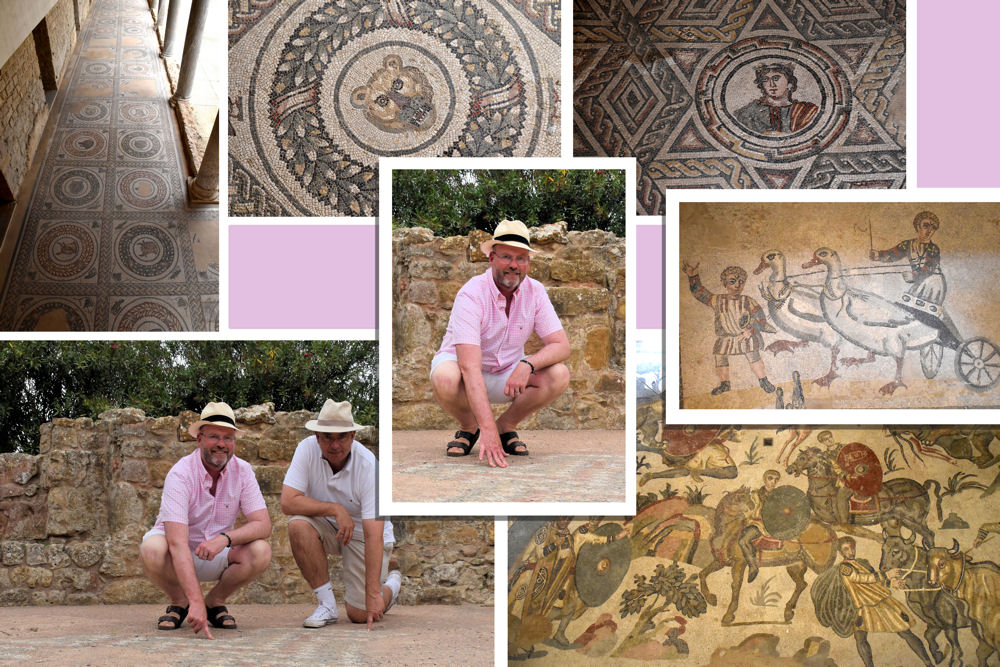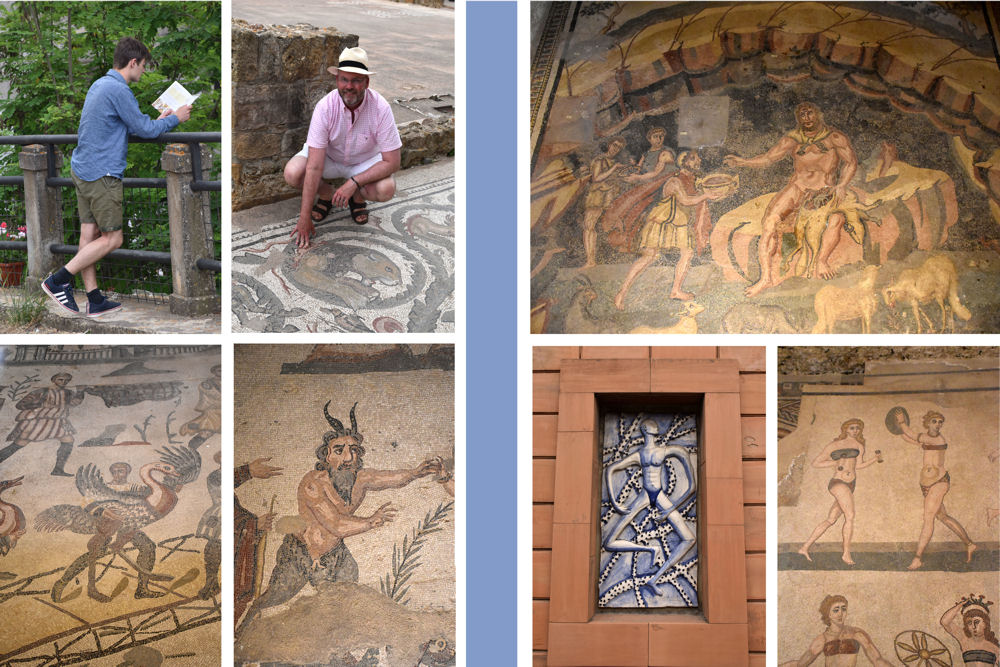 Mosaic cyclops, satyr, ostrich, and girls in bikinis. They're all present.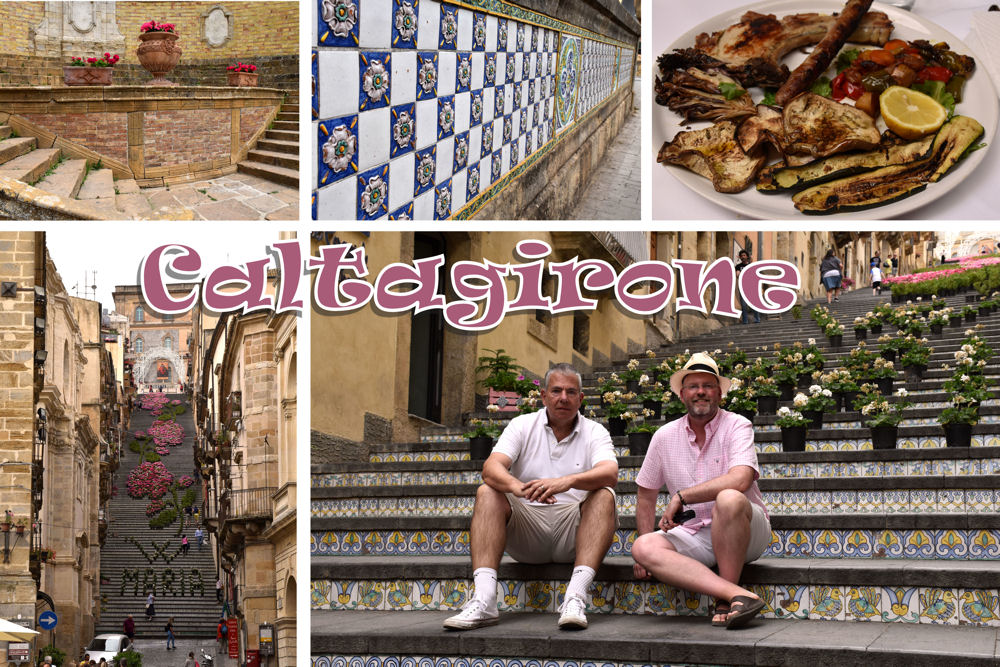 Our next stop was Caltagirone, home of the ceramic tiles and heads seen all over Sicily. The famous majolica staircase is decorated with flowers in May. The lunch we had there was the best food I remember from the trip.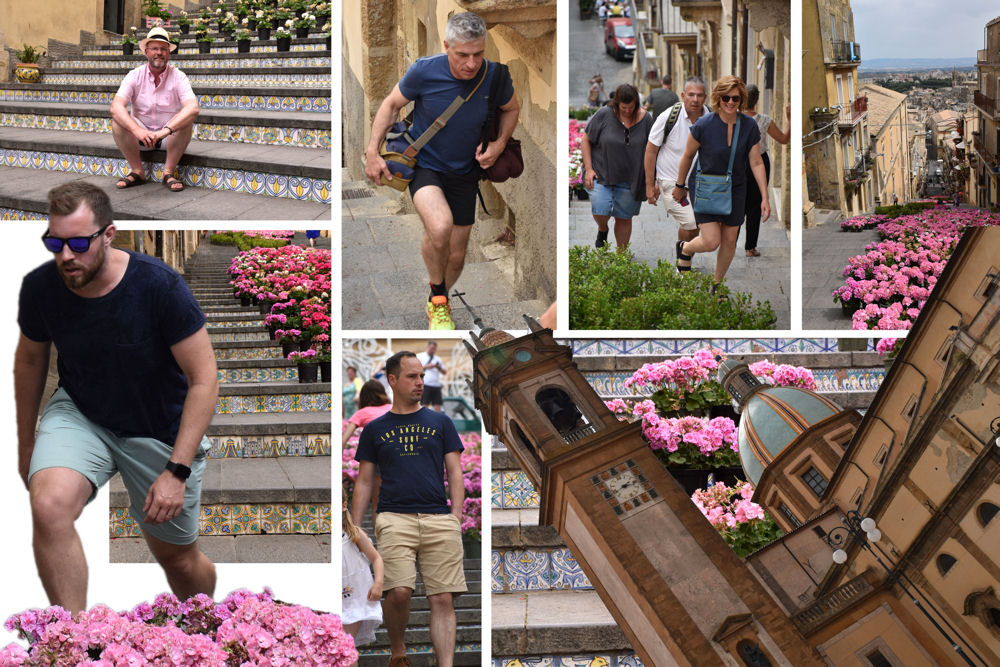 The stairs were very busy and all the cute men were in navy blue.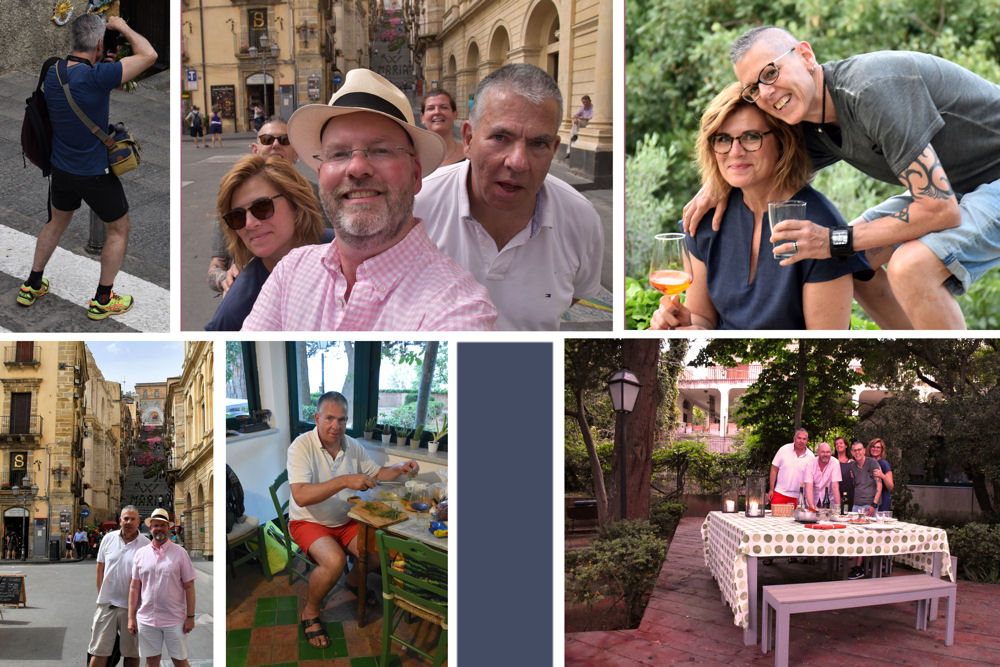 Afterwards, we returned to our house for a celebratory birthday meal and soak in the garden pool.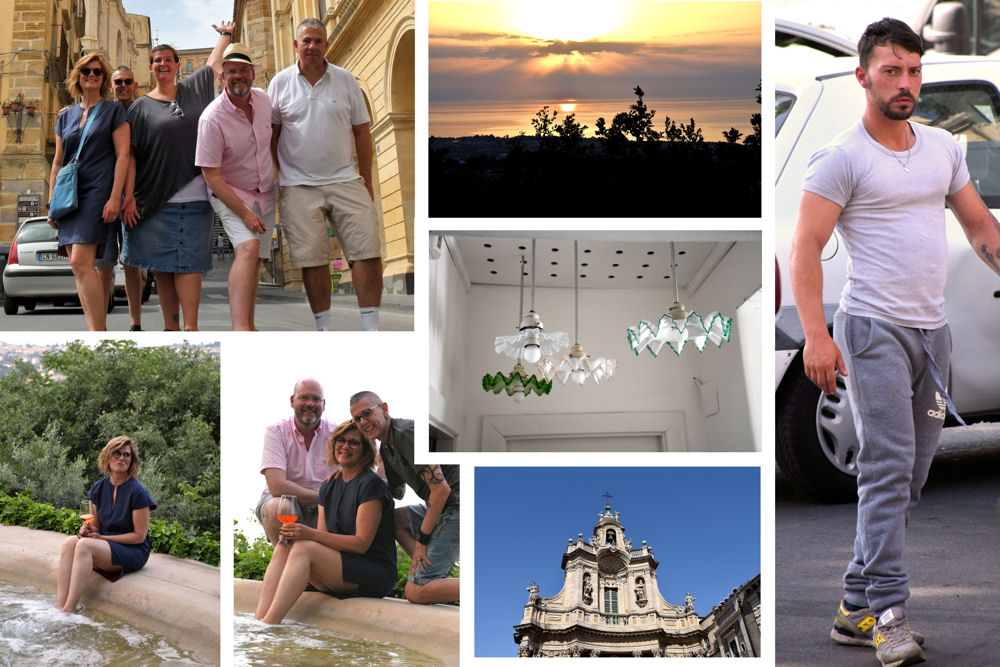 Caltagirone, sunset from our garden, Murano lights, poolside fun, and a vegetable seller in Catania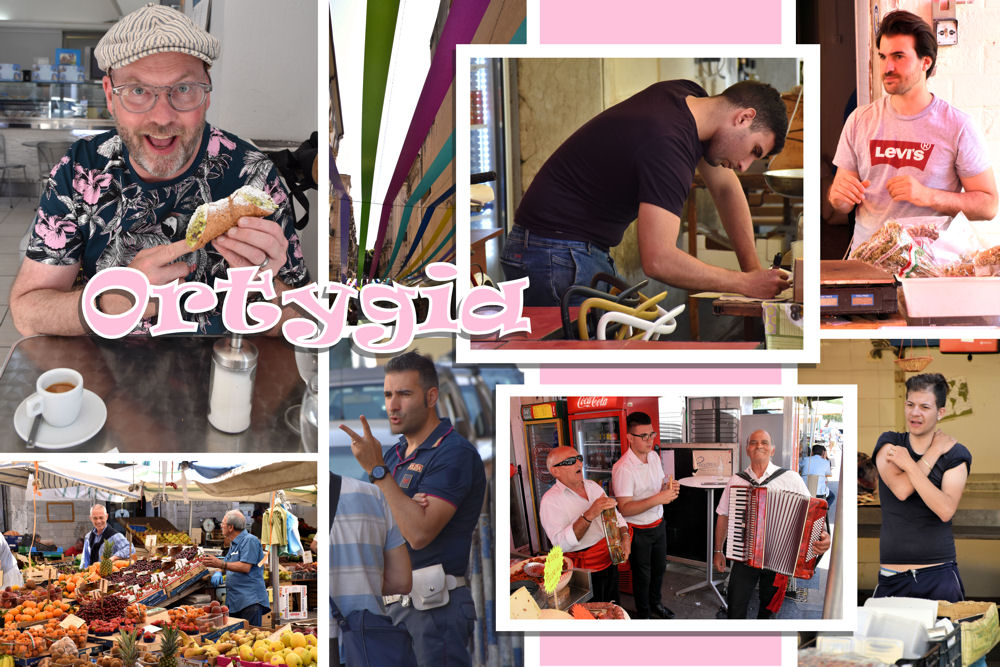 The next day, after having a cannolo in Catania, we headed for Syracuse and Ortygia, where I bought candied fruit and almonds for Christmas cakes. We had lunch at a famous sandwich shop and heard traditional Sicilian folk music.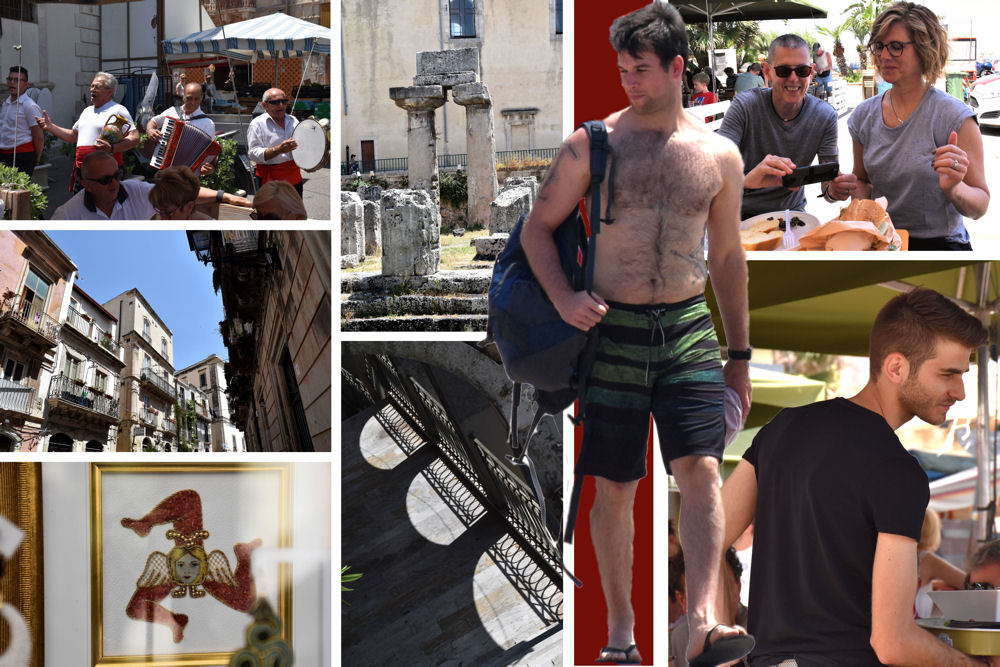 The Temple of Apollo is, I discovered at home, one of the most important ancient Greek sights and the oldest Doric temple in Sicily. My mind was on other things.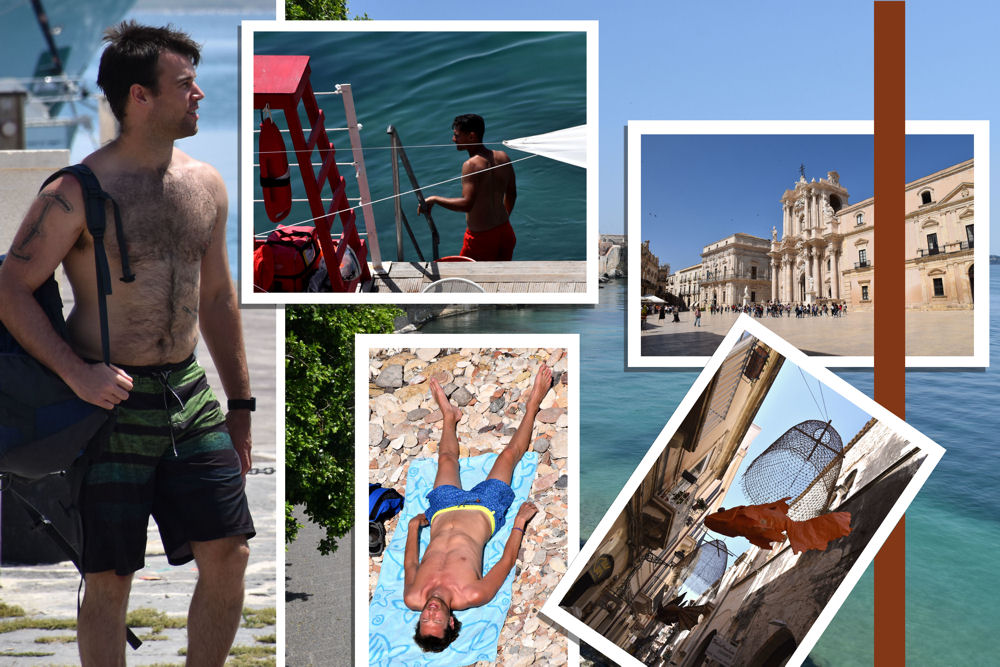 Afternoon in Ortygia. The cathedral is seen in Montalbano, but we didn't go in.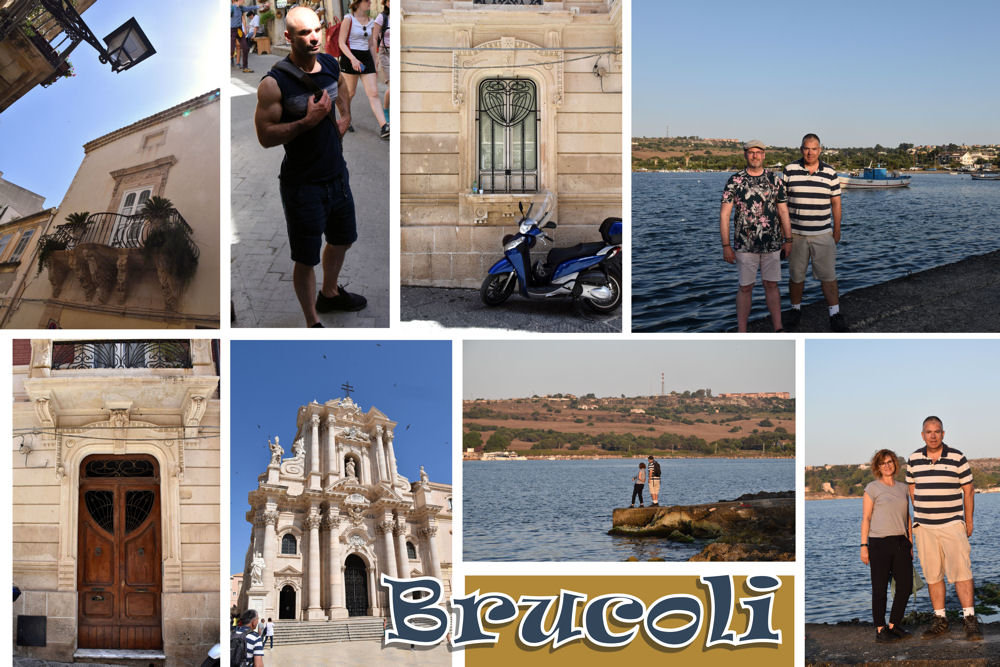 After leaving Syracuse, we voted to find a village halfway between there and home to have a drink. After going bust in military seaport Augusa, we drove up the road and found paradise in Brucoli.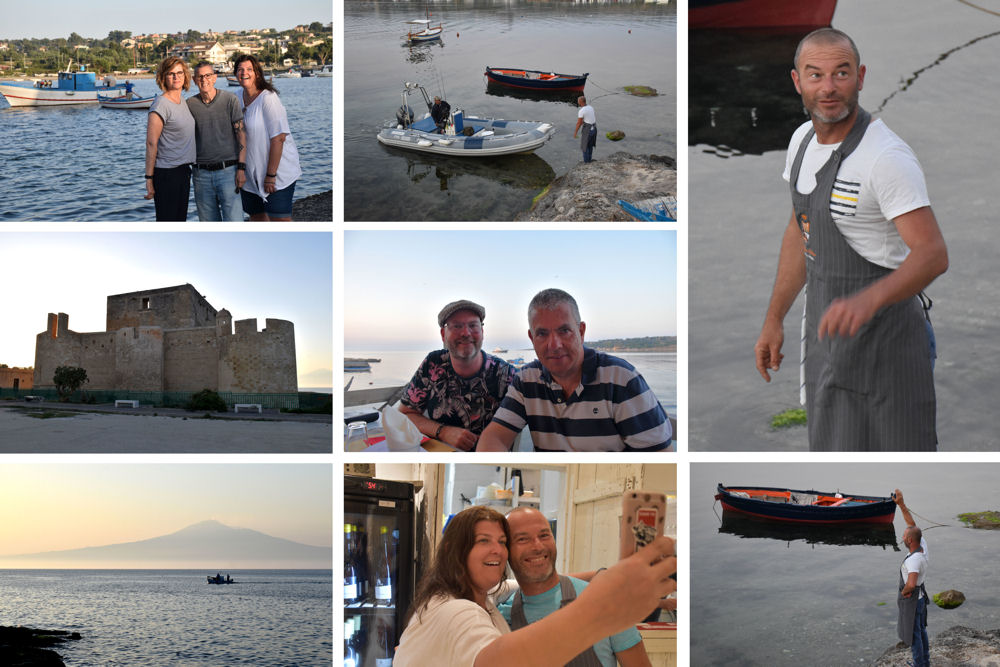 A town with a castle, a lighthouse, sea caves, a fun fair, and Stravento Ristaurante sul Mare, the source of the best fish and sexiest chef I've ever, um, tasted.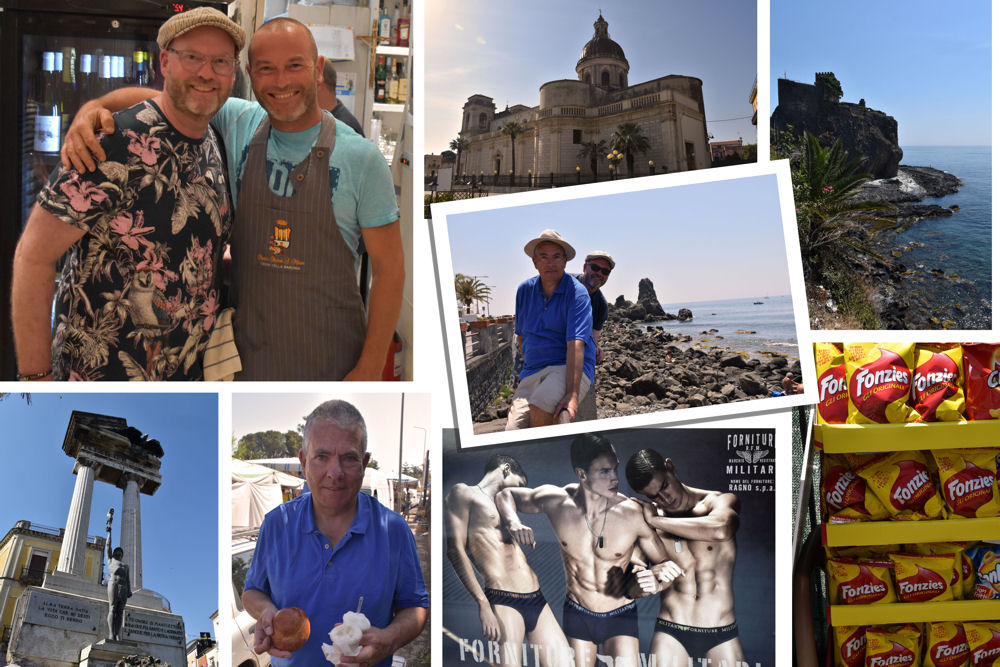 Photo wih the chef and next morning, exploring a local town for barbecue ingredients. We tried the Sicilian breakfast specialty: brioche with almond granita. Fonzies were on Linda's bingo card.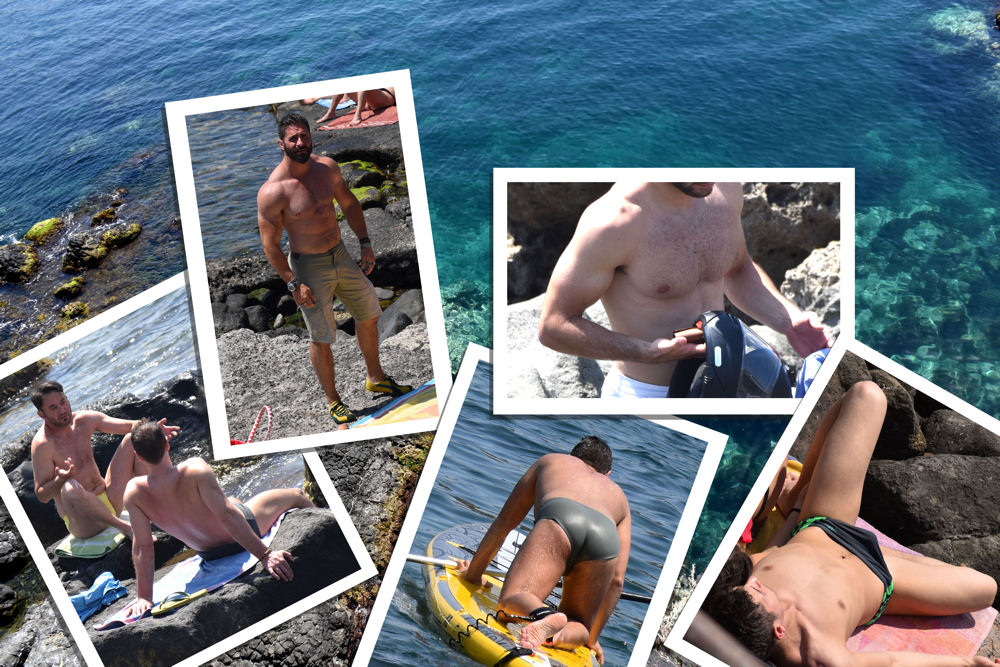 We decided not to drive a long distance to find something to do and settled on Aci Castello, which was about three miles from where we were staying. Who knew?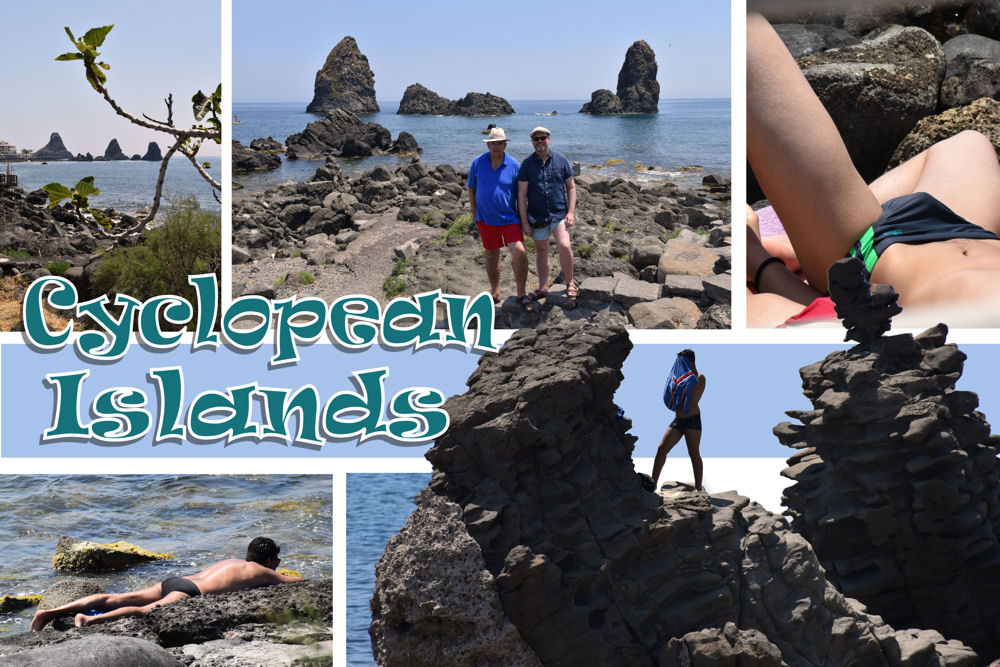 I'm certainly glad we discvoered the Cyclopean Islands!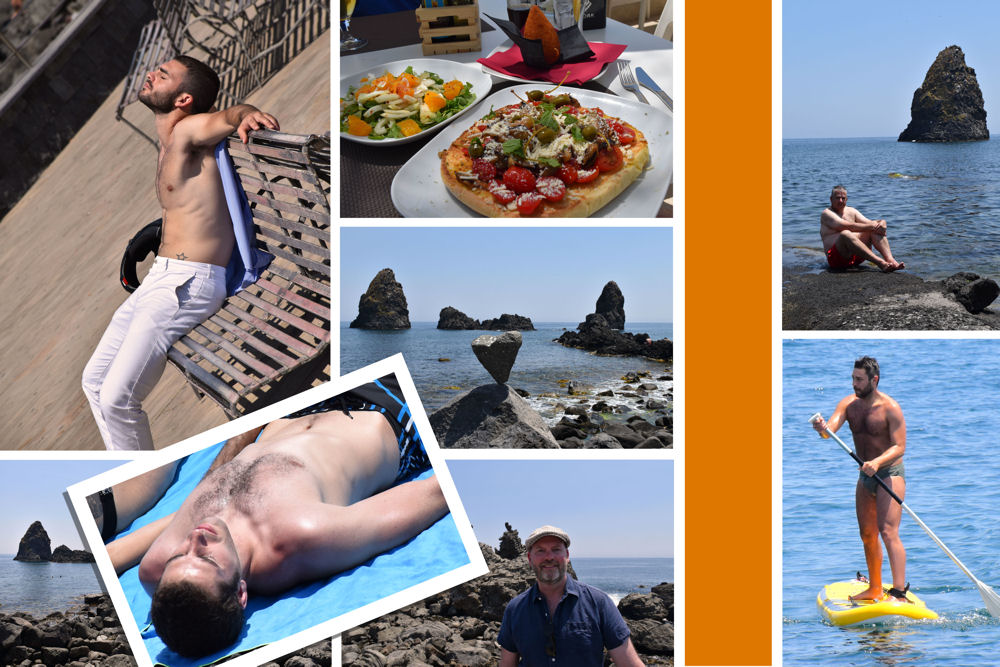 An afternoon of tasty food (including our best arancino of the trip), swimming, and sightseeing. Nothing better.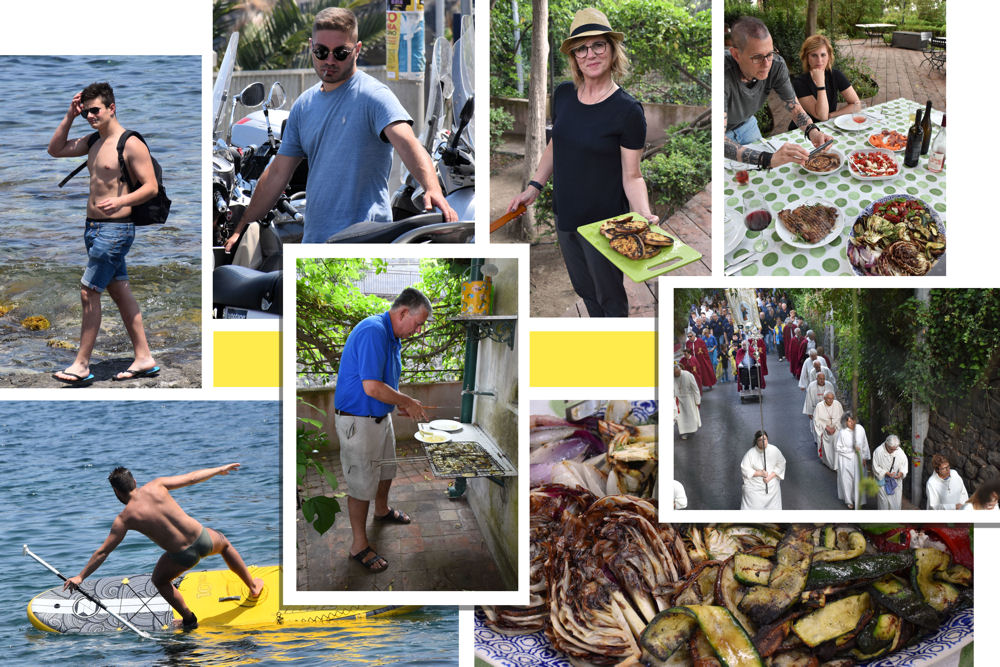 After the sights of Aci Castello, we met up with the girls at our place for a blow-out barbecue. I used the chef's tip of salting the steak long before cooking - great! Most nights we were there, there was a relious procession right past our house, complete with loudspeakers. It was the Festa di Maria, I think.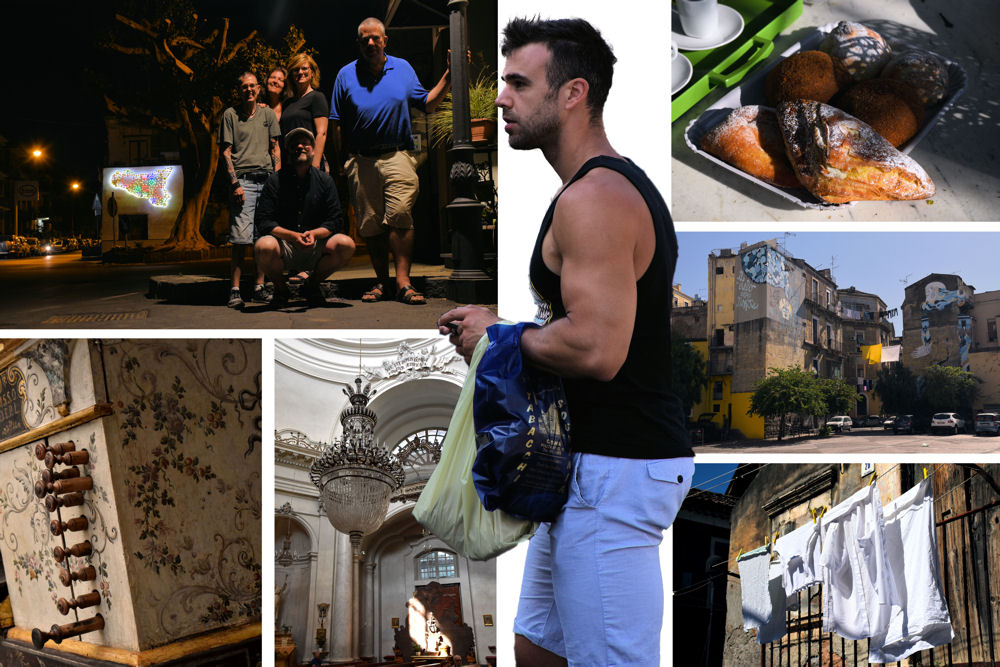 After dinner, we walked into Valverde for gelato. The next day, our landlord brought us traditional Sicilian pastries for breakfast before we went to Catania.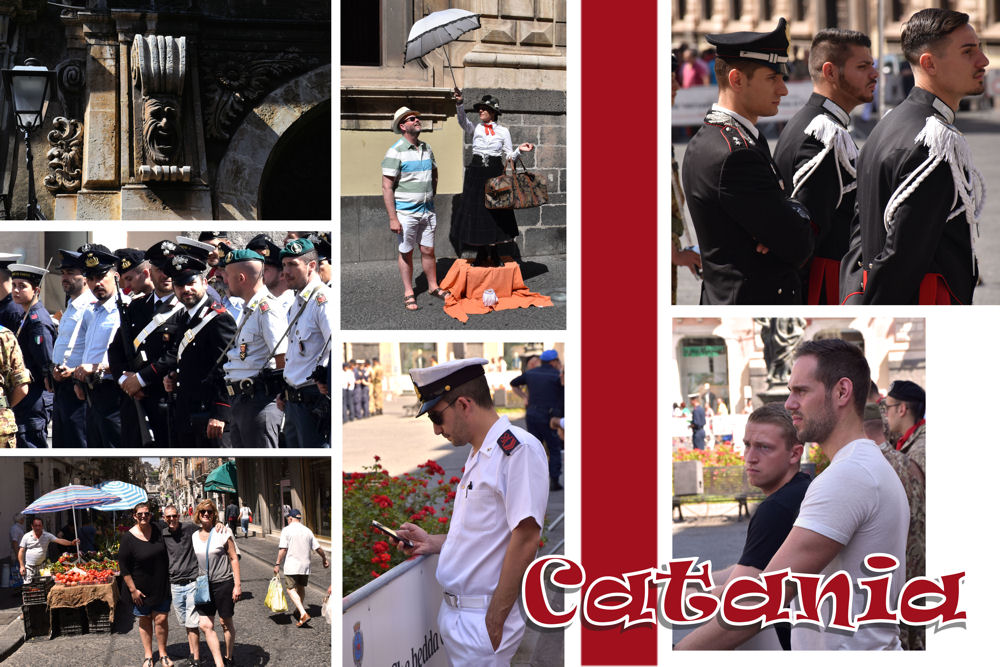 Catania was gearing up for Republic Day. I met Mary Poppins and we had coffee on the streets near a big food market.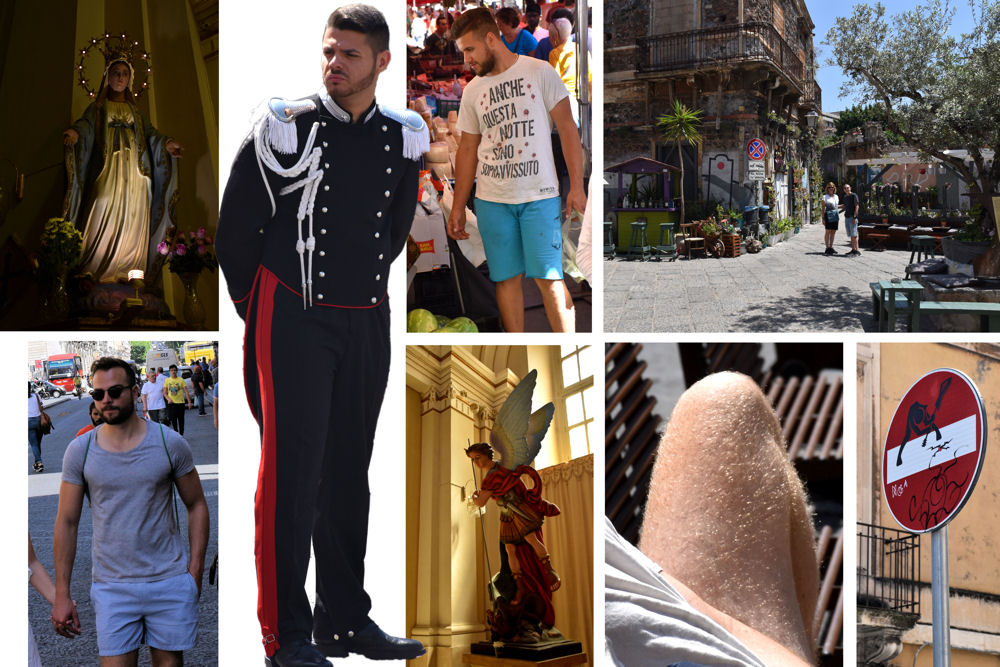 Catania sights, including the art district and a Clet street sign, seen mostly in Florence.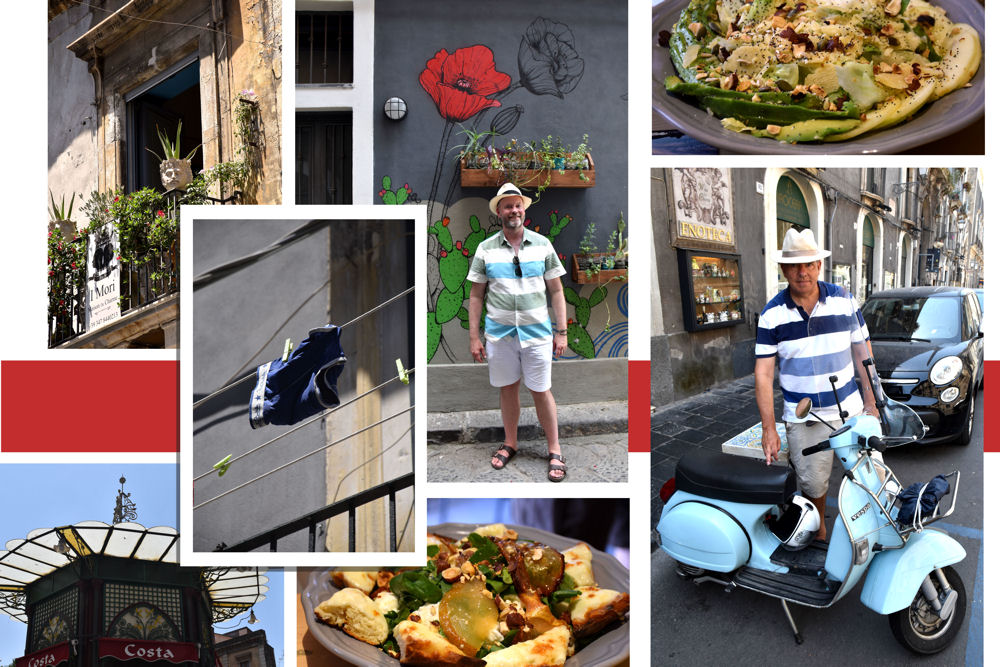 A Caltagirone head on view, Nick with vespa, our lunch dishes, and the blue underwear I needed for my bingo card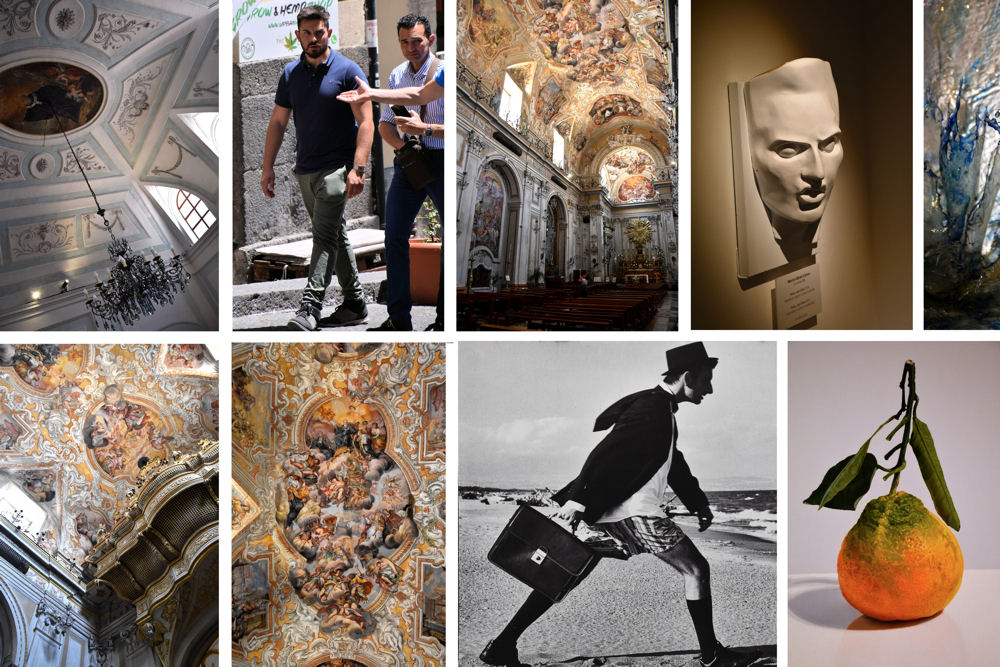 We loved the baroque monastery and were even more excited to find the modern art museum just across the street.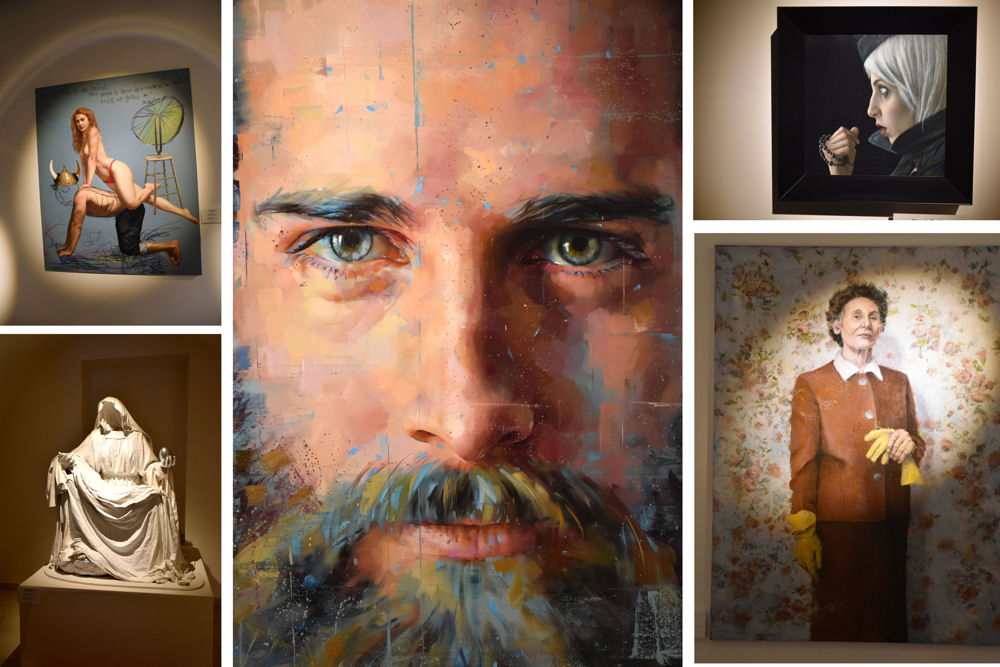 There are cravings only modern art can satisfy.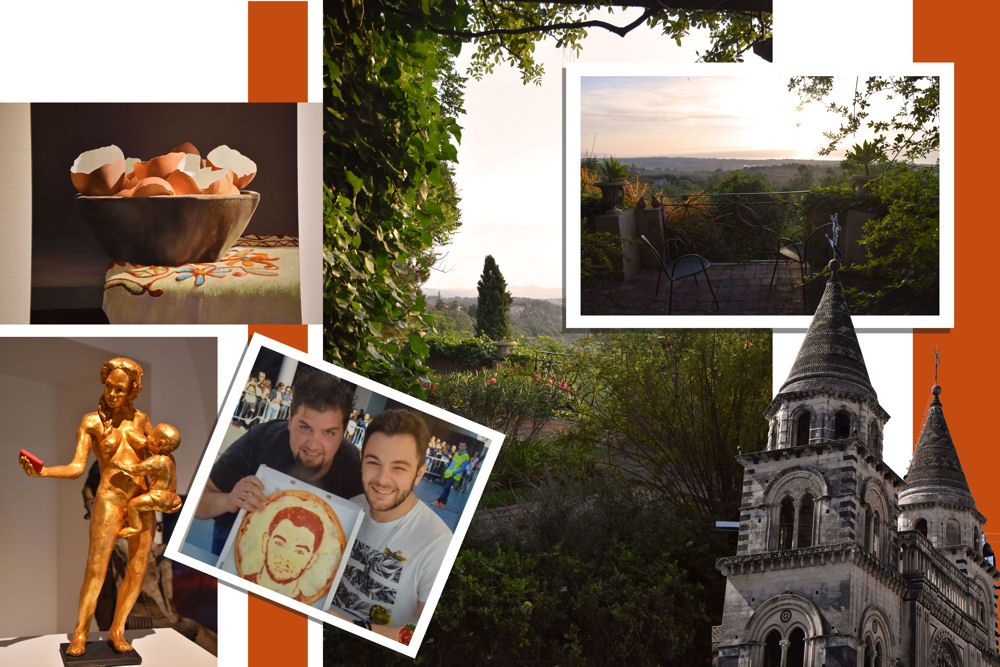 On our last night in Valverde, we had pizza from a place where the chef can render celebrities in mozzarella and sauce. The garden looked beautiful at check-out time.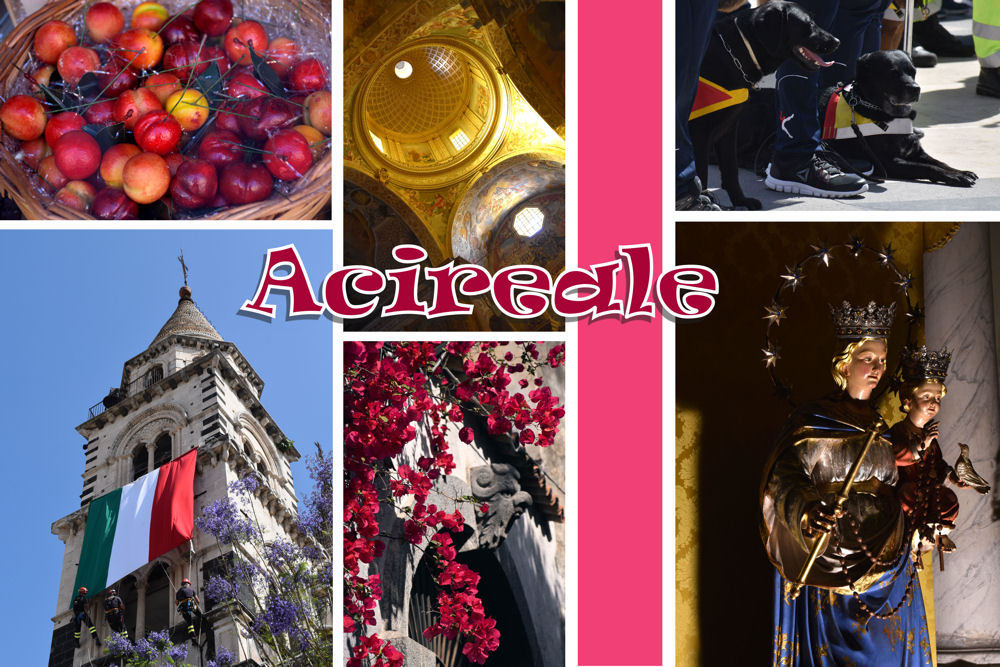 Before going to the airport, we stopped in Acireale, where they were celebrating the Festa della Repubblica.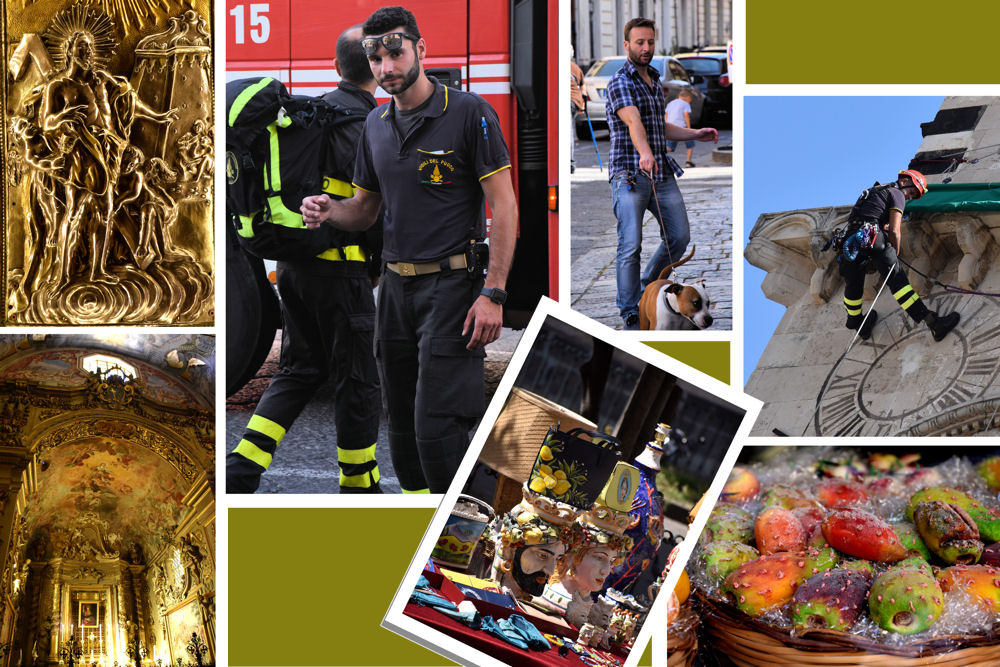 The puppet museum was closed, but we got to see cute firemen rapelling down the clock tower, plus a whole lot of other things.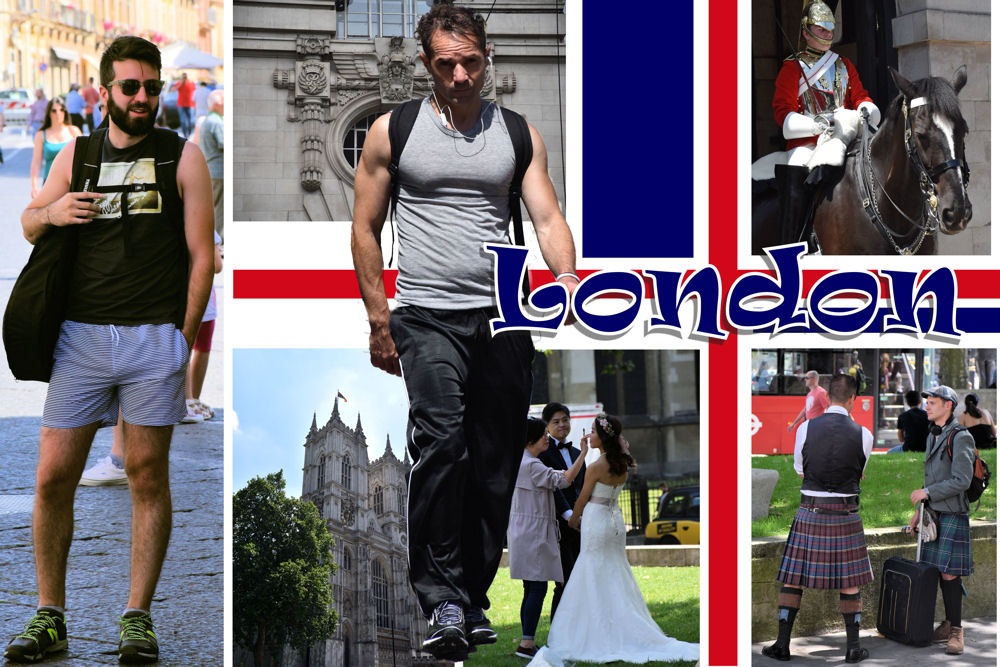 Back in the UK, George had a work day in London, so we spent the weekend there topping up on culture and searching for Space Invaders.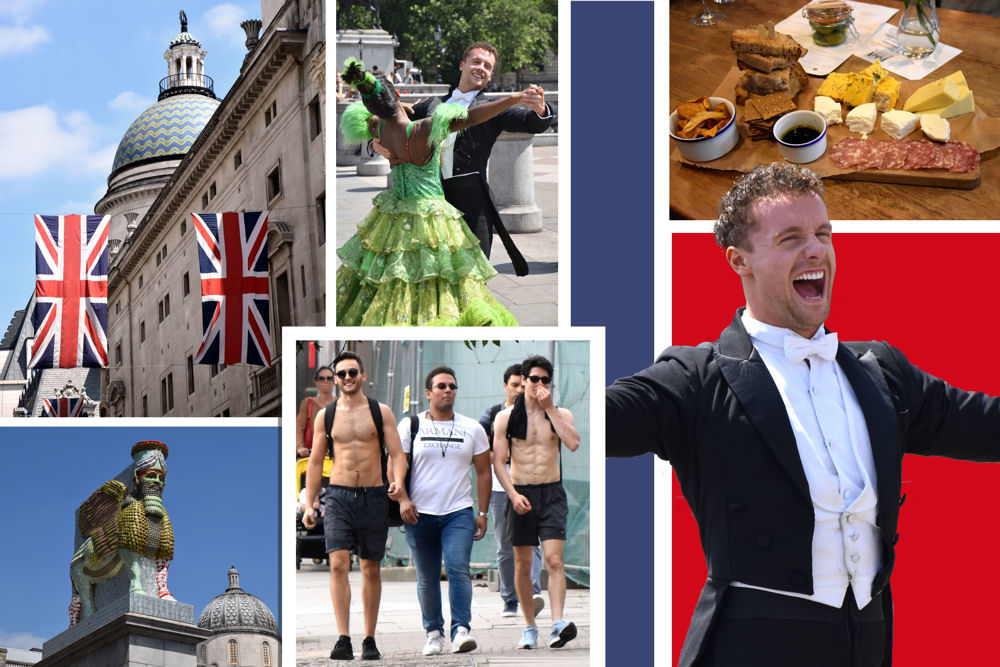 It was the Queen's birthday and the streets were decked out in bunting. There were tango dancers in Trafalgar Square and shirtless men in Islington.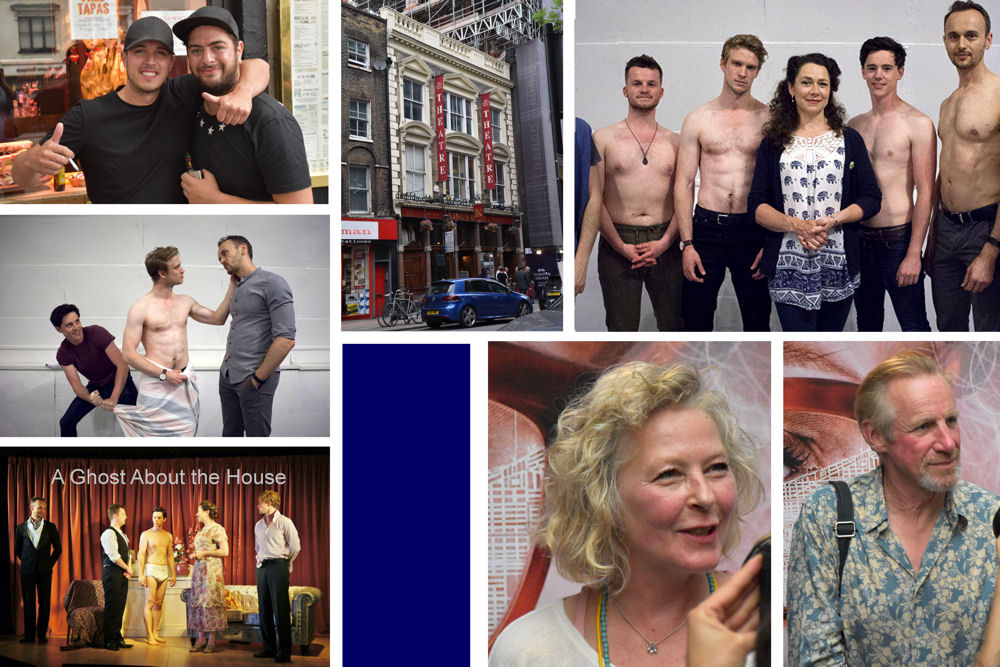 We went to see Ghost About the House at the King's Head theatre in Islington. Why we chose the play is obvious. Actors Stella Gonet and Nicholas Farrell were at another show in the same theatre.

One Saturday, we went to Shreditch in search of Invaders and other street art.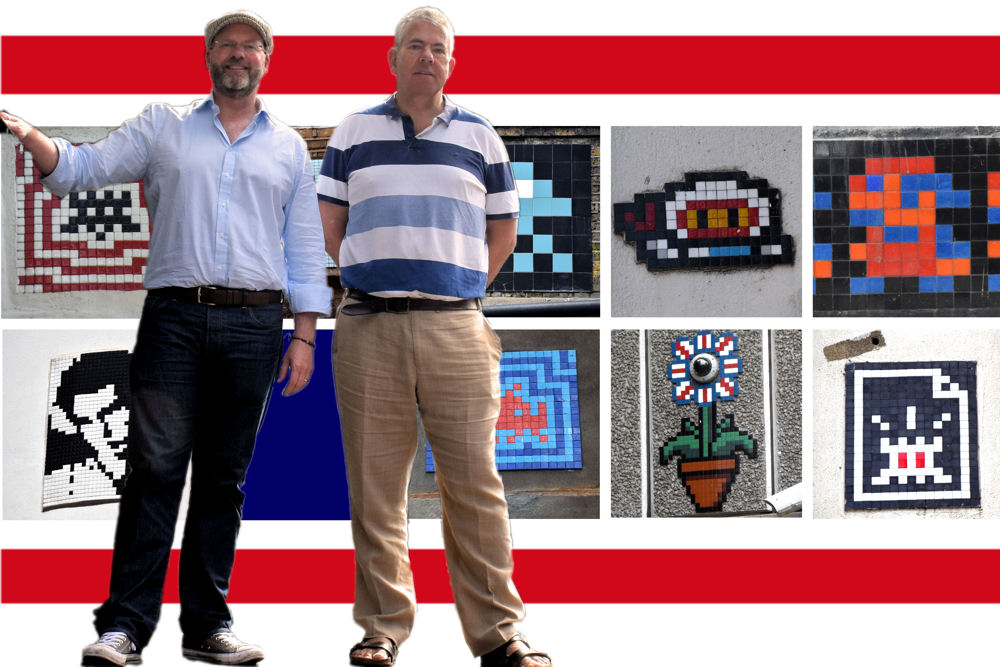 These are all the Invaders we found this time. Click HERE to see another set of London and Paris Invaders.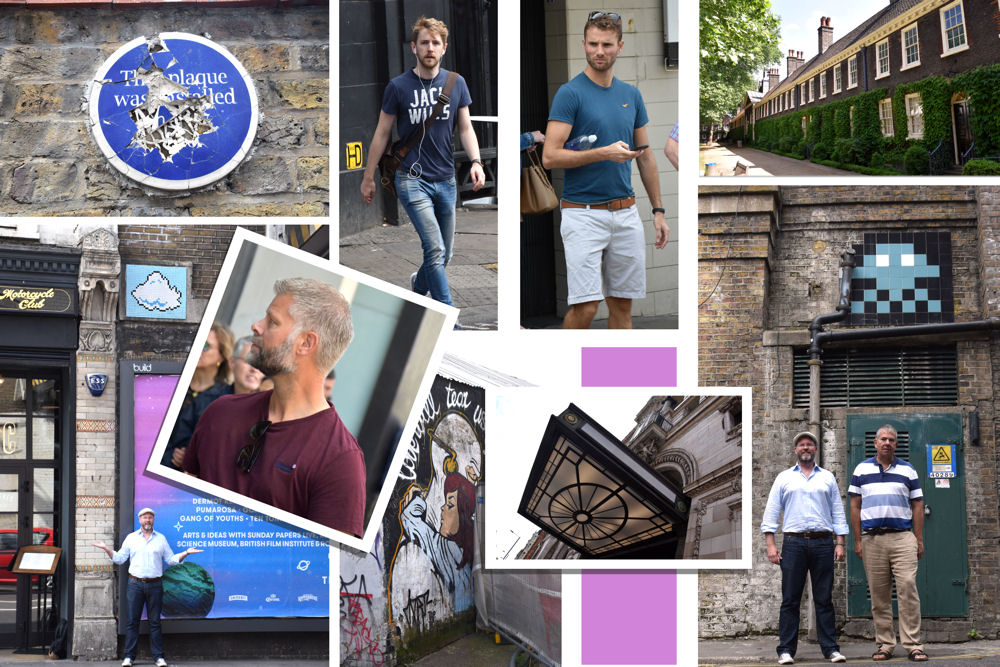 The big one in the doorway was my favourite find this time.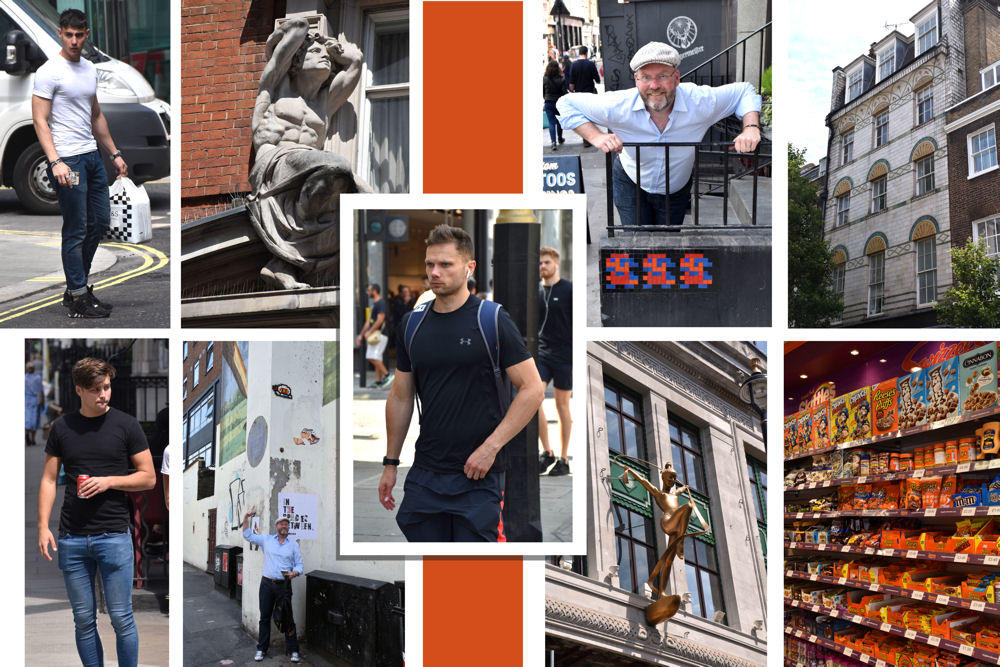 These were around the Oxford Street area.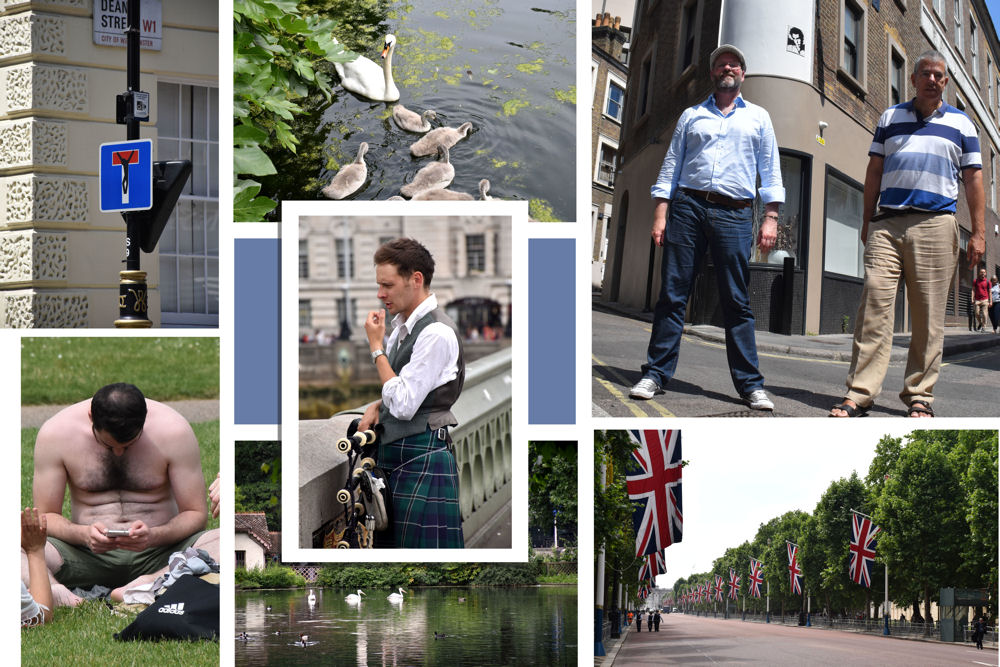 The Sid Vicious mosaic is right near Tottenham Court Road station. All these years never having seen it!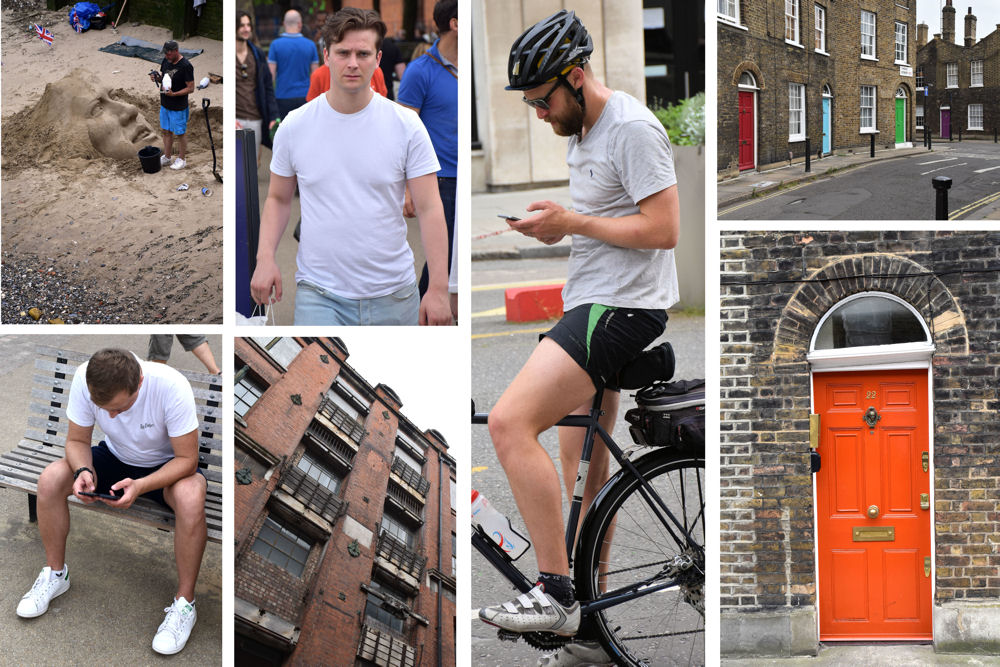 I showed Nick the old fashioned area behind the Oxo Tower that I discovered on a school trip earlier in the year.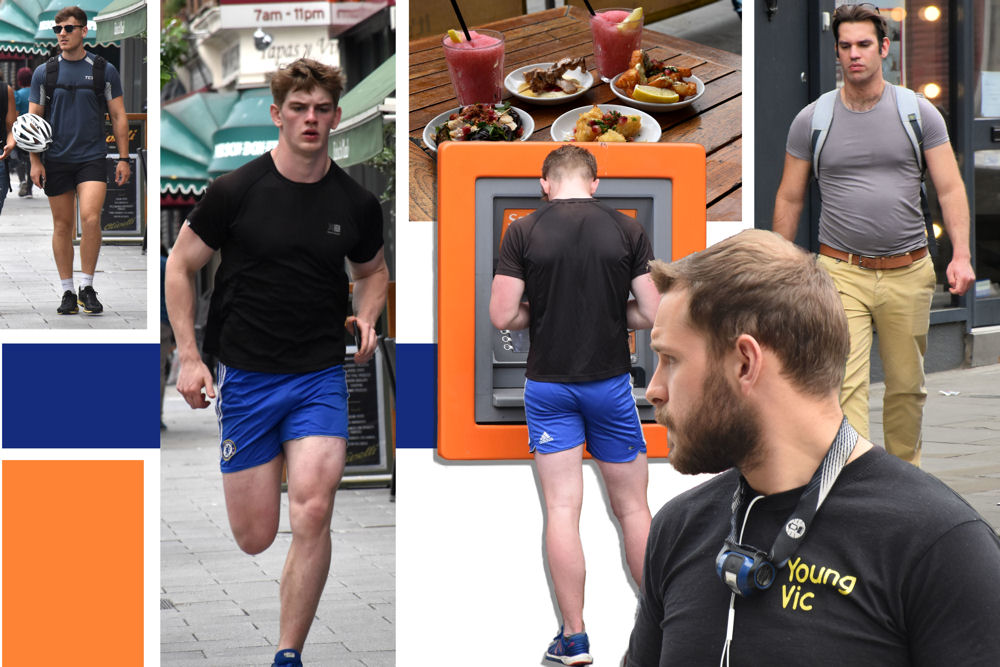 We had a nice tapas meal at the Young Vic theatre. A runner made a cash withdrawal.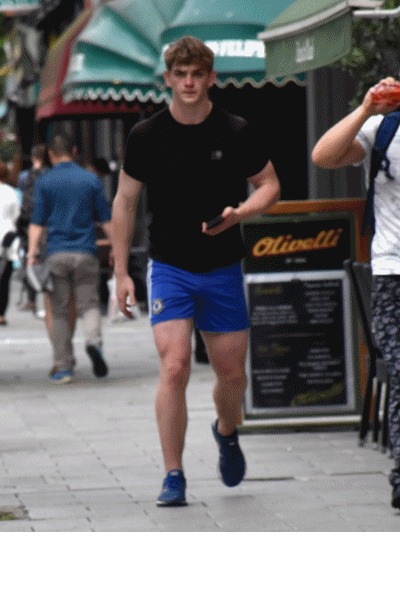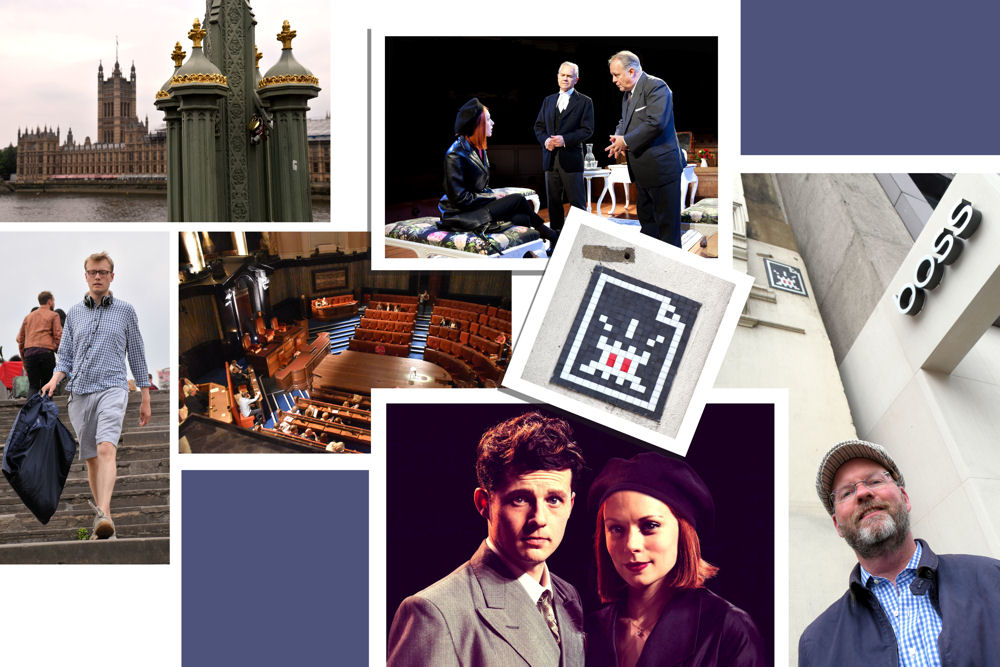 We saw Agatha Christie's Witness for the Prosecution at County Hall, a great venue for the courtroom drama.