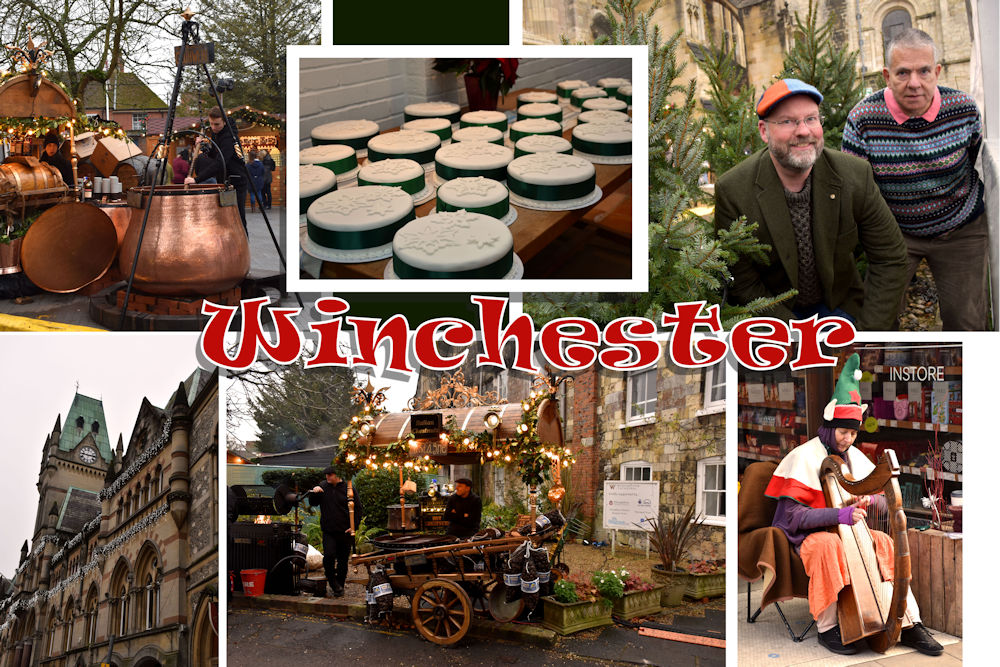 Christmas in Hampshire always involves a visit to the Winchester Christmas Market. Also shown are some of the Christmas cakes I made this year. Click HERE to see other homemade cakes.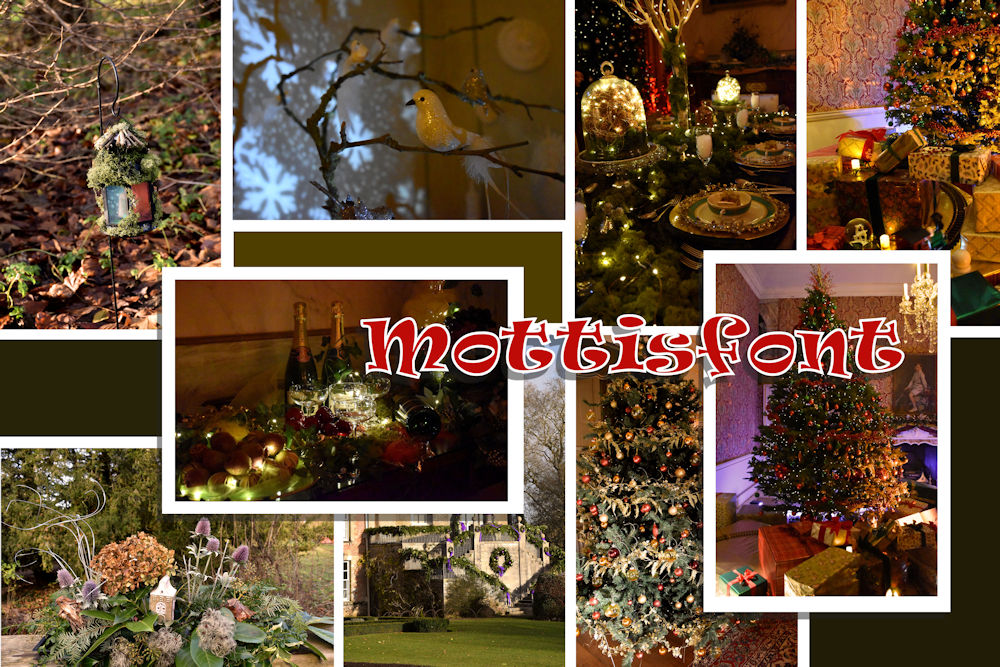 Our local National Trust property put on a magnificent display of Christmas trees and fairy trails.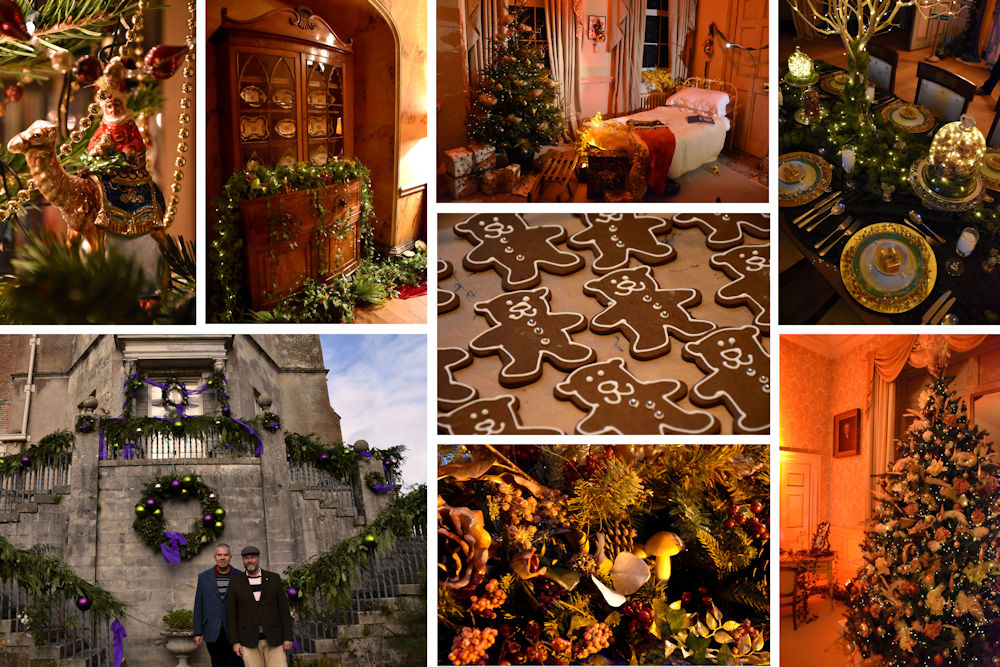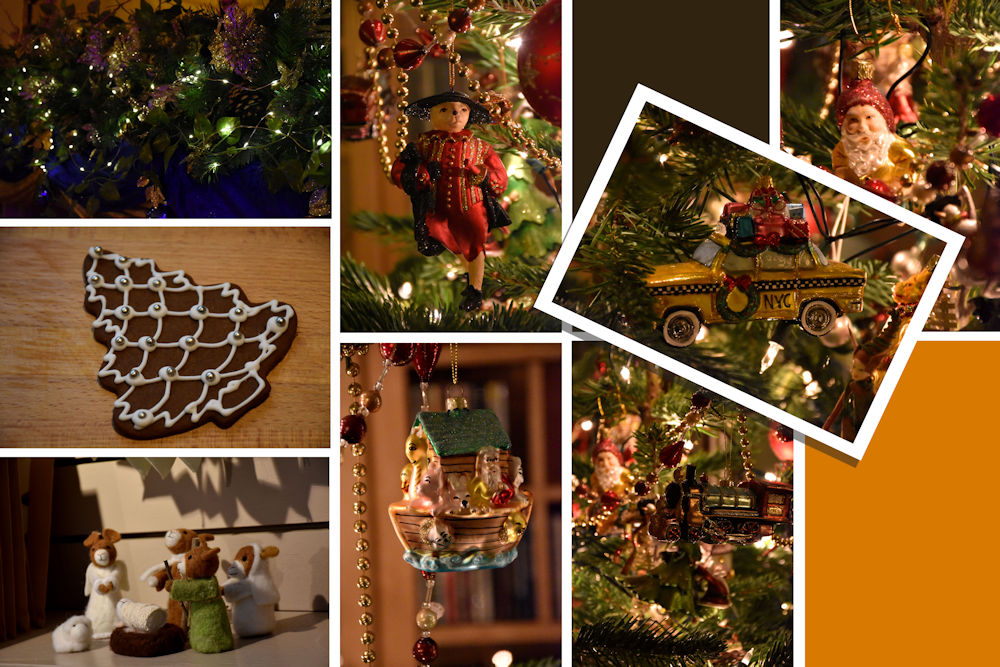 Some of our favourite Christmas ornaments on this year's tree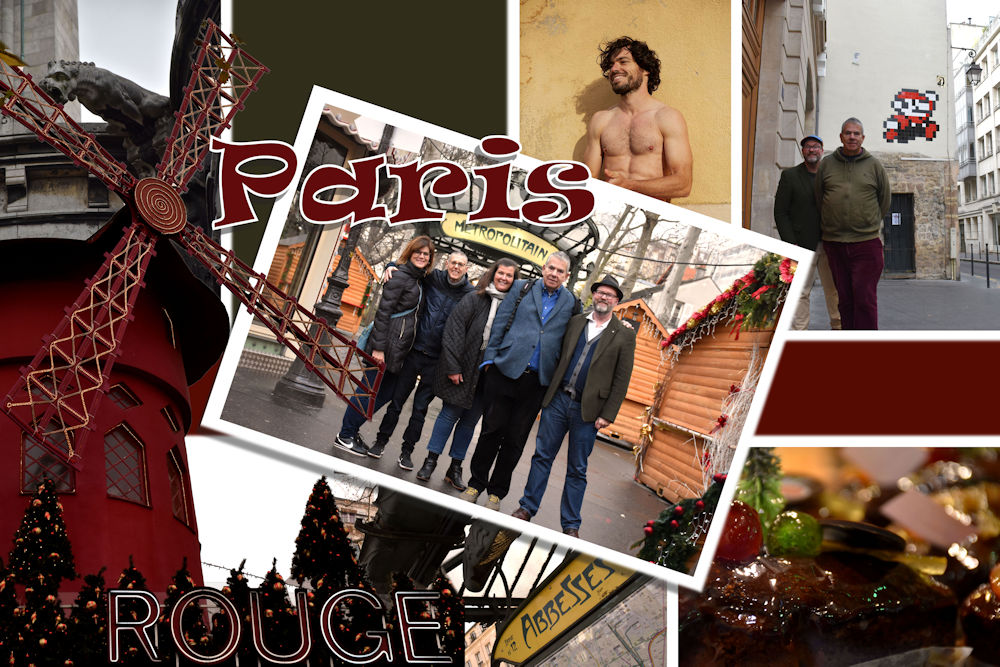 We returned to Paris, to share a wonderful Christmas with Cousin Linda and friends. The transport strike didn't stop us from exploring lots of the city and even introduced us to the joys of Uber travel. Click HERE to see our last trip together to Sicily in 2018 and HEREto see last year's Christmas in Rome. Our last trip to Paris was in October, 2018. Click HERE to see our return visit to Paris two months later in February, 2020.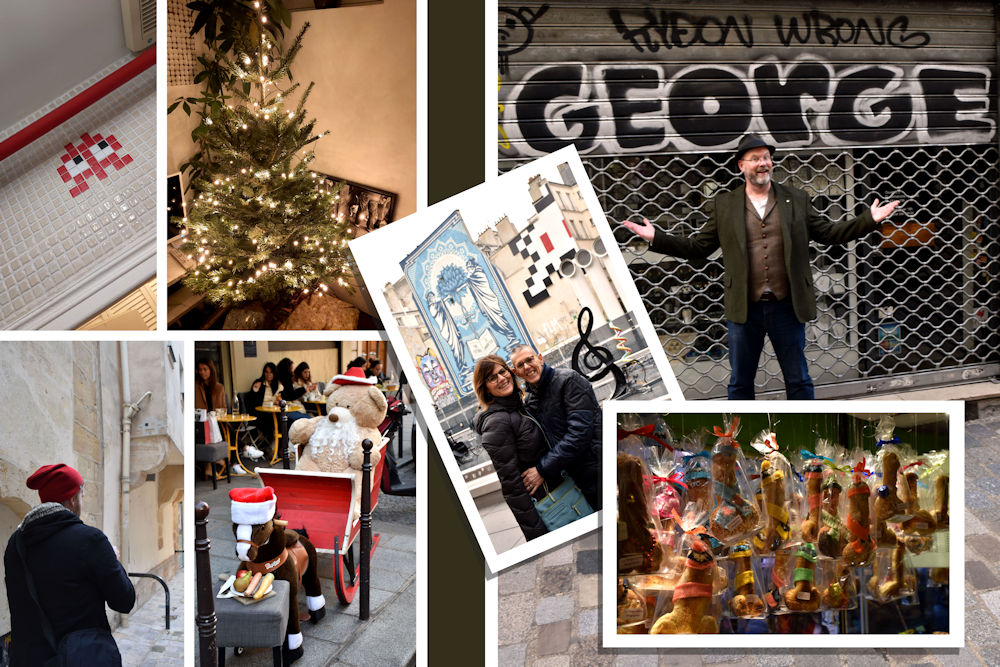 On our first day, we discovered that our AirBnB host had a faux Invader in the bathroom. We met up with Linda and Nancy in the Marais and had lunch with them and newly discovered relatives Larry and Amanda. We walked through Rue Sainte-Croix de la Bretonnerie with its "baguettes magique" and on to the Stravinsky fountain, with its new, giant Invader mosaic.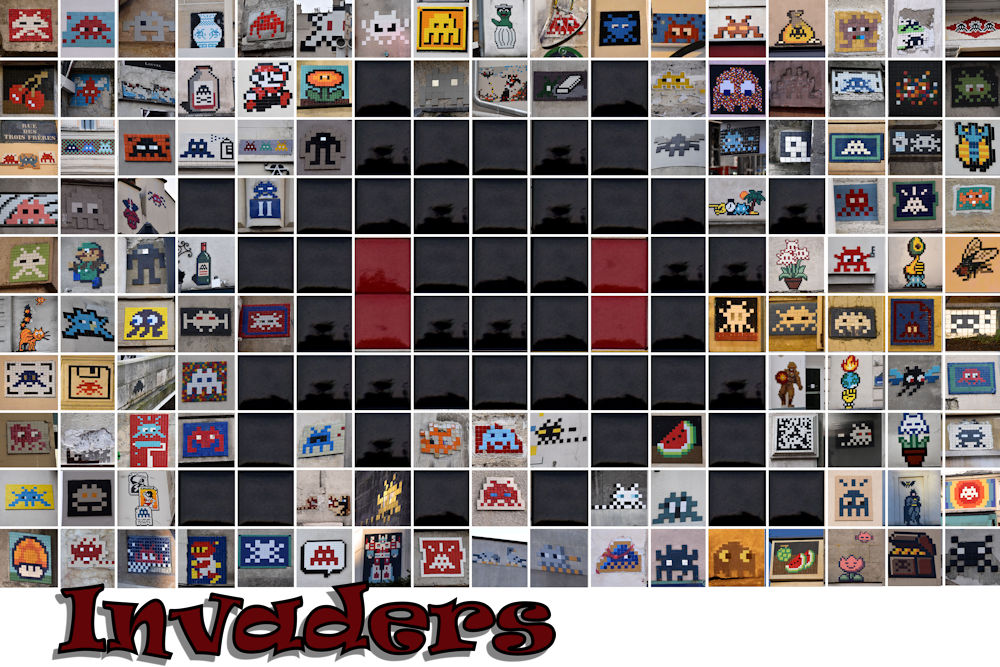 This is about half of the Invaders we saw on this trip, which put us into the top 2000 in the world on the Flash Invader app. Click HERE to see our recemt Invader-finding trip to Amsterdam.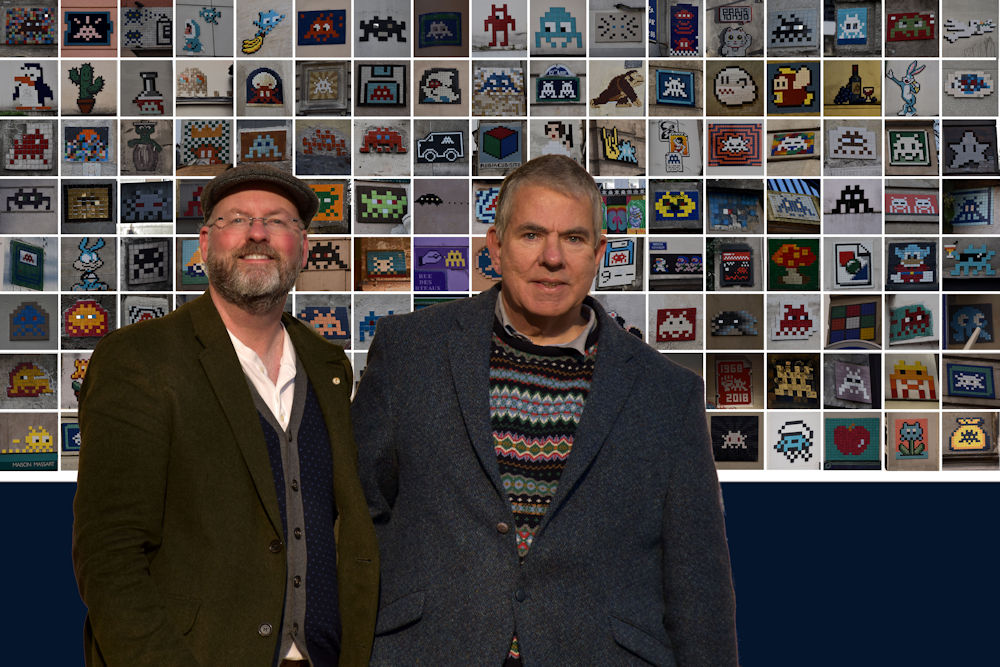 These are the rest of the Invaders we saw. We were restricted by the transport strike and look forward to our next trip to Paris to see even more!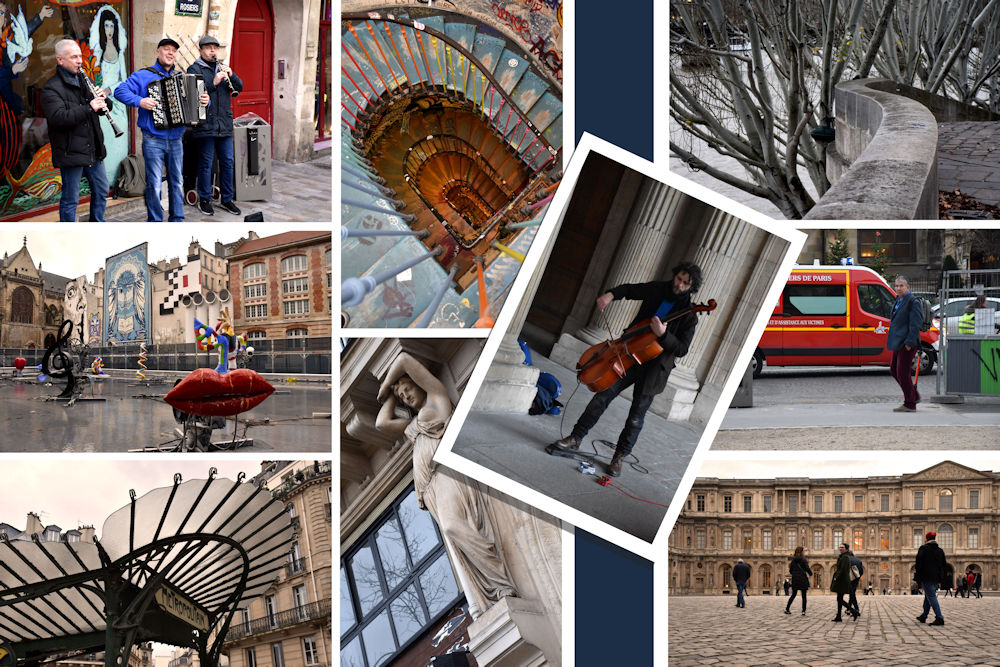 We met up n the Rue des Rosiers and walked from there through the Louvre courtyard and along the Seine.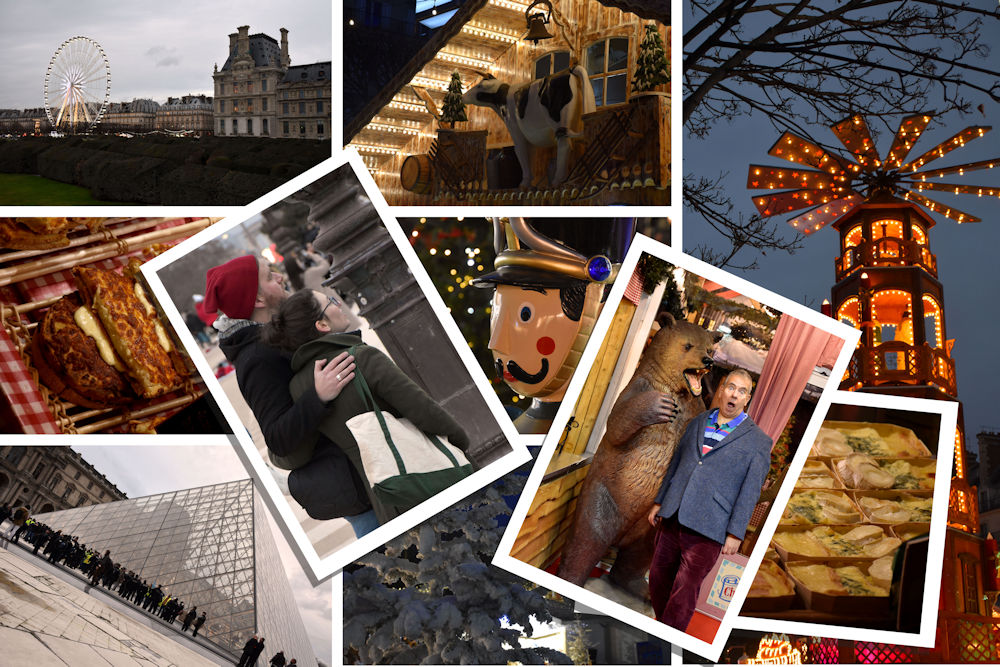 A small group of protesters by the Pyramid and the Tuileries Christmas market with cheeses, vin chaud and lots of people. It was nice to leave there and have a hot chocolate at Angelina's.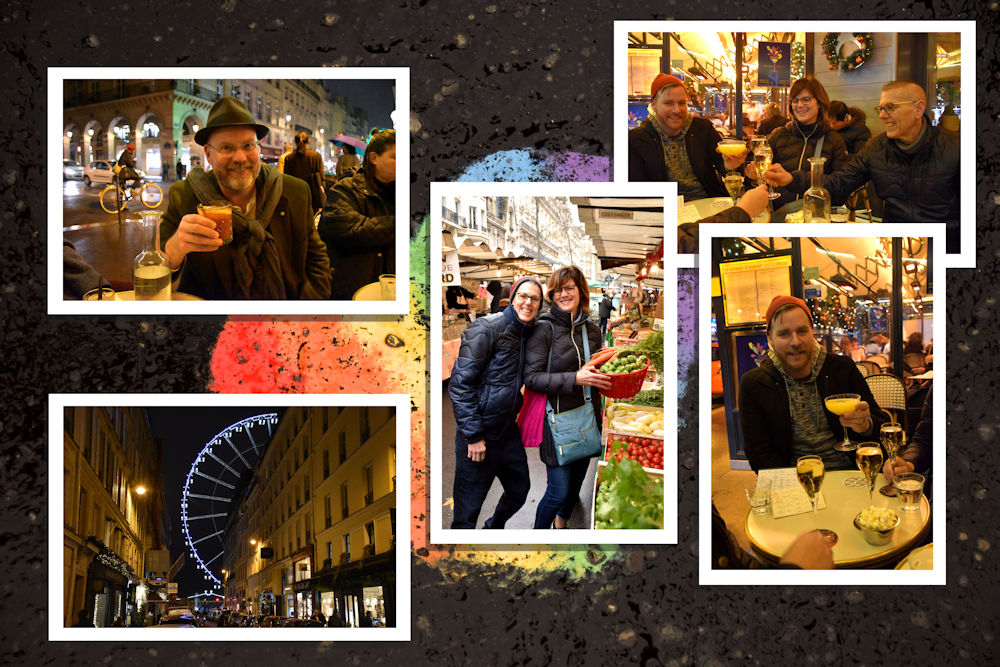 The first of many cocktail hours. We sat outside despite the rain. Also shown, Linda and Nancy buying vegetables from the Raspail market for our Christmas Eve feast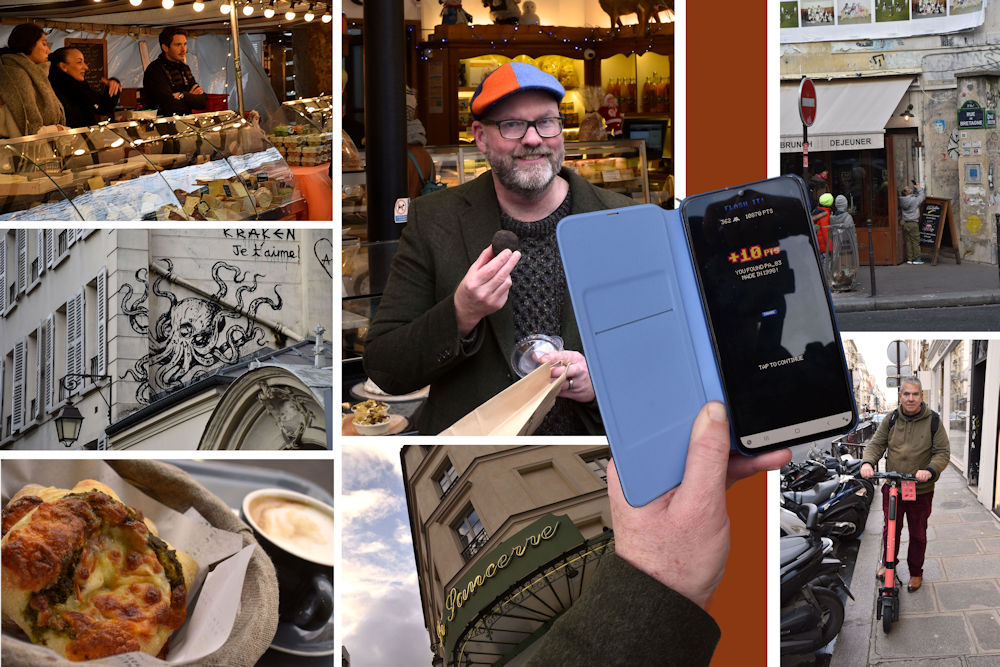 Various food treats, including the huge truffle that we bought, which kept us going for the rest of the trip. We saw some little boys flashing Invaders with their mother and we showed them where one was hidden.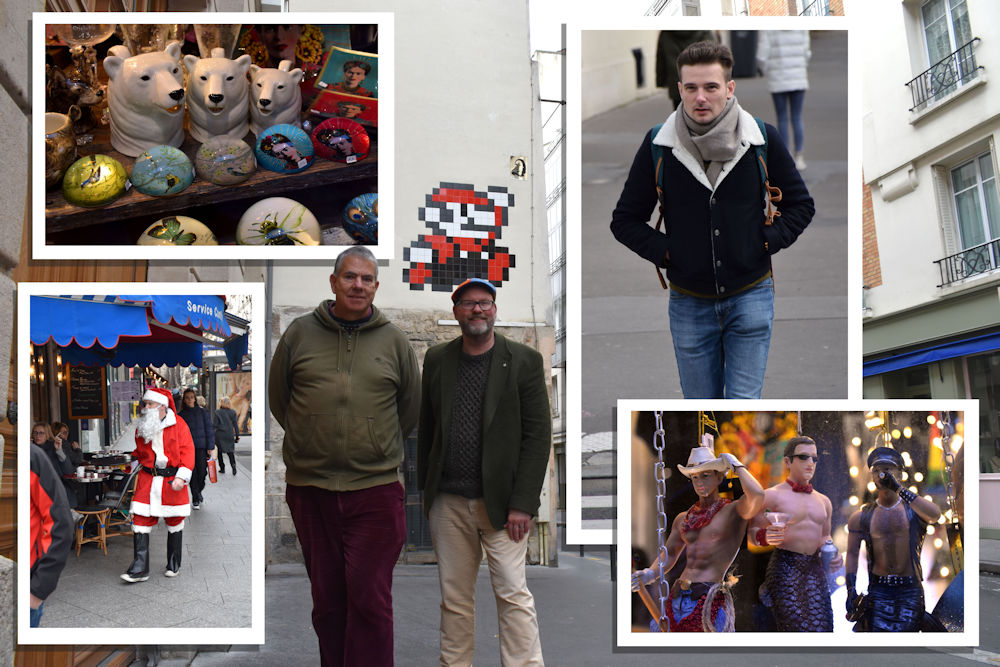 Marais sights, including the giant Mario and some rather camp mermen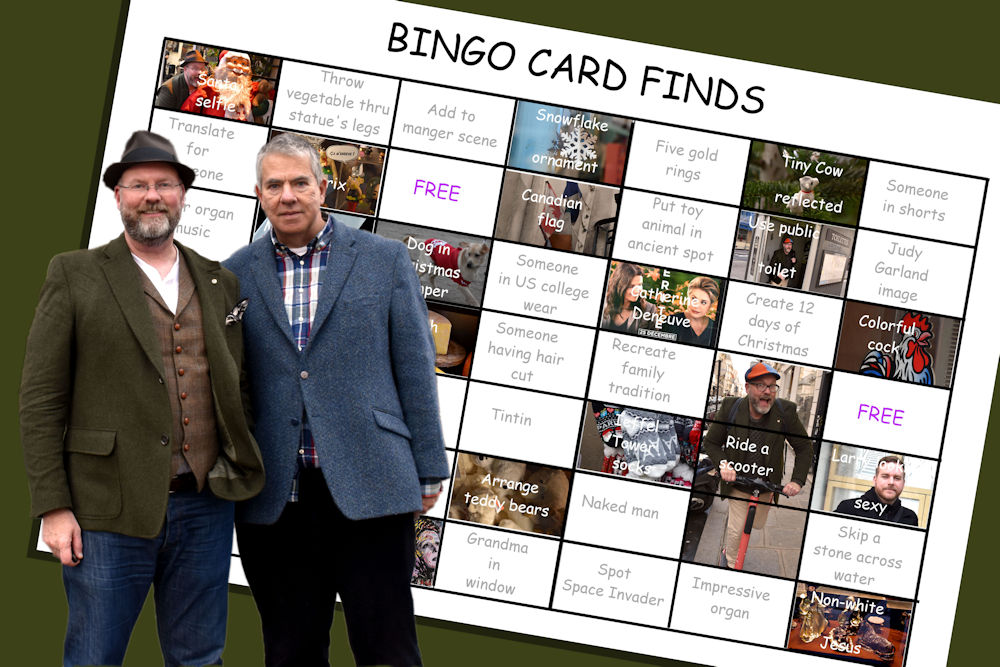 We kept up our tradition of making bingo cards for each other. Every year, they get more creative and Linda now makes us cards, too. These are some of the things we found.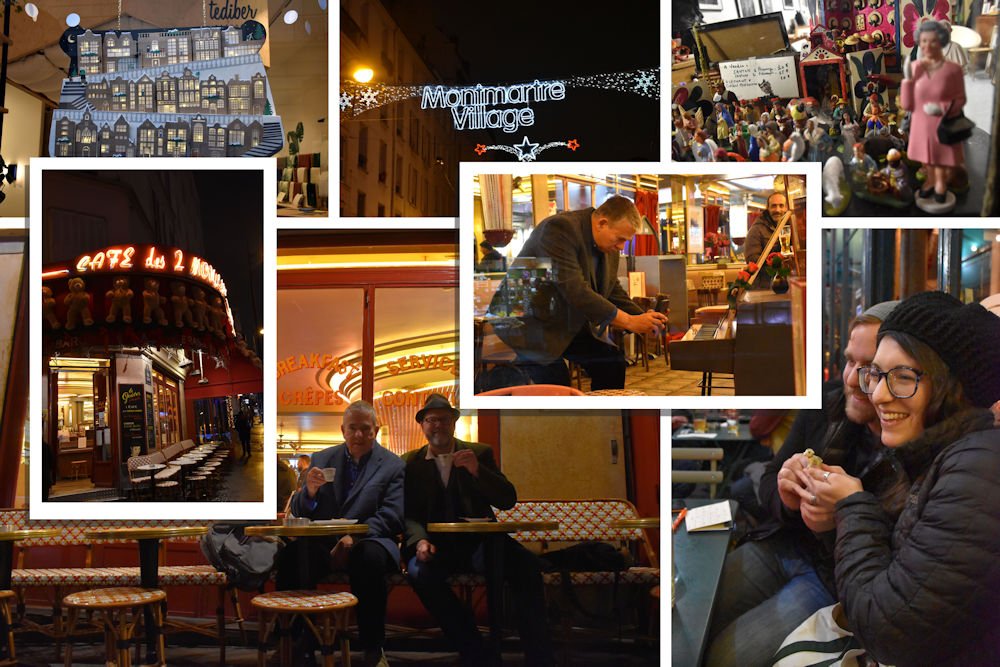 On our day that we planned for the group, we negotiated the restricted metro system to get to Montmartre early in the morning. Nick and I had breakfast at Amélie's Café des 2 Moulins on Rue Lepic before doing some Invader hunting. The rest of the group joined us at Abbesses and we bought croissants and coffee there to warm us up.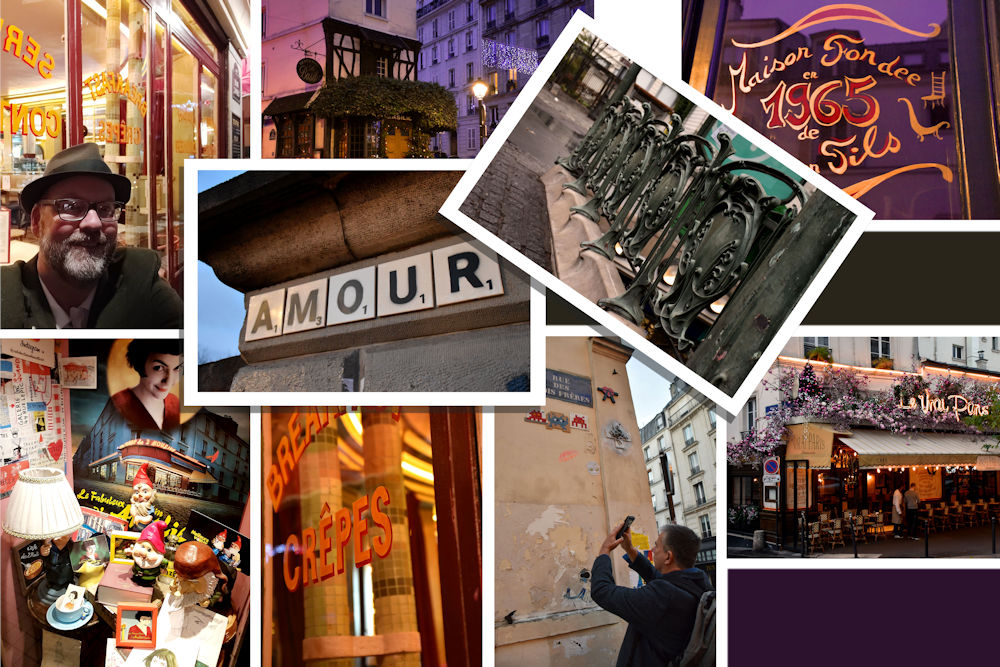 Some of the Montmartre sights as the sun rose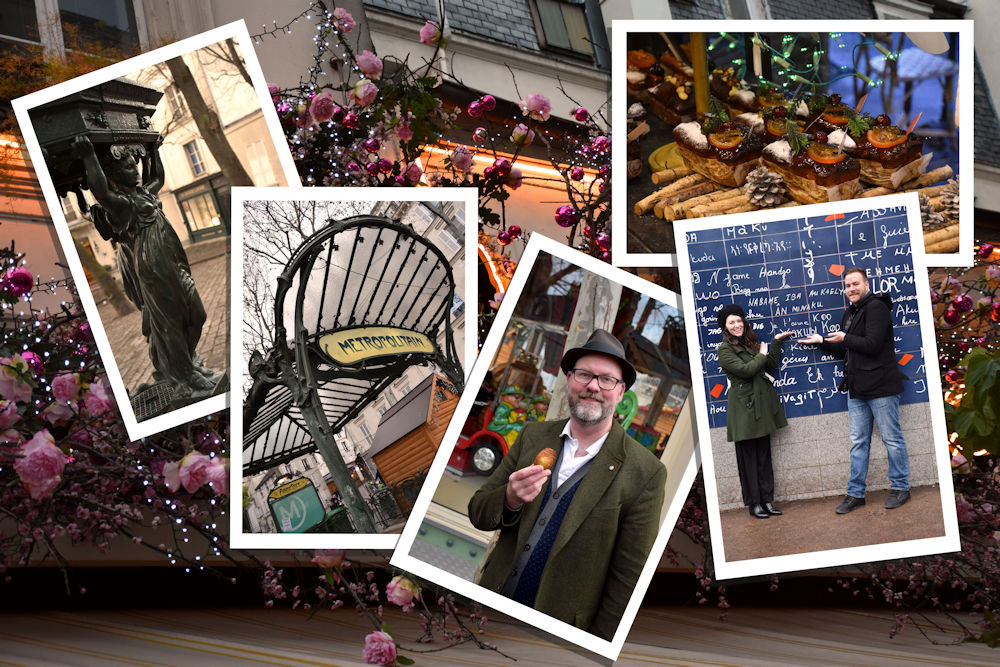 Patisserie, Art Nouveau, and the Wall of Love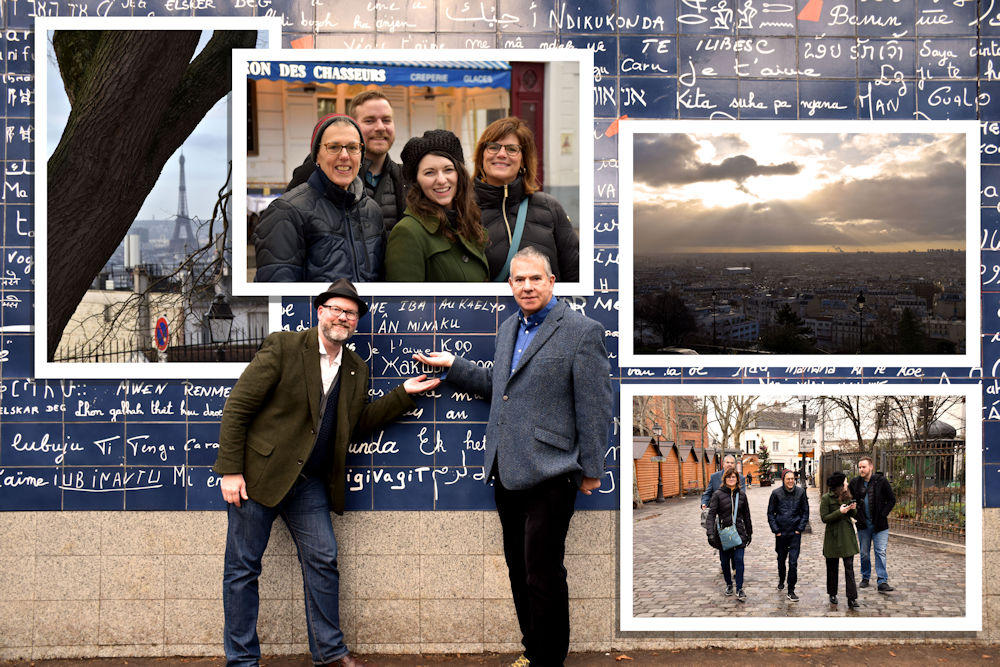 It was lovely sharing our favourite sights with friends and family.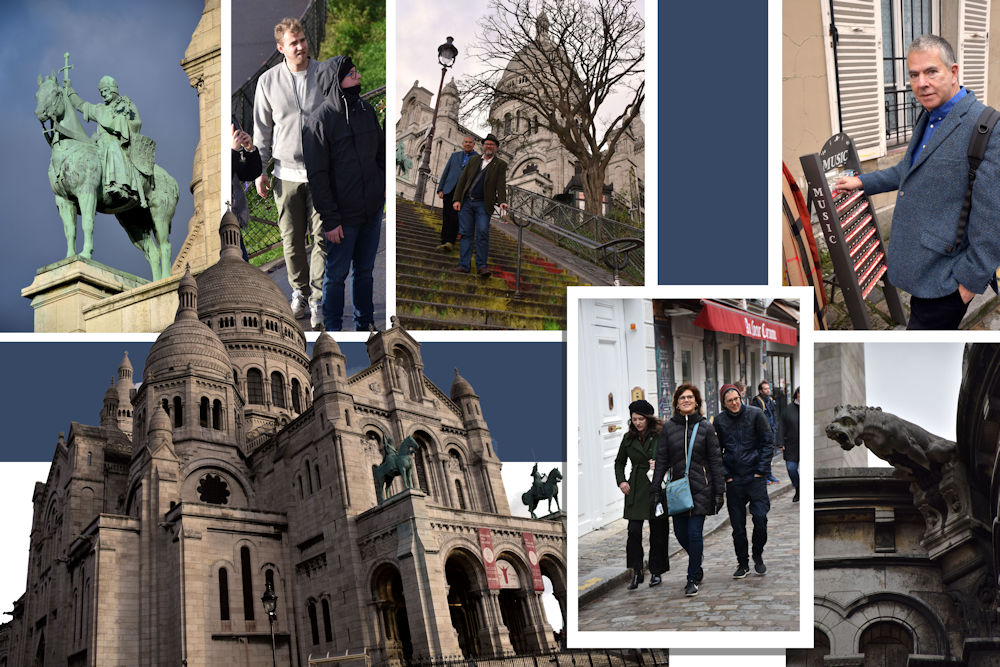 At Sacre Coeur, we spotted a Jan Doppelgänger shortly before I fell down the steps, leaving me with a limp for the rest of our trip. Nick found a music box for his bingo card.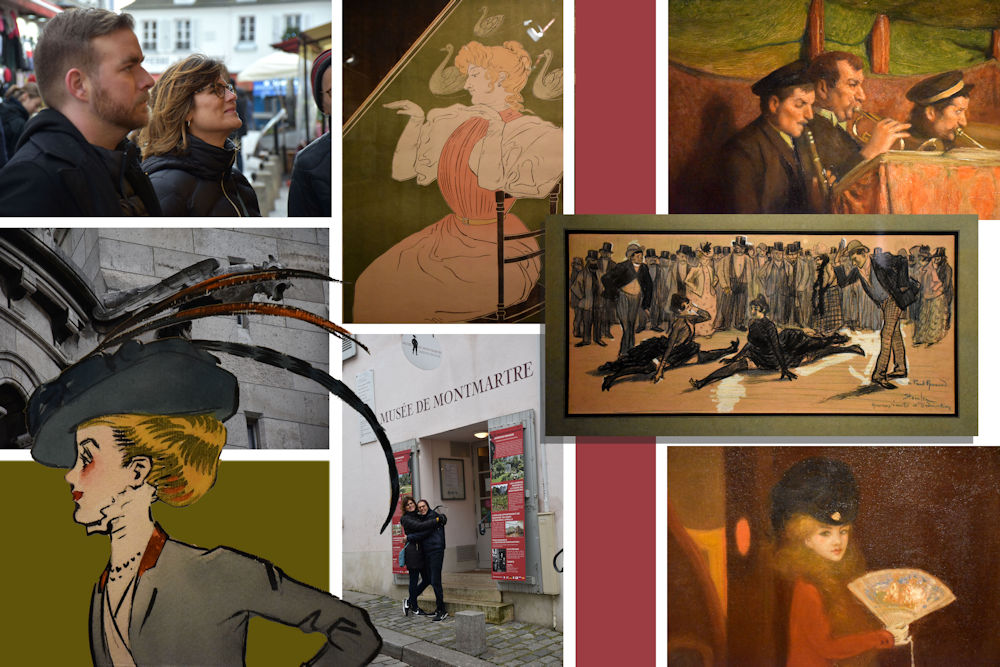 Although we had visited the Musée de Montmartre before, we discovered a whole new building we'd never seen before, filled with wonderful Belle Époque art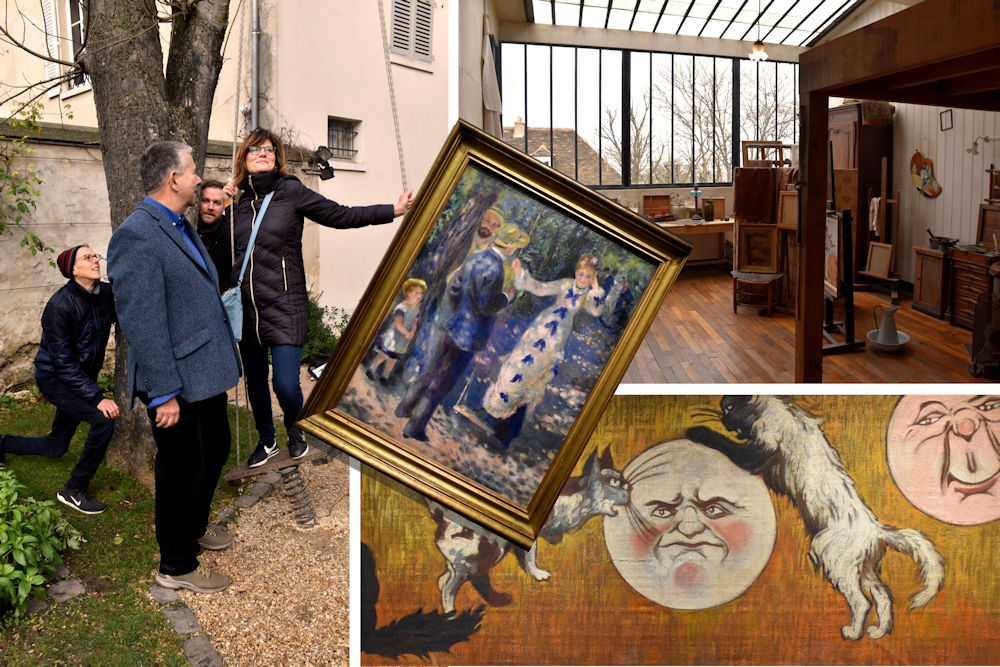 Our group re-created Renoir's La balançoire, which we later saw at the Musée d'Orsay. The artist's studio made me gasp when I opened the door and discovered it, and I loved the Chat Noir paintings.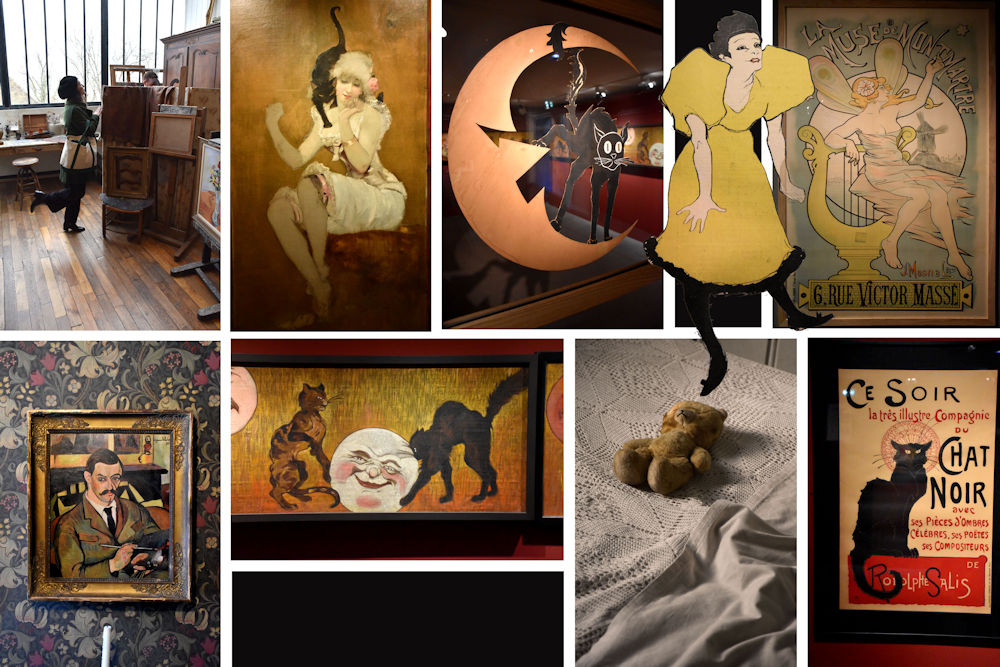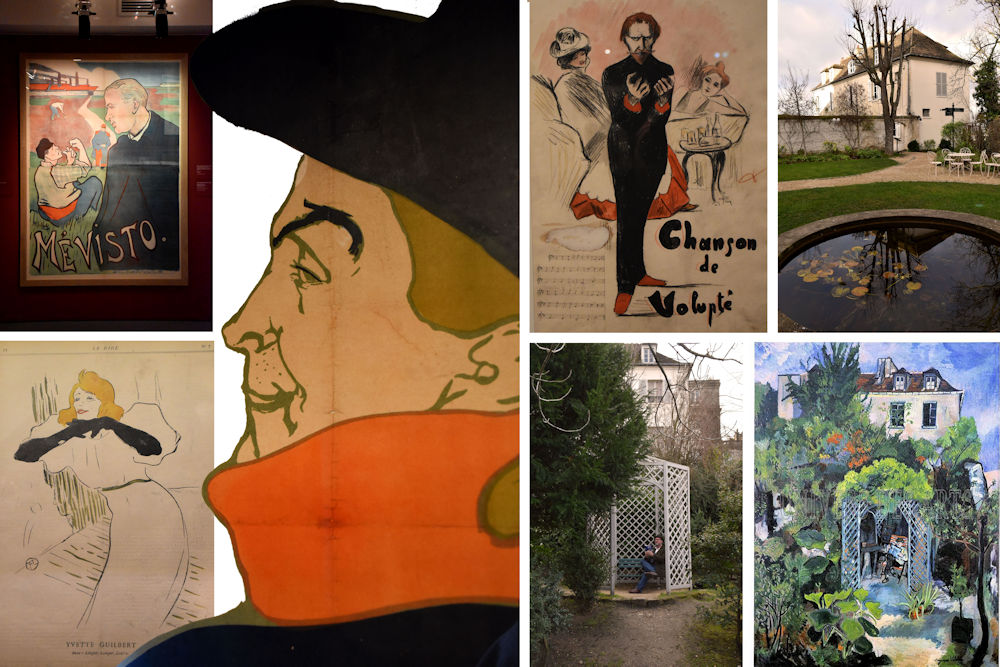 Aristide Bruant is the cabaret singer in the red scarf and black hat painted by Toulouse-Lautrec. I did another painting re-creation in the garden.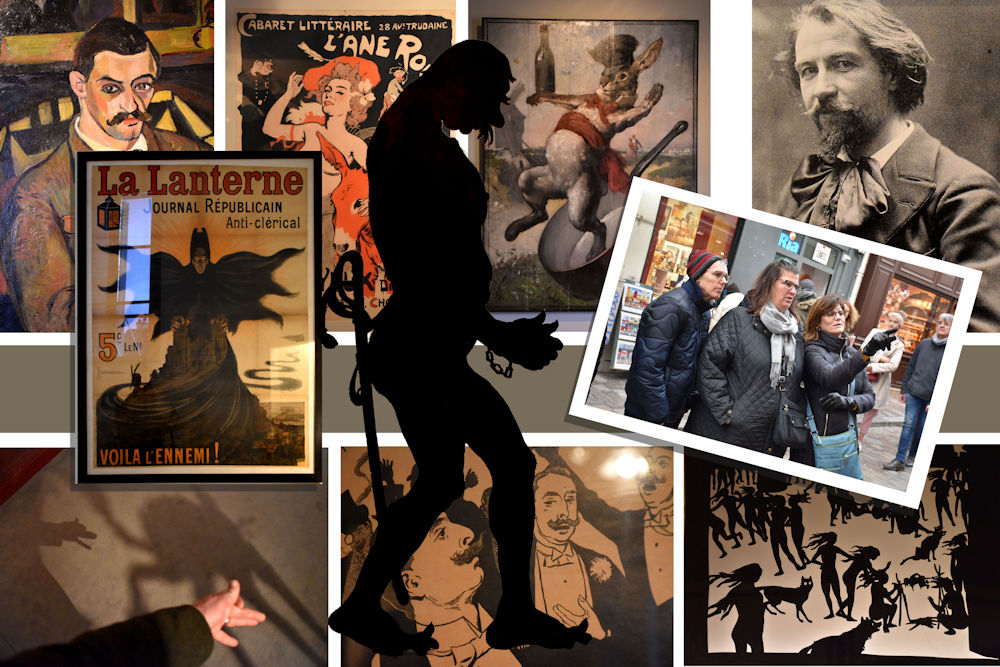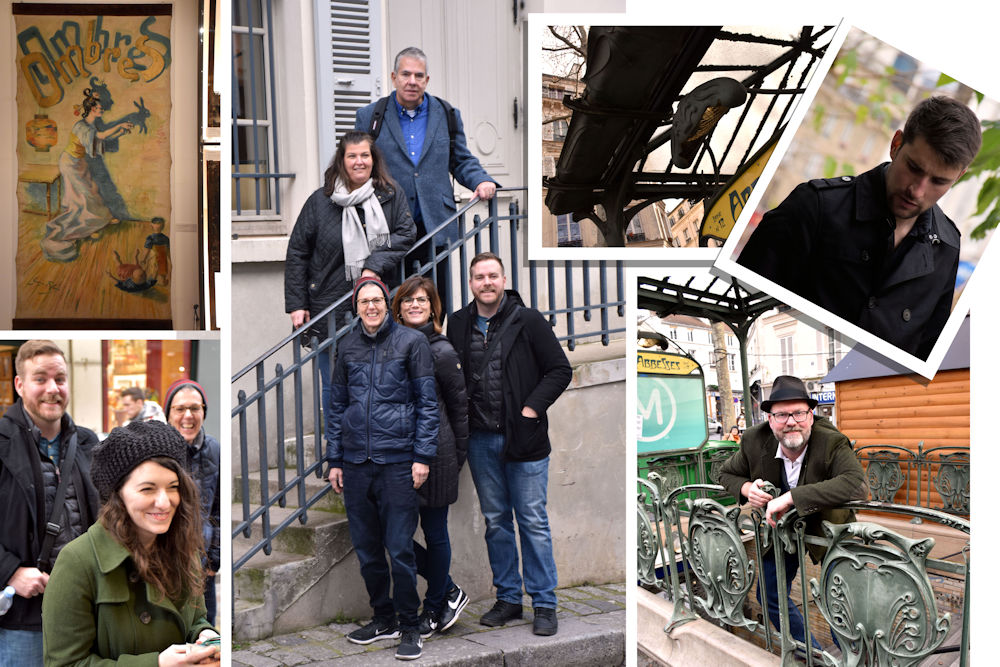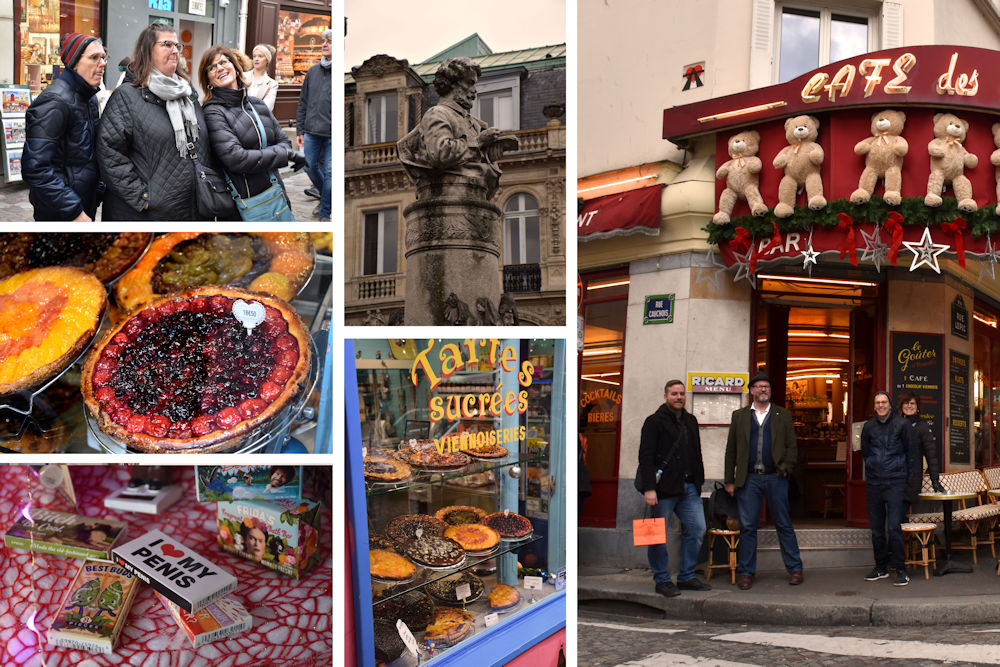 On the Rue Lepic, we saw and bought delicious treats, watched a moving van knock over a row of motorbikes, and found a matchbook that sums up life.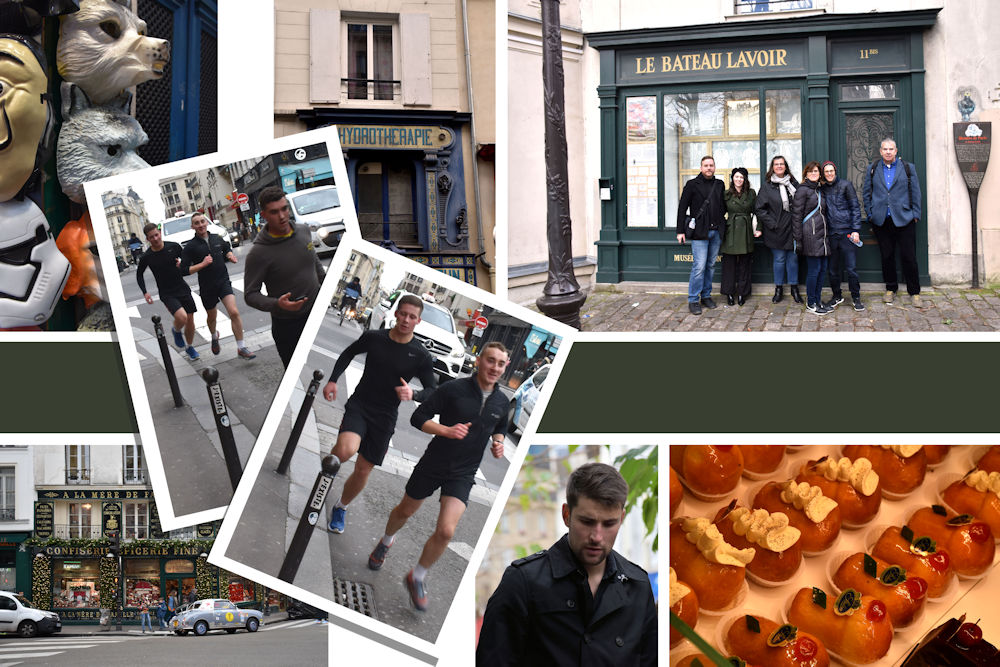 We left Montmartre and headed for the Pompidou Centre. Halfway there, we got tired and grabbed a taxi, which meant we could sit down and have a welcome drink before our next appointment.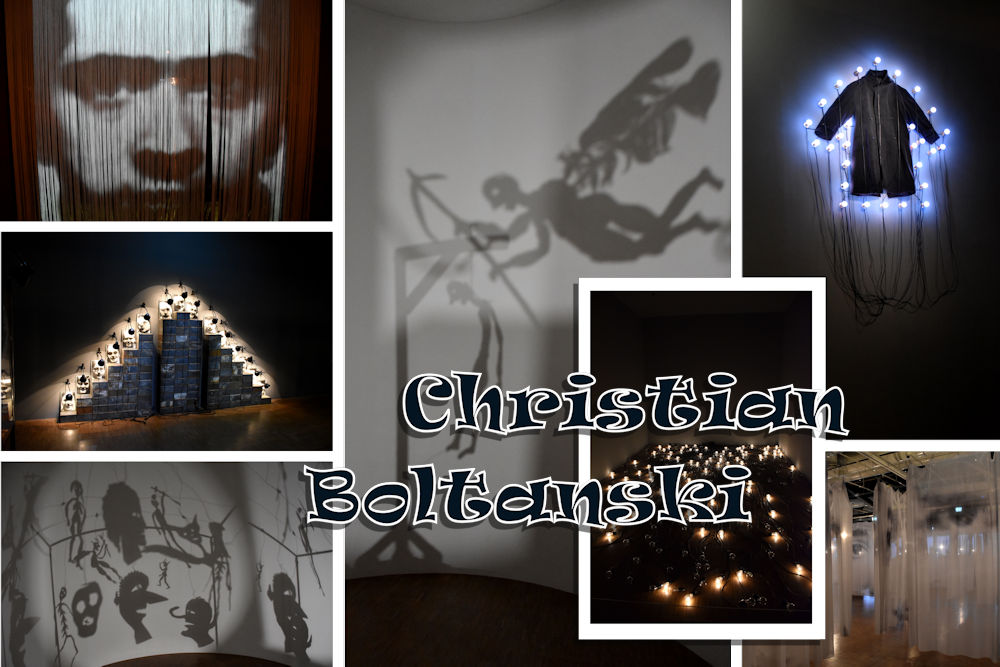 Christian Boltanski has long been one of my favourite artists, but his Faire son Temps exhibition was a bit of a downer at Christmastime. Arresting, all the same.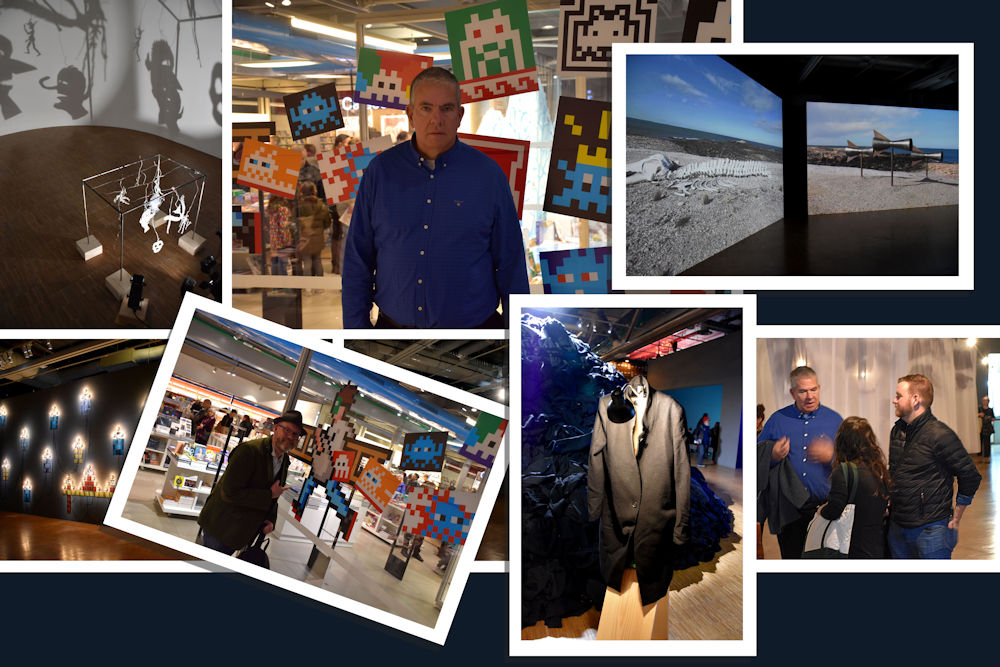 After the Boltanski exhibition, we admired the Invader stickers on the gift shop windows.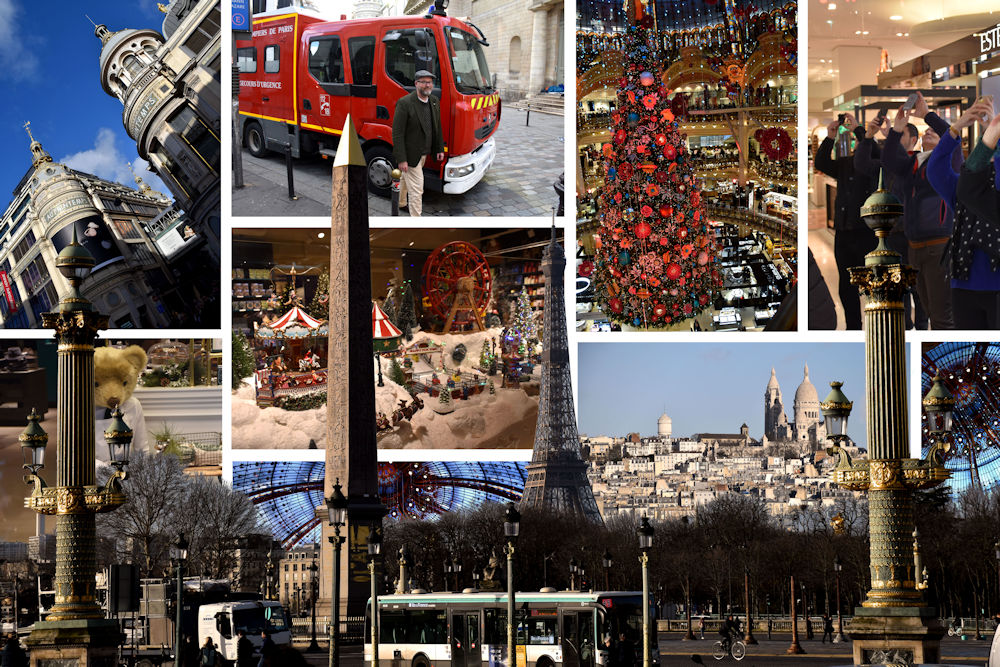 The next day, we visited the Galeries Lafayette and admired its Christmas tree, the rooftop skating rink, and the view of Montmartre.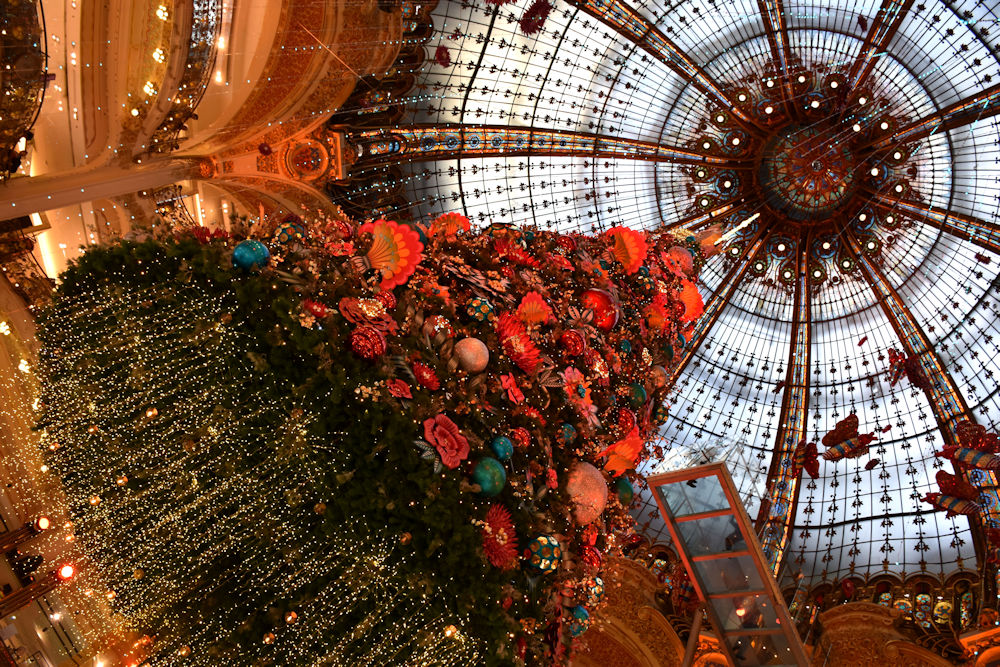 Galeries Lafayette Christmas tree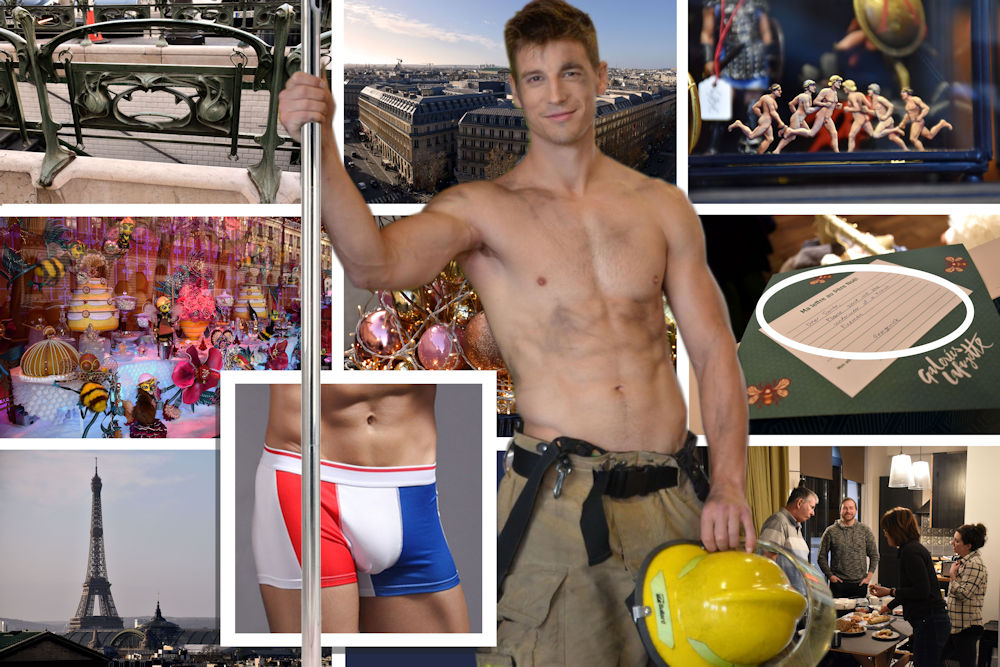 I made a wish to Père Noël.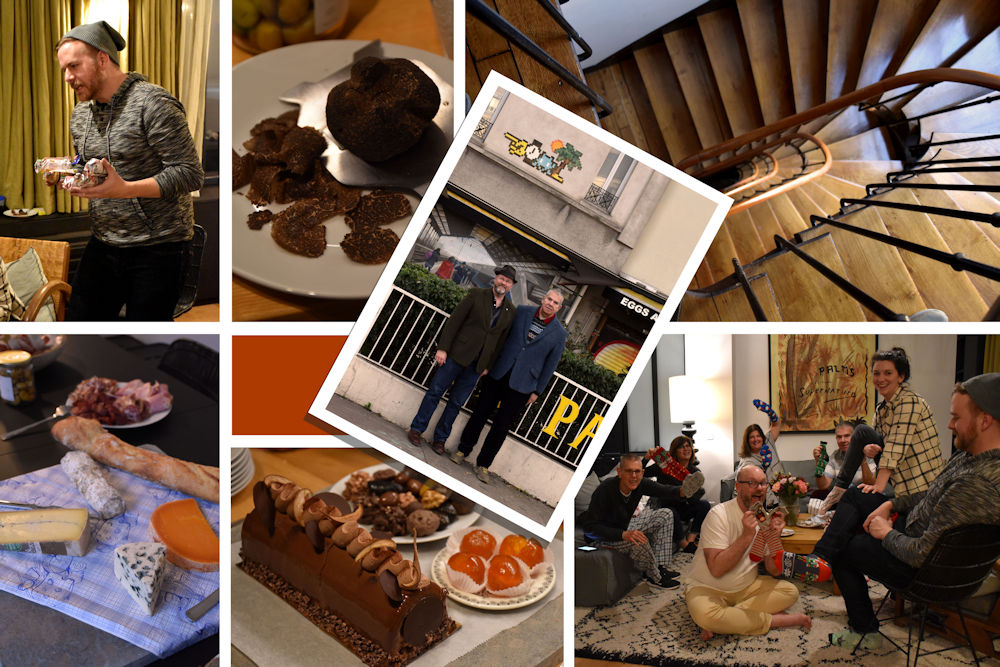 Our family and friends gathering was one of the most memorable Christmas Eves ever. We had an amazing meal with truffled eggs en cocotte, pumpkin with sage and bourbon vanilla sugar, an array of French cheeses, a roast chicken, and a proper Bûche de Noël. After dinner, we shared family traditions. Larry's was to present novelty socks to everyone. We also played a three-stage charades game.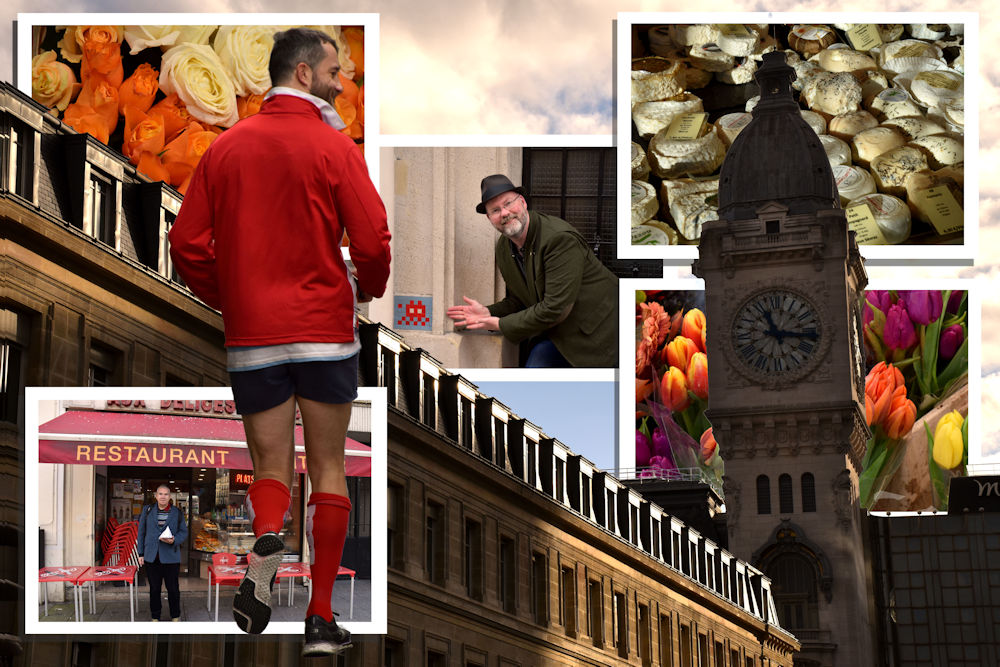 Christmas morning, we sought Invaders and stocked up on picnic supplies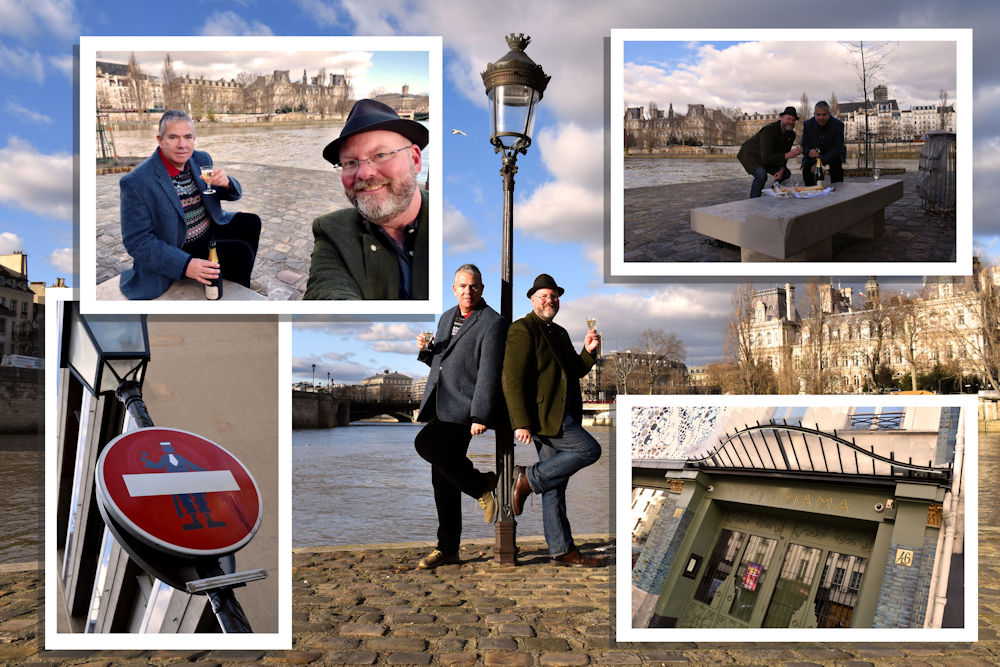 Christmas morning picnic on the Île Saint-Louis bench where we have celebrated numerous anniversaries and our wedding day in 2007.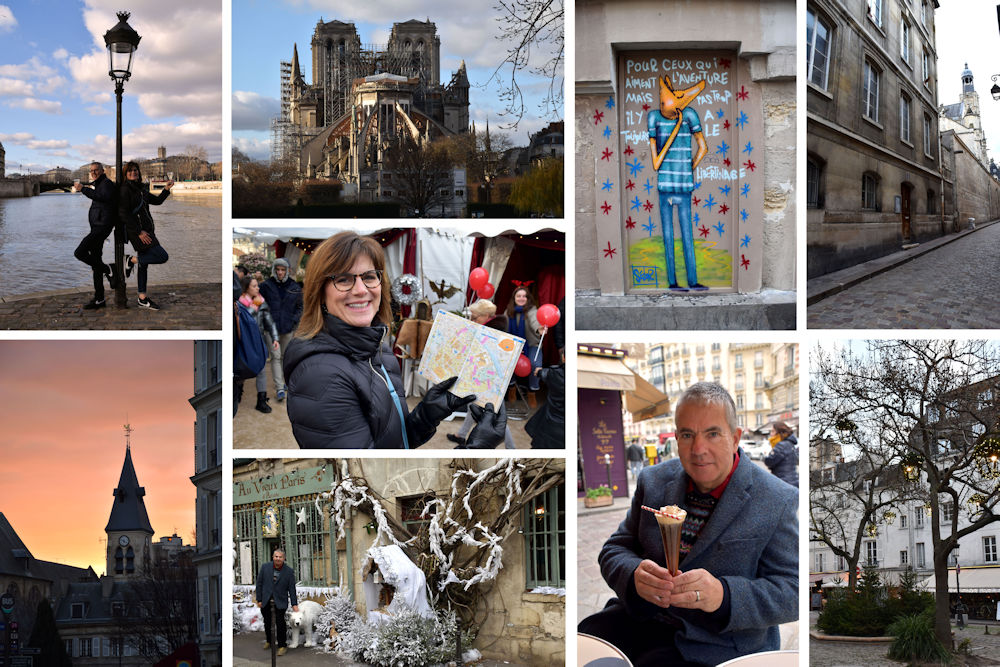 Linda and Nancy joined us and we walked together through the Left Bank. Notre Dame is under restoration after last year's fire.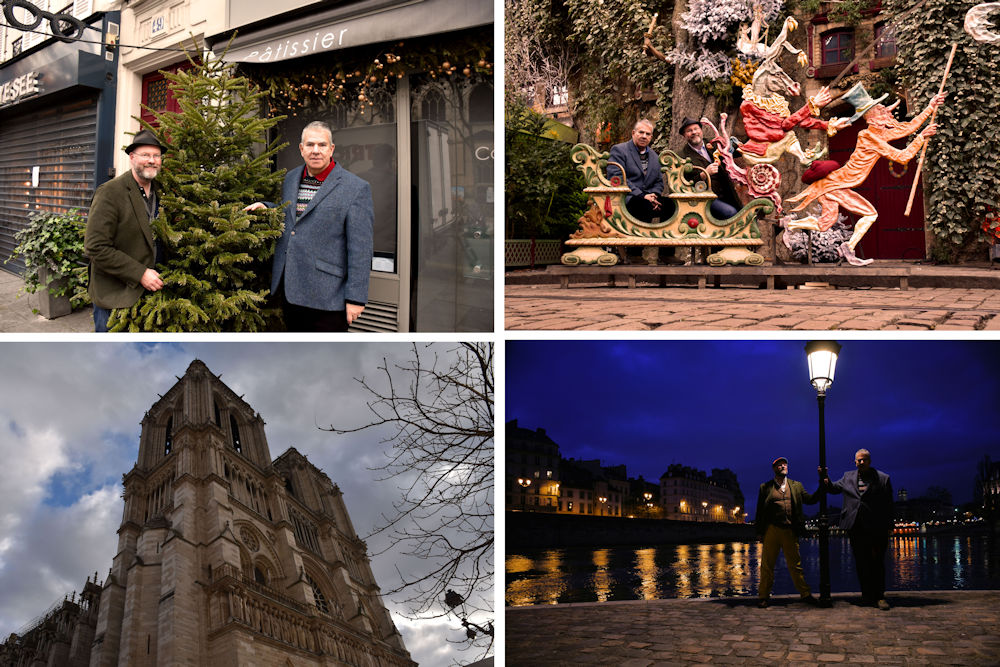 Some of our favourite photos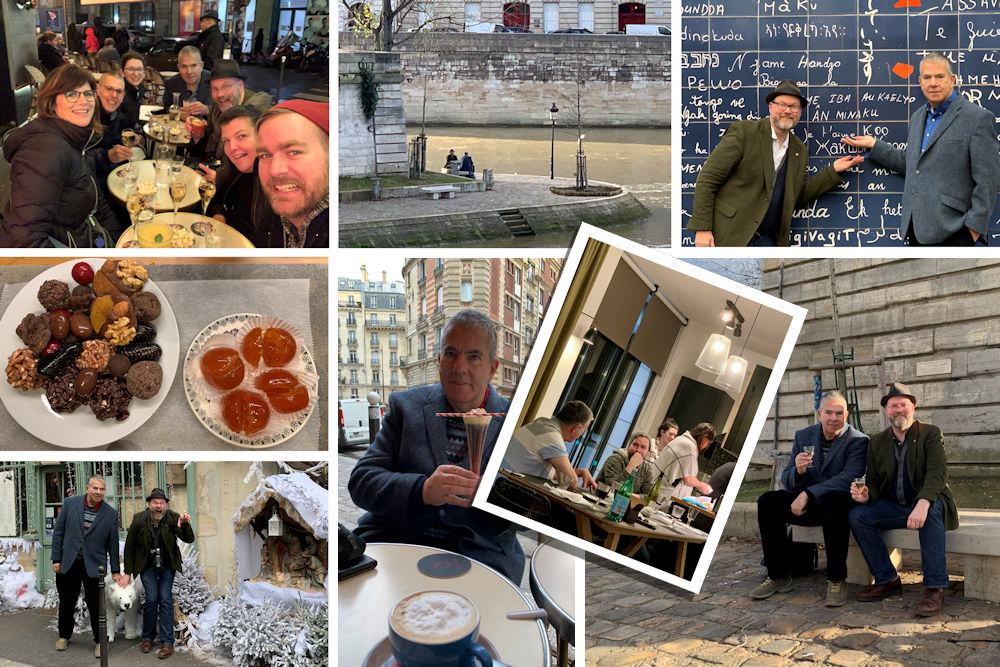 These are photos from my cousin, Linda. My favourite is the one of us on our bench taken from the bridge without our knowing.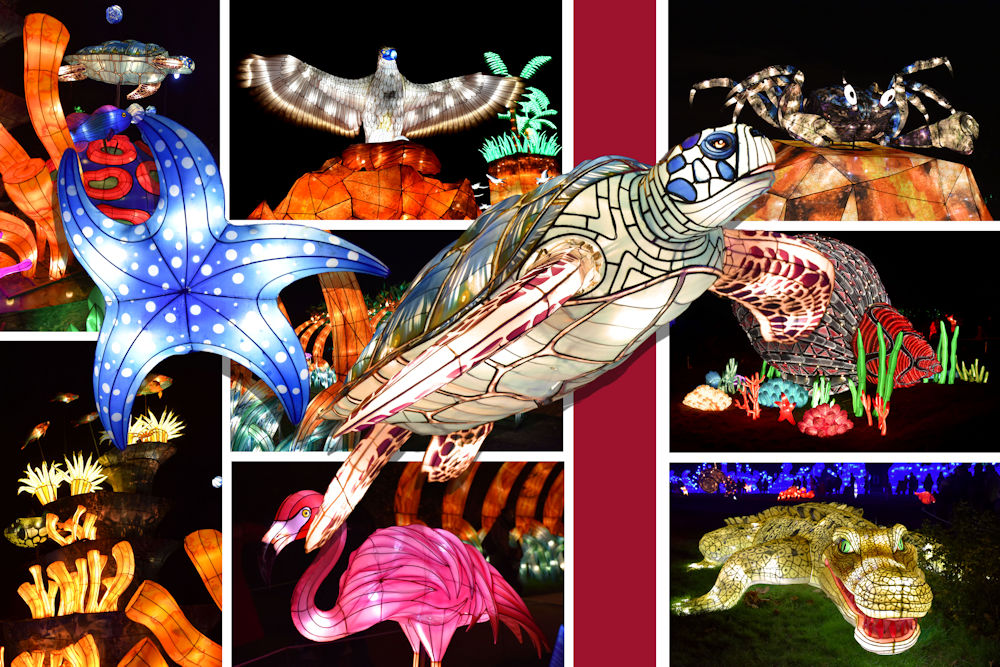 The spectacular Océan en voie d'illumination at the Jardin des Plantes on Christmas Day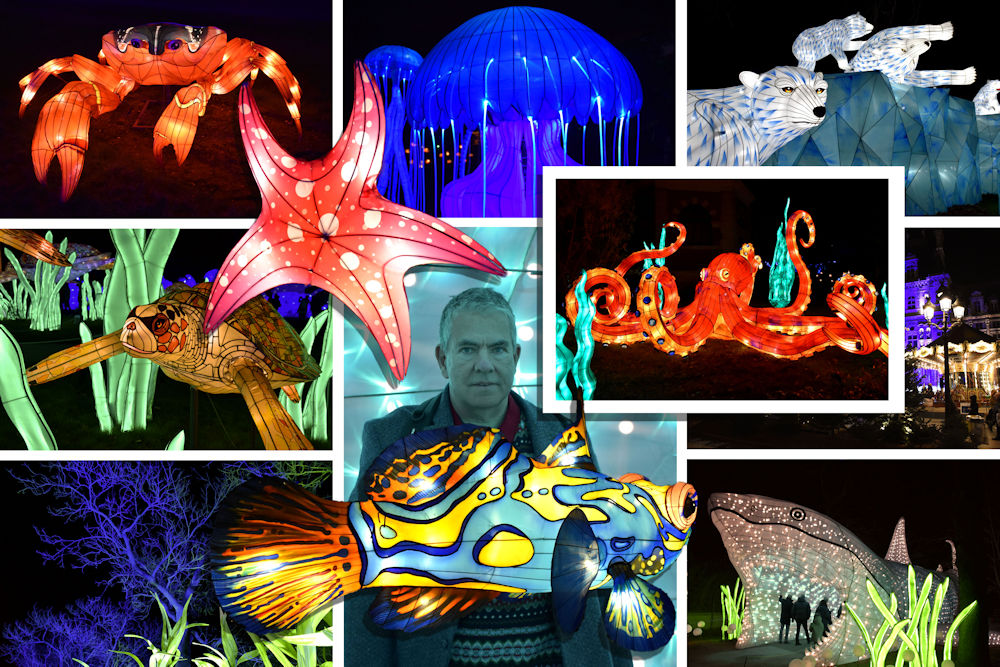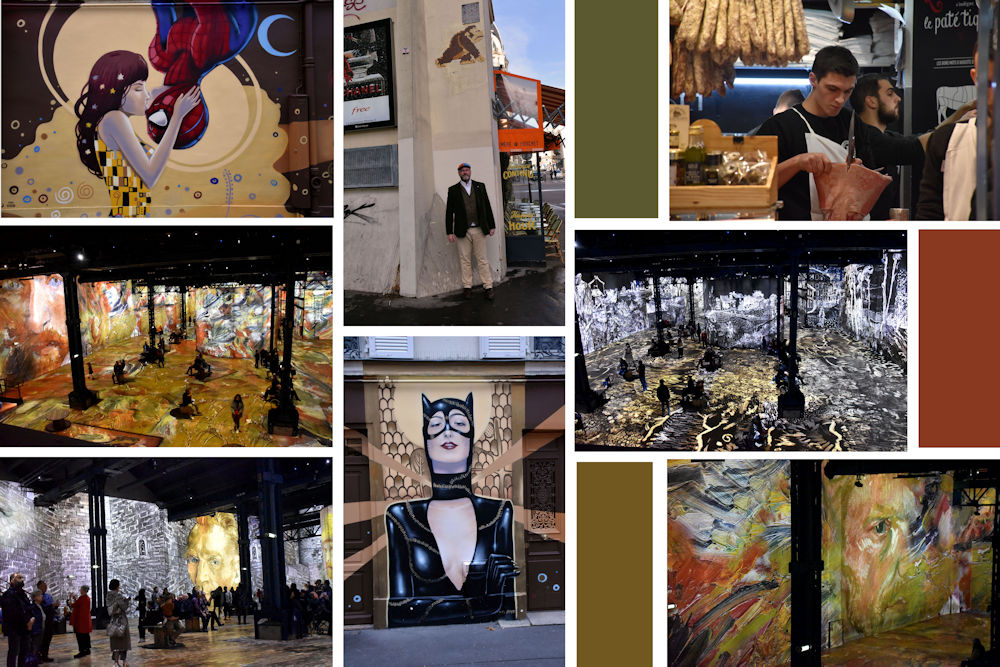 We returned to the Atelier des Lumières to see the immersive Van Gogh exhibition, possibly even better than seeing the real things. Click HERE to see our Van Gogh extravaganza at the Kröller-Müller Museum in October, 2019.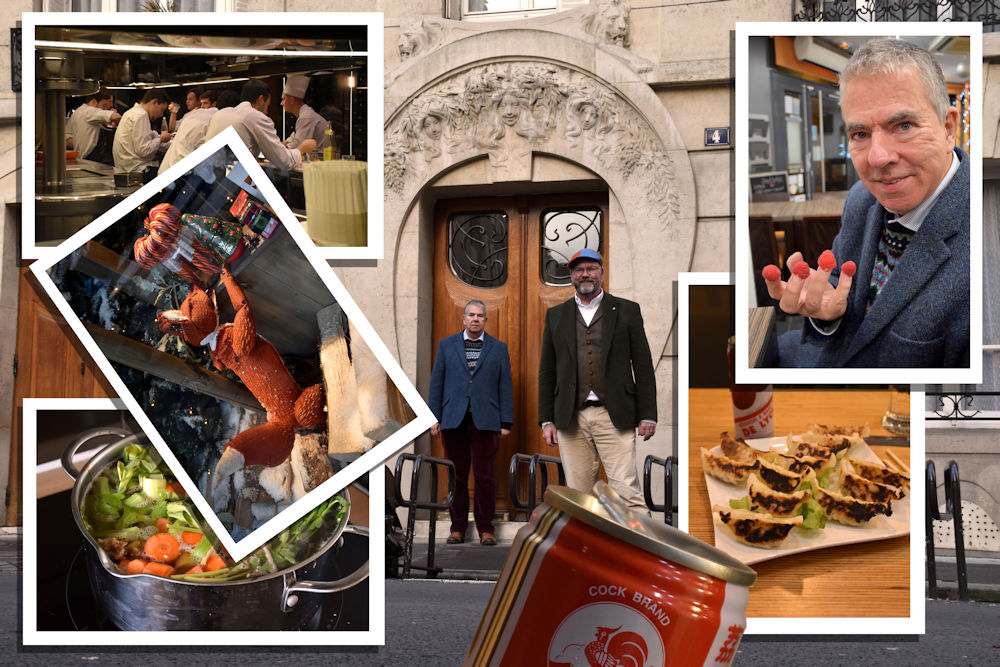 Chefs before service, window displays, Nick in Amélie mode, another dumpling meal, and homemade chicken stock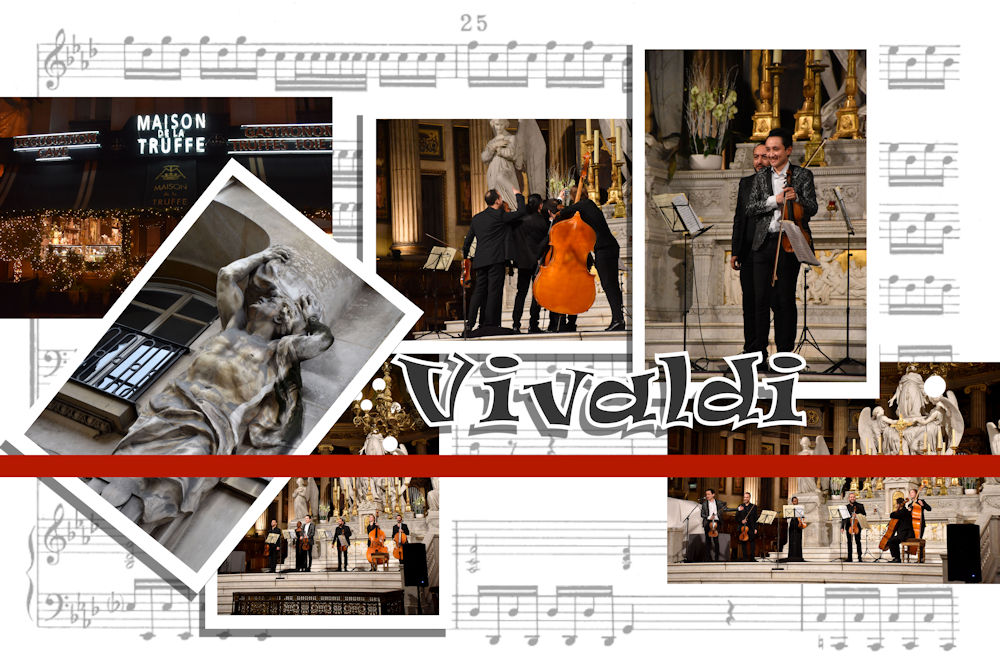 We dodged the heavy rain to attend a Vivialdi and Corelli concert at L'église de la Madeleine.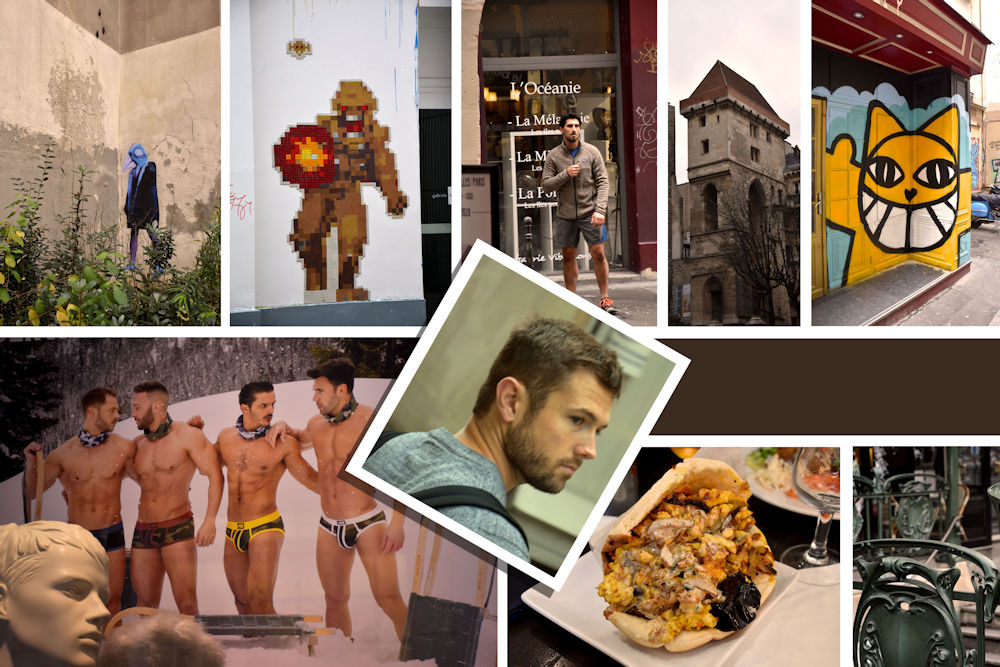 Invader huntling led us to all sorts of new places and sights, as well as back to the Marais for lunch in the Jewish quarter..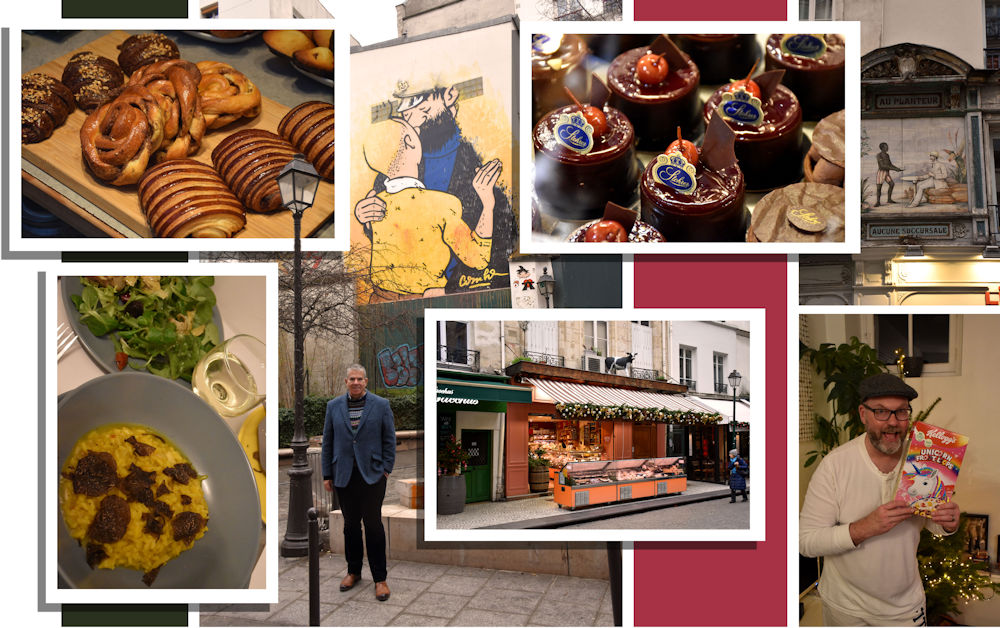 Food shopping and Tintin spotting on the Rue Montorgueil and gourmet foods back at our apartment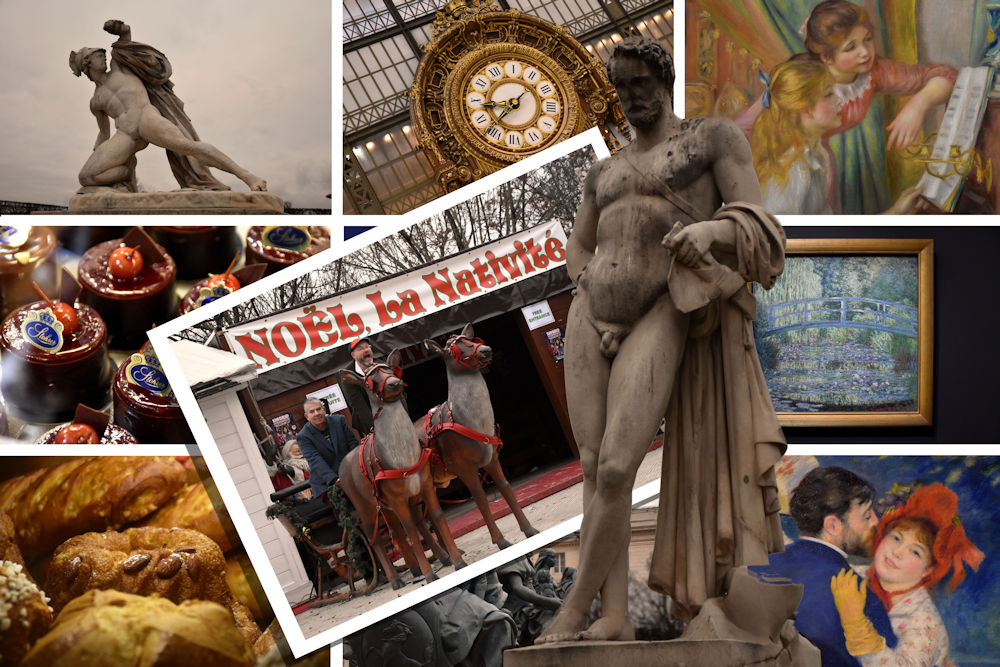 We bit the bullet and went to Musée d'Orsay right when it opened to marvel at the famous impressionist collection.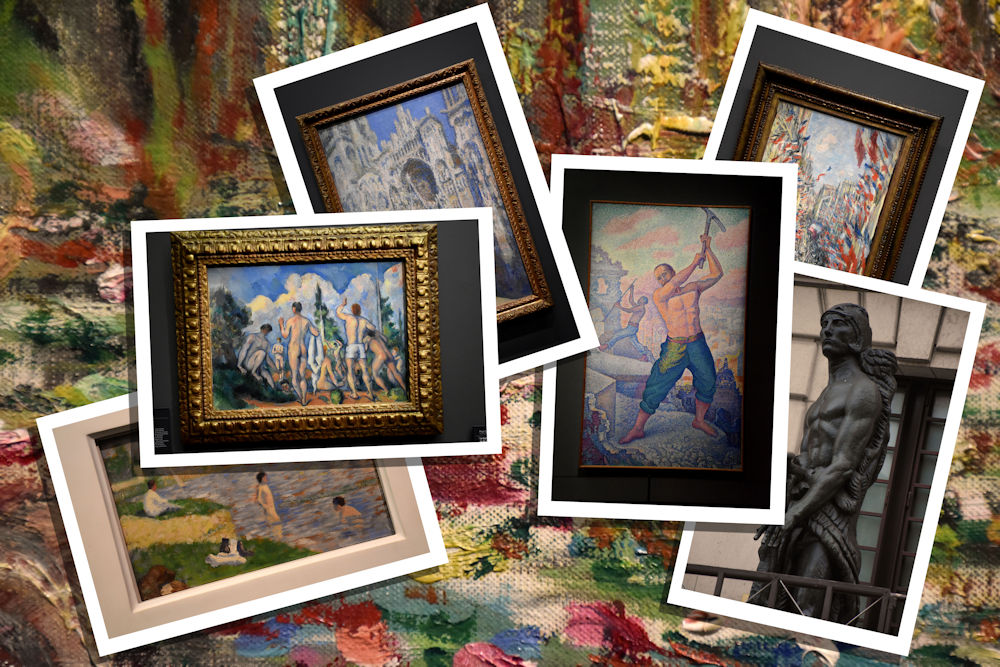 Some of our favourite artworks at the Musée d'Orsay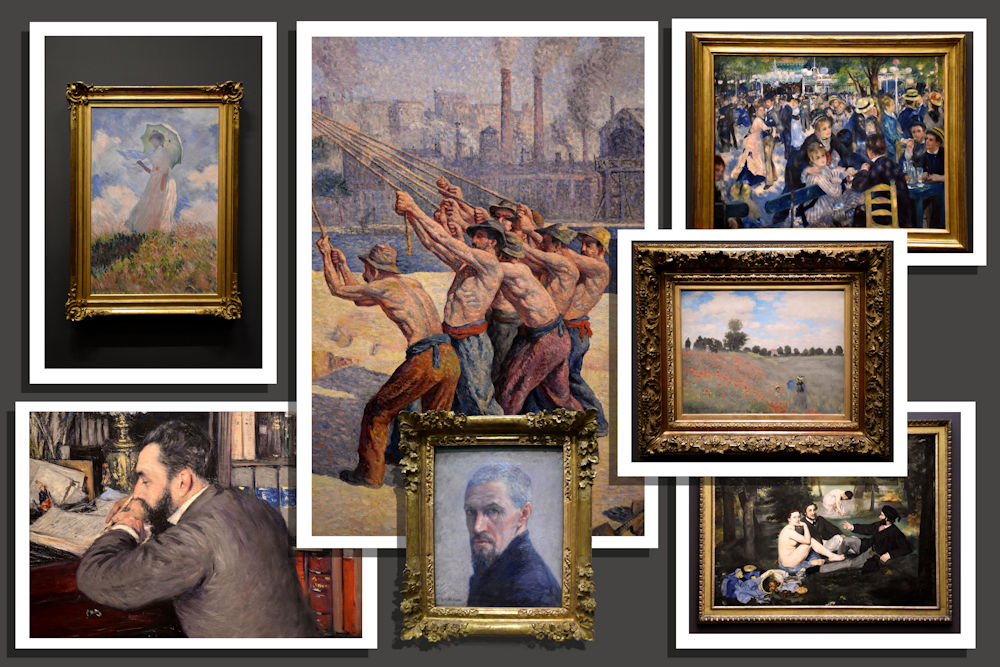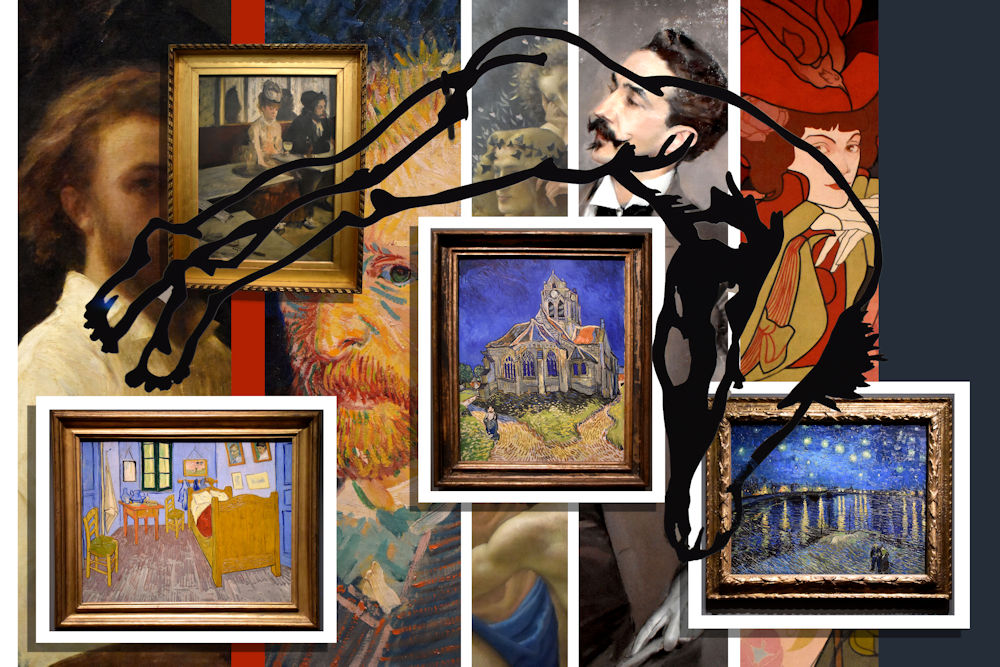 We thought the bearded artist's self portrait was funny. He was pictured among a group of other artists who all looked plain and unattractive, but he rendered himself as a beautifully-lit hunk.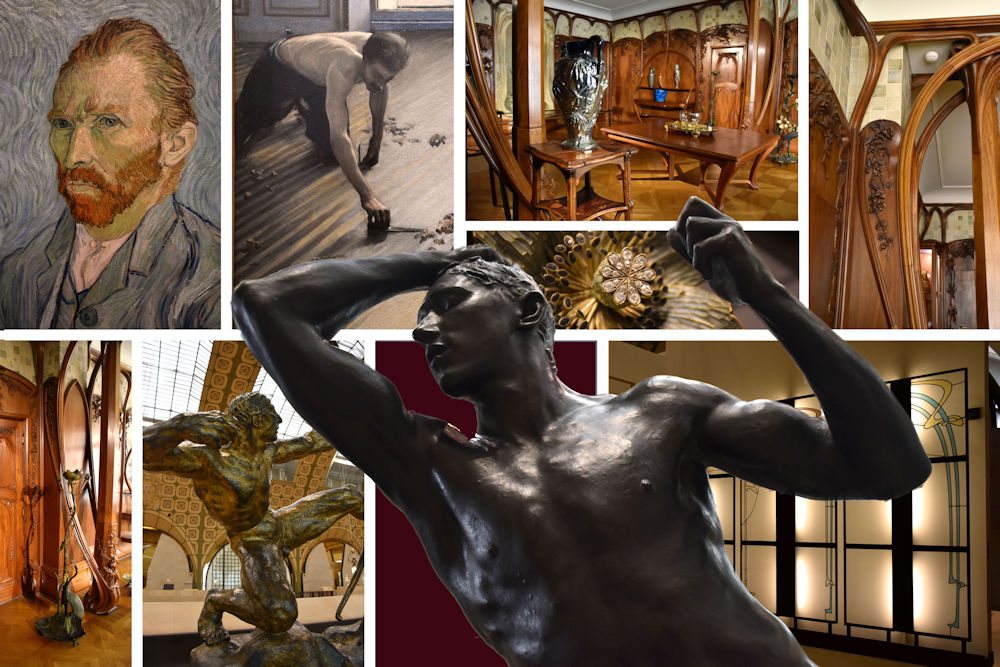 We discovered a wonderful wing of Art Nouveau furnishings which probably don't interest most tourists.

The polar bear was mentioned as a highlight in our guide book. I liked the Jesus in a gay club painting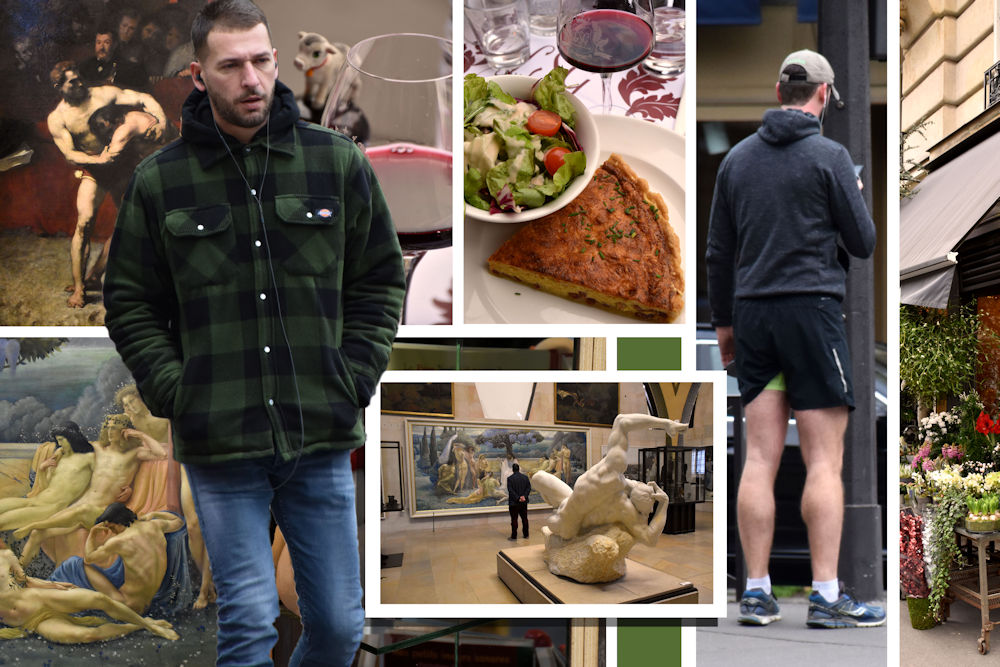 Tiny Cow enjoyed lunch at Le Saint-Germain.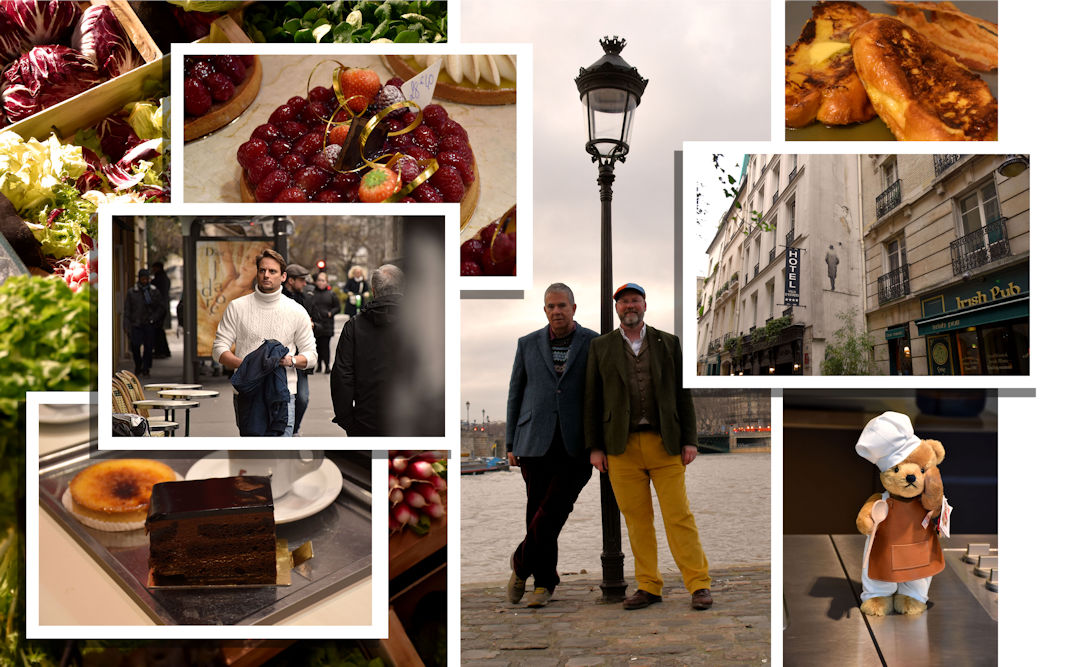 The chocolate layered cake was the best dessert I had on this trip.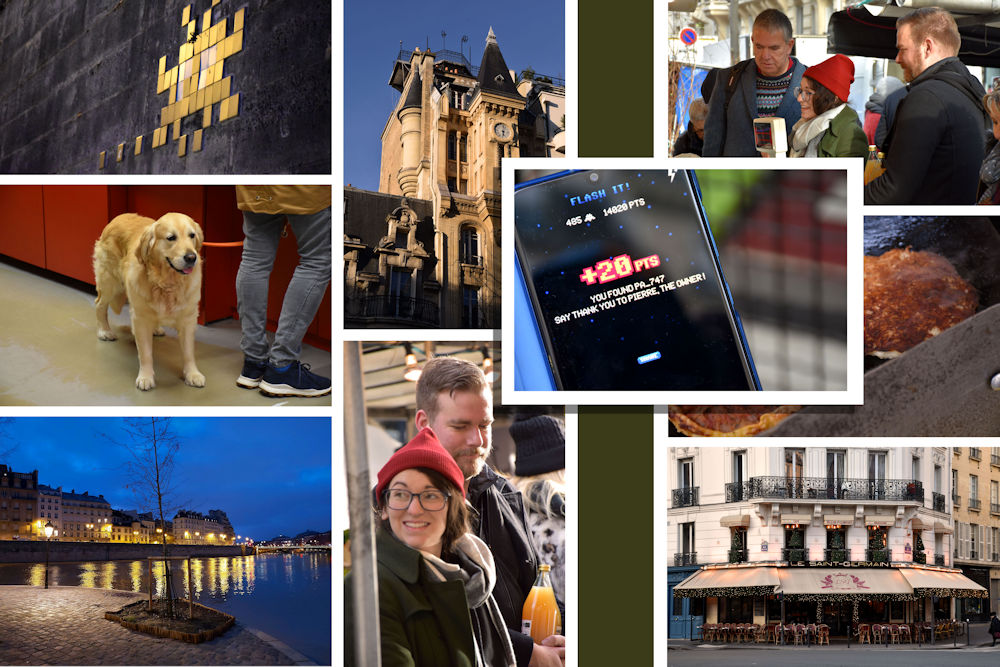 Invader near our bench at night, golden retriever at BHV department store, where we went to buy something to remove the plug from our sink, and shopping for picnic supplies at the Raspail Market with Amanda and Larry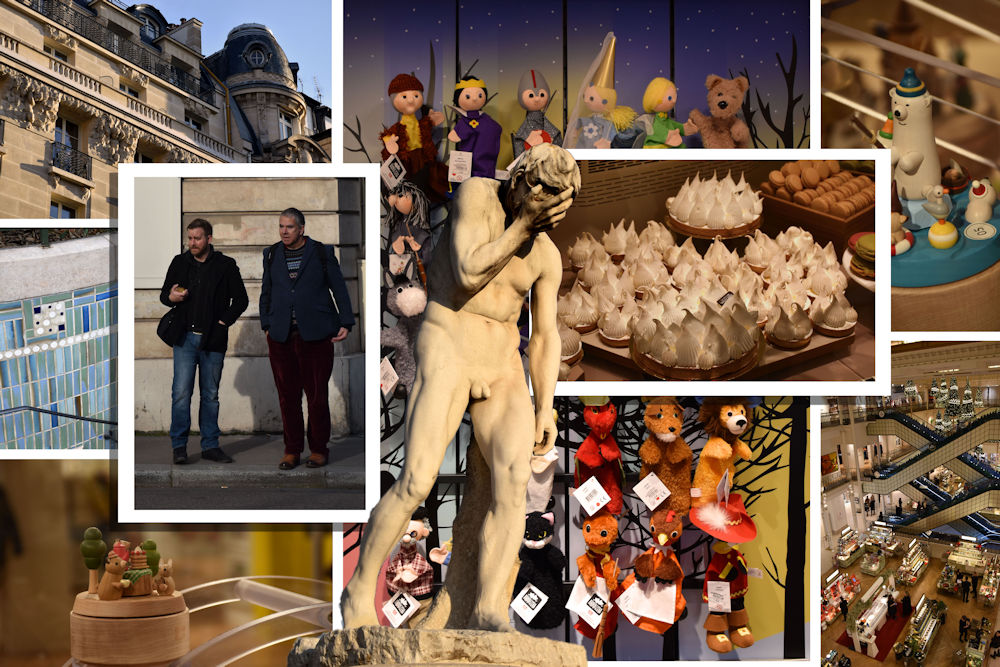 I loved the toys and hand puppets at Le Bon Marché.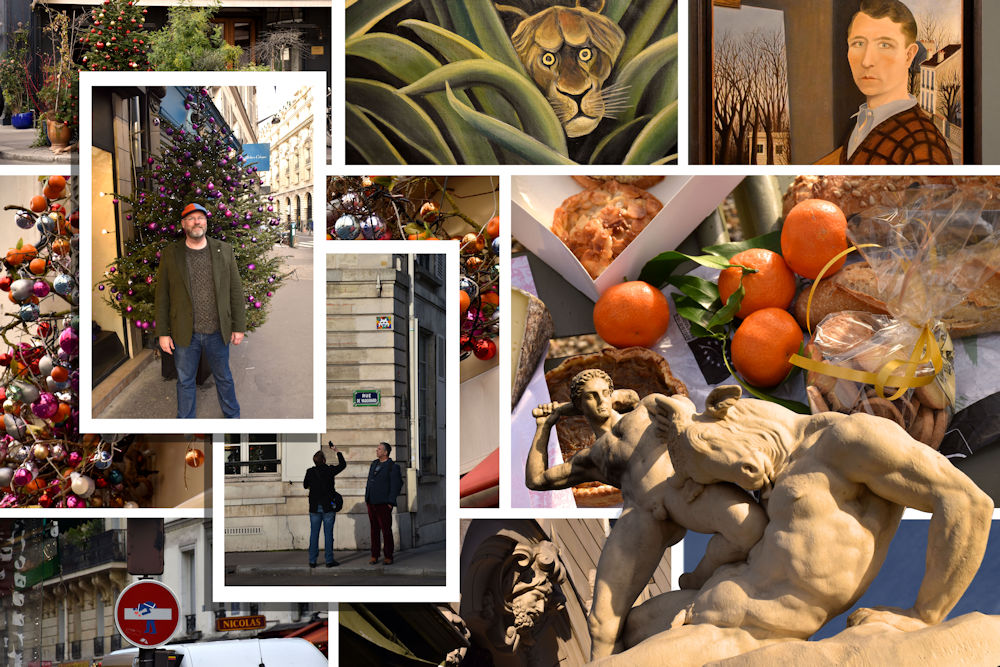 Our picnic was in the Jardin du Luxembourg, with Invaders nearby. Afterwards, we went to a dud of an exhibition at Musée Maillol, where we stayed about fifteen minutes.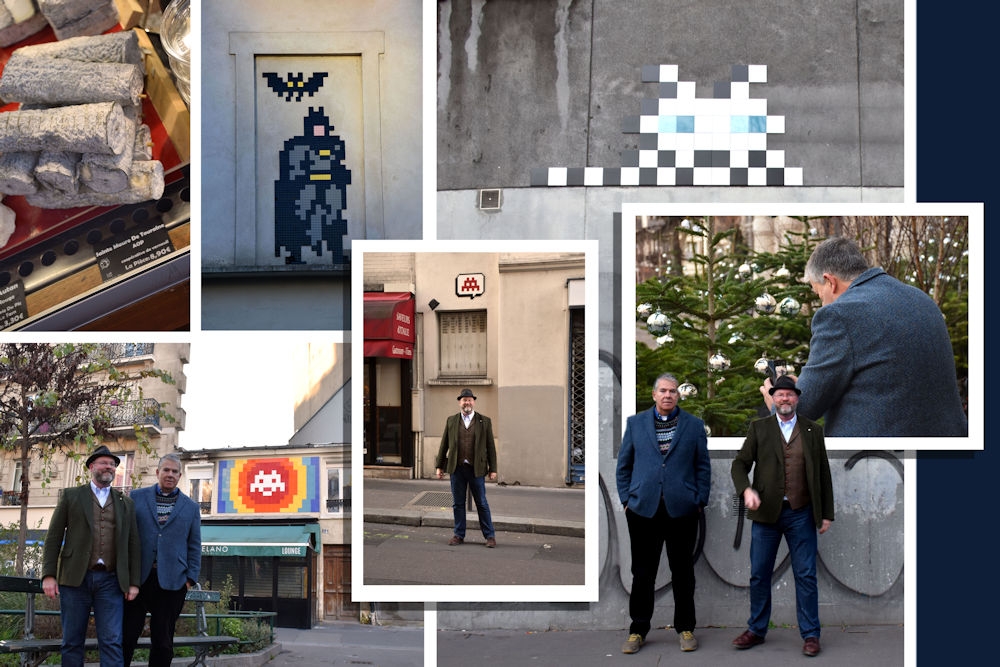 These are two of my all-time favourite Invaders. The goat's cheese was a remarkable one we had at Christmas and one that we will seek out in the future. Tiny Cow Reflected was a bingo card ask.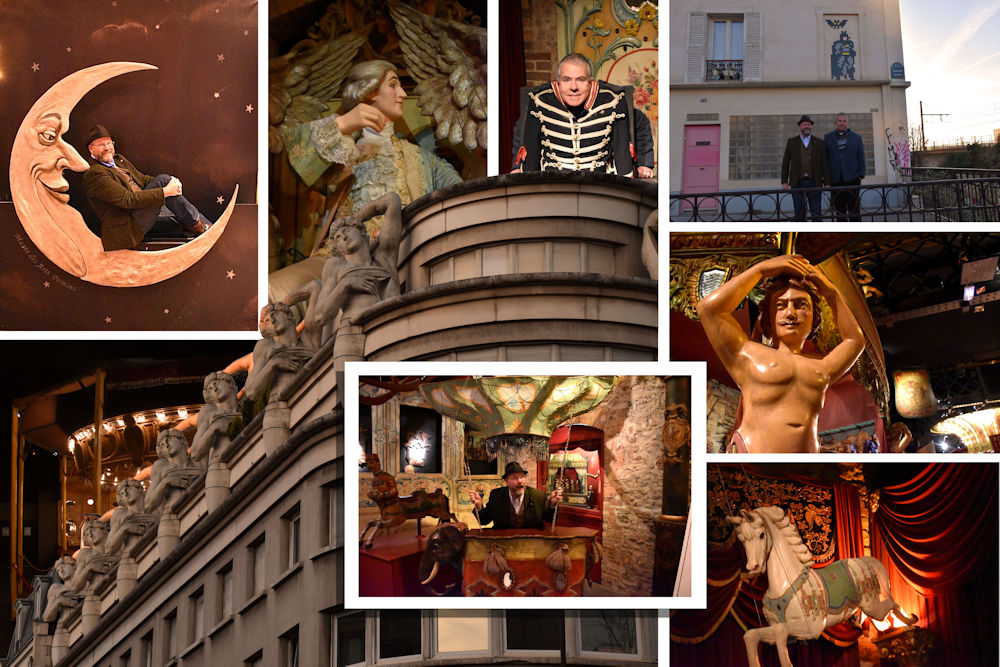 The unusual Musée des Arts Forains (funfair museum) was even more spectacular at Christmas. There were musicians, magicians, games of skill, hot chocolate, and lots of vintage memorabilia to see.

The accordion-playing singer was so French and we admired the Cocteau-inspired arm with candle.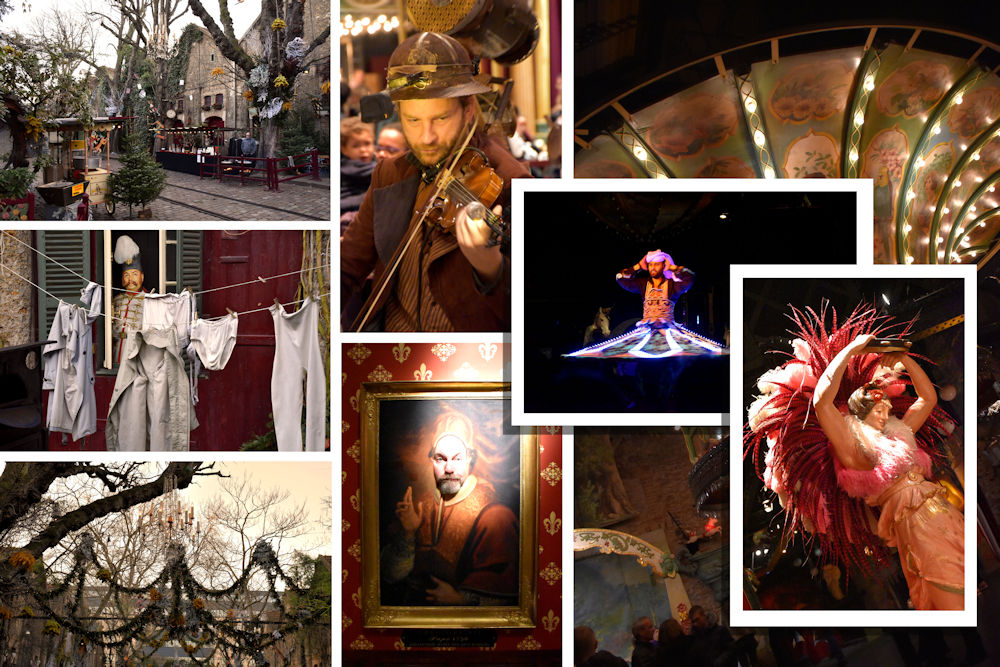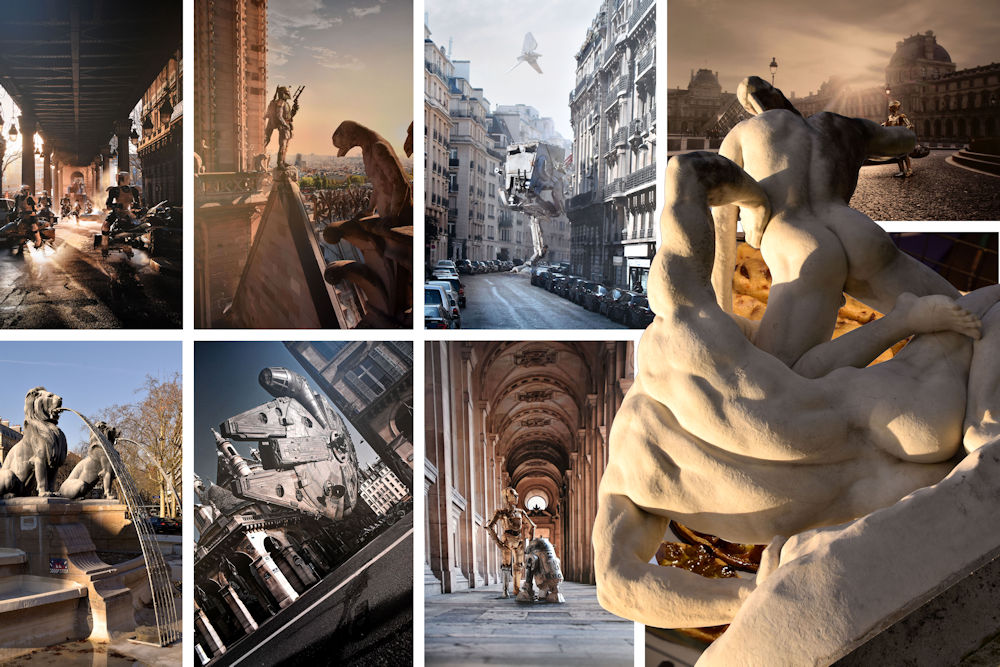 After we left the museum, we stopped for coffee and headed back home via a shopping area with these arresting Star Wars images. We realised that Nick had left his new backpack (and Tiny Cow) at the café and we rushed back to find it safe.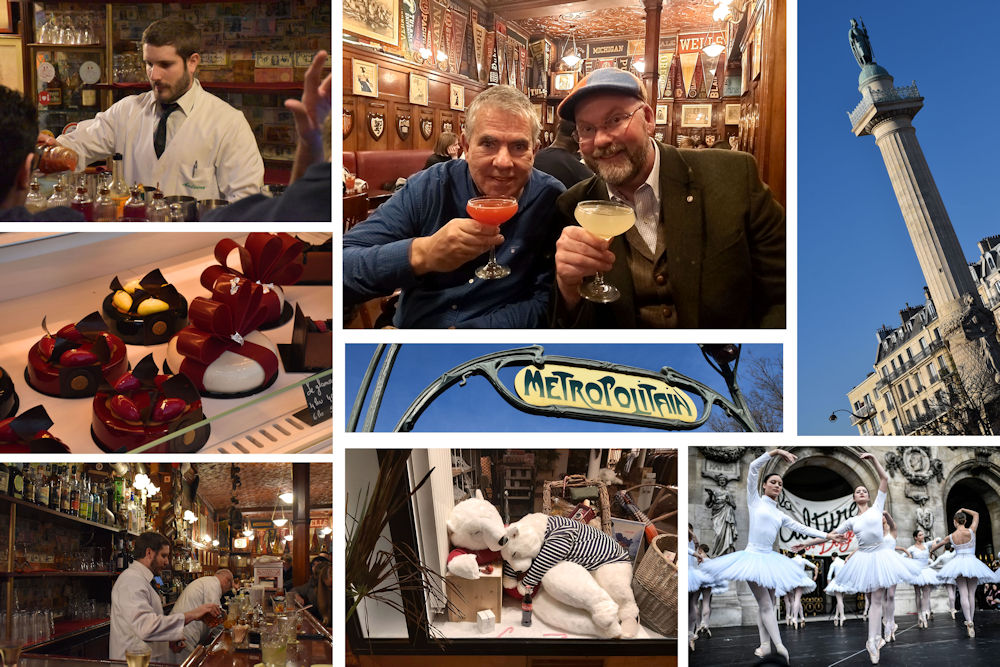 Harry's New York bar is where the Bloody Mary was invented and we sampled it, along with a French 75 cocktail. We had tickets to the ballet at Palais Garnier but, along with the transport workers, the ballerinas were on strike, so the performance was cancelled. We were somewhat relieved and walked - or limped - to the Marais for a delicious burger.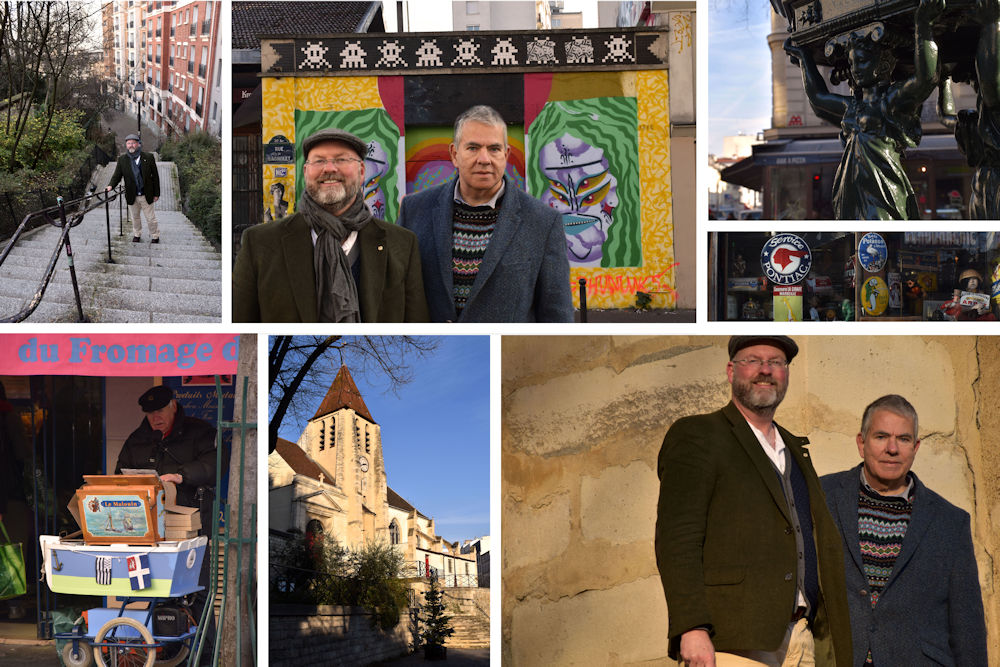 The next day was dedicated to Invader hunting, which led us to new discoveries such as L'eglise Saint-Germain de Charonne, which dates from the 12th century.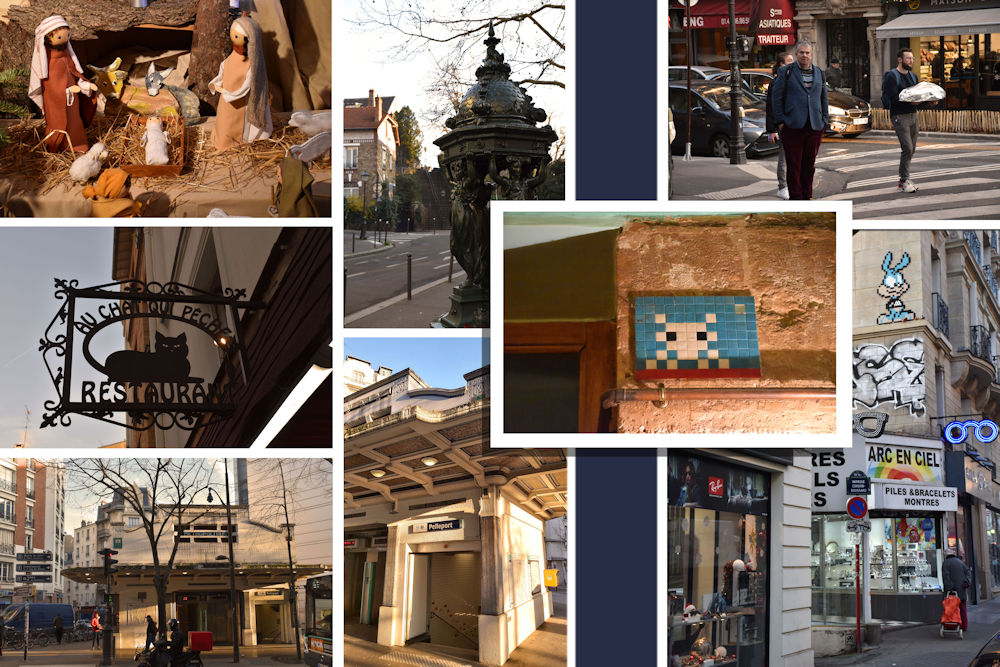 We might be among the last people to ever see this Invader, which was inside a bar that was being refurbished. We asked the bemused workers if we could photograph it. There are two Invaders in the Arc en Ciel photo: one low down near the red sign.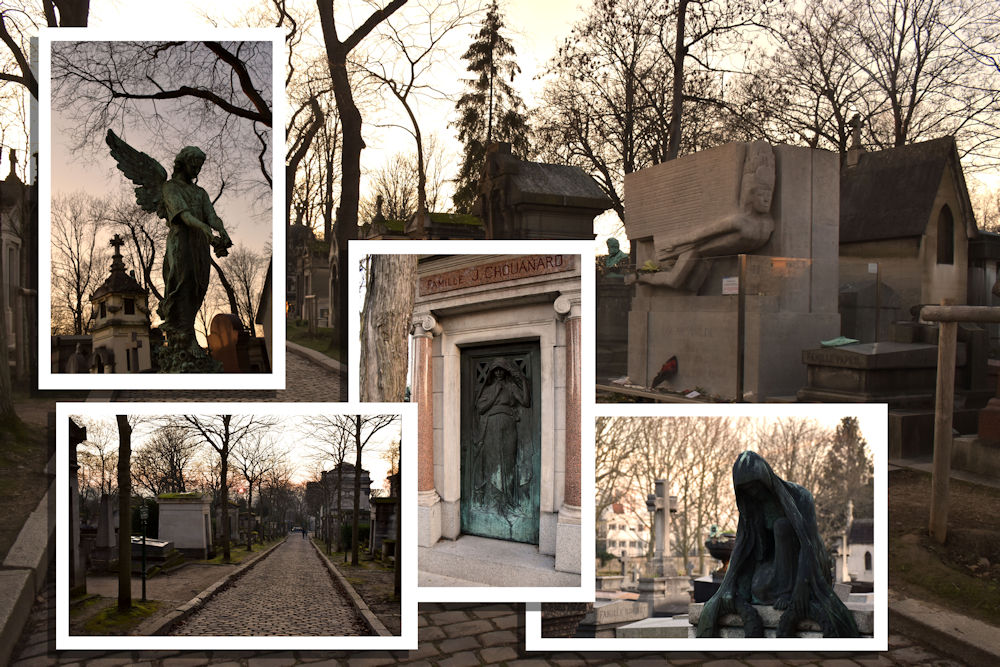 I'm not a great fan of cemetery visiting, but when near Père Lachaise, we paid a visit to Oscar Wilde's tomb, which was much different from when we first saw it in 2002.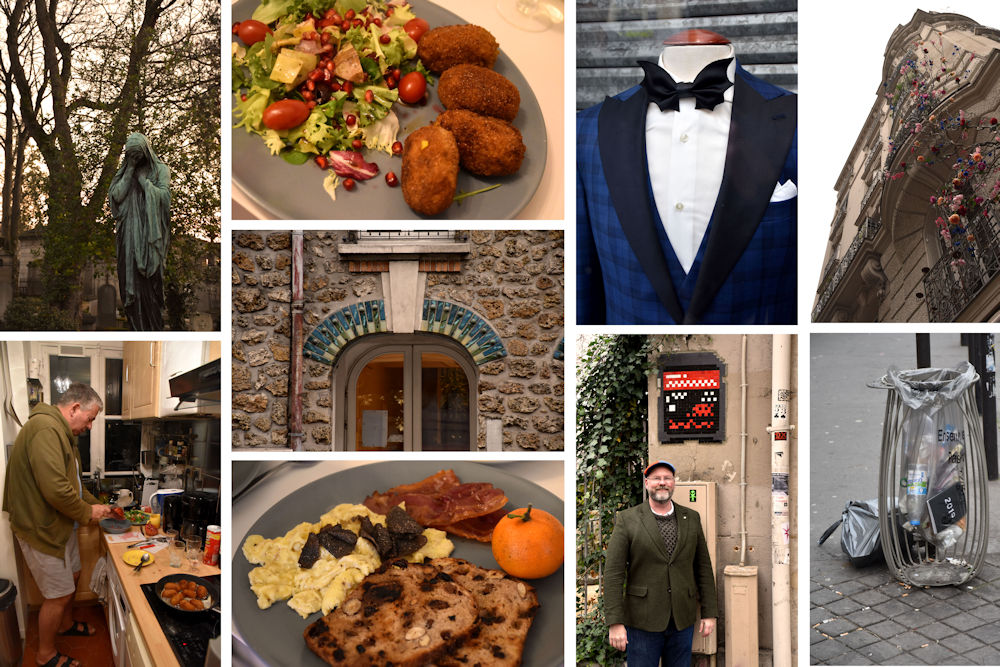 Our leftovers croquettes, the bat tie I wish I'd bought, a poetic rubbish bin, and our final truffle meal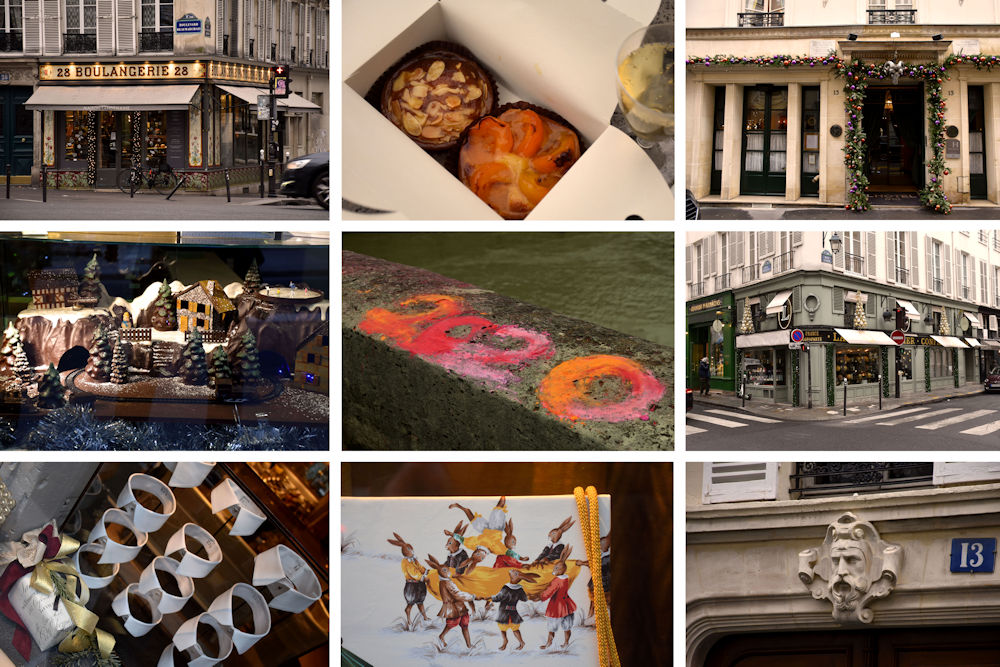 New Year's Day.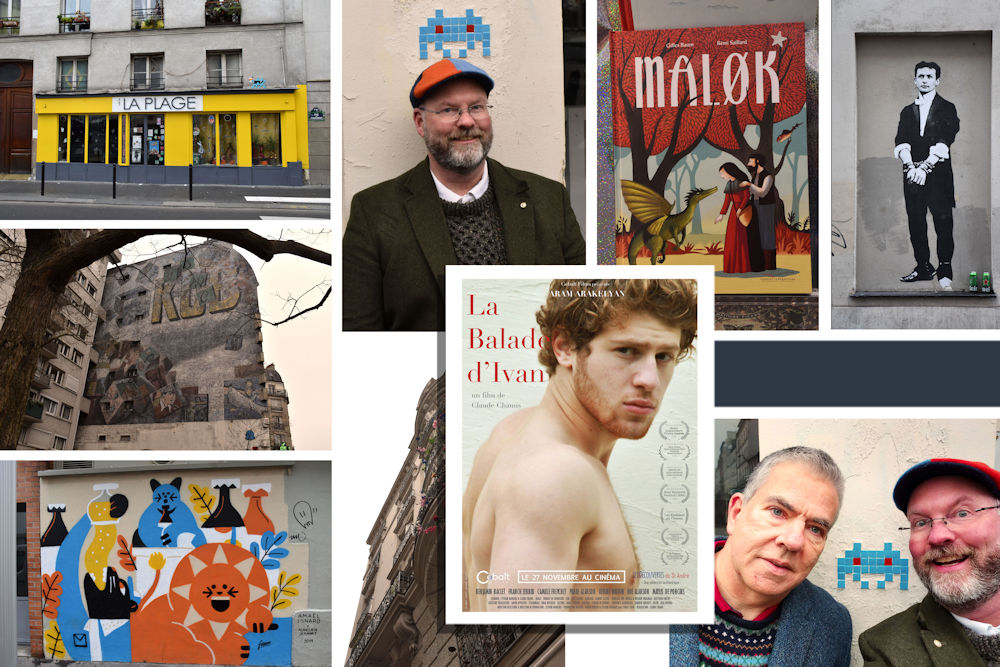 Whoever Ivan is, he looks a lot like Grantchester's James Norton.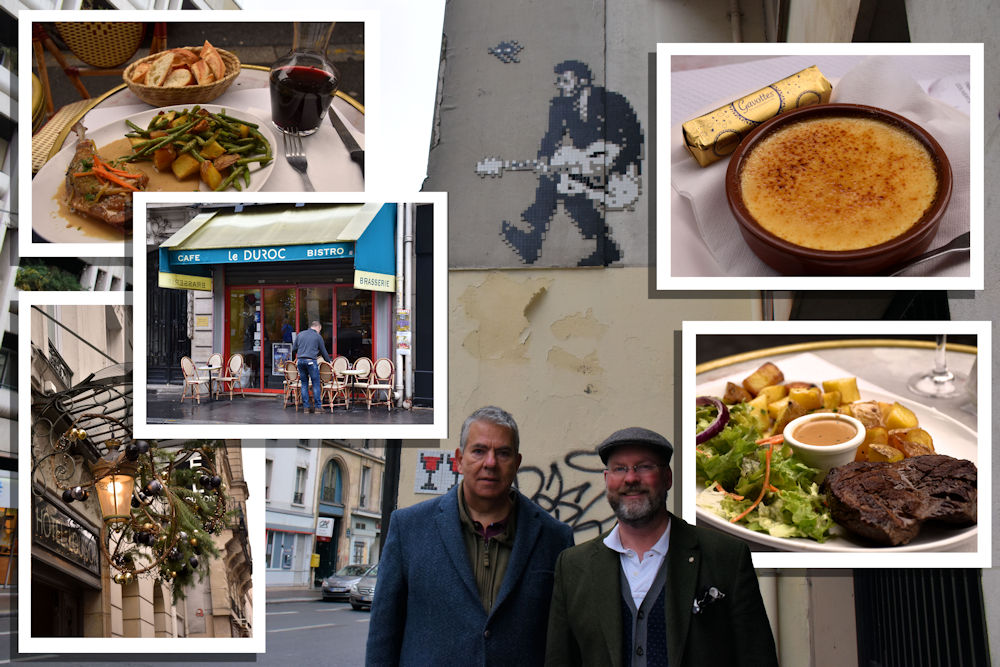 Our favourite meal on this trip was at Le Duroc. Honest, authentic French bistro fare, including duck, sautéed potatoes, and impeccable crème brûlée, all with a view of the Chuck Berry mosaic.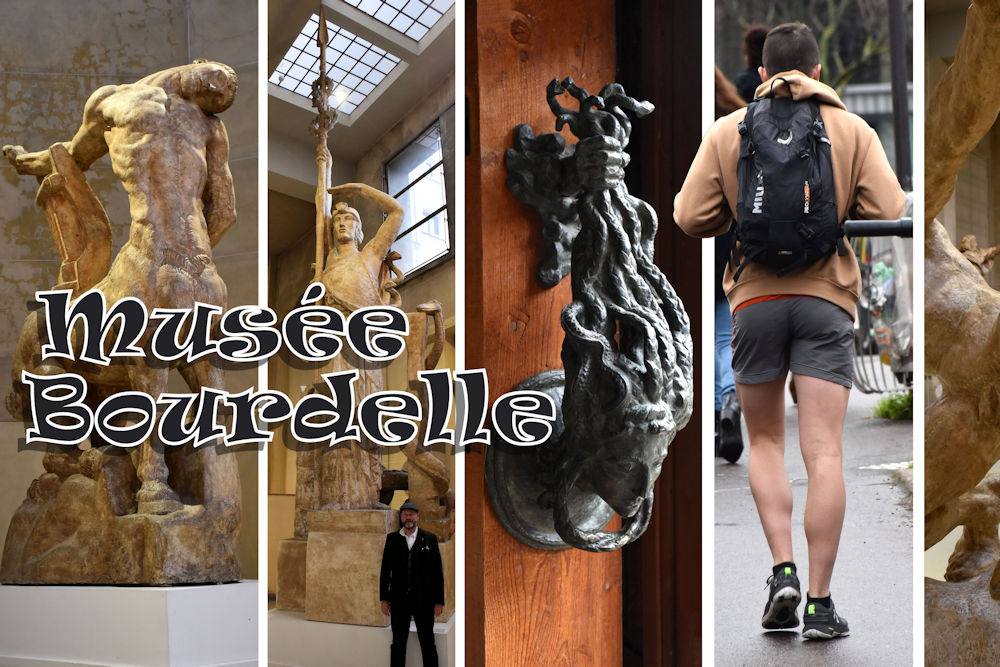 The Musée Bourdelle was an unexpected find, with giant sculptures, including a recognisable Hercules. There were very few people there and the artwork was superb.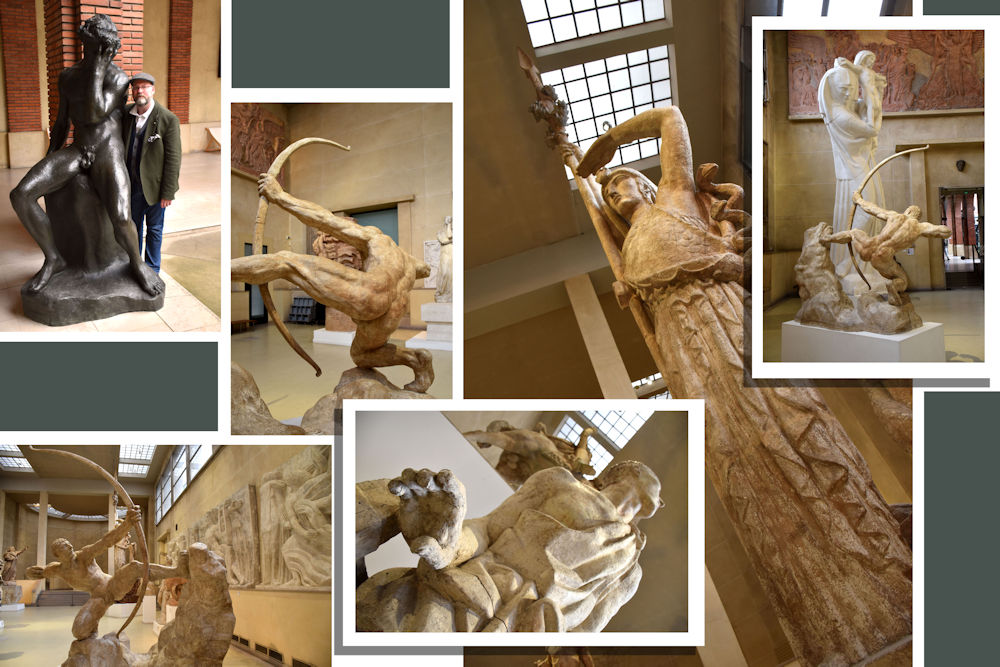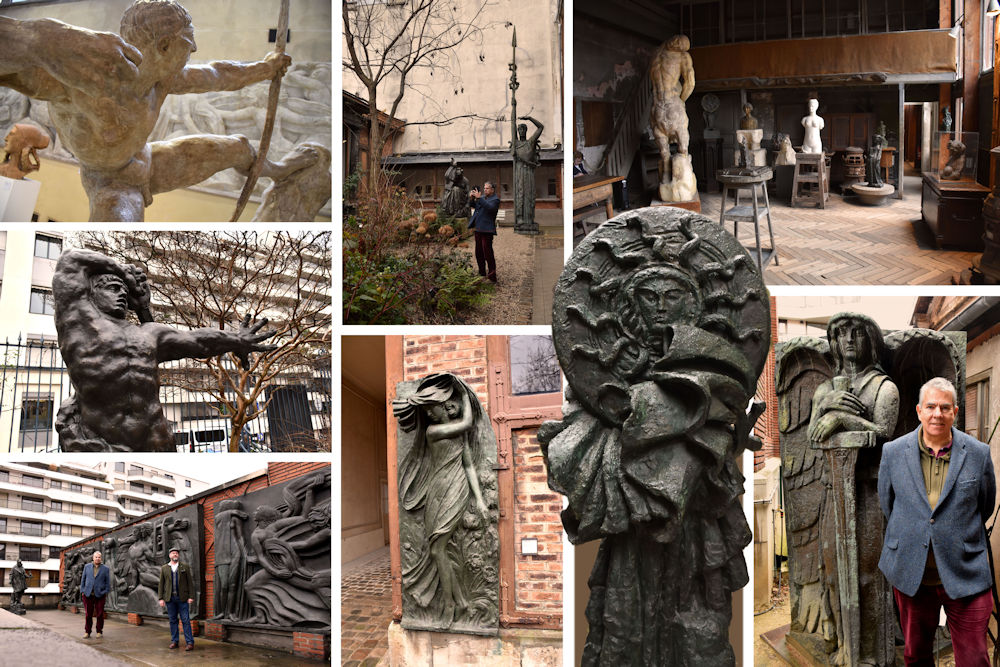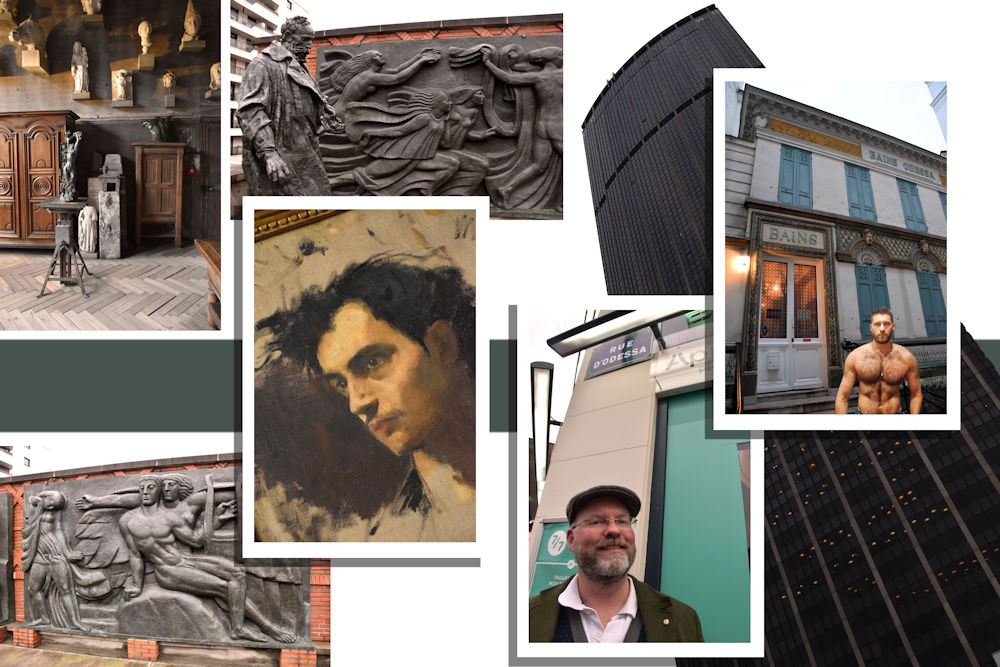 Les Bains d'Odessa in Montparnasse didn't quite live up to its promise, but I did have the luxurious back massage I'd literally been aching for.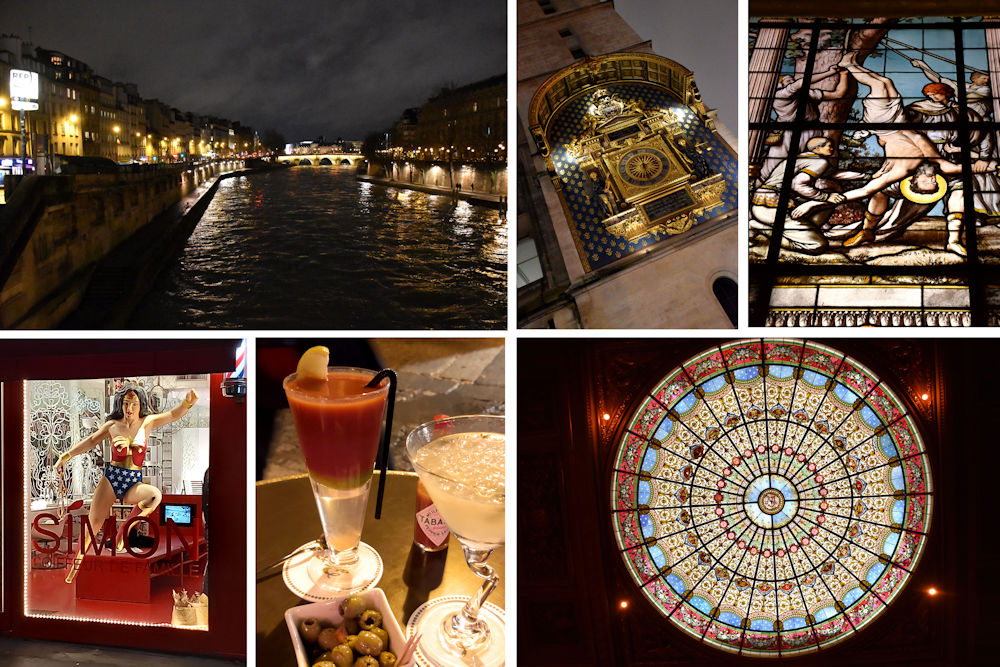 We crossed the Seine into the Marais on our way home, stopping for a layered Bloody Mary on the way. The next day, we discovered L'égliseSaint-Philippe-du-Roule when looking for Invaders on the Rue de Courcelles.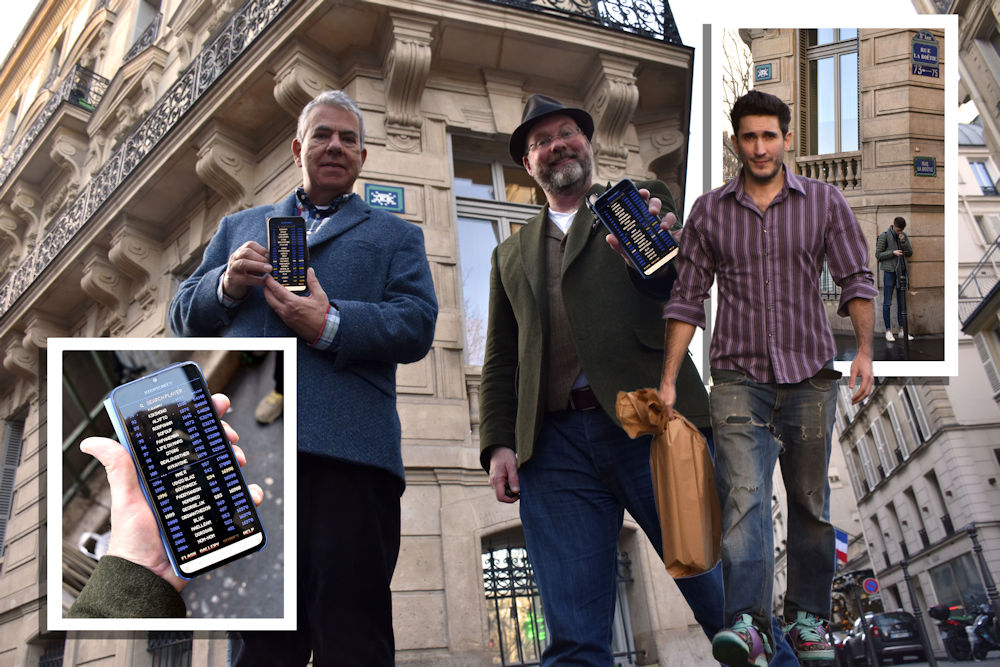 This Invader pushed us into the top 2000 scores, bettering Popy. And what a cute restaurant manager we spotted buying bread.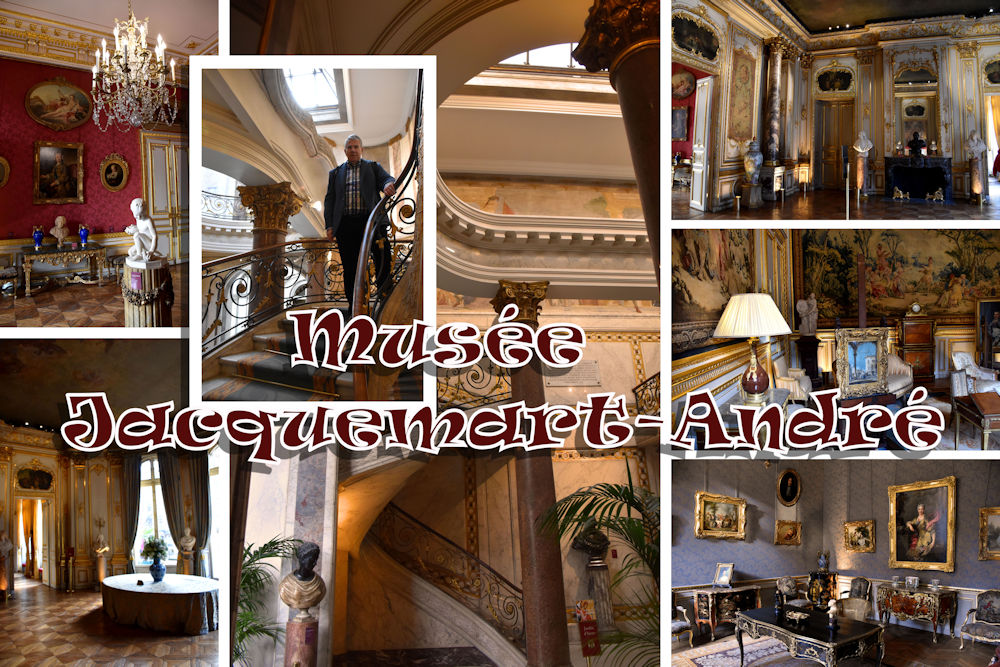 The Musée Jacquemart-André was another unexpected find and the exposition of Italian Renaissance paintings was magnificent.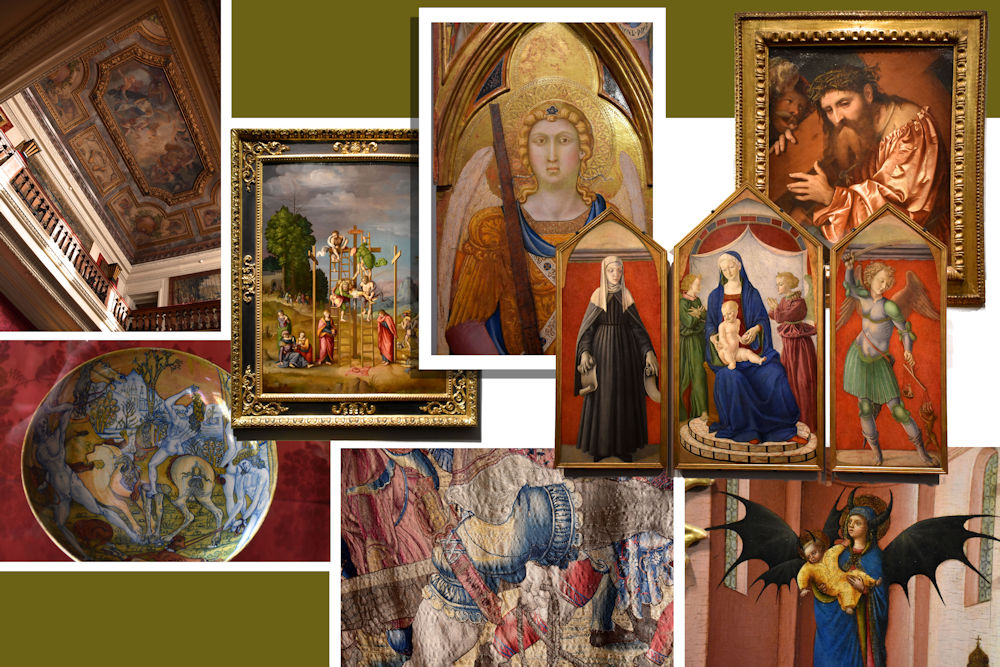 I liked the evil Maleficent angel..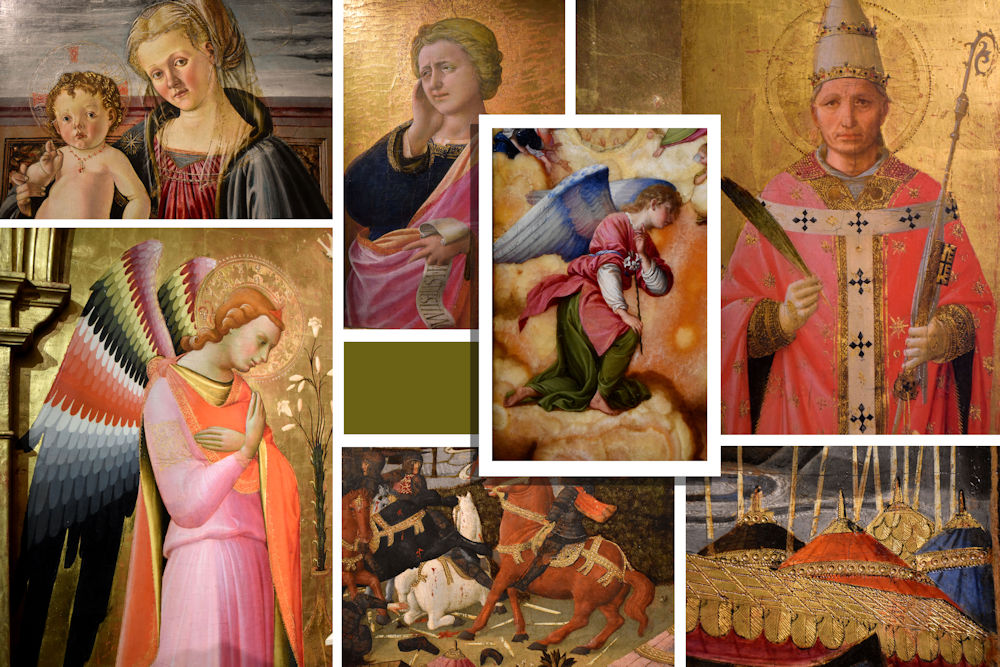 Top right is a Fra Angelico painting. Top left looks like Angela Lansbury to me.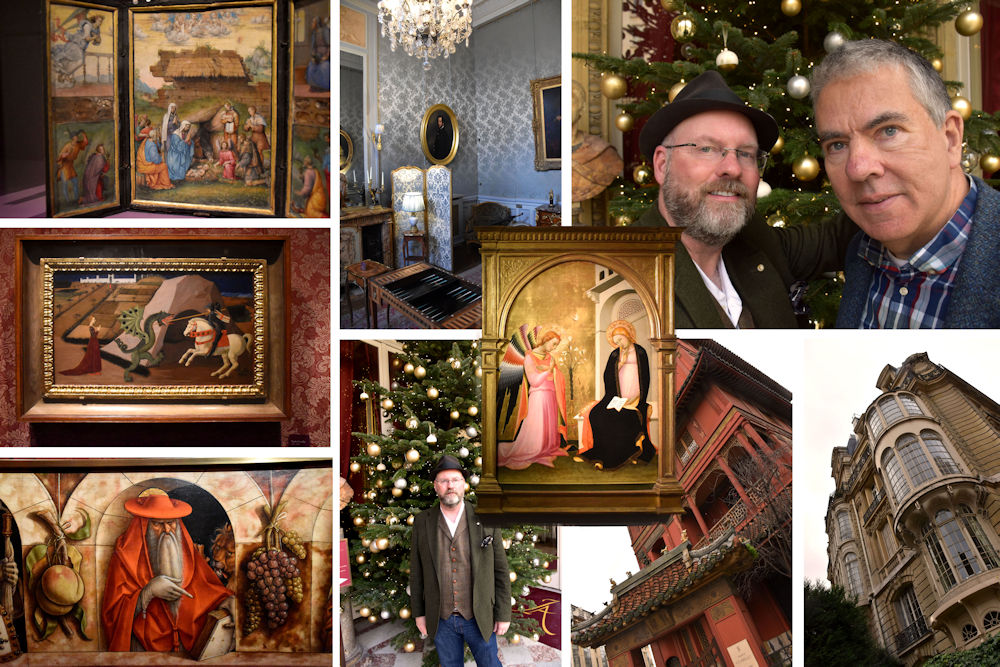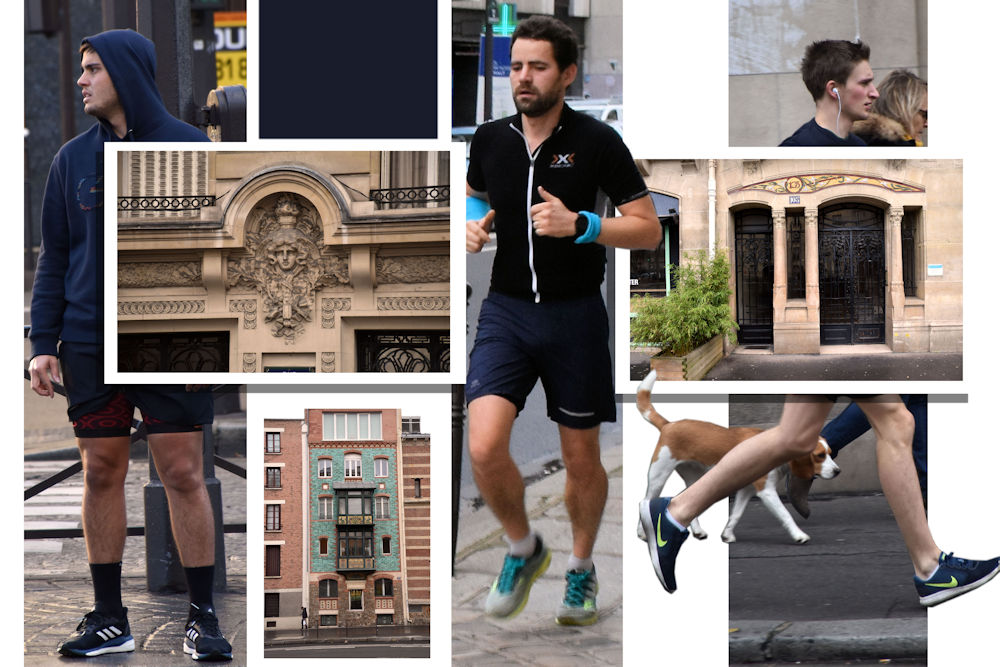 Parisian legs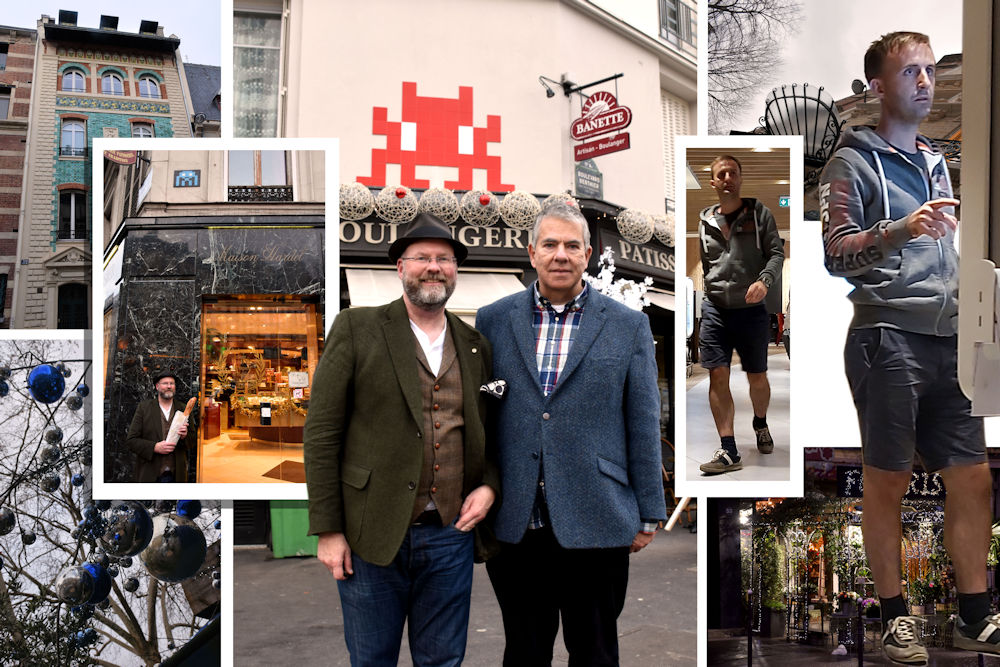 On our final day, we discovered a bakery that won Best Baguette in Paris. There was a Cute Dad at the airport McDonald's.