Summer 2018 is a scorcher and we are looking forward to our planned holidays and excursions in the next couple of months. Click HERE for photos from 2017 (Paris and London), HERE for 2016 (festival and chaps), HERE for 2015 (reunion and wedding), and HERE for 2014 (meeting the stars).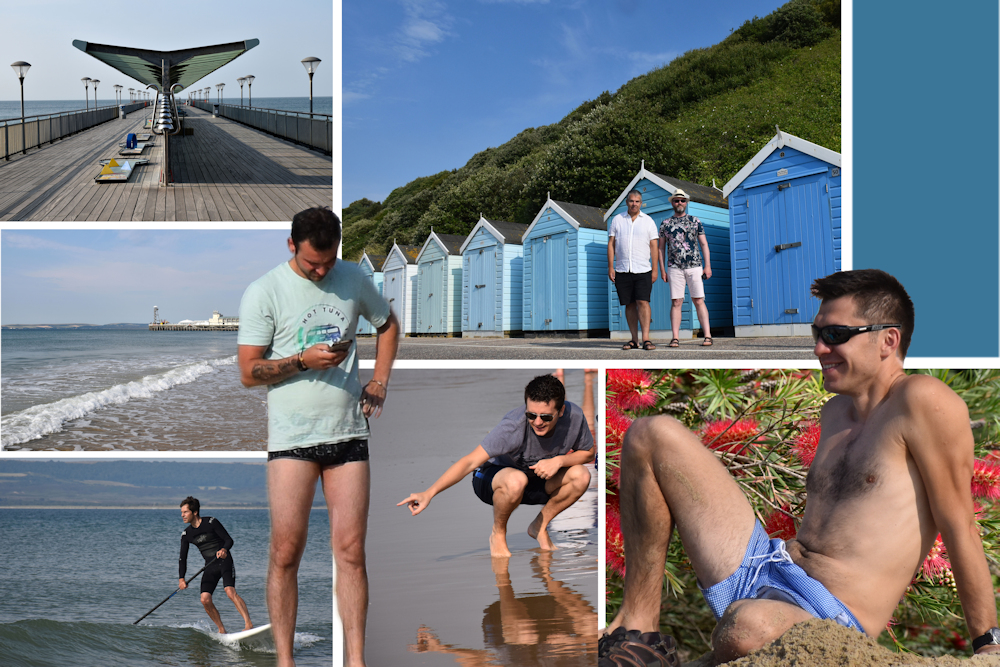 We go to our local beach quite often, arriving around 8.00 a.m. and leaving before things get too crowded. These are some recent photos.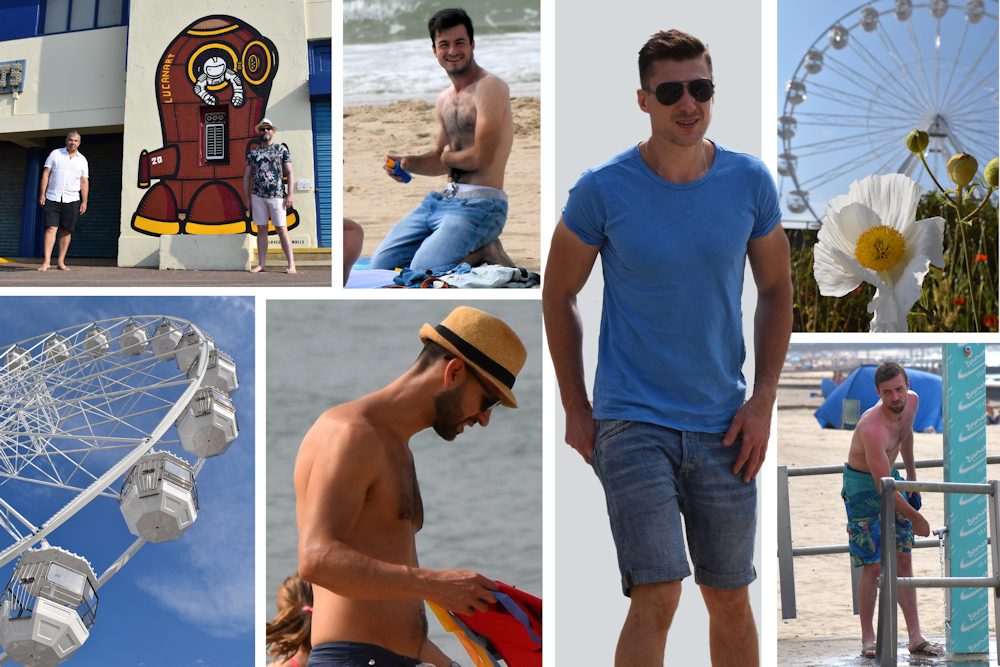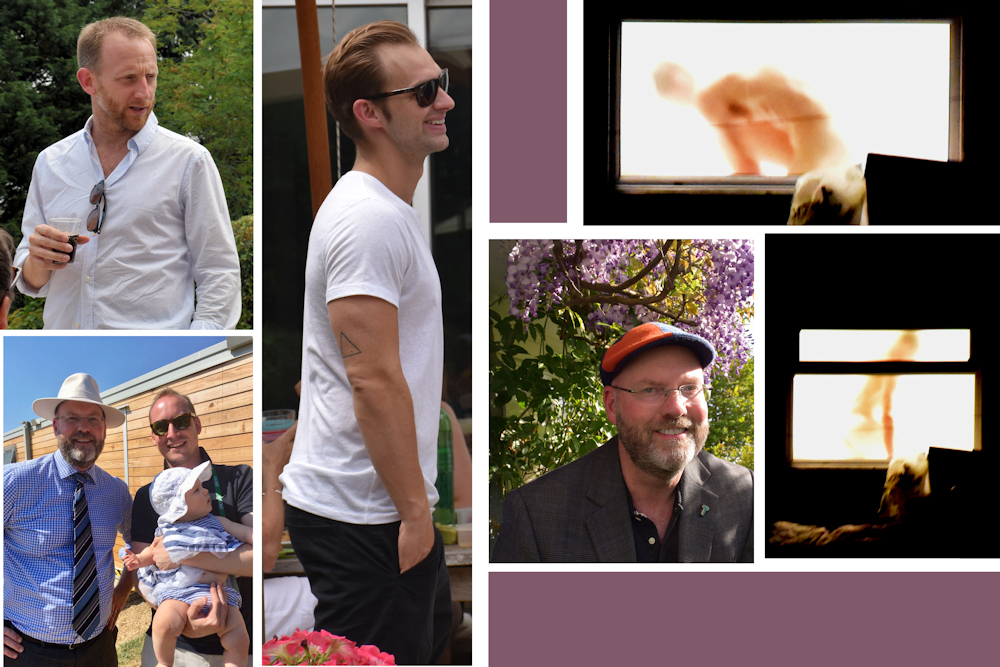 Friends, acquaintances , and neighbours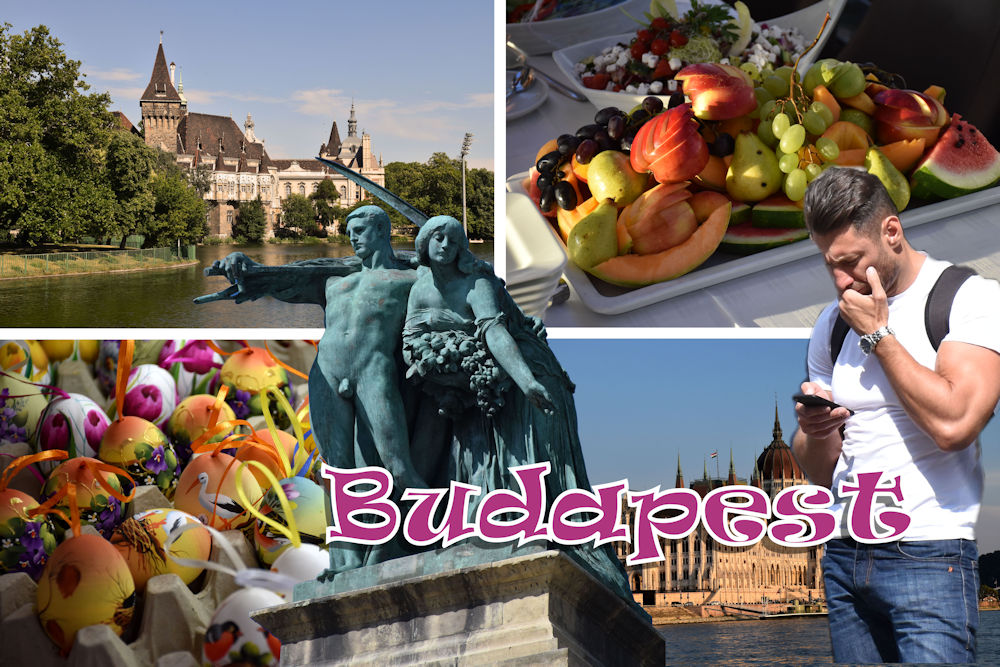 After an inspirational inspection tour in 2014, I finally got to bring a school group to Budapest this summer. The weather was glorious and we all had a wonderful time. Click HERE to see our anniversary visit to Budapest in 2015.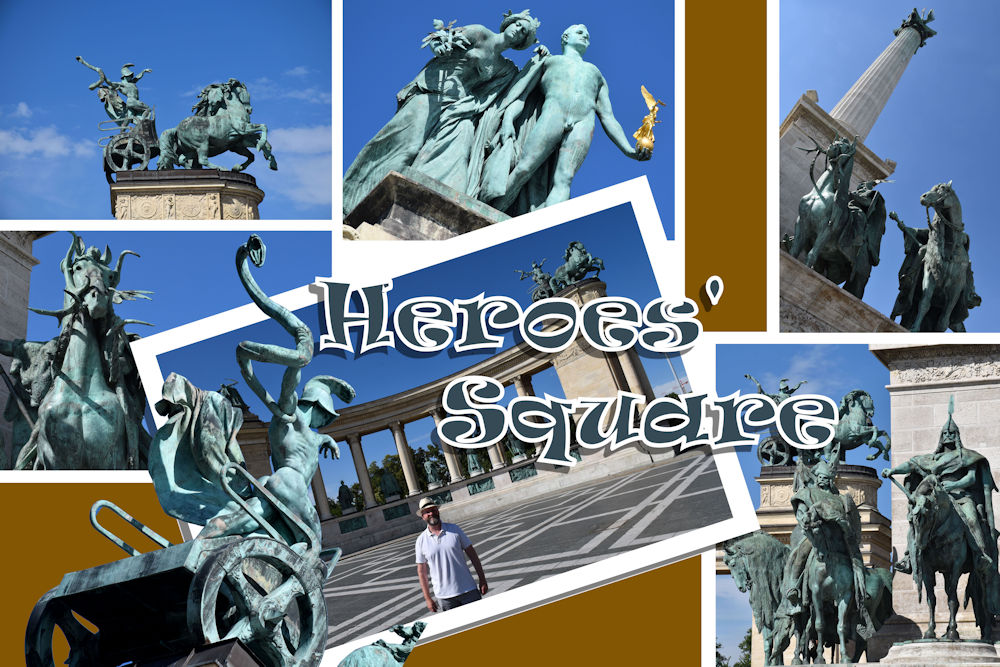 As soon as we arrived, we visited Heroes' Square and Vajdahunyad Castle.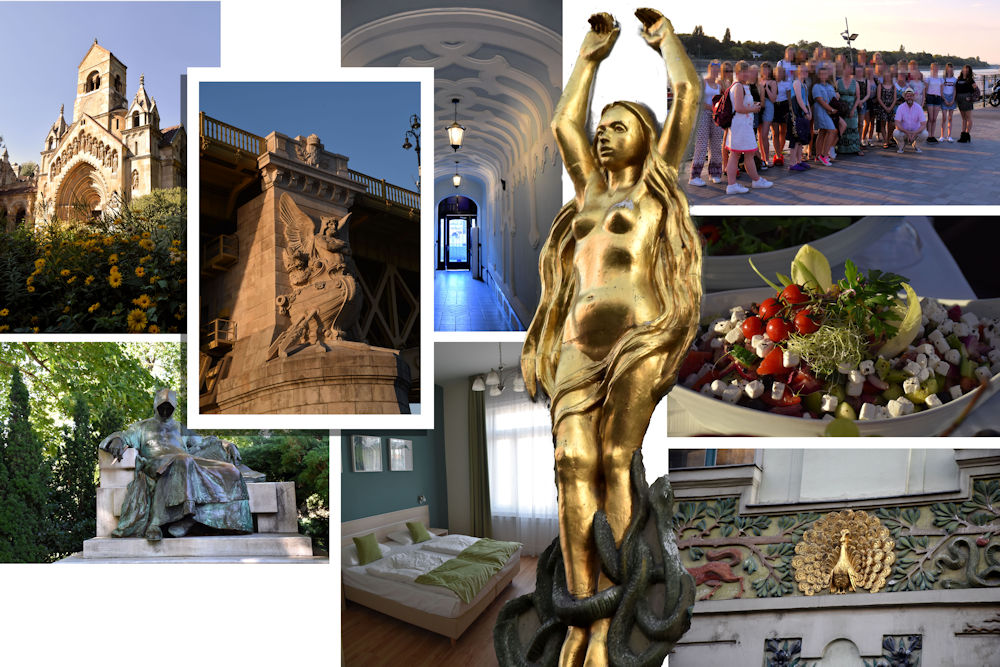 Above: Vajdahunyad Castle, our hotel, Art Nouveau seen from the tram, and our riverboat cruise.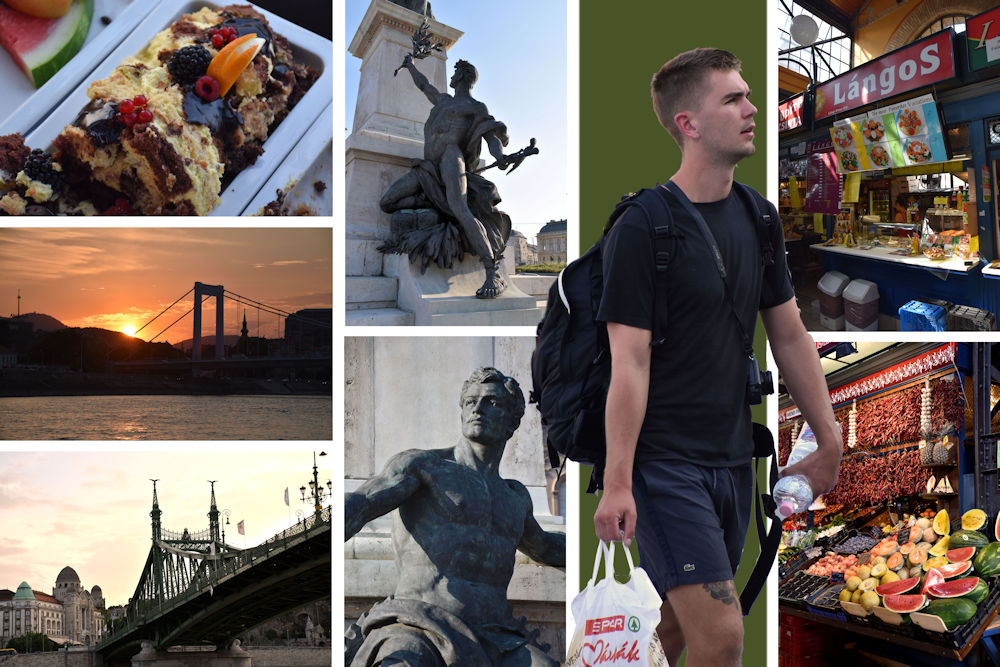 Somlói galuska was a trifle-like dessert that I immediately made at home. Also shown are Baross tér, Central Market, and Liberty and Elisabeth bridges.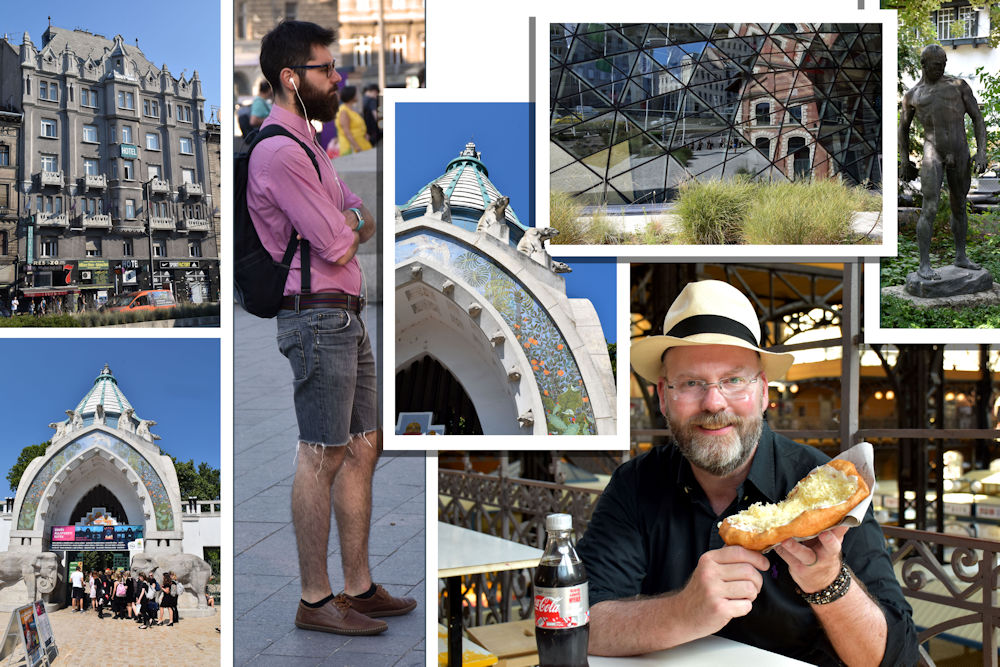 Our group reflected in the Bálna (Whale) building, eating Lángos at the Central Market, and performing our first concert at the Budapest zoo.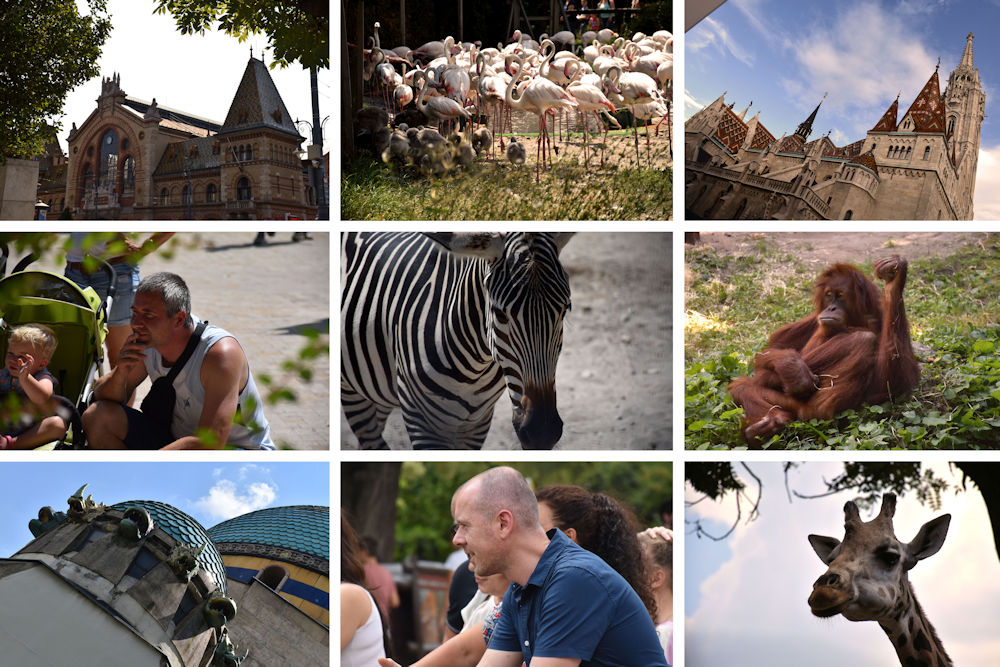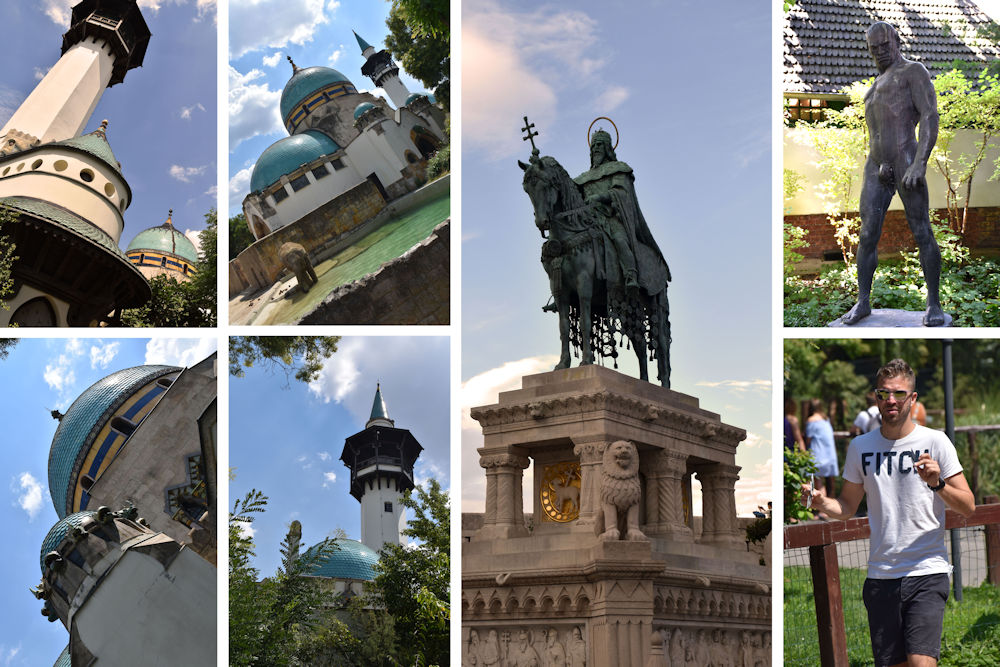 I loved the Art Nouveau elephant house. Also shown is St Stephen statue.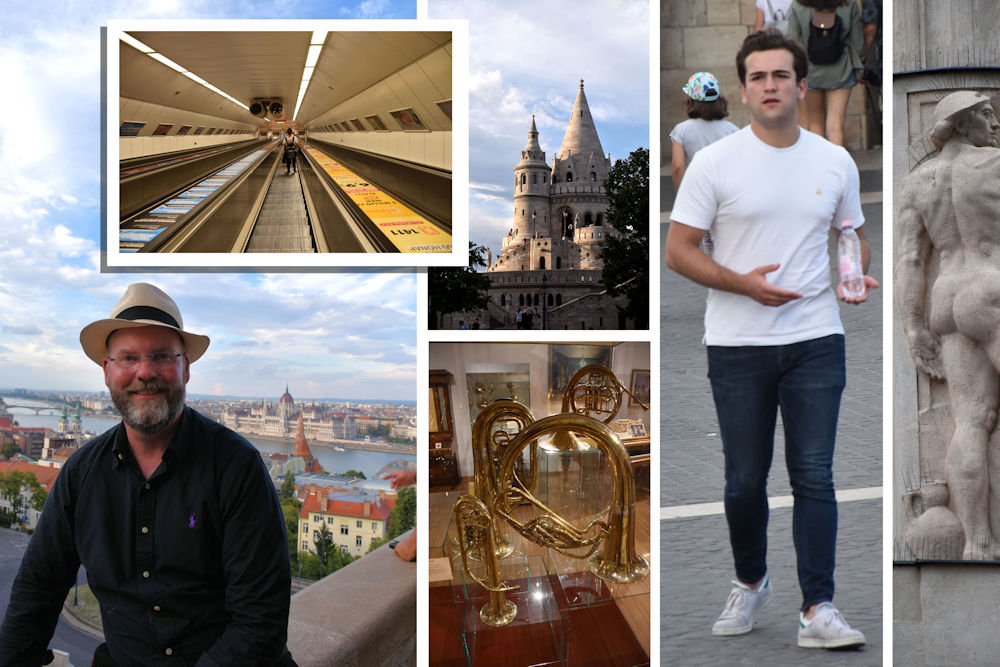 The futuristic metro, Fisherman's Bastion, and horns in the Insititute of Musicology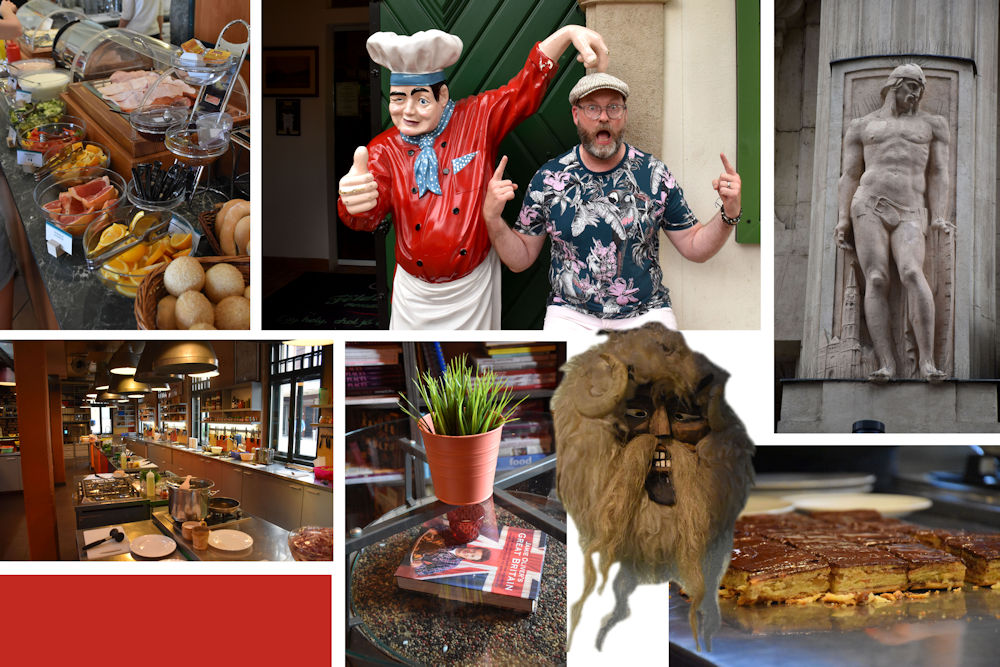 As we did in 2014 and 2015, my group took a cooking class at Chef Parade and learned how to make Gerbeaud cake, among other local treats.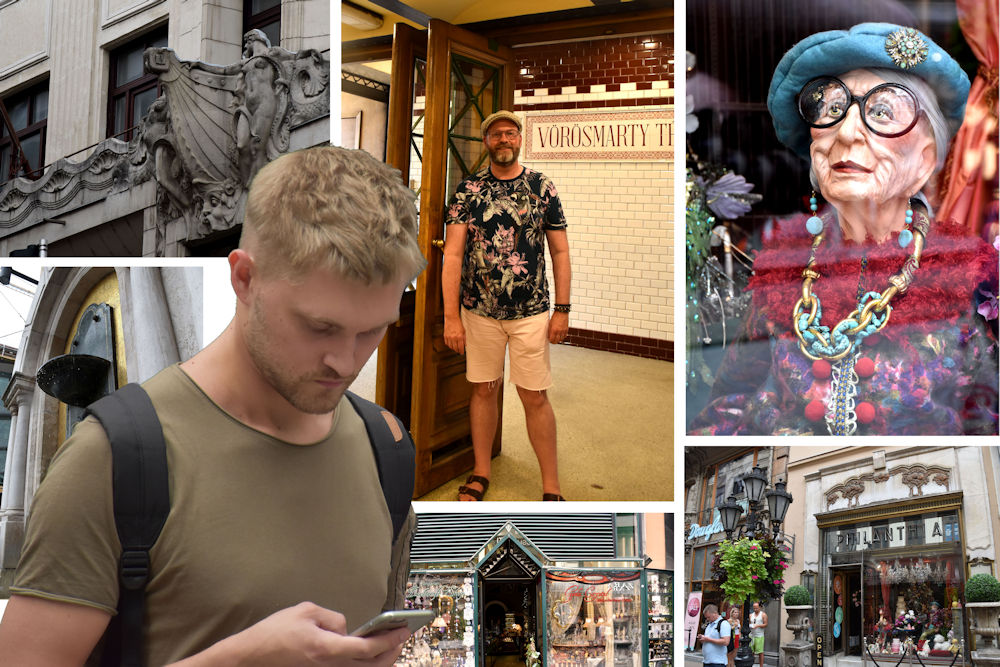 Art Nouveau, Vörösmarty tér metro station, Iris Apfel, and the shop where I bought my Christmas ornaments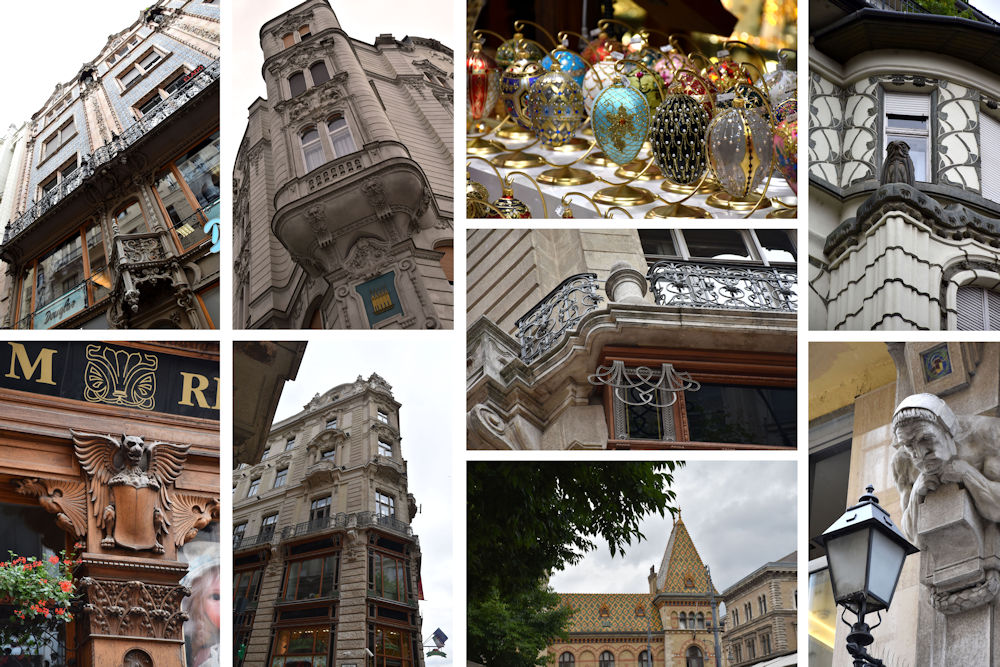 Lots of Art Nouveau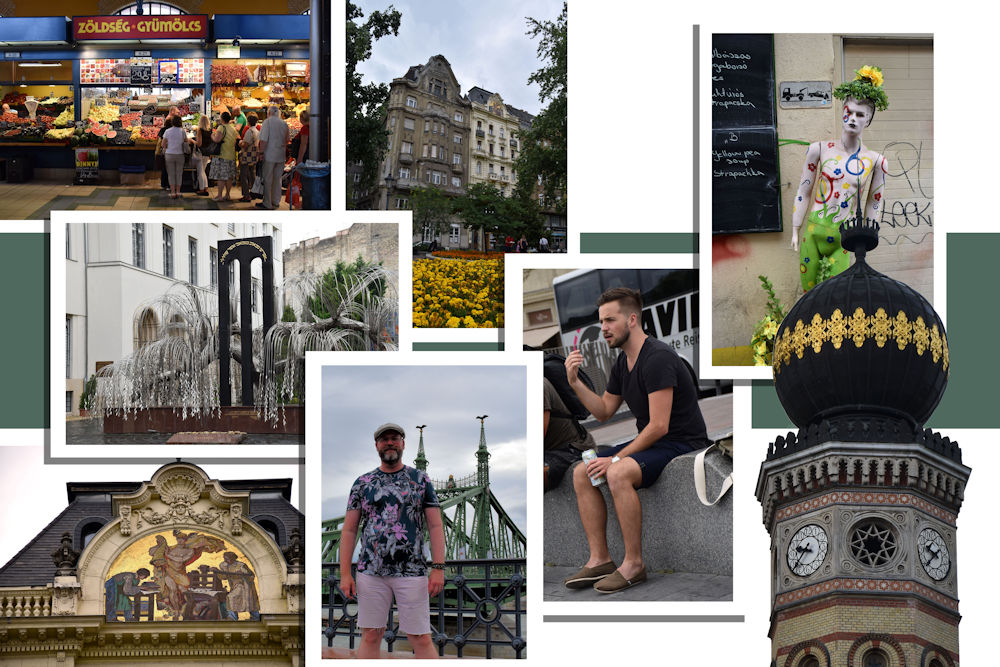 The only shop with a queue at the market, the Jewish quarter (memorial tree donated by Tony Curtis), and me at Liberty Bridge.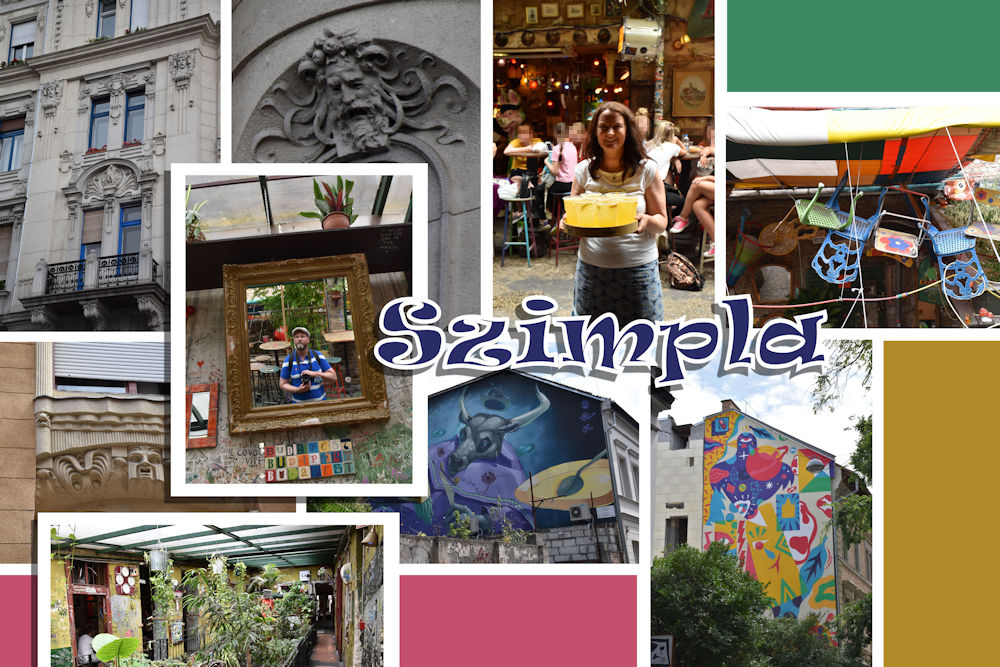 What a joy to share Szimpla bar with my students!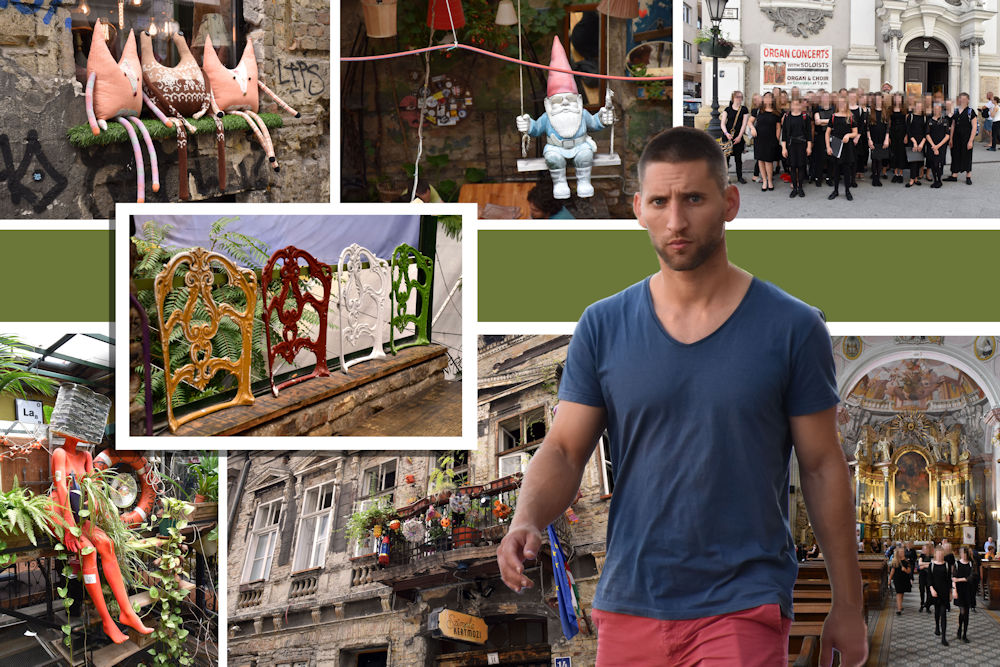 Szimpla bar and our concert at St Michael's church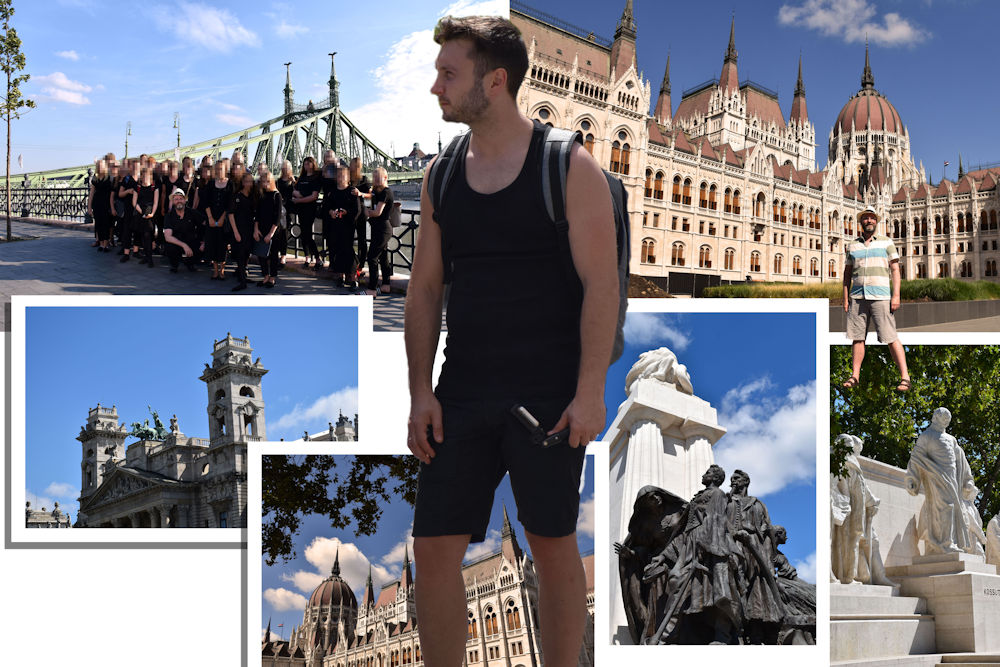 After our successful concert and the final day at Parliament and Kossuth Square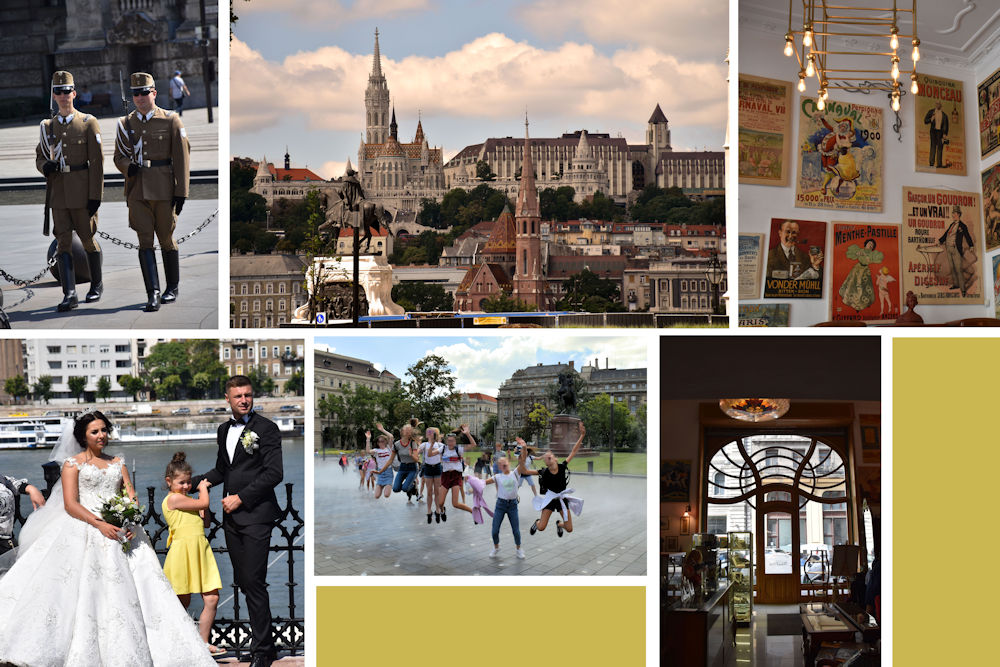 A wedding party at Kossuth Square, celebrating in the fountain, and the Art Nouveau Café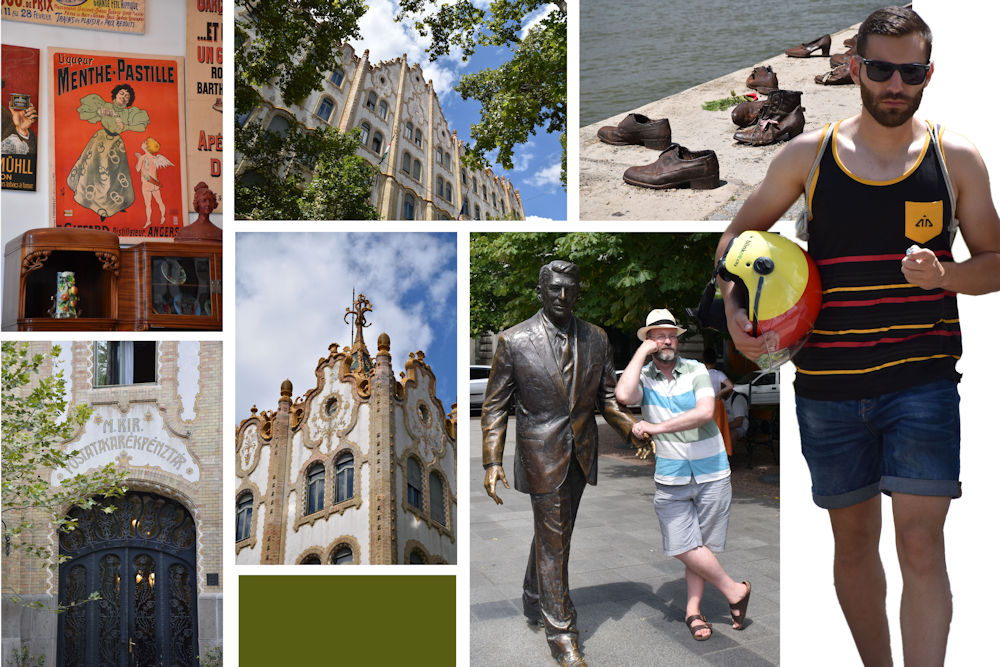 The Art Nouveau Café and postal savings bank, the Shoes Along the Danube, and Ronald Reagan statue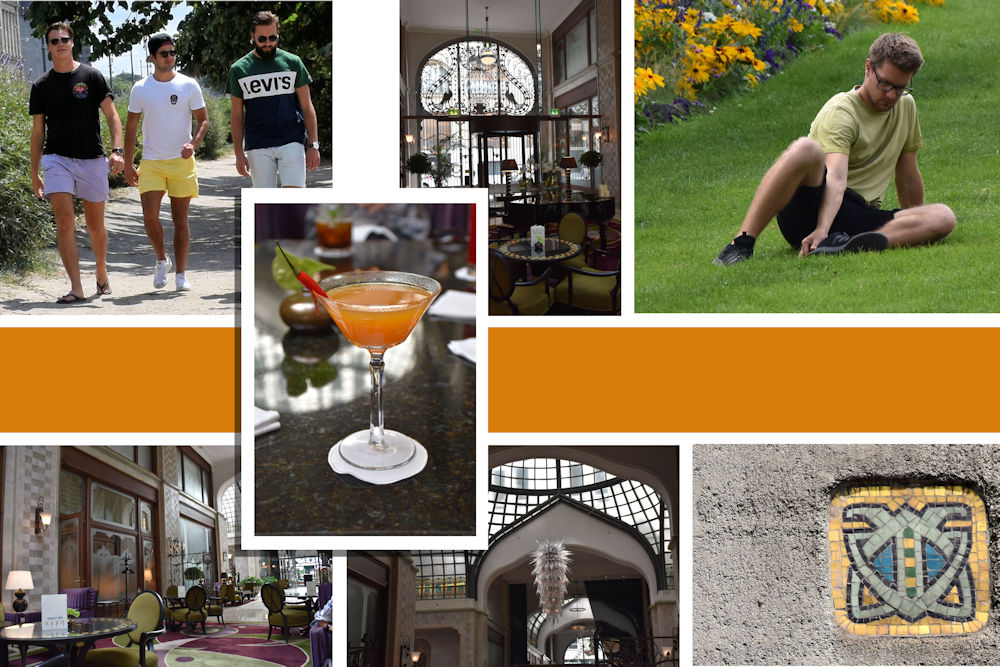 I made a pilgrimage back to the Gresham Palace for an apricot and chilli martini.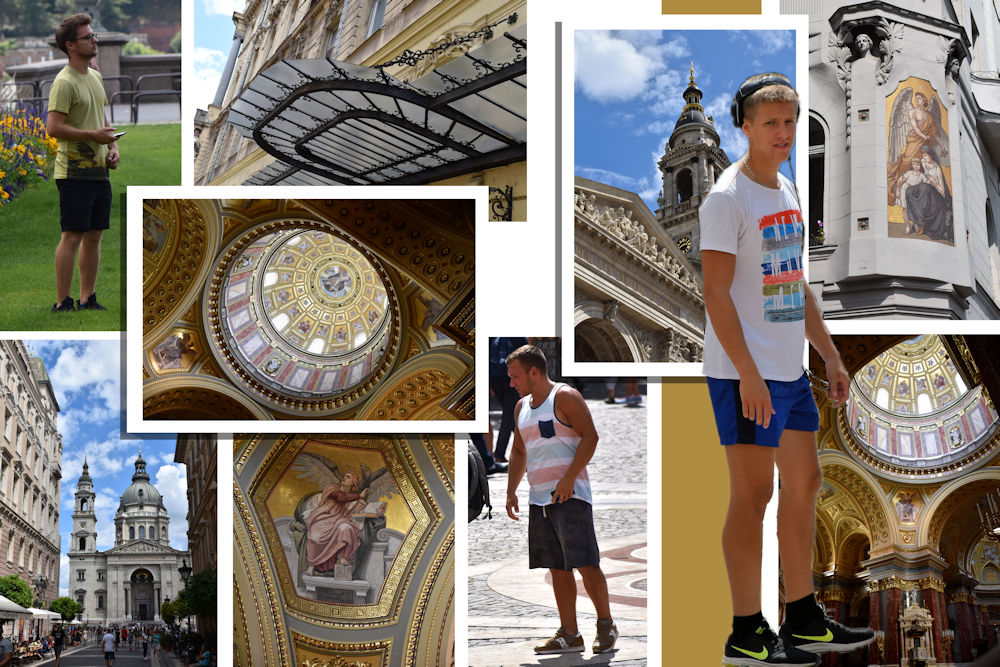 St Stephen's Basilica, among other sights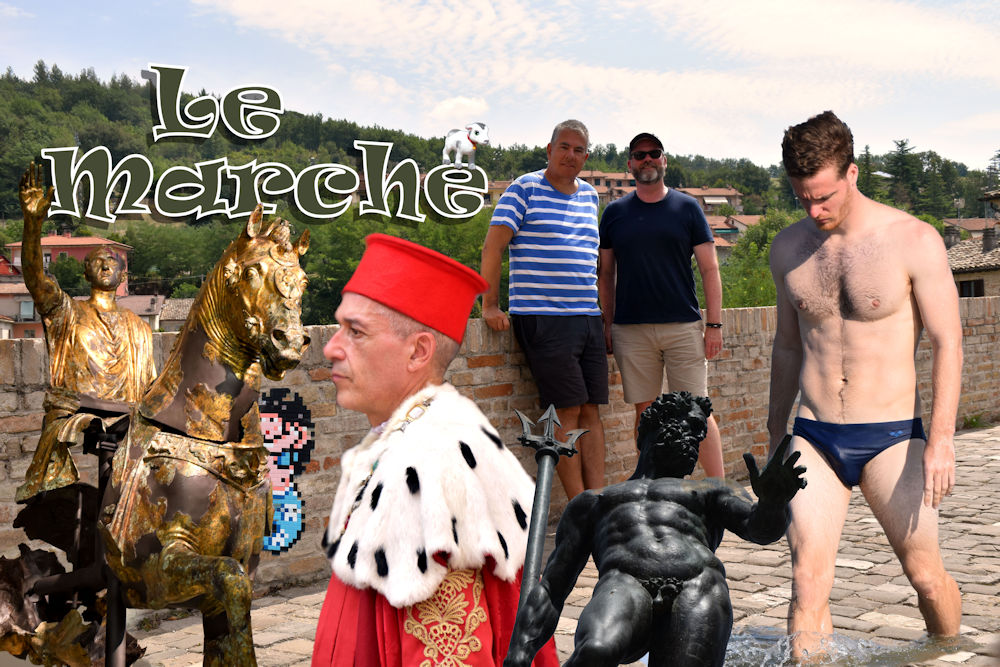 Inspired by friends who live in Urbino, and by Andrew Graham-Dixon and Giorgio Locatelli's Italy Unpacked, we spent our summer holiday discovering Le Marche. There was so much to see and do, it's amazing that no one back home seems to have heard of it. Click HERE to see our trip to Sicily in May, HERE for last year's trip to Aburzzo, and HERE for 2014's trip to nearby Umbria.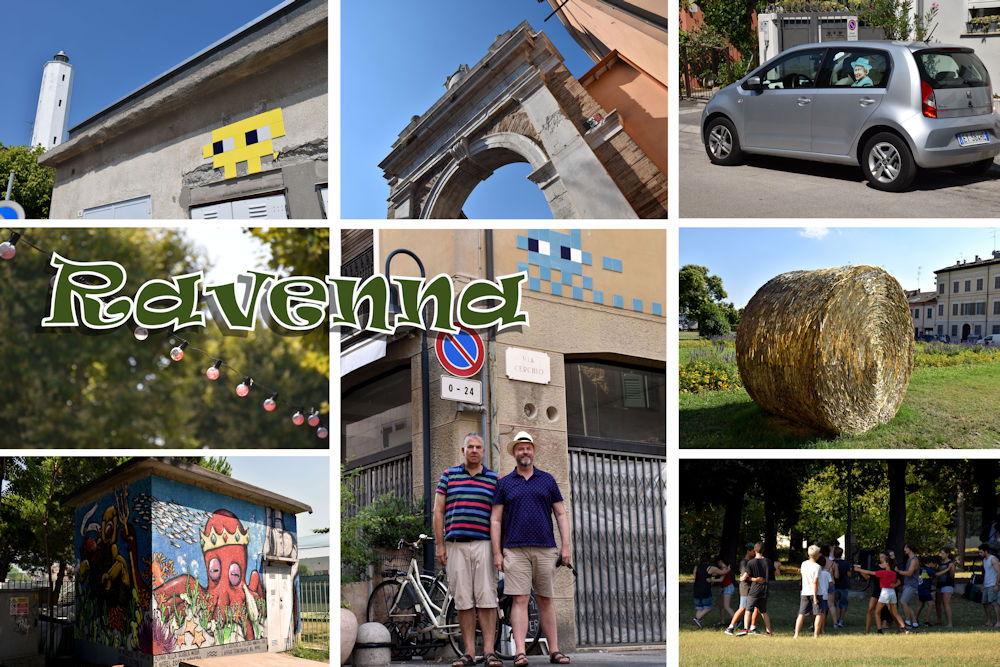 Our first stop was Ravenna, capital of Byzantine mosaics, but also home to our beloved Space Invader street art by Invader. We saw a few last May but lots more this time, thanks to Nick's organisation.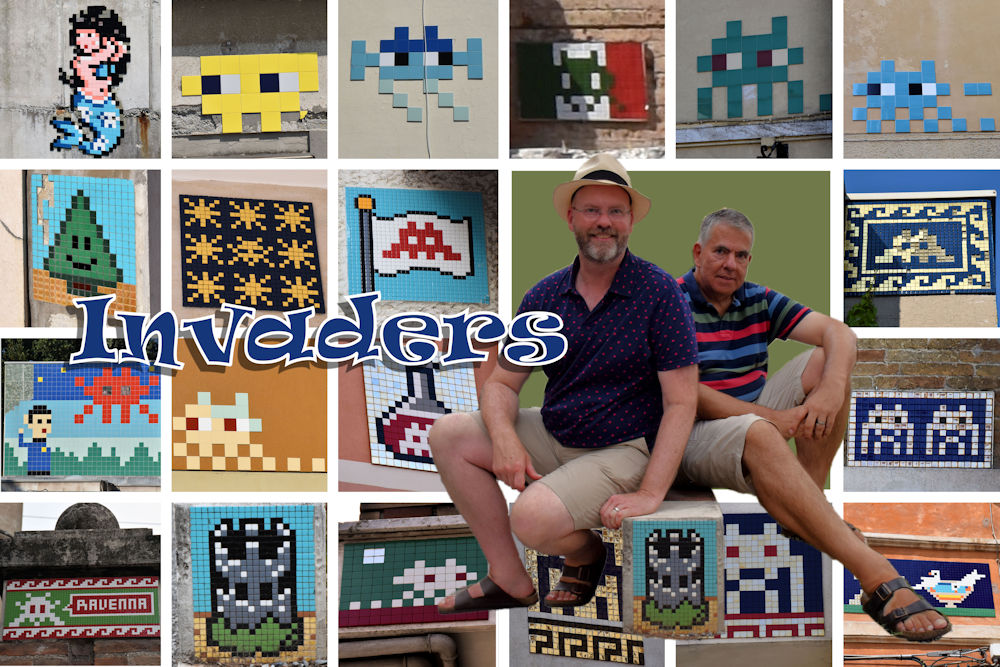 These are all the invaders we found on this trip, most of them new to us. Such fun!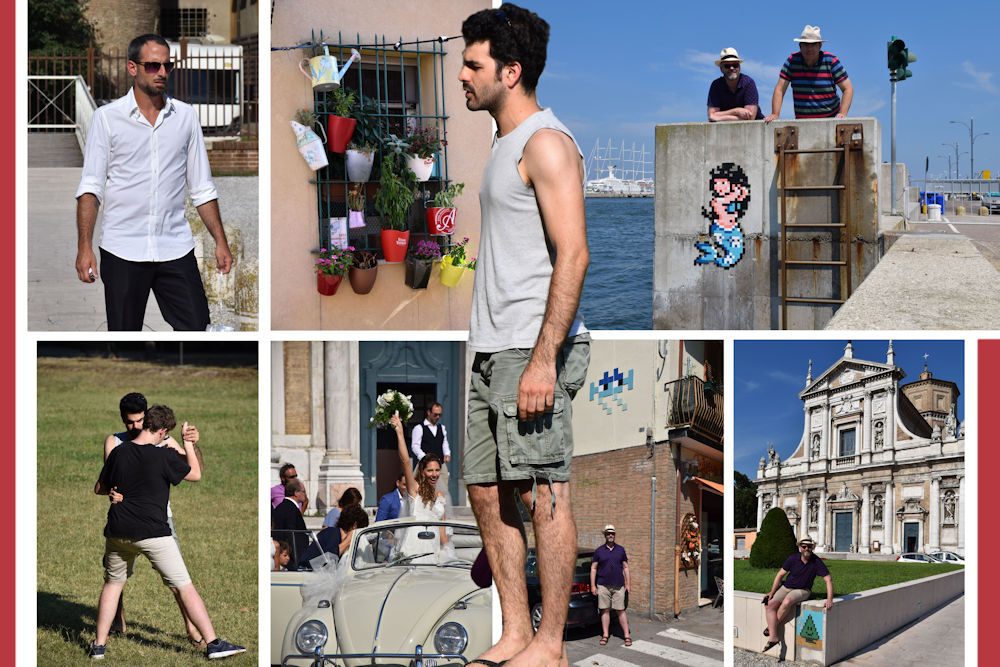 The mermaid was the first, and very exciting, one we saw. We looked all over for the tree mosaic last time and it was right there in front of our noses. There is always a wedding and the bride looks joyous. There was a group of teenagers in the park learning to ballroom dance. led by the man in the grey vest.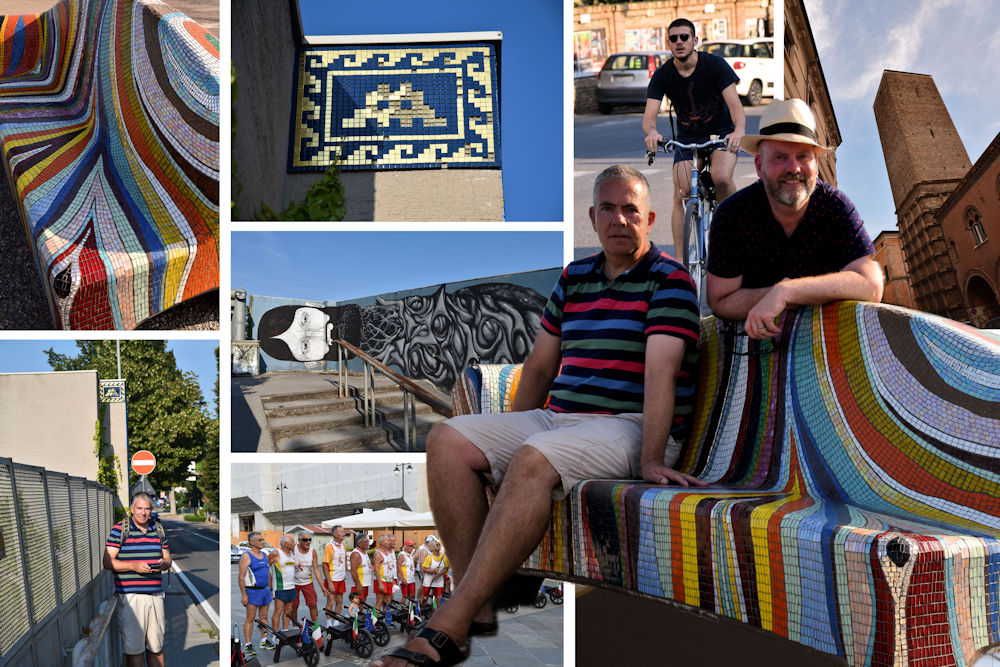 We liked the river-side mosaic bench and hope to be as fit as the wheelbarrow racers when their age.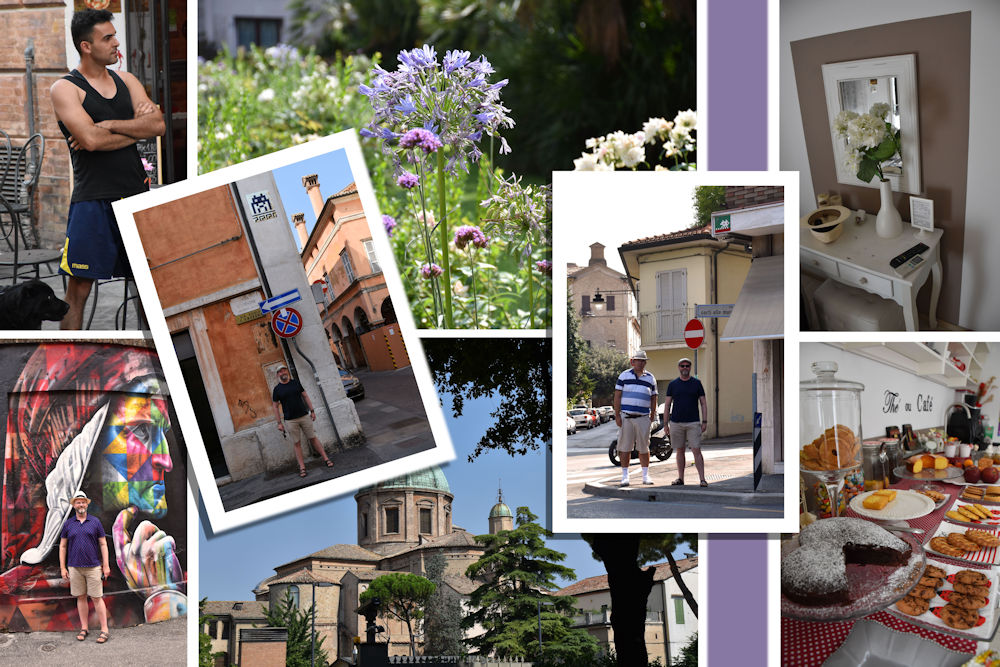 We stayed overnight at Dimora delle Emme, a bed and breakfast with wonderfully modern rooms, air conditioning, and a breakfast buffet of sweet treats.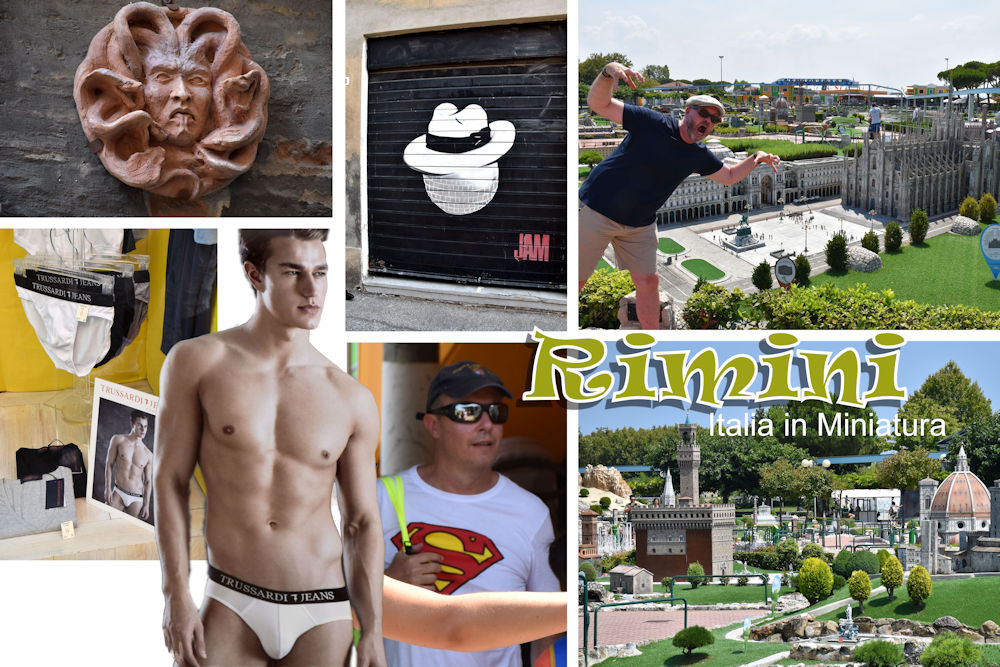 We drove south to Rimini to visit Italia in Miniatura, a wacky geography lesson that lets you play Godzilla in all the Italian towns. The hat street art reminds me of my own panama hat. For more Superman sightings, click HERE.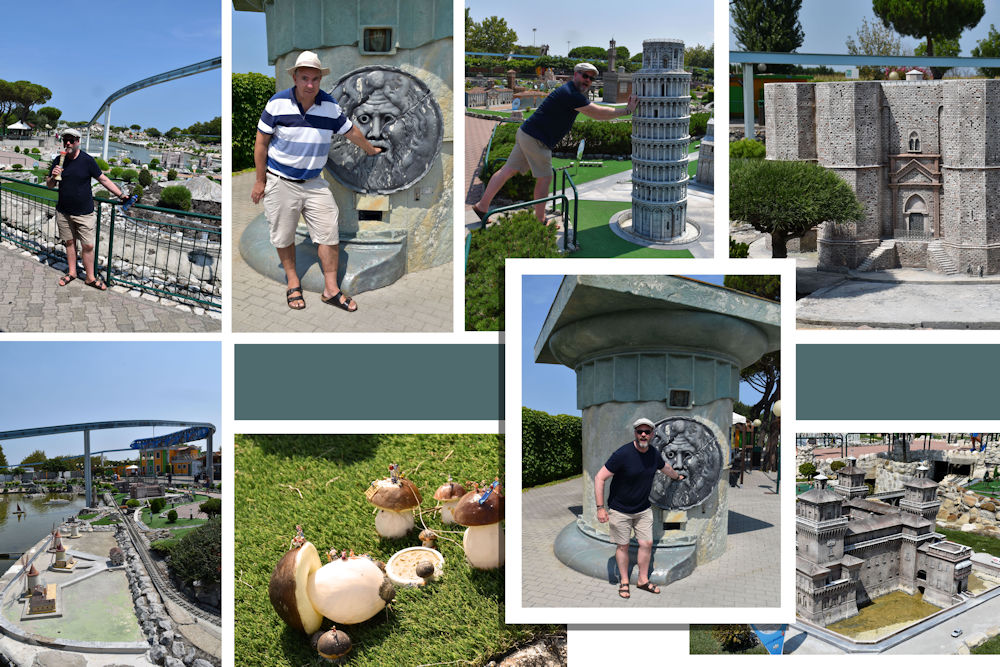 We never miss an opportunity to tempt the Boca della Verita. Click HERE to see the real one in Rome, 2004.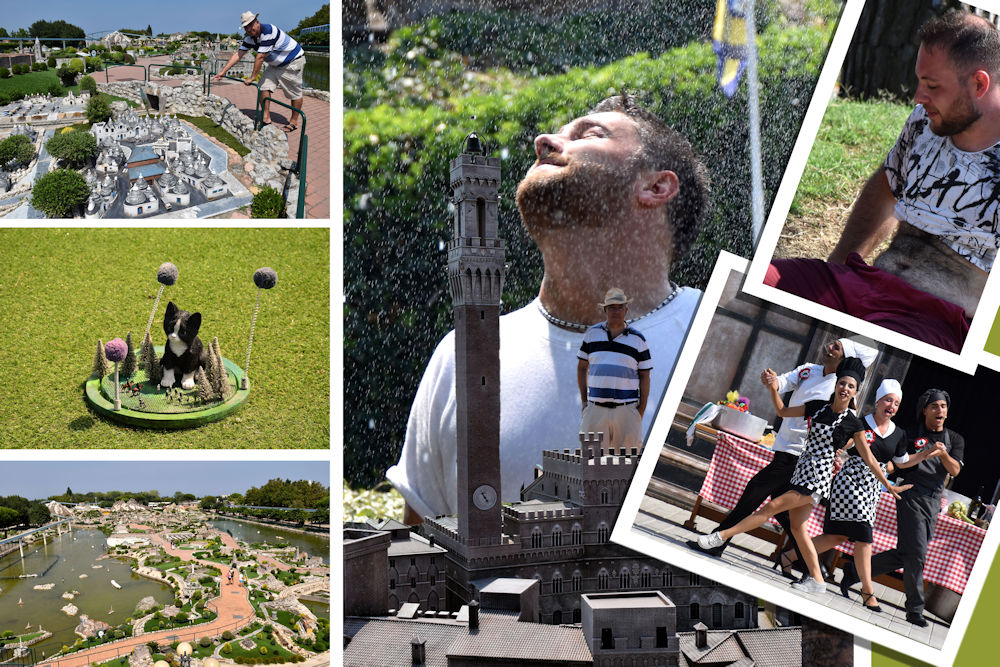 A couple of bear-types cooling off, the singing and dancing variety show, and a Damian Hirst-like kitten.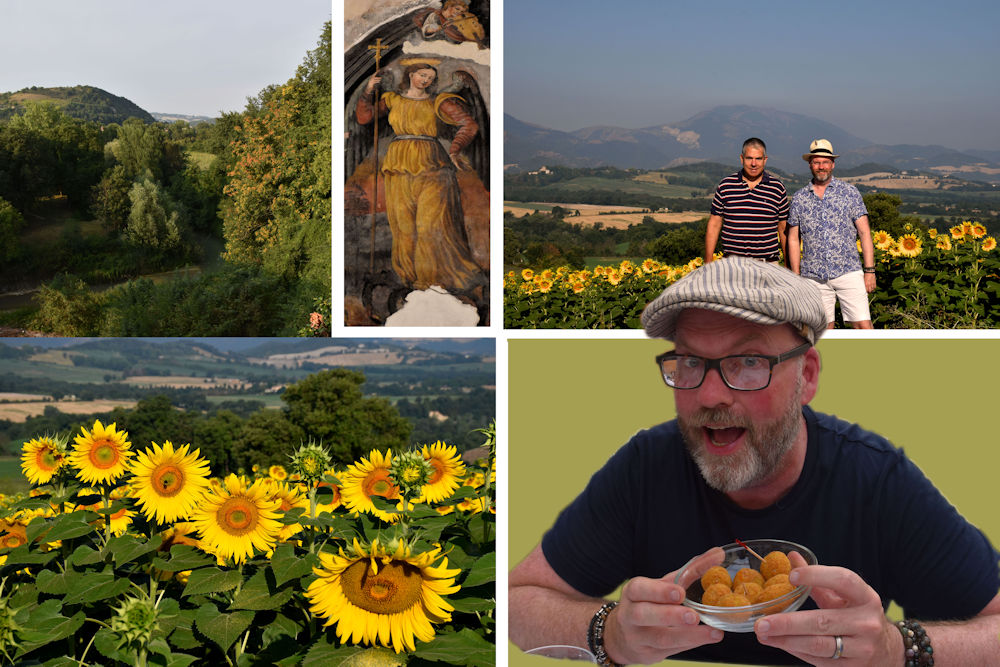 We arrived at our home base near Pergola and found olive ascolane within the first hour of being there.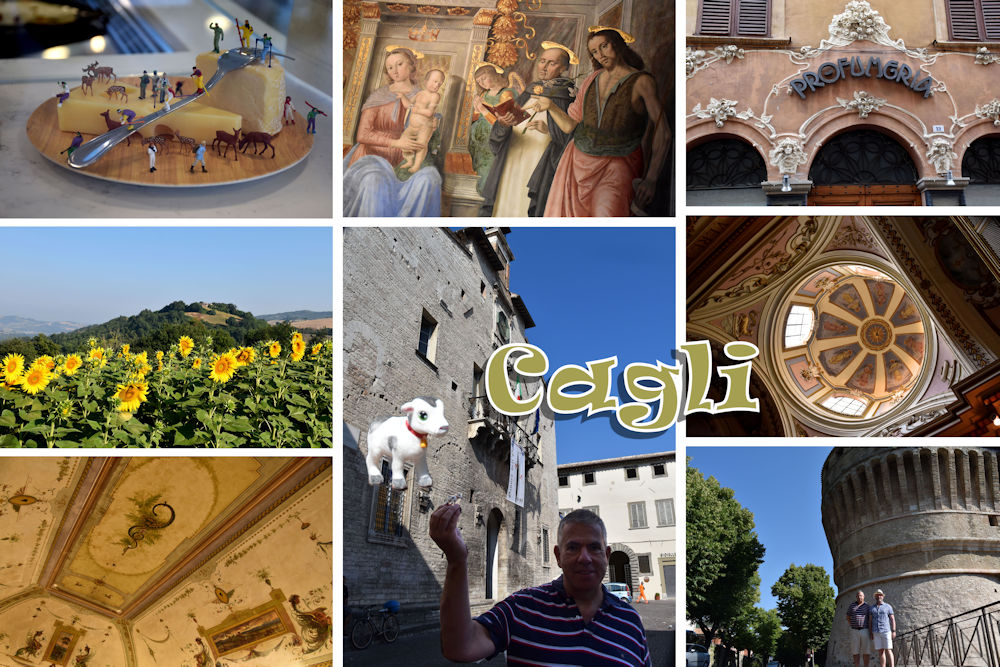 Cagli was a pleasant surprise we discovered driving someplace else. We had coffee in the piazza and Nick bought Tiny Cow to help him with his bingo card.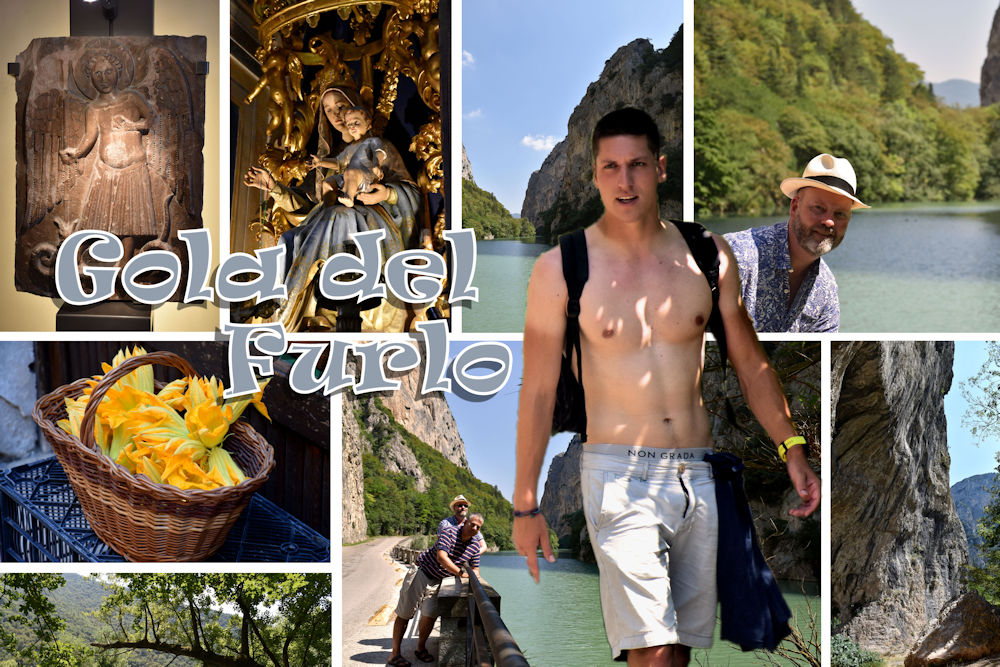 The Furlo Gorge was a beautiful stretch of green river through mountains, and there were a few German tourists there, as well.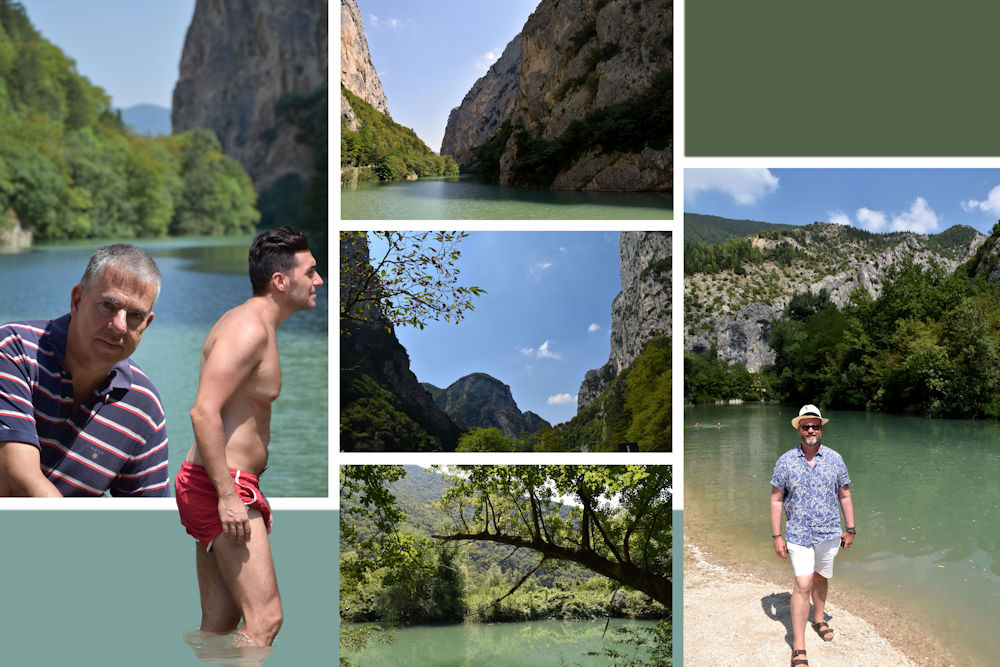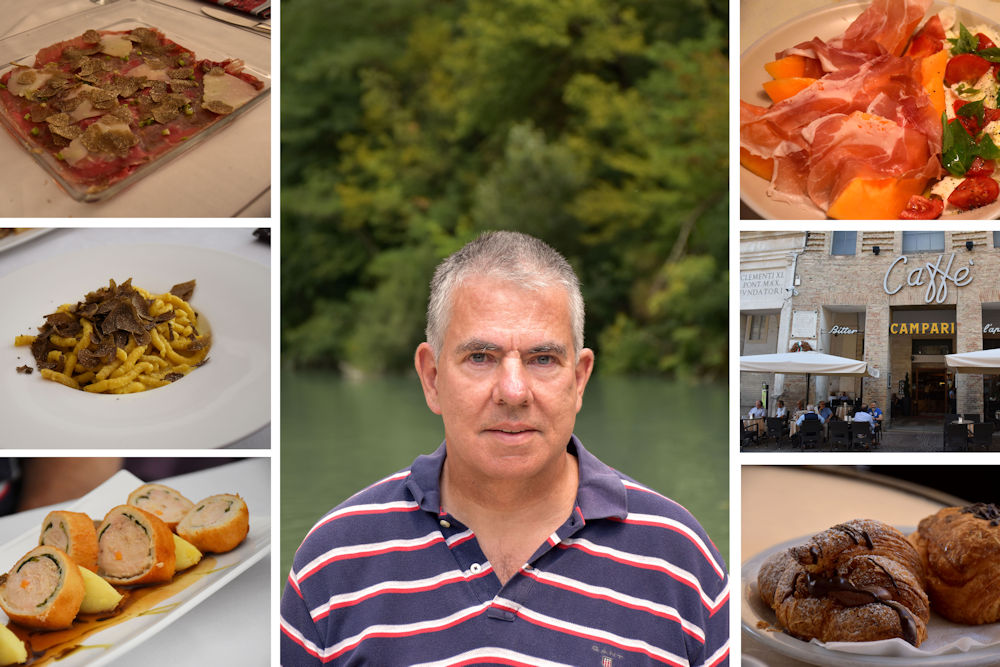 We had a gourmet lunch featuring summer truffles at Antico Furlo. We discovered Lacrima di Morro d'Alba white wine there. Also pictured is a Fred Plotkin café recommendation, Pasticceria Basili, where we tried sacchettini al cioccolato.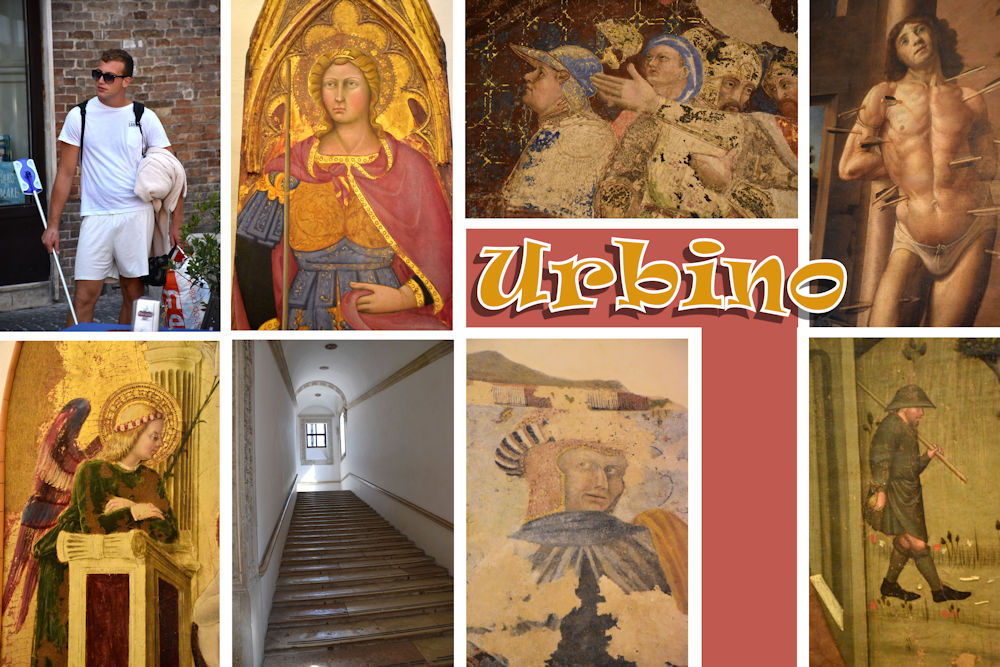 We were excited to visit Urbino to meet up with our friends and to discover the artwork at the Palazzo Ducale.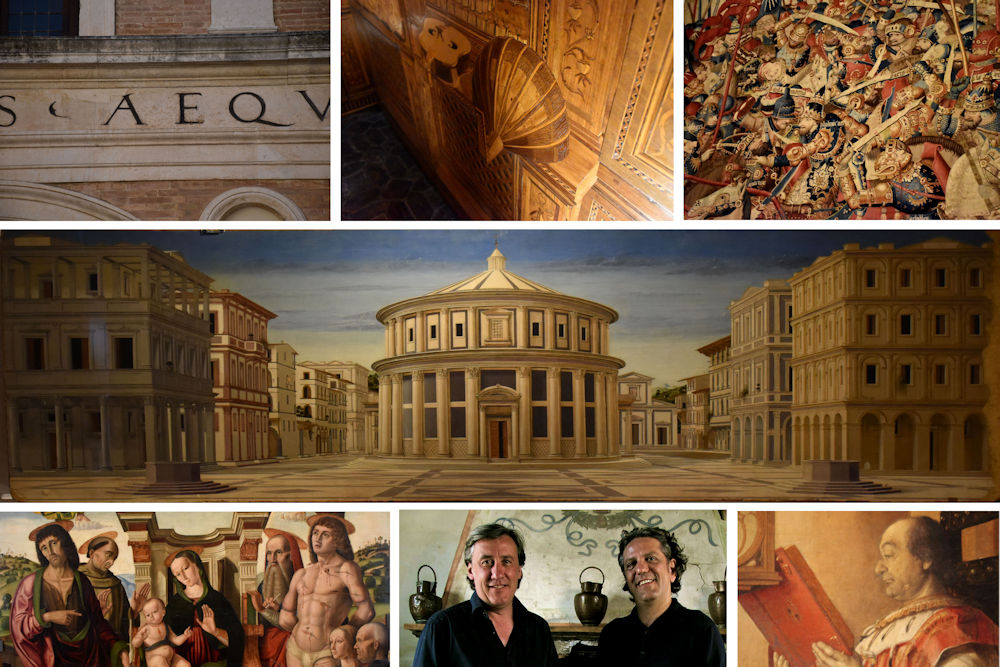 Most of the things pictured above were discussed and explianed on Italy Unpacked. It certainly made them all seem more special having learned about them beforehand.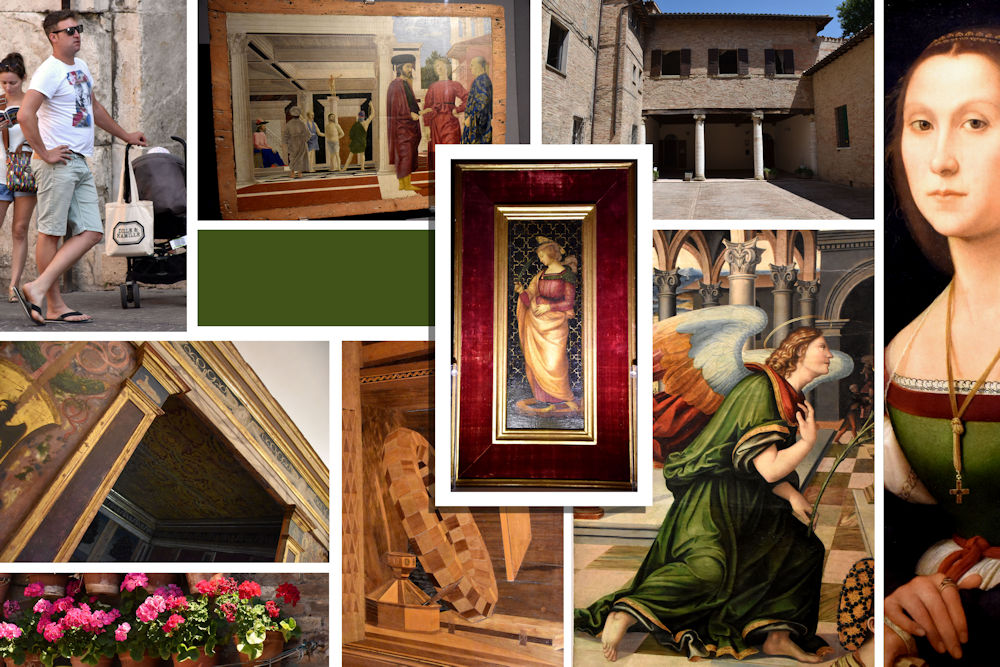 Piero della Francesca's Flagellation of Christ painting is set in the building with columns which is now a school and ceramic studio, from which I bought a gift cup made from local clay. Despite his being born in Urbino, there is only one of Raphael's paintings there: La Muta (shown above, right). We especially loved the wooden inlay in the Duke's study.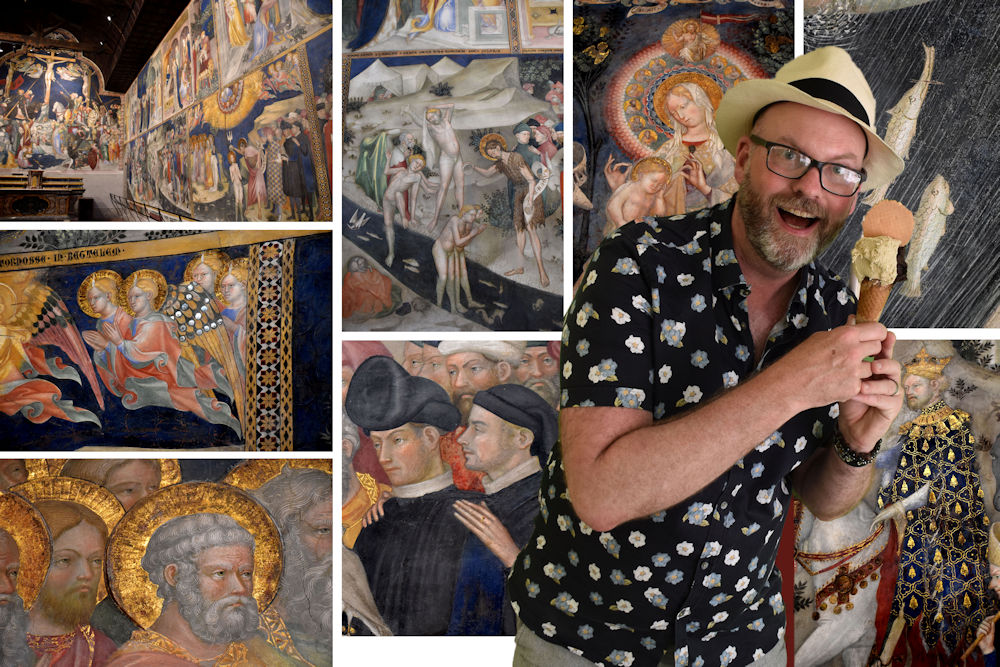 Next stop was the beautifully frescoed Oratorio di San Giovanni Battista, to my eye a bit over-restored. I thought the men in black looked like a couple, and the fish satisfied my bingo requirements for "unusual" fish. Afterwards we had the best gelato of the trip.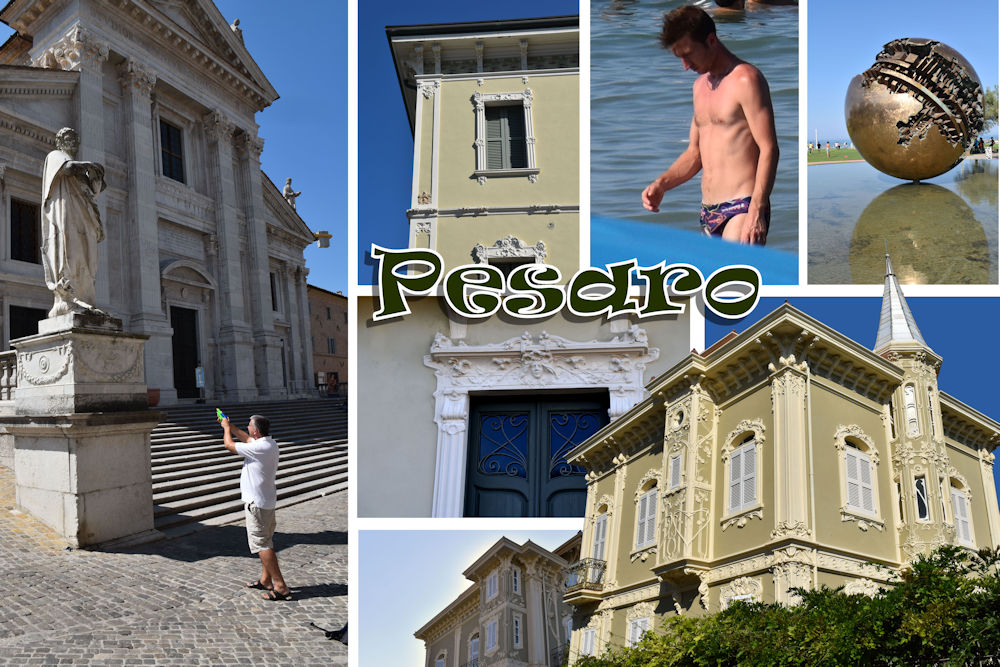 Nick's bingo card had him "Squirt water at a saint". We visited Pesaro to see the beautiful and inspiring Art Nouveau Villa Ruggeri by Giuseppe Brega.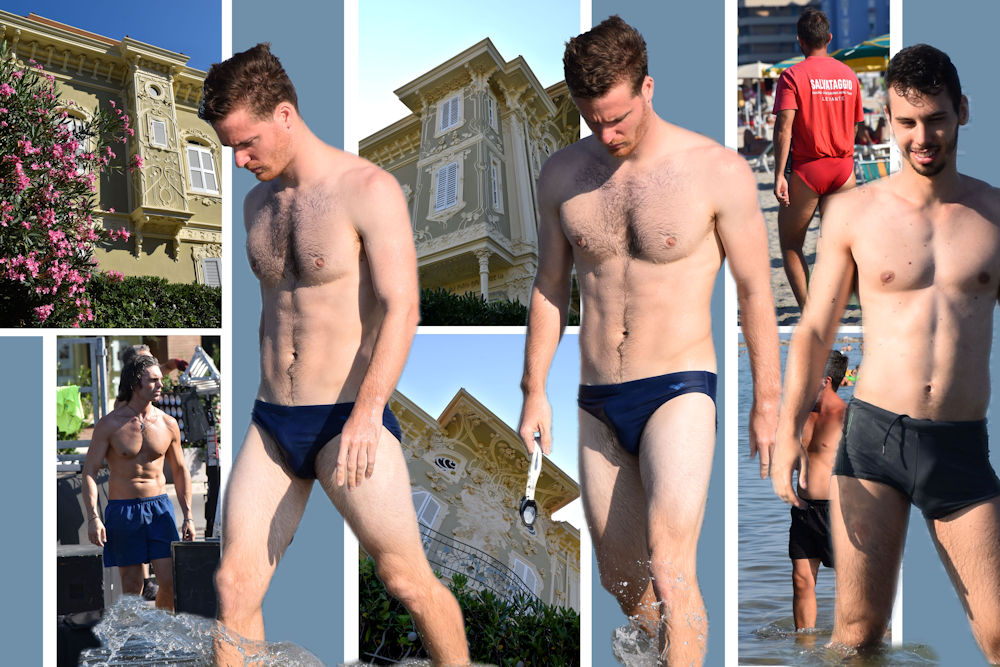 Not sure which way to look.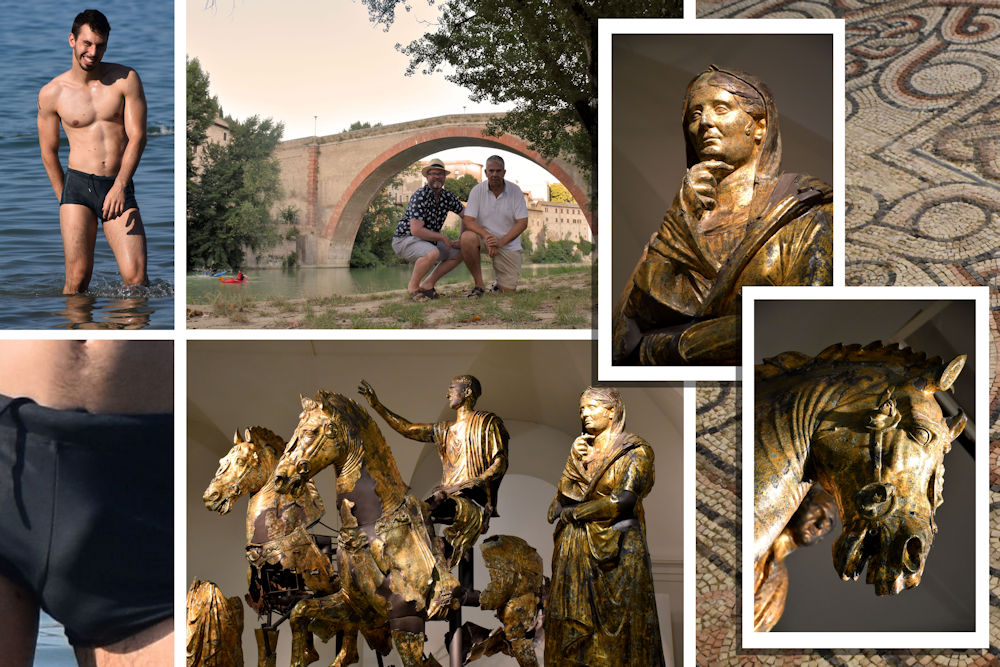 The Gilt Bronzes from Cartoceto are the only surviving Roman gilt bronze equestrian group, and they were displayed in our local Pergola. They were found by two farmers in 1946. Magnificent. We had them to ourselves, as well. The bridge is in Fossombrone. More of that later.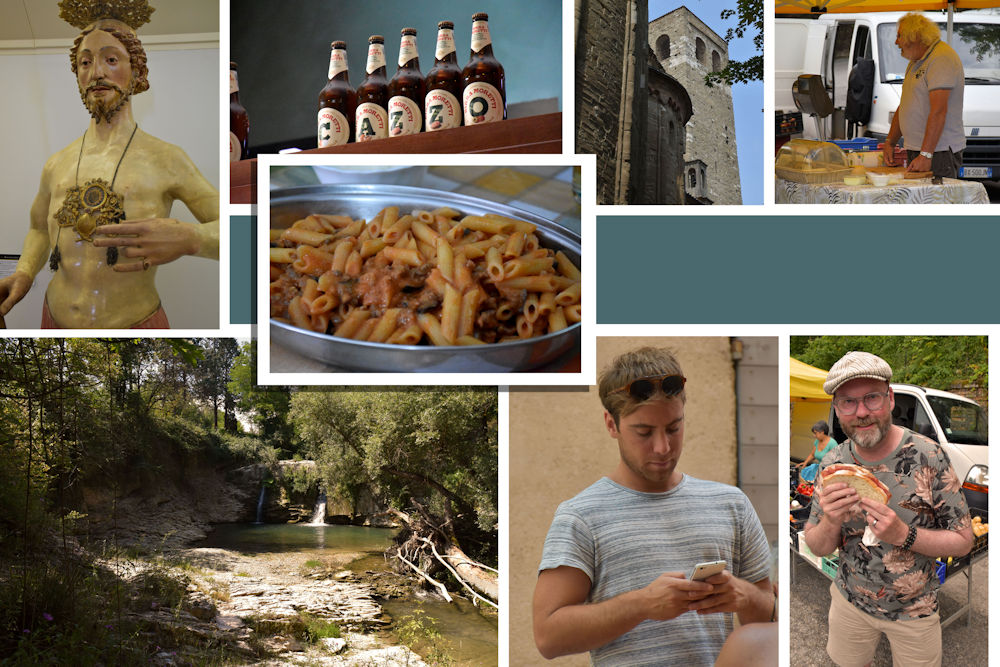 A couple of gifts from Trip Advisor were Osteria il Cantuccio, where we had the best food of our trip, and the hidden Cascata di Valrea, a double waterfall that we had all to ourselves. We bought pecorino cheese from the man top right both in Urbino and Furlo and the proscuitto sandwich was from an Urbino famers' market (4 Euros!).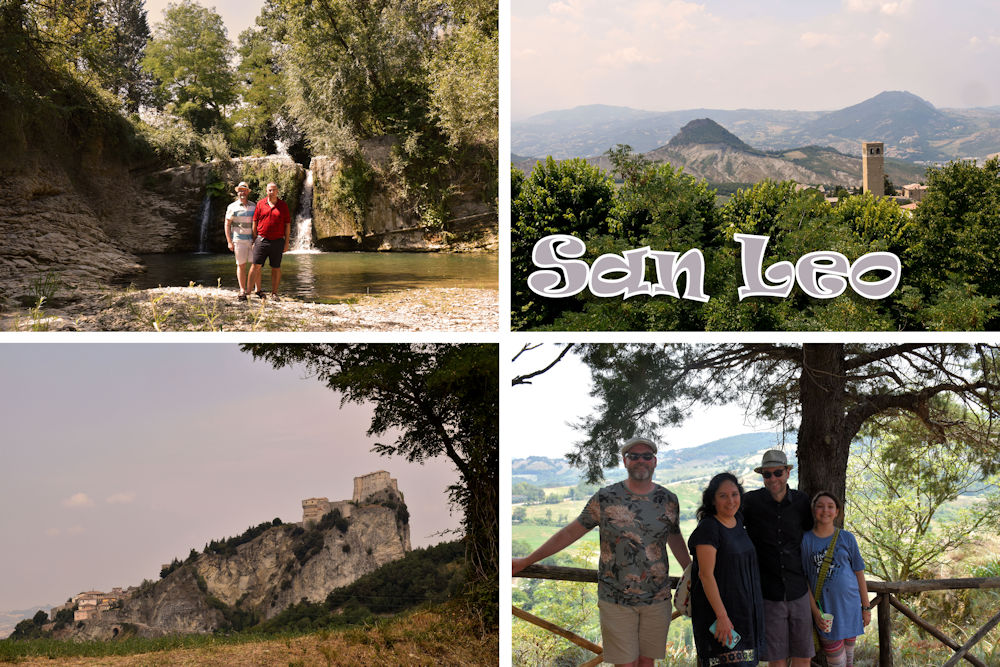 We drove a long way with our friends to see San Leo, one of the "most beautiful towns in Italy".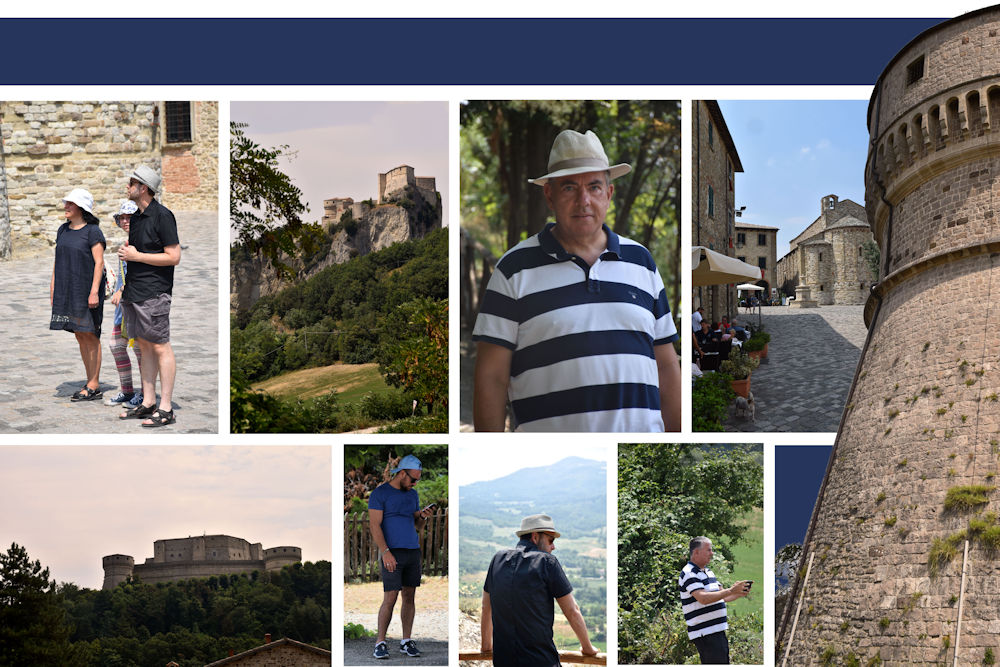 It was searingly hot and I had both a granita and a gelato.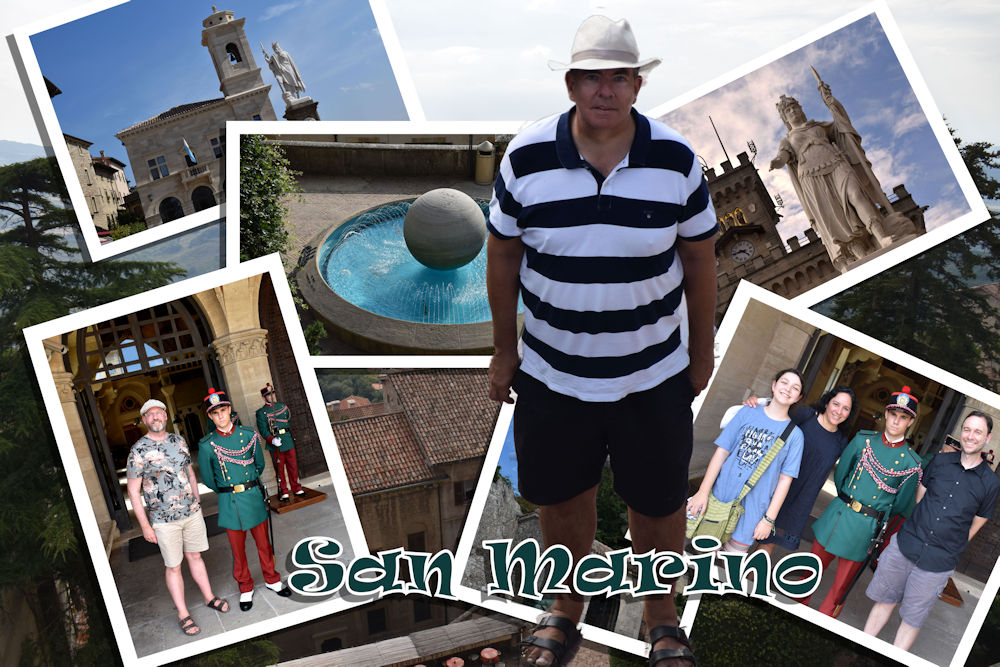 We got very lost going to San Marino, a separate country within Italy, which tainted our view of the place. It was extremely hot when we arrived and shops were selling guns and other weapons to tourists. We managed to cool down and bought a nice Christmas ornament and took some selfies with a cute guard, so all wasn't lost.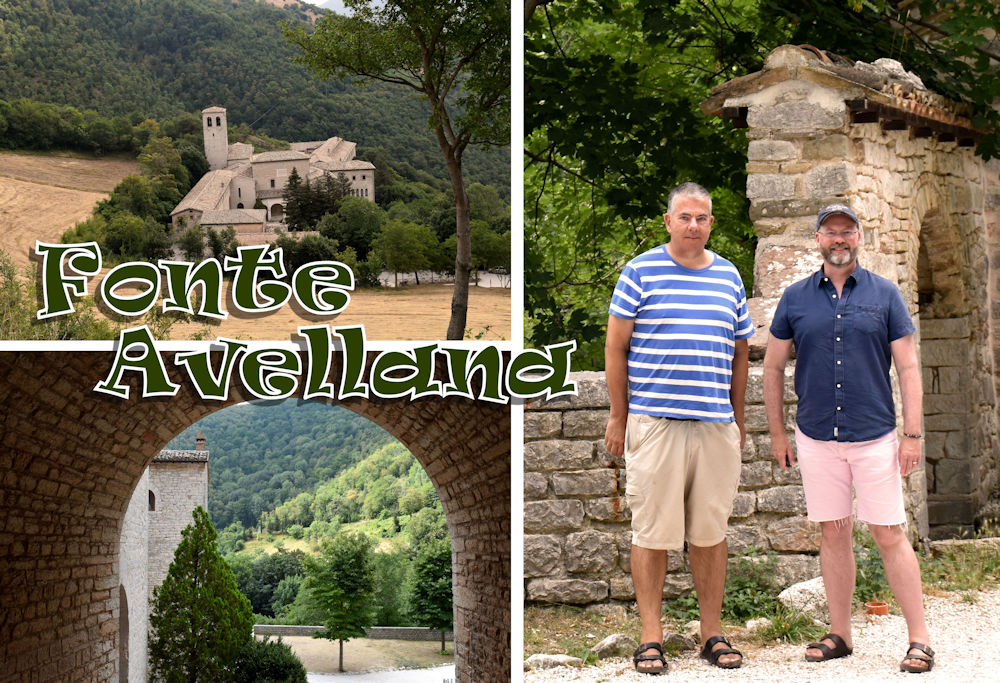 Fonte Avellana, a nearby hermitage dating from around 980, as another unplanned local surprise. Dante wrote about it in his Divine Comedy. We liked the modern stained glass depicting Earth, Fire, Air, and Water, and the door with carvings of hazelnuts. No photos were allowed inside.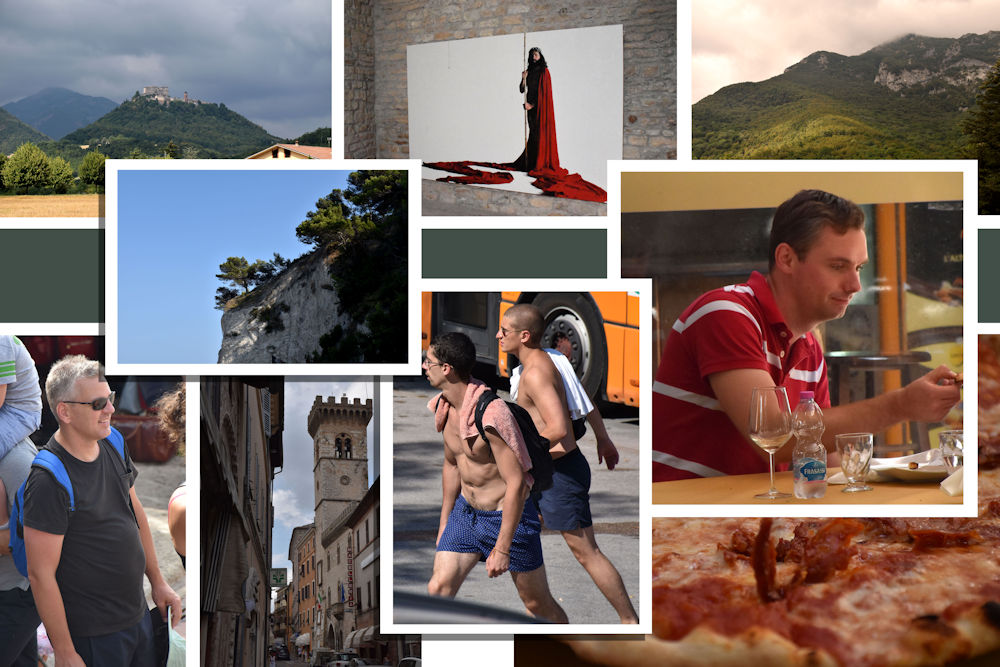 We went to Acireale, but the church was closed, so we had pizza next to a cute Dutch dad.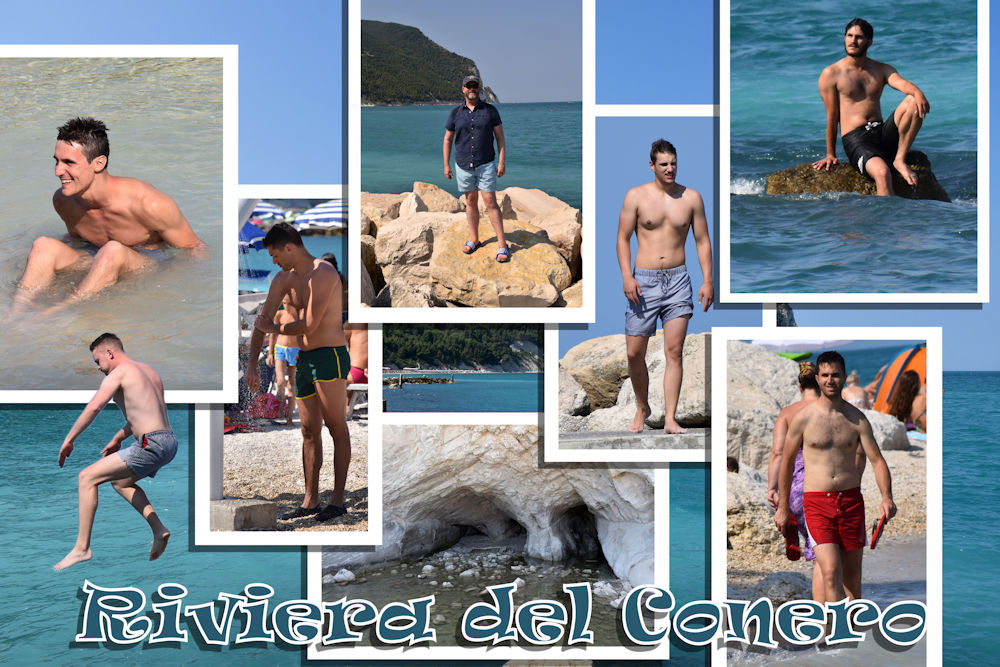 The beaches that make up the Riviera del Conero do not disappoint. There was a long walk down from the car park but we caught the shuttle bus back.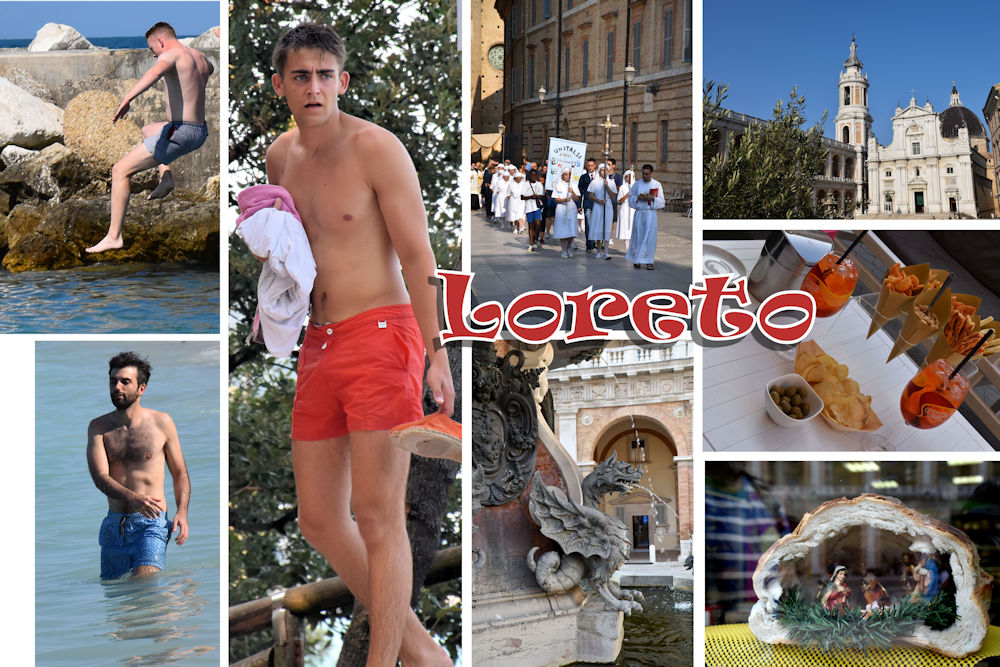 Loreto is a place of pilgrimage, not least for Mary's holy house of Nazareth, which, according to the internet, angels carried to Loreto in 1291. For us, it was enough to have Aperol spritzes with a bounty of snacks and see a manger scene inside a hollowed out loaf of bread.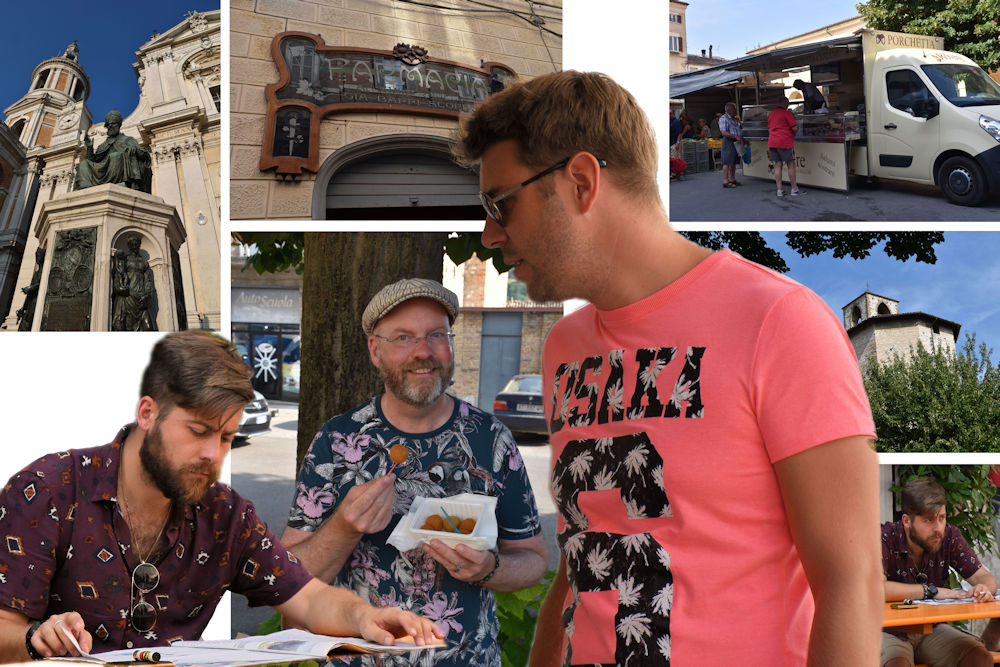 Most of the sights above are from Pergola's Saturday market, where we ate much better olive ascolane and the best porchetta we have ever had. The man served us different meats from different parts of the pig, plus chopped crackling. Delicious!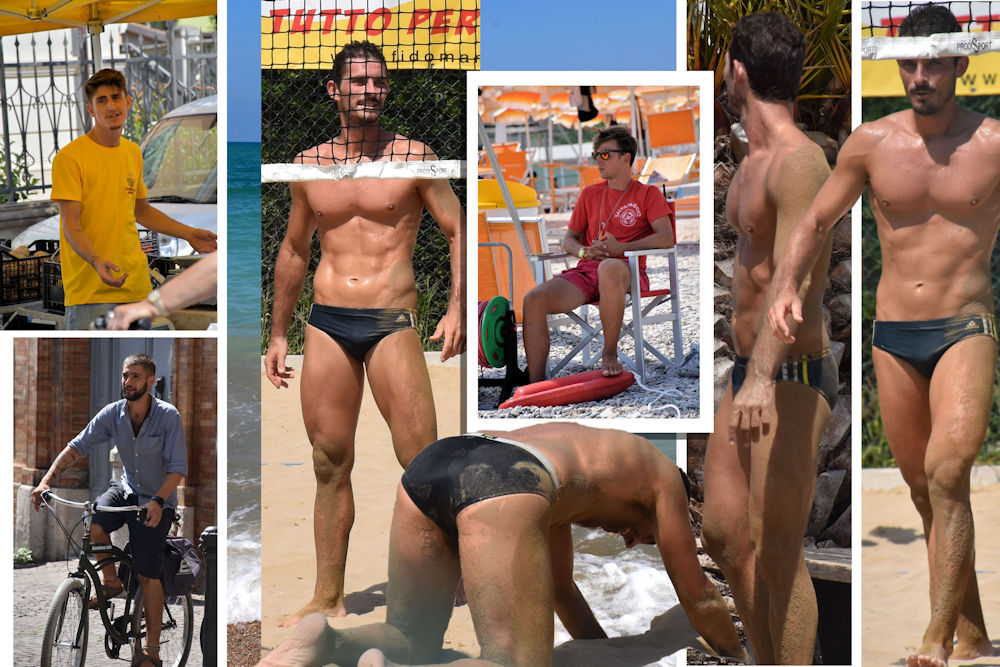 We drove to Fano to investigate the Auchan grocery store. We found the beach volleyball players.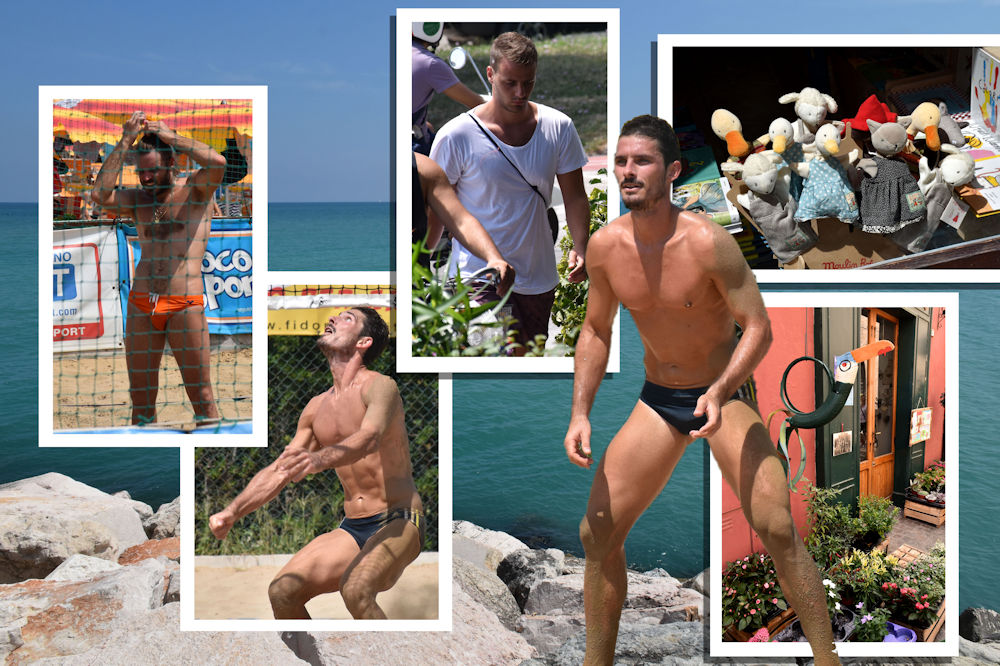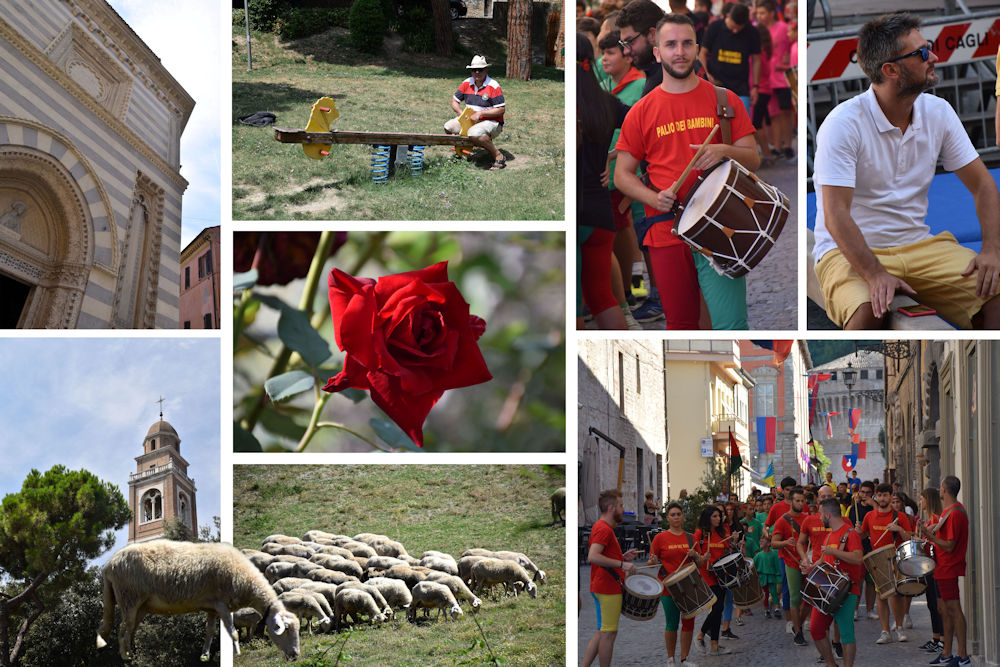 Nick "balancing on a see-saw" for his bingo card, the children's palio in Cagli, and sheep and a rose at our rental house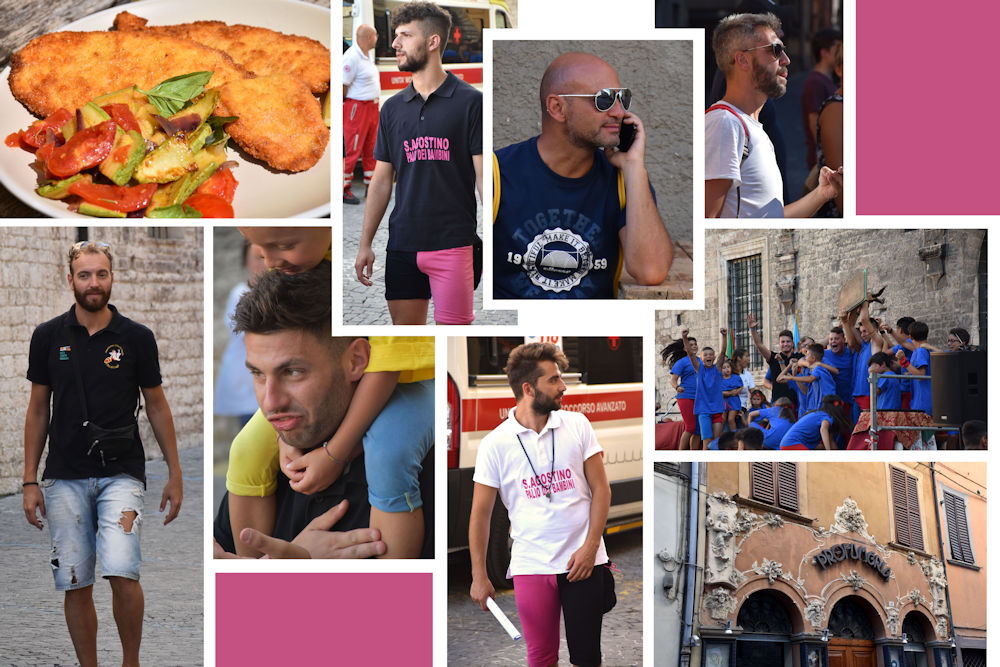 The palio was fun, with four teams competing for the bronze goose trophy. Game included a sack race across medieval cobbles, a "hunt the key" race in an inflatable swimming pool, and rolling of huge oversized dice. The blue team were the clear winners. Also shown are our chicken schnitzel meal and Montalbano's lookalike.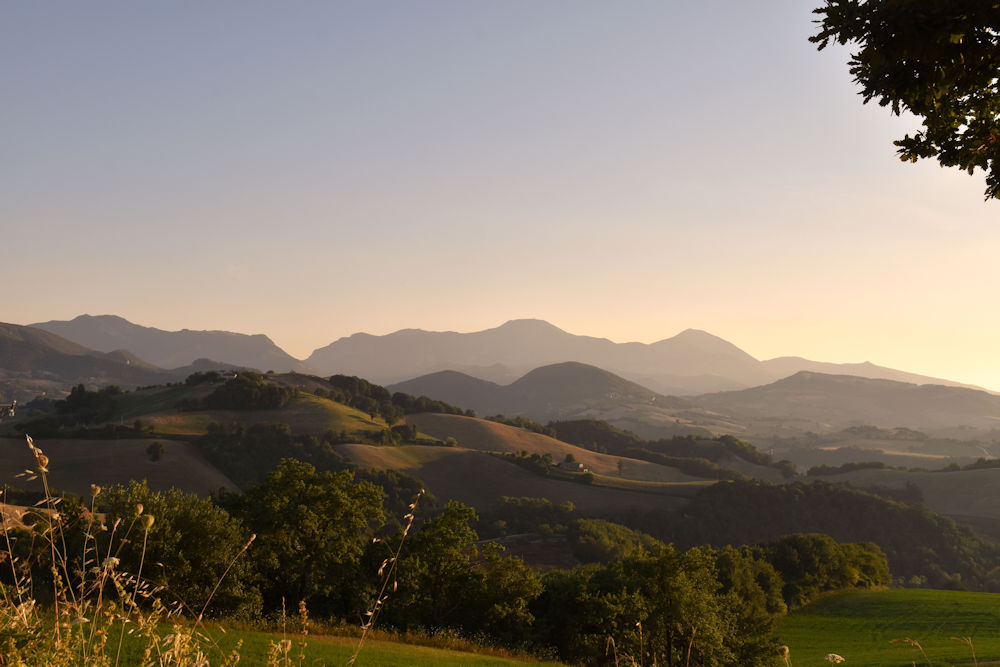 The view in our area.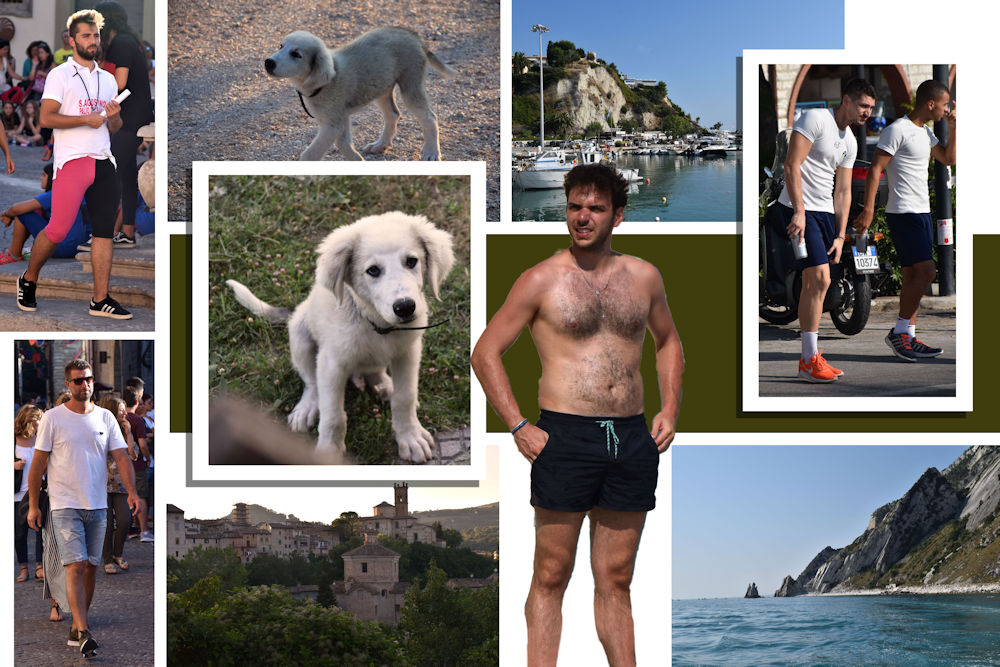 There were very cute sheepdogs at our house. On Monday, we took a boat trip to Due Sorelle beach, a beatiful place that is reachable only by sea.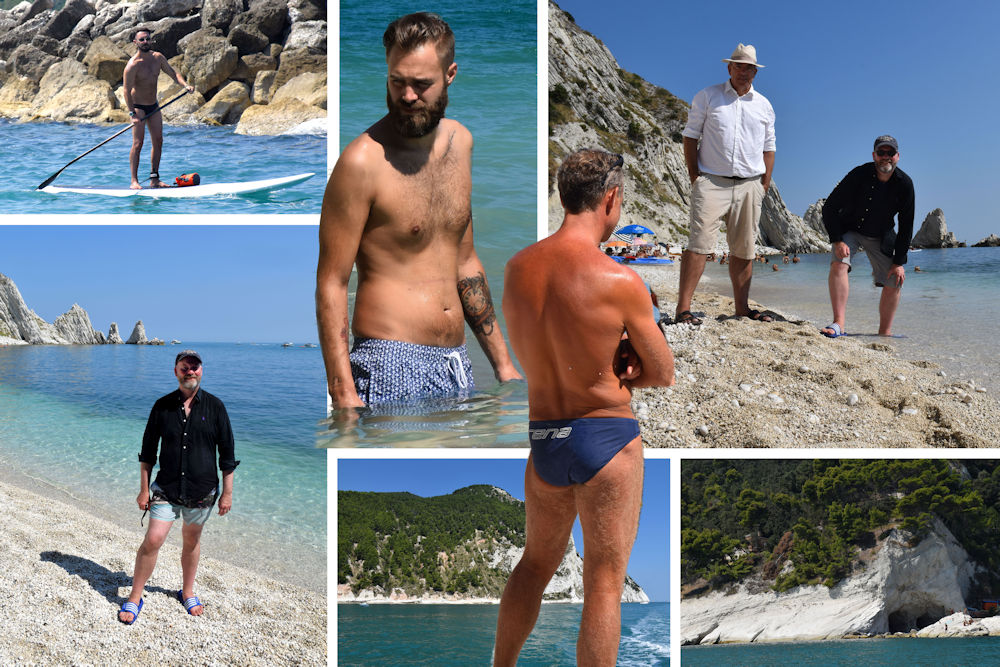 The rock formations in the background are the Due Sorelle. There were also caves and hipsters to be seen.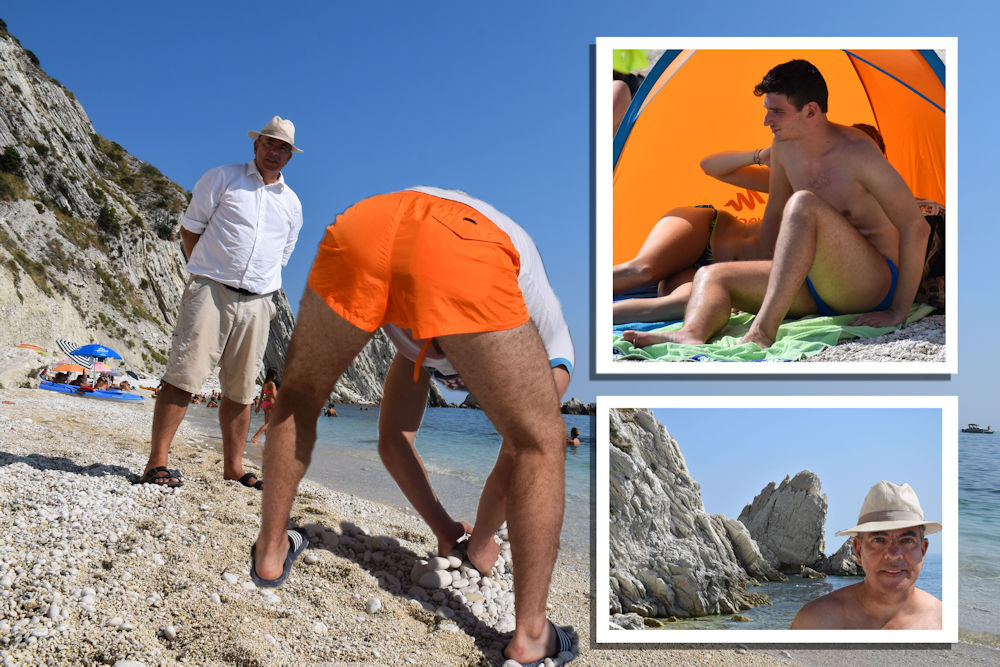 Orange underwear was a bingo goal I never could find, but I did spot orange shorts and an orange tent.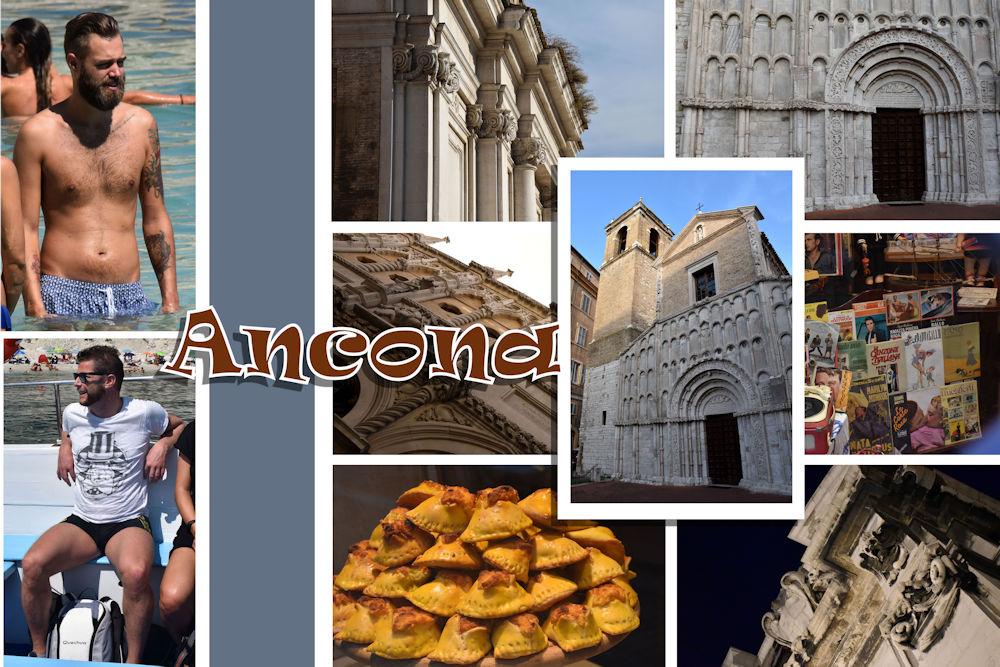 We stayed overnight in Ancona, where the Romanesque Santa Maria della Piazza was one of the highlights. Our hotel was right near the Roman archway and the port. Also pictured is the Loggia dei Mercanti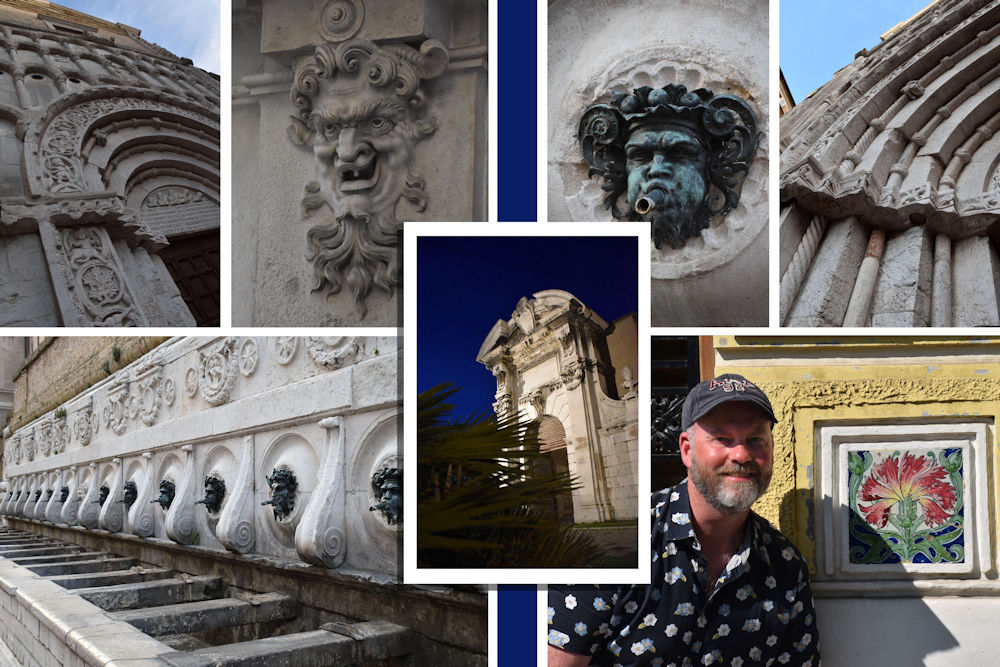 I loved the 16th century Fontana del Calamo. The Art Noveau tile is in Grottammare.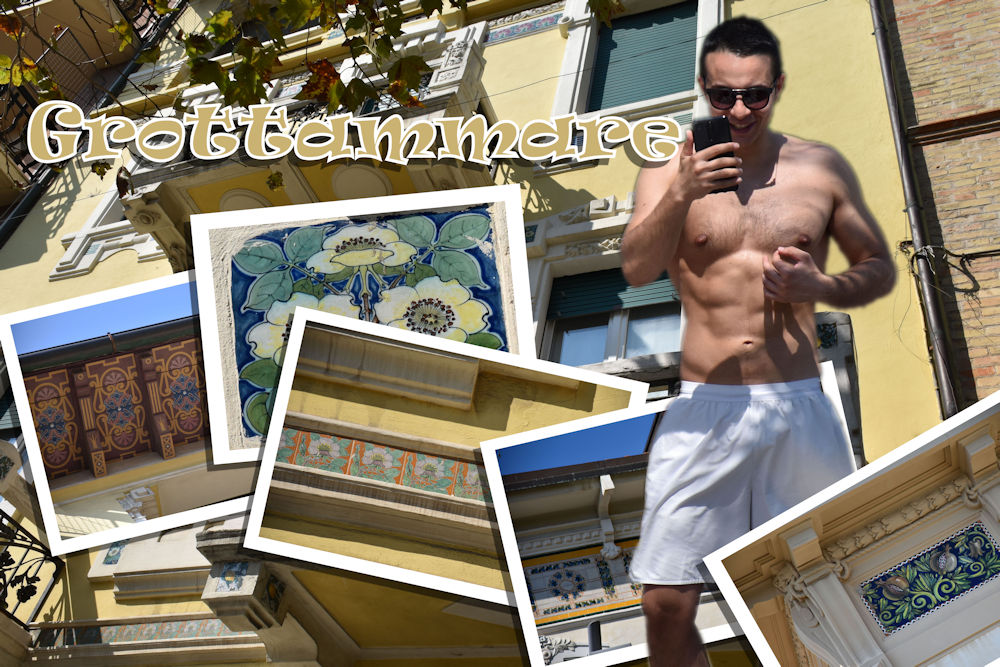 We tried to see the Art Nouveau Villa Conti in Civitanova, but it was covered up for restoration. Insead, we drove into town to find these. The facetimer is in Grottammare.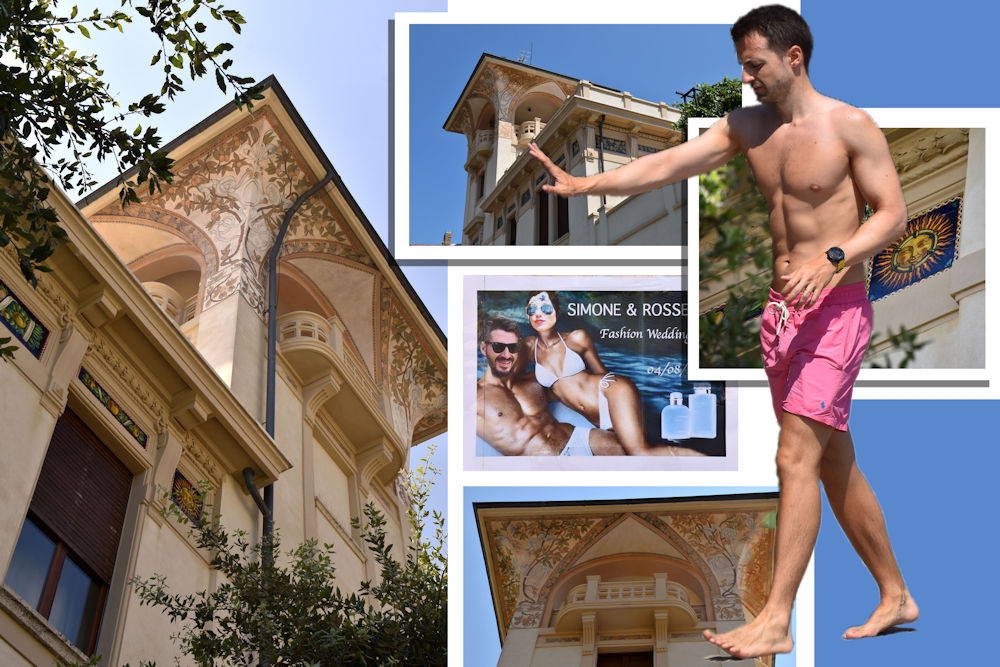 Grottammare's Villino Matricardi came with the added bonus of a shirtless man in pink Ralph Lauren swim trunks. We saw wedding announcements like this one in Emilia-Romagna last year. I think the Fashion Wedding idea was funny.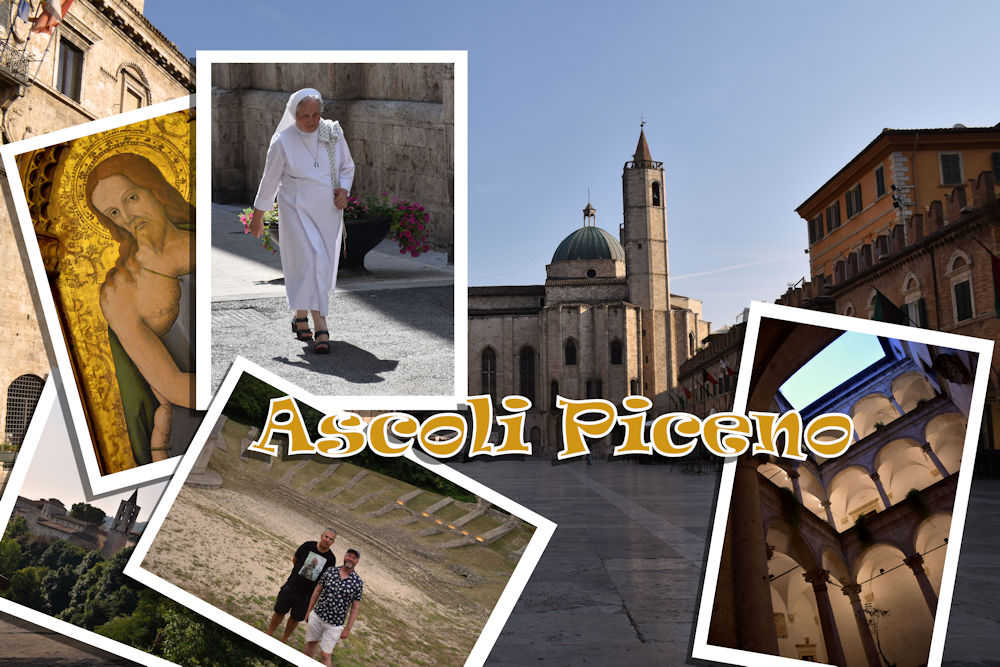 Our most southerly destination was Ascoli Piceno, which instantly became our favourite town of the trip. We arrived in the afternoon and checked into our splendid 500-year-old palazzo hotel (the executive suite with a Jacuzzi bathtub) and then headed for Caffé Miletti for anisetta cocktails - they gave us three! - on the almost deserted piazza. Shown abve is also the ancient Roman ampitheatre and the strangely hairy Jesus.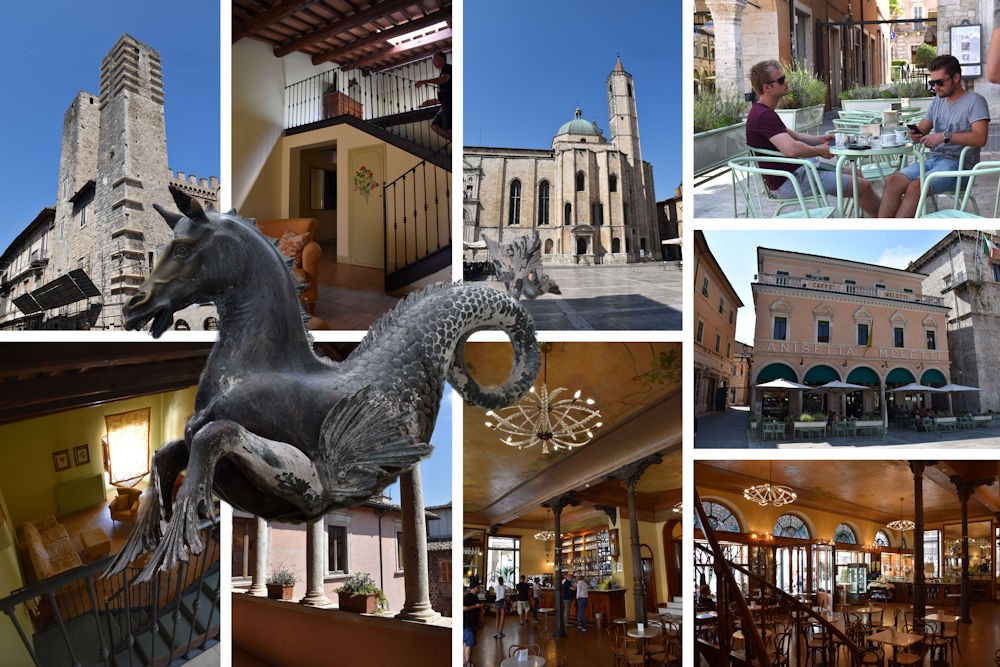 Ascoli Piceno's twin towers, our hotel, the piazza, Caffé Miletti, and the horse fountain, which provided us with unlimited cold water.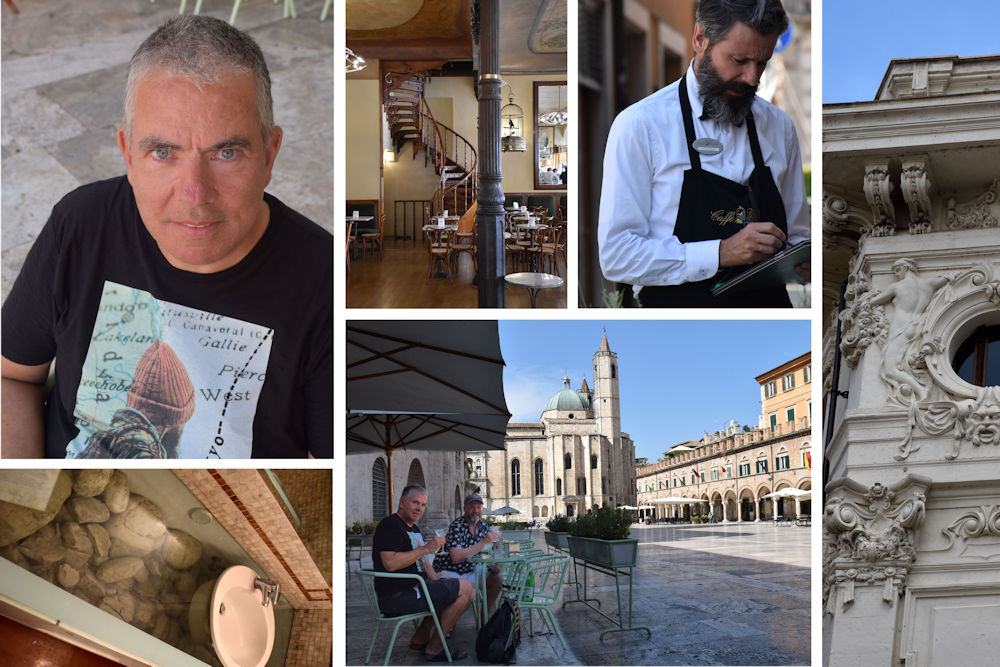 Caffé Miletti, with Roman ruins preserved in the bathroom, and nearby Art Nouveau building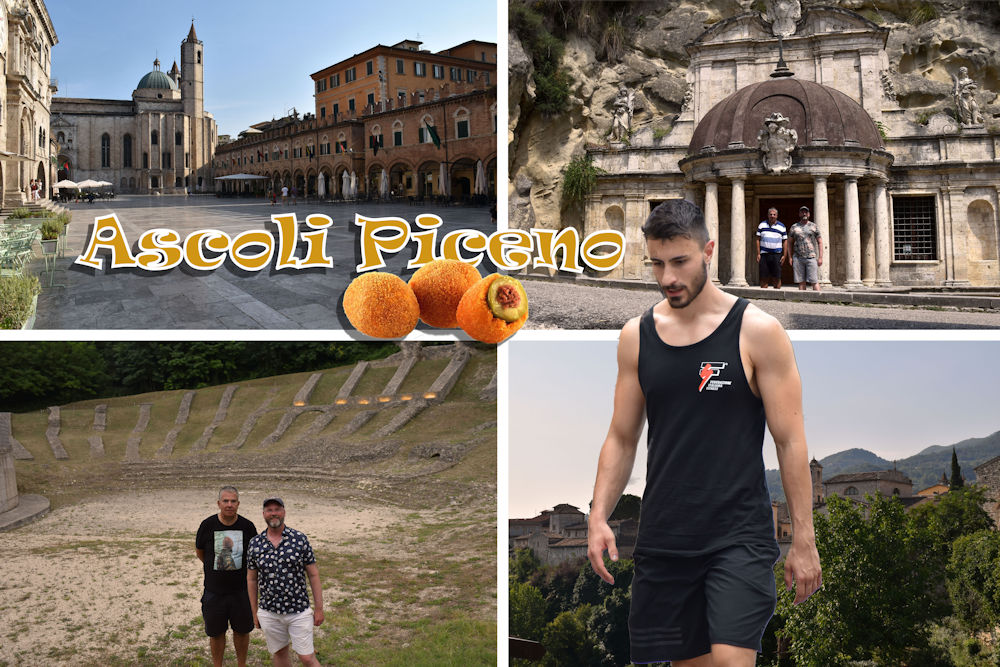 Various attractive sights, including the Tempietto di Sant'Emidio alle Grotte, built into the rocks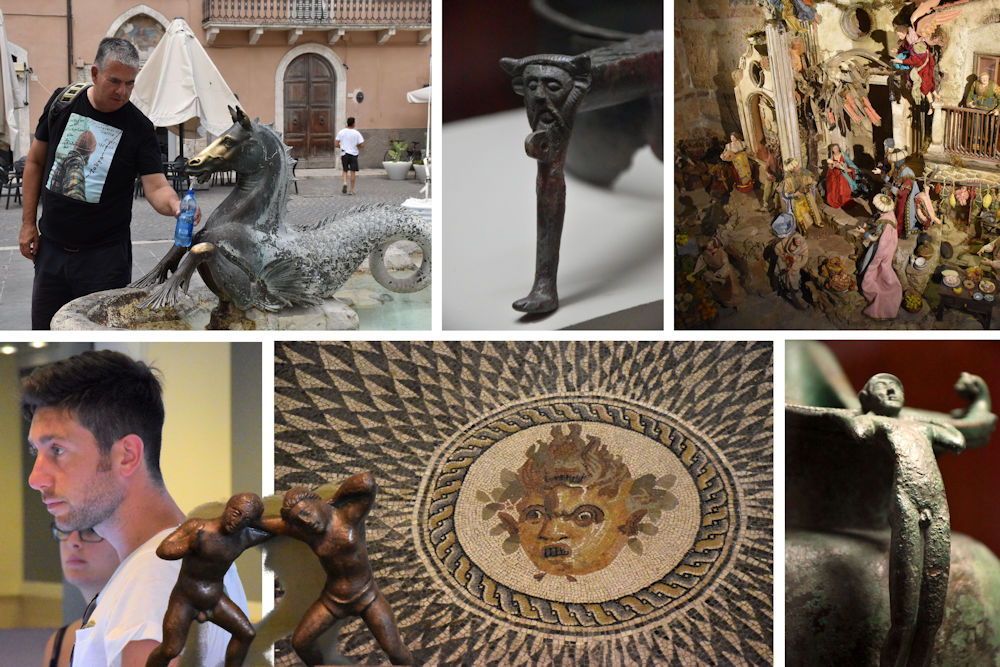 We visited the archaeological museum, where the main exhibit was the Roman mosaic floor that shows a different face depending upon which way up you are.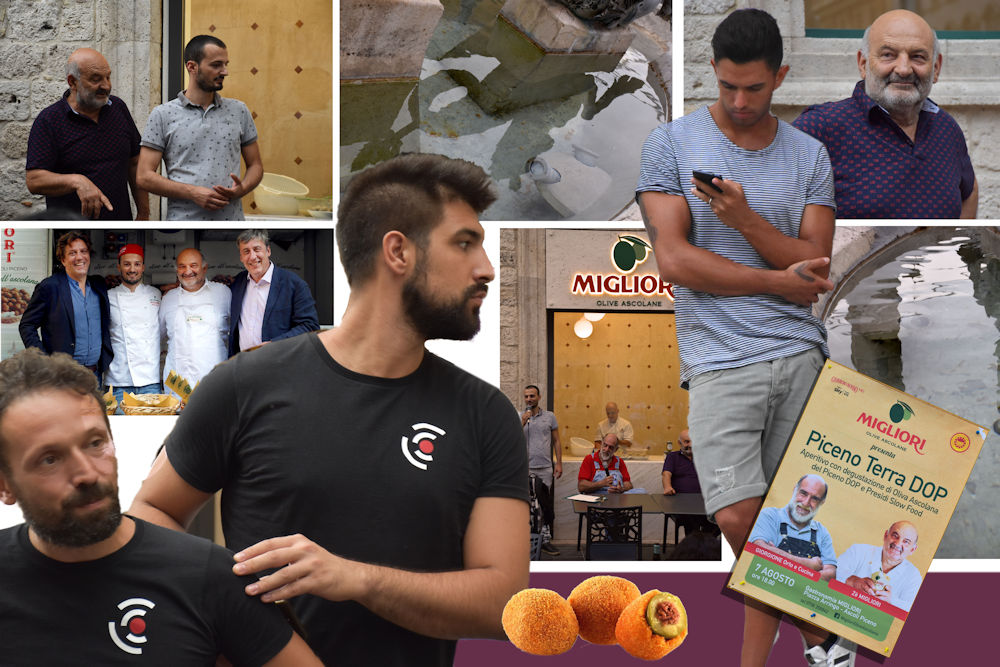 In truth, the main draw for us in visiting Ascoli Piceno was to taste the stuffed, fried olives we saw featured in Italy Unpacked. Andrew and Giorgio chatted with father and son Zè and Augusto Migliori, who showed them how to make proper DOP olive ascolane by hand. We hoped to catch a glimpse of the two of them, and it turns out they were hosting a big event outside their shop, being interviewed with famous Italian foodie Giorgio Barchiesi, who drew a huge crowed of locals who wanted their photos taken with him.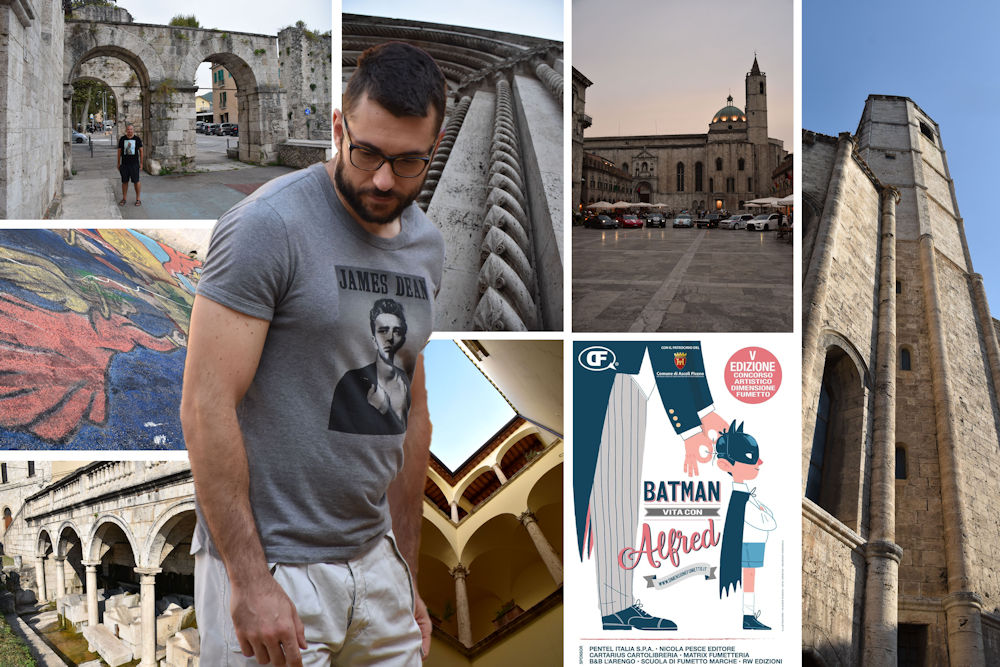 Other Ascoli sights are the Roman walls, the vintage car rally in the piazza at night, the ancient stone wash basis where women used to do laundry, and the pianted streets. We didn't see the Batman exhibition but loved the artwork.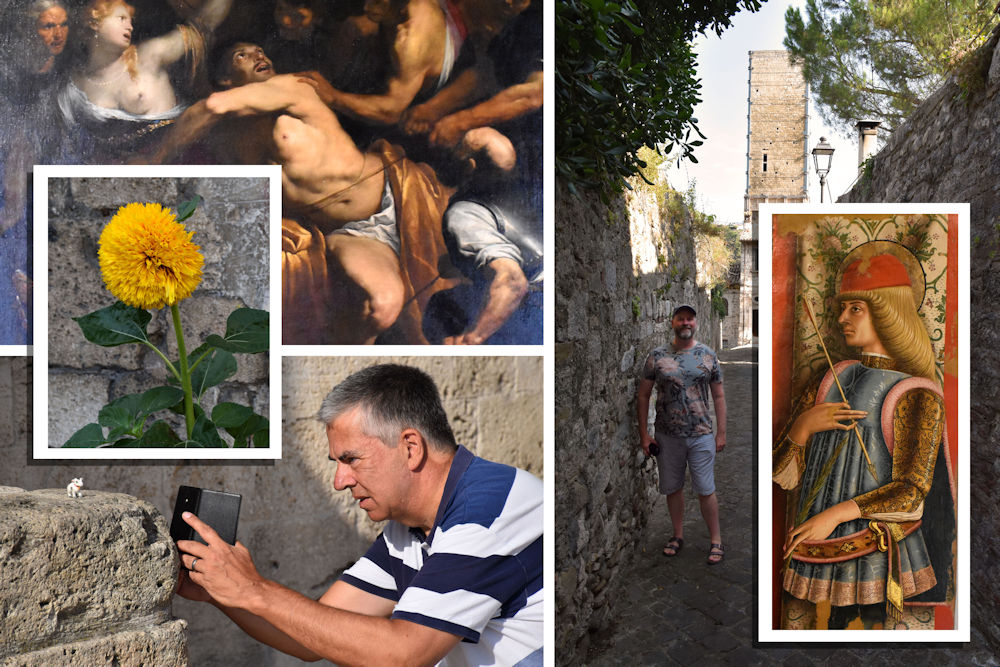 Sampson and a man with Dorothy Hamill hair in the Pinacoteca Civica, me with a tower, and Nick with Tiny Cow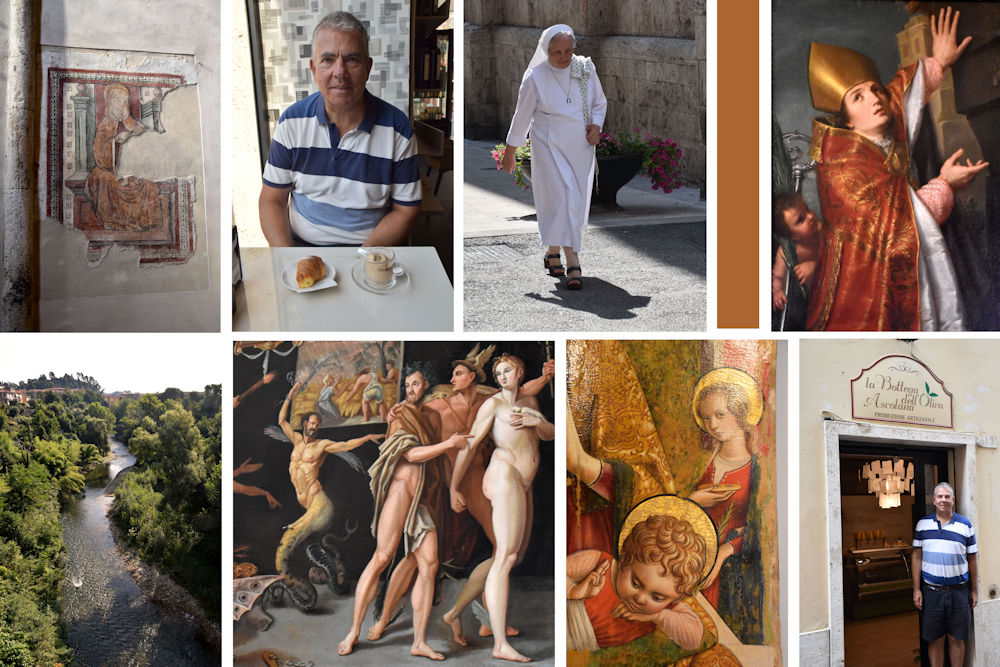 Art in and around the Pinacoteca Civica, including San Eremo, "pronounced as though it has a double 'm'". The absolute best olive asconale out of many we tried were from the Bottega dell'Oliva Ascolana. I expected a huge, touristy emporium, but it was just this little shop. The man fried us some olives (and cream to taste) and we had them with prosecco at 10.00 a.m.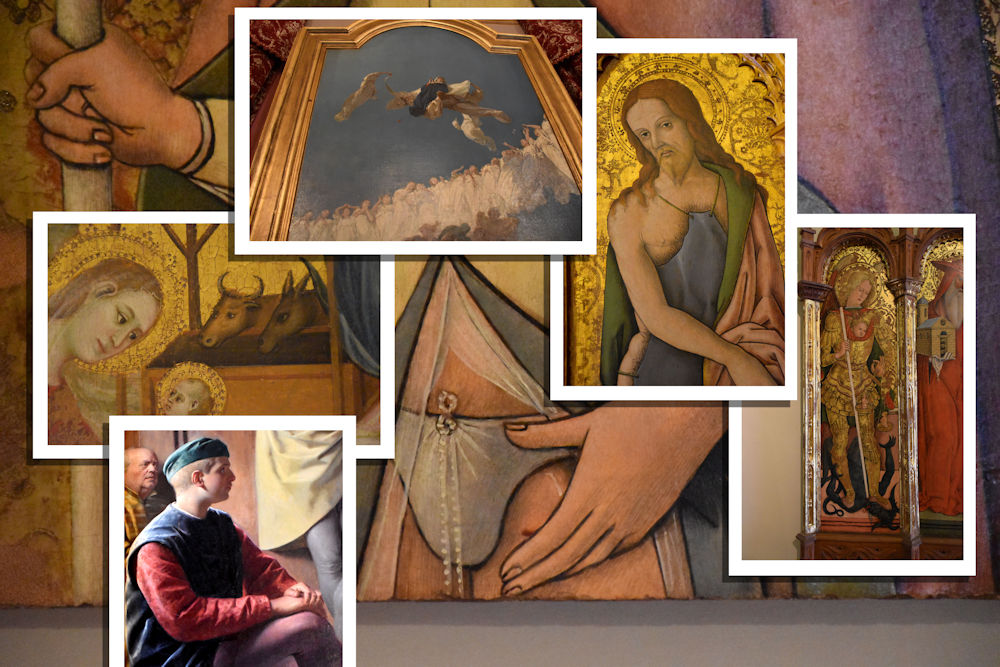 Art in the Pinacoteca Civica, including a wonderful Assumption painting, an angel who looks like Meryl Streep in Sophie's Choice, the Hairy Jesus, and other amazing works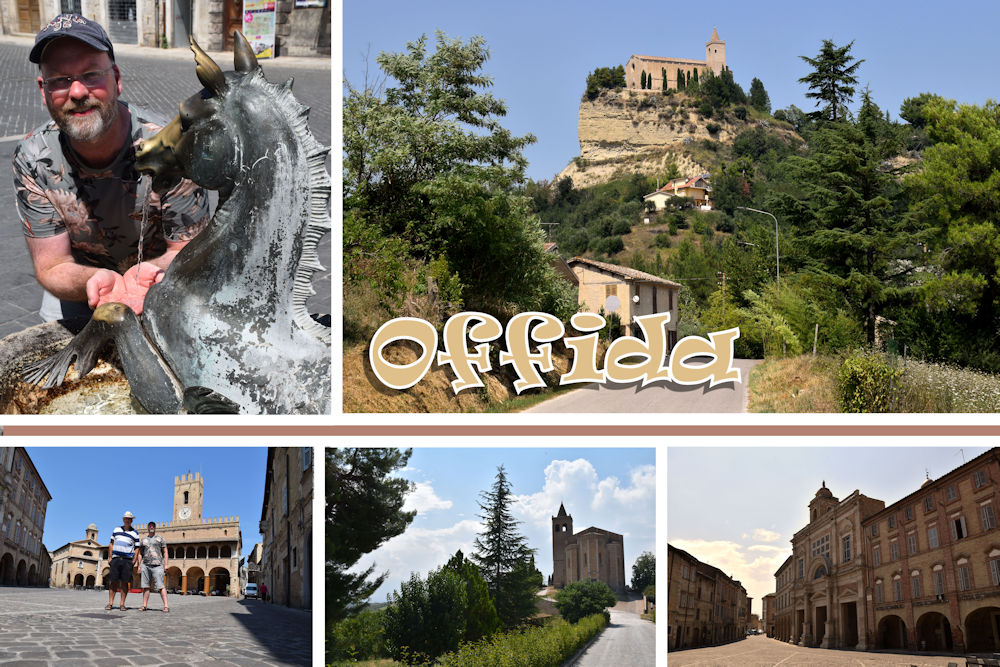 We almost didn't make it to Offida, another of the "most beautiful towns in Italy", because the road was blocked, but we found another way in.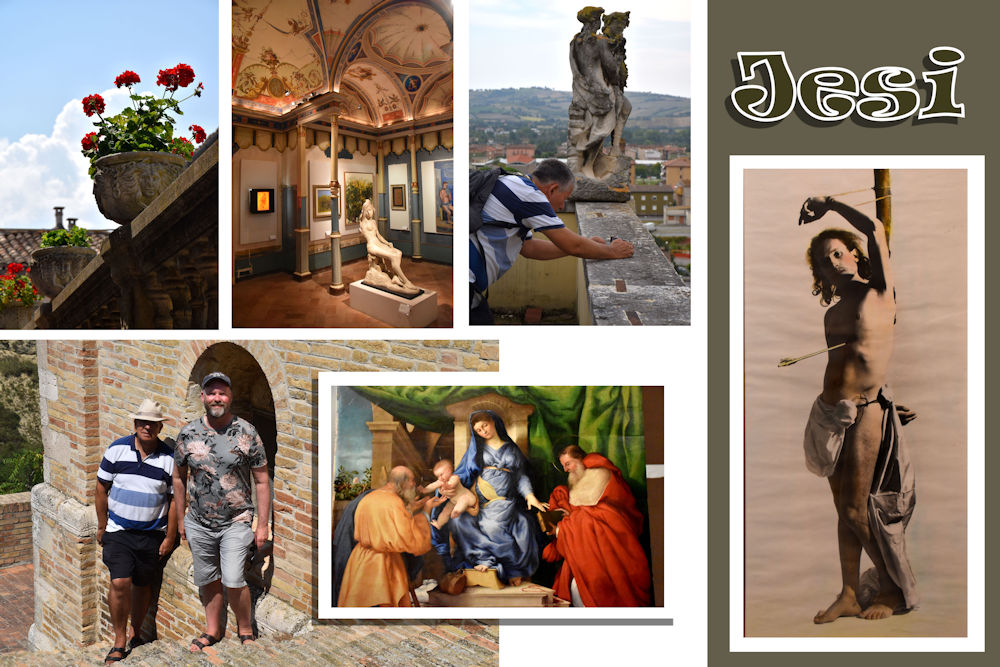 Our final stop on the way home was Jesi, an "art town" full of treasures including paintings by Lorenzo Lotto. I now know Italian well enough to understand the ticket seller who told me to "push the emergency exit bar to access the terrace for a beautiful view of the town", something I would never have dared to do otherwise.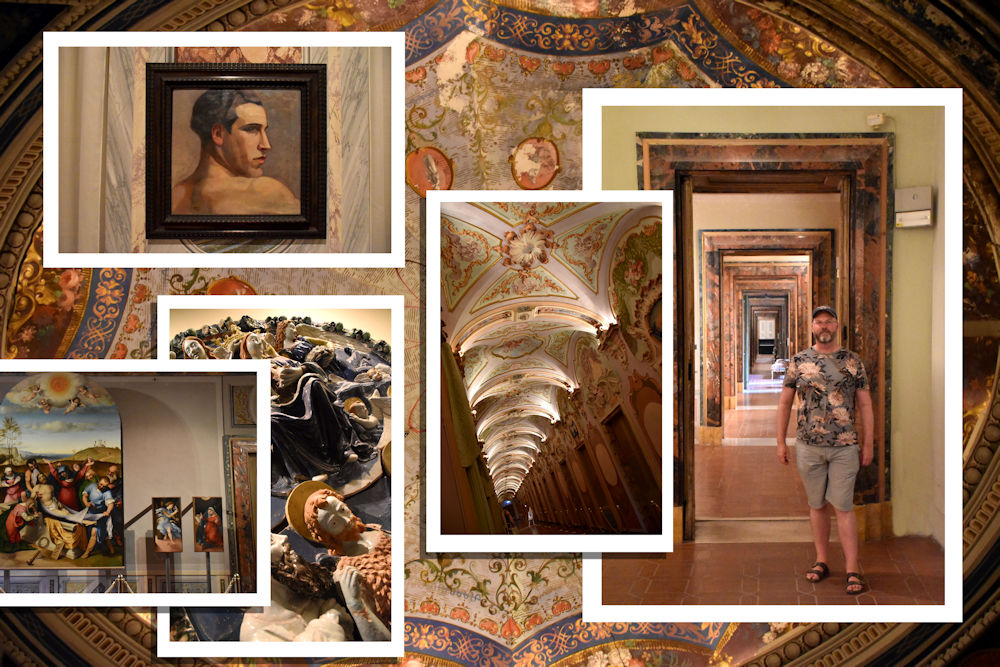 The museum is renowned for its stucco corridor, but I appreciated the 20th-century art even more.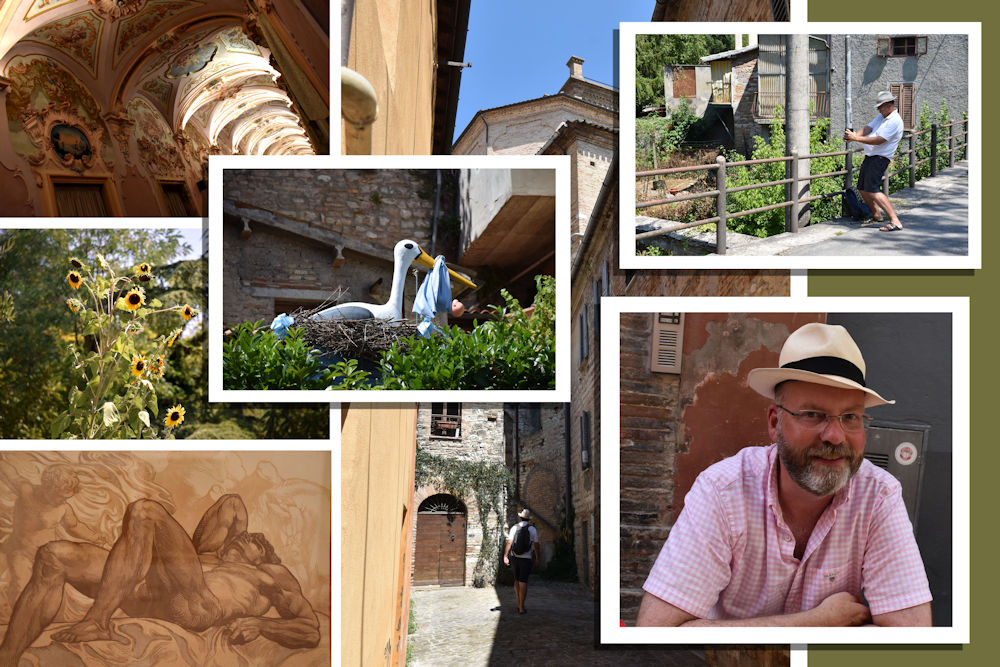 Back to Pergola with Tiny Cow and lunch at our favourite restaurant. Decorating houses to celebrate recent births is popular in this area.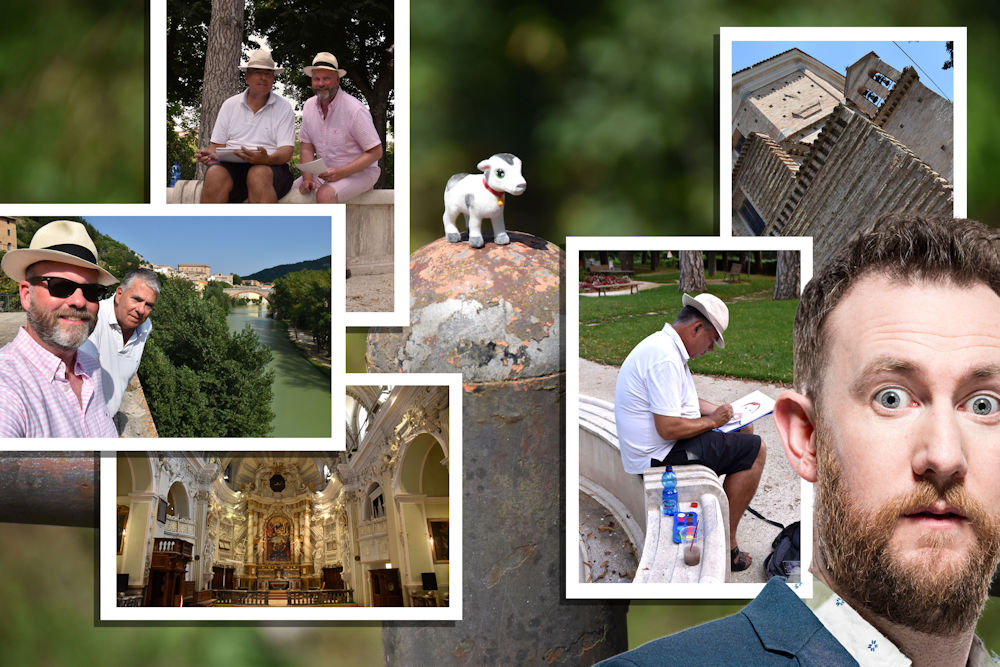 Perhaps the most enjoyable of Nick's bingo tasks was to "paint a picture of Alex Horne while sitting on a fountain".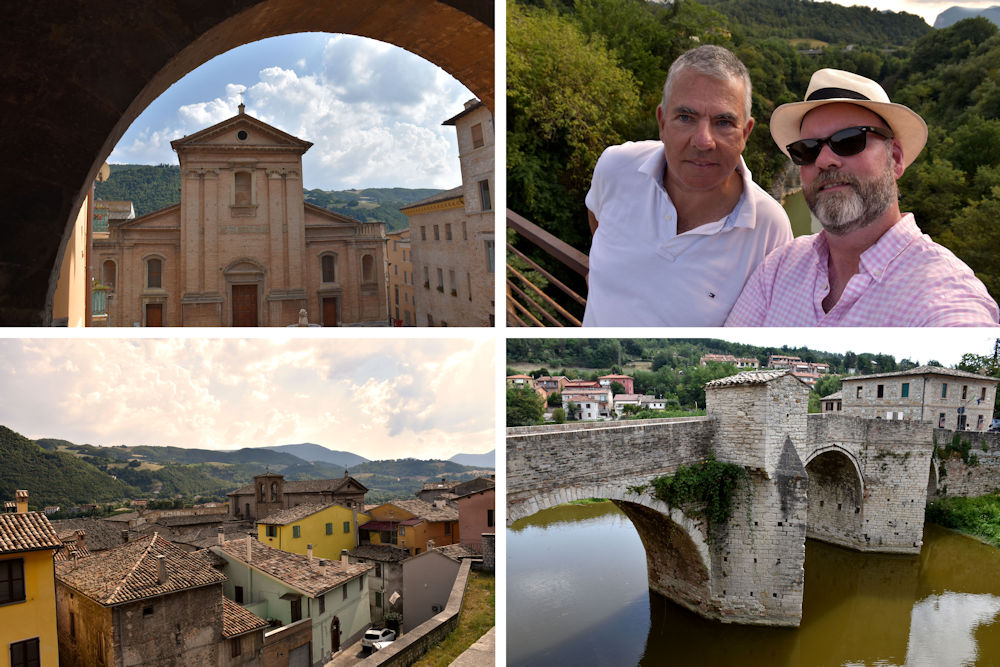 Views of Fossombrone, Marmitte dei Giganti, and Fermignano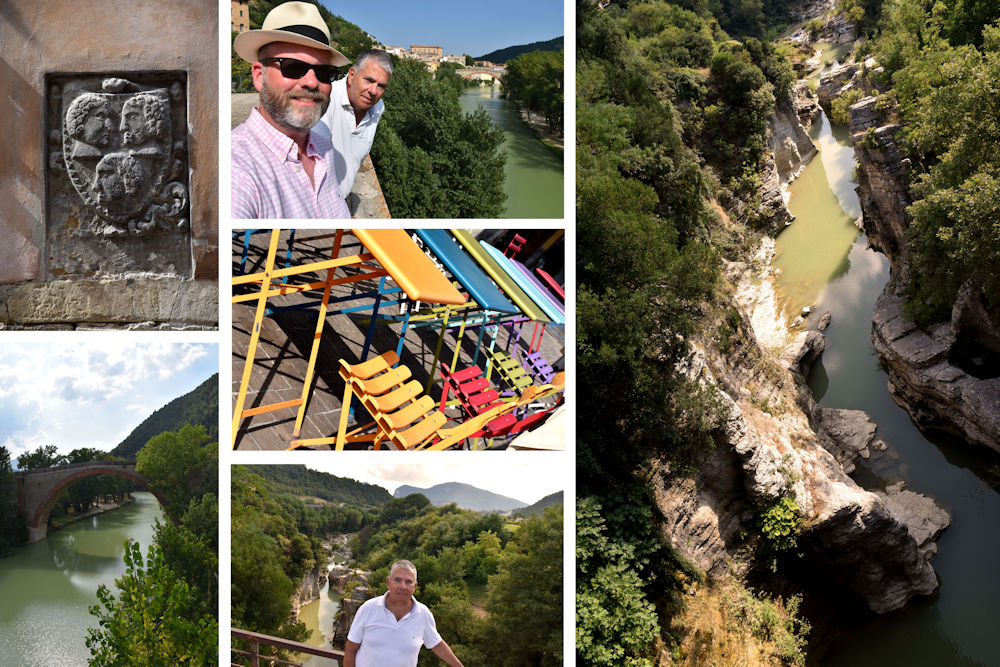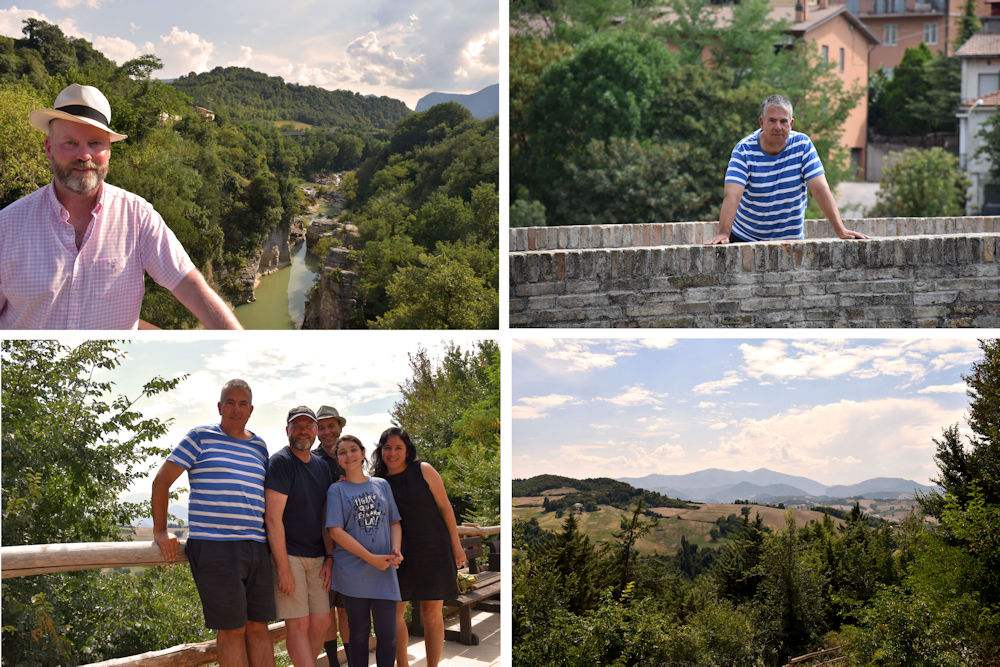 We ate a wonderful lunch at Agriturismo Ca' Maddelena.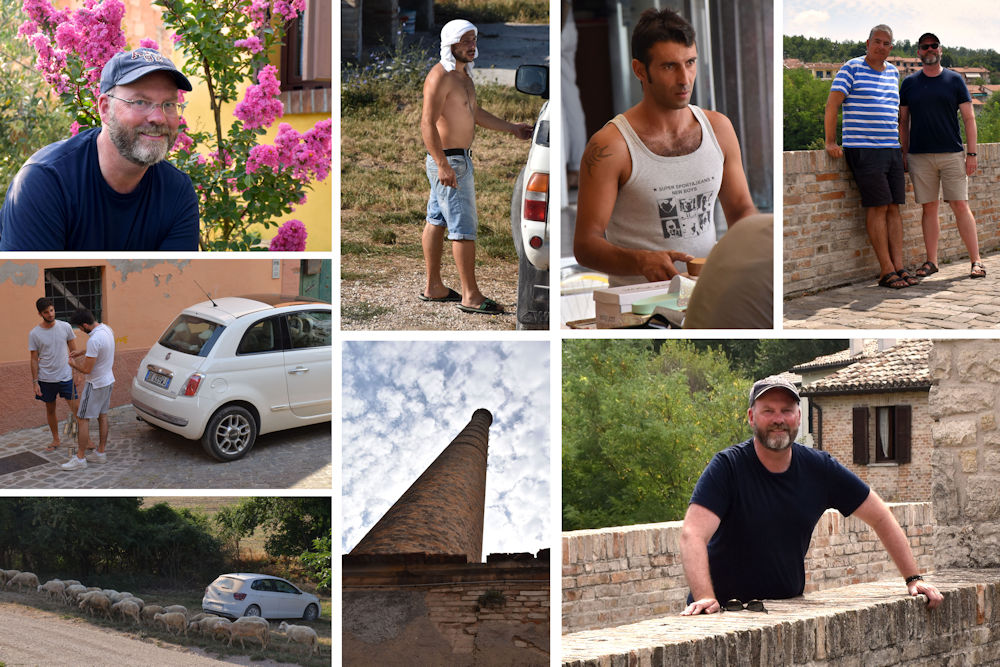 On the way back home, we stopped in Isola di Fano, where two boys were tying cans to the back of a matrimonial car. Other views include our own shirtless shepherd and scenes from Fermignano, where a small market was in full swing..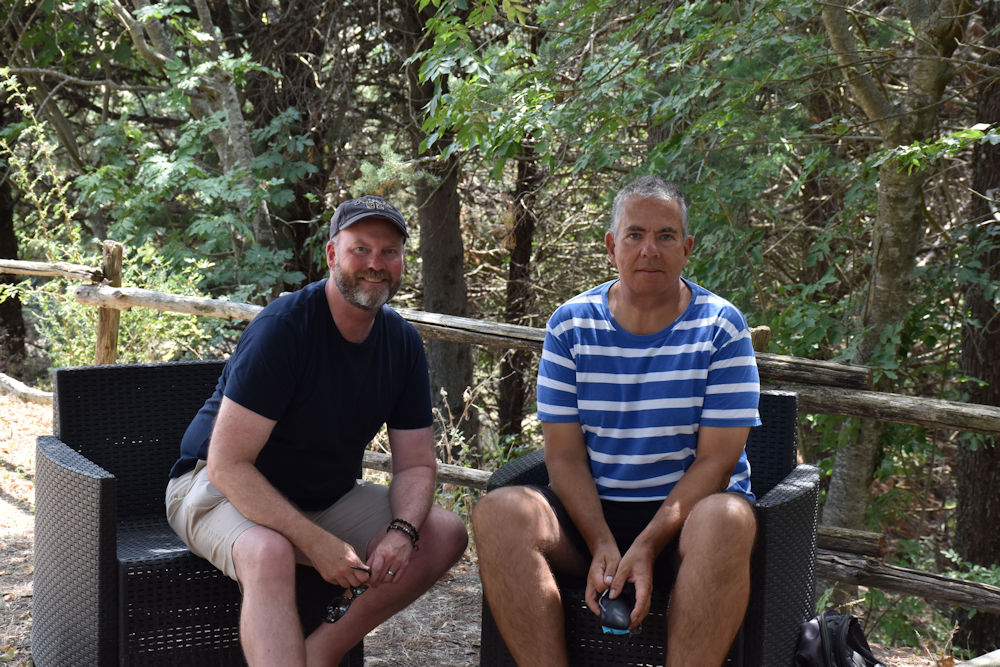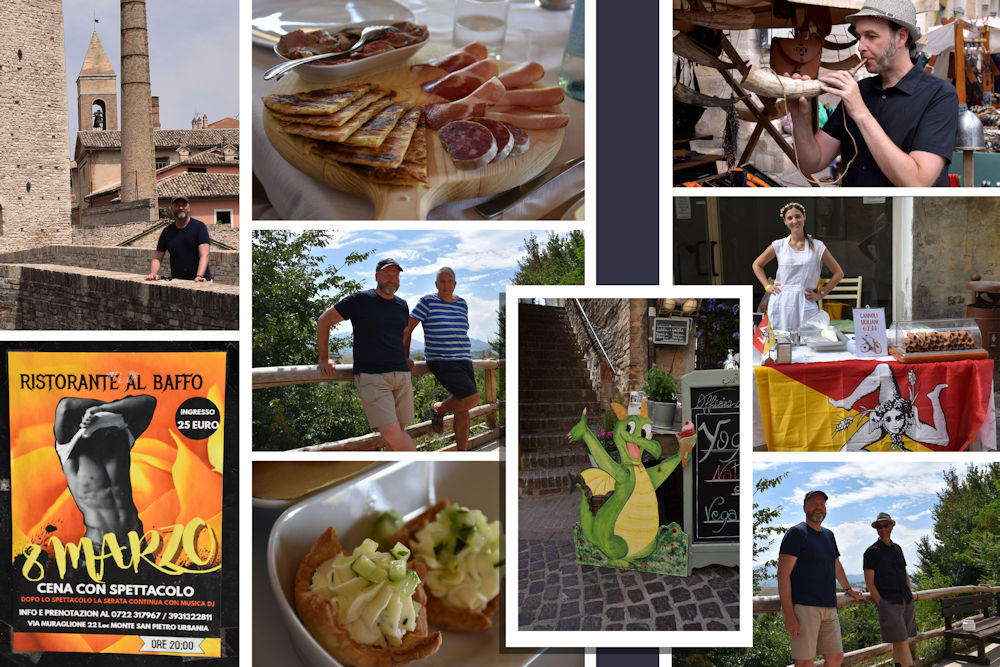 Fermignano, our agriturismo lunch, and the Festa del Duca in Urbino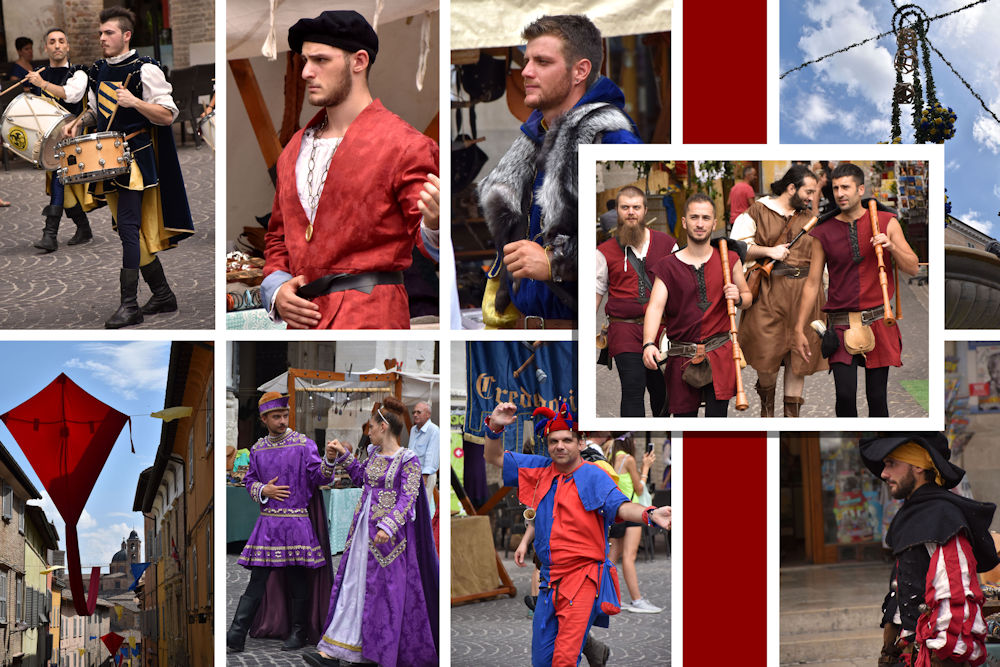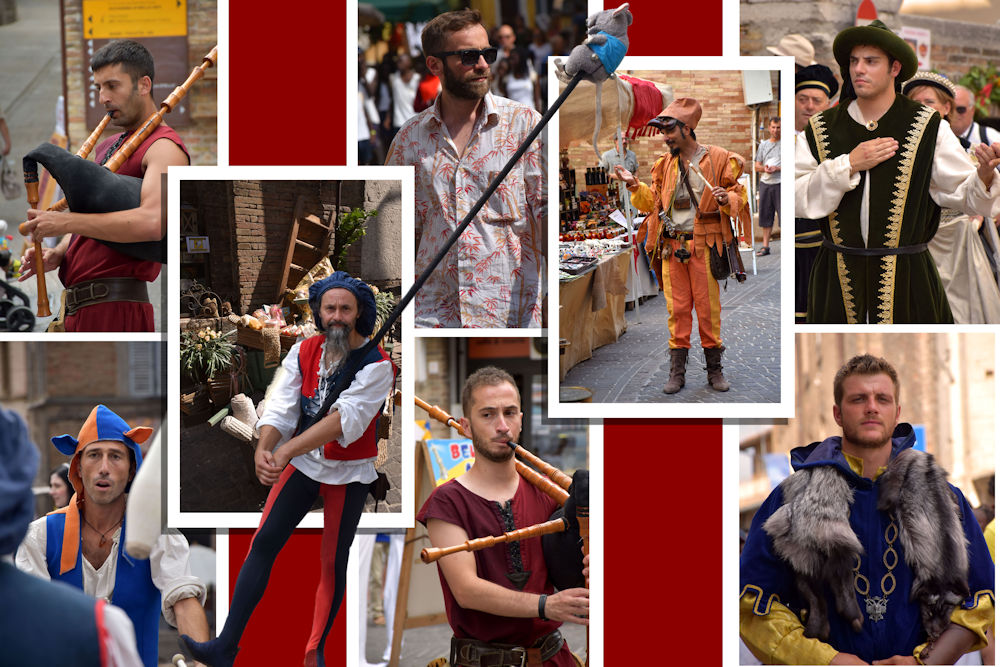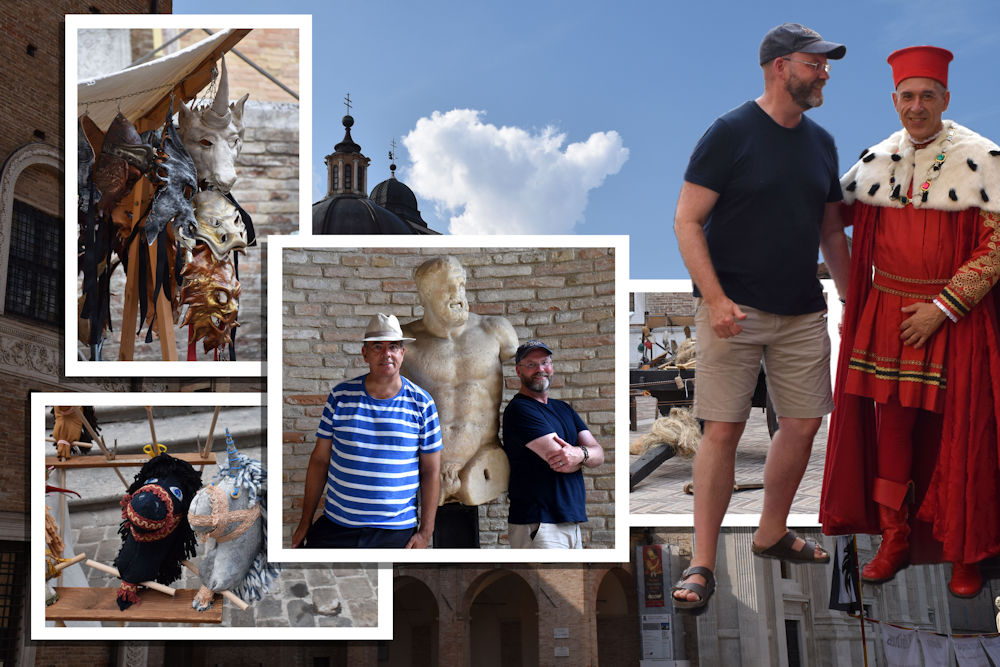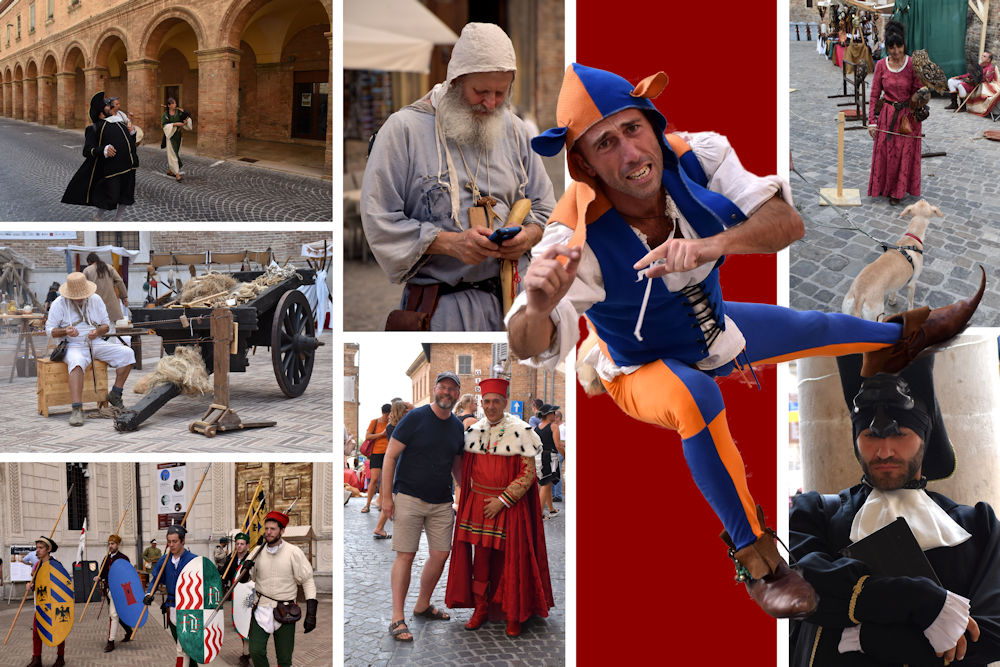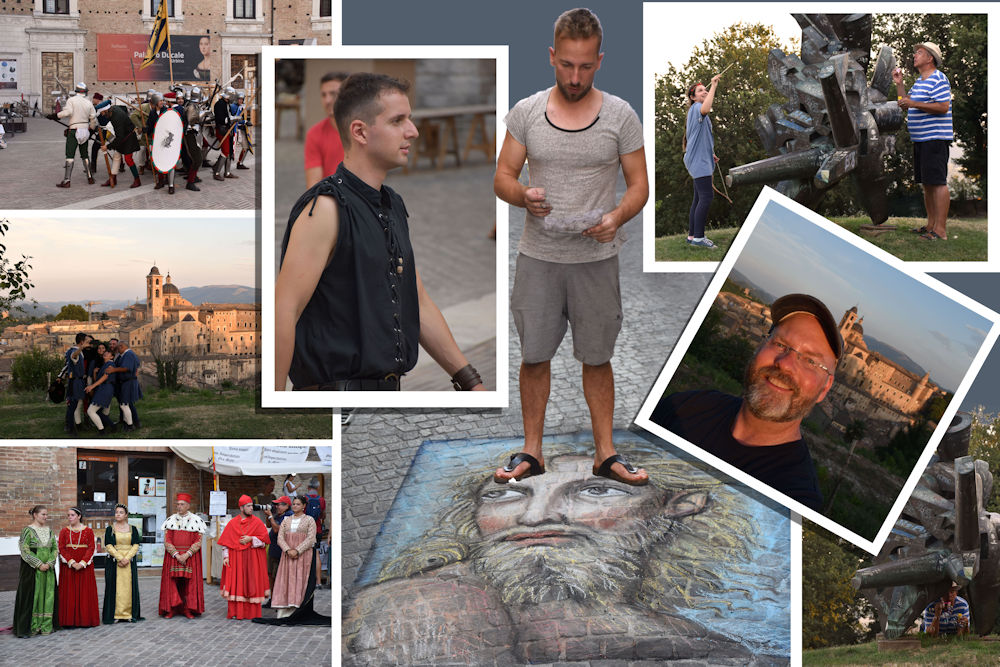 Nick had to blow bubbles through a statue's legs.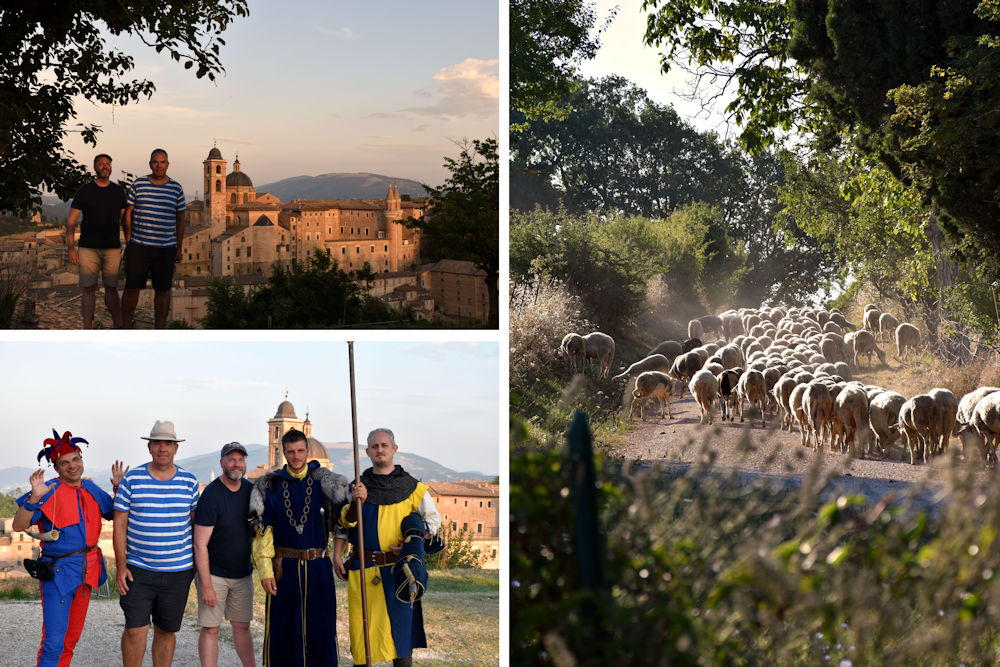 The view from the fortezza was amazing at sunset and we managed to have our photo taken with my favourite medieval characters. The next morning, the flock of sheep goes to find breakfast.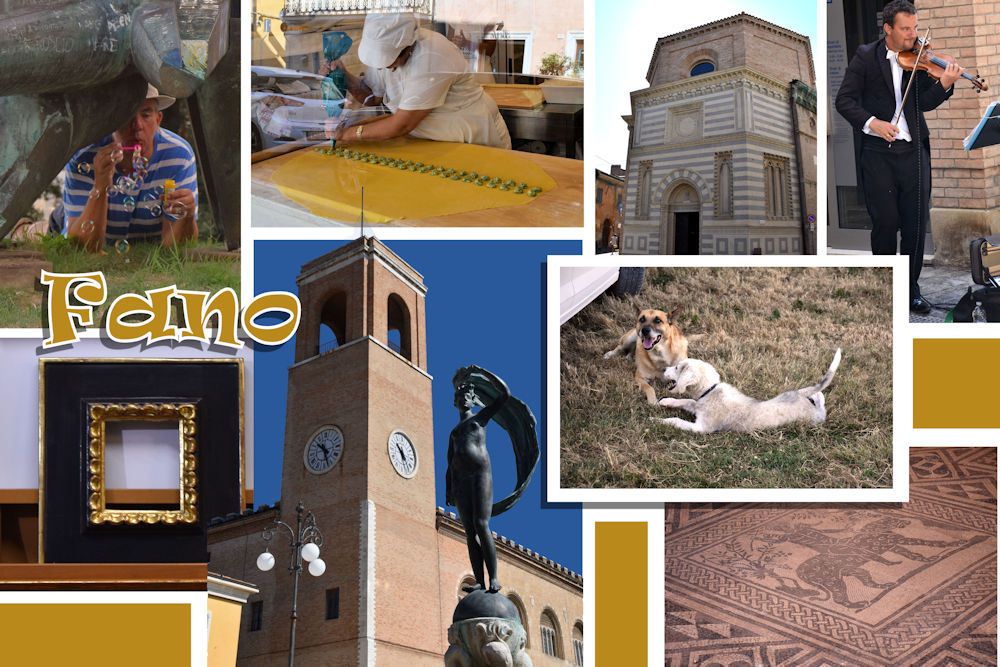 We returned to Fano on our last full day in Le Marche. The panther mosaic was a wonderful find. The picture frame was in Urbino and "one that got away". .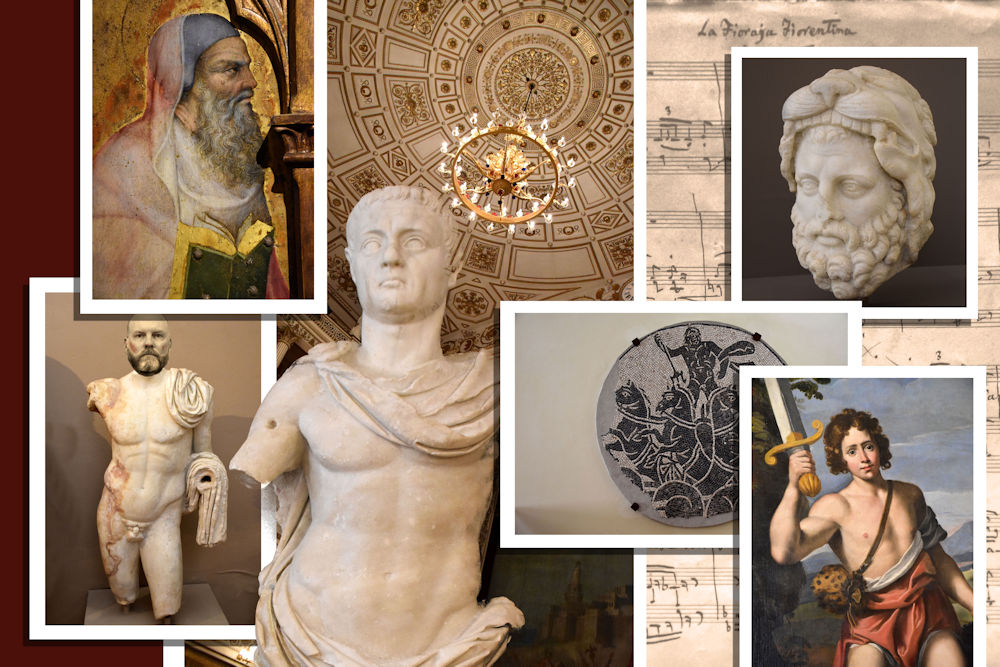 Rossini was born in Le Marche and his manuscript was on display in Fano, along with other wonderful and ancient art.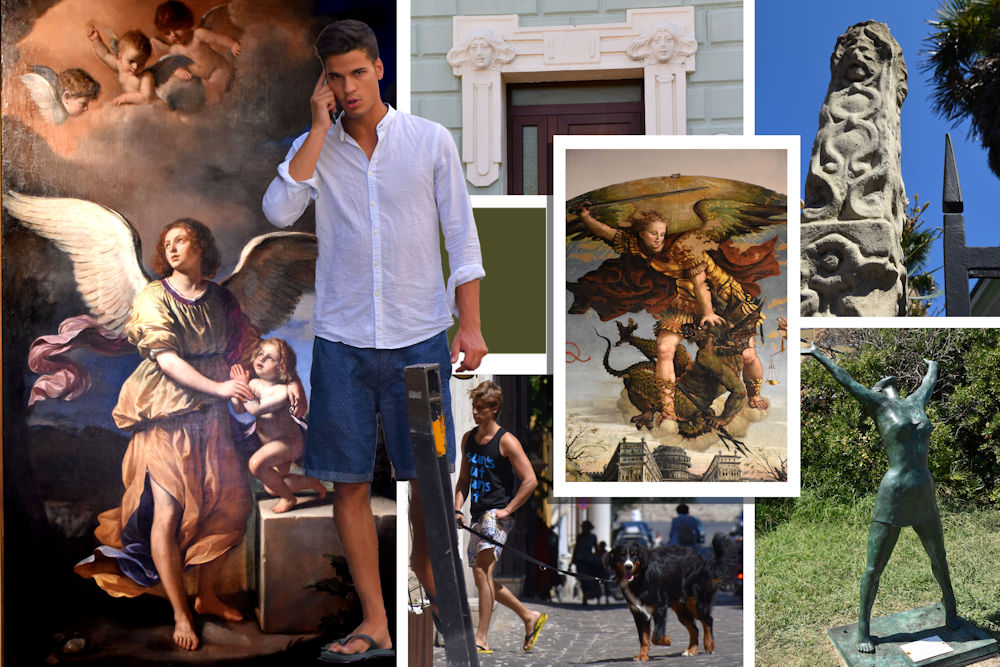 The painting Robert Browning to write a poem: The Guardian Angel: A Picture at Fano, and there is a stained glass version of the painting at Baylor University, in Texas.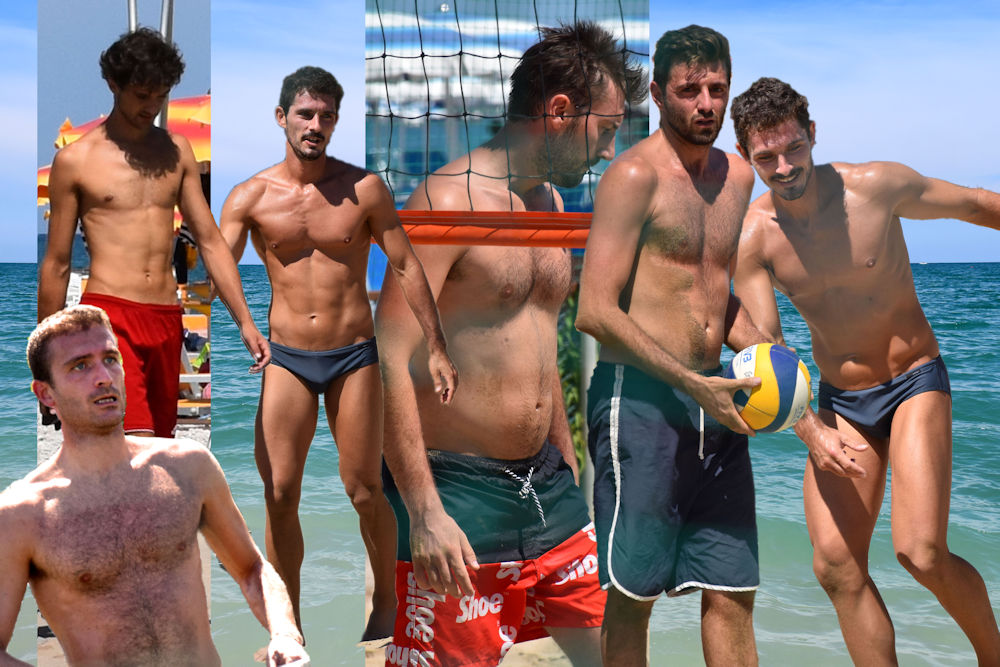 Putting the "fan" in Fano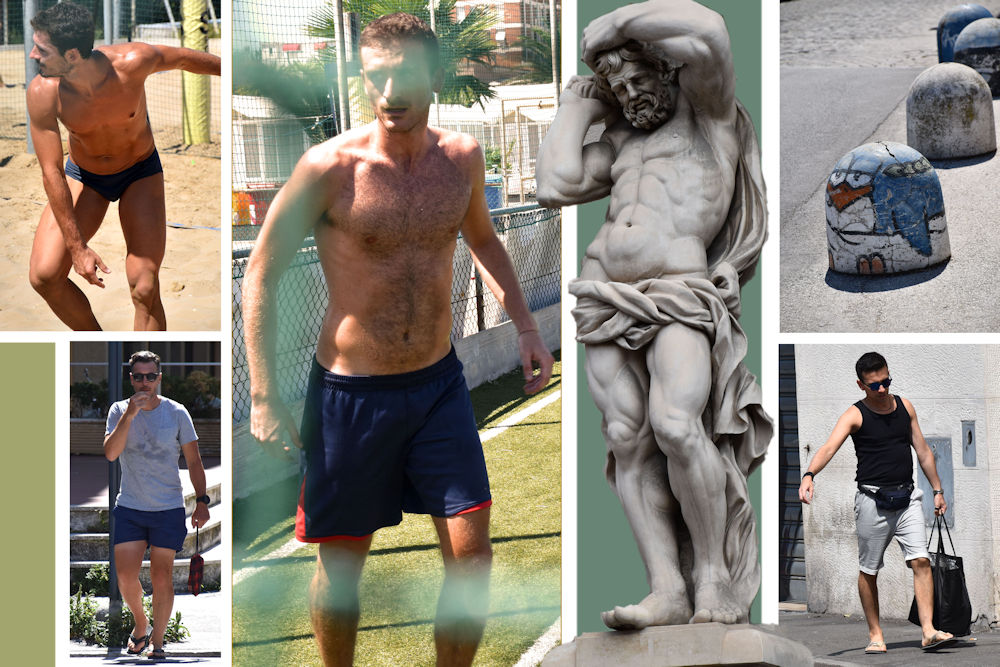 Volleyball: my new favourite sport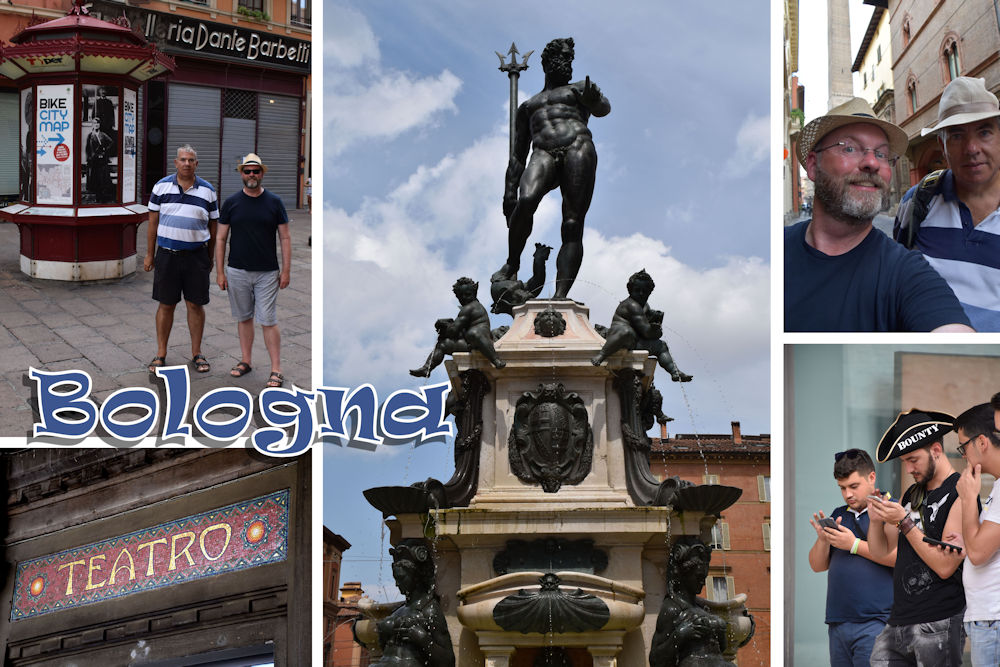 We stopped in Bologna before our return flight. We were last there in May, 2017, and enjoyed it much more this time. Neptune wasn't covered up, we found some lasagne bolognese and Art Nouveau, and there were cute Italians to see.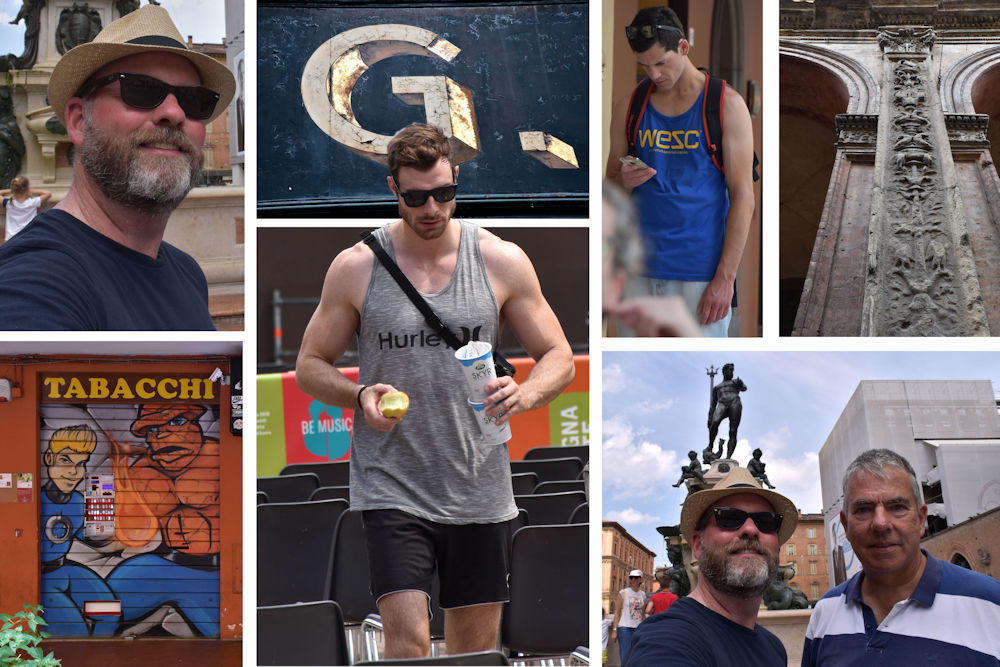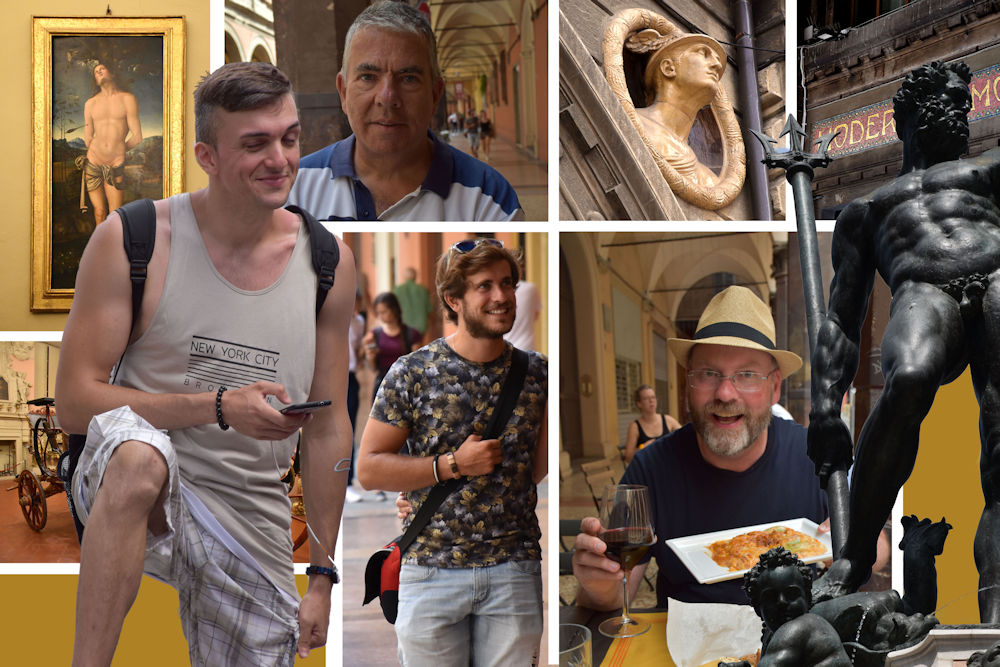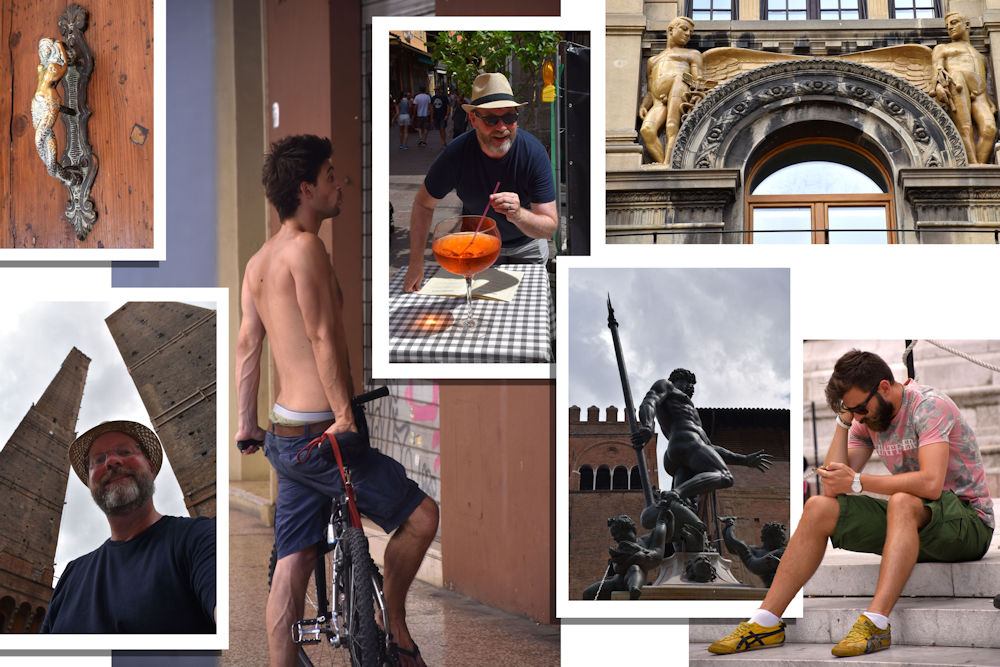 Ciao, Italia, until December, when we are in Roma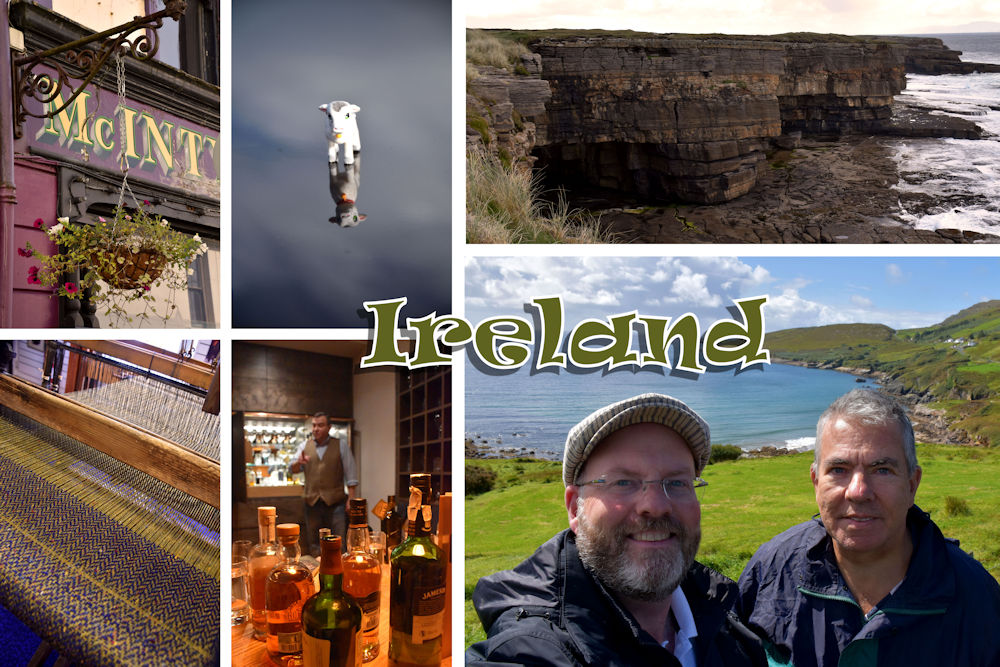 We went to Ireland and Northern Ireland in February for Nick's birthday treat to stay in a bubble dome at Finn Lough. After a mix-up with the booking, we were given a voucher to return in August. It was wonderful to return to the area in summer and to experience the Emerald Isle at its greenest, with the best possible weather we could wish for.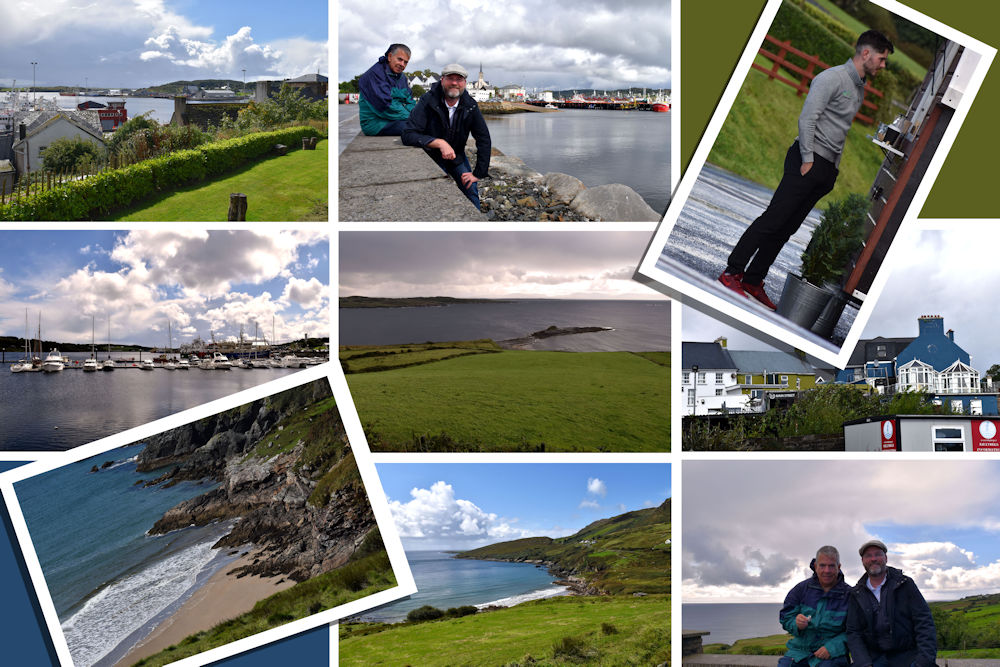 We flew into Dublin on the same weekend as the Pope's visit and quickly made our way west. Our first stop was Killybegs, famous for the manufacture of Donegal carpets and fishing boats. From there, we were given instructions on how to take the Wild Atlantic coastal road for the best views. Every time we got in the car, it rained, then we got out to take photos in brilliant sunshine. We picked a few blackberries at the gorgeous location, above.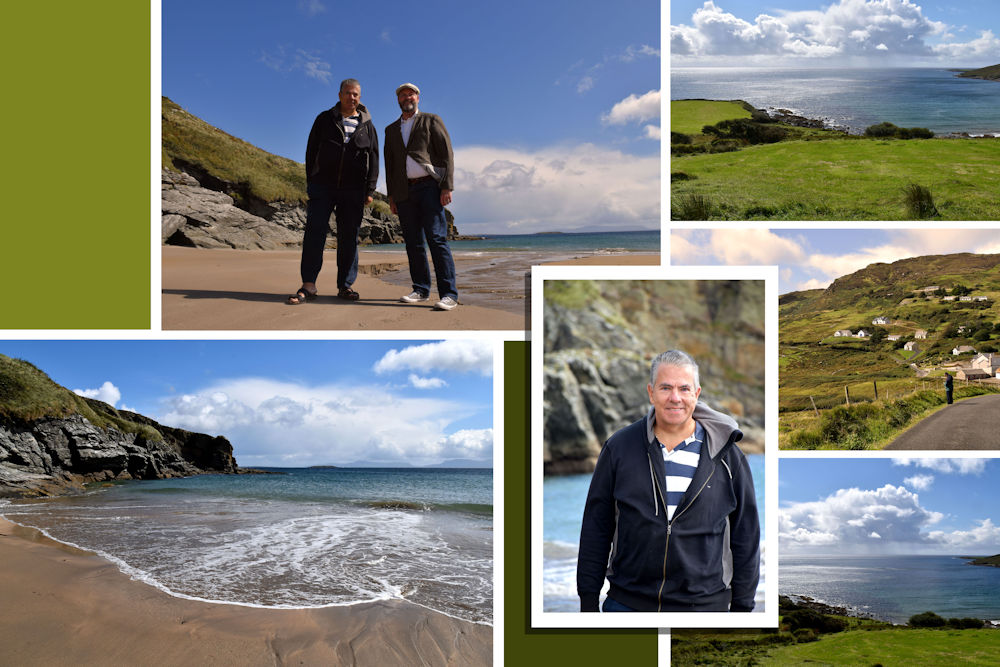 We had this beach to ourselves for a few minutes and made the most of the scenery.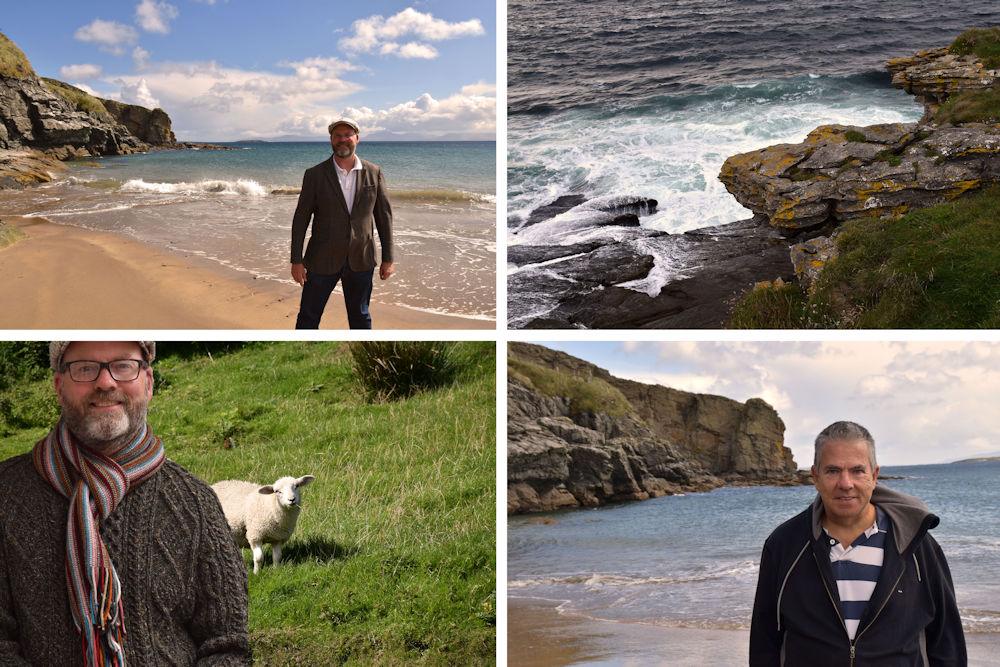 None of my impulse purchase are truly impulsive. I've always wanted to buy a real fisherman's knit sweather, and I bought the one shown from the grandmother who knitted it, making the purchase in the front room of her cottage while the sheep who produced the wool grazed in the field behind. The scarf came from Magee, in Donegal, where I bought my tweed suit in February.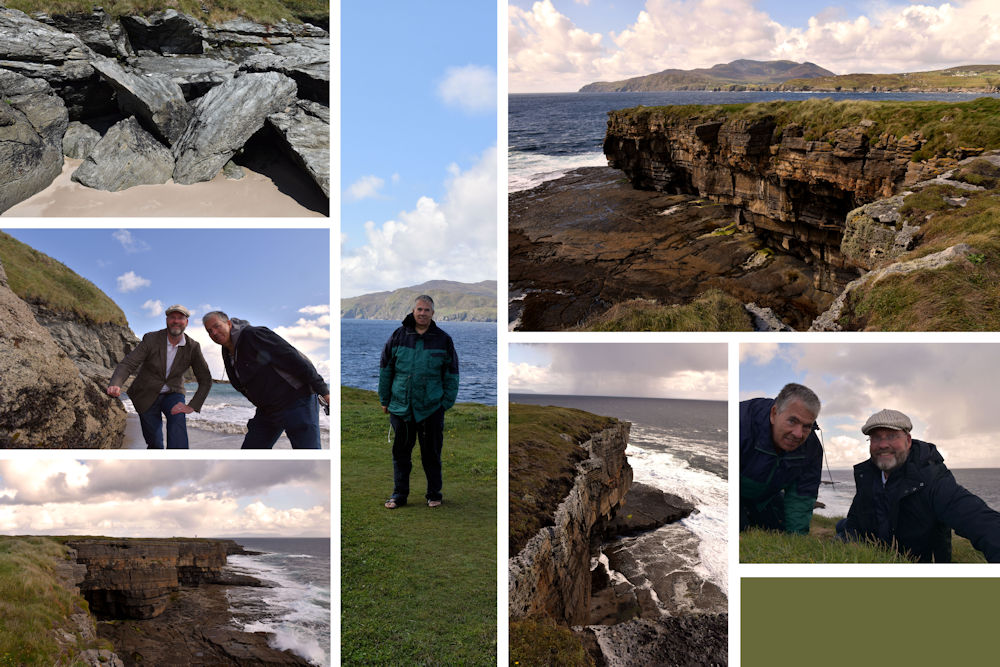 Our next stop was the awe-inspiring cliffs of Muckross Head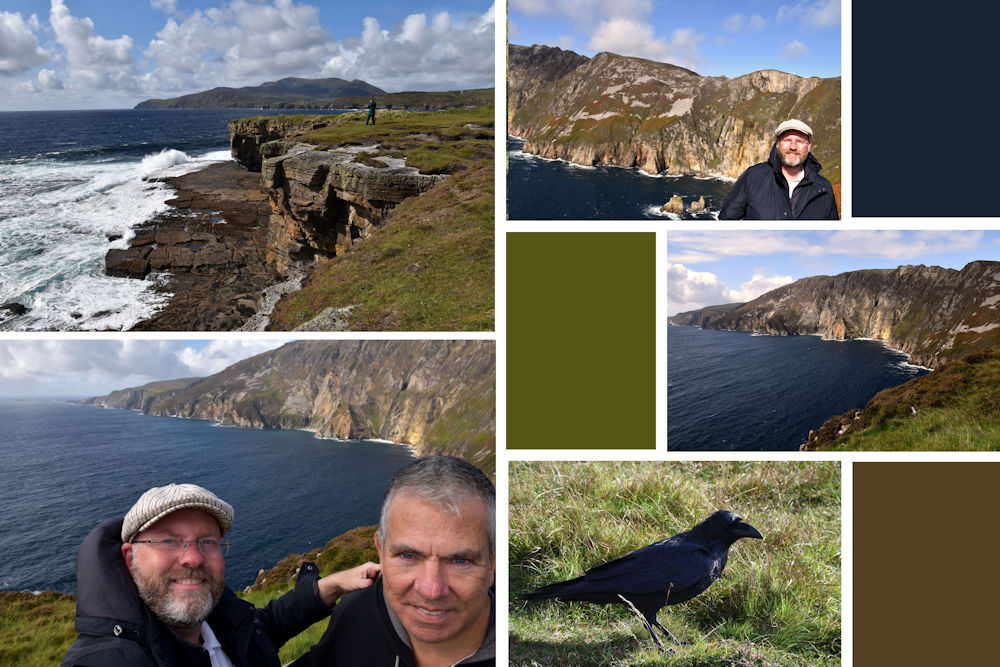 Our main destination of the day was Slieve League, the highest sea cliffs in Europe. Thankfully, a shop assistant in Killybegs told us not to leave our car at the bottom car park, but to drive through the gate and up to the top, which we did, leaving scores of rain-drenched tourists in our wake. The view at the top was sunny and spectacular.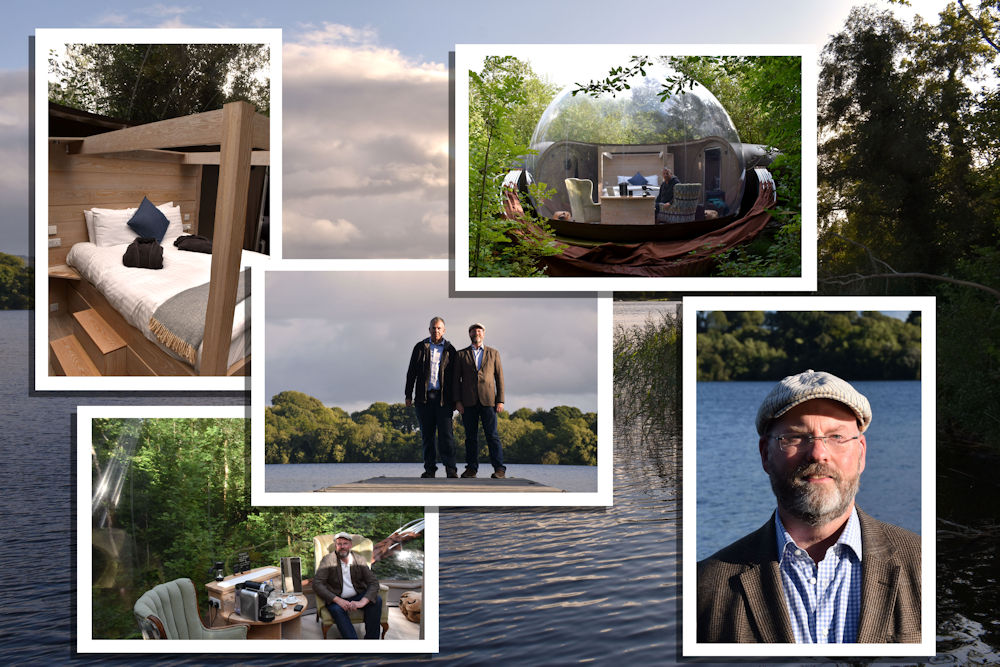 After Slieve League, we checked into Finn Lough, where a cute Italian man showed us to our bubble dome. Photos don't do it justice. It was just like having luxurious furniture right in the middle of the forest, but with no bugs or rain to hinder our enjoyment of the stars - I saw a shooting one - and the sunrise. It rained in the night, and that was wonderful, too. There was a coffee machine, popcorn to snack on, a comfy bed, and a shower room, all surrounded by forest.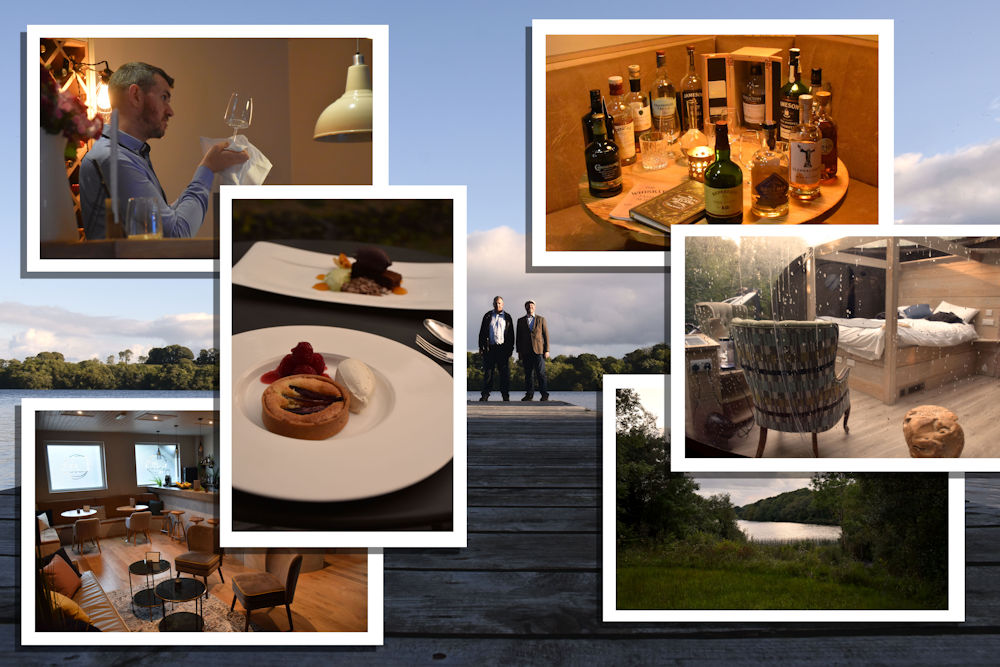 Our voucher included a three-course meal of goat's cheese and ham hock starters, roast duck and steak as mains, and chocolate cake and pear tart for dessert, which we enjoyed on the porch. After dinner, we took a walk around the grounds and then experienced an hour-long whiskey tasting with our Bulgarian sommelier, Dobi, who introduced us to some fantastic spirits. My favourite was the Port Charlotte heavily peated single malt from Islay (not Irish, I know, but we did like Bushmills, too).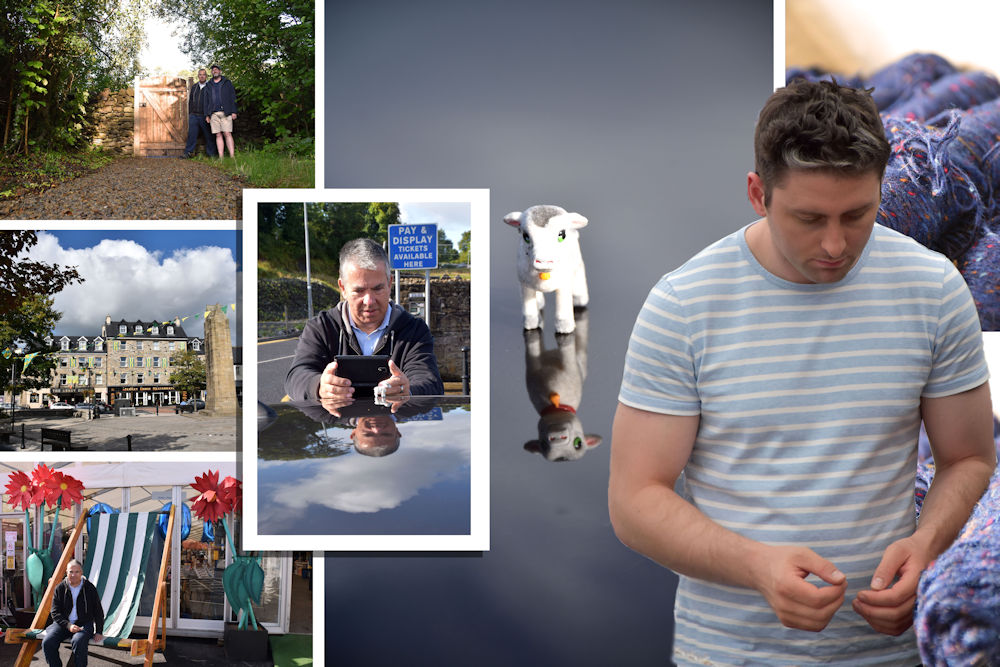 After breakfast, we drove to Donegal, where there was a food festival. It cost quite a lot to get in, but we had enough samples (including seaweed) to fill us up for the rest of the morning. I returned to Magee and thanked Paul, who measured me for my tweed suit in February. I also bought a scarf and a gift for friend, Rus. Nick photographed Tiny Cow, first seen in Le Marche (see above on this page), on top of our shiny rental car.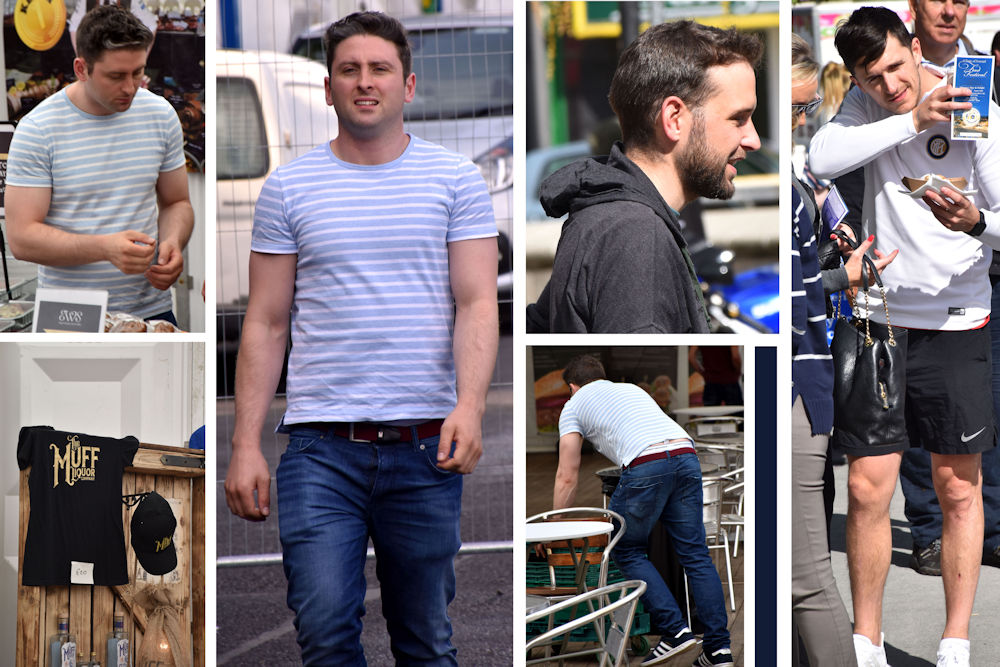 Irishmen in Donegal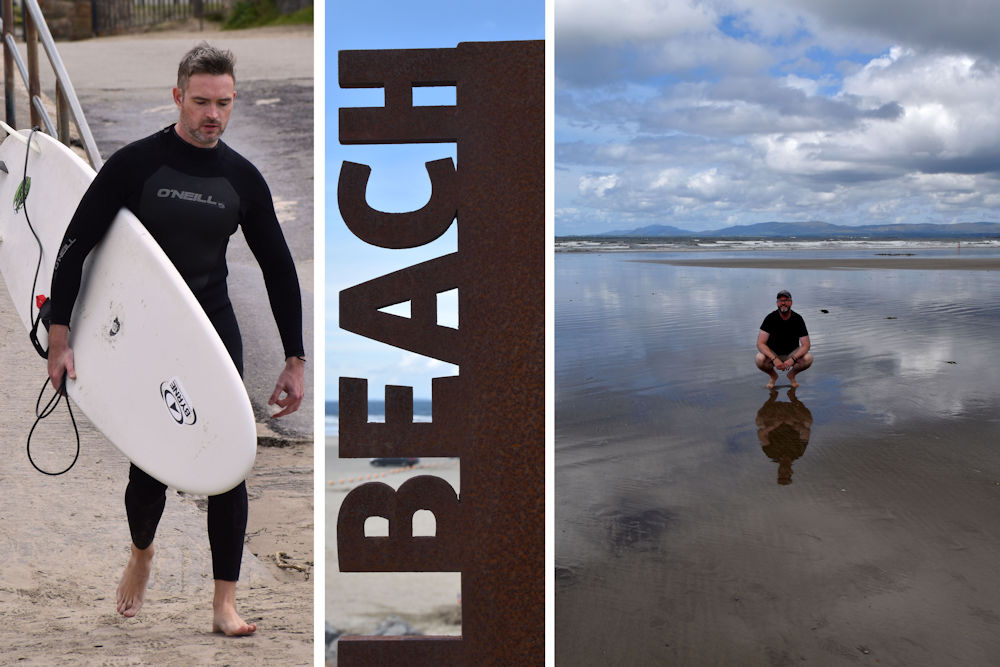 We moved on to a surfer beach, which was littered with jellyfish. We both saw the man on the left changing into his wetsuit but the camera was shy.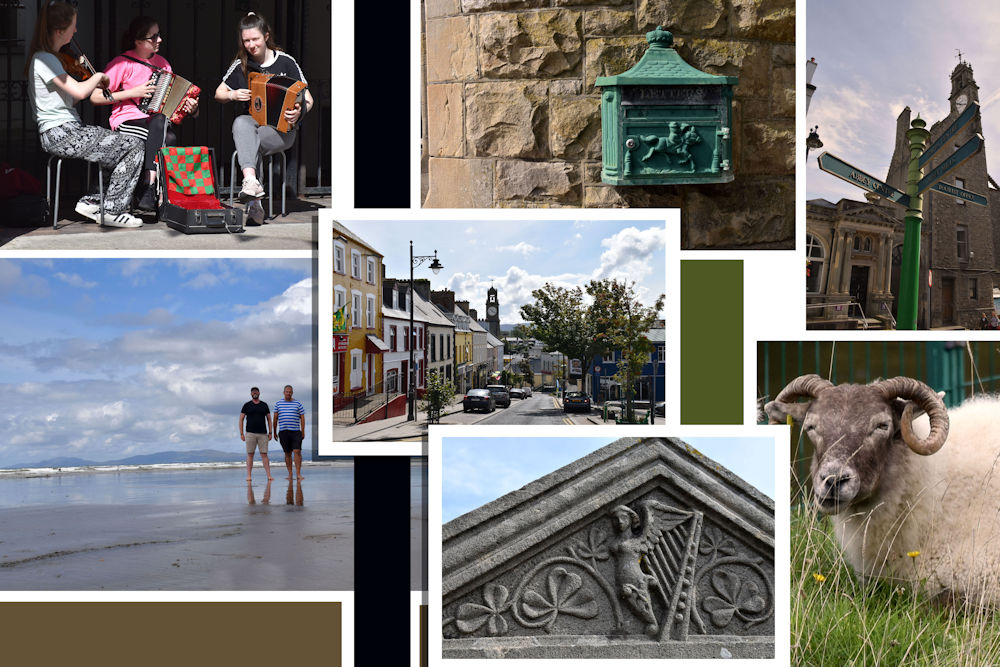 Next stop was Ballyshannon, the most Irish sounding of Irish towns. My favourite thing about it was a very cheap cheese and onion toastie we had for lunch.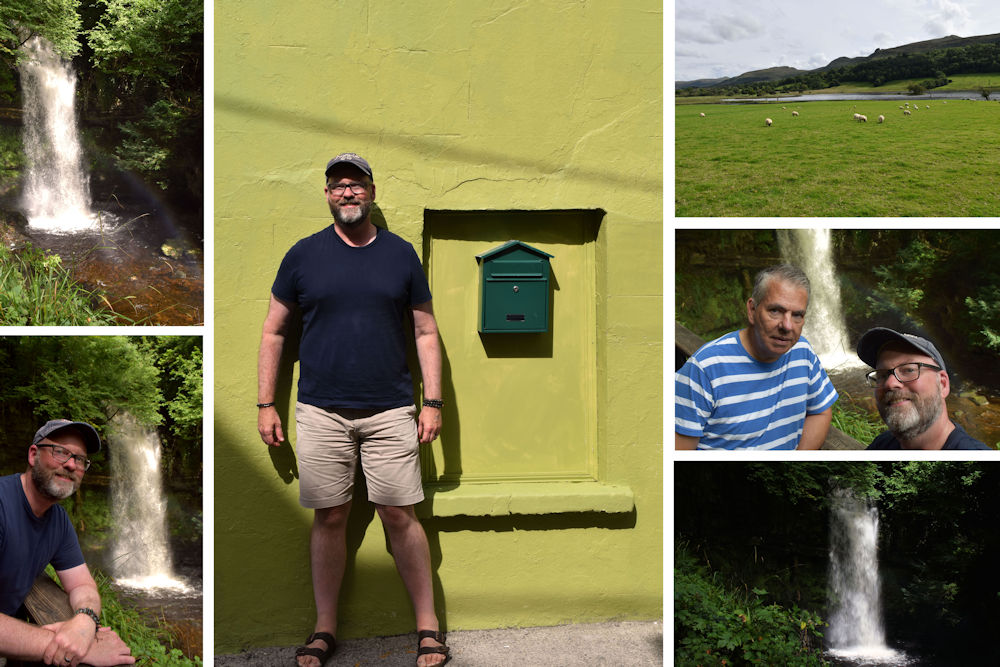 "There is a waterfall…that all my childhood counted dear", wrote Irish poet Yates of this spot, which we saw, complete with mini rainbow.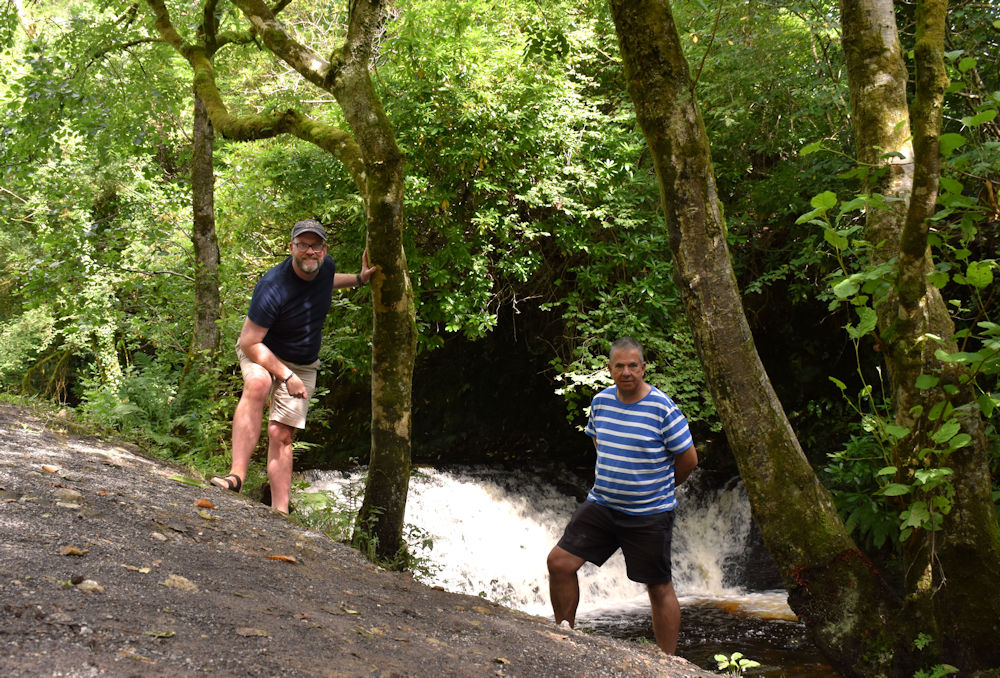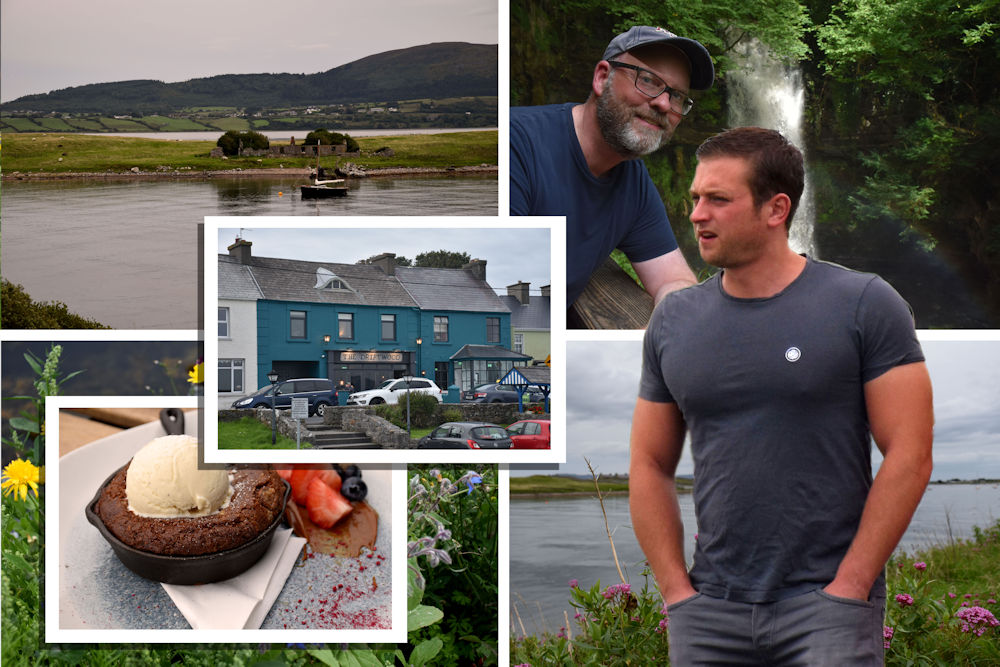 Because all the hotels in Donegal were full of Pope fans, we stayed on the west coast and spent the night in The Driftwood hotel, a wonderful place right on the bay. The cookie dough skillet for dessert was fantastic. There was live Irish music at Harry's pub just down the road, but we were too tired, so we watched a bit of Carluccio on Youtube and went to sleep.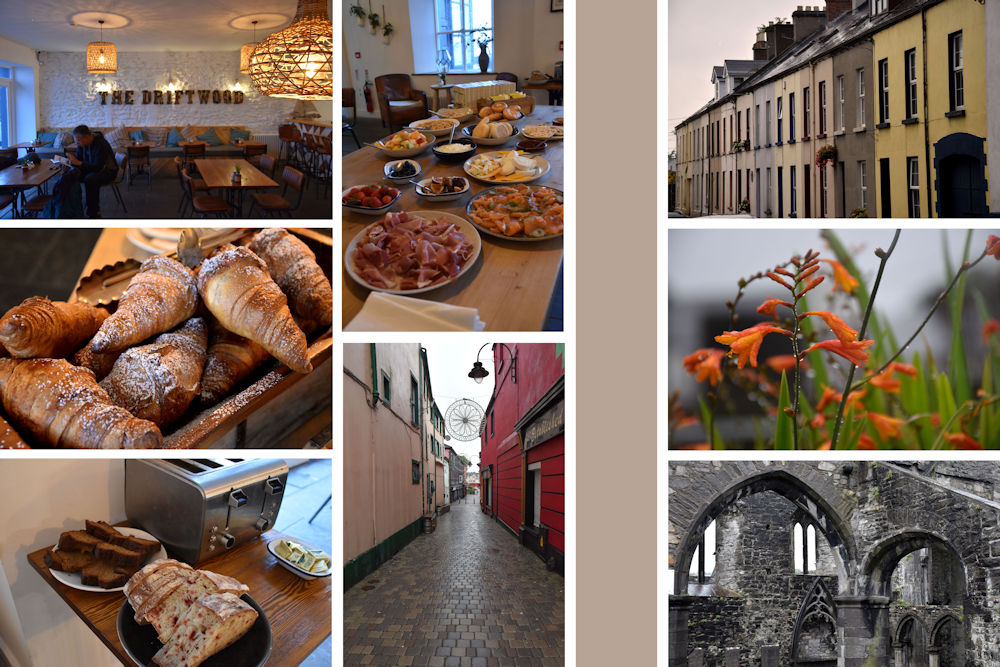 The Driftwood's breakfast was memorably delicious, with fresh molasses bread, bagels with peanut butter, cheeses, boiled eggs, and more. I was so full, I didn't even eat a croissant. After that, we drove into Sligo.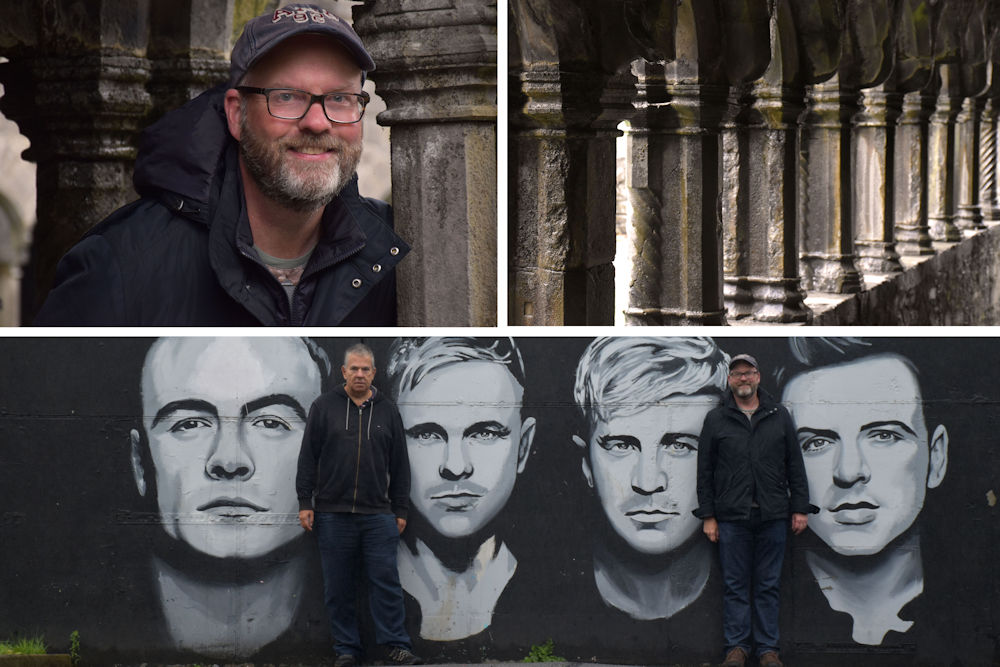 Sligo Abbey, founded in 1253, and some Westlife street art.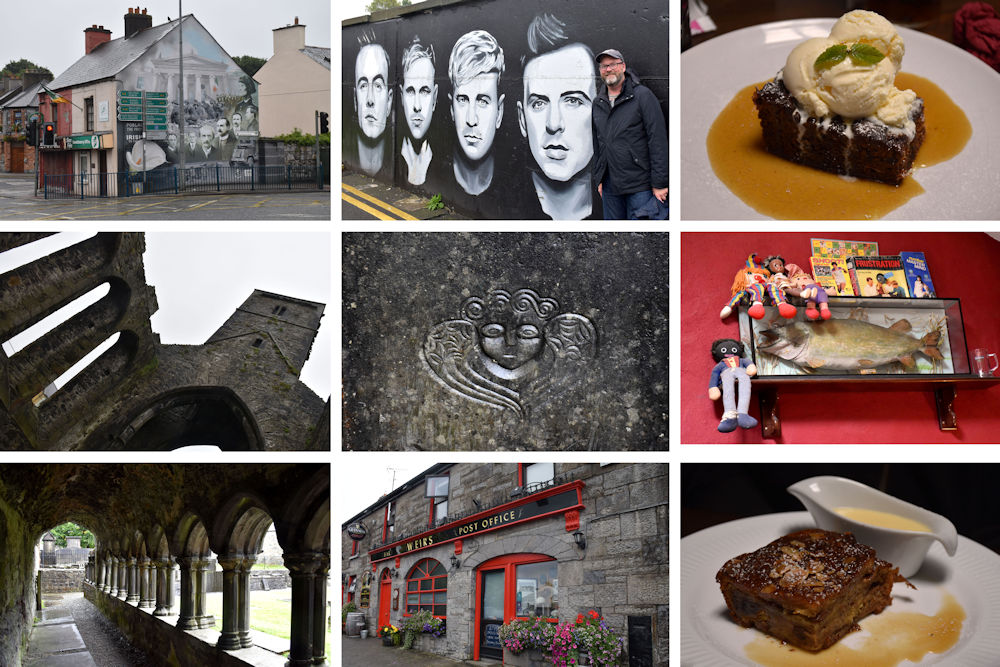 After leaving Sligo, we returned to Dublin, stopping for lunch at The Weirs pub. The best bit was dessert and seeing photos of Johnny Depp and Cillian Murphy, who visited in 2013. Ireland, I hope we'll be back!