School's out and summer is in full bloom. Click HERE for photos from Summer 2018 (Budapest, Le Marche, and Northern Ireland), HERE for photos from 2017 (Paris and London), HERE for 2016 (festival and chaps), HERE for 2015 (reunion and wedding), and HERE for 2014 (meeting the stars).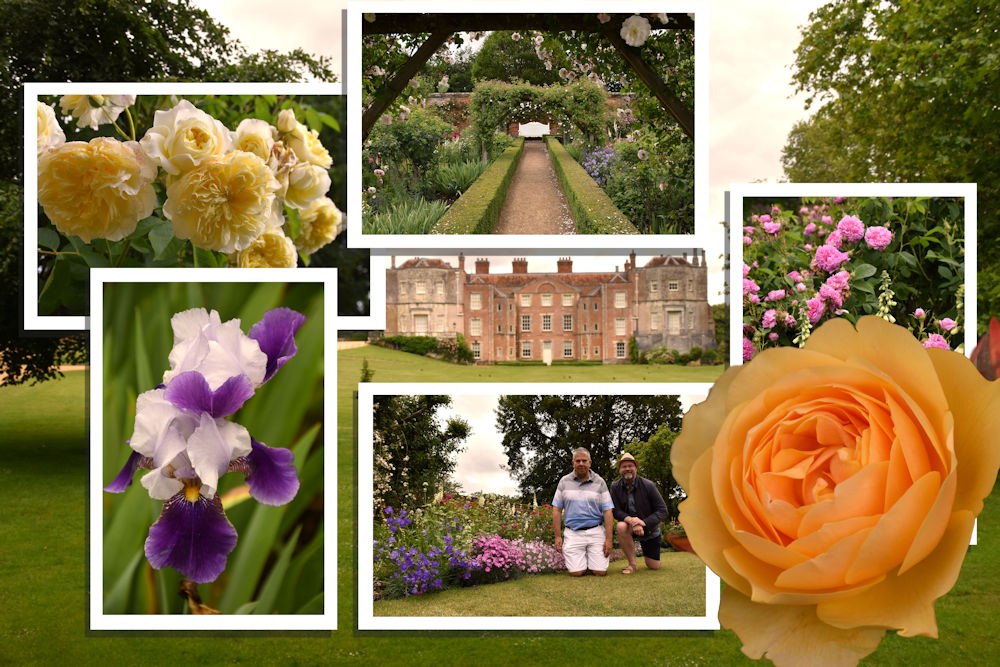 A visit to our local abbey and its famous rose gardens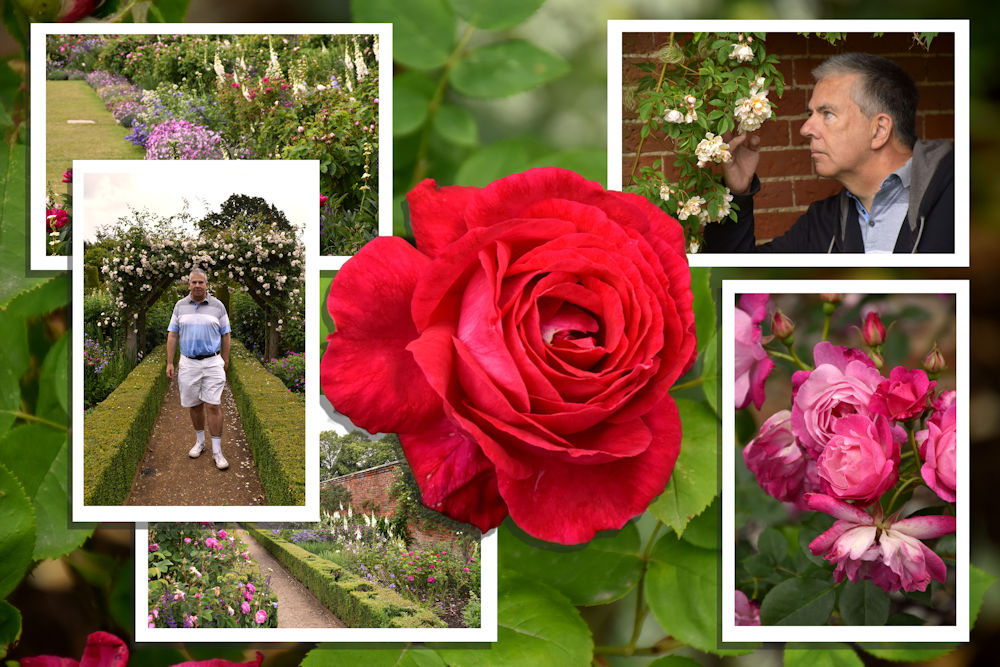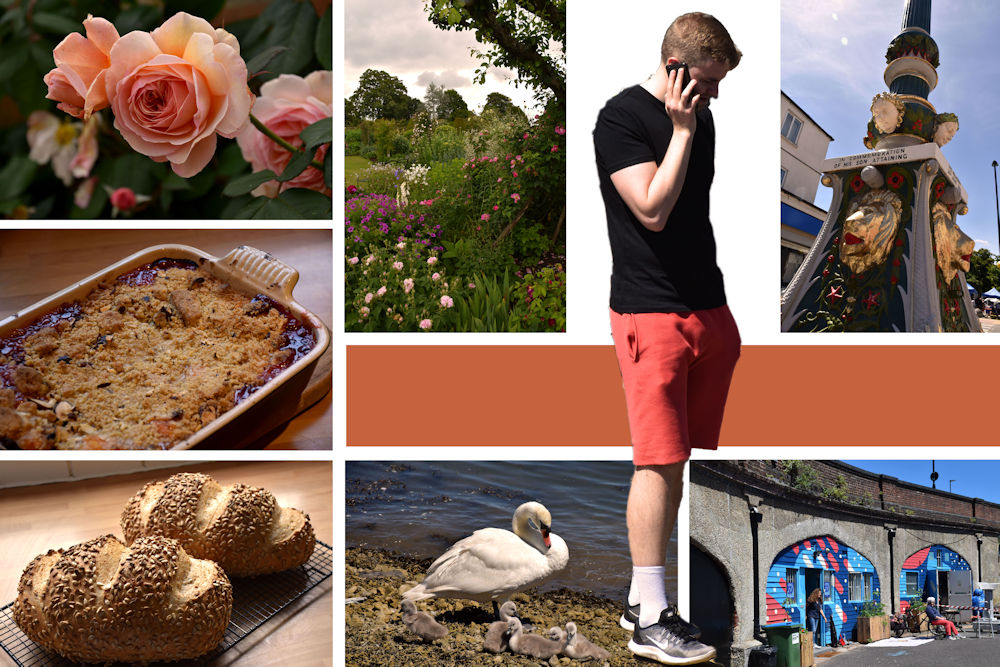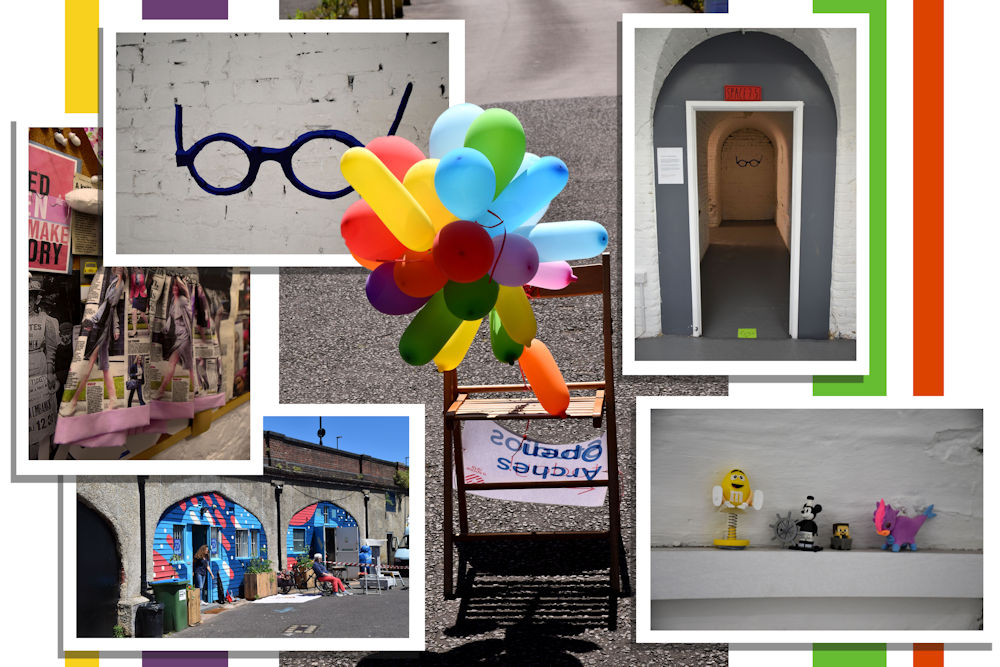 Our town held an Artists' Open Studios in the Arches, which featured an installation inspired by David Hockney.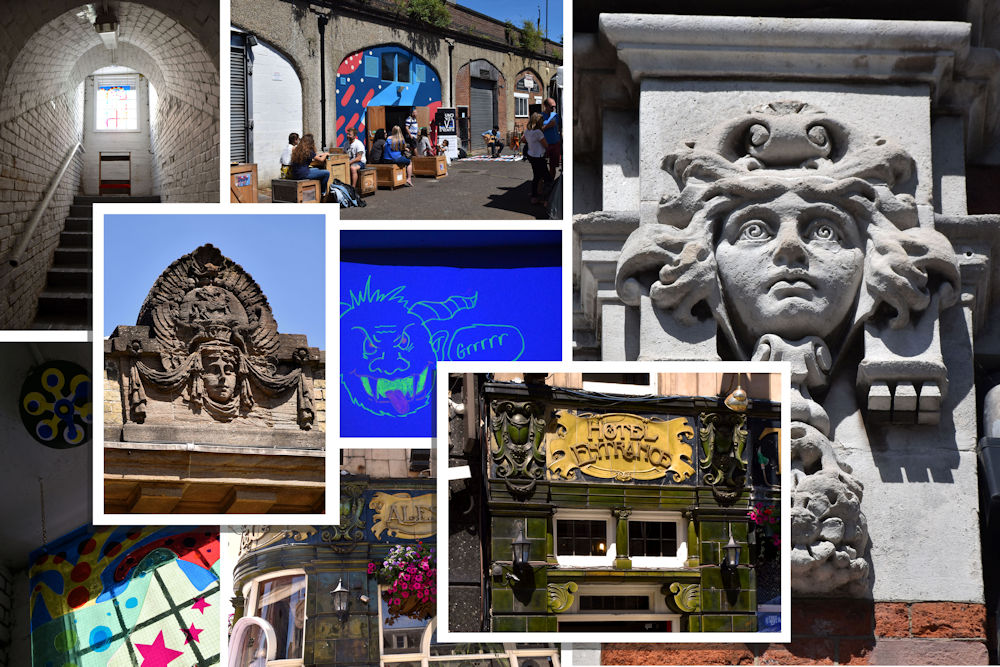 We both drew monsters in the black-lit room and then discovered Art Nouveau in Oxford Road.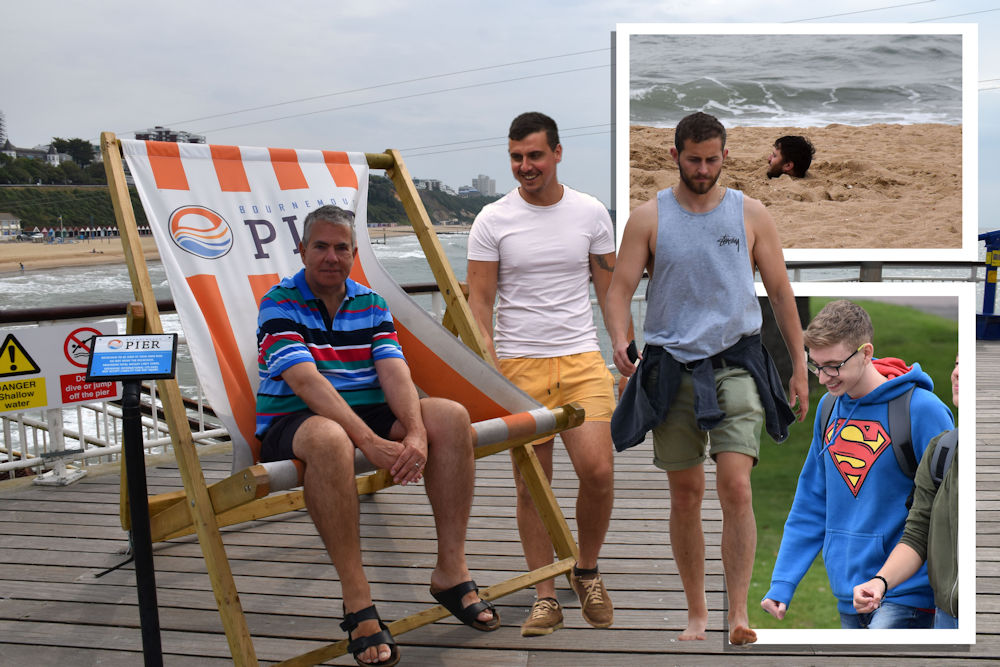 Bournemouth Beach. Clilck HERE to see other Supermen.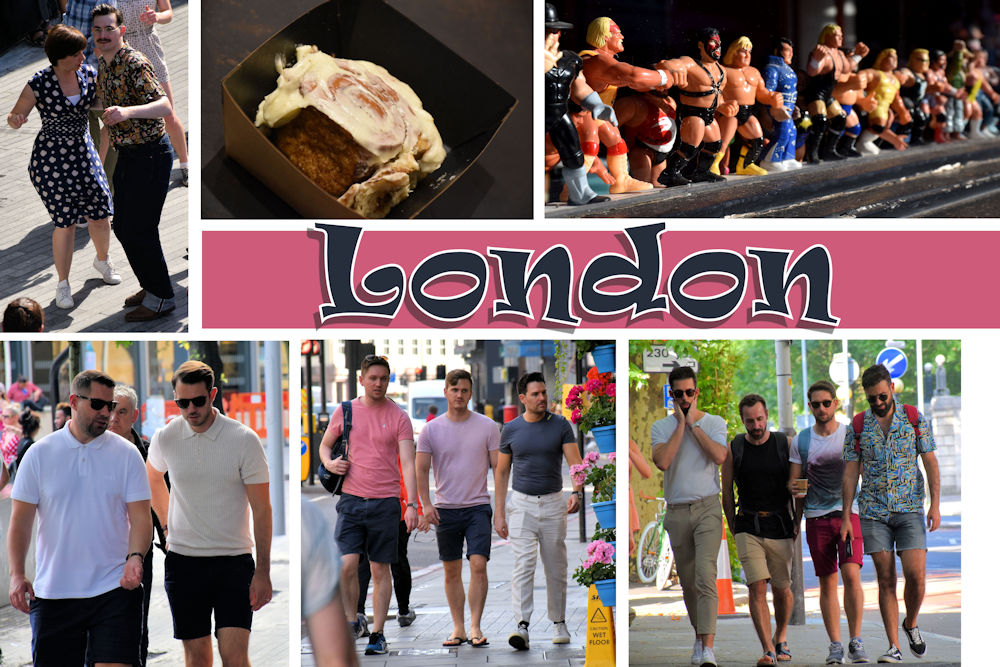 We went to London for a cultural Saturday. Visiting Borough Market at closing time resulted in a free cinnamon roll.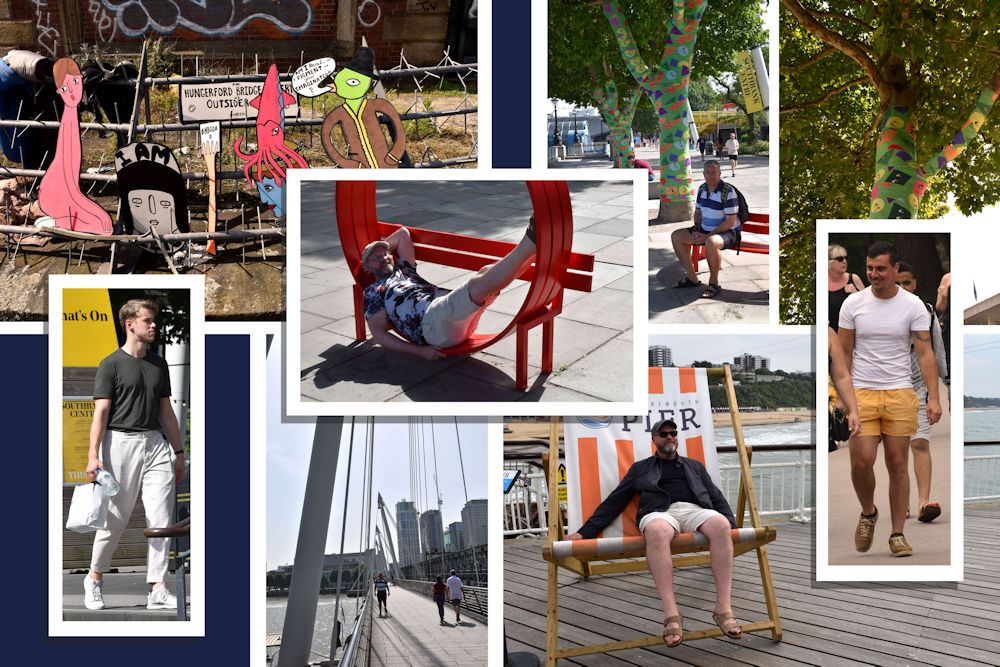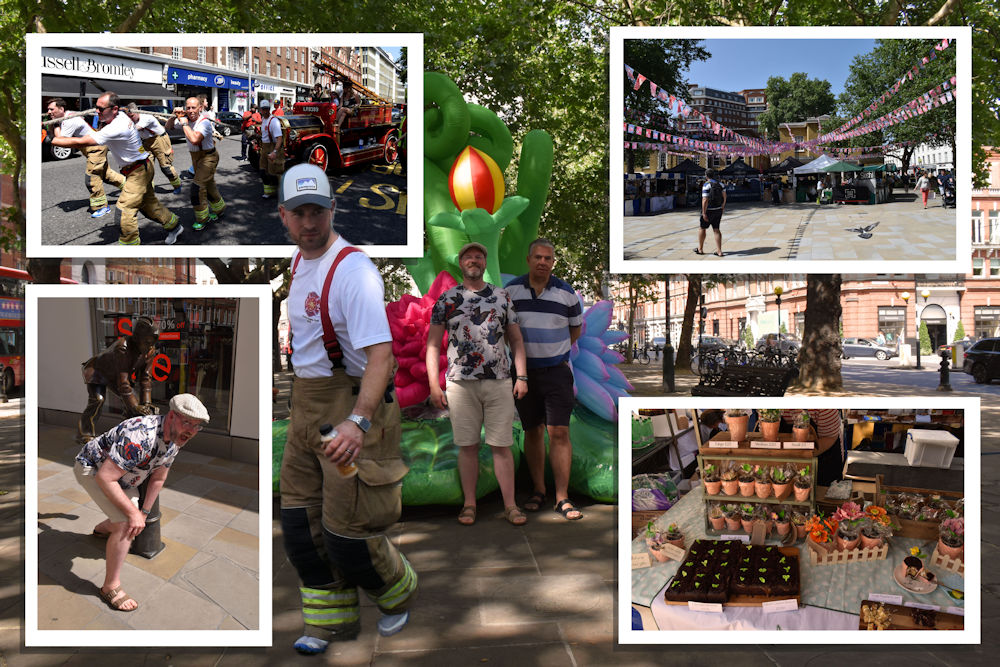 There was an art fair on in Chelsea, as well as a food market. We watched firemen as we ate our arancina.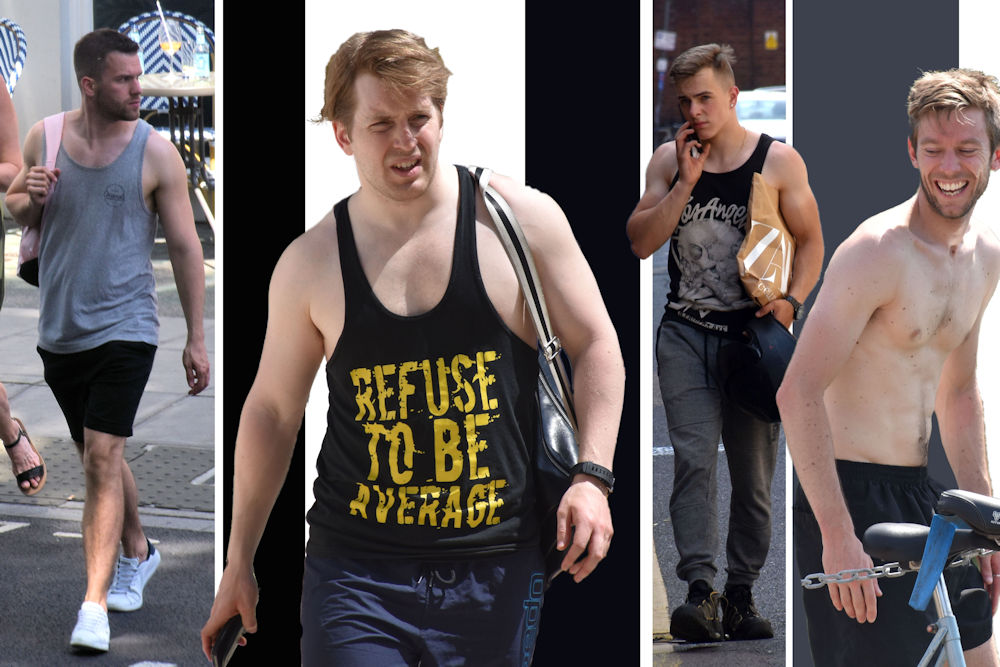 Some of London's finest arms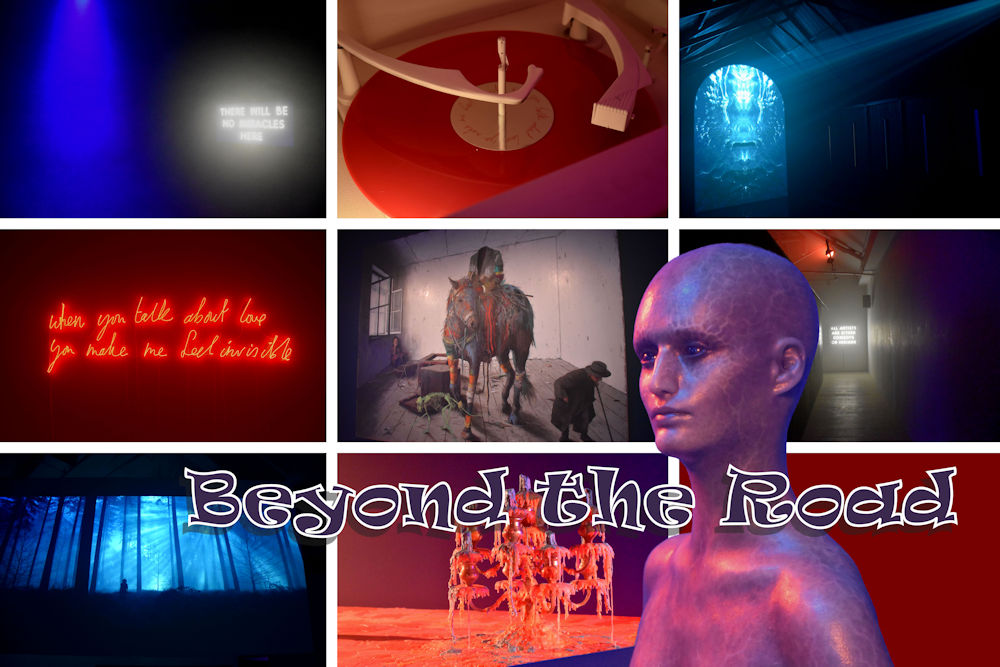 At the Saatchi Gallery, we saw Beyond the Road , an immersive exhibition that merged the worlds of visual art, music and film, offering visitors a chance to lose themselves in a multi-sensory world of sound. The project was created by Colin Nightingale (Punchdrunk), Stephen Dobbie (Punchdrunk) and James Lavelle (UNKLE). Click HERE to read my review of Punchdrunk's The Drowned Man, which we saw in 2013.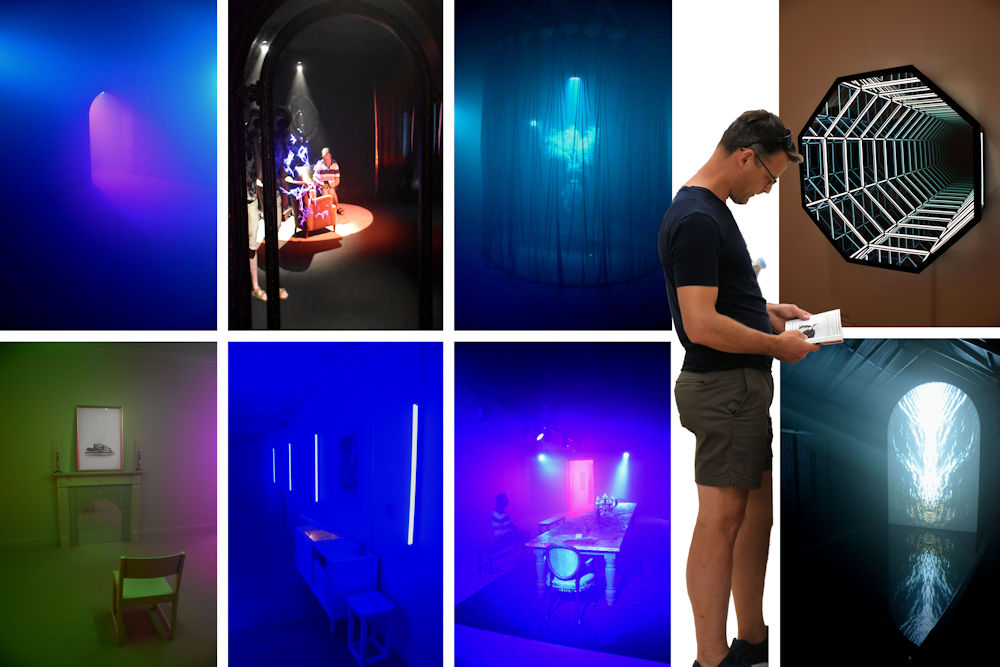 Some of the sights at Beyond the Road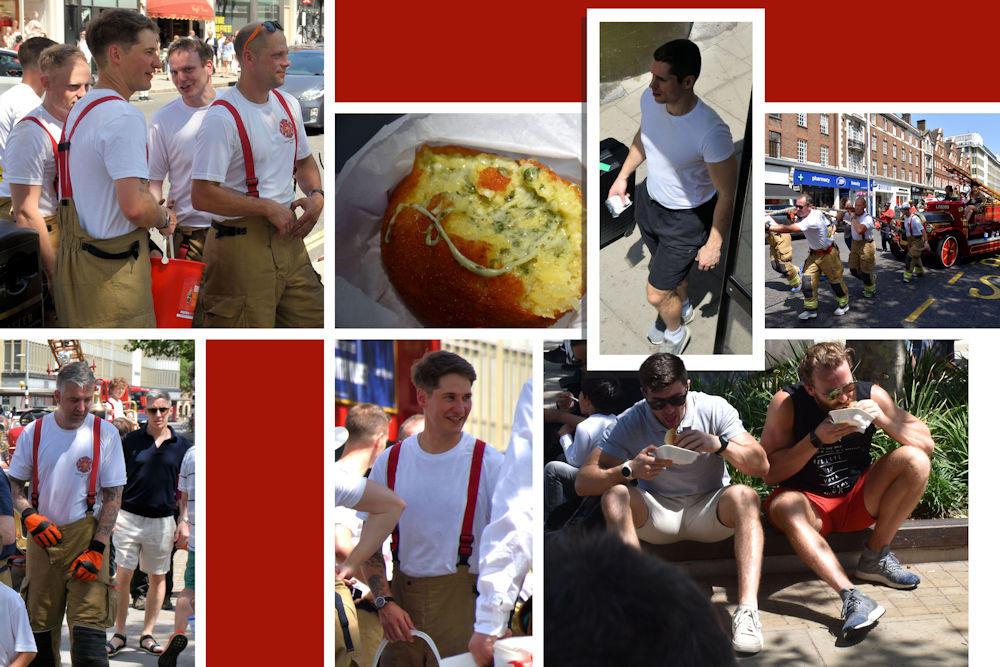 Outside, there were treats in store, including arancine better than any we tasted in Sicily in May.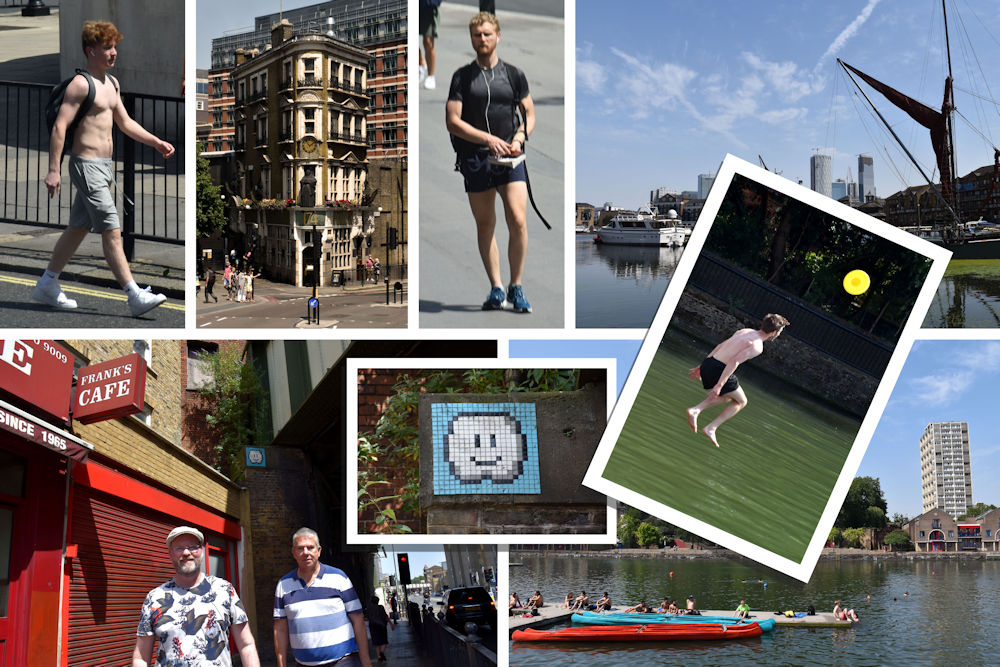 We took a very long bus ride across the city to flash one of the few remaining Invaders we hadn't already seen in London.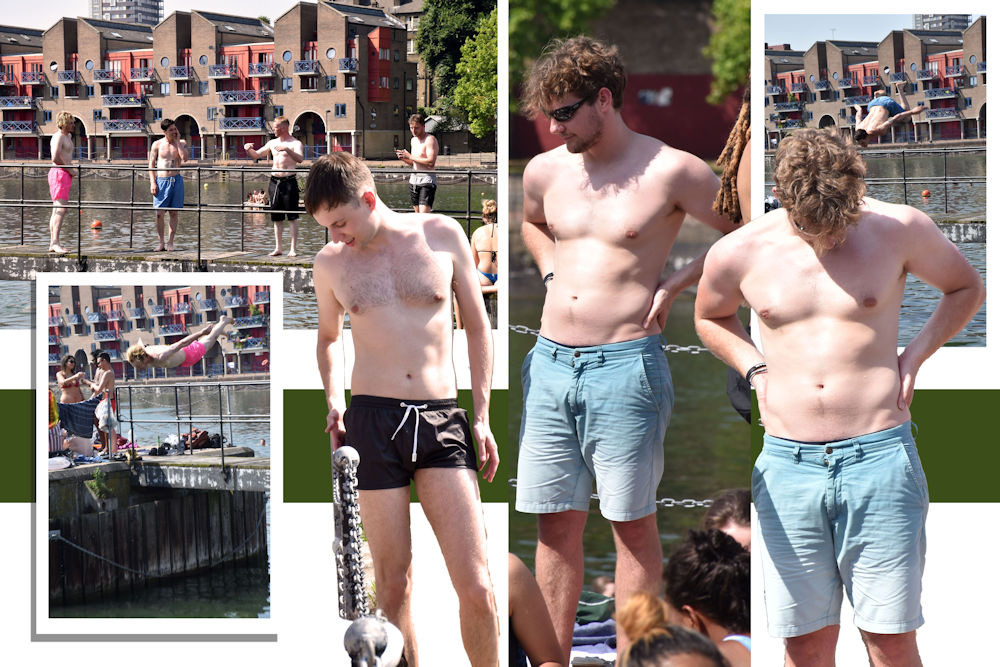 We discovered divers cooling off at one of the city's basins.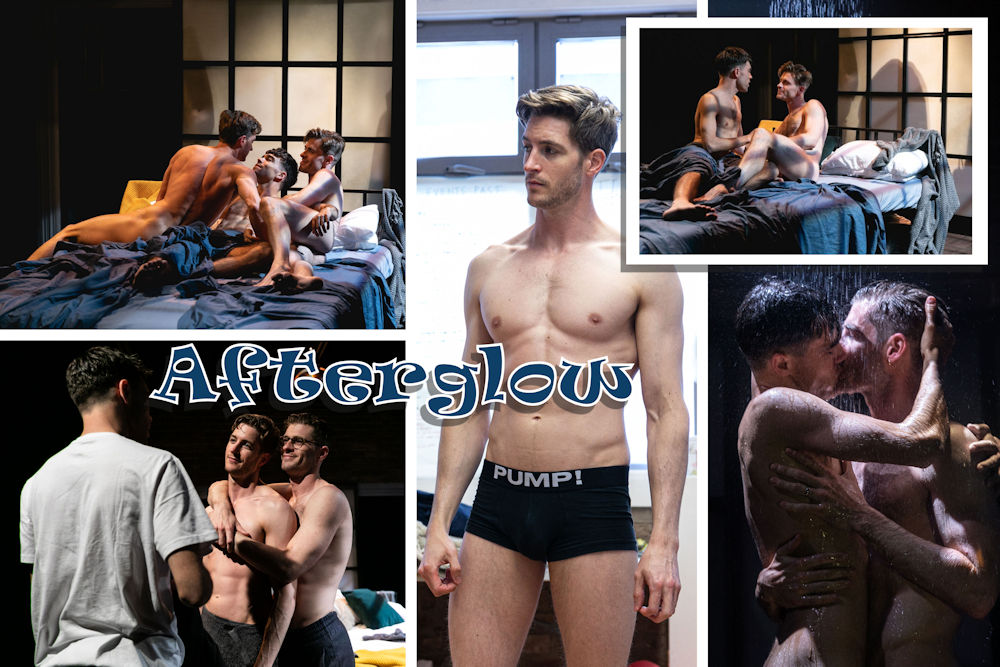 My birthday gift from Nick was tickets to see Afterglow at the Southwark Playhouse. The theatre was very hot, so the actors had to shower on stage. .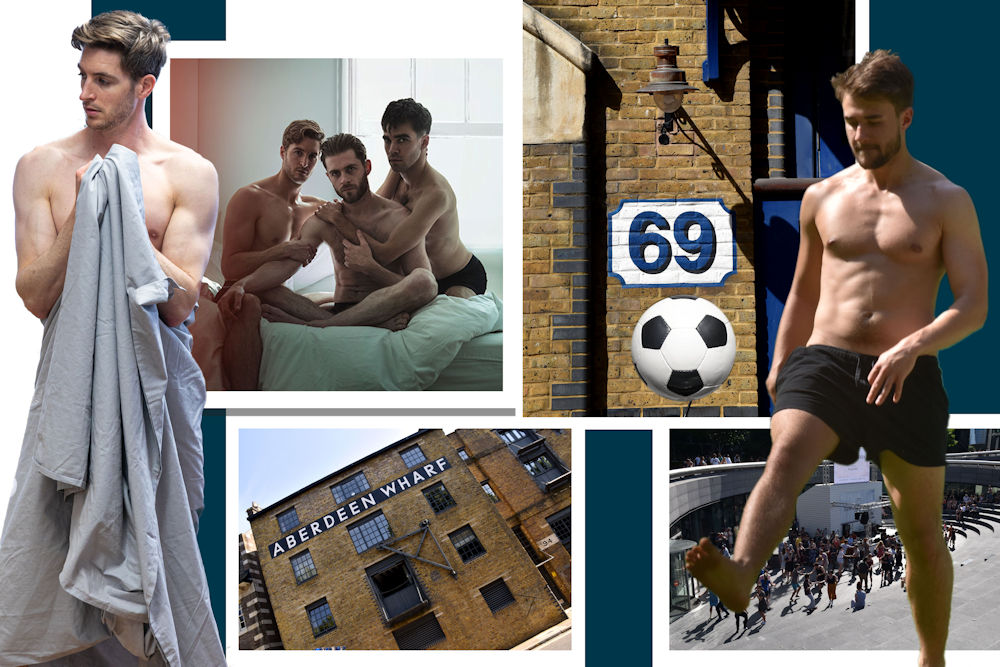 We walked along the river in the early evening and found soccer players and a group of 1930s-style dancers.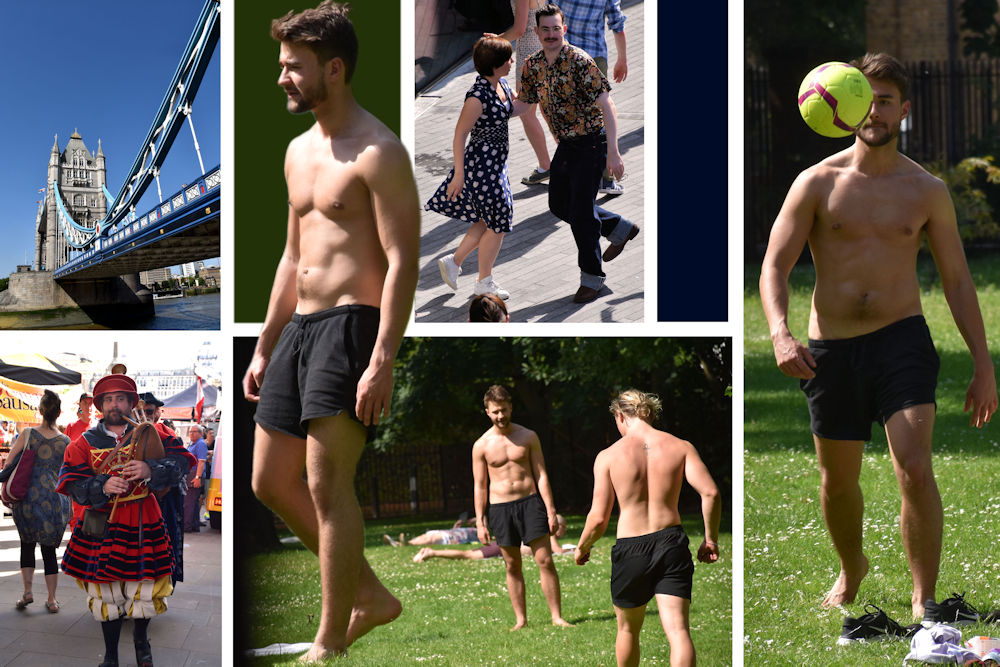 Riverside sights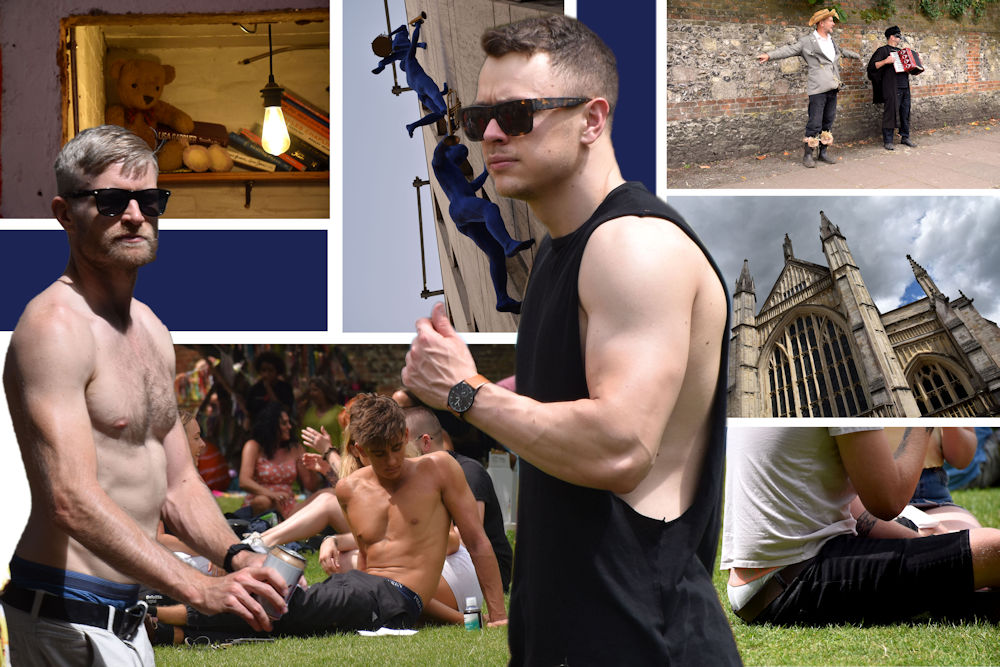 Most of the photos above are from the Winchester Hat Fair, an annual festival of street entertainment and cute dads.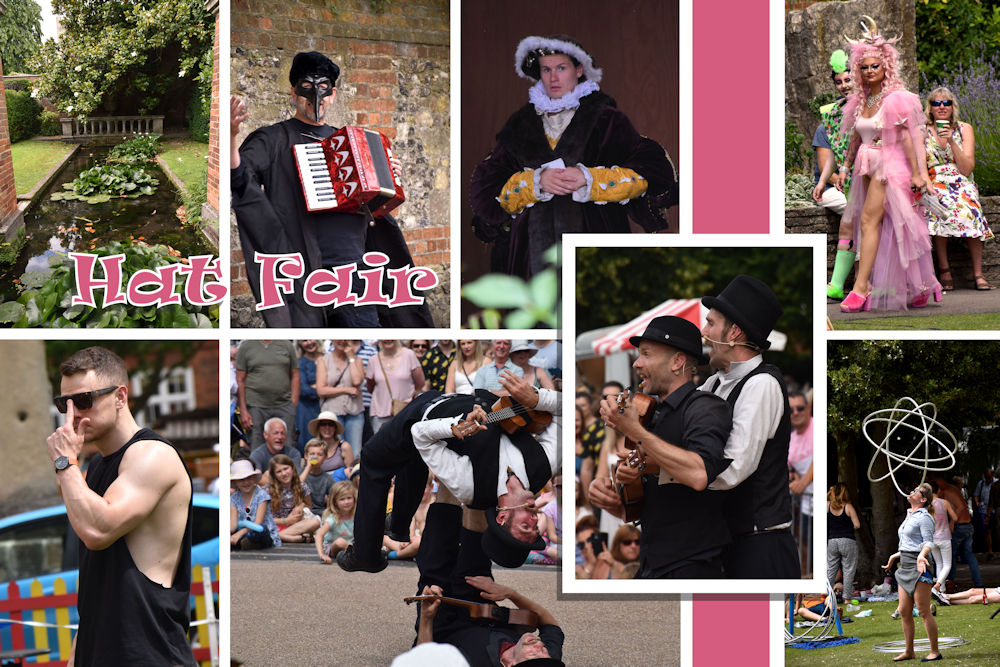 We watched an accordion-playing crow, a children's drag queen, Mable Staplegun with her hula hoops, and best of all, Barada Street, the ukulele and acrobatic comedy duo of Richard and Juri.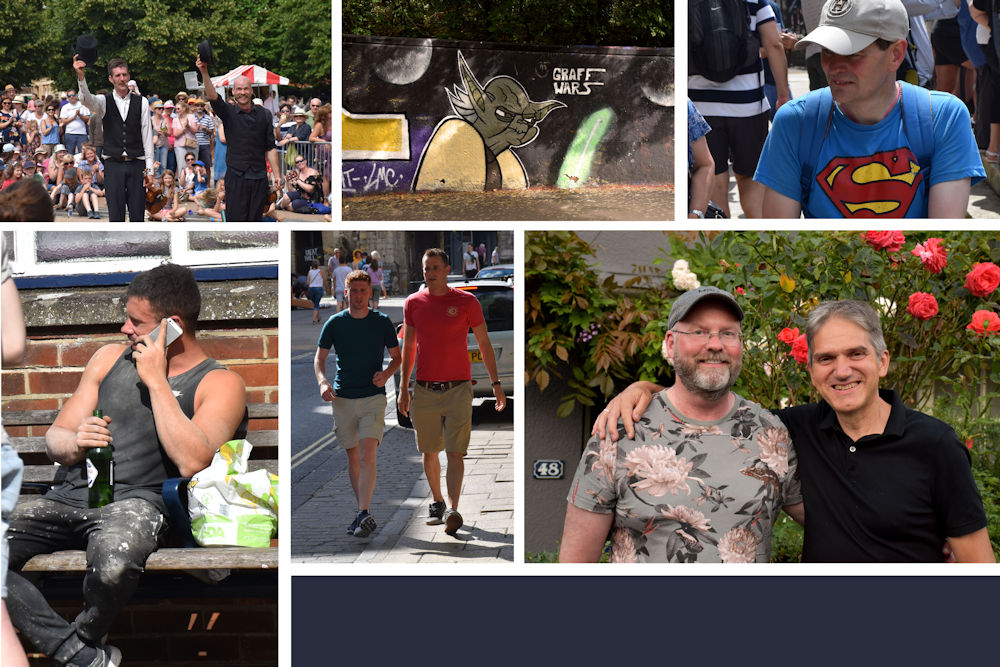 Above are photos from Winchester, and one with Mark, whom I hadn't seen for over 20 years. We had a pizza meal at our house.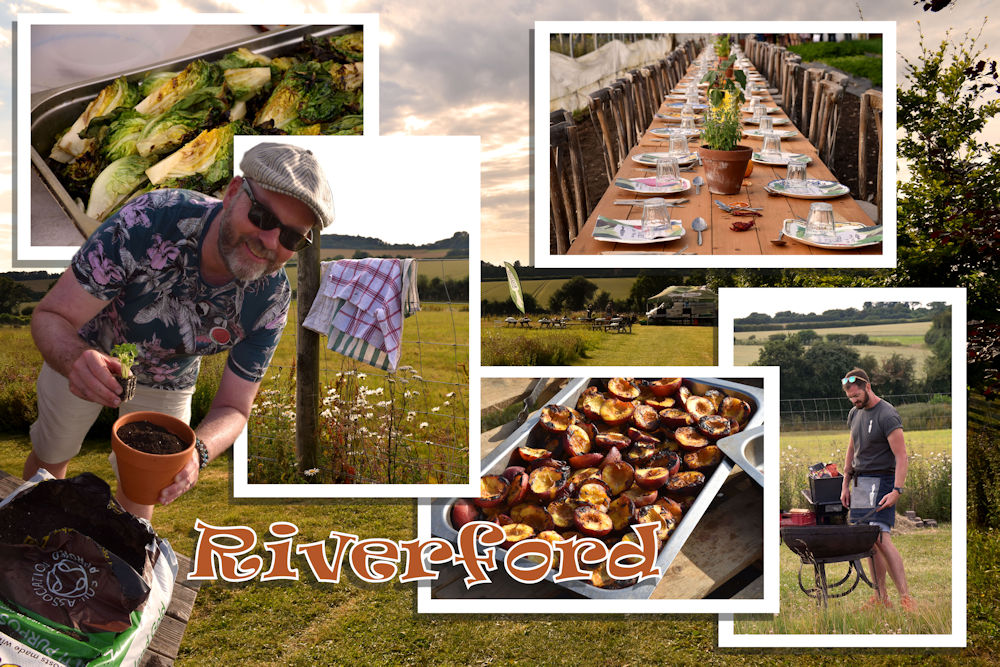 We visited Riverford's Norton Farm for some herb planting, a tour of the farm, and a multi-course meal in a polytunnel.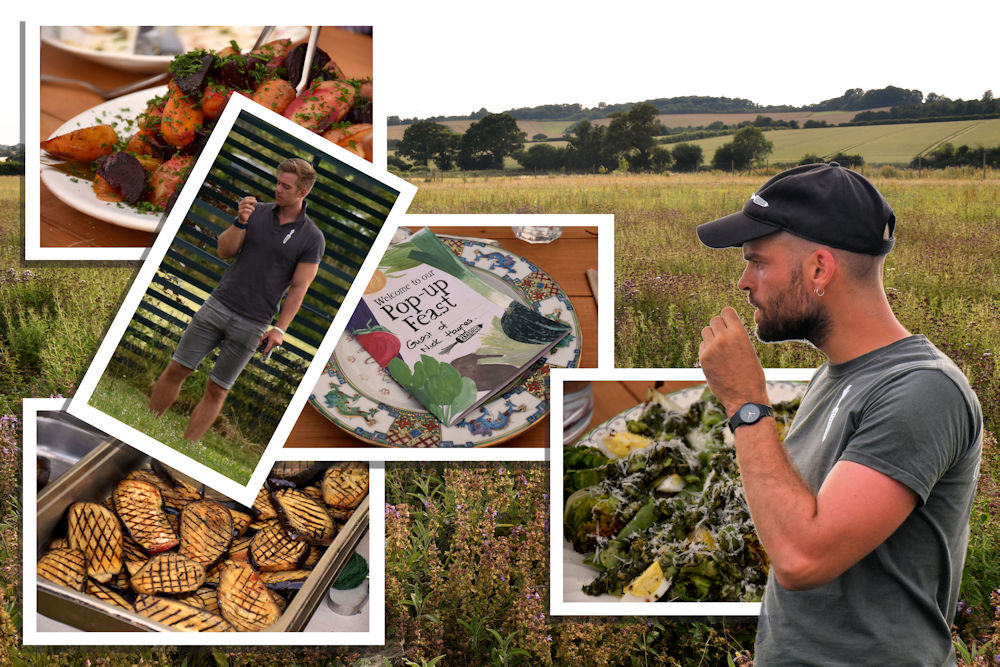 Some of the tasty things at Riverford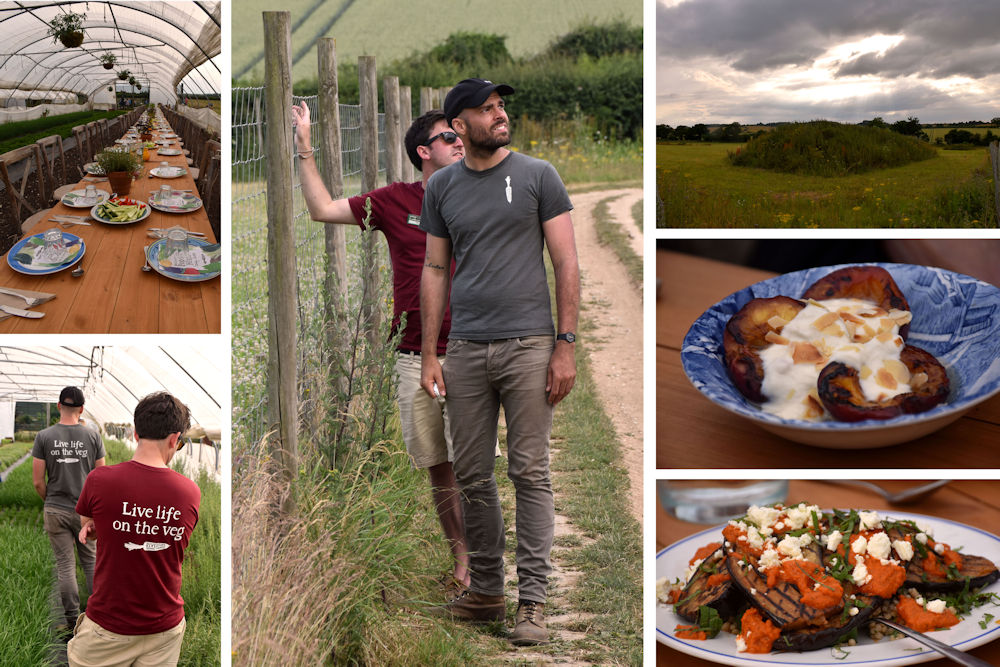 It was a surprise to meet Janet, who was in Into the Woods with me many years ago.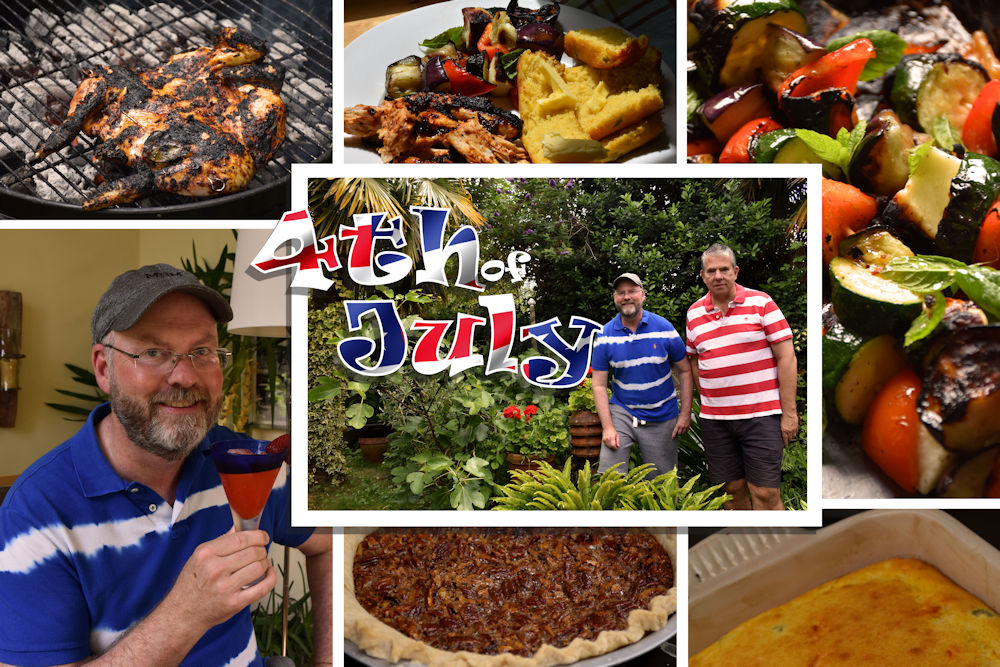 We celebrated American Independence on the 6th of July with barbecued chicken and pecan pie.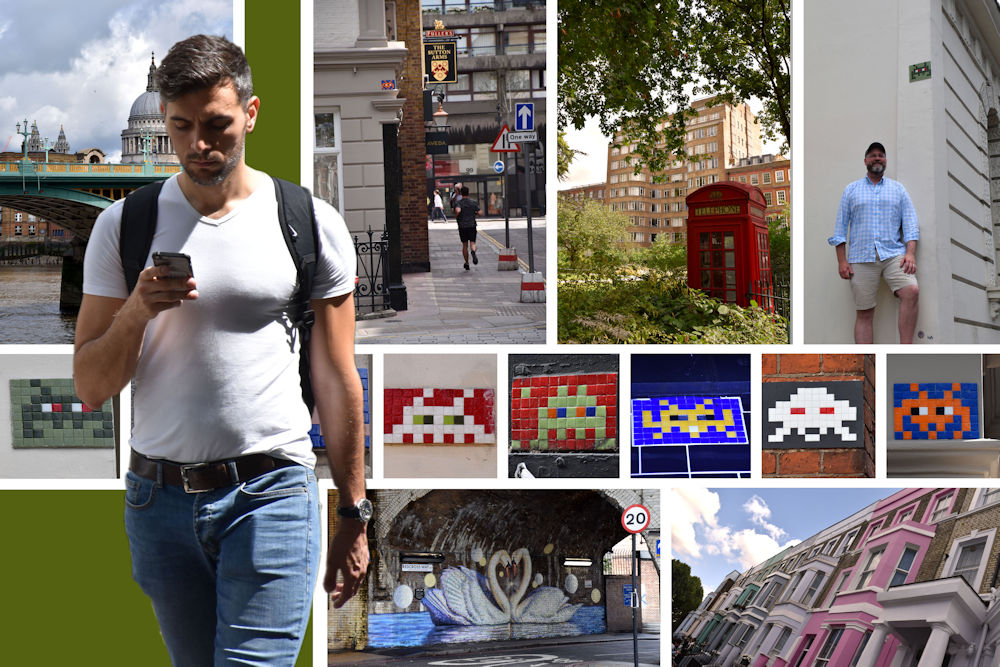 Back to London for a weekend of sightseeing, Invader flashing, and culture.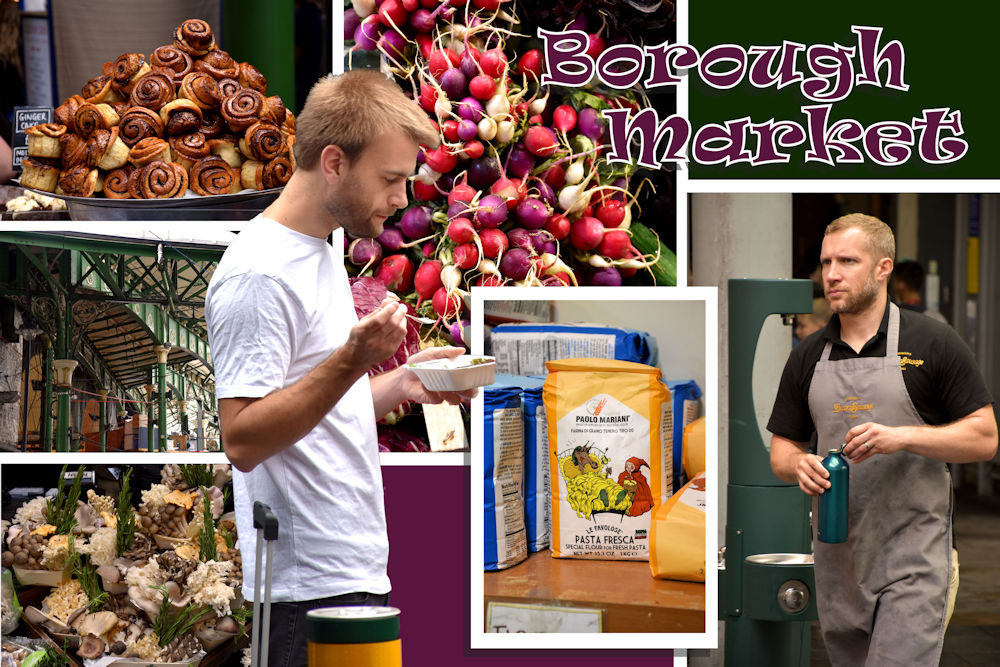 We had donuts for breakfast at Borough Market and admired all their produce.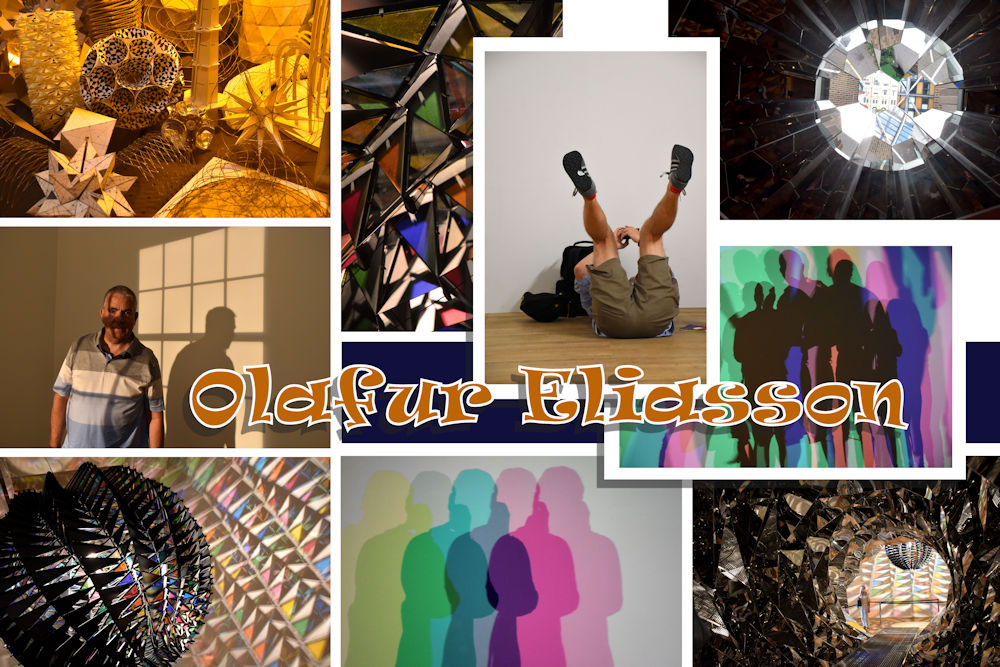 Olafur Eliasson's In Real Life exhibition at the Tate Modern was a treat for the senses. Time Out wrote: "For centuries, artists and philosophers have mumbled about the 'sublime', the point at which beauty and terror collide to create that awe-inspiring feeling you get when standing on a Highland peak or staring at thrashing waves. Eliasson is a twenty-first-century master of the sublime."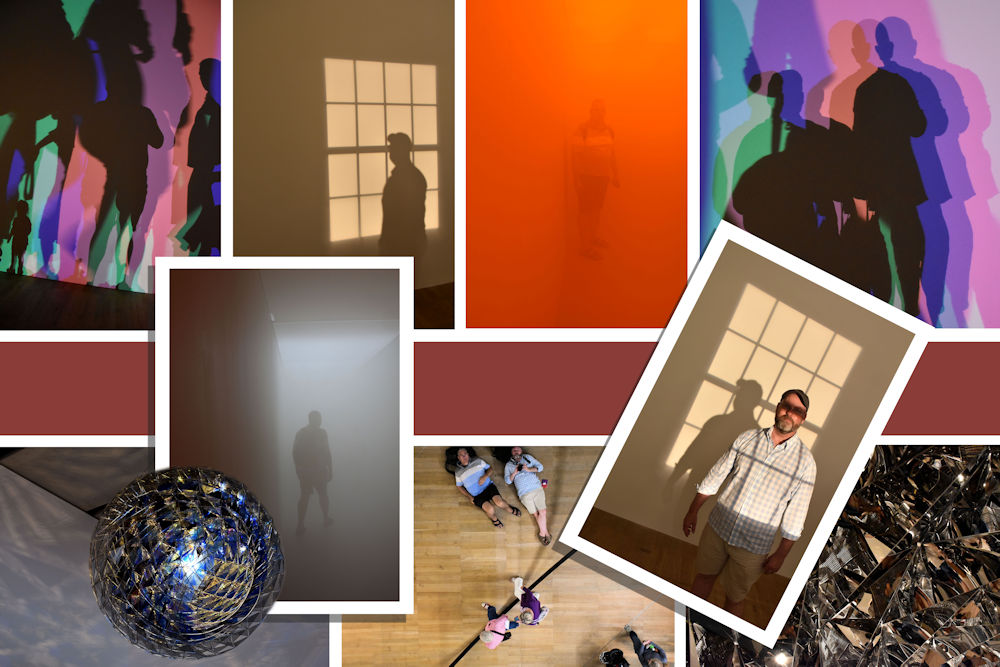 We enjoyed the kaleidoscopic situations, the playful lighting, and the 39-metre corridor of haze and light. Perhaps best of all was the unpictured Big Bang Fountain, which featured jets of water captured mid-burble by flashes of strobe lighting.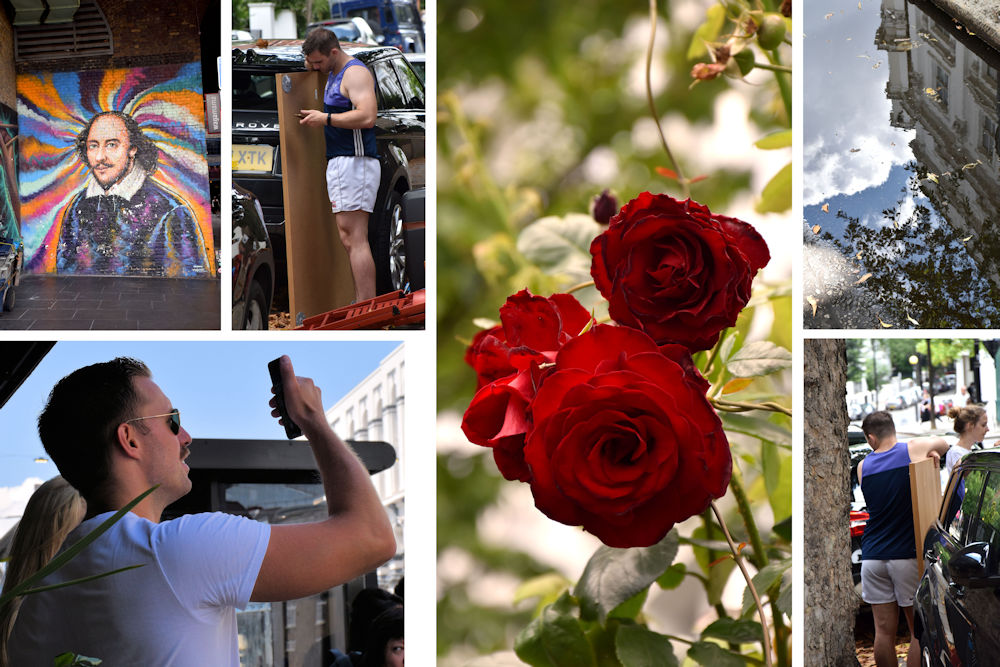 After the Tate, we headed for Notting Hill to find some previously elusive Invaders.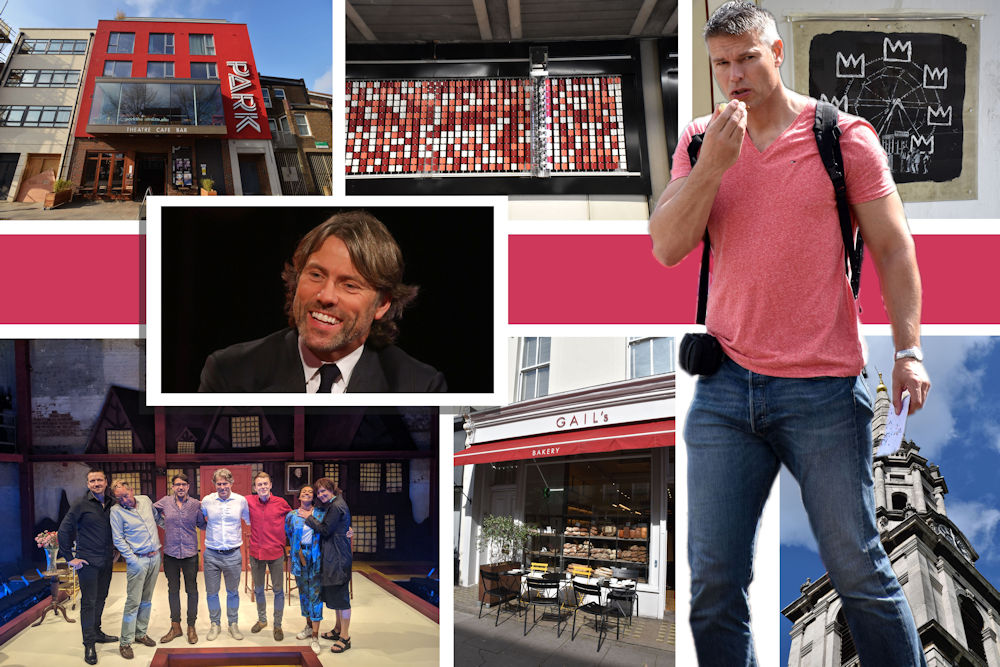 It was a gamble seeing Whodunnit (Unrehearsed) at the Park Theatre. I bought tickets months ago to see one of 22 celebrities who would play the Inspector on different nights, not having ever seen the script and being fed lines through an earpiece. The possible surprise celebrities included Gillian Anderson, Damian Lewis, Joanna Lumley, Jim Broadbent, and Matthew Broderick. We were disappointed to discover that comedian John Bishop was to be our Inspector, as his television persona isn't always likable; however, our opinions of him changed dramatically throughout the evening. He started out on shaky footing, clearly an inexperienced actor who mumbled his lines and seemed reluctant to be on stage, but as the evening progressed, he gained confidence and told some hilarious jokes in character. Ultimately, he threw himself with obvious joy into an improvised song and dance routine and concluded the play with a smashing and heartfelt [spoiler alert] death scene. Best of all, was his moving speech at the end of the evening when asked why he chose to appear in the show. Based on this performance and what I have since learned about him, his politics, and his causes, I can consider myself a new John Bishop fan.

Also shown above are Gail's Bakery, where we had breakfast after staying overnight at Easy Hotel Victoria, a mechanical mural and a real Banksy piece of street art at the Barbican.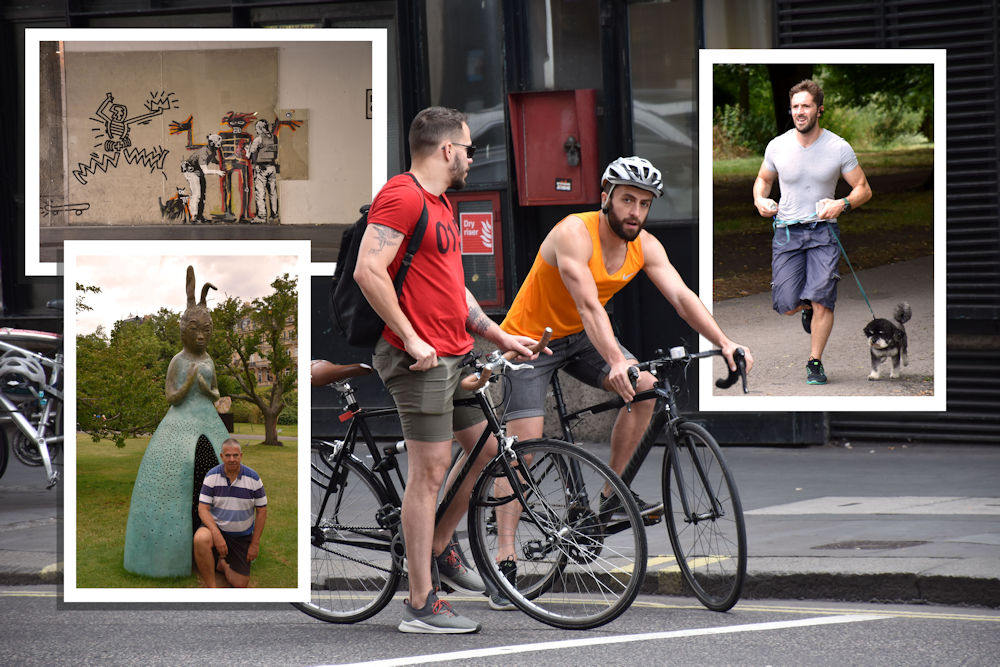 We only discovered the Banksy artwork when the Barbican tube station was closed and we had to walk through the tunnel to Moorgate Station.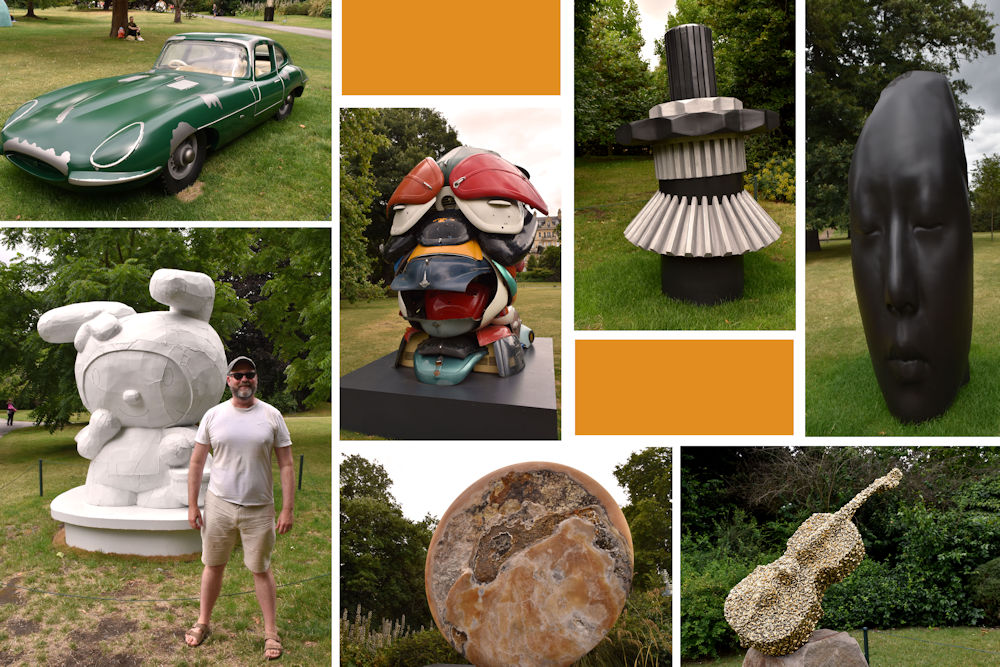 After locating our eigth and final Invader, we headed for The Regent's Park to see some sculpture.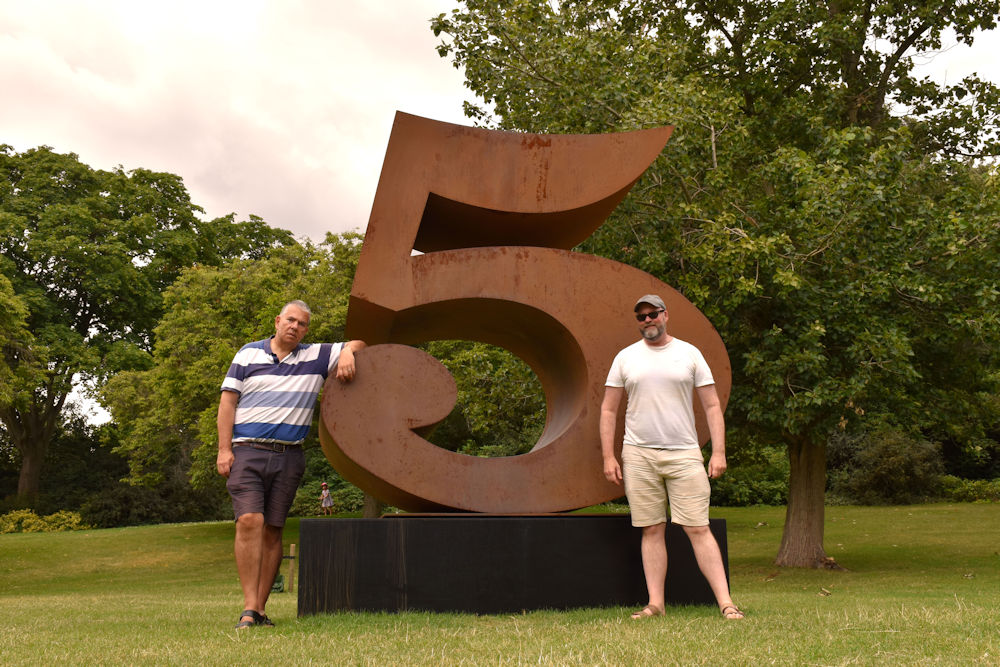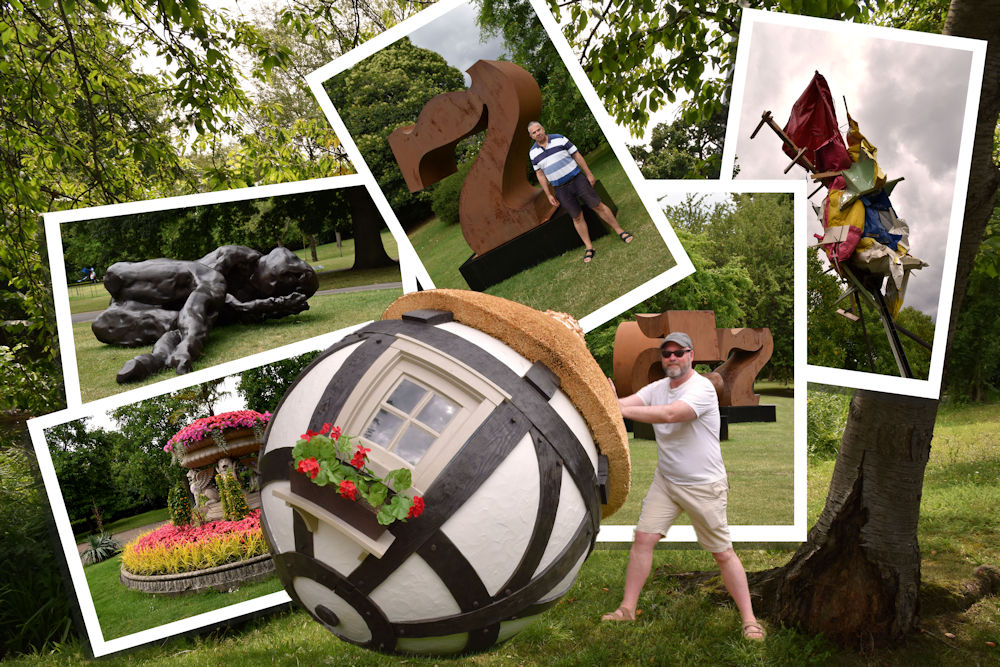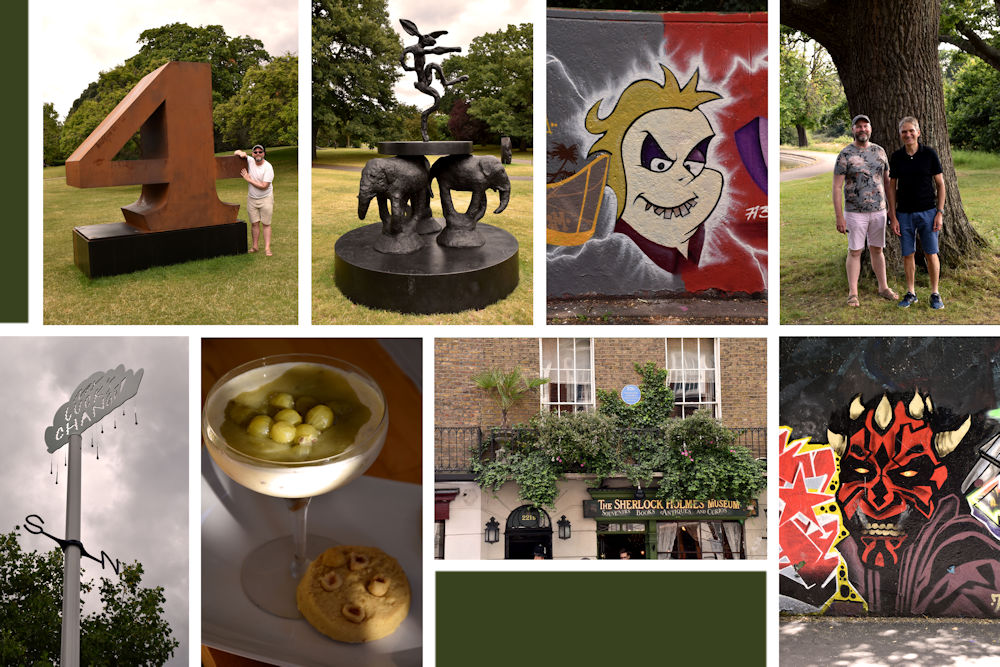 Final shots from London and a few from home, including another of Mark's visit.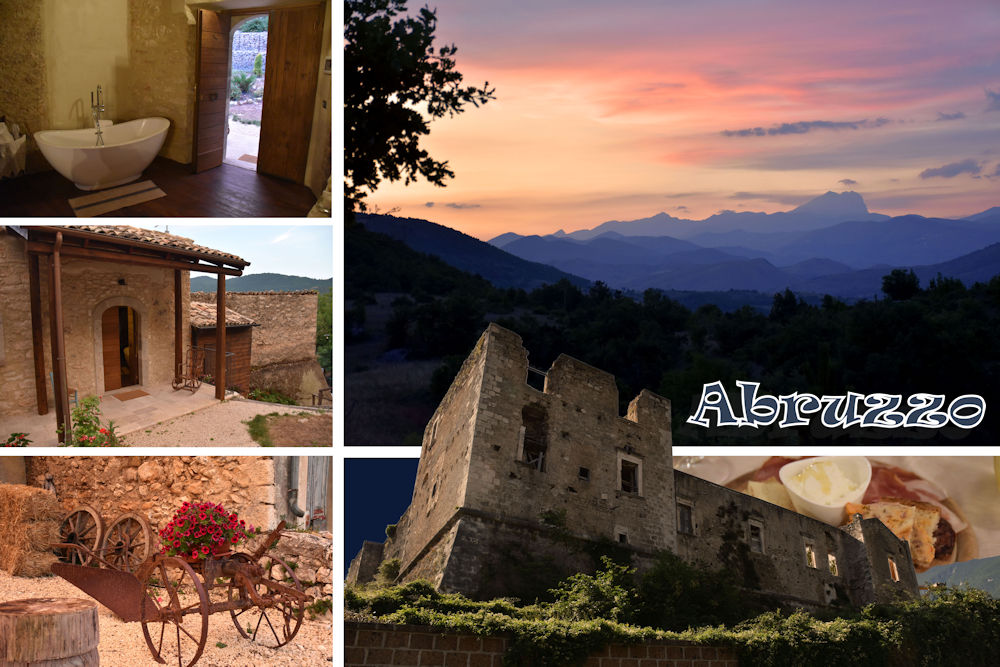 Summer holidays, we returned to Abruzzo, perhaps our favourite region in Italy, first visited in 2015 and again in 2017. We experienced the familiar and the new, including our first night in San Benedetto In Perillis, with a luxirious bath and spectacular view.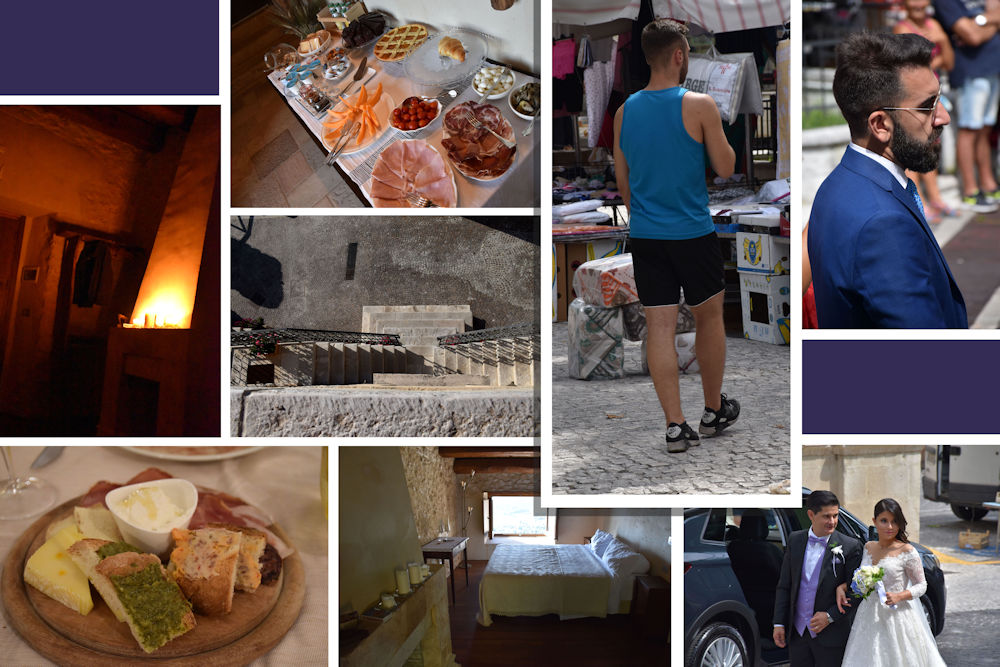 The next morning, we drove through Torre de 'Passeri, where we saw a wedding in progress.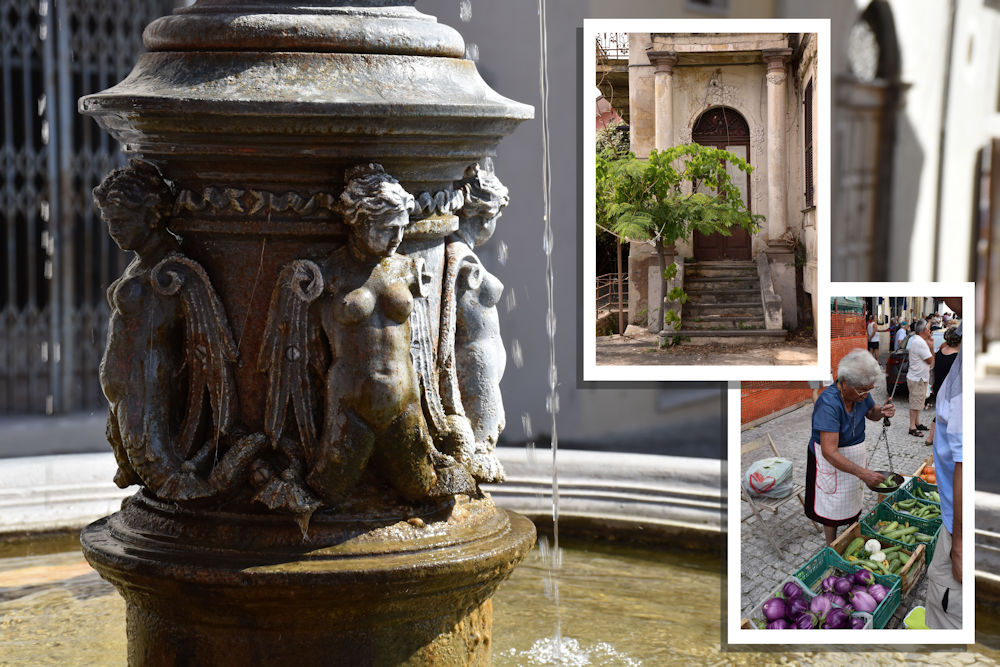 Views from Tocco da Casauria and Torre de 'Passeri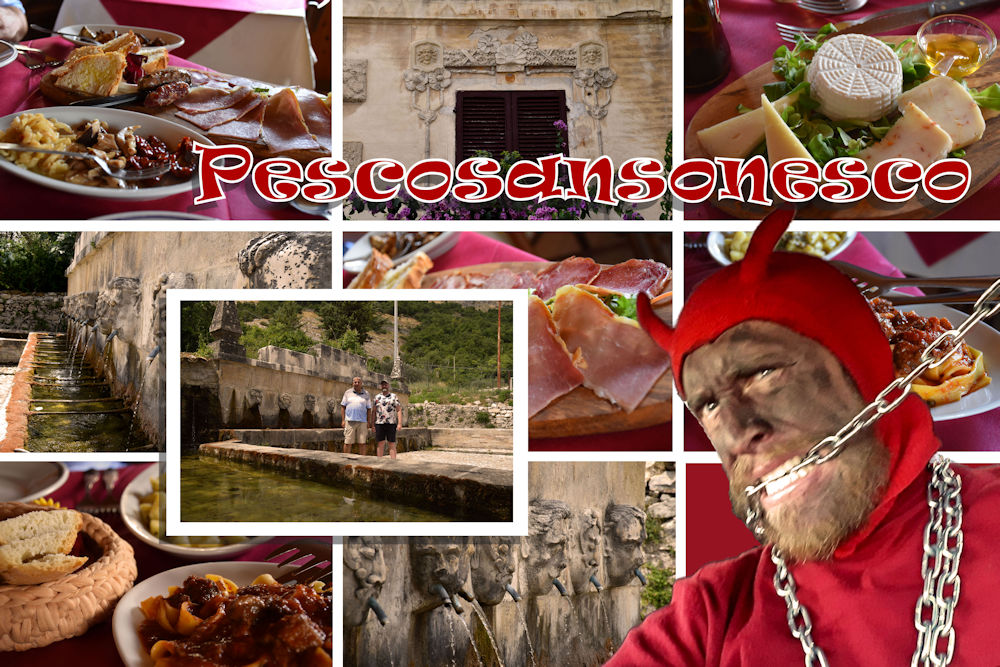 With much nostalgia, we revisited Guido's family restaurant in Pescosansonesco, sampling once again the wild boar pappardelle and asparagus gnocchi, so plentiful we took some home with us. Guido wasn't there, but a photo of him in his devil suit adorned the walls. We stopped by the familiar Roman fountain that we passed every day in 2015. No sign of the sleepy yellow dog.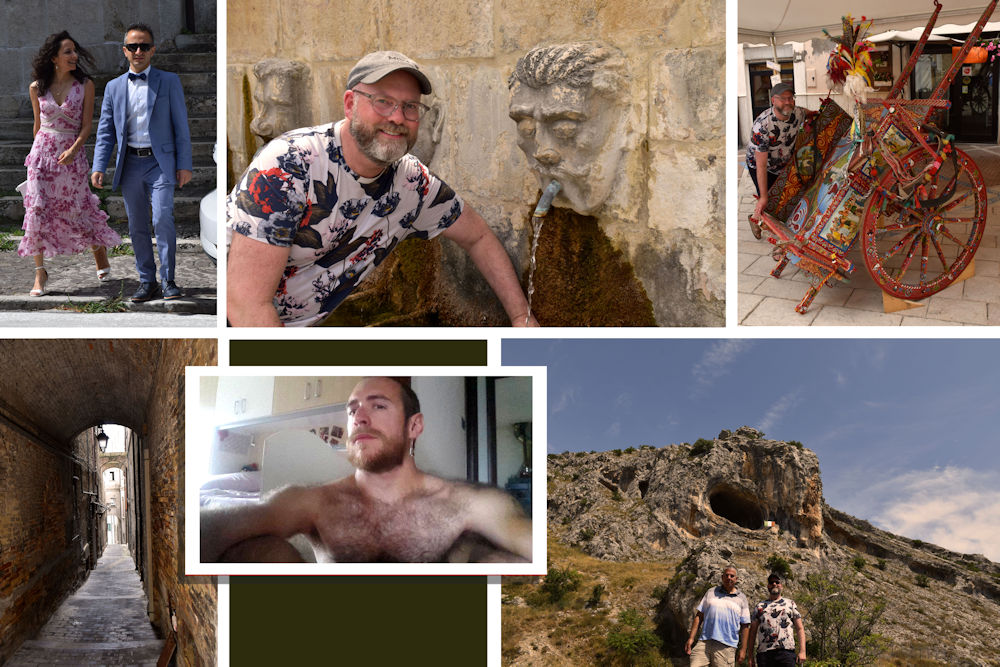 Views from Pescosansonesco and our first glipses of Città Sant'Angelo, our home town for this trip. There was a Sicilian festival in full swing and I got to see a traditional cart, which eluded me in Sicily in May.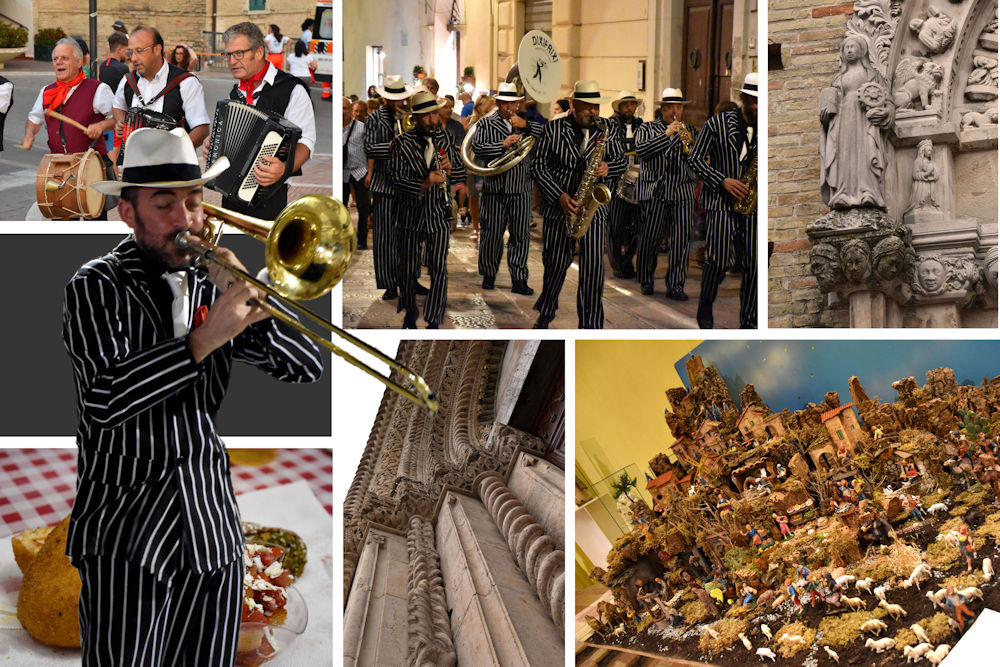 After settling in to our lovely rental house, we walked into town for passegiata and Sicilian arancini and cannoli. The Dixieland band was excellent, as were the folk musicians.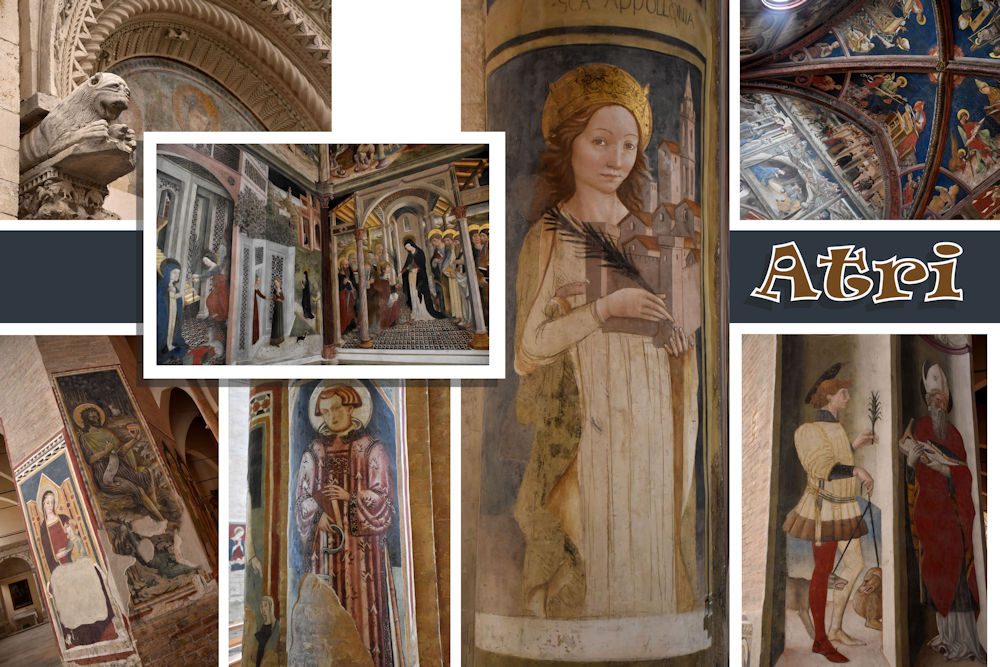 The nearby town of Atri had wonderful 14th century frescoes in its cathedral.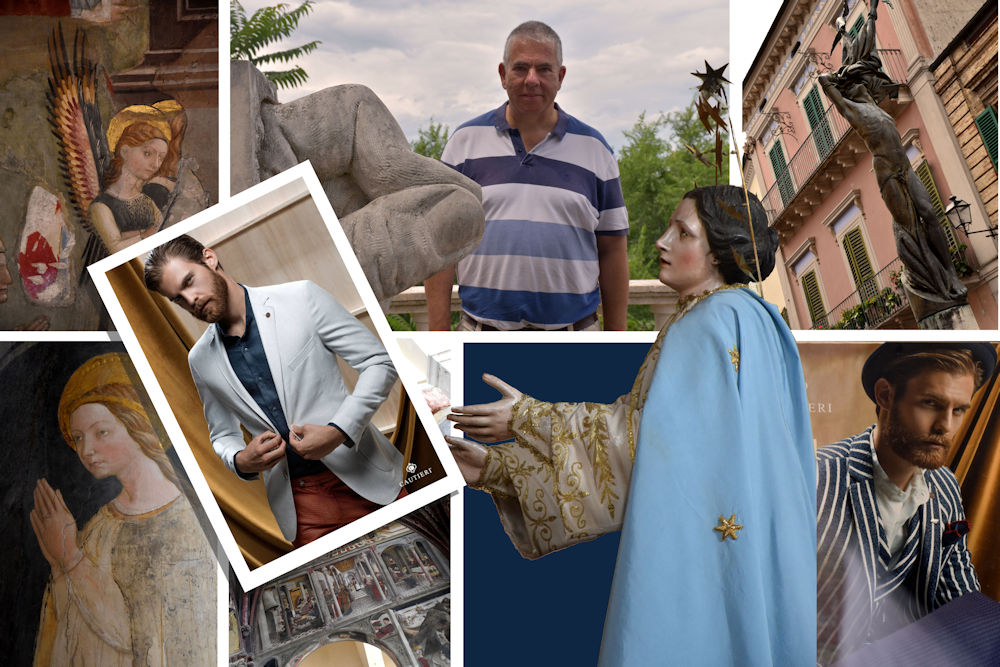 Signts from Atri, including the ginger Cautieri model and a Princess Leia reminiscent of the one in Sarzana, Liguria, 2013.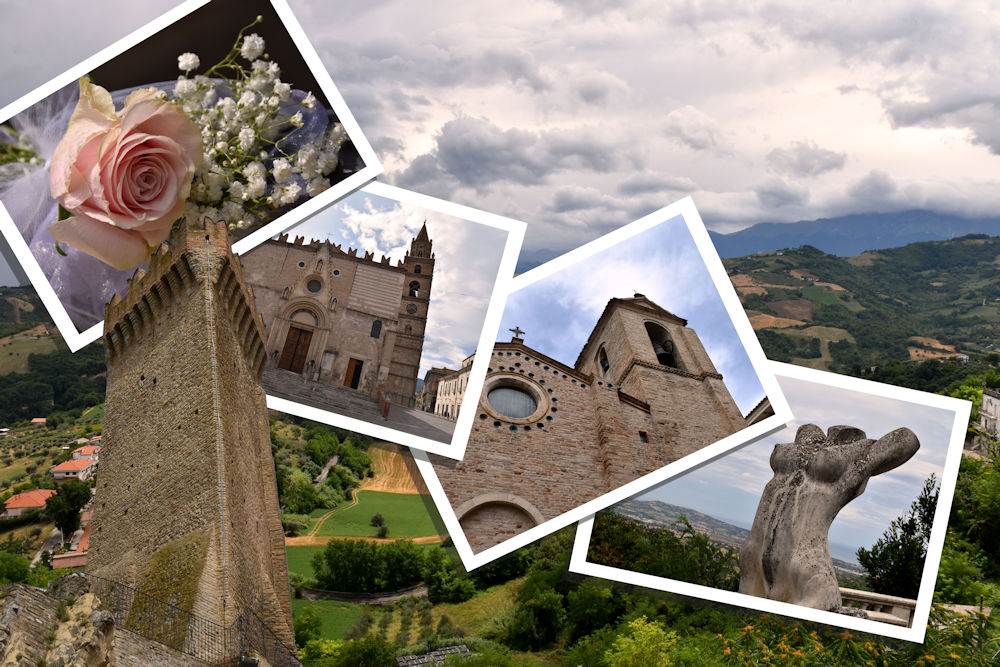 Atri sights, plus one of Abruzzo's two triangular towers, and a wedding rose attached to the railings of a church we visited.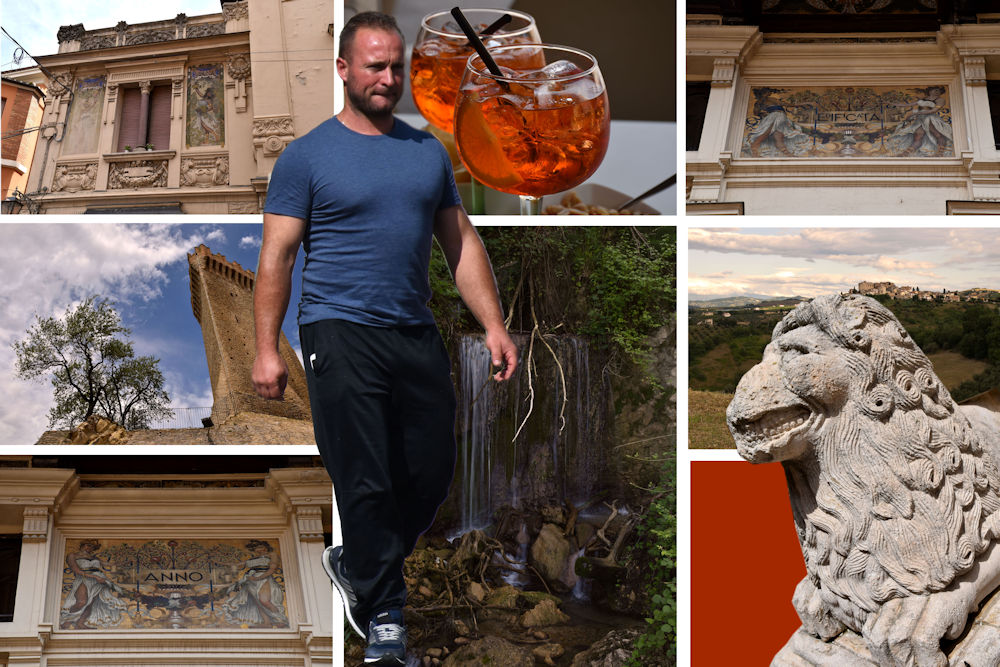 Teramo was the capital city of our province and we enjoyed Aperol spritzes and Art Nouveau there.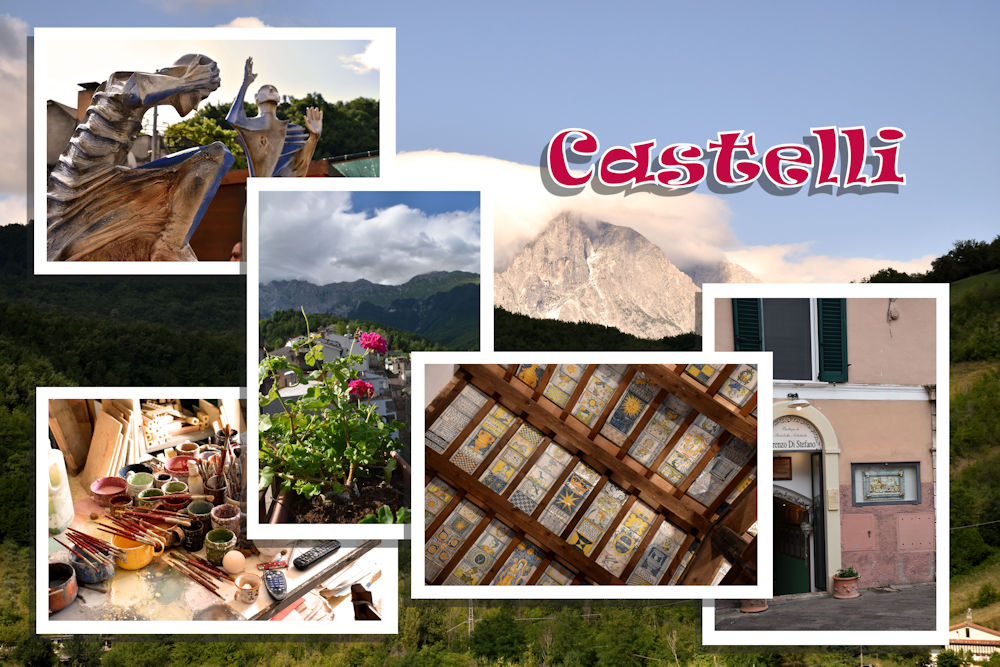 Into the mountains to Castelli, famous for its majolica ceramics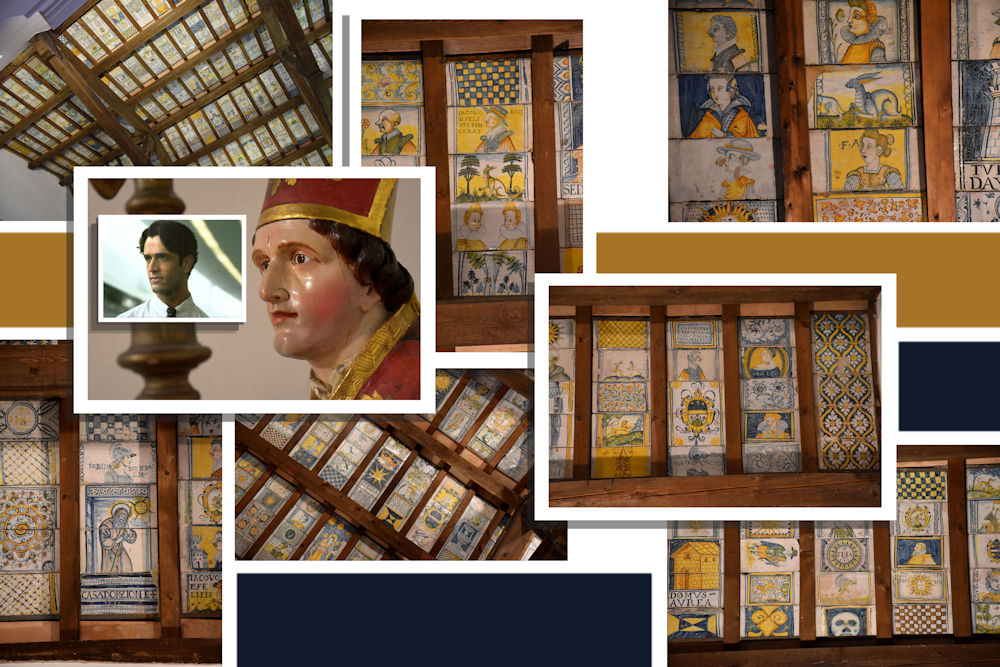 The ceiling of the church of San Donato is unique in the Italian artistic heritage for ceramics. It is completely covered with majolica tiles produced and designed in Castelli and was defined by Carlo Levi "the Sistine Chapel of Italian Majolica" and by the scholar Timothy Wilson "one of the most ambitious enterprises of Italian majolica on end of the Renaissance ". The bishop there reminds me of Rupert Everett.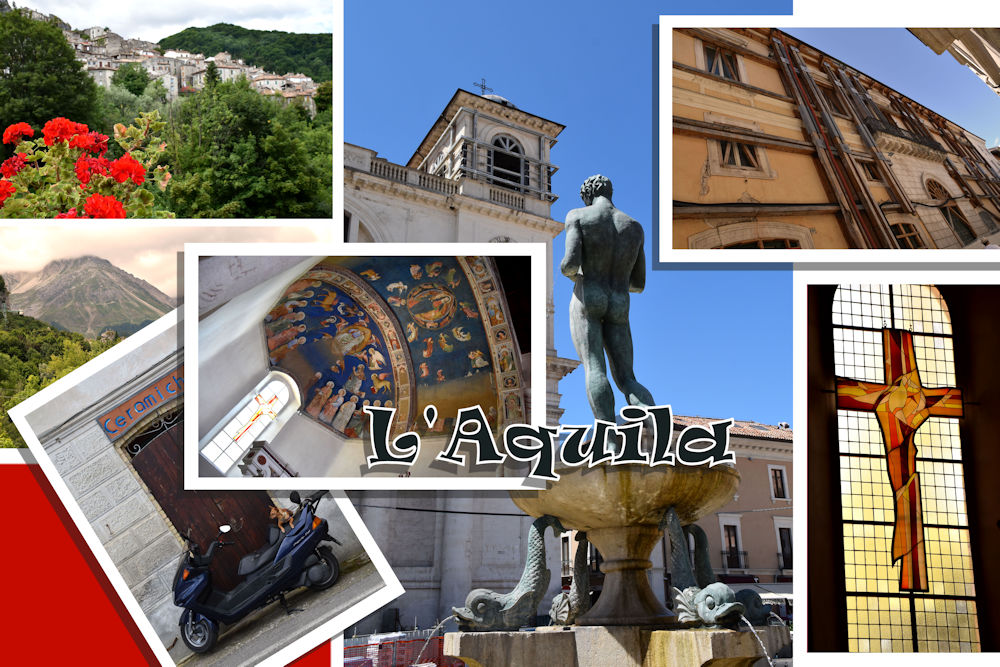 L'Aquila is the capital of Abruzzo and was devastated by an earthquake in 2009. There is still damage in evidence but much work has been done to restore the city. The cathedral is still not open, but looking at Google images from ten years ago, it's a miracle that any of it is still standing.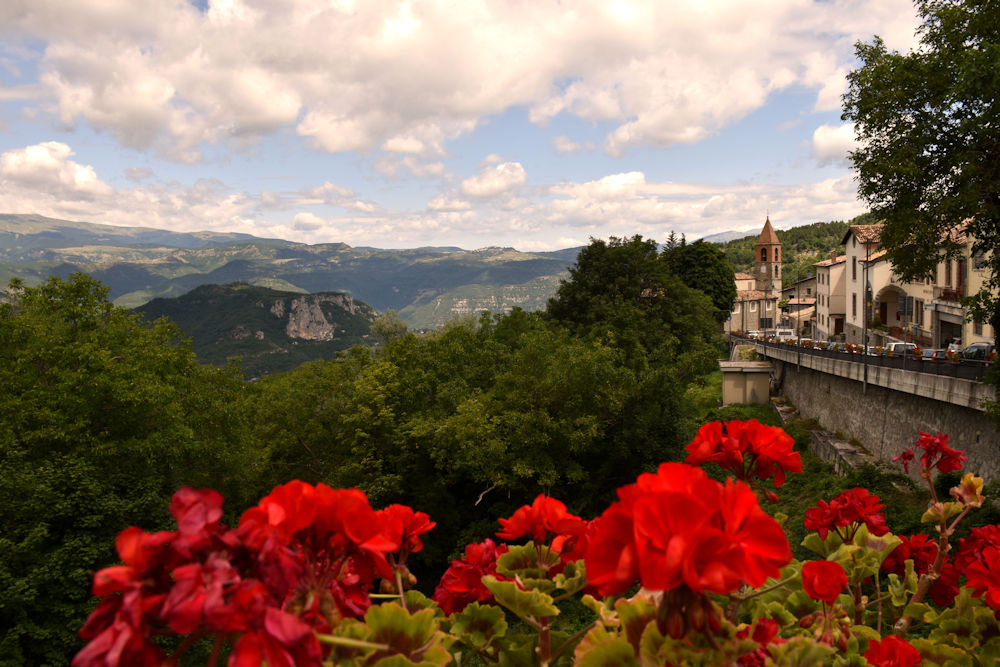 Pietracamela, where we had a panino and admired the view.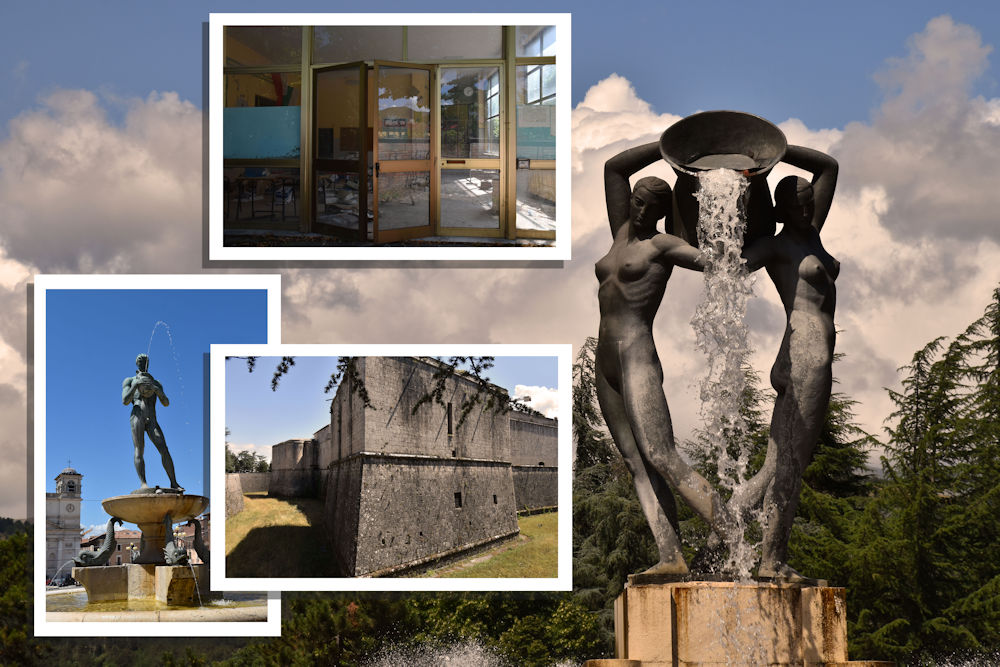 This school is frozen in time from when the earthquake struck ten years ago. We also saw an abandoned cinema with posters advertising films from 2009. Also shown are the Spanish Fort and the Fontana Luminosa.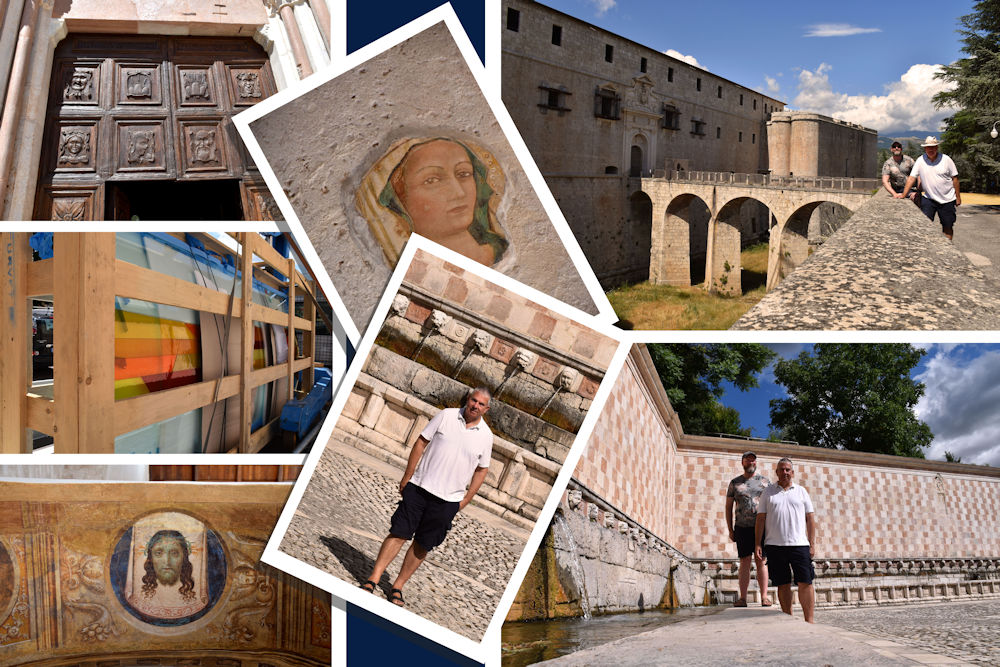 One of the churches we visited had just been reopened after ten years of rennovation. It looked very new inside but still had some reminders of its ancient past.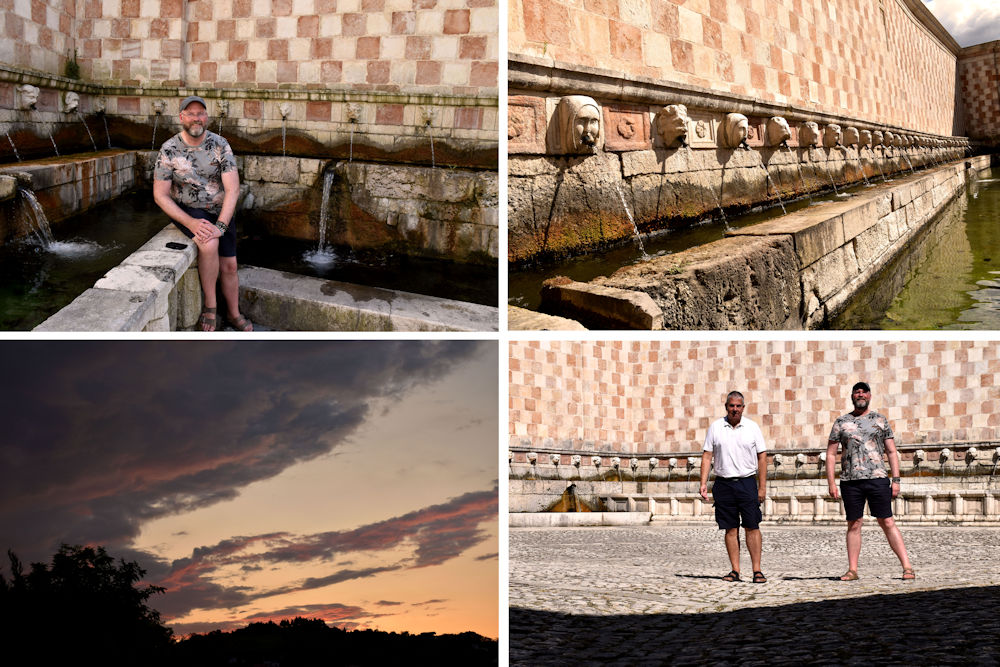 The 13th century Fountain of 99 Kings features 93 carved faces - six more are on the gate outside - representing monks, priests, knights, satyrs, demons, and animal-human hybrids.

Nearby Pescara is always good for culture, shopping, and people watching on the beach. We visited the Museo d'Arte Moderna Vittoria Colonna for the first time, notable for its air conditioning.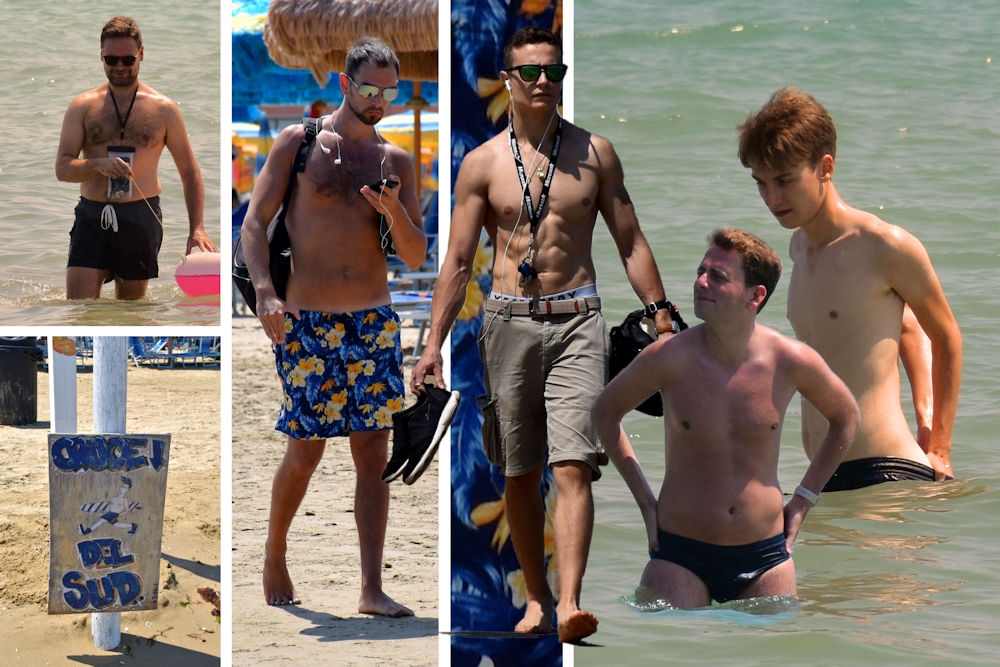 Pescara totty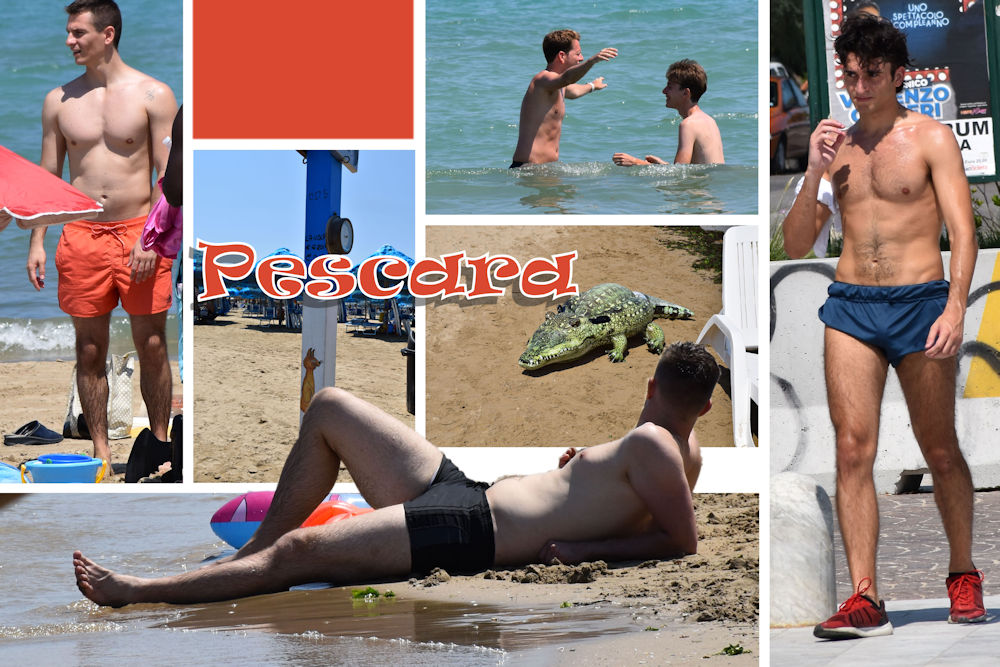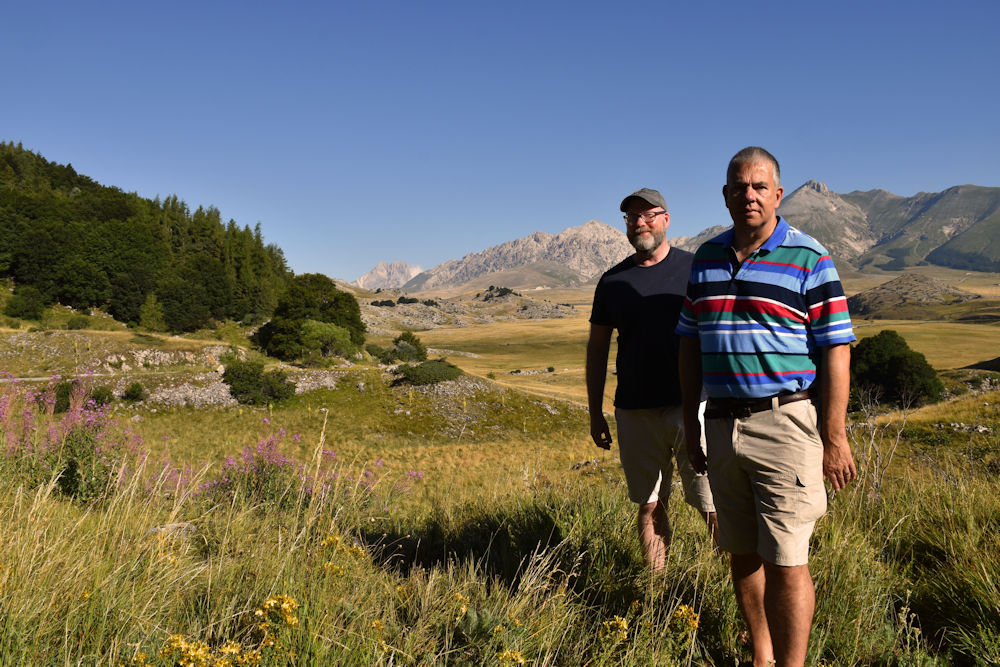 The next day, we went on a drive into the Gran Sasso National Park.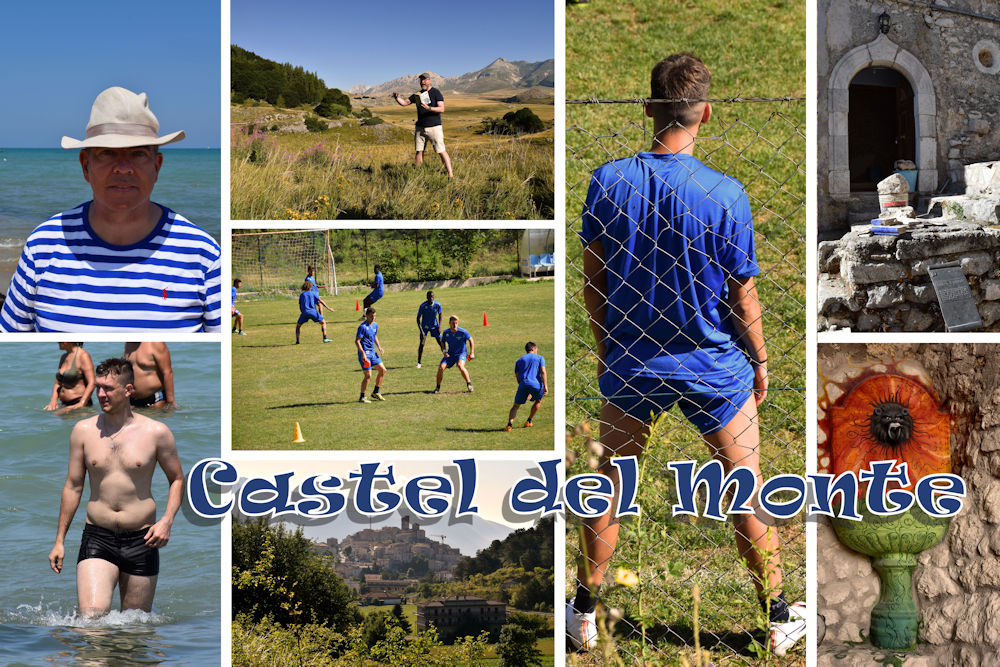 Upon leaving the earthquake-shocked Castel del Monte, we saw a football team practising.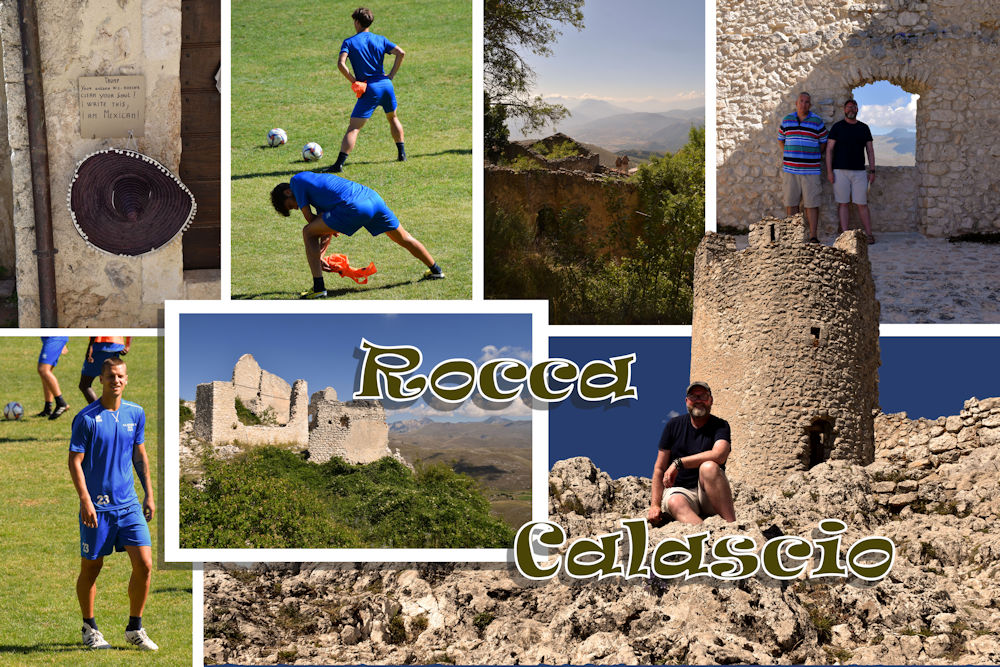 Next stop was Rocca Calascio, the highest castle in Italy.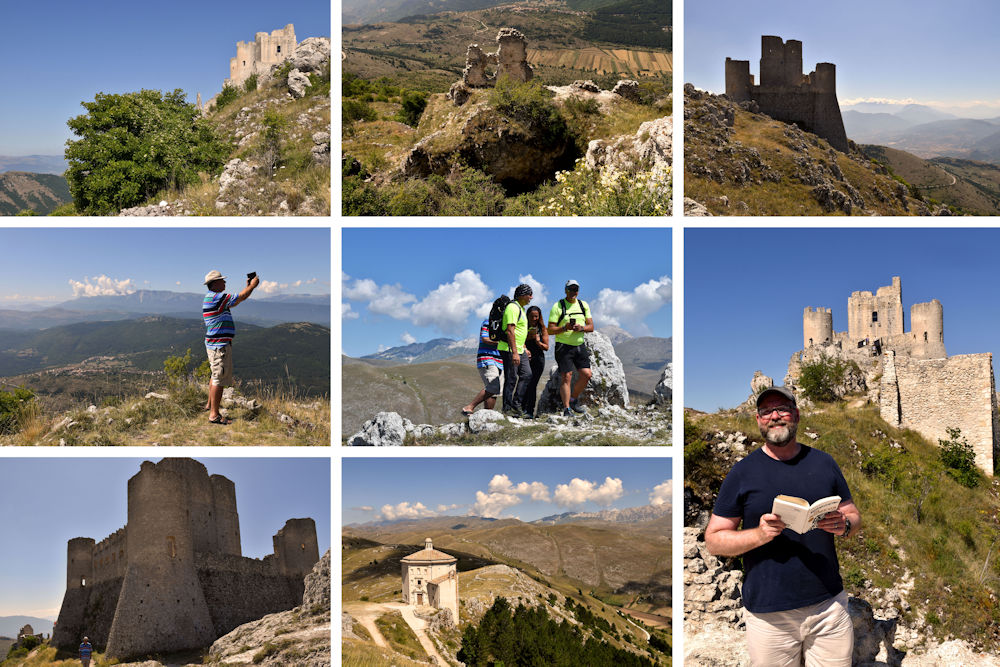 Italian hikers took a fancy to Tiny Cow (born last year in Le Marche), and I took a reading photo for a school project.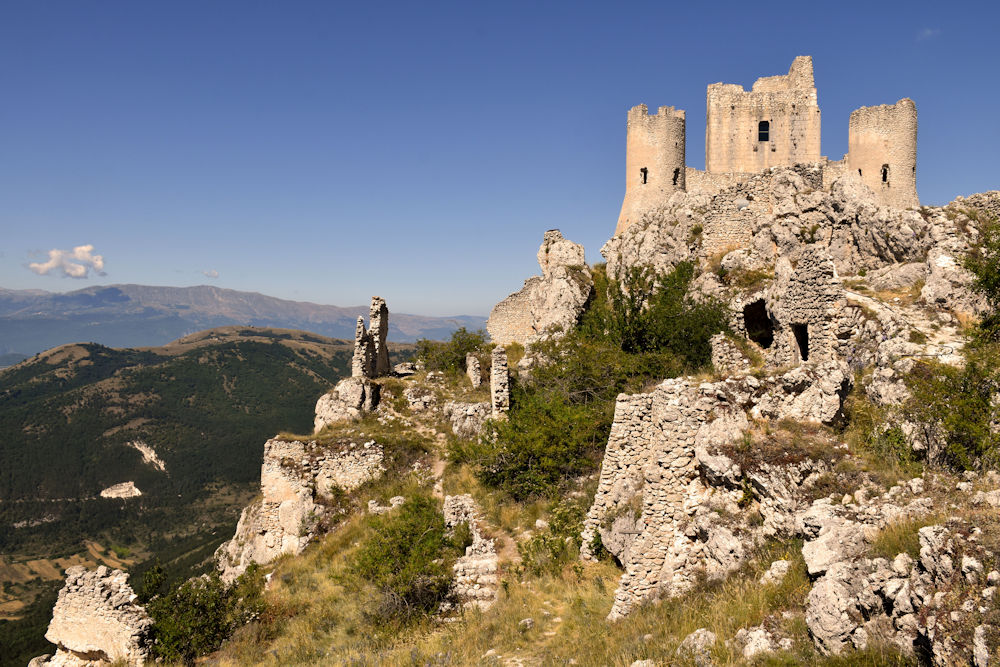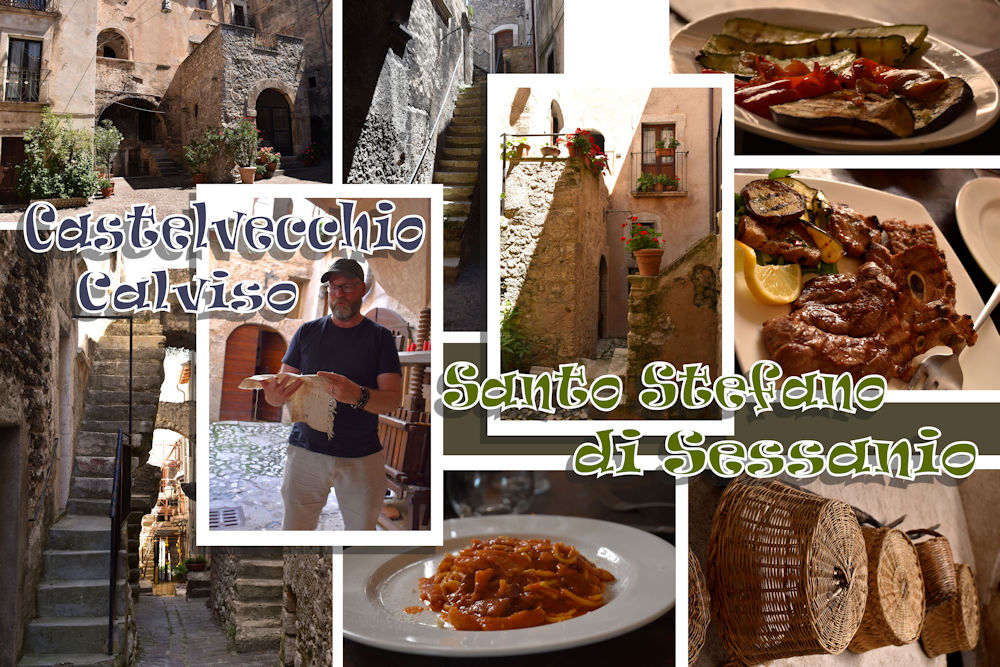 Castelvecchio Calviso was full of staircases that led to houses, down alleyways, and sometimes into a stone wall. Santo Stefano di Sessanio's watch tower features on the cover of one of our guidebooks, but it was destroyed in 2009 and is still being re-built. We stopped at a wonderful family-run restaurant, where the 93-year-old grandmother hand-lettered the cloth menus.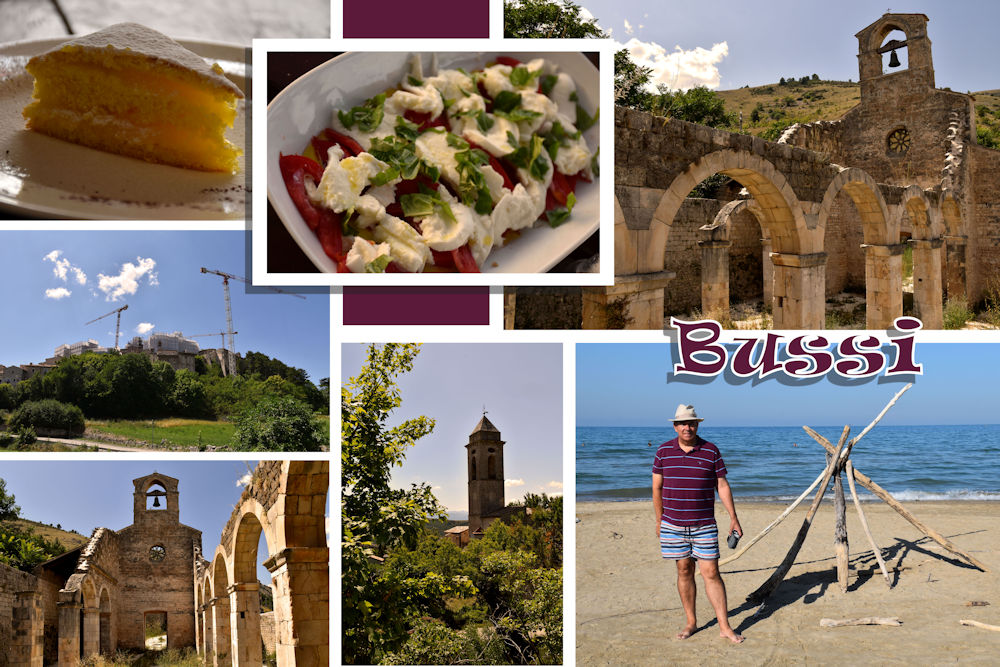 Returning home, we stopped in Bussi to see the ruined Church of Santa Maria di Cartiganano, which dates from the 11th century.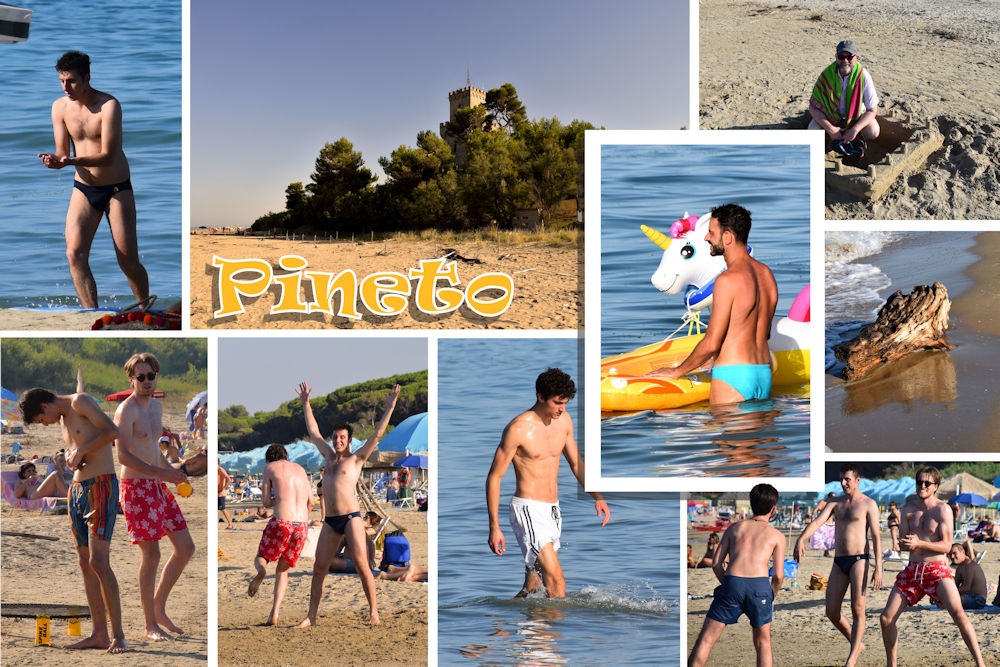 Nearby Pineto beach around five o'clock was a good time to walk along the shore and admire the castle, as well as the sporting activities.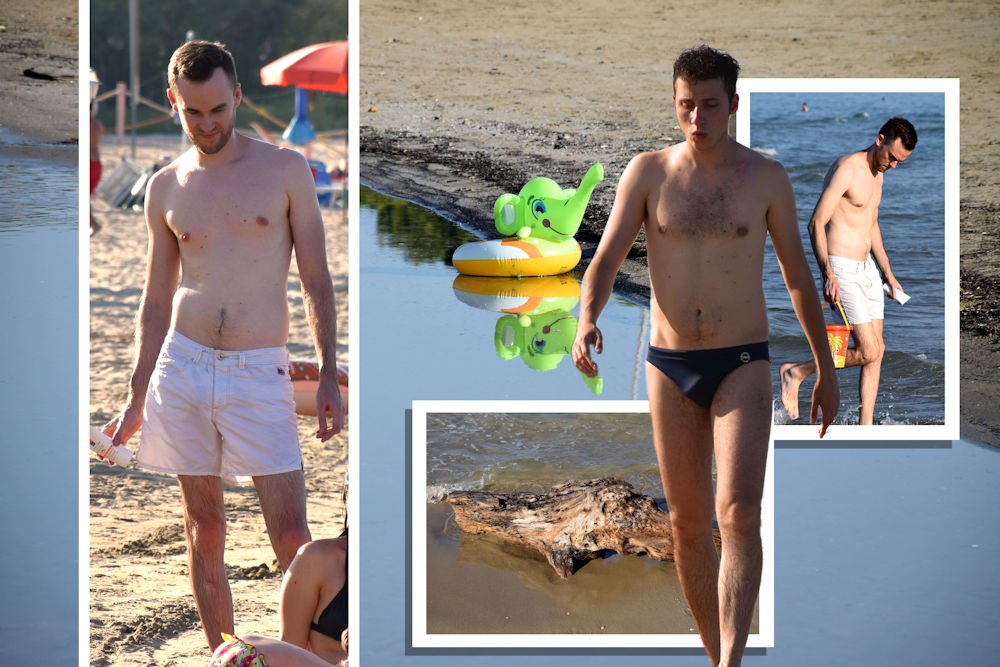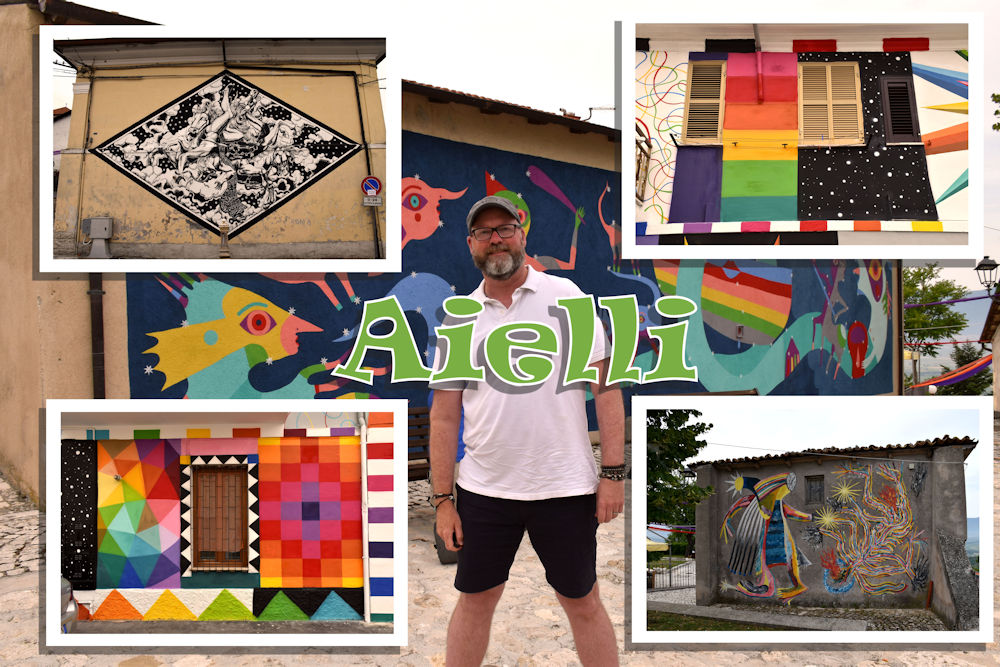 On Friday, we headed to Aielli, where an outdoor festival was taking place. The street art was amazing, especially that of Spanish artist Okuda San Miguel.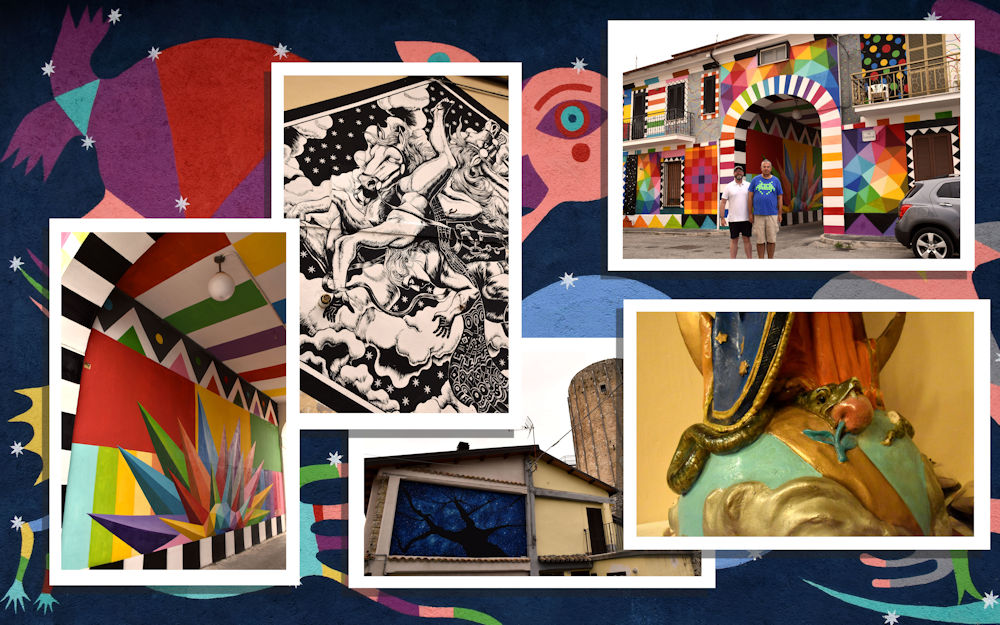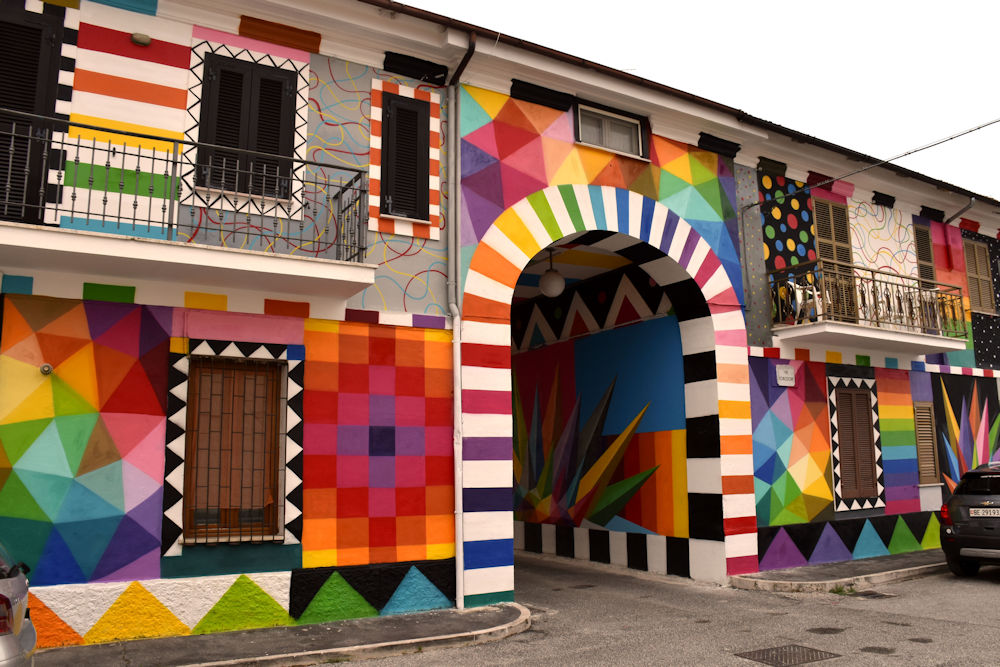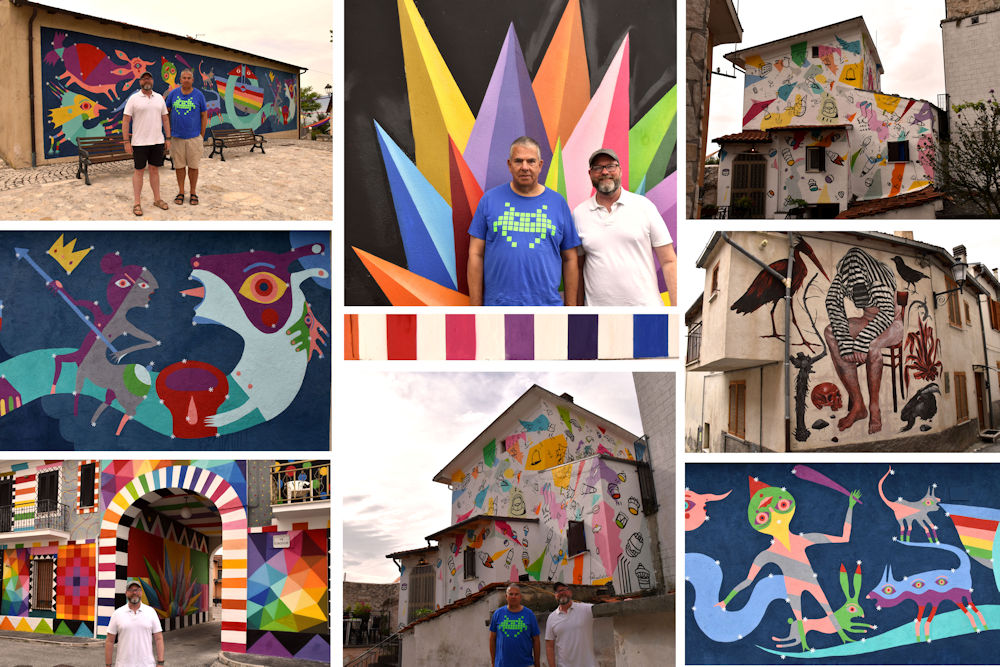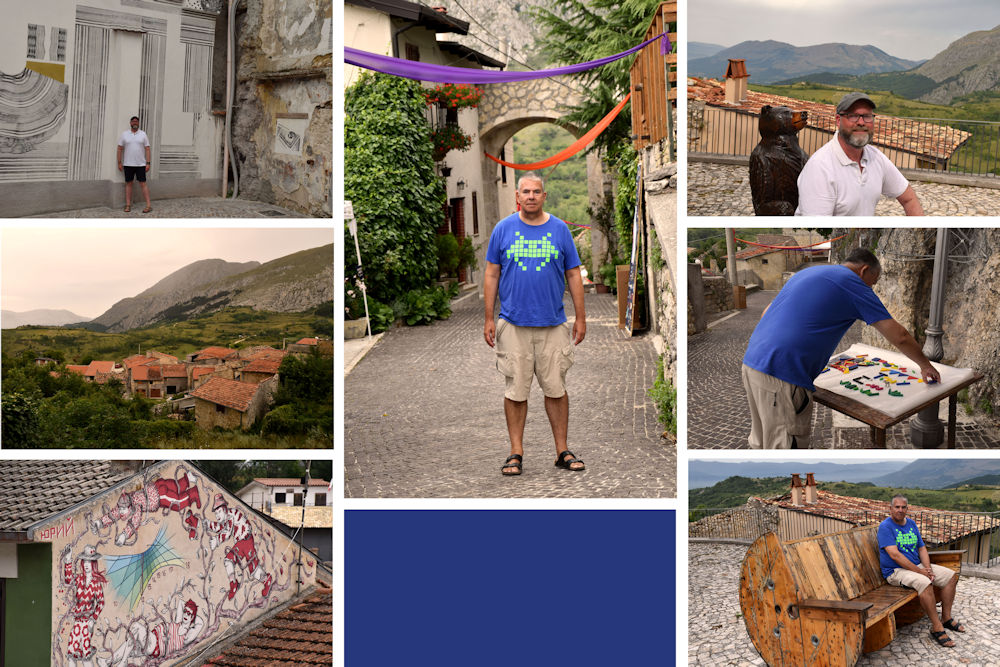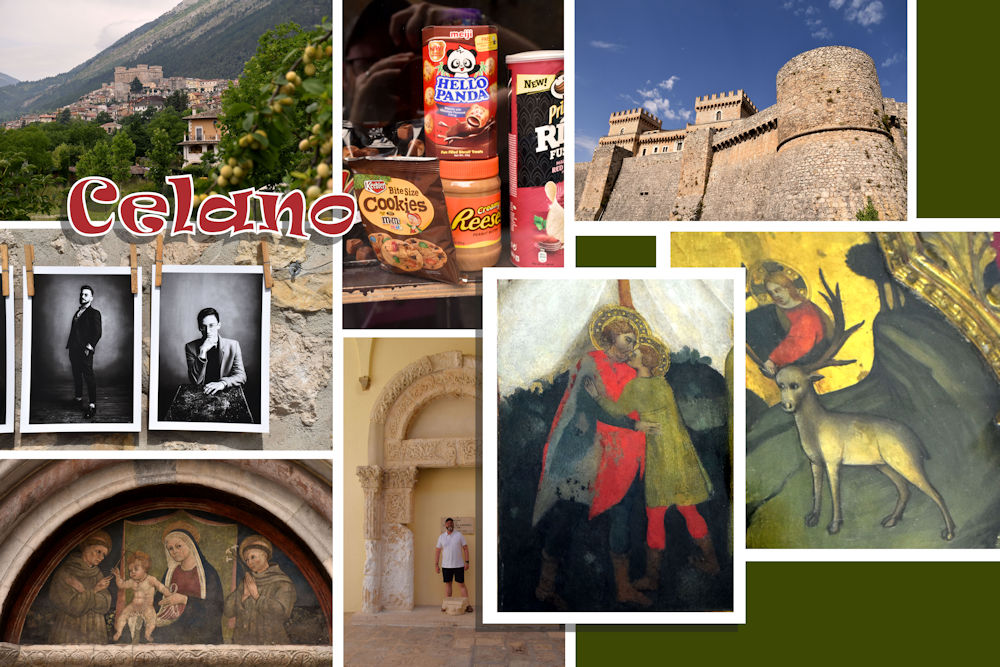 We didn't know about Celano but were lured there by our guidebook's descriptions. The castle holds many of the region's art treasures, which were moved there from L'Aquila after the 2009 earthquake. Many date from the 12th century.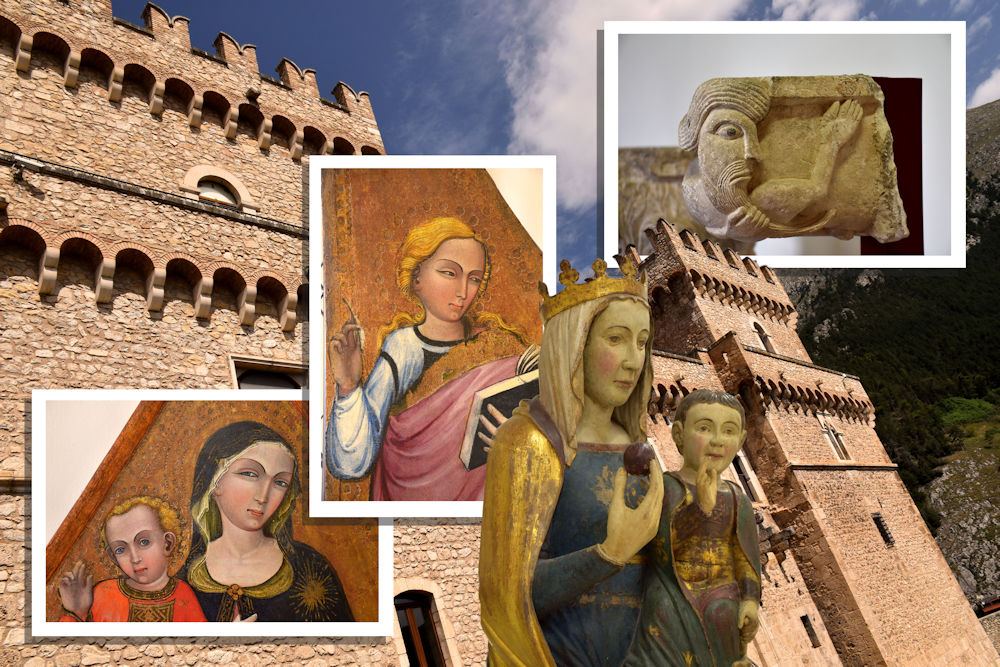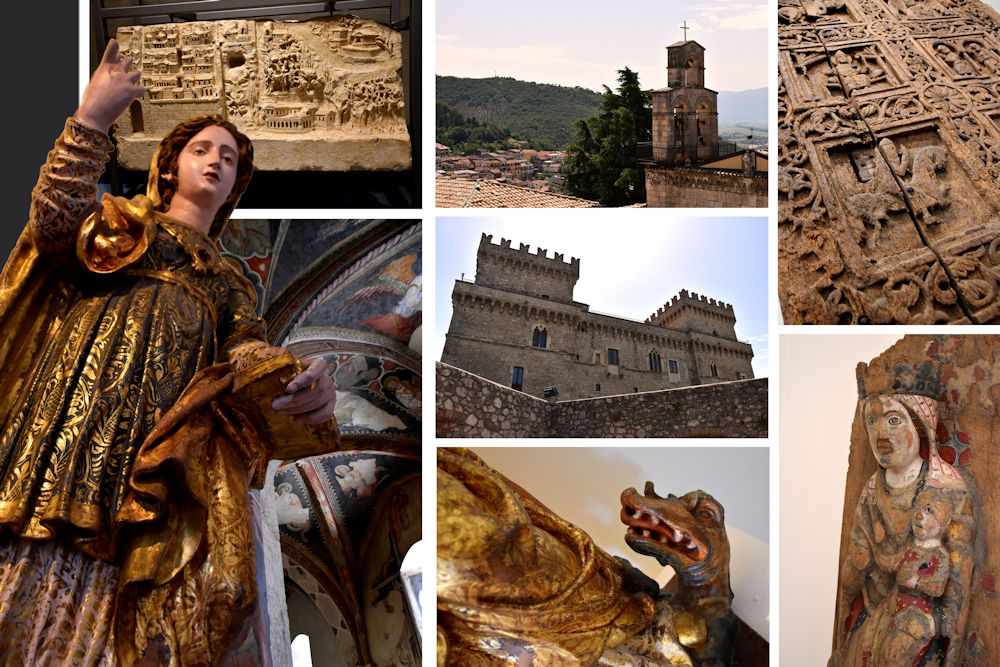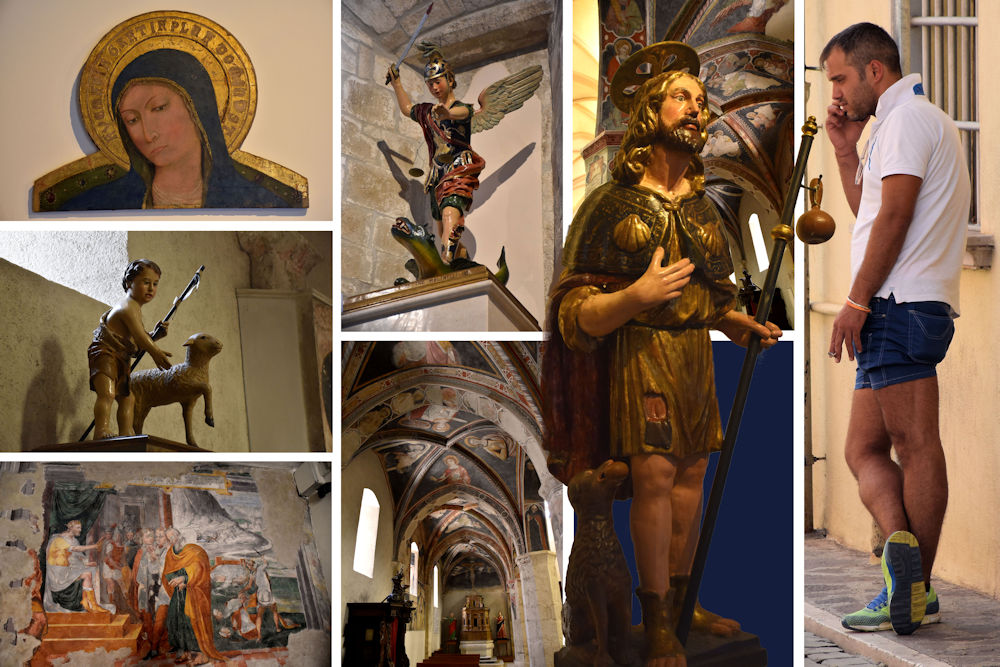 Celano's Chiesa di San Giovanni Battista (Church of Saint John the Baptist) dates from 1224 and contains beautiful frescoes.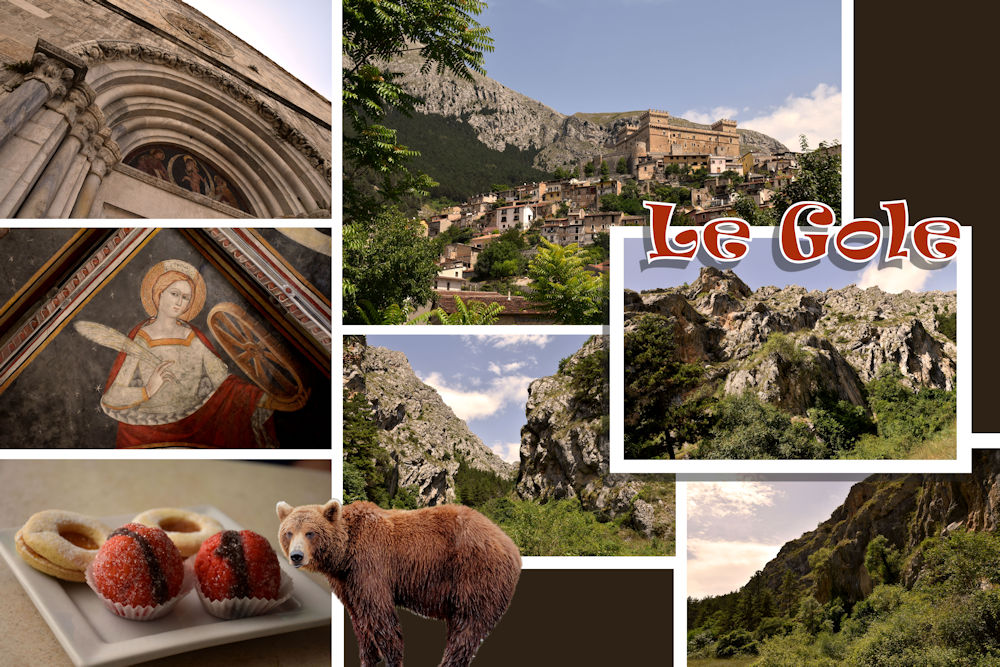 We only dipped our toes into Celano Gorge, but what we saw was truly spectacular.

In researching this trip, Time magazine recommended Prezza, a mountaintop town that seems to have been ravaged by recent earthquakes.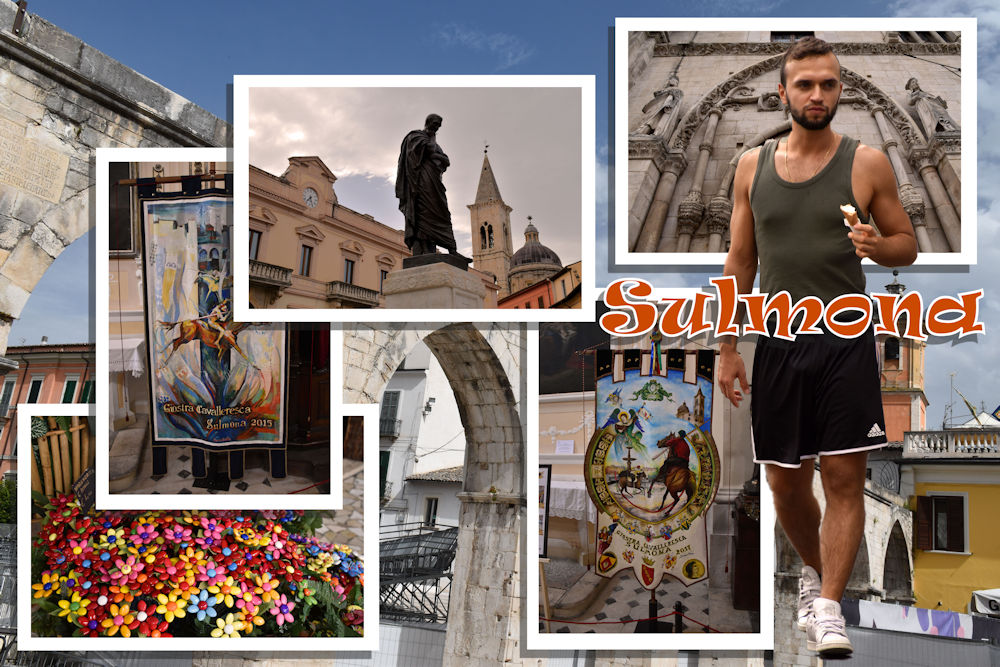 No trip to Aburzzo is complete without a visit to Sulmona, home of Ovid, candied admond "confetti", and men in vests.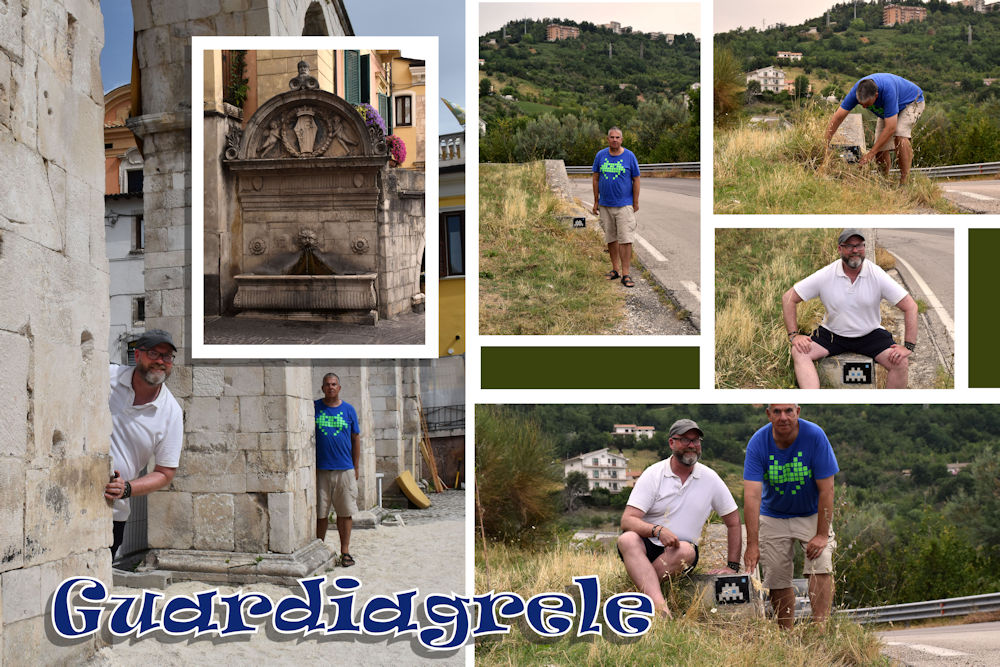 We weren't sure if we'd return to Guardiagrele, our favourite town from 2017 and home to our own Invader hommage, but we did and were thrilled to discover our work hidden behind the grass, two years later.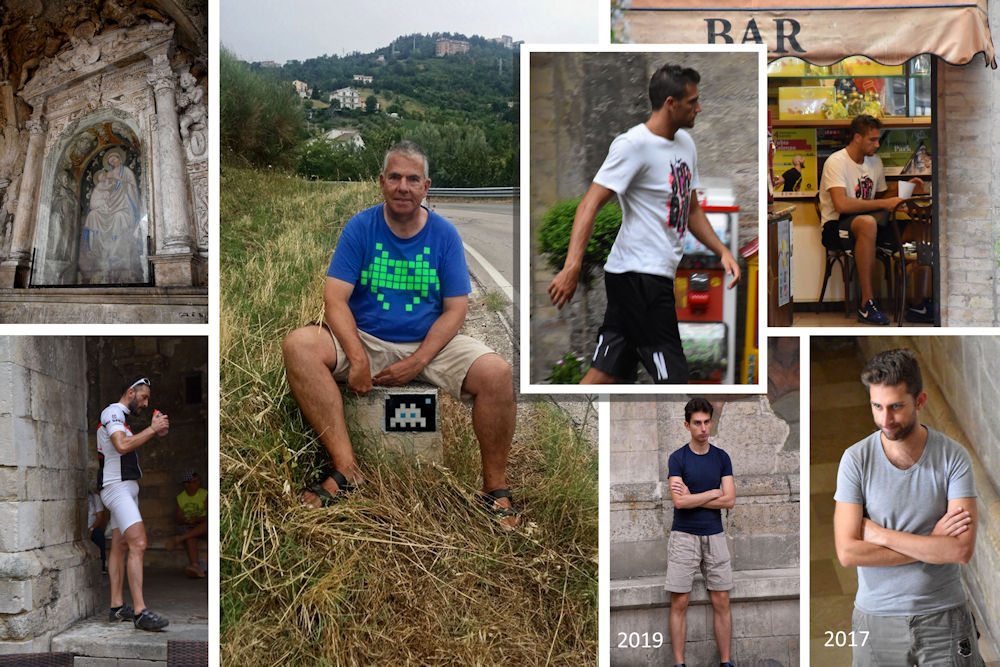 Soon after Invader spotting, we got caught in a torrential thunderstorm. Once it subsided, we went into town to catch a glimpse of some familiar faces from 2017, including the Basketball Player and the Church Guide.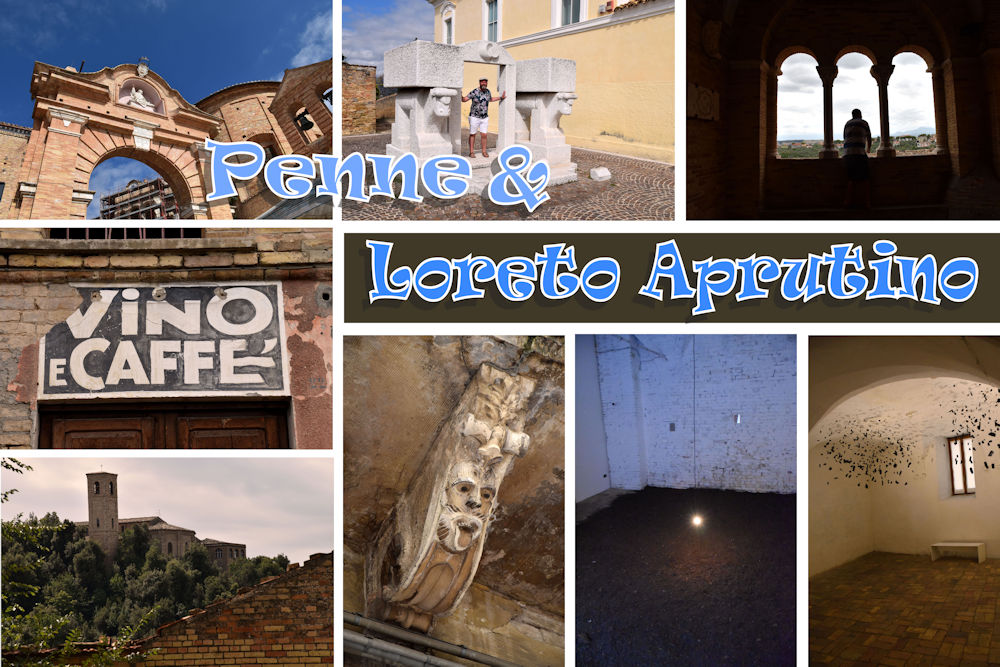 Closer to home, we returned to Penne, where the Saturday market was in full swing, and Loreto Aprutino, where we were unsuccessful in finding local olive oil.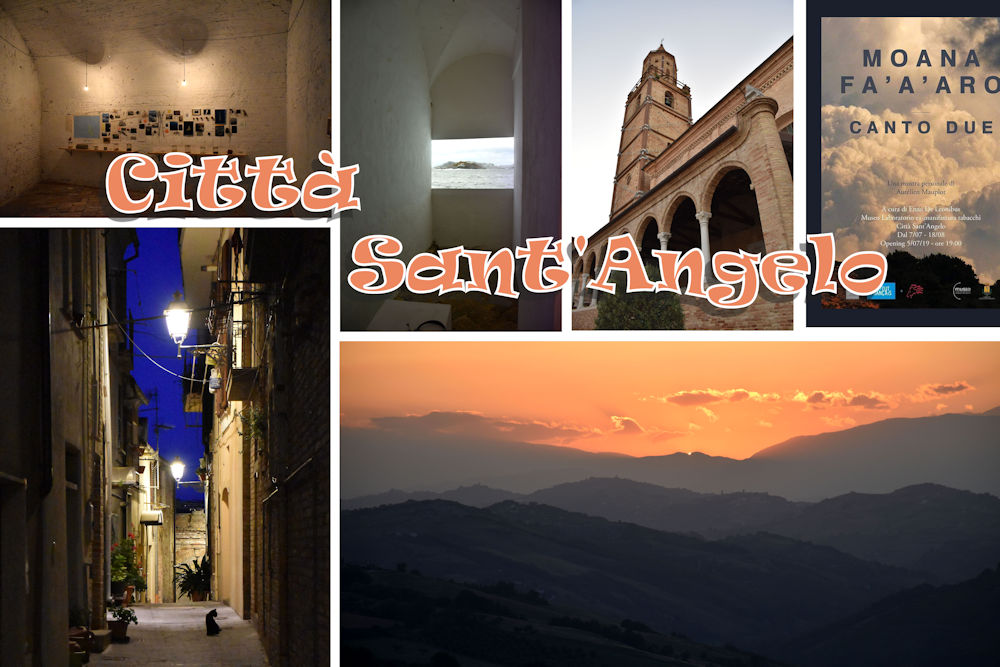 Back in Città Sant'Angelo, we discovered a fascinating art installation by French artist Aurélien Mauplot about Moana Fa'a'aro, a mythical Pacific island not indicated by any map. The exhibition was set in a former tobacco factory.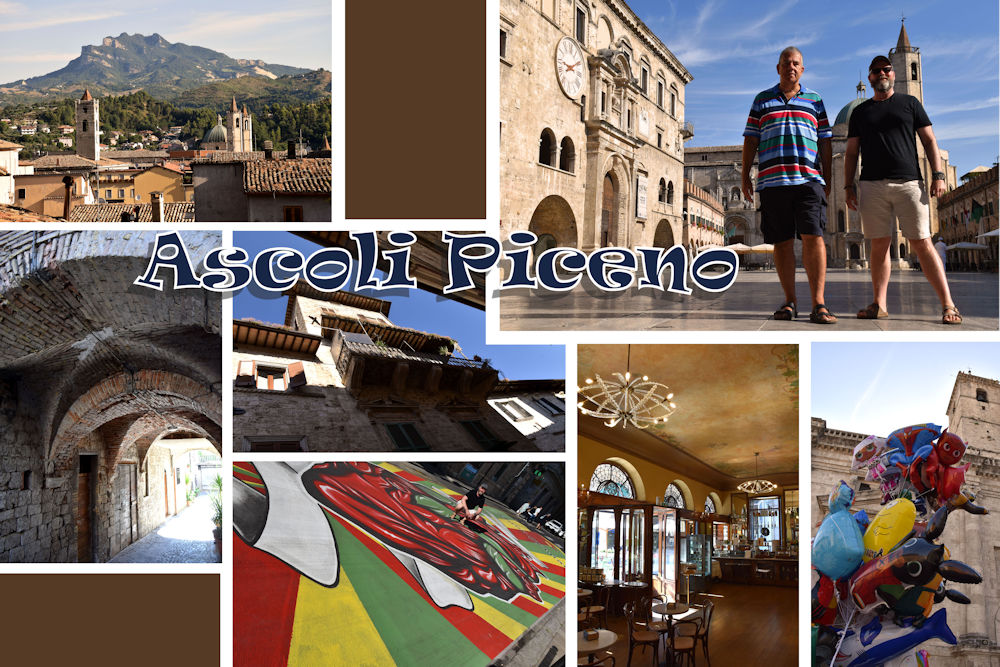 Torn between a number of festivals being held on Sunday, we opted to return to Ascoli Piceno for their colourful medieval Quintana. We got there early and enjoyed the piazza and pastries in the Art Nouveau café.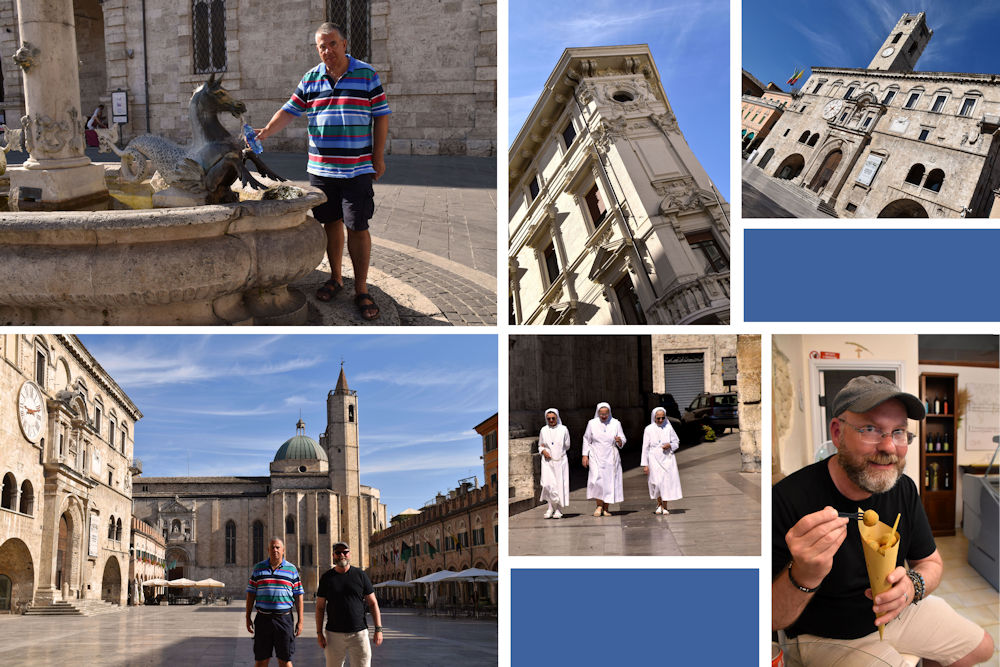 Nick fills up at the remembered Horse Fountain and we enjoyed the town's best stuffed olives at La Bottega dell'Oliva Ascolana. "Nun eating" was on my bingo card, but all of them were abstaining.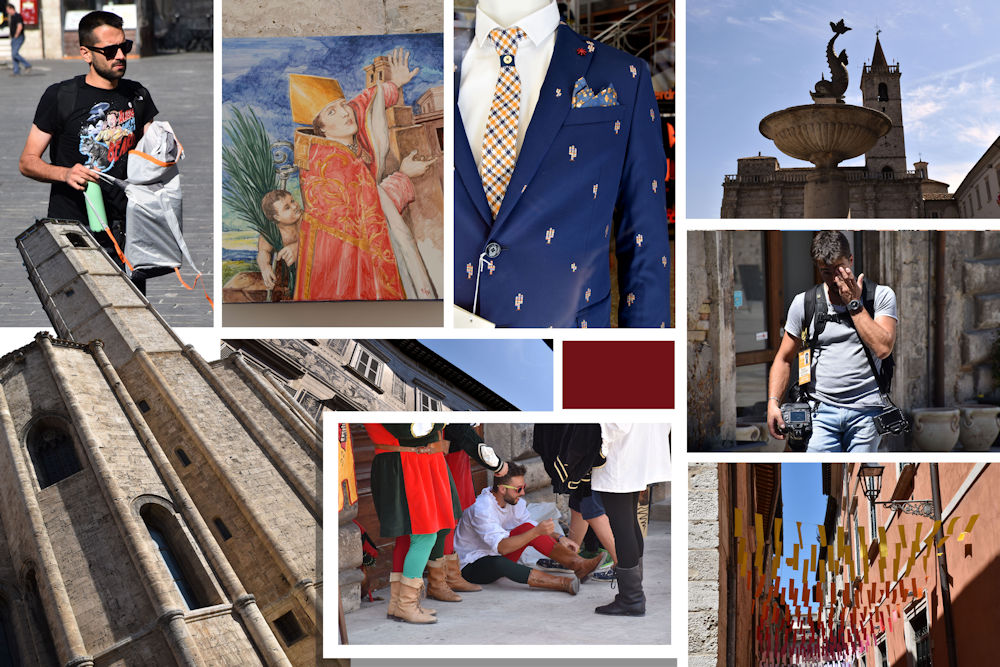 I've never wanted a cactus suit more. We waited for a long time for the medieval procession to start, but they arrived around two o'clock, pulling on their tights and lacing up their boots.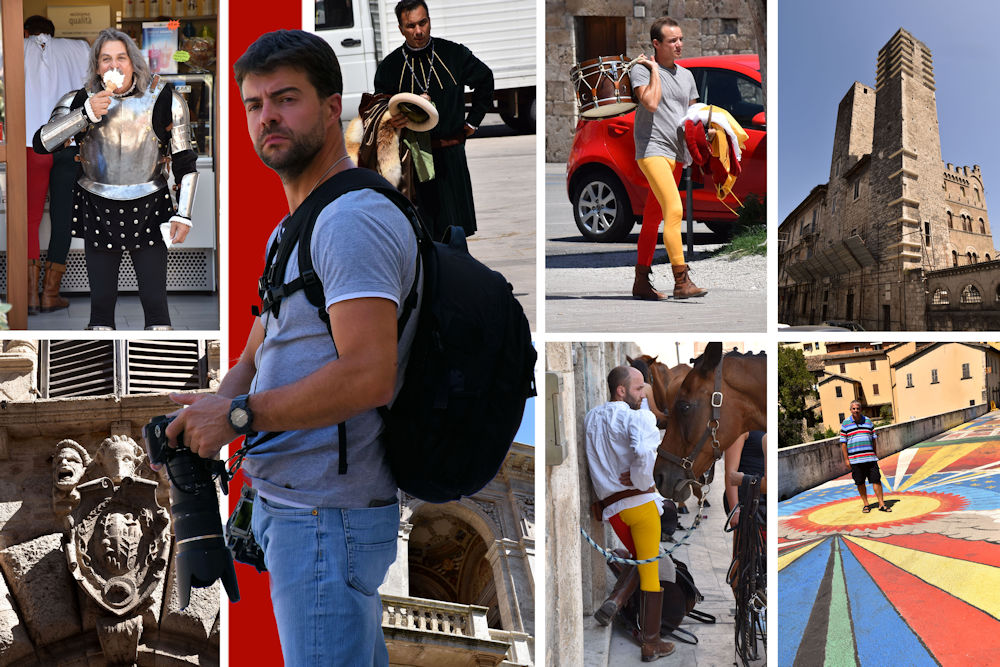 I probably took more photos of the photographer than he took of anyone else.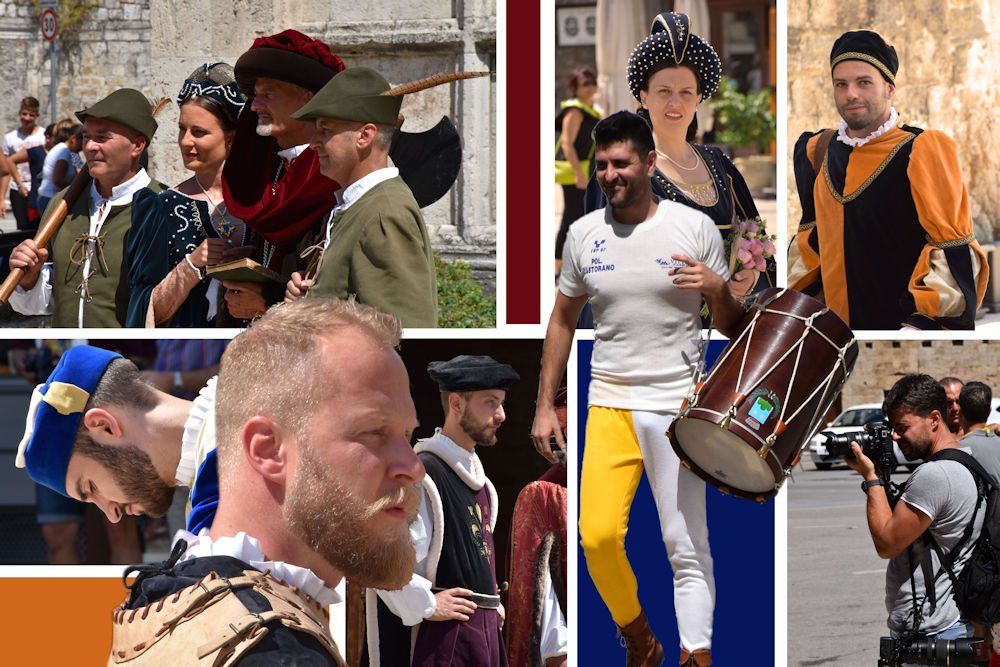 Love the Nordic-looking man and the bulging drummer.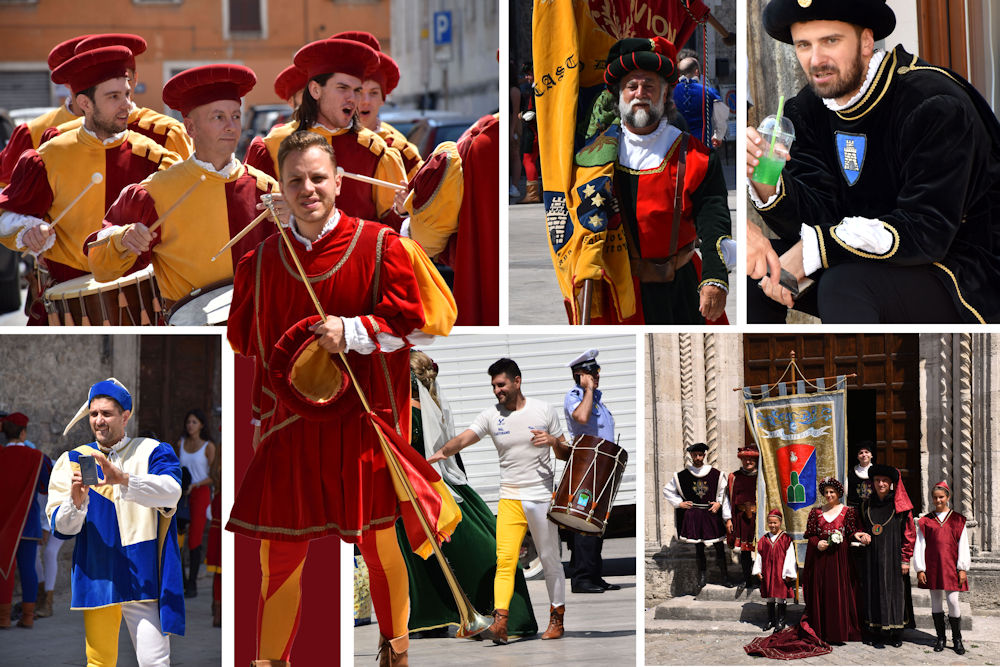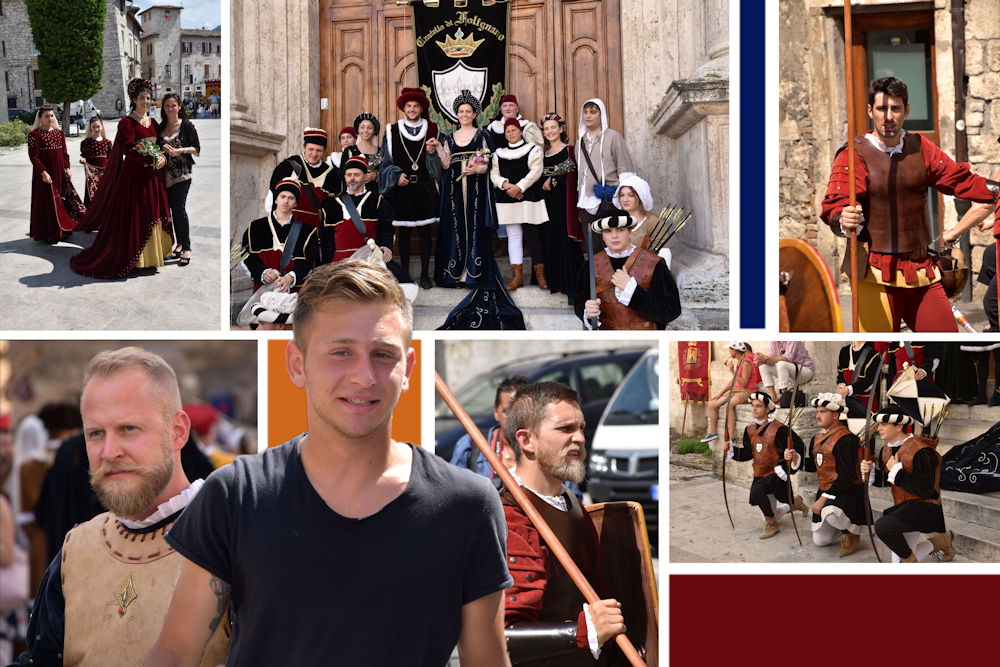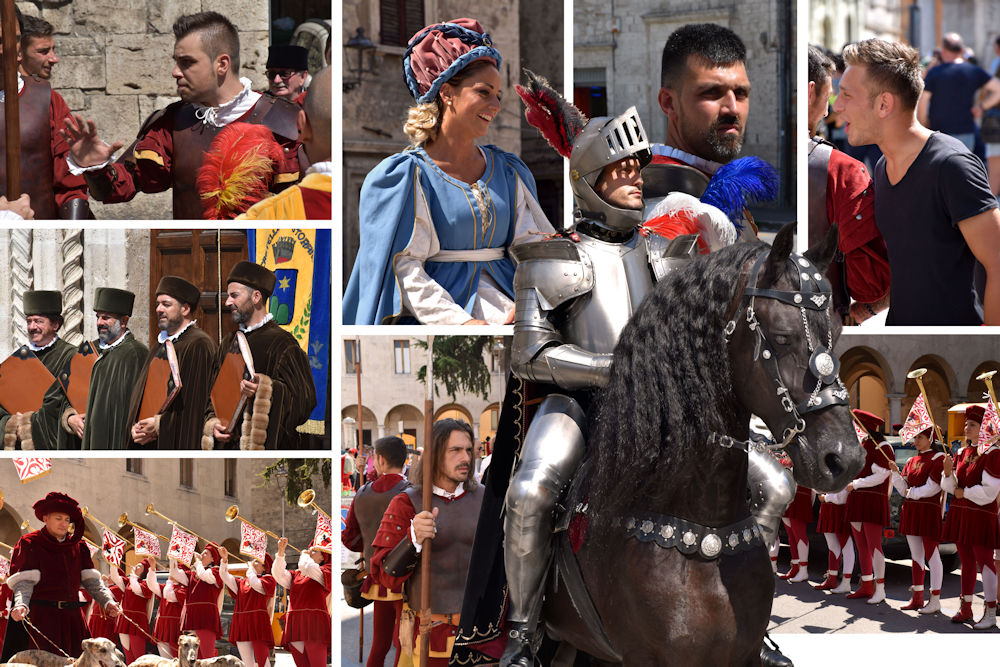 The Black Knight was truly regal, as was his horse.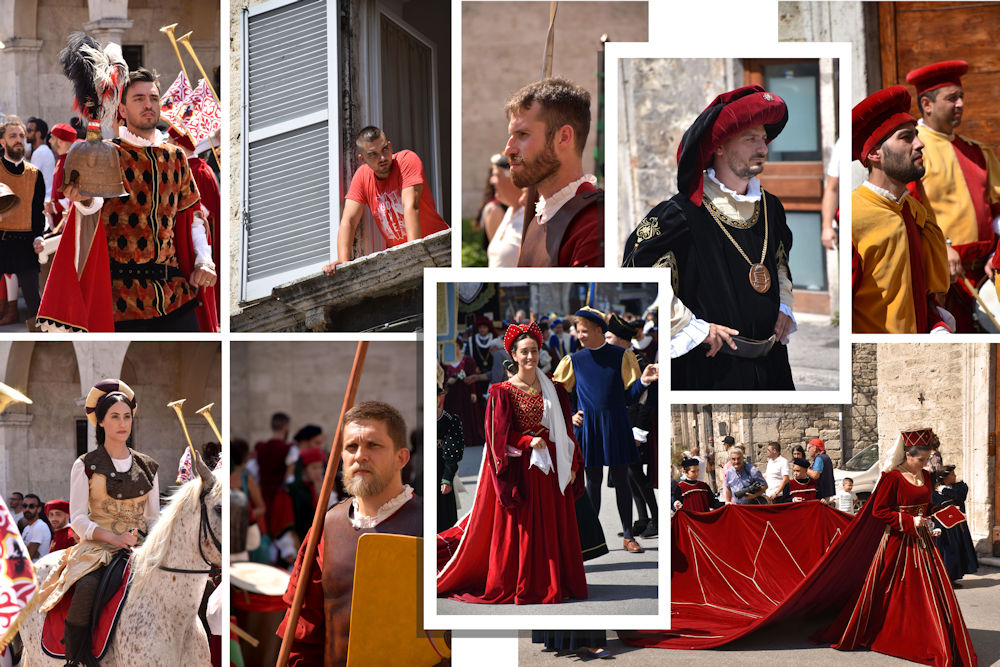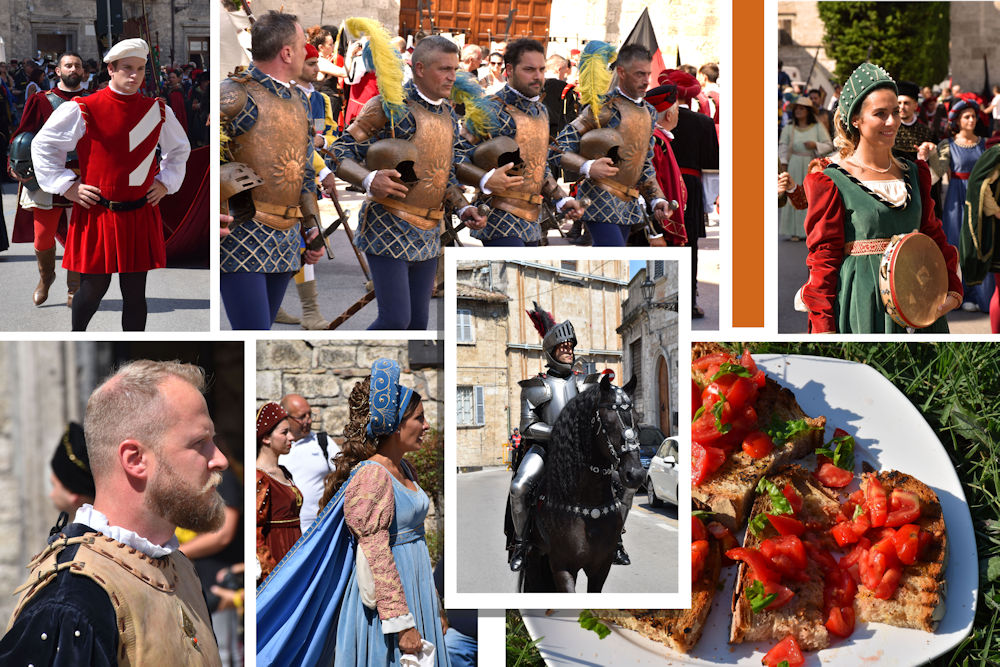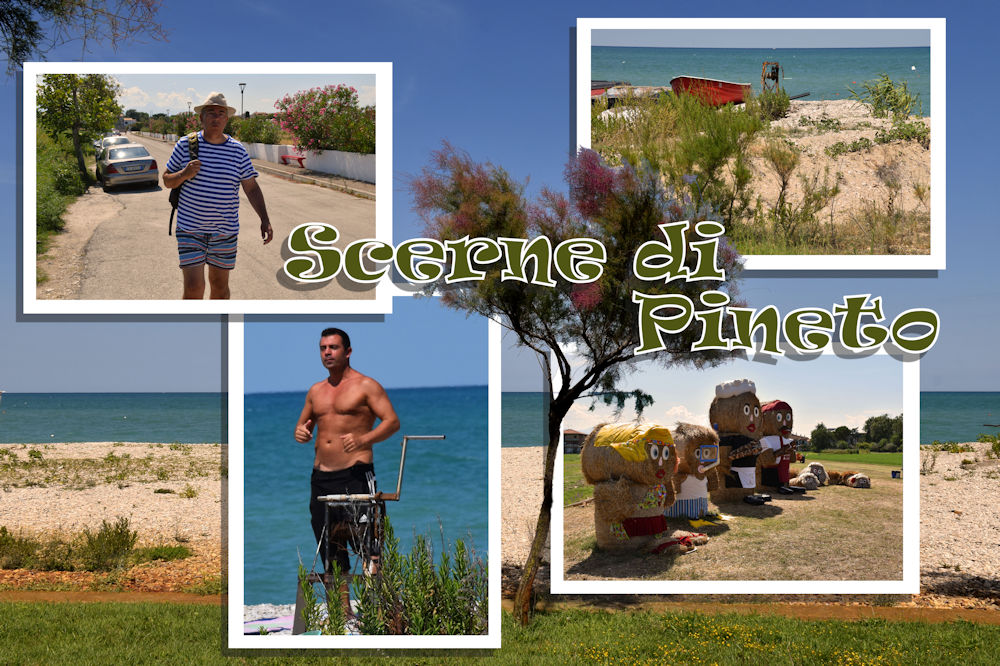 We had a relaxing day - at first - by staying at home and then going to Scerne beach in the afternoon. We only stayed half an hour and decided to go back to our own pool but found that our car window had been smashed. Fortunately nothing was taken from the car, and both of our wallets were inside. It took us a while to sort things out at the Mercedes garage in Montesilvano, which seemed like being in an episode of Inspector Montalbano.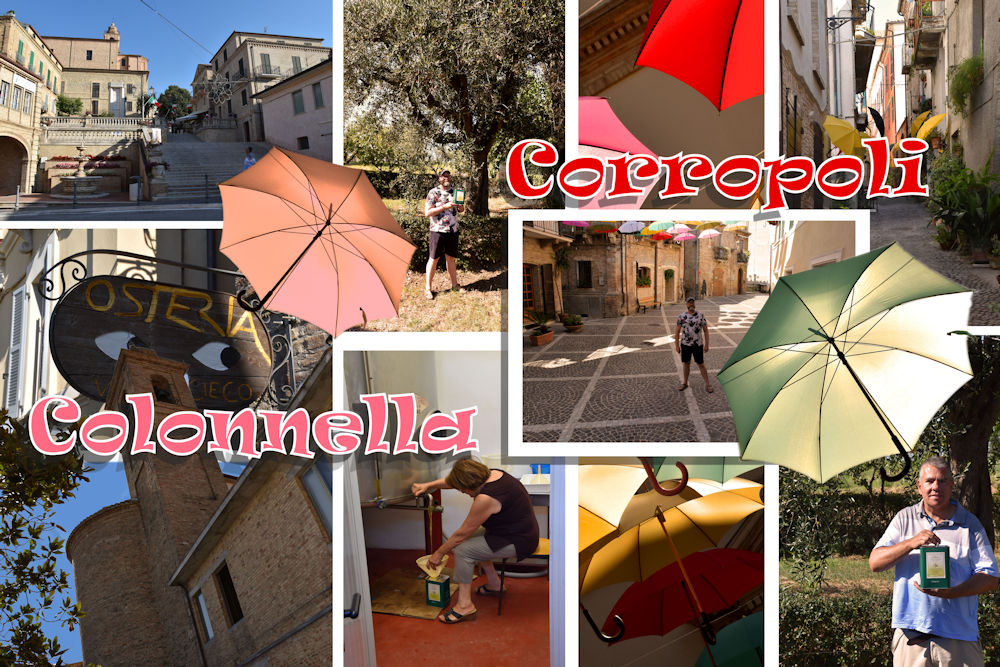 Undeterred by circumstance and the car window taped up, we took a valley drive to Colonnella and Corropoli, both pleasant hilltop towns. Nick lit a candle for Steve in Corropoli, and we found a place to buy three litres of olive oil direct from the producer.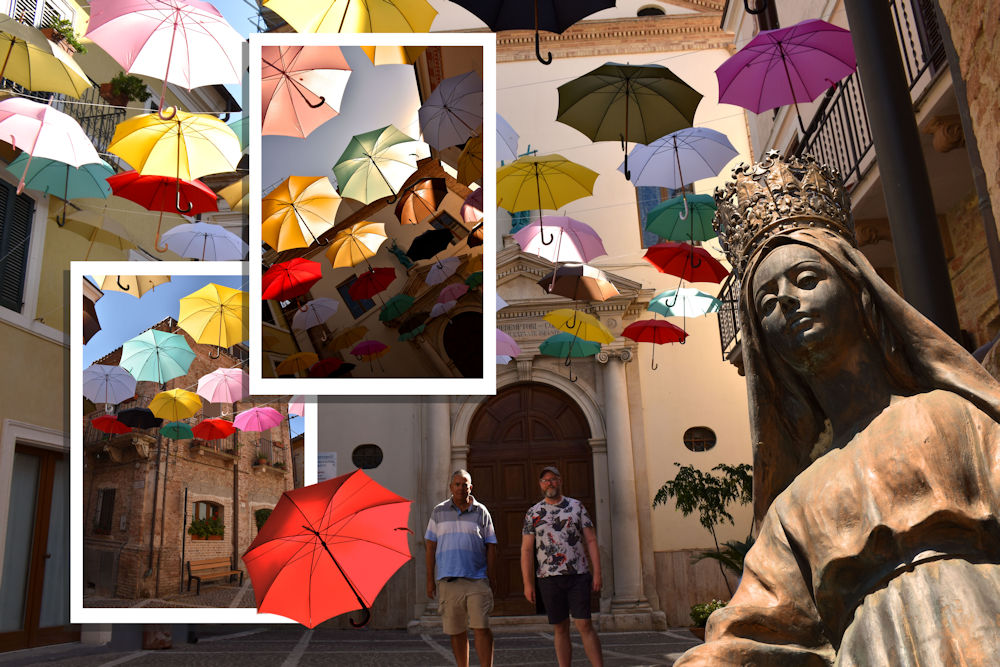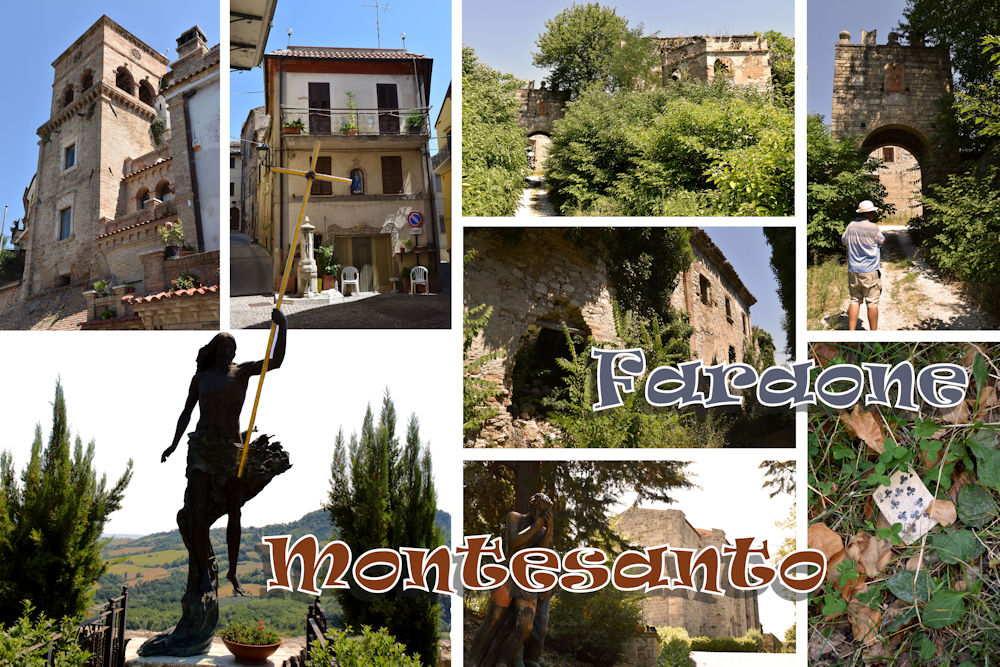 Faraone Antica was a spooky abandoned town, with buildings almost entirely covered by vegetation. We went from there to the Abbey of Santa Maria in Montesanto, where the chapel was miraculously cool despite the blazing heat outside.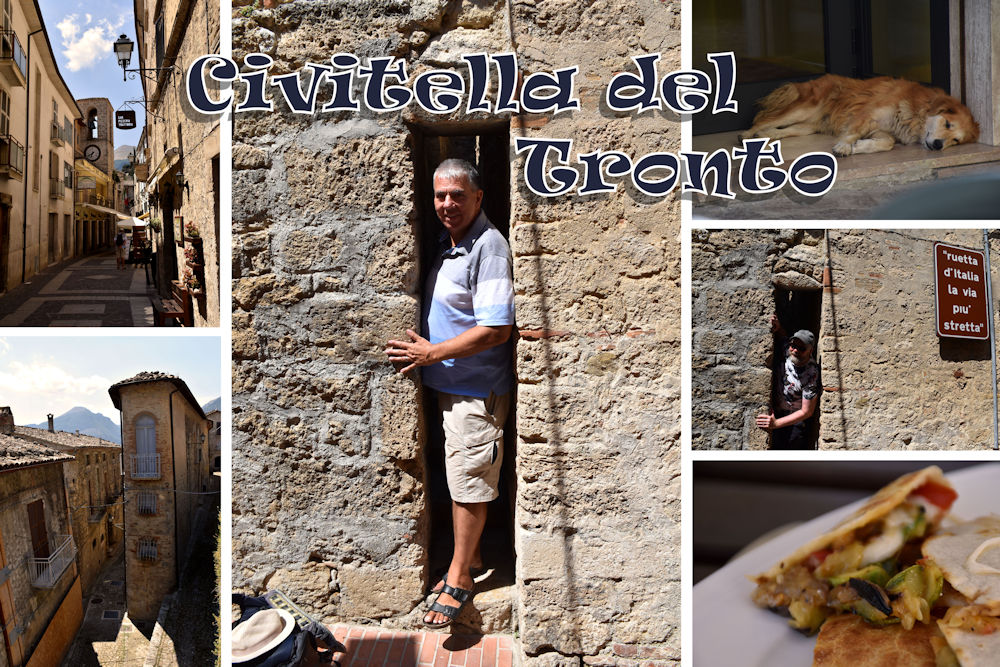 Civitella del Tronto's two stars in our guidebook were definitely well-earned. It's a lovely town, where we enjoyed drinks and antipasti before trying to squeeze through the "narrowest street in Italy". The dog shown alternated between lazy slumber and joyful tail wagging.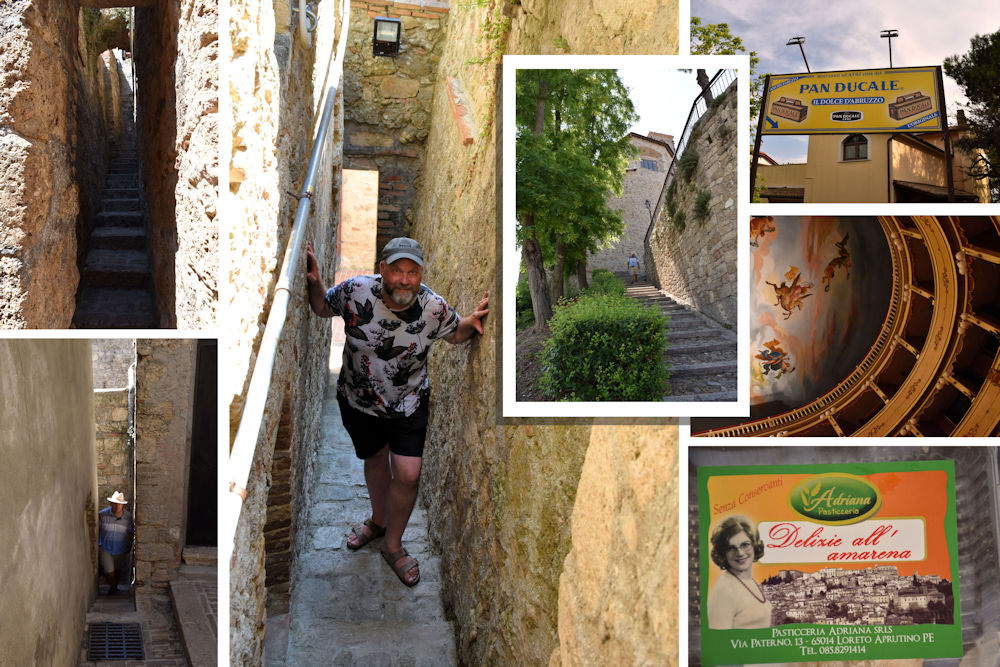 We returned to Atri at cocktail hour, a much livlier time to visit the town. We discovered the tiny theatre and went to the Pan Ducale factory, where we bought a kilo of cantucci to take home.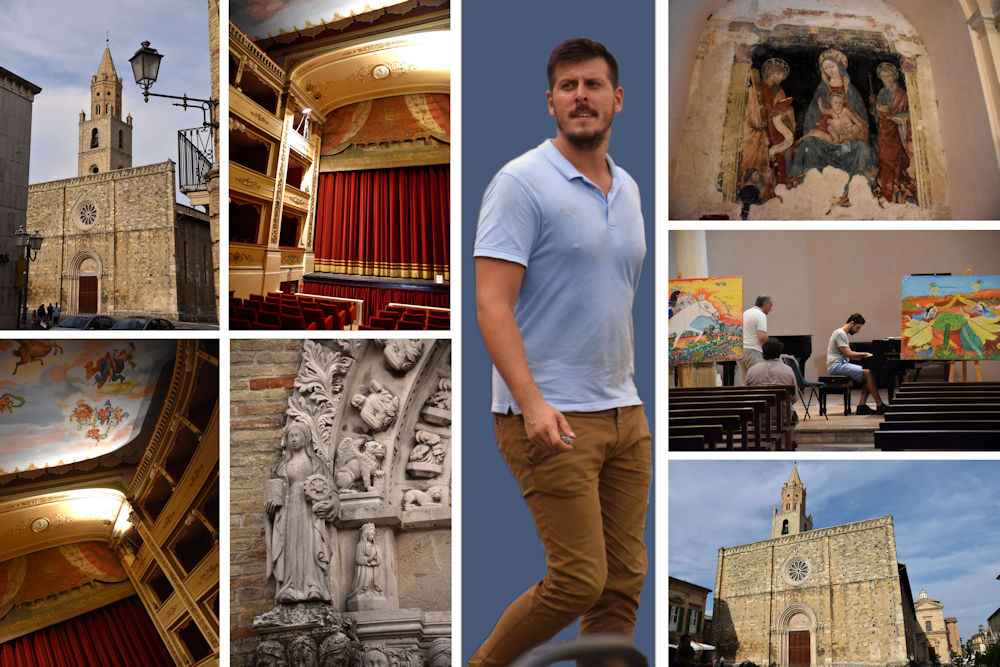 The piano lesson was taking place in a smaller church, but the fresco by the door was by the same 14th century artist as those in the cathedral.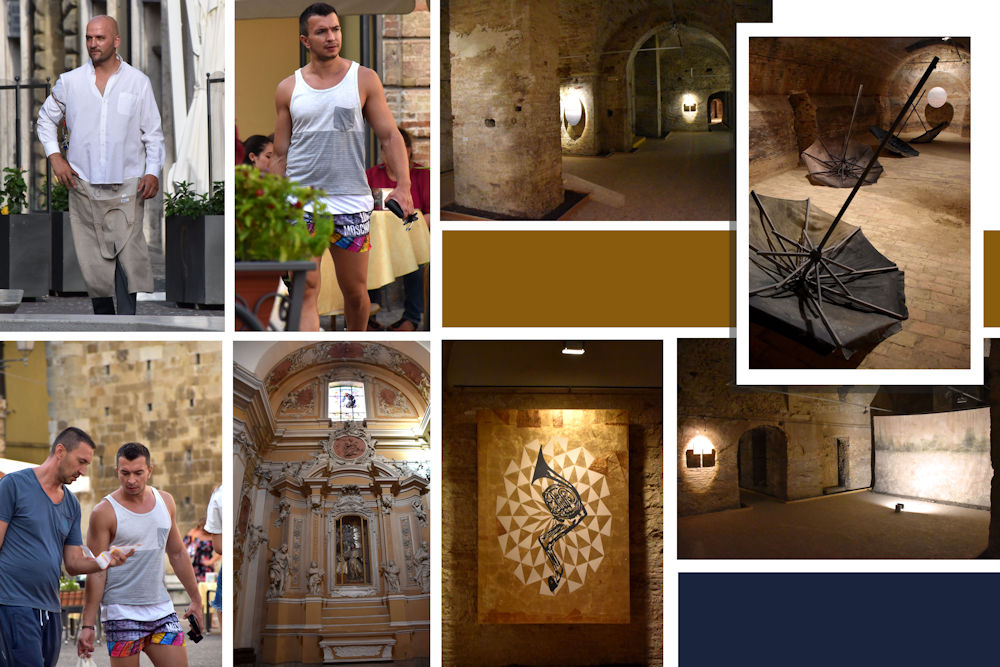 We discovered another wonderful modern art exhibition of "Stills of Peace in Italy and Iran" at the Museo Capitolare.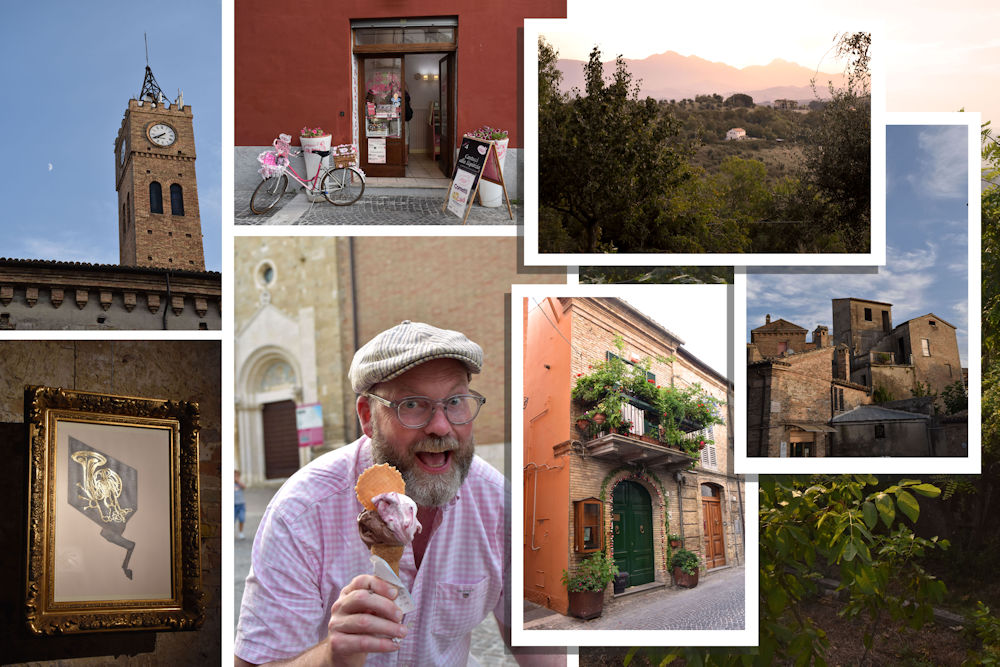 The moon was absent or hidden for most of our trip, but we spotted it over the church tower in Atri. Pasticceria Giorgia deserves special praise for its wonderful almond cookies. You can see our rental house in the top picture.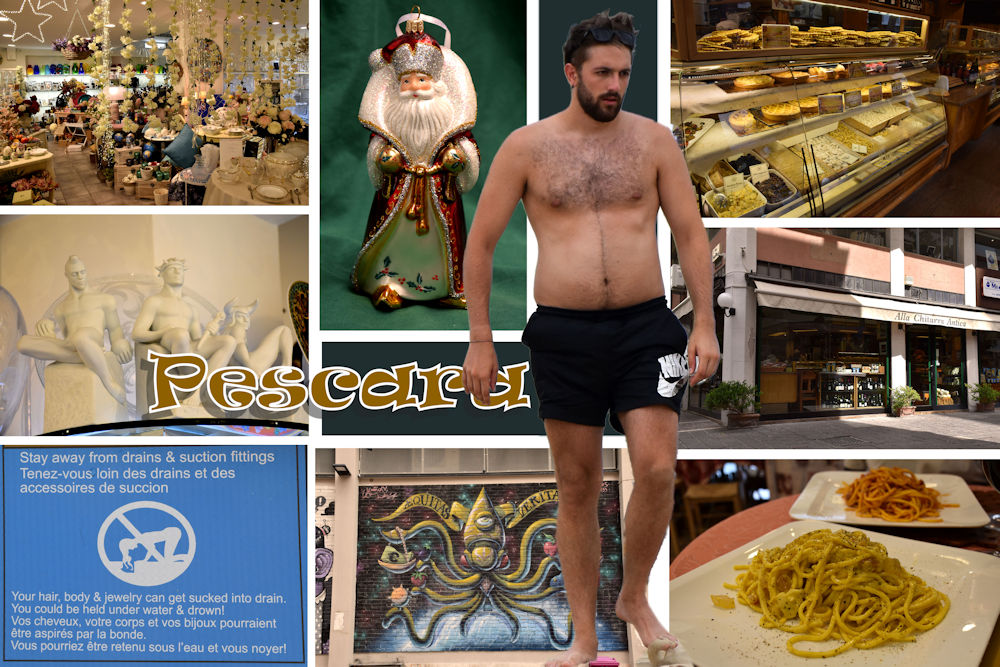 While waiting for our car window to be replaced, we took the bus into Pescara, where I bought a Christmas ornament for our collection. We also returned to Alla Chitarra Antica deli, where Claudio made us spaghetti carbonara and amatriciana. The hilarious warning sign is from our Geordie pool.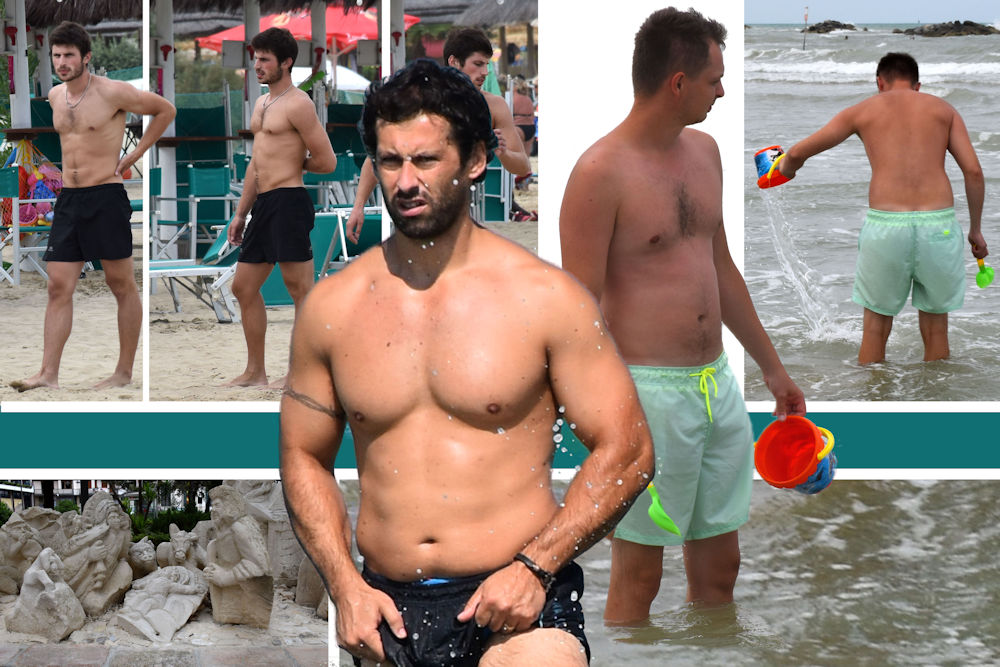 Meanwhile, down on the beach....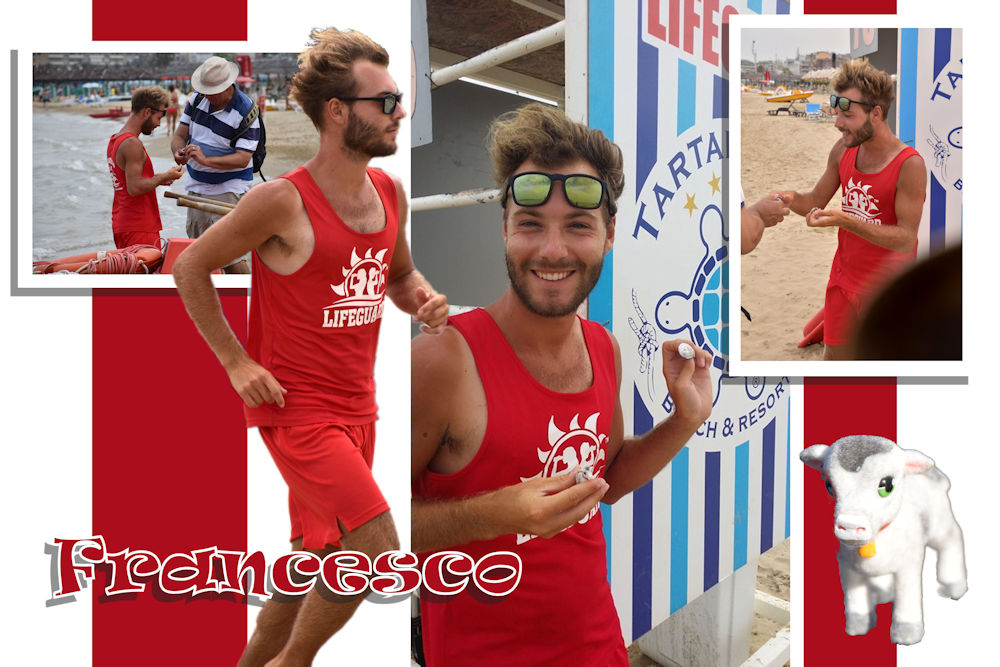 Nick plucked up the courage to ask lifeguard Francesco to pose for a photo with Tiny Cow. His reward was a Tiny Cow badge.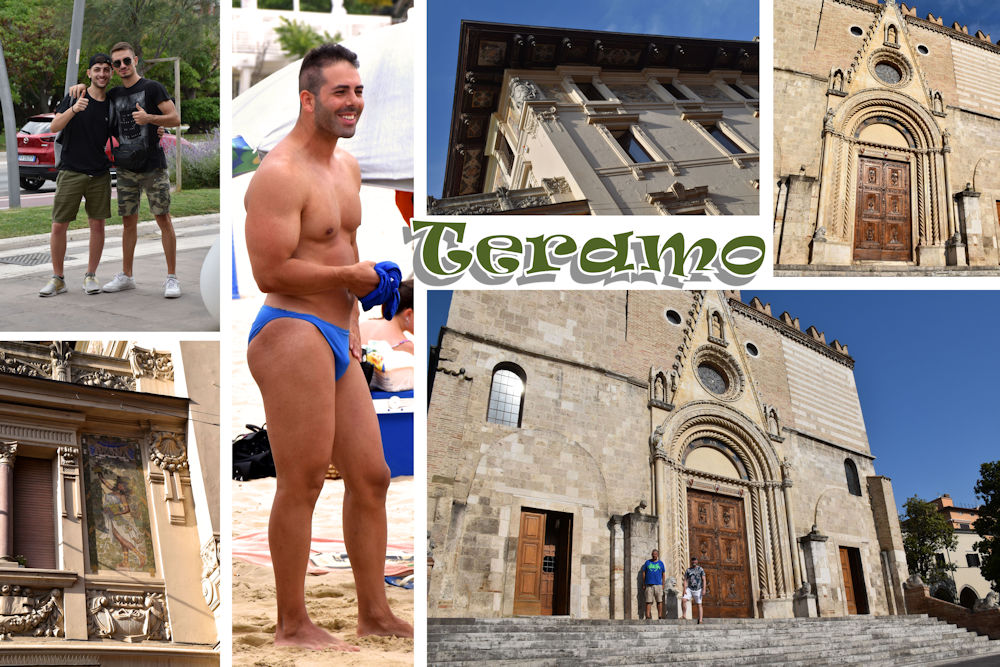 Car window restored, we returned to Teramo.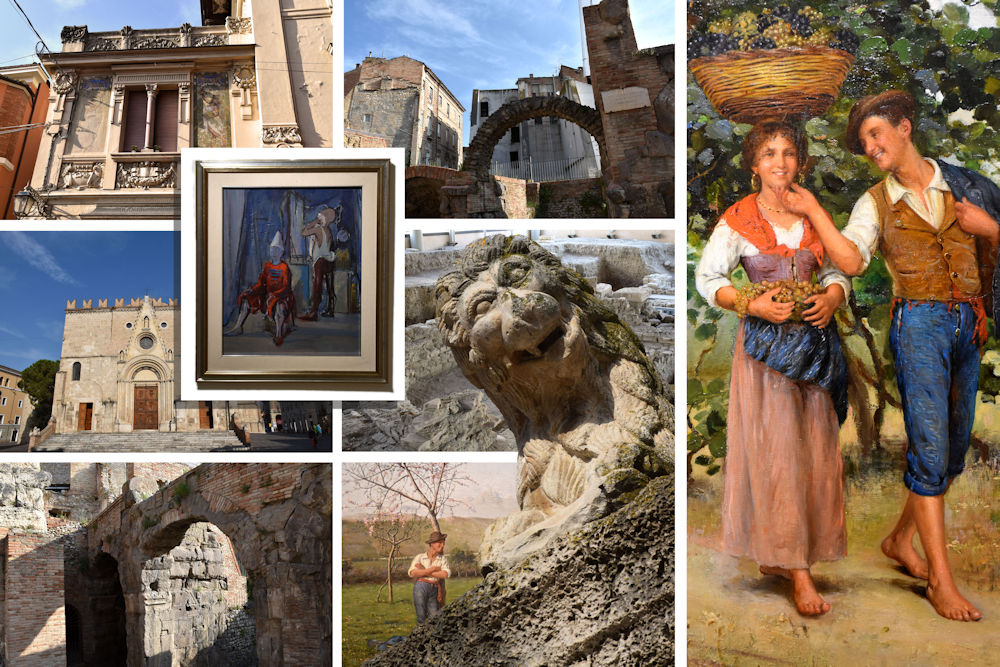 We explored the remains of the Roman amphitheatre and enjoyed the modern and ancient art of the Museo Civico.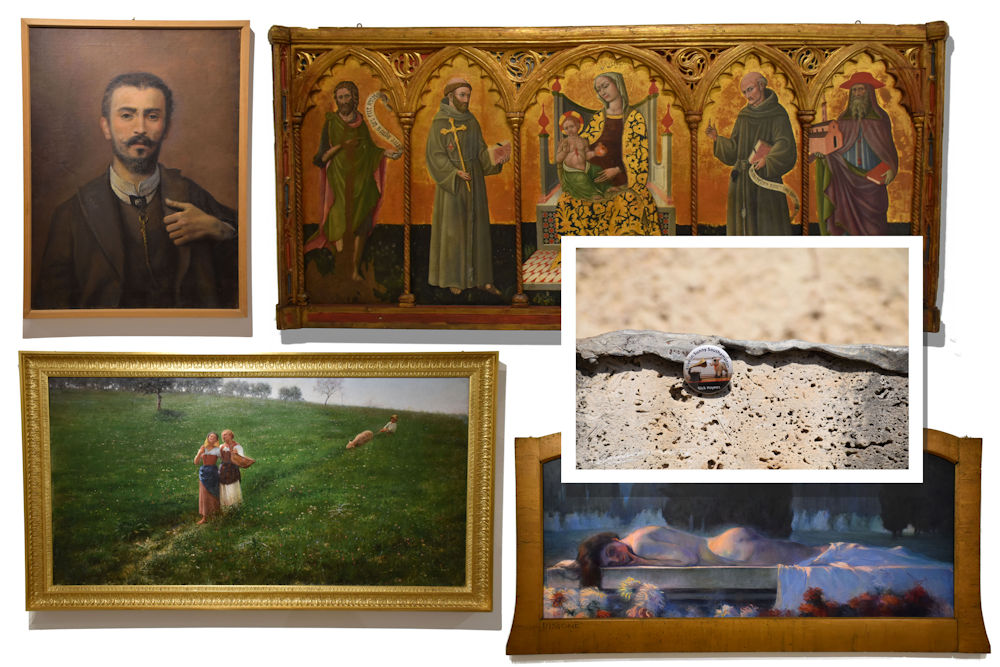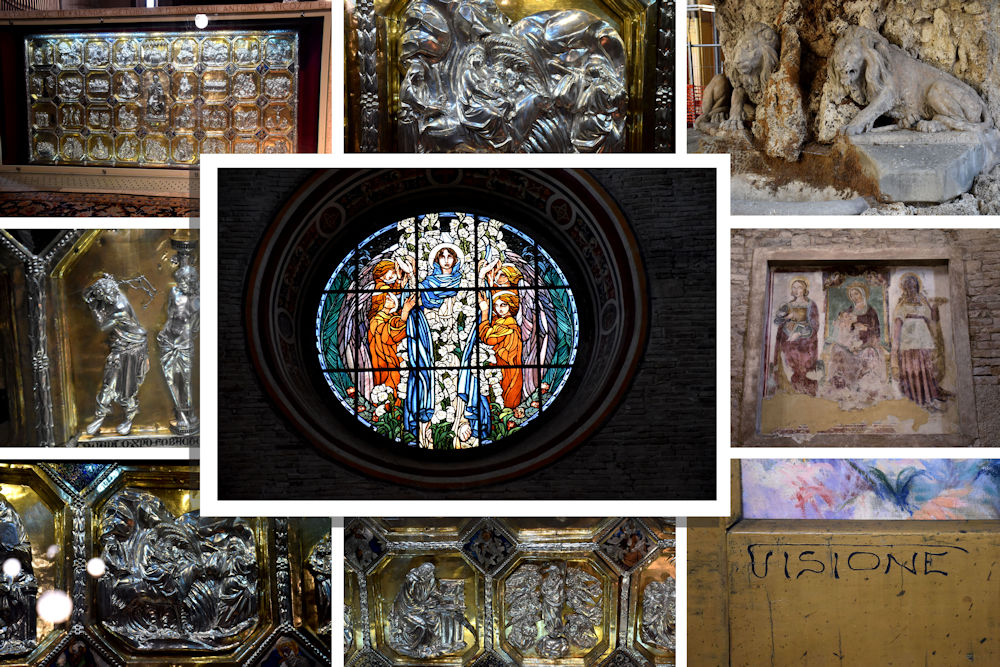 The silver antependium of the high altar is a masterwork by Nicola da Guardagriele, who worked on it from 1433 to 1448. This antependium replaced a previous one, also of precious quality, which had been stolen in 1416 during the troubles following the death of King Ladislaus of Naples.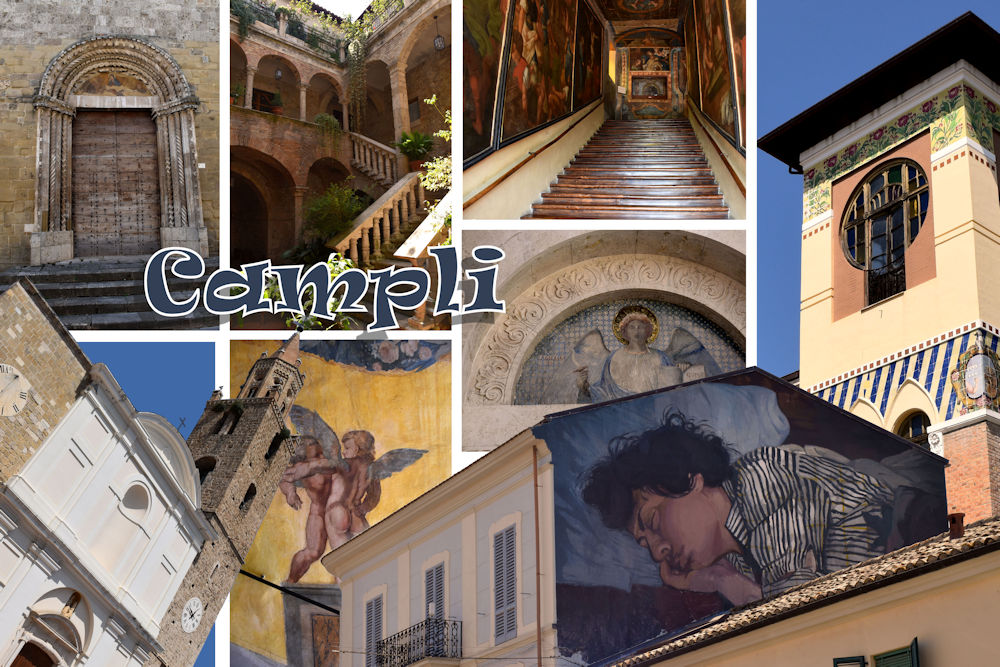 Our next stop was Campli, home of the Santa Scala (Sacred Stairs) and some award-winning porchetta. Next we drove through Bellante, where there was some great street art and on to Giulianova, where we happened upon this fantastic Art Nouveau palazzo.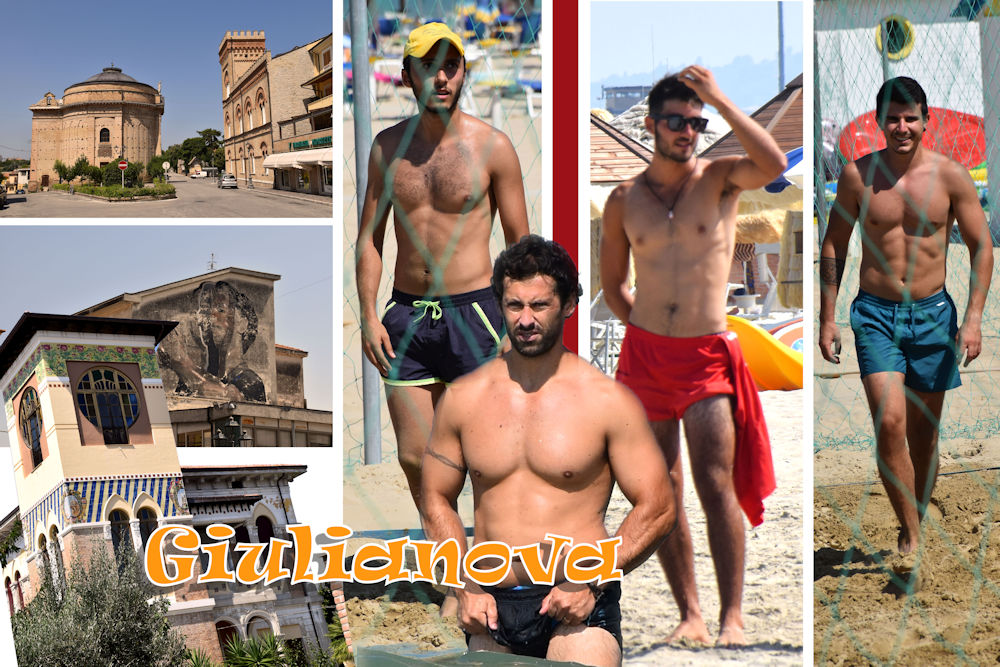 The beach at Giulianova was a good place for granite and volleyball.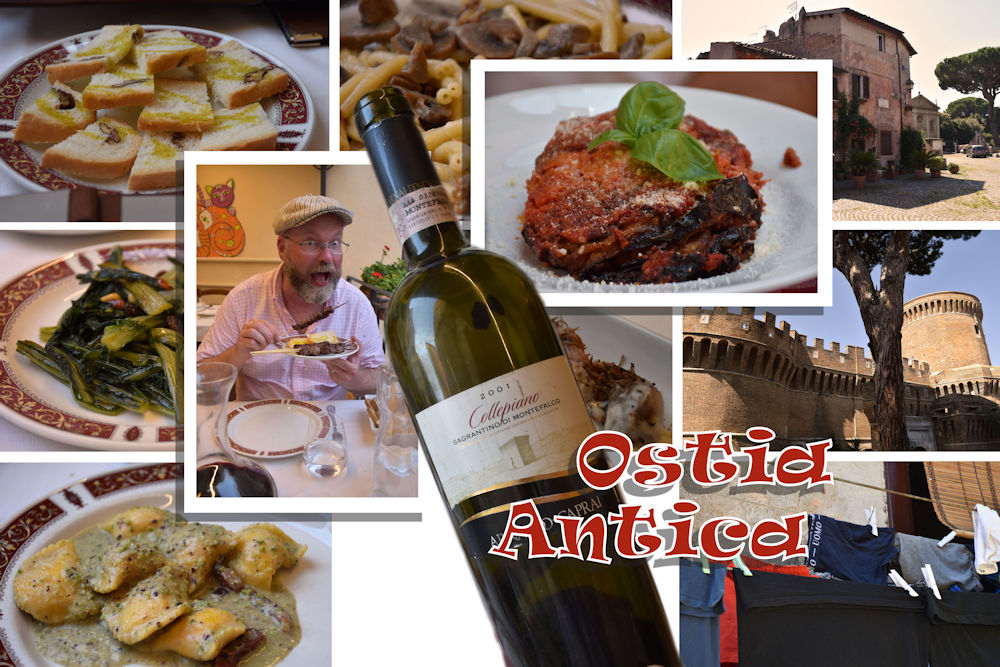 On our final night, we booked a table at Hosteria Cavour in Città Sant'Angelo. The meal was variable, but I did finally get to have some arrosticini and we shared a wonderful eighteen-year-old bottle of Sagrantino Montefalco wine, like the ones we remembered from 2014. Finally, we stopped in Ostia Antica on our way to the Rome aiport and enjoyed a wonderful lunch at Arianna al Borghetto. As a bonus, I got see see the "men's underwear hanging on washing line" that was on my bingo card.

Italy, we will return!