Summer is over, but the fun and warm weather continue. For autumns past, see 2009 (Stephen Fry), 2010 (Devon and Dad), 2011 (Glasgow and Robert Thompson), 2013 (David Tennant and The Drowned Man), 2014 (Belgium and Streetcar), 2015 (Studland, Benedict Cumberbatch, and Robert Thompson), 2016 (Hengistbury, Naked Boys Reading, and Sorrento), 2017 (Bournemouth, theatre visits, and London), 2018 (Paris firemen and Snoopy), 2019 (Brighton and Amsterdam) and 2020(lockdown National Trusts).

We've been lucky to travel after months of pandemic and lockdown. Copenhagan was a wonderful place that we'd never been before, full of good food, colourful scenery, and hidden discoveries.


Some favourite photos: top left is the New Forest, where we forage for mushrooms, then a Danish school covered in red ivy, gourmet doughnuts, and one of "The Lakes" that I kept reading about in my guidebook. Ours was called Sortedams Sø.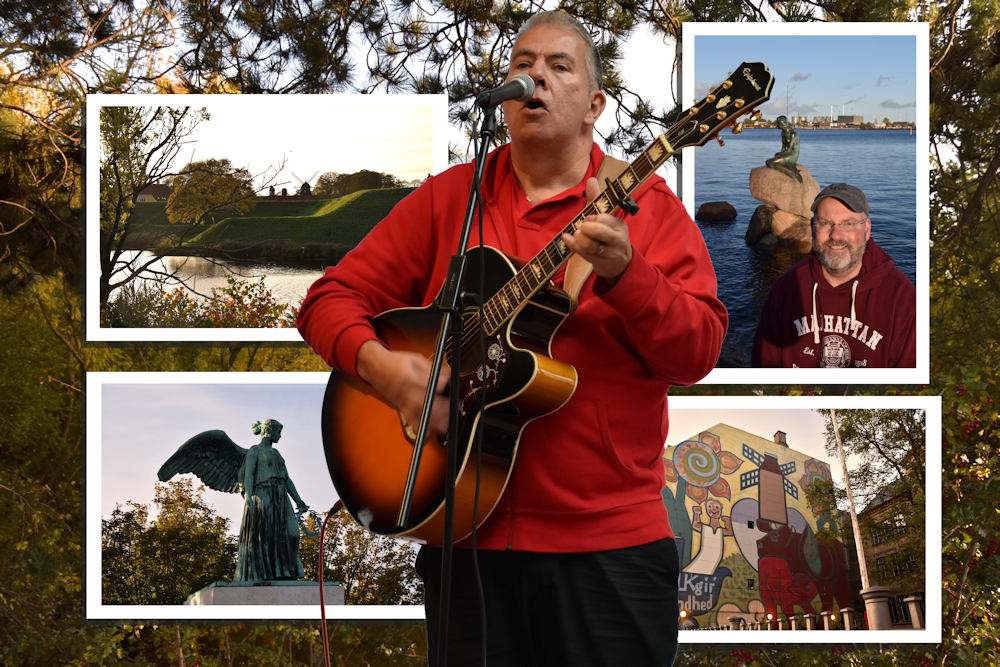 Nick's photo is from Tri-Fest. Danish photos include the water around the star-shaped Kastellet, the Little Mermaid, Sofarts maritime monument, and street art advertising milk.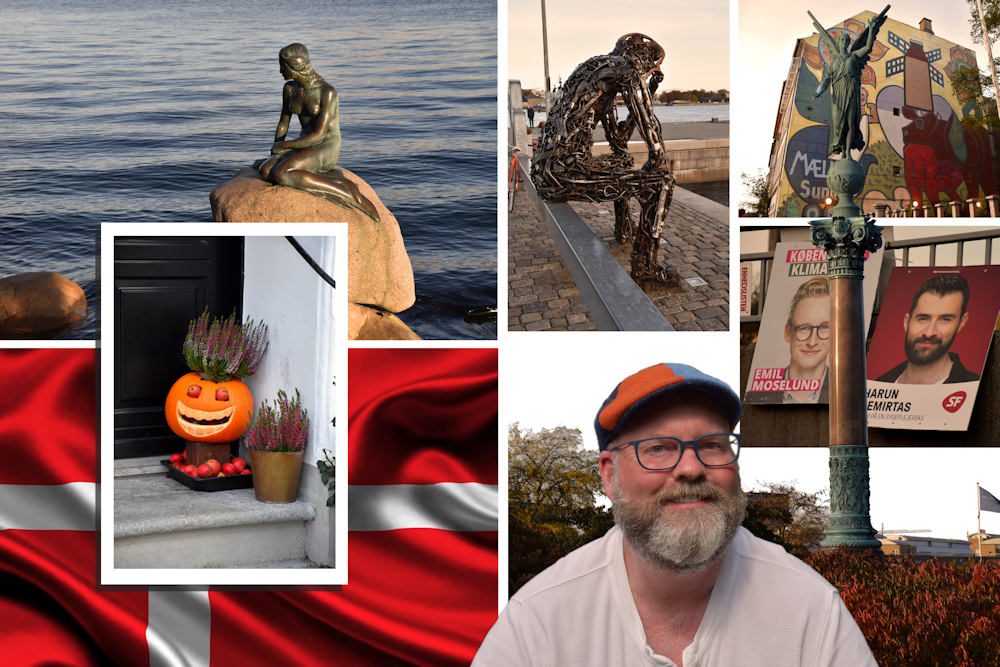 More Mermaid, Kim Michael's scrap metal take on The Thinker, Zinkglobal, cute local politicians, and Halloween, Danish-style

Dinner at home, Torvehallerne food hall, and Tiny Cow meeting the local statues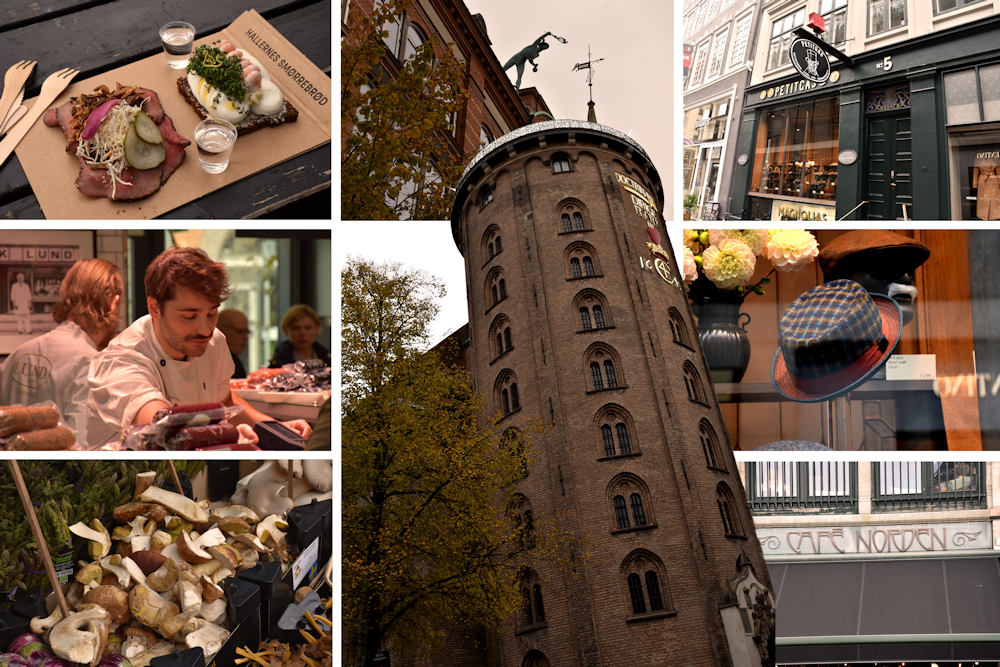 Our smørrebrød was revelatory. We also discovered that porcini are called Karl Johan mushrooms in Denmark. Our first trip into town took us past the Round Tower, the statue of Mercury outside the Stock Exchange, and F. Petitgas Eftf hatshop, which remained closed until Wednesday.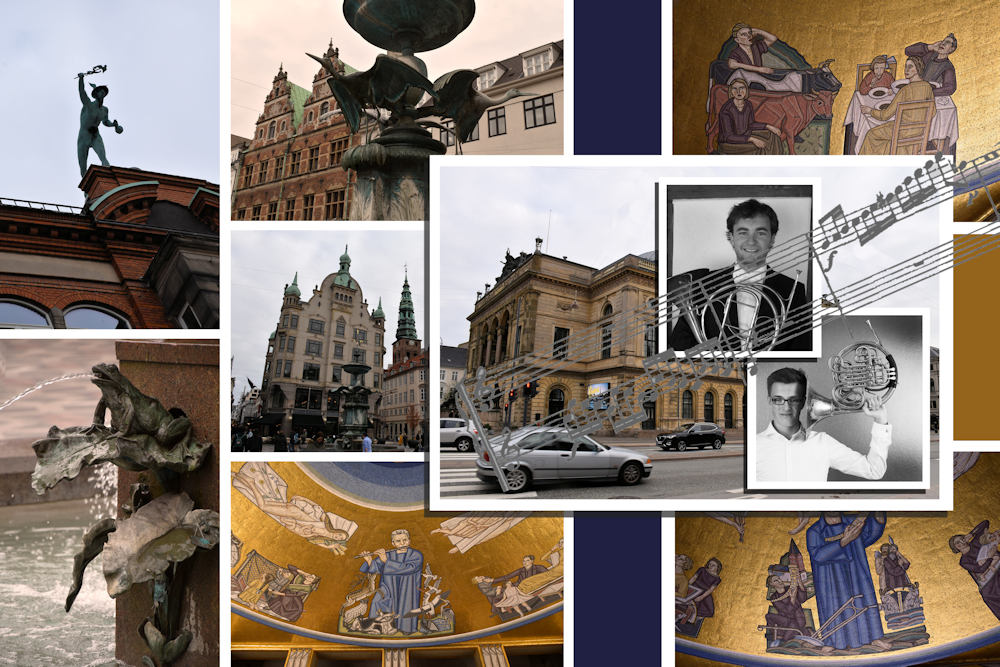 The Stork Fountain and the Royal Danish Theatre in Kongens Nytorv, where we saw a wonderful concert by the Kongelige Kapels kammerkoncerter. On the programme were Dvo?ák's String Quartet in F, Brahms' Piano Trio, and Beethoven's Sextet, featuring hornists Claudio Flückiger and Constantin Glaner, a virtuoso who looked about fifteen years old.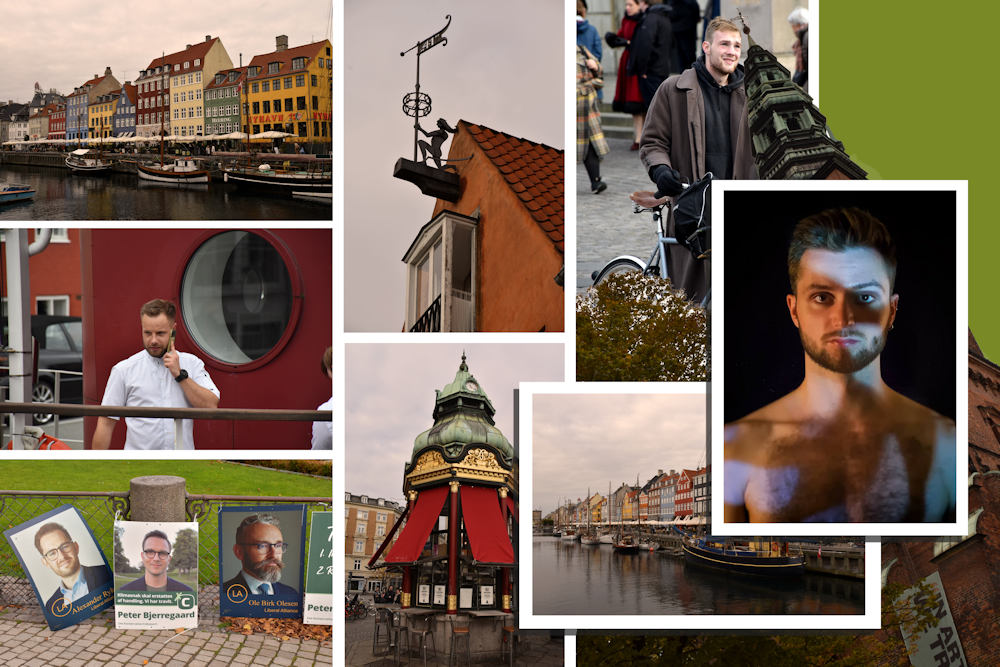 After our classical concert, we rushed to Nyhavn to see Lucas Kruse Kristiansen portray Lucifer in black boxer shorts and platform shoes at the Bådteatret, an atmospheric canal boat theatre. The kiosk is one of eight surviving telephone kiosks, which were once operator staffed. They were installed in 1896 to an Art Nouveau-influenced National Romantic design by Fritz Koch. We thought the political placards looked like they represented three ages of the same man.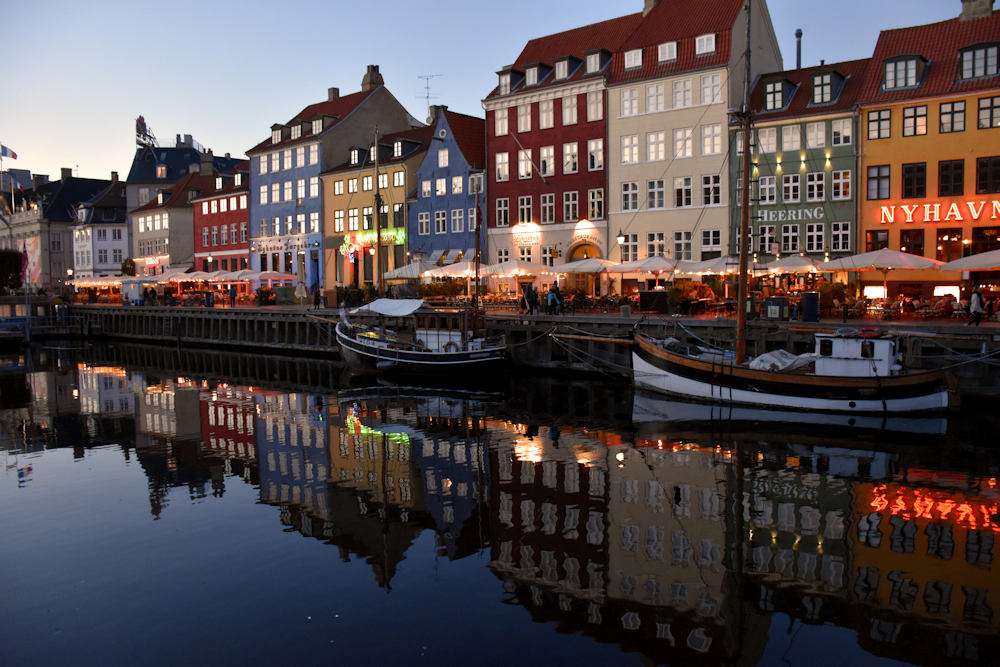 Picturesque Nyhavn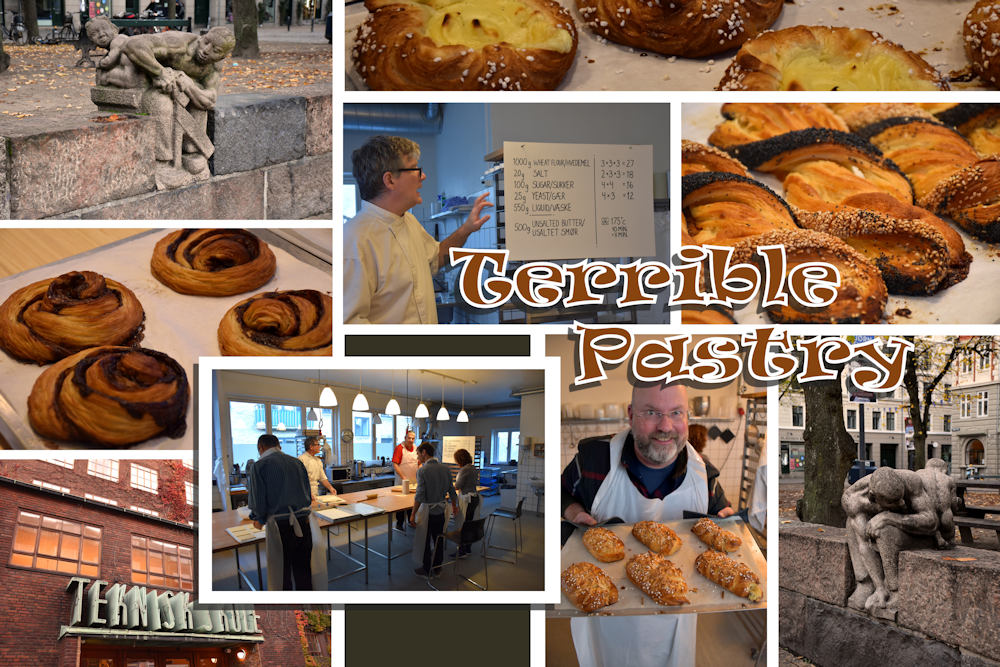 Past the memorial park and cool technical school, we did a mouth-watering class in Danish pastry making at the ironically named Terrible French Pastry School (the chef's name is Frederic Terrible). We learned to make four different kinds of pastry and took 24 of them away with us, providing breakfast for the rest of our trip. We brought the rest back to the UK to freeze.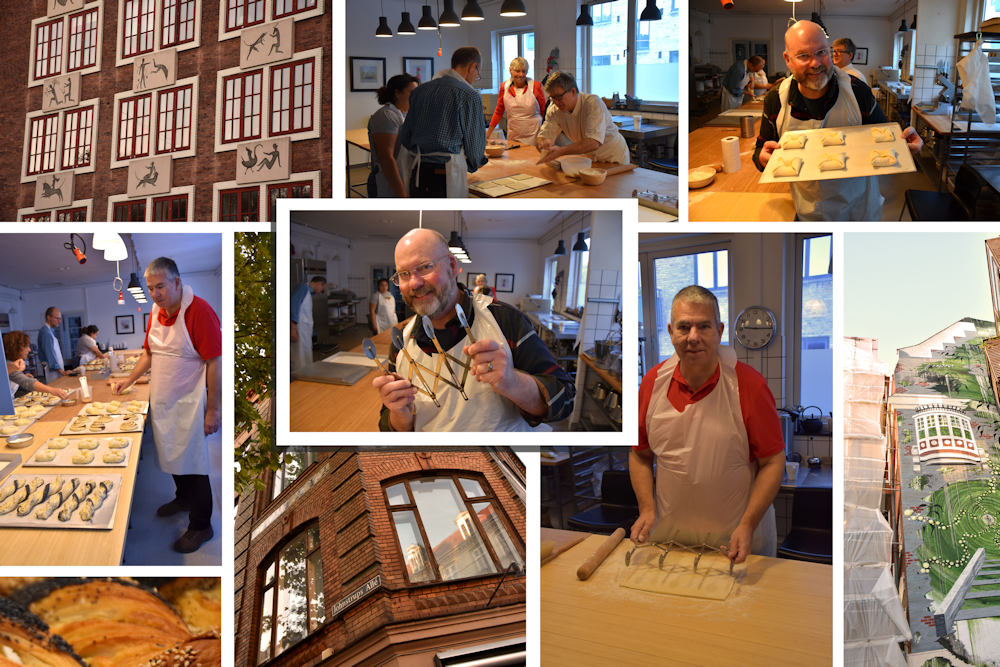 The clever gadget is nicknamed a bicyclette, an expandable set of cutters for making identically-sized pastries. Also shown is some cool street architecture, including a building decorated with early 20th-century mythological creatures.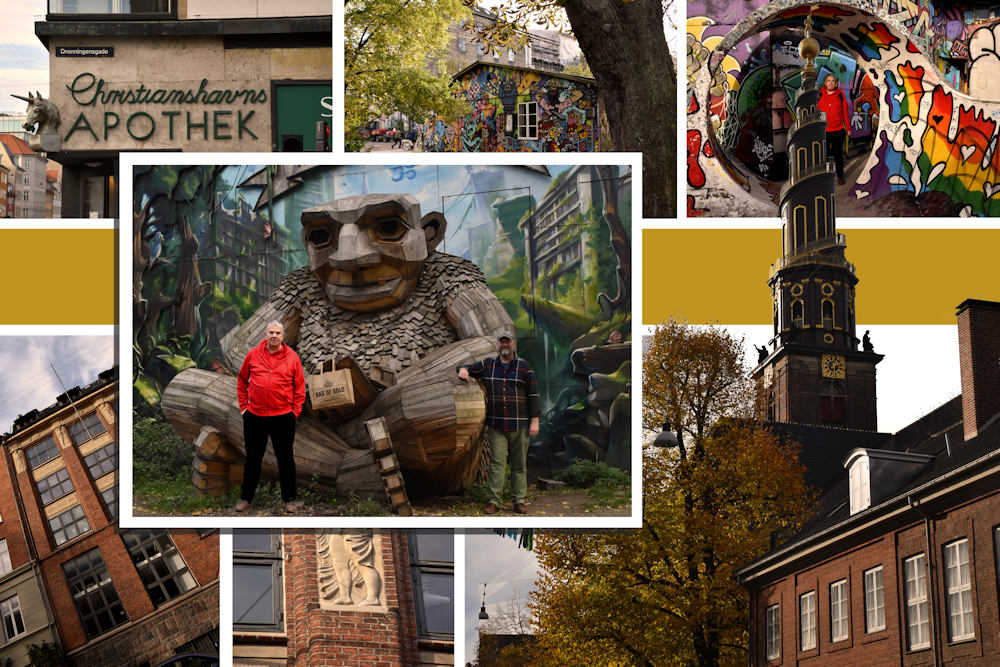 We saw hippie paradise Christiania featured on Travel Man and were intrigued by its "no running" and "no photography" rules. Christiania has been a source of controversy since its creation in a squatted military area in 1971. Its cannabis trade was tolerated by authorities until 2004. Since then, relations between Christiania and Danish authorities have been strained. we were delighted to find one of Thomas Dambo's Forgotten Giants there. The Church of Our Saviour is the one with the spiralled steeple.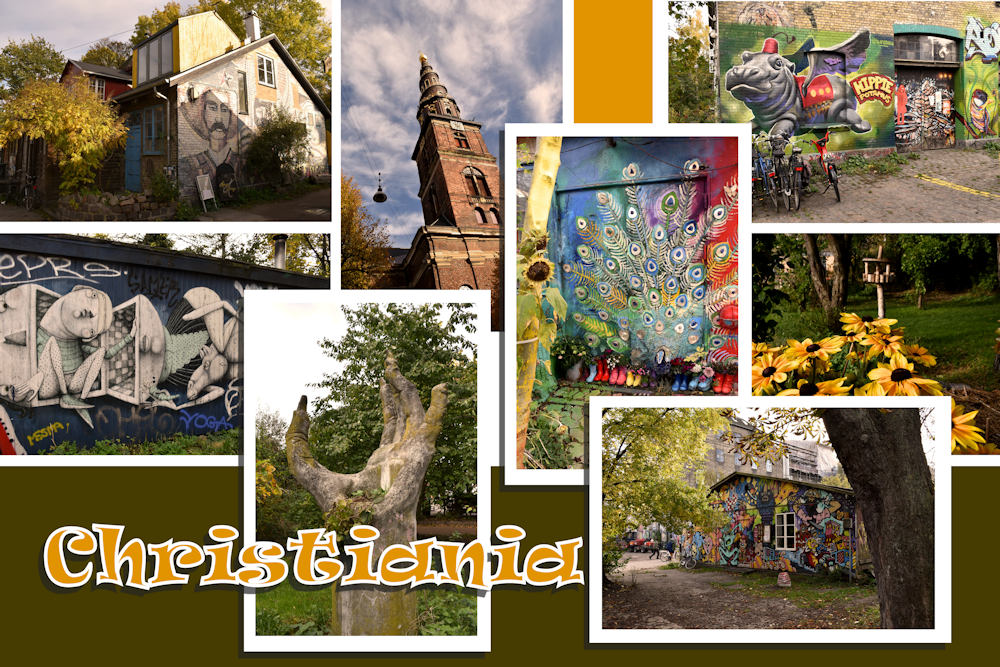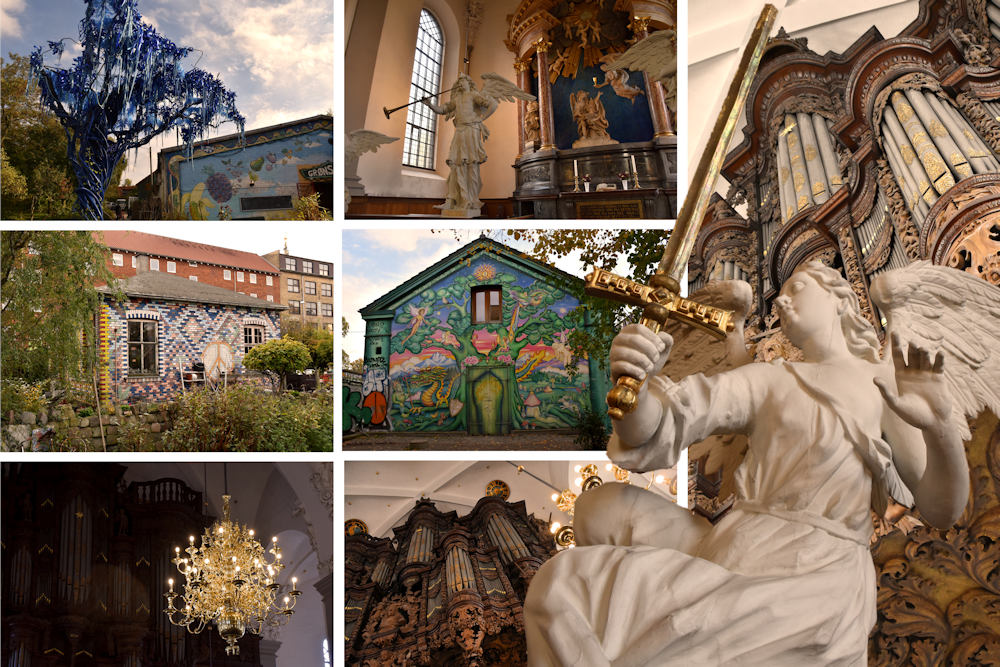 Christiania and The Church of Our Saviour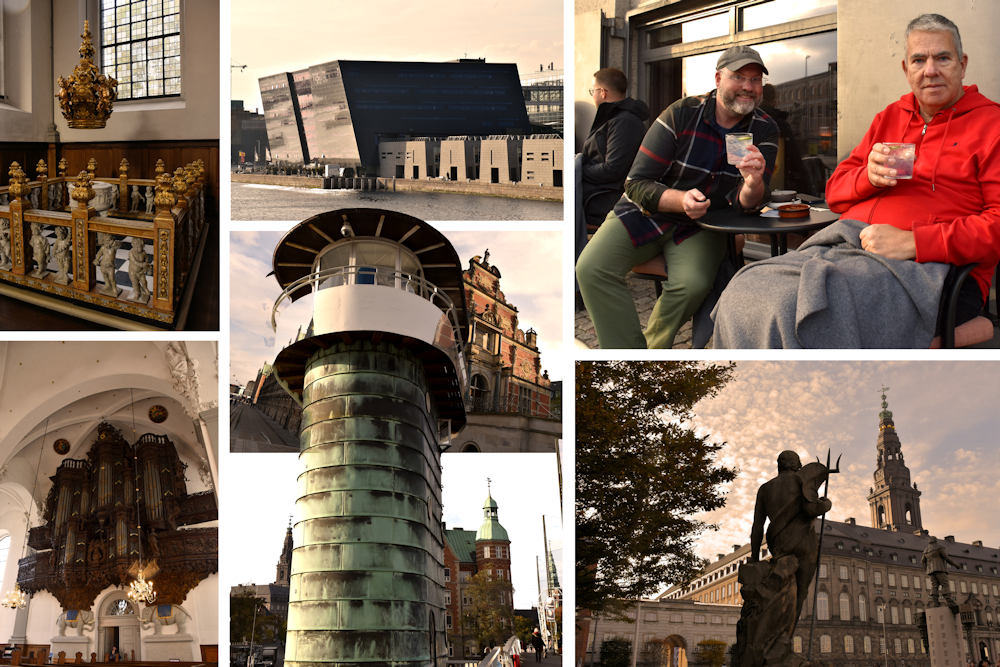 The Black Diamond is a modern waterfront extension to the Royal Danish Library. Also shown are Christiansborg Palace and us getting our hygge on.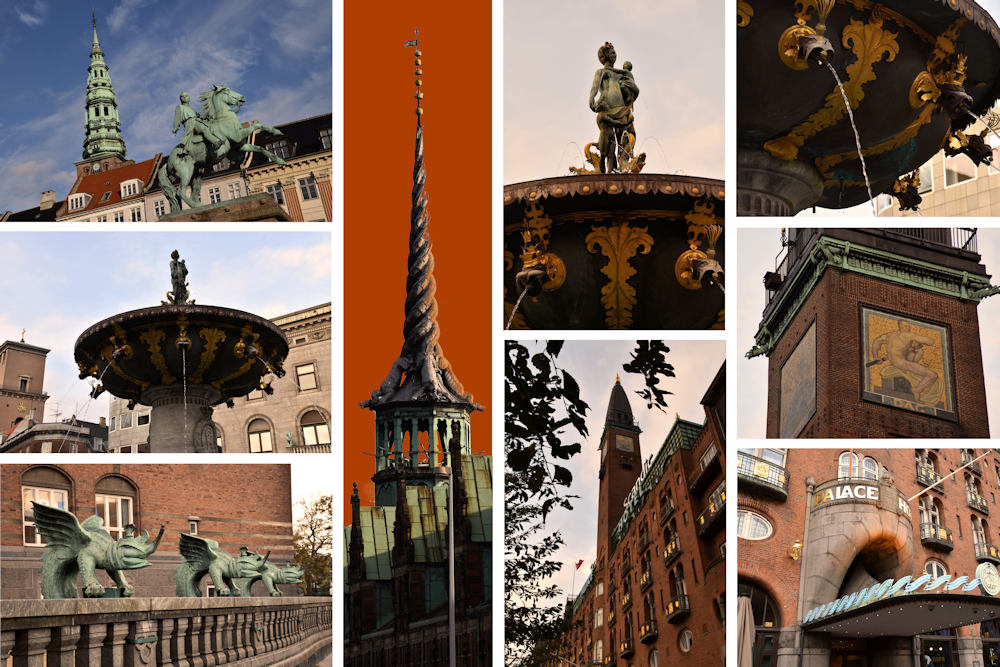 The Caritas Well, also known as the Caritas Fountain, is the oldest fountain in Copenhagen, built in 1608 by Christian IV and is located on Gammeltorv. The Palace Hotel was Influenced by the Art Nouveau style. The red brick building was designed by Anton Rosen and completed in 1910.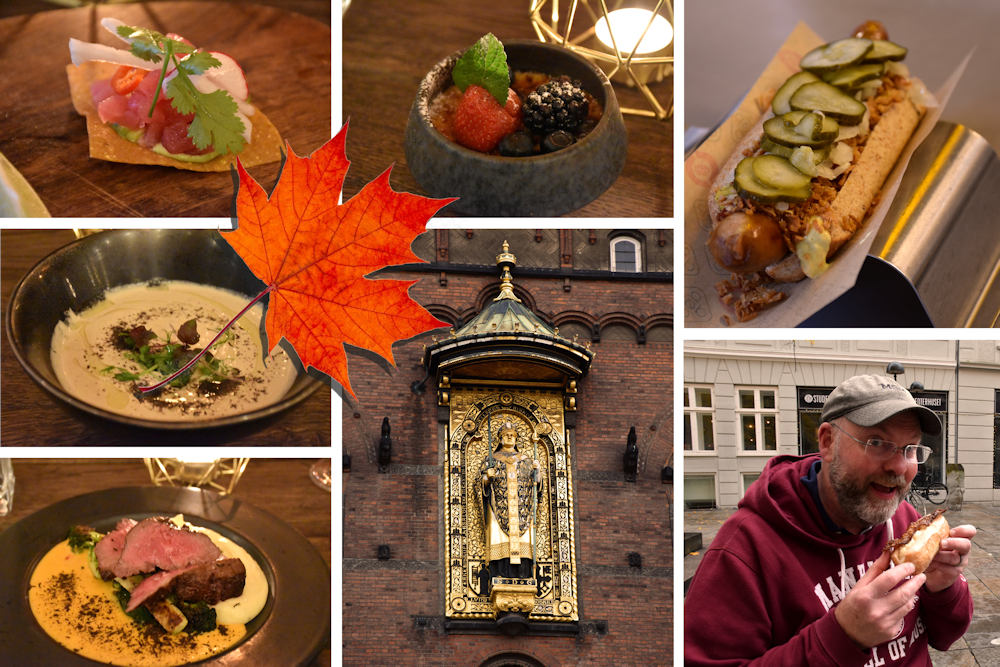 We ate a delicious meal at Maple Casual Dining, so called because it's proprietor, Will, is Canadian. We had tuna carpaccio nachos, wild mushroom soup, steak with lobster sauce, and crème brûlée with fruits. Also shown is one of two delicious organic cheese hot dogs on sourdough roll that I had near the Round Tower.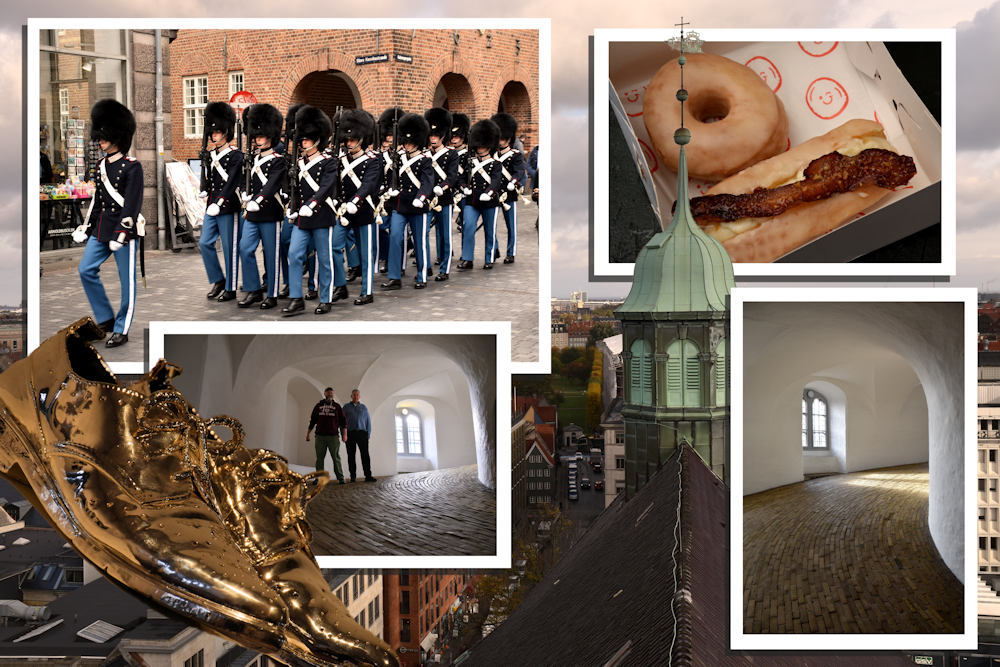 We were familiar with the Round Tower from the Copenhagen episode of Travel Man. The 17th-century tower was built as an astronomical observatory. It is most noted for its equestrian staircase, a 7.5-turn helical corridor leading to the platform at the top and for the expansive views which it affords over Copenhagen. Also shown: the palace Guards on their way to the changing and a maple bacon doughnut.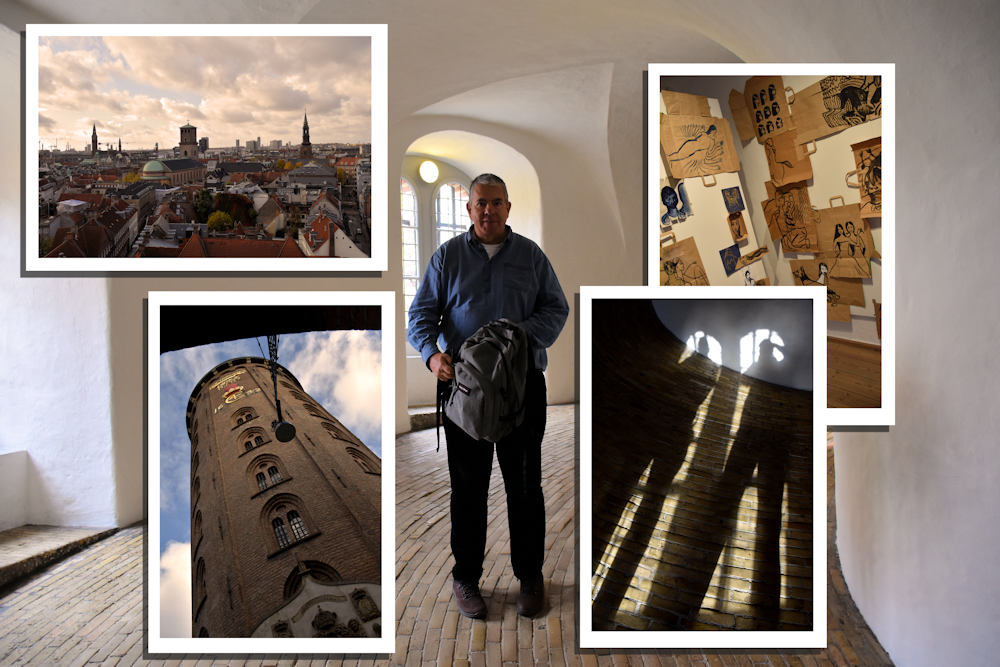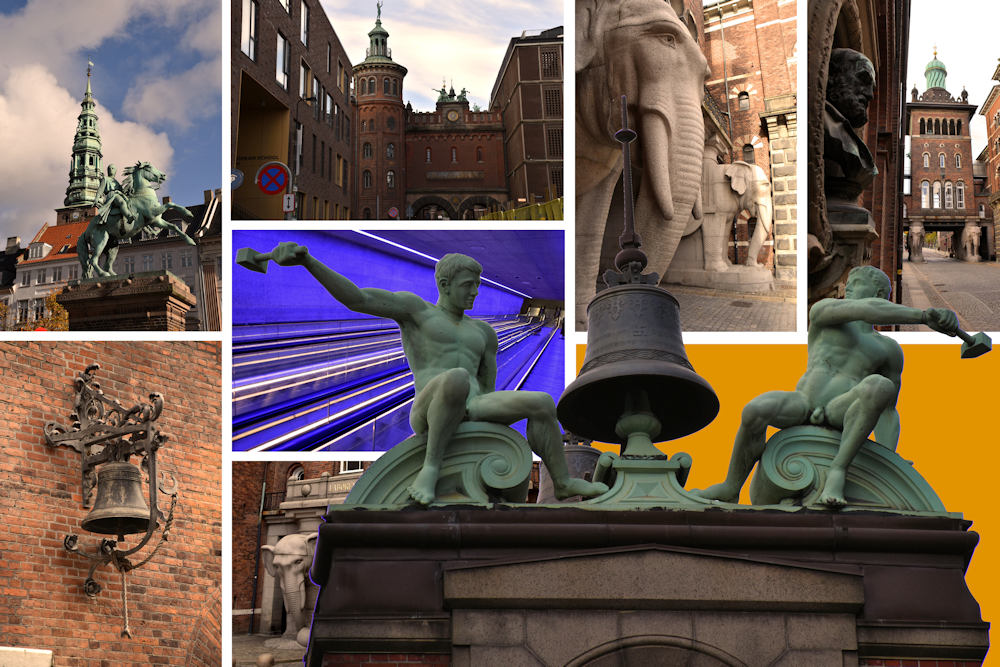 The Elephant Tower is the most famous landmark of the Carlsberg district in Copenhagen, the original brewery site of the Carlsberg Breweries. The tower takes its name from four large granite elephants which flank the gate, carrying the tower on their backs. Tiny Cow enjoyed meeting them.

The subterranean Cisternerne was another site featured on Travel Man. We were lucky enough to get tickets to see Tomás Saraceno's Event Horizon. During the exhibition the water constantly seeping through the concrete construction of Cisternerne forms a subterranean sea black as night. For this reason, we experienced the exhibition from a small row boat.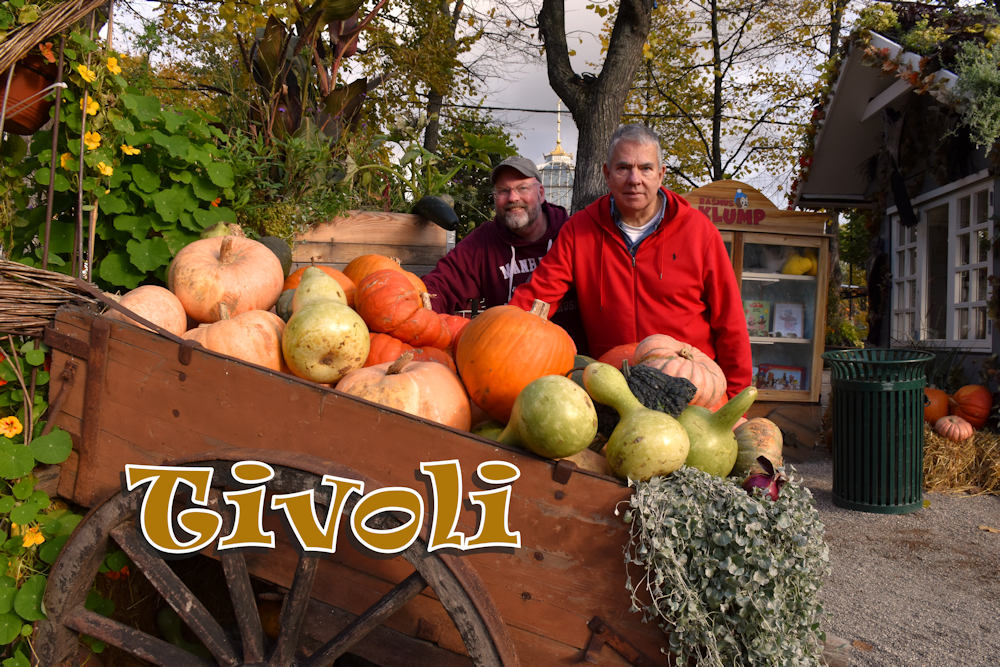 Tivoli Gardens was spectacular fun and the most wholesome theme park we'd seen since Dollywood. Real pumpkins and other decorations created the splendid Halloween atmosphere of my childhood dreams.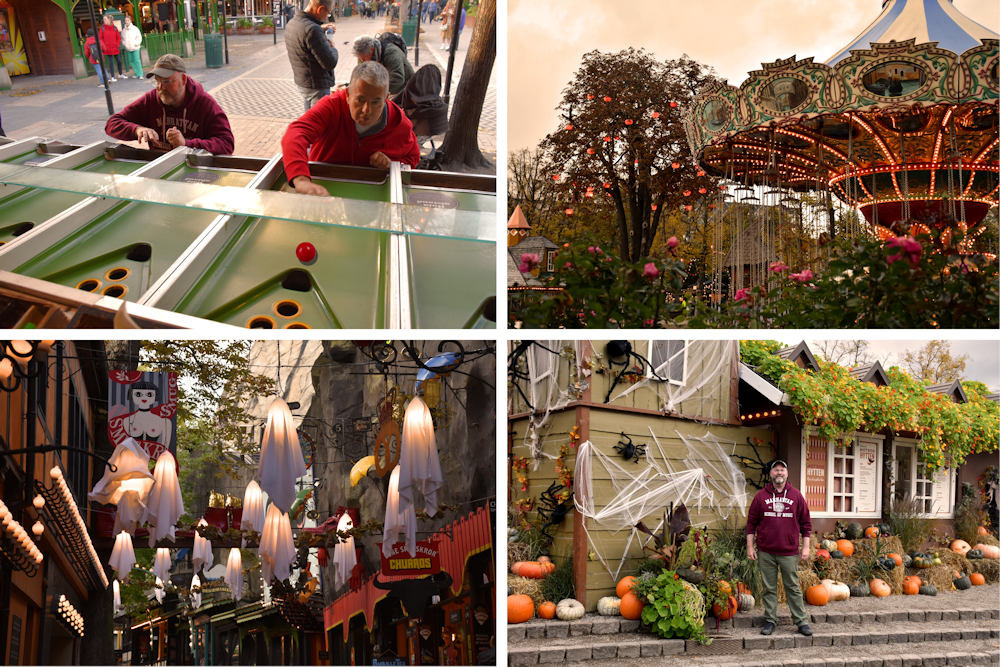 Favourite photos from Tivoli Gardens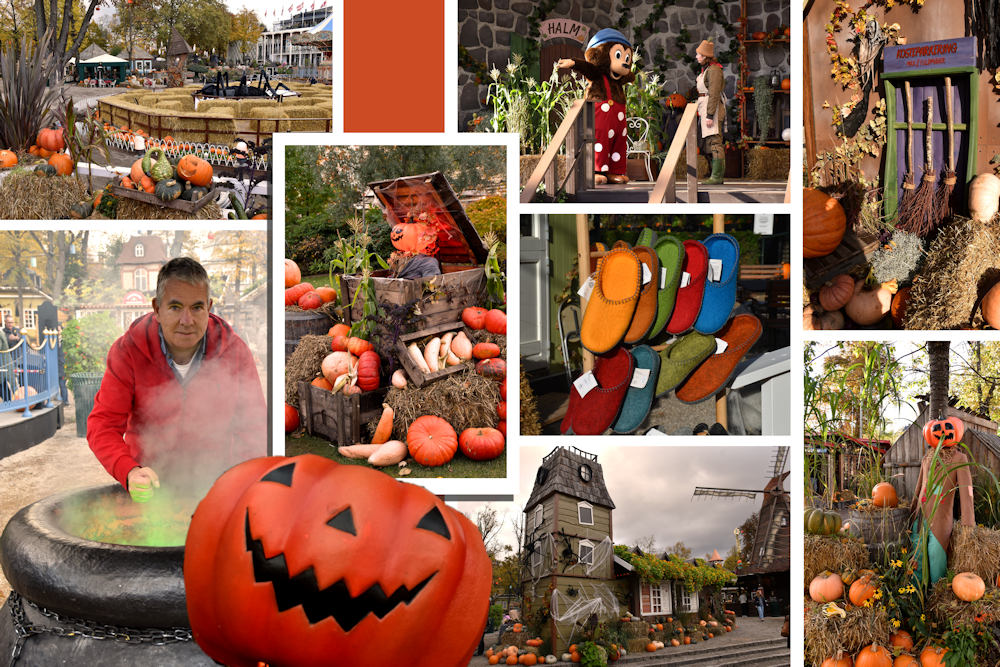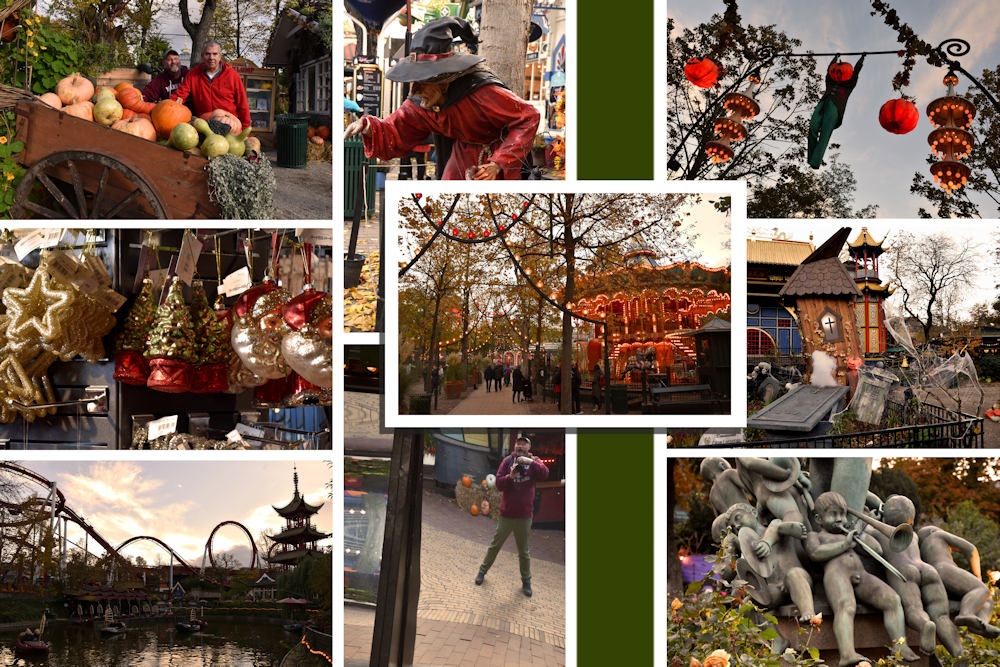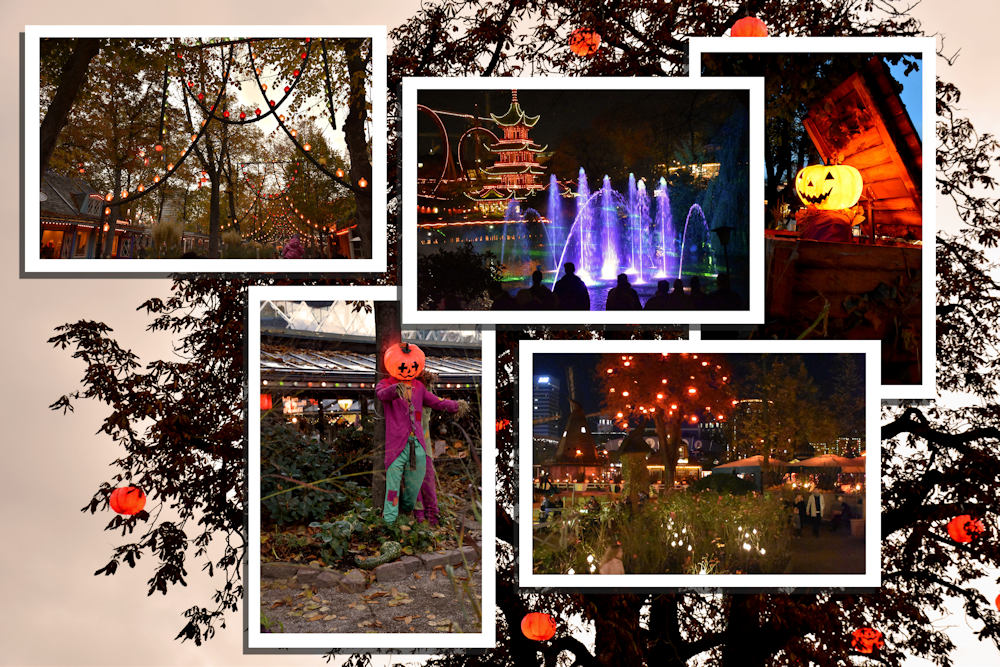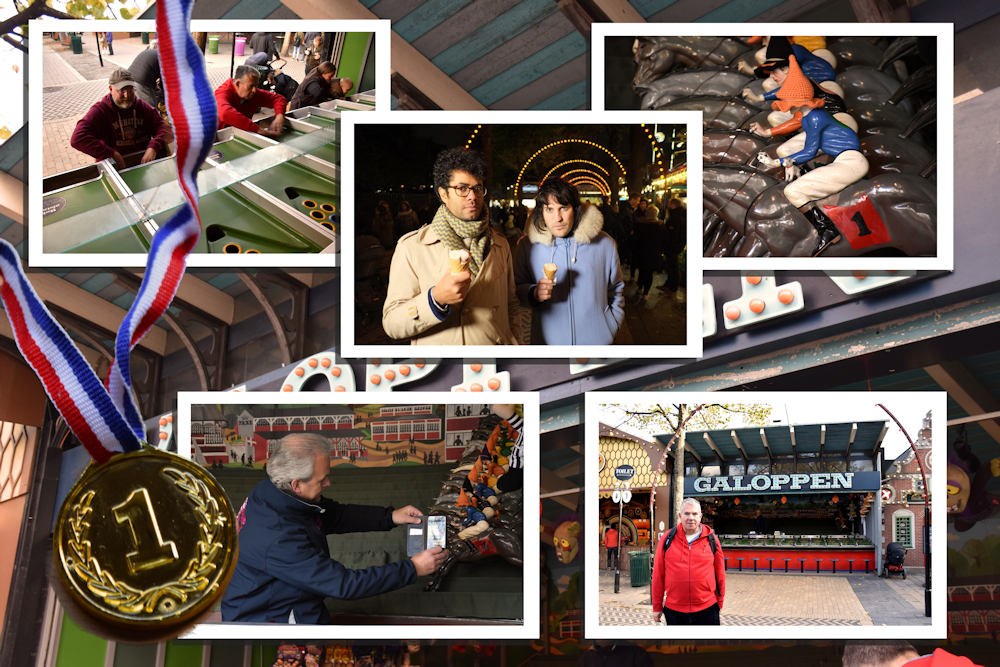 This highlight of our visit, as it was for Richard and Noel on Travel Man, was playing Galoppen. I even sat on the same seat that Noel Fielding did in the episode. When we arrived, we were the only ones there, but a crowd soon formed and the Danish dads were too good to beat. I did win one round, as the shiny plastic medal attests. The proprietor was very friendly and took photos for us, including ones of Tiny Cow riding the horses.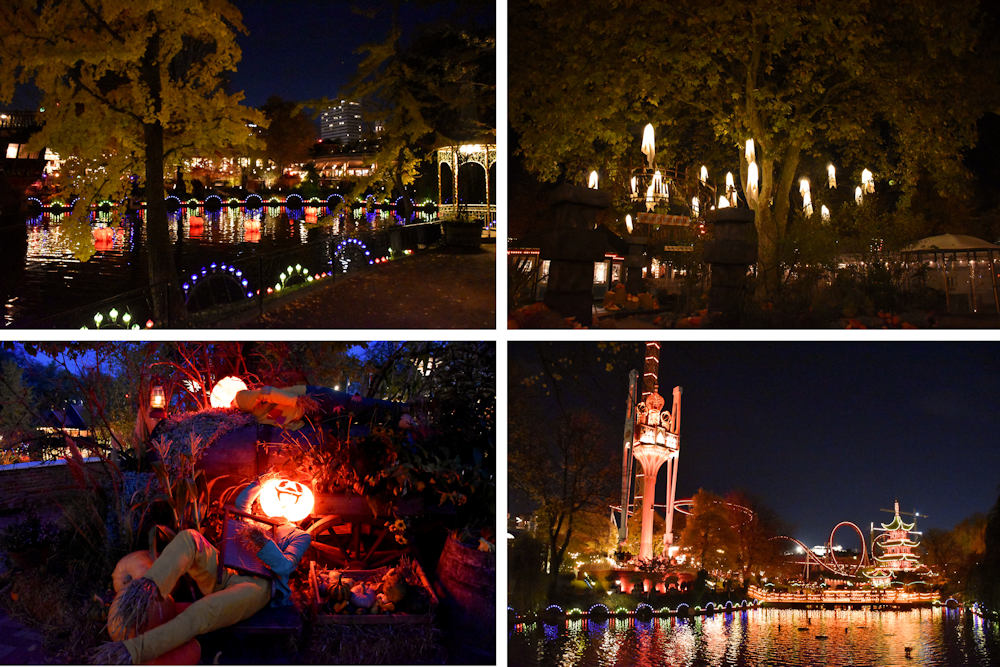 More favourite photos

The National Gallery of Denmark (Statens Museum for Kunst) was full of wonderful things to see. Shown above are Saint Sebastian, a puppy in art, trompe-l'œil, and the defeat of the Titans by the gods of Olympus. The strategically placed butterflies symbolise the underworld.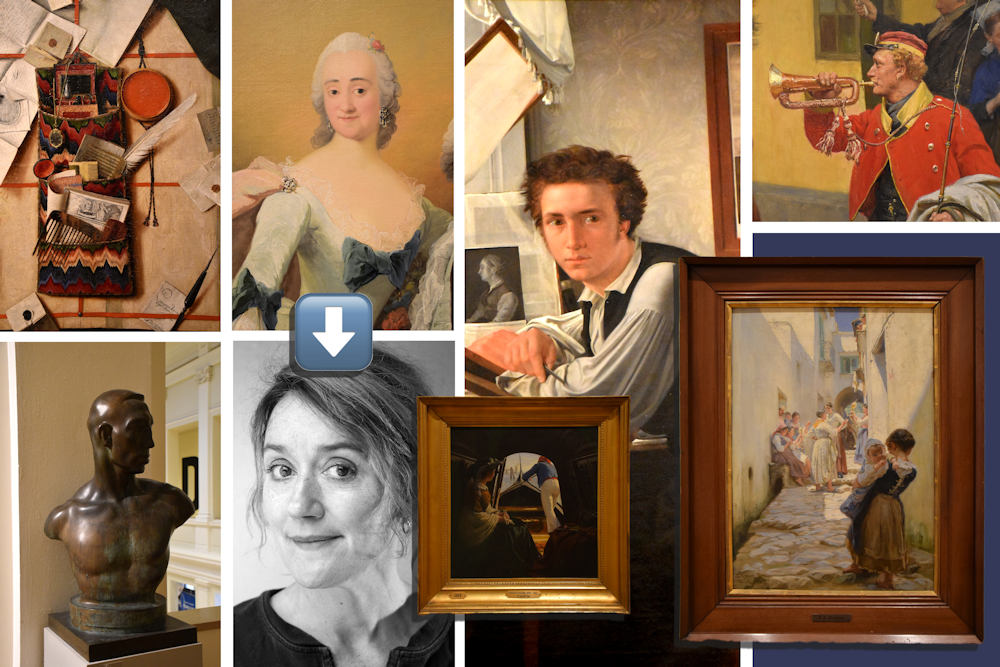 The 18th century countess reminded me of Sophie Thompson. I loved the artist's self-portrait and the Danish paintings of Italian scenes.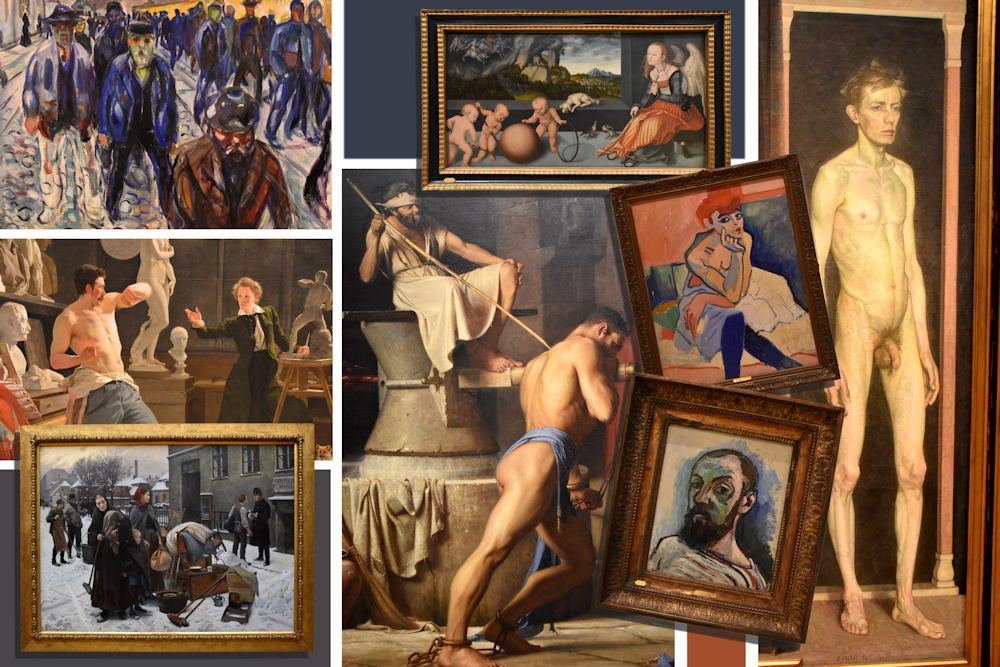 Top left clockwise: Edvard Munch; an important painting called Melancholy, in which the children are playing with a ball that is too large to fit through the hoops; a big ol' naked man; Matisse self-portrait; French chanteuse; Sampson post-haircut; a snow scene for my bingo card; and a female artist with her shirtless muse.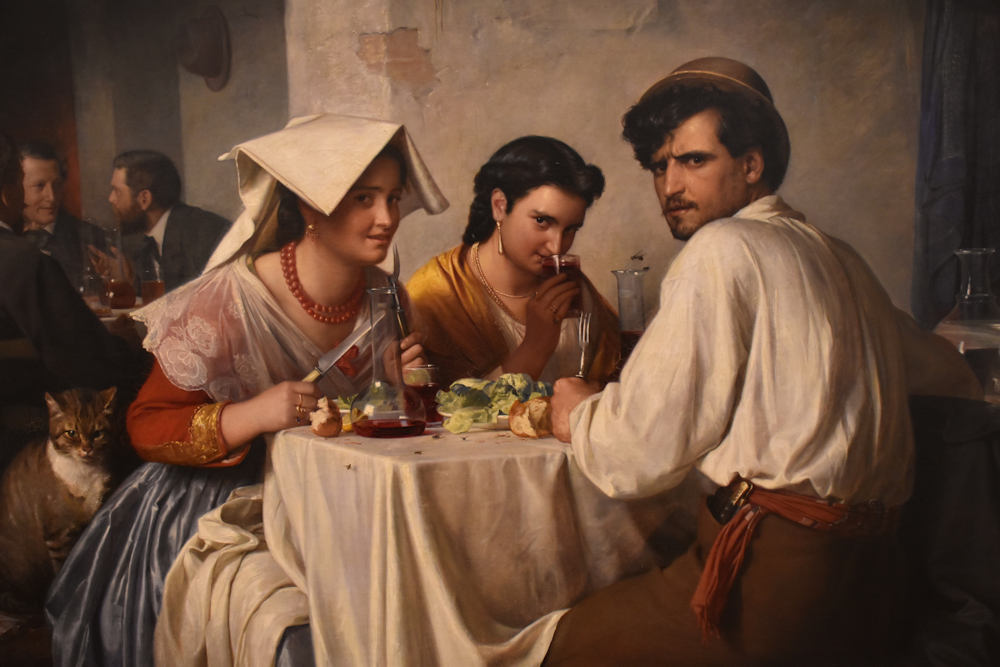 My favourite painting in the whole gallery and maybe one of my new all-time favourites: In a Roman Osteria by Carl Bloch. I think it was done from a photograph. The whole scene says so much.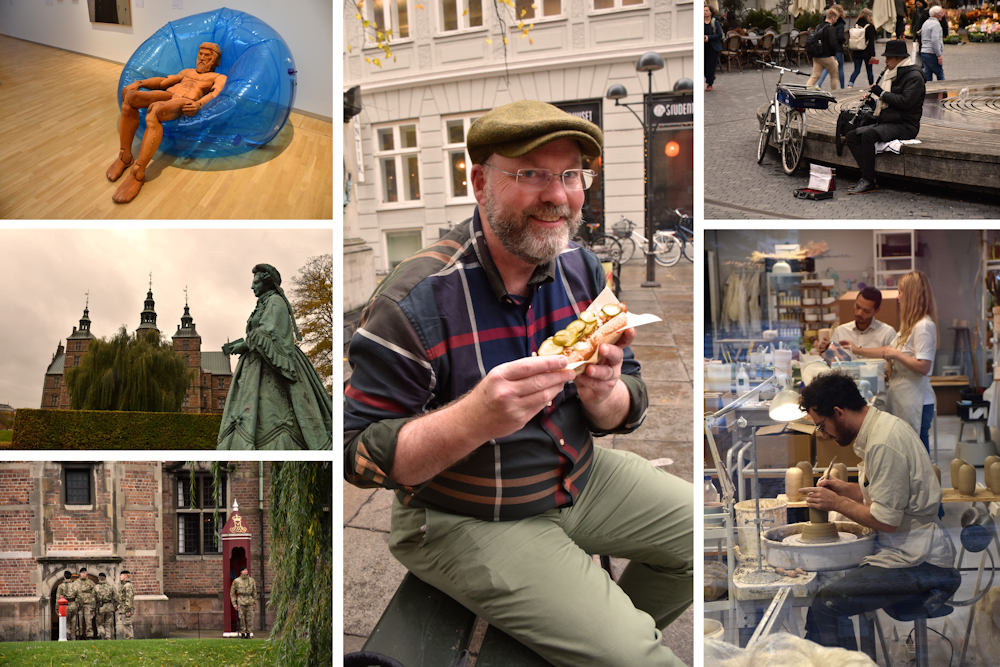 Back on the street, we passed Rosenborg Castle, a clarinet player playing Woody Allen tunes and Ciao, Bella, Ciao, and a hairy potter on the way to hot dog #2.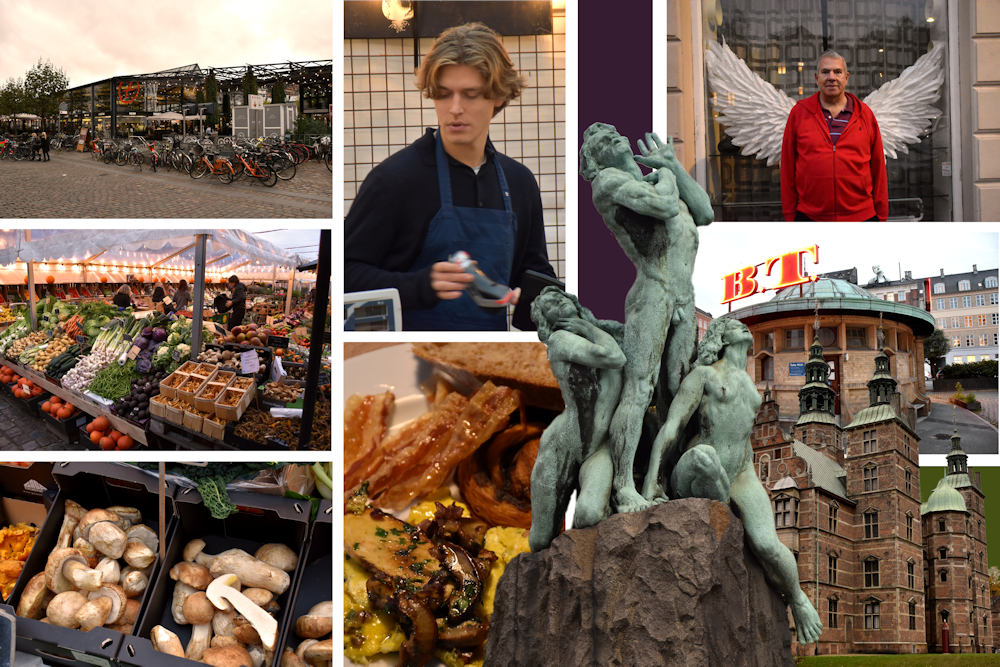 We had planned to hear a tenor recital in the church next to the Round Tower, but, after a couple of numbers, it turned into evensong, so we left and returned to Torvehallerne market via an old art nouveau train depot, now a public toilet, recommended by our guidebook.

The next morning, we passed our corner Thai restaurant and some street art being made en route to the Bispebjerg district. Grundtvig's Church is a rare example of expressionist church architecture.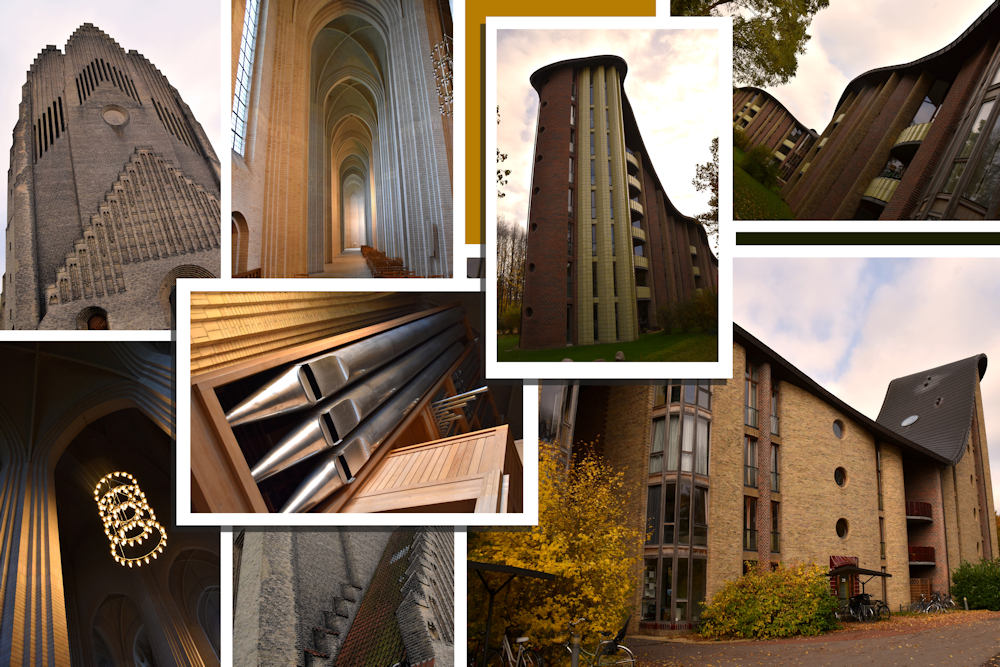 Grundtvig's Church and the glorious and inspirational architecture of Bispebjerg Hill. It was clearly an affordable apartment block for lots of the local hospital workers, but the whole place was filled with such incredible artistic detail to be enjoyed by all.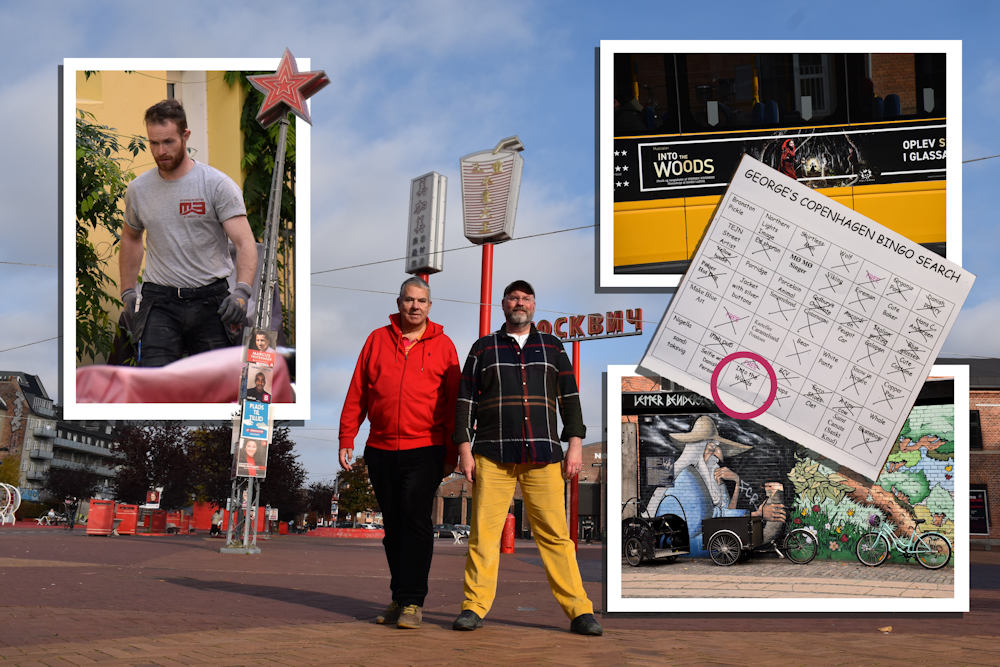 Another guidebook recommendation, this Nørrebro plaza features a collection of street furniture from countries around the world, including China and Russia. I spotted an ad for next year's Into the Woods on the side of a bus, thereby achieving a bigo card target I never thought I'd find.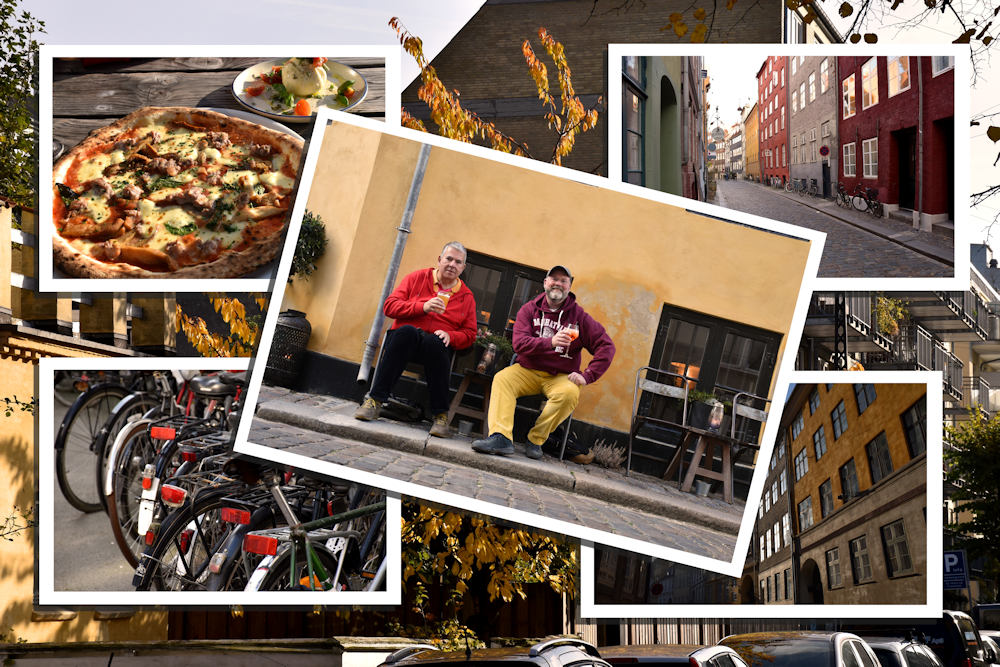 We went to the Meat Packing district in search of unusual food and settled for pizza, albeit delicious pizza with porcini and Italian sausage. Afterwards, we went to Magstræde, the oldest part of Copenhagen, where we had a lovely evening drink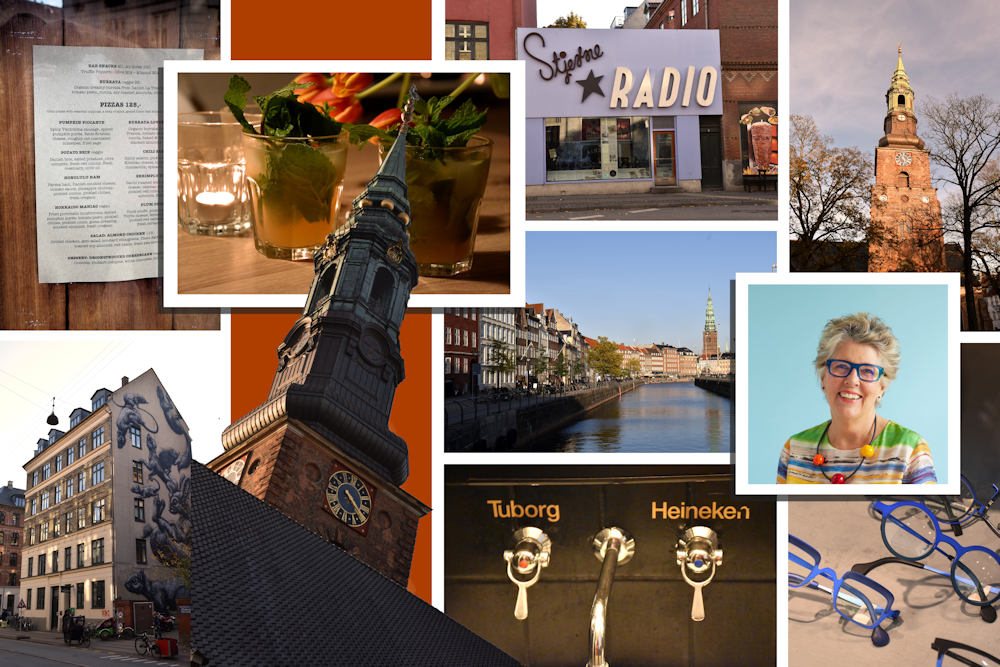 Various sights include a menu with pumpkin pizza I want to try at home, Star Radio, as it looked in 1943 when it was headquarters for the Danish Resistance, St. Peter's Church in the city's Latin Quarter, blue glasses - another bingo card find - worty of Prue Leith, and the local's view of Dutch beer.

Featured on Travel Man, Sankt Peders Bageri is the oldest bakery in the city. We had so many Danish pastries at home that we didn't buy any here, but we did get a couple of tasty dessert treats to take away. The following day, we took the train to Arken and discovered Oscar Under the Bridge, one of Thomas Dambo's Forgotten Giants.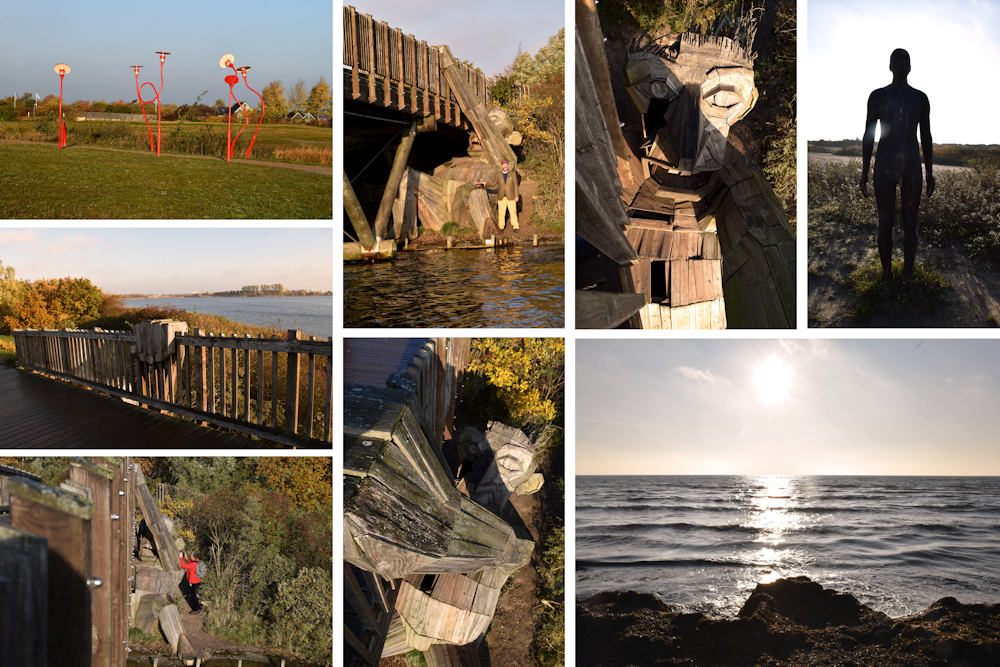 The troll was a real highlight for me. Afterwards, we went to Arken where we were greeted by Antony Gormley's familiar form.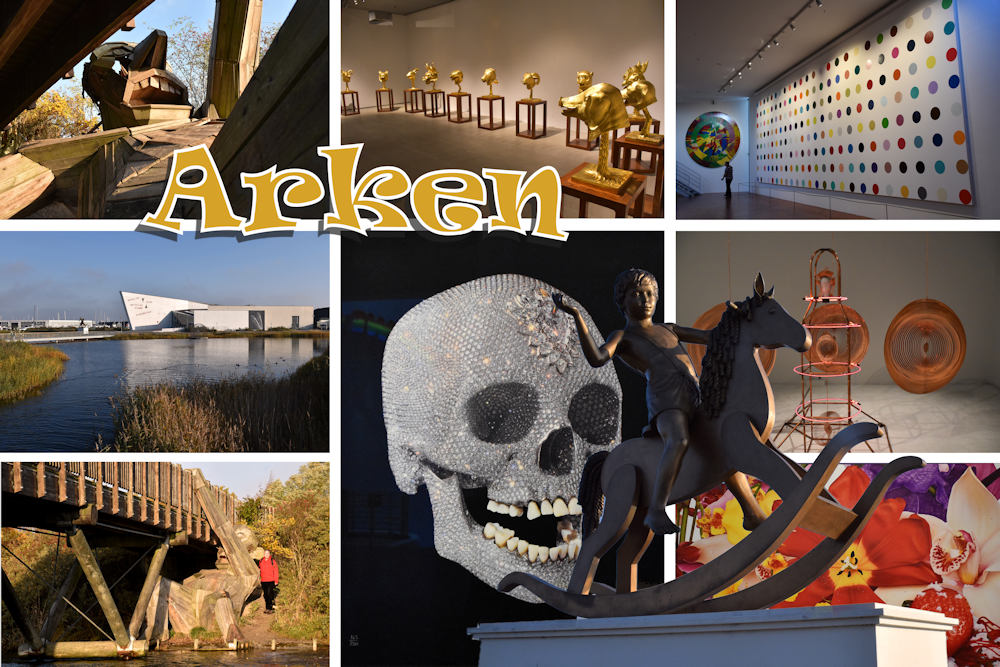 Arken is home to challenging and thought-provoking contemporary art. Show above are Damien Hirst's diamond-dusted skull, Marc Quinn's photo-realistic flowers, and Ai Weiwei's Chinese zodiac statues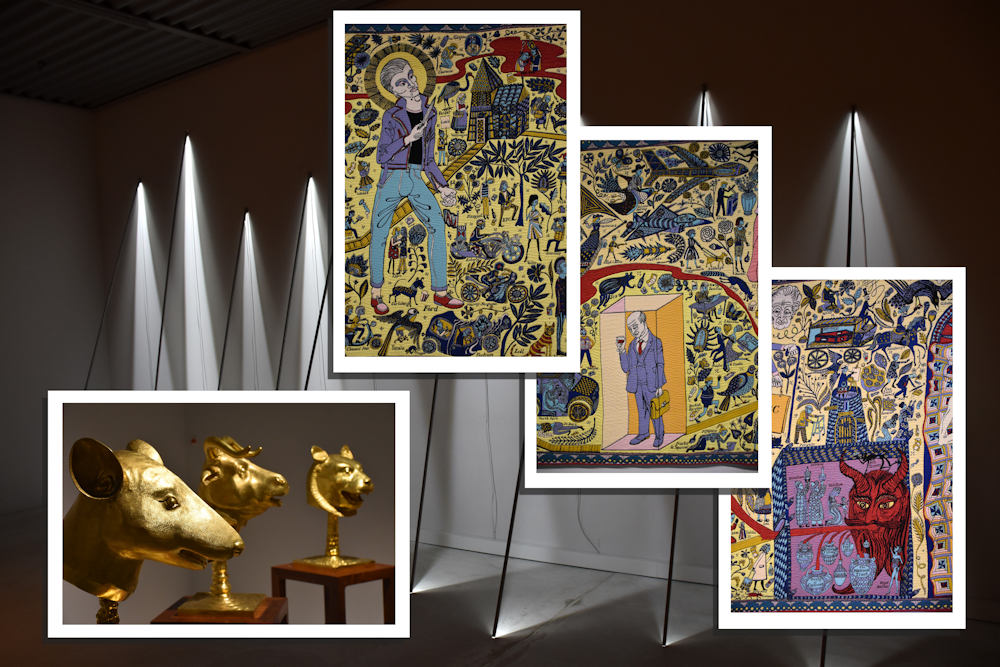 The light installation was fitted with microphones that responded to sound. We enjoyed mooing and bleating to make them light up. I also loved Grayson Perry's intricate tapestry depicting the journey from birth to death.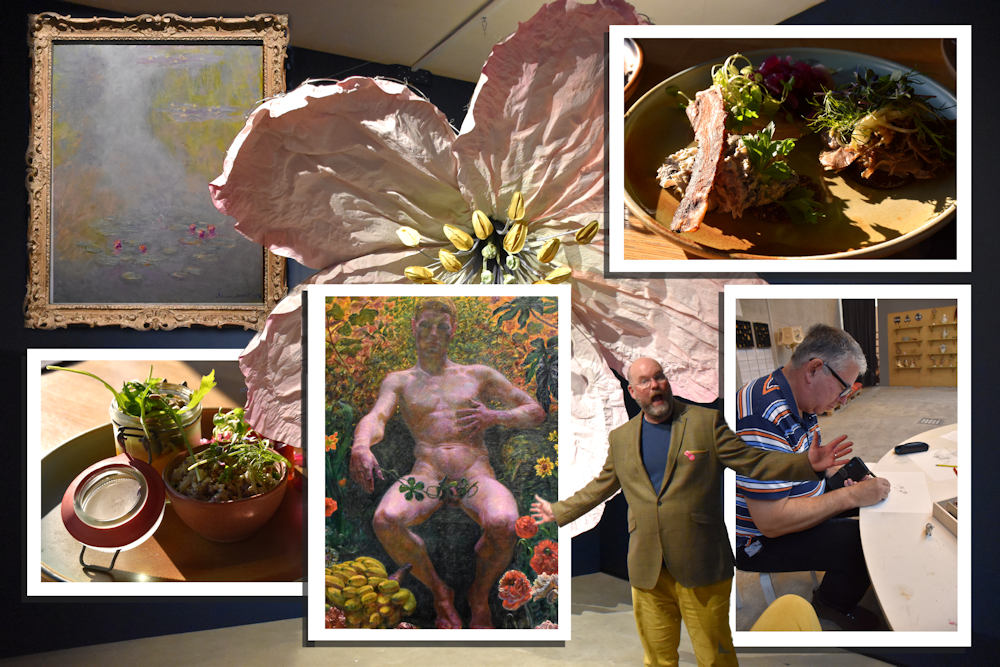 The Flowers in Art exhibition influenced the food in the café and included Monet's water lilies, as seen in Paris 2020 and a naked man with bananas.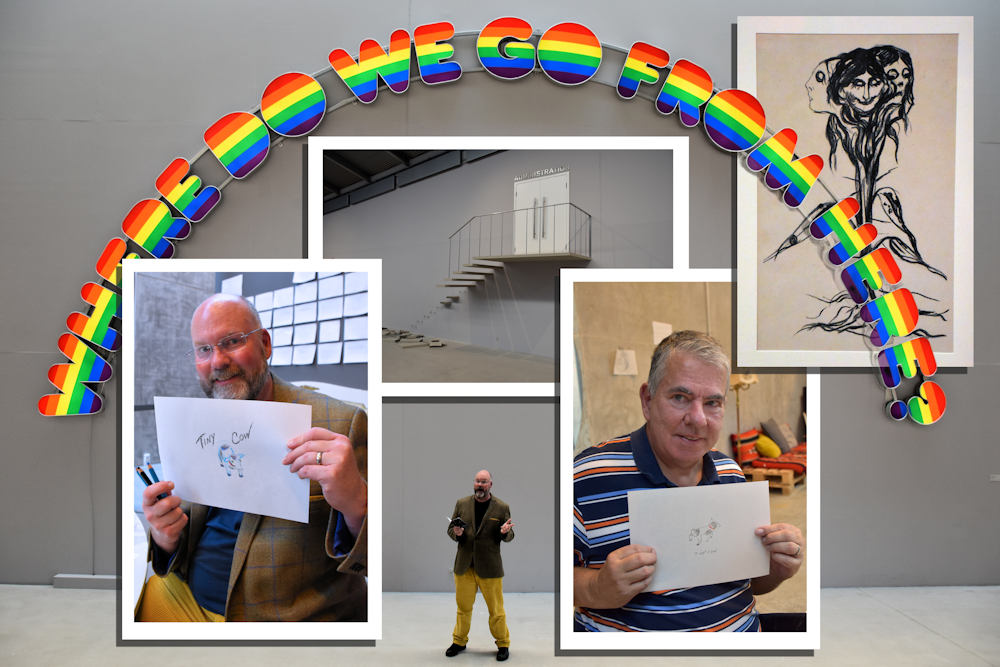 I needed to "make blue art" for my bingo card, so we both drew Tiny Cow. Top right is another Edvard Munch.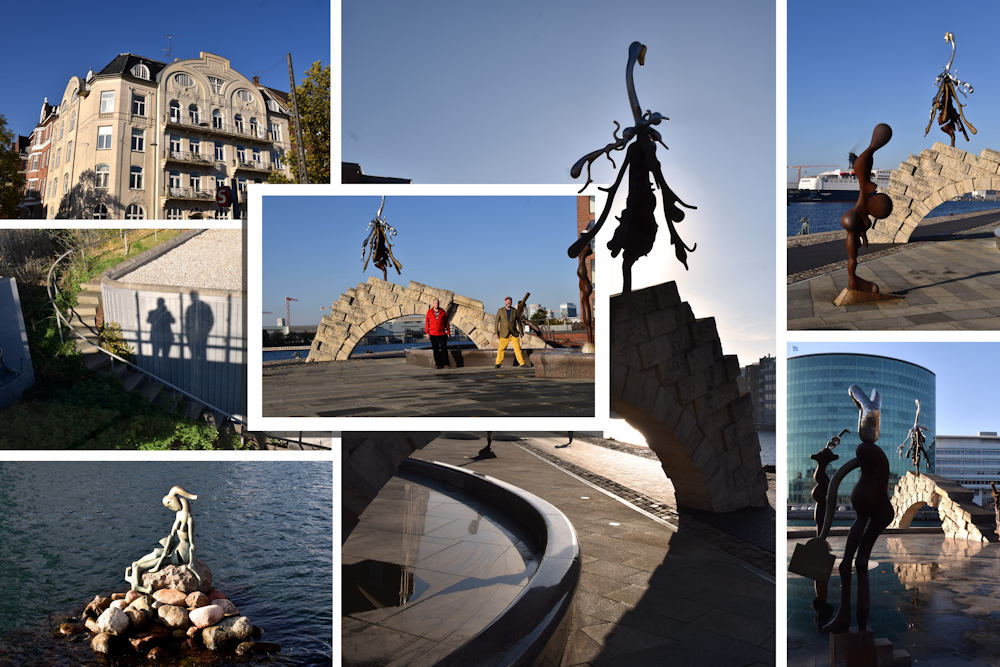 Back in Copenhagen, we saw an Art Nouveau building on the way to the waterfront, where we experienced Bjørn Nørgaard's "The Genetically Modified Paradise", a surreal series of oddly misshapen beings, including "The Genetically Modified Little Mermaid". Each of Nørgaard's characters were made from cast iron, stainless steel, aluminum-bronze, gold leaf, gilded lead, granite, bronze, and sandstone.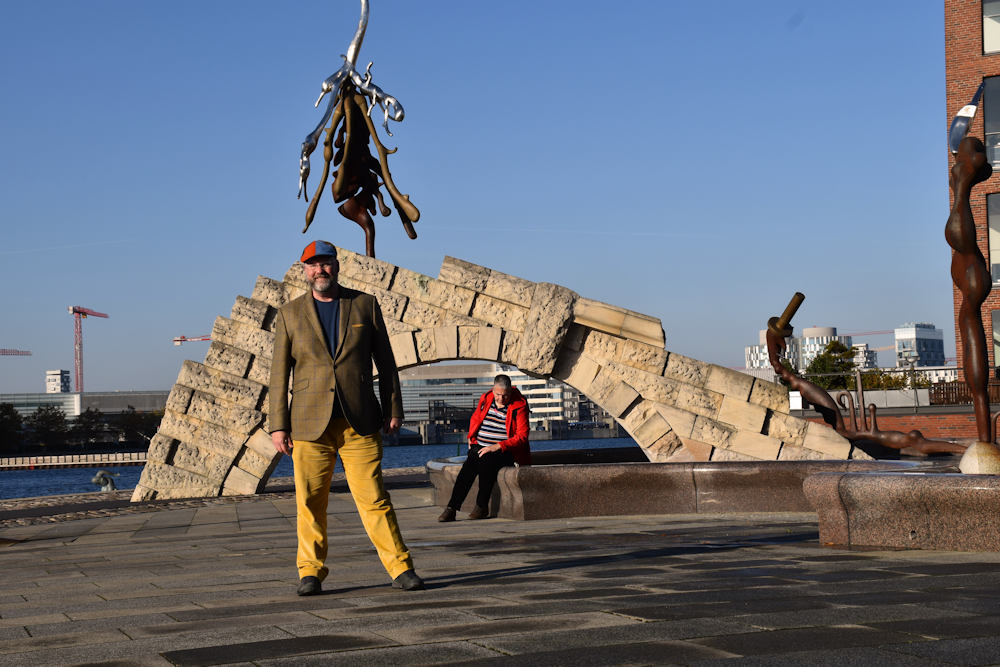 Waiting for Tiny Cow to look up