Summer 2021 was so full of fun that we've extended to a second page. Click HERE to see photos of Kent from ealier in the summer.

Click HERE for photos from summer 2020 (Calabria and National Trusts), HERE for 2019 (London and Abruzzo), HERE for 2018 (Budapest, Le Marche, and Northern Ireland), HERE for 2017 (Paris and London), HERE for 2016 (festival and chaps), HERE for 2015 (reunion and wedding), and HERE for 2014 (meeting the stars).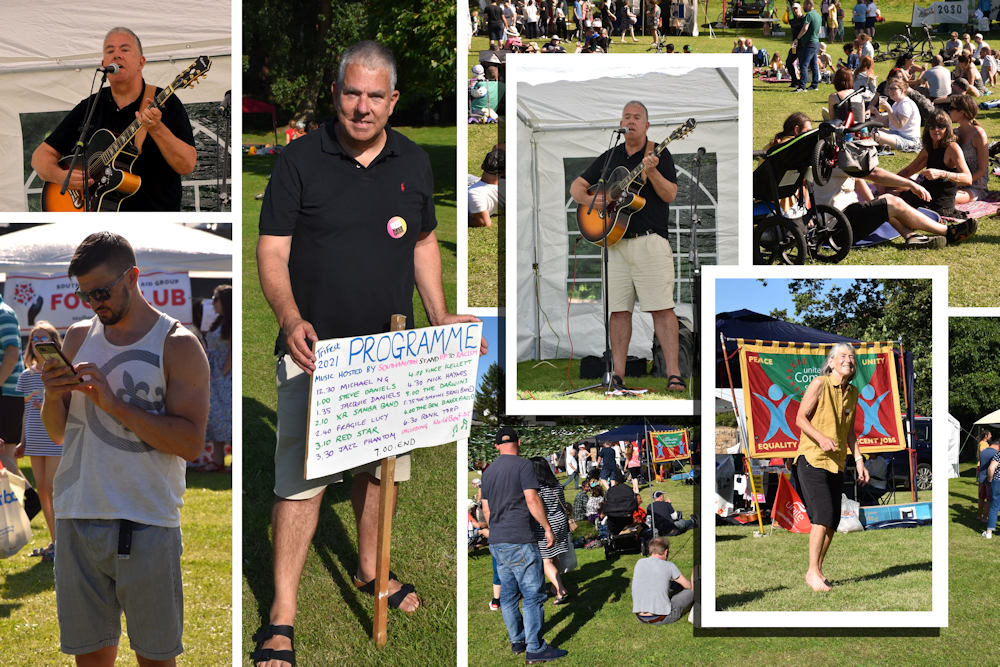 Nick performed for the second time at Tri-Fest, by the river. It was nice to be able to gather and hear live music again after lockdown.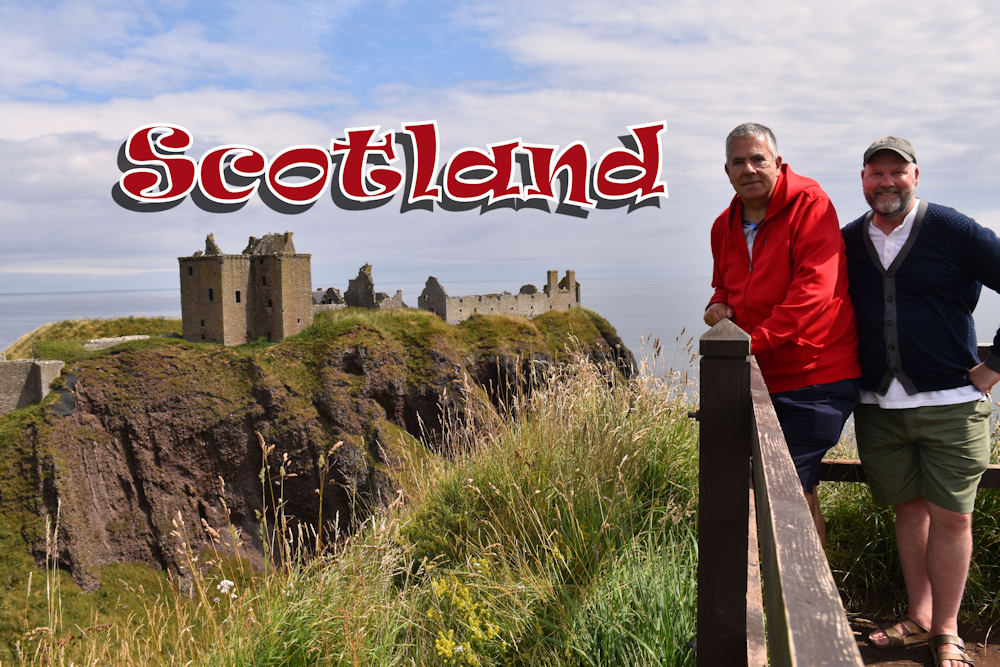 We had planned to go to Italy this summer but pandemic meant staycation. We're really glad we had the opportunity to discover new parts of the United Kingdom.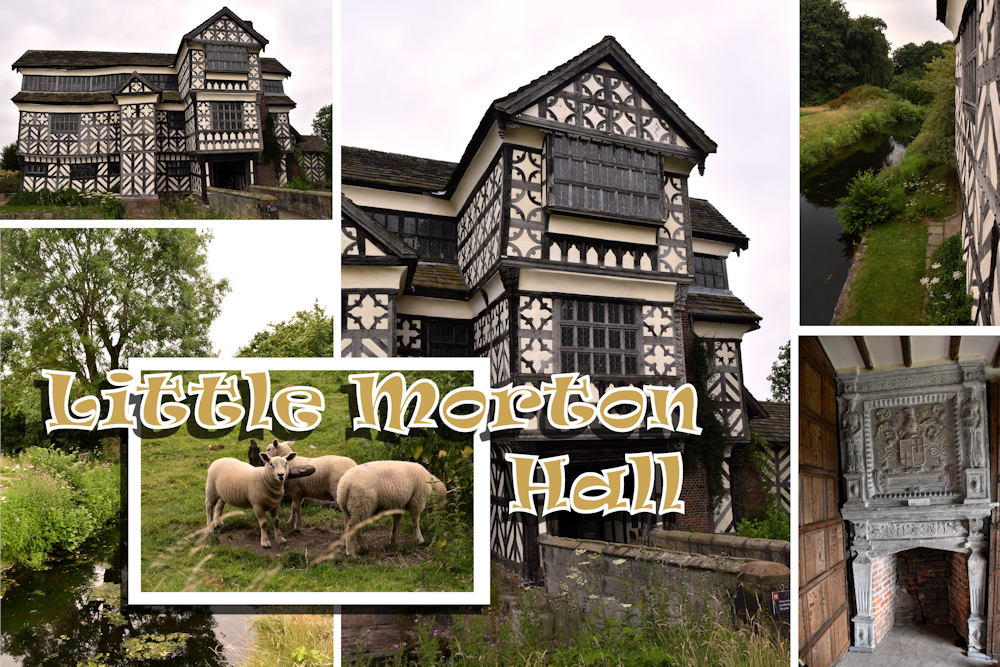 We broke our journey north by stopping at Little Morton Hall for a picnic and a look around at the wonderful timbered house and gardens.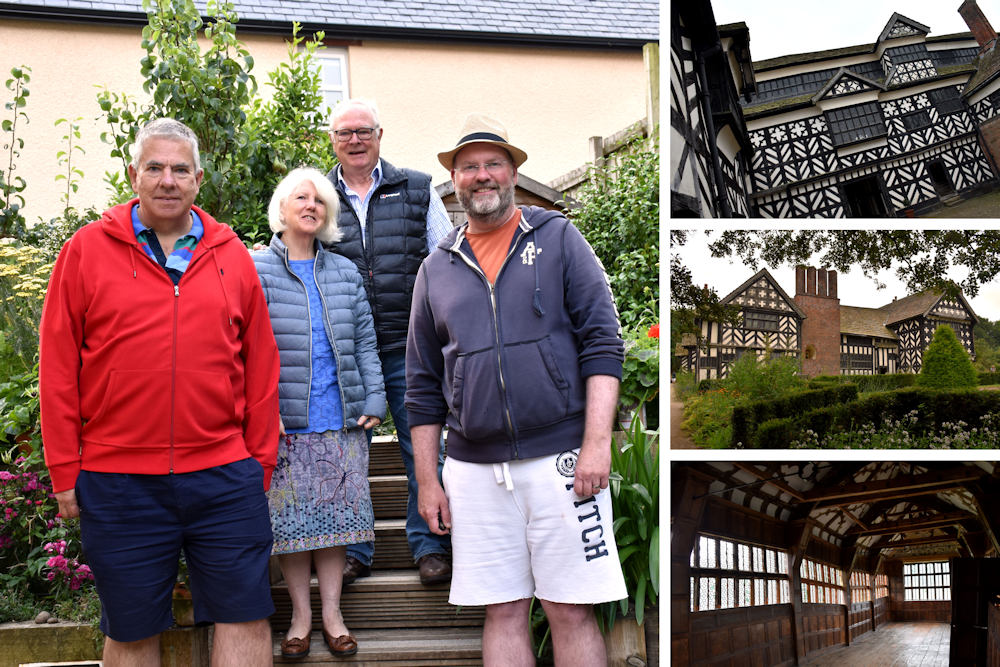 We stayed overnight with friends Helen and Charles in Lancaster. Their multi-tiered garden was a marvel and our meal with them was amazing.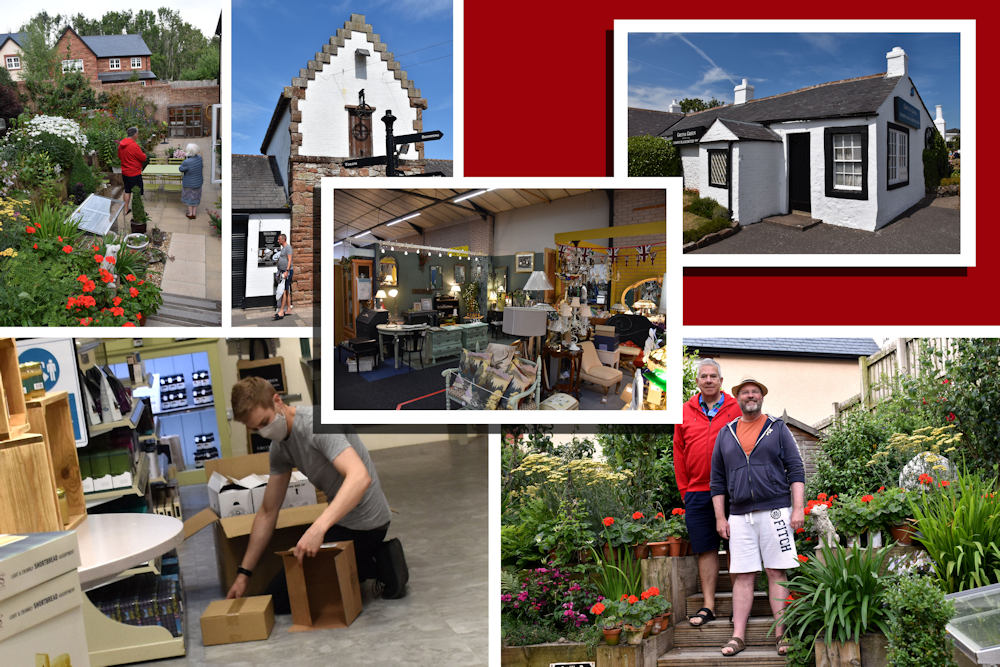 Our first stop in Scotland was Gretna Green. Around the same time we were there, a work friend got married in the nearby chapel.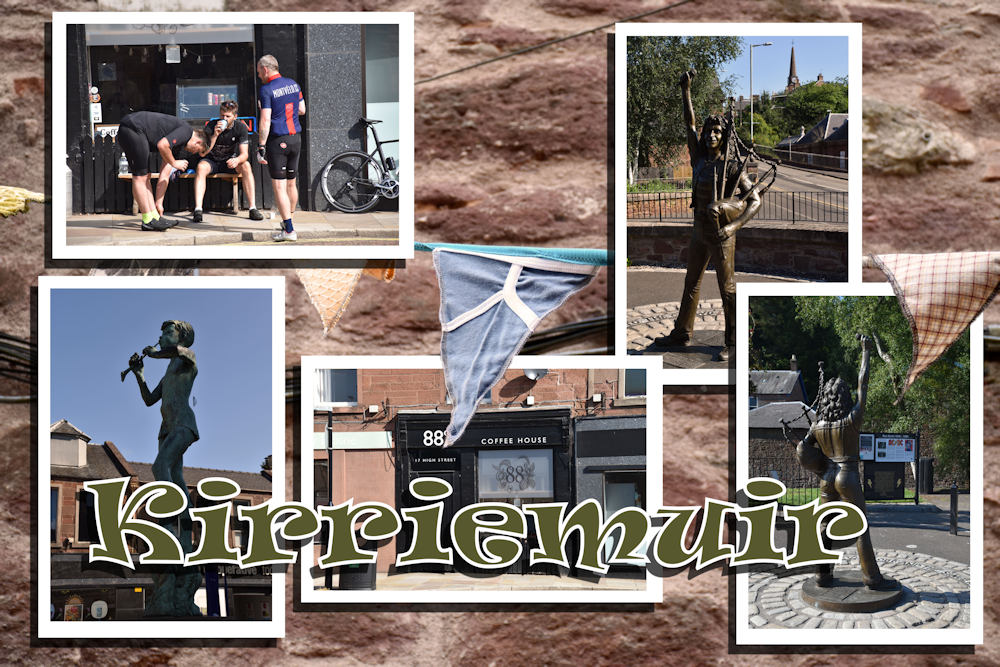 Kirriemuir was quite close to where we stayed. It is the home of both Peter Pan's J.M. Barrie and AC/DC's Bon Scott, whose bottom looks like it was modelled after Jennifer Lopez.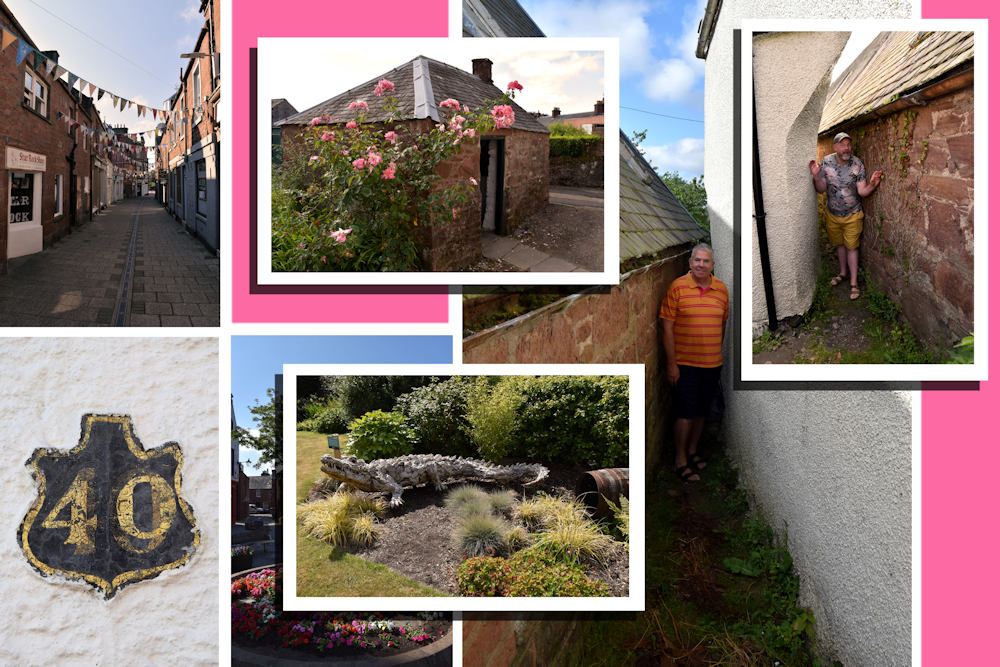 According to our guidebook, we squeezed through the 'narrowest footpath in the world', much like the "narrowest street in Italy" we saw in 2019.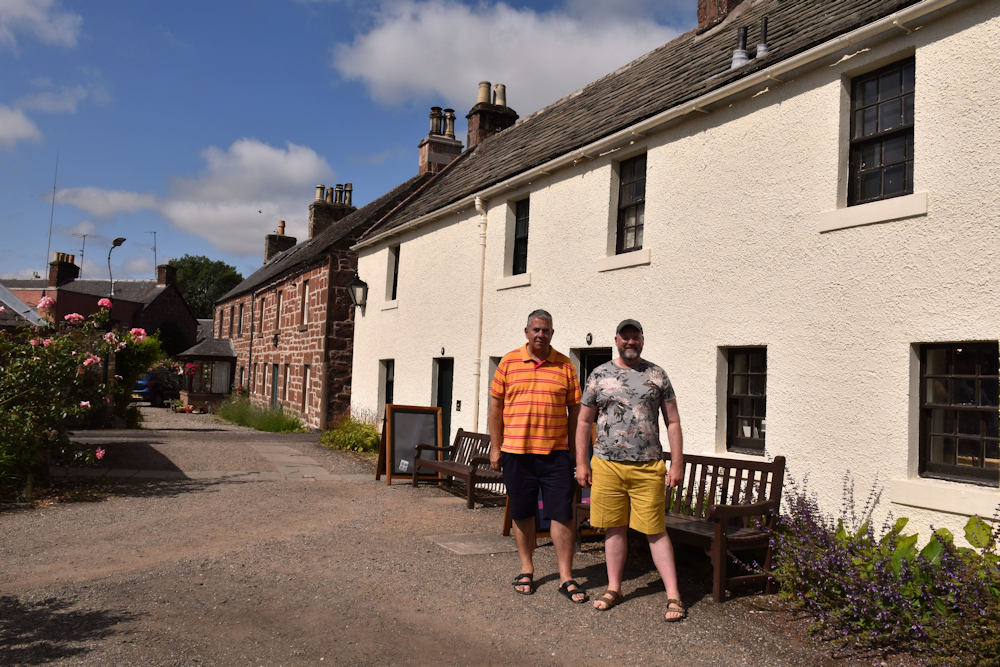 Outside J.M. Barrie's house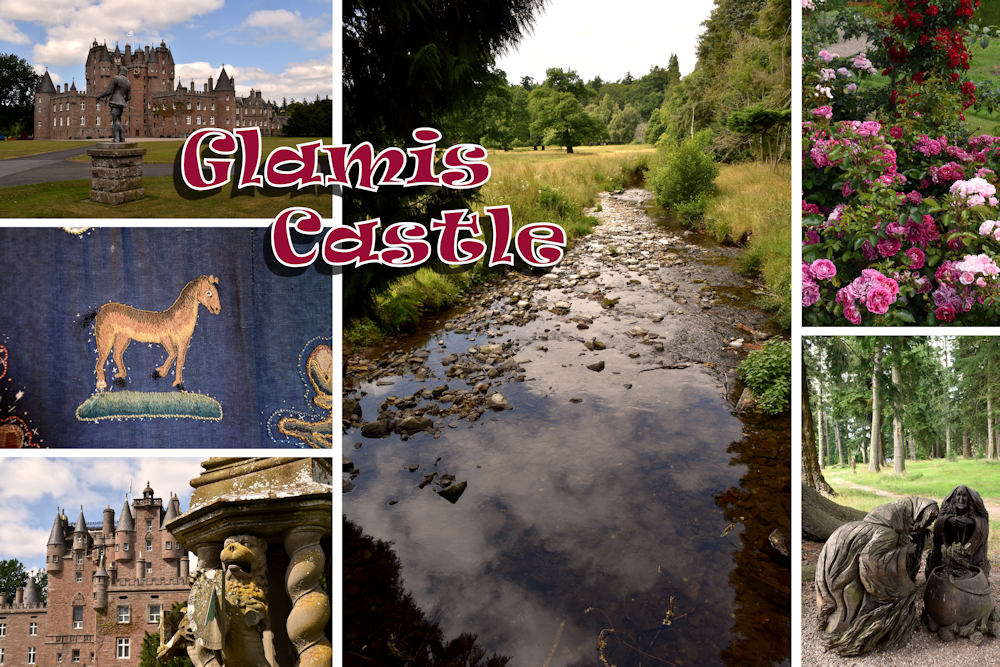 Like other places in Scotland, Glamis castle claims to have been the inspiration for Shakespeare's setting of Macbeth.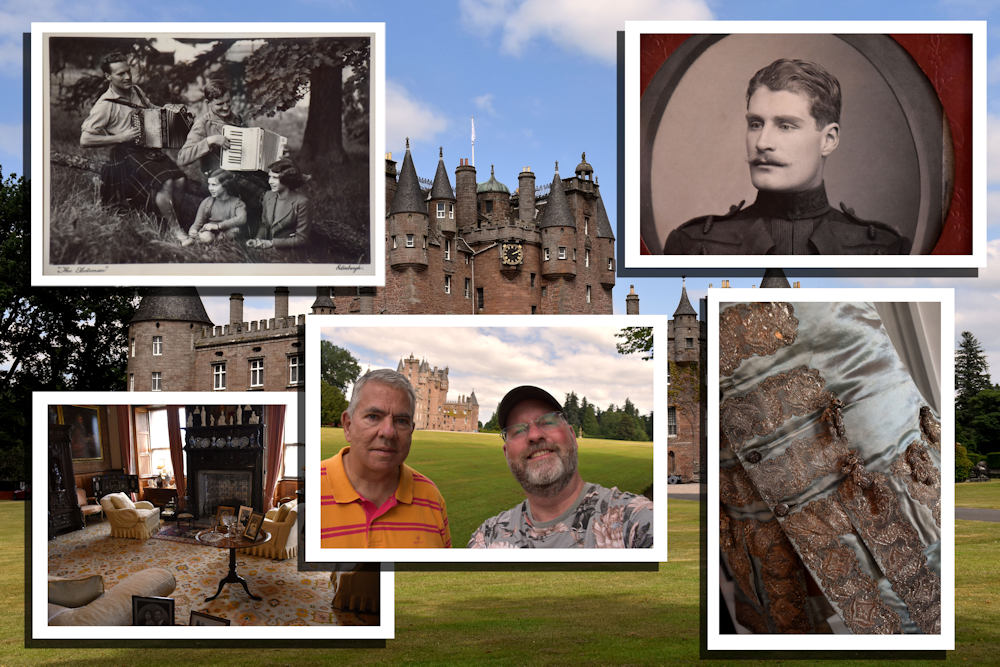 I loved the details in Glamis Castle, including the photo of Princesses Elizabeth and Margaret, eyes sporran-level with the accordion players.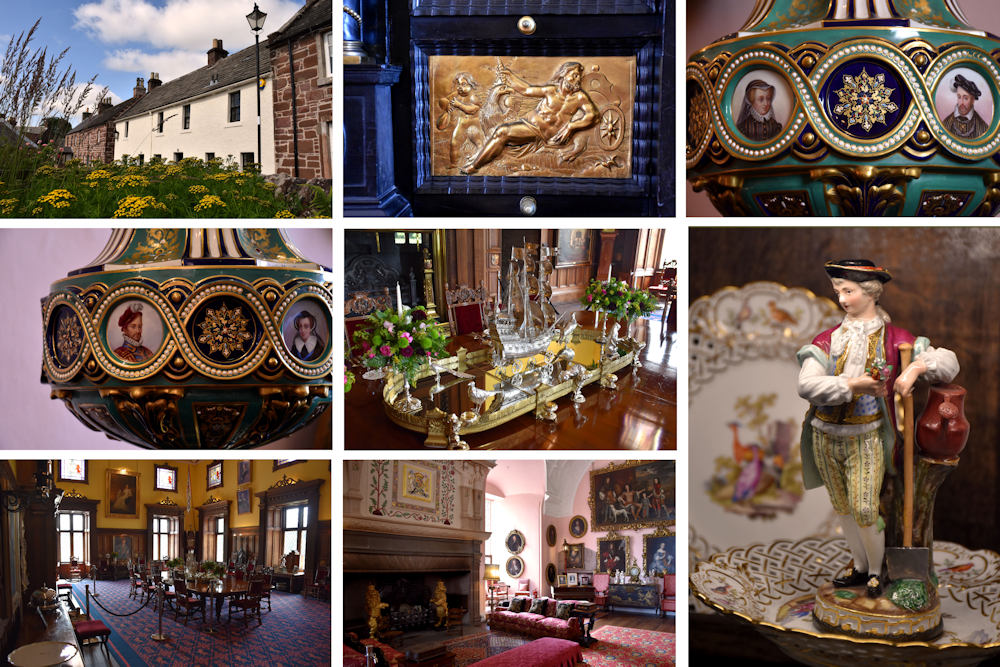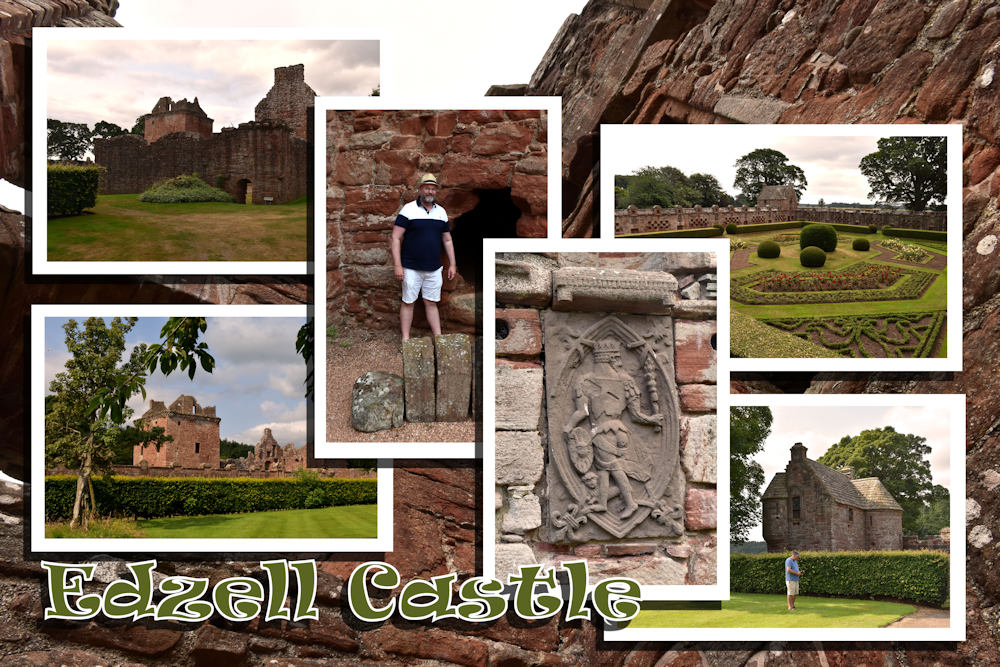 Edzell Castle was just five miles from where we were staying. We had the place to ourselves.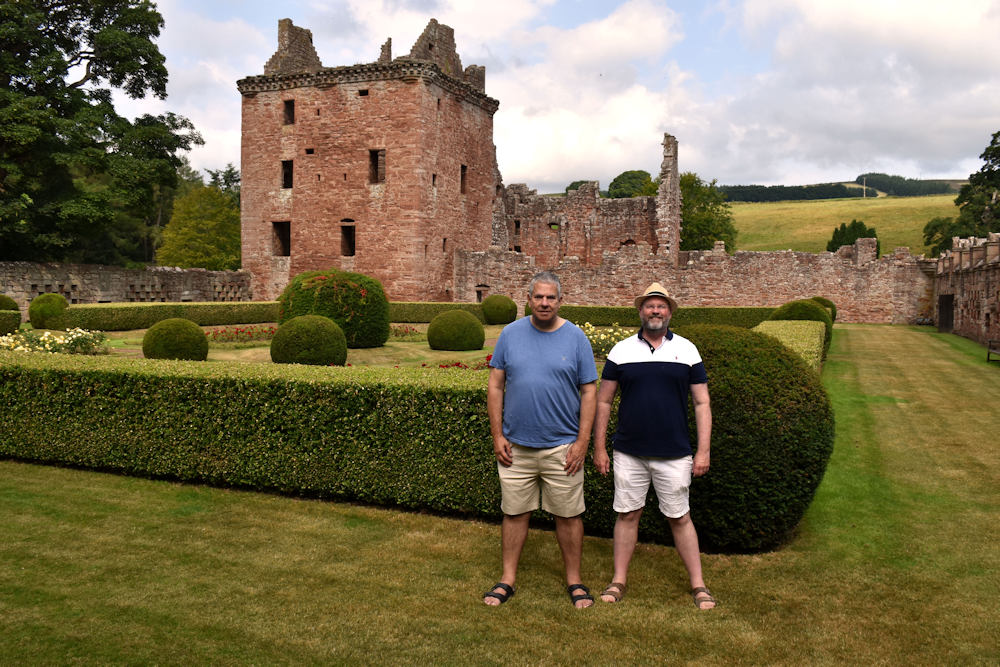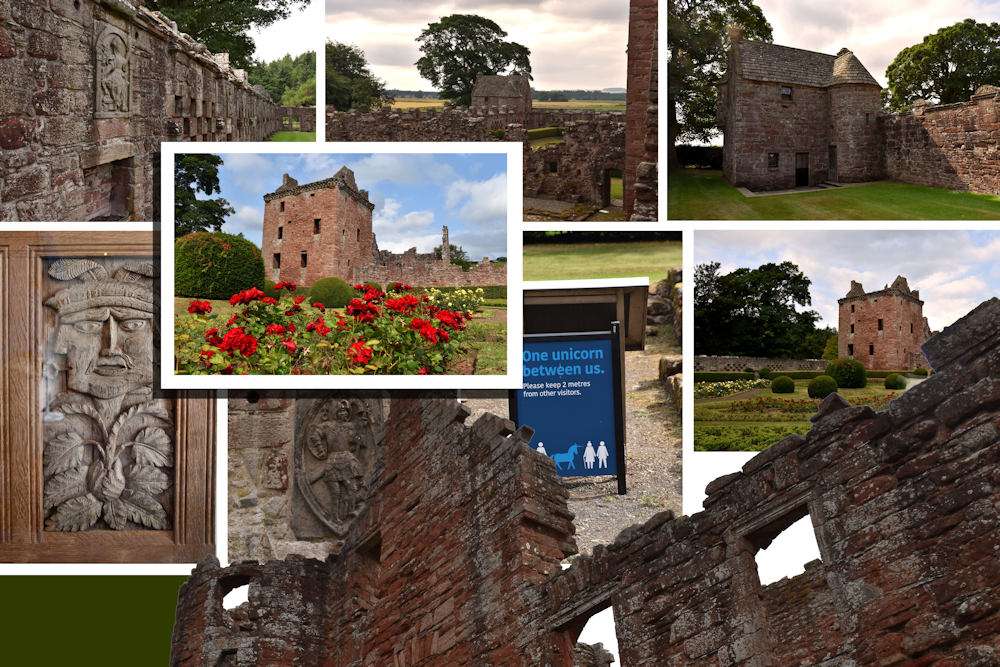 The walls were lined with stone carvings of the Seven Virtues, as opposed to the Deadly Sins.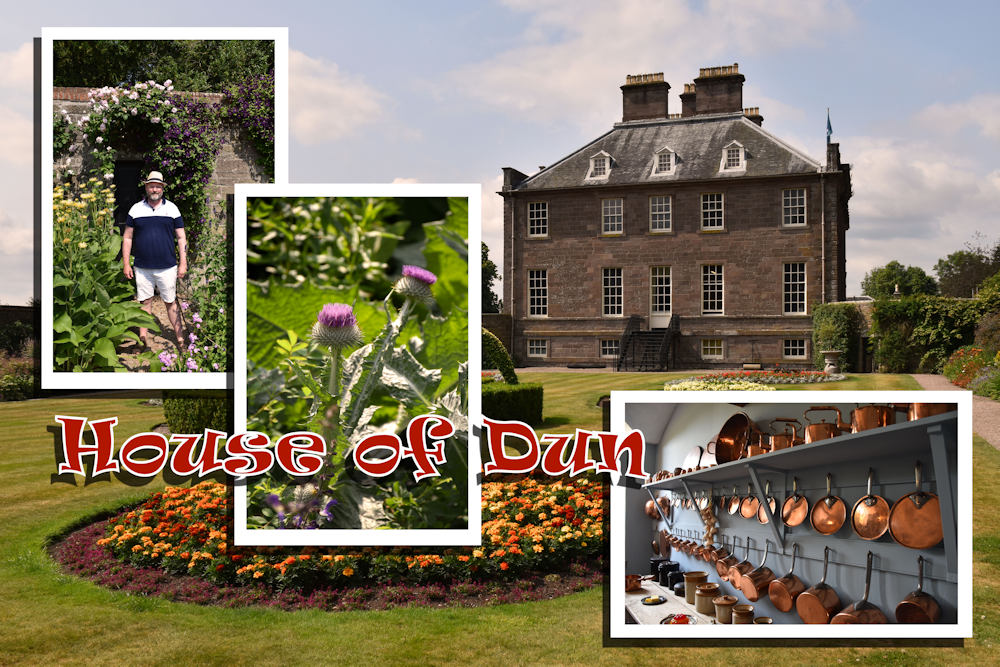 Next stop was the stately House of Dun, with costumed tour guides and shiny copper pans.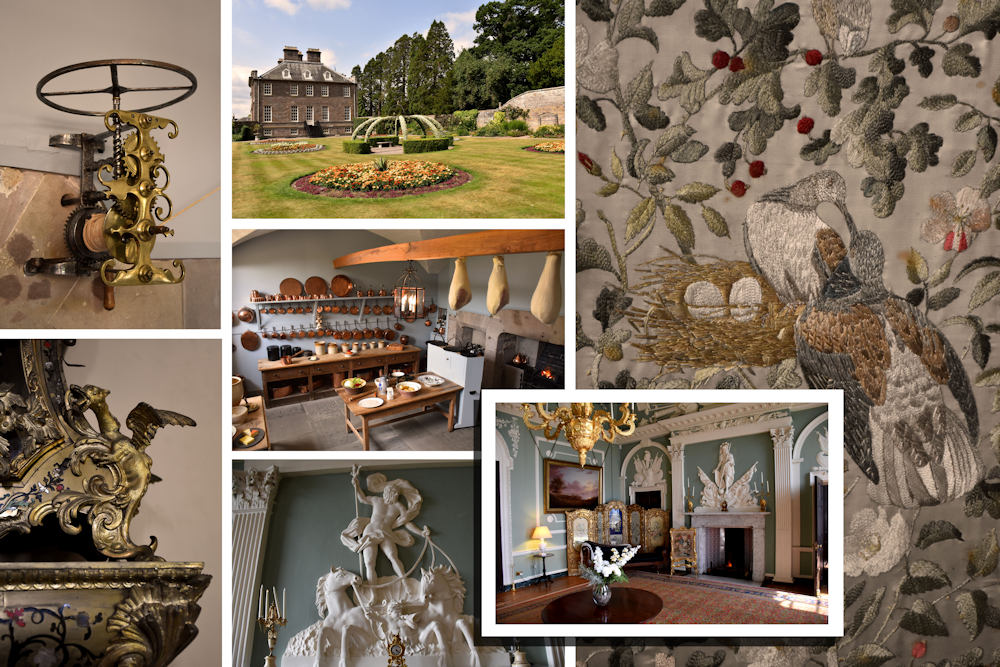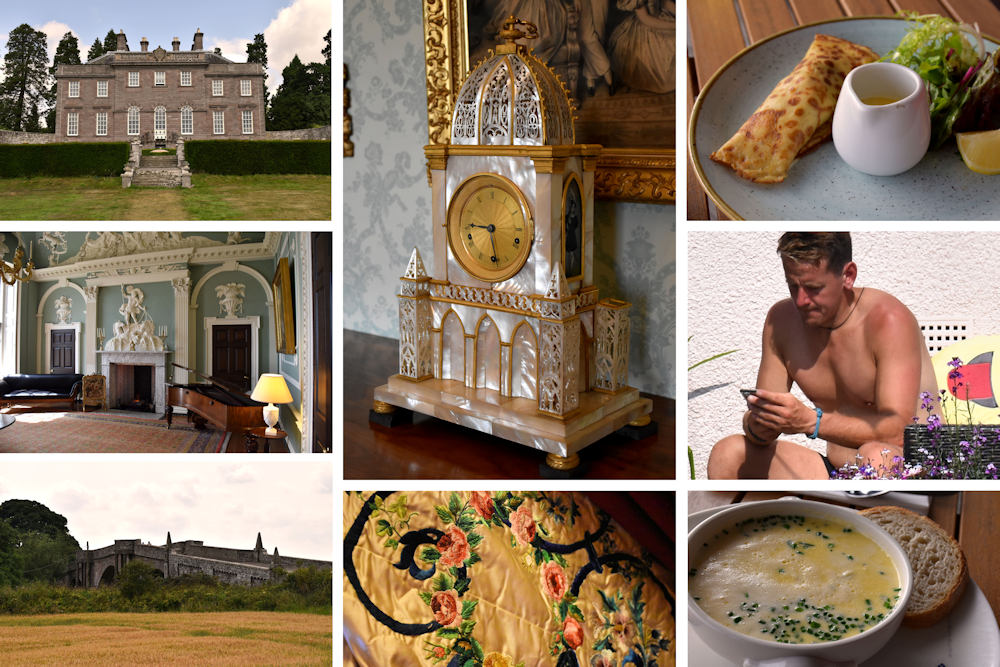 Shown above is a mother of pearl clock brought back from Venice and an embroidered bed spread which was packed away for years because the bride didn't like the fact that it showed the initials of her husband and his mother, rather than her! The food and shirtless man are all Albroath smokies.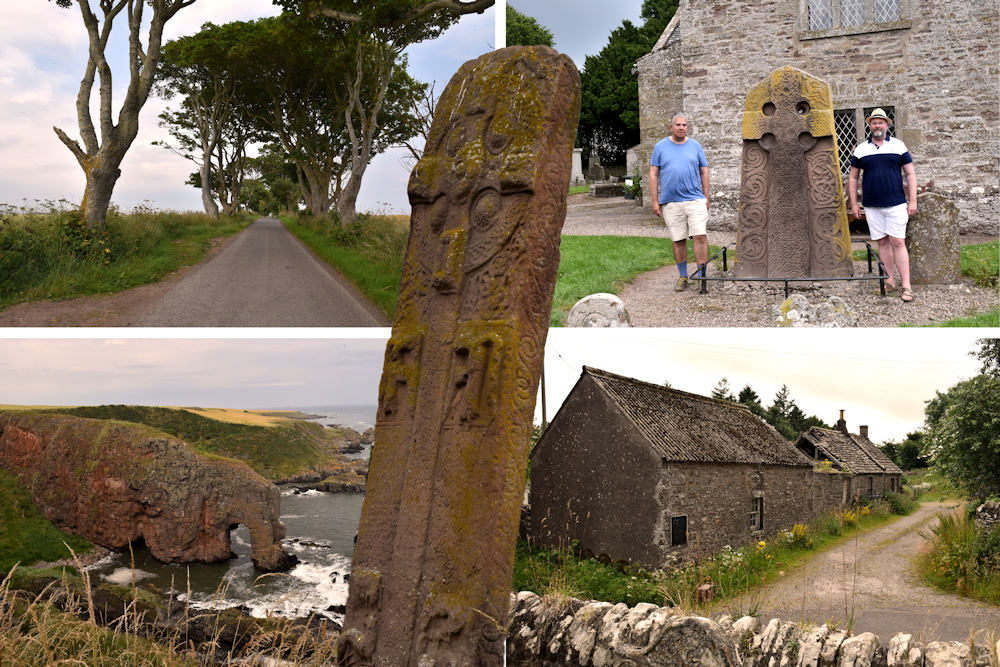 Above are scenes from Elephant Rock and carved Pictish stones from thousands of years ago, impressively out in the open for everyone to see and enjoy.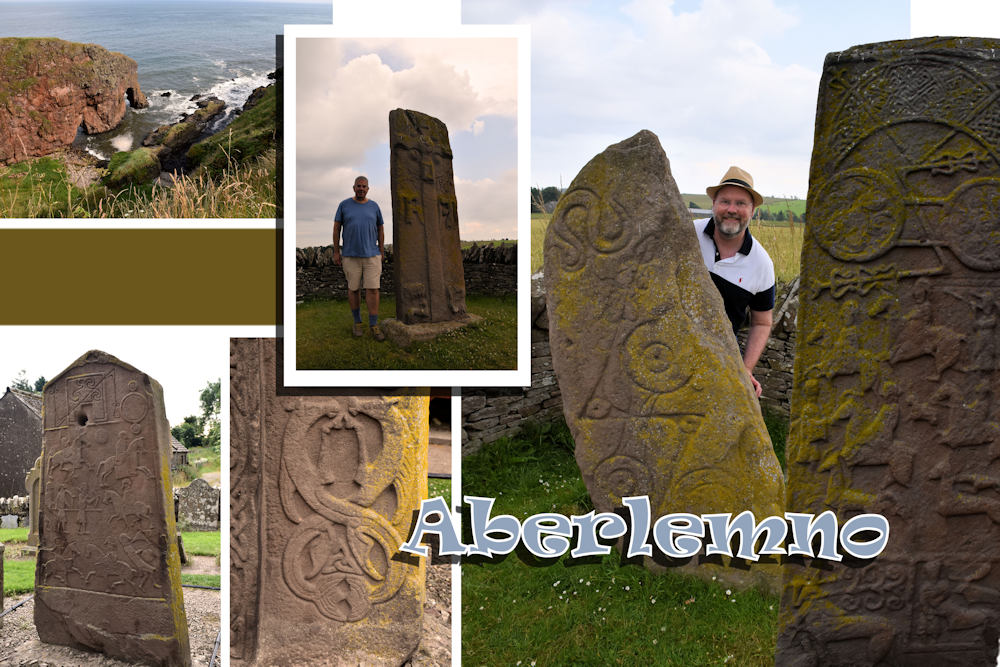 Aberlemno Pictish stones, showing a serpent (top left) and a hand mirror in my photo and sea horses, knights, and other creatures in the others.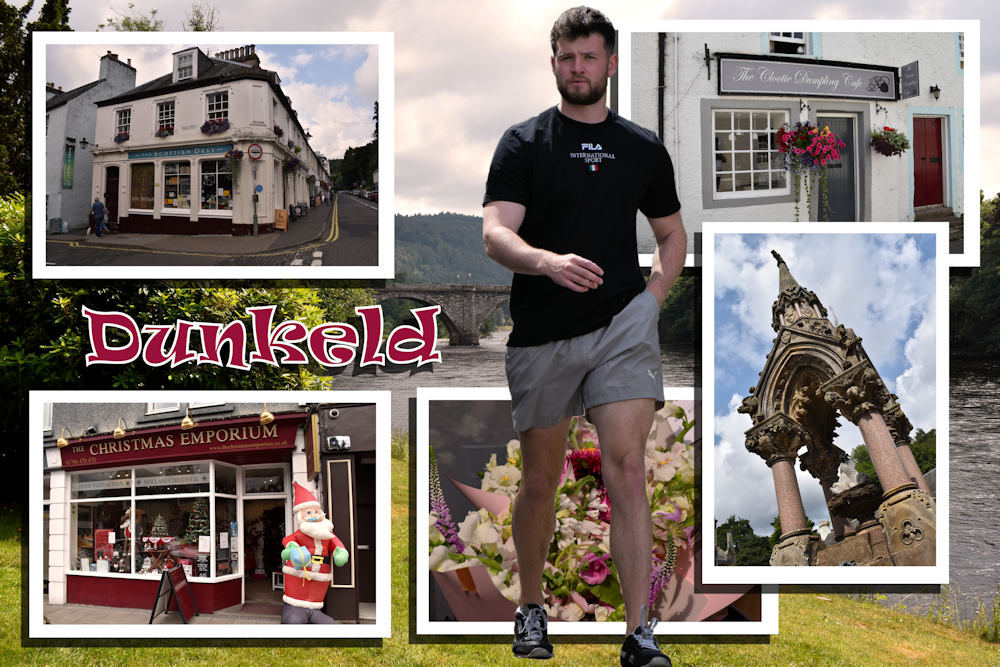 I bought a Christmas ornament and a tweed jacket in Pitlochry. Dunkeld was well worth a detour for all sorts of tasty things.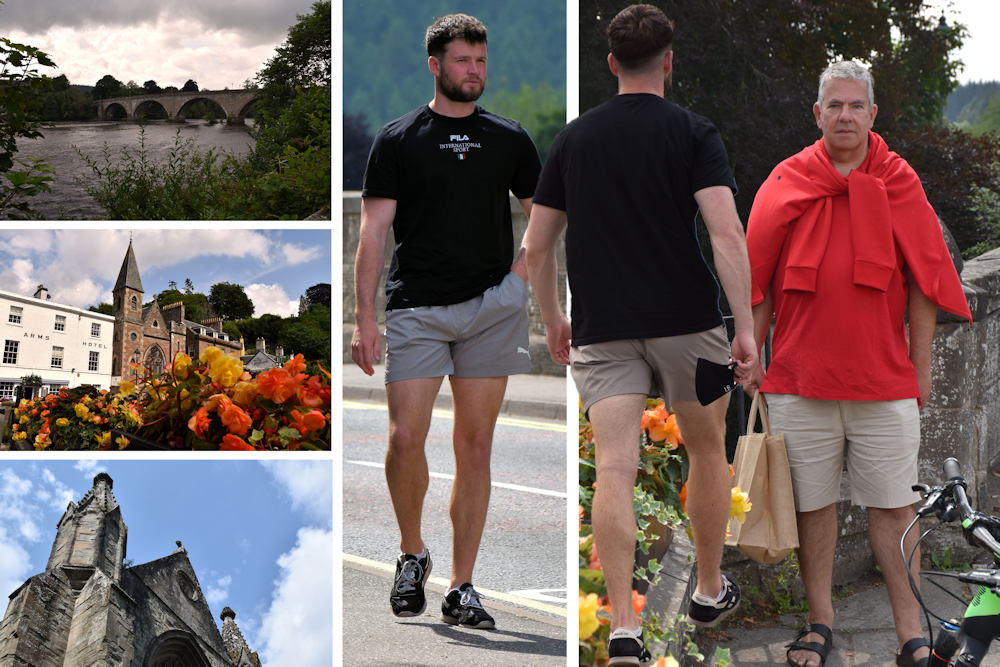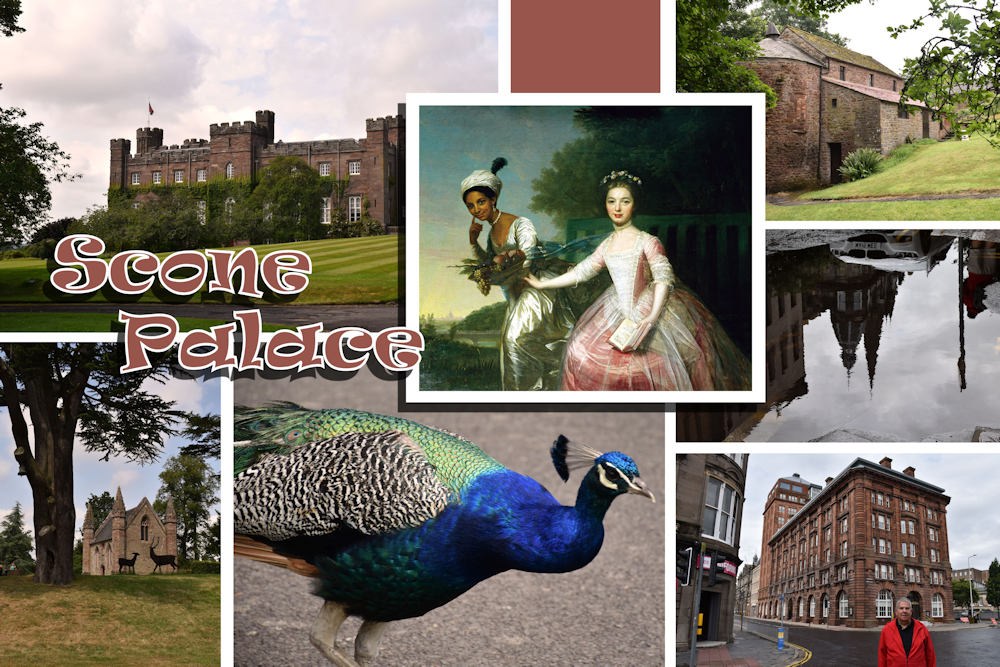 Scone (pronounced Scoon) Palace had beautiful grounds with peacocks, a very drawn-out tour of a few rooms of the house, and this famous painting of Dido Elizabeth Belle, the woman about whom the film 'Belle' was made. This painting is important for many reasons, and some people travelled there just to see it.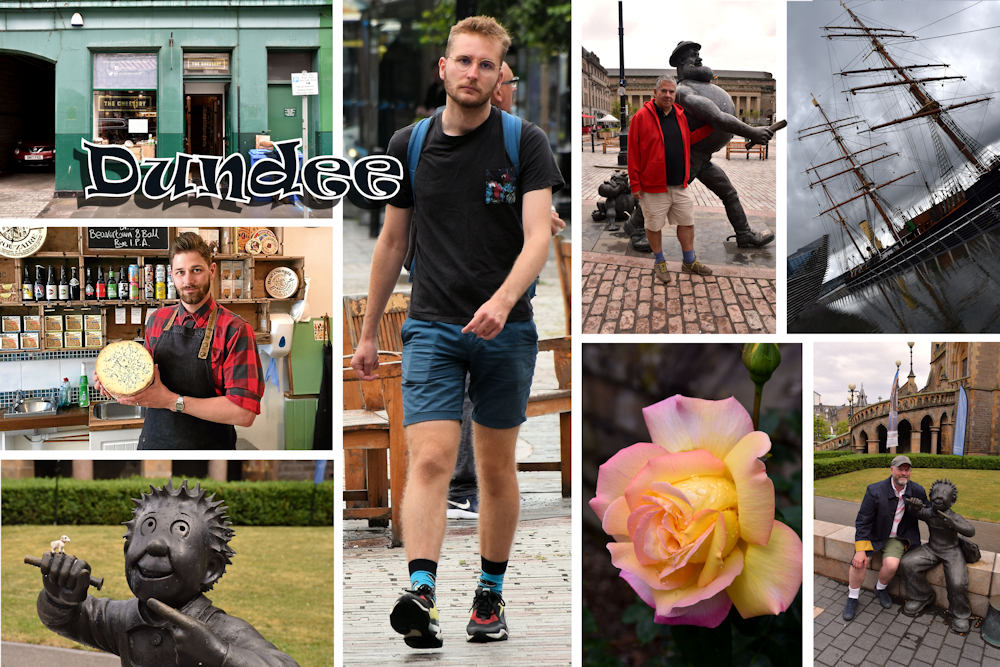 We didn't get to see the cute proprietor of The Cheesery in person, but we did see Desperate Dan and Oor Wullie, as well as the building where their cartoons are published. Also shown, Scott of the Antarctic's Discovery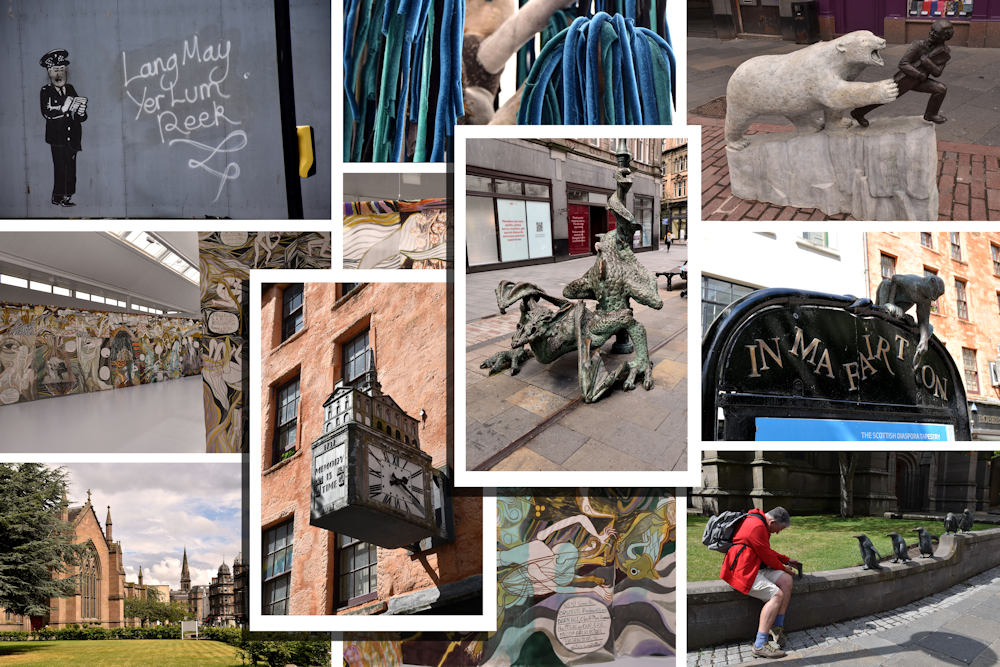 We saw modern art at Dundee Contemporary, as well as street art, including a statue immortalising an escaped polar bear chasing a man into a nearby shop.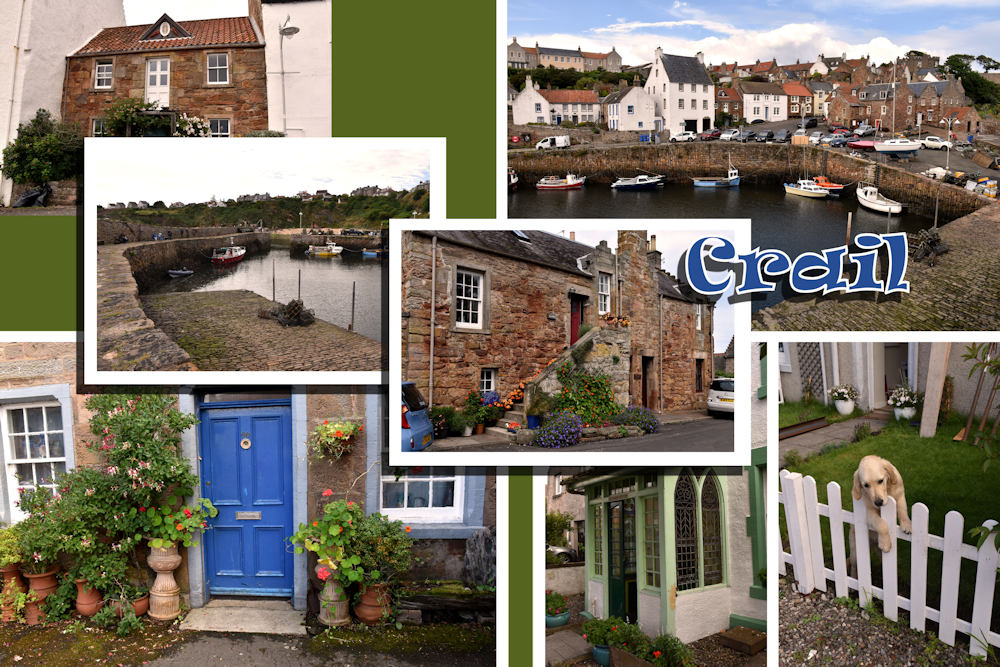 Crail was a lovely town with a harbour, known for its fresh lobster and pottery.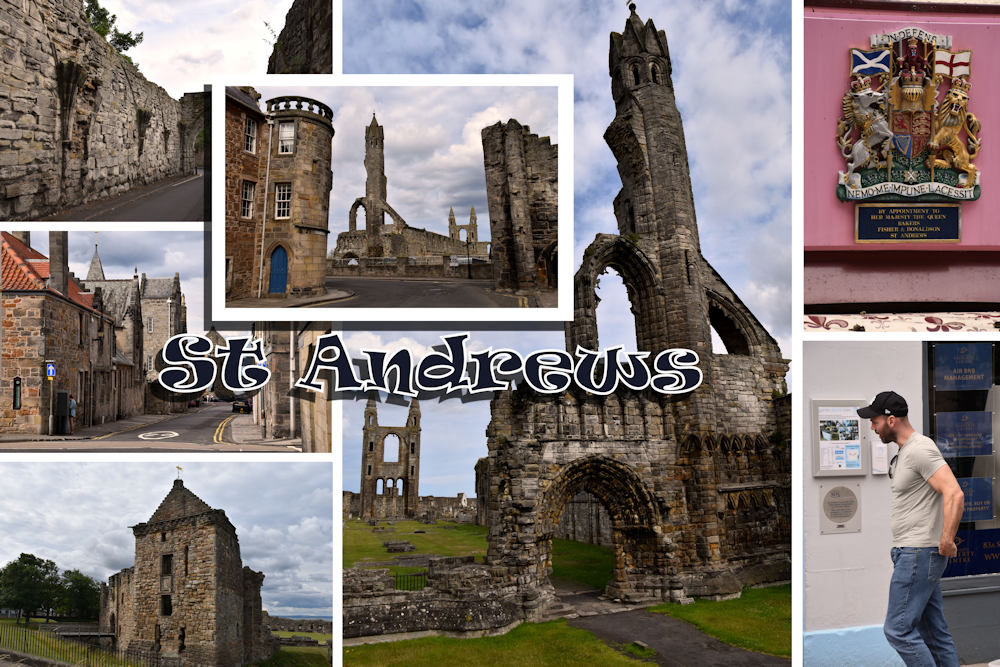 We stopped in St Andrews, birthplace of golf.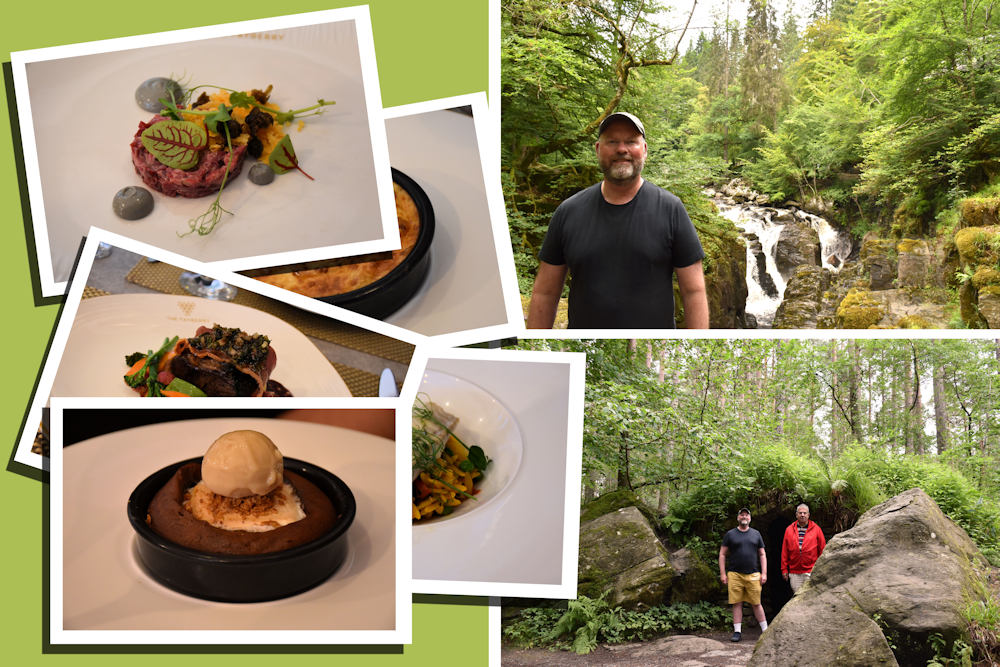 We dined at the Tayberry restaurant in Broughty Ferry. Dessert was chocolate fondant with tonka bean mallow and banana sorbet. The next day, we went back to the Dunkeld area to go to The Hermitage.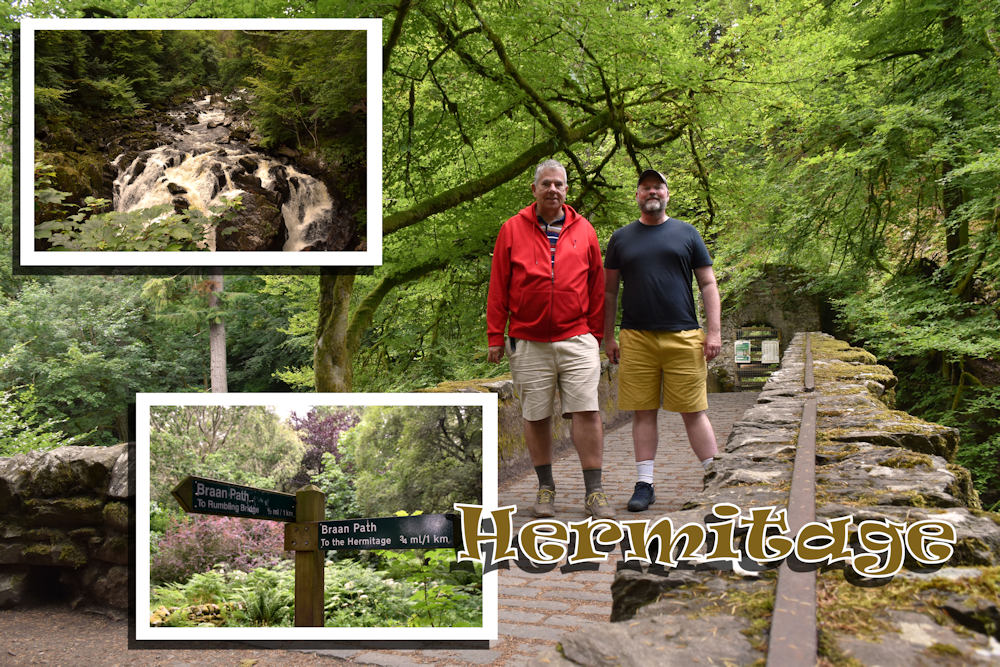 Waterfalls, nature trails, and secret caves a-plenty.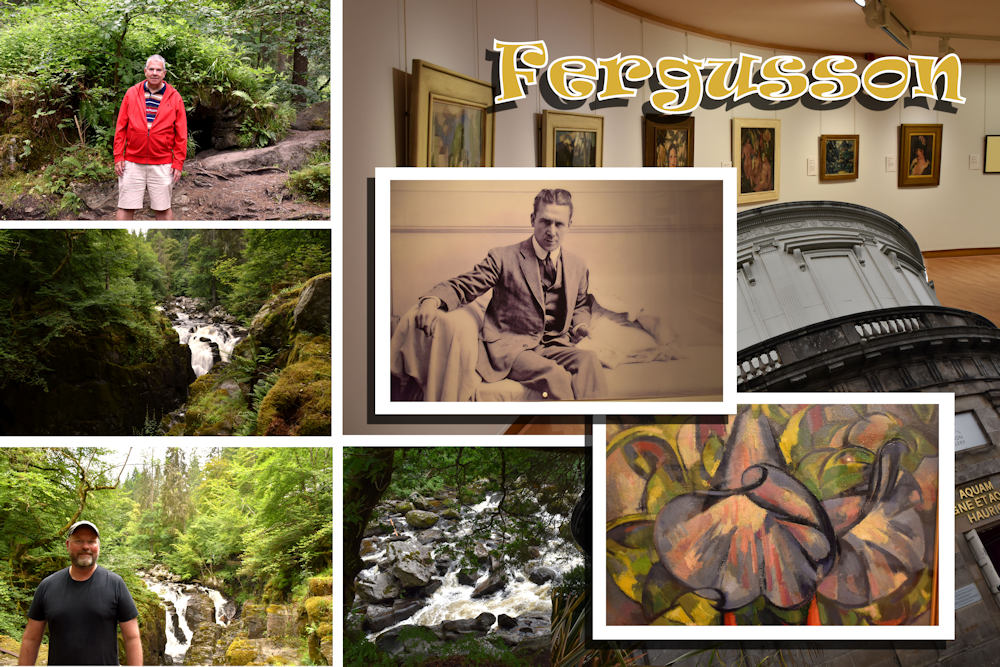 John Duncan Fergusson was a Scottish artist and sculptor, regarded as one of the major artists of the Scottish Colourists school of painting. He worked with French artists such as Cezanne. This gallery in Perth is dedicated to his work and the work of his wife and muse, Margaret Morris.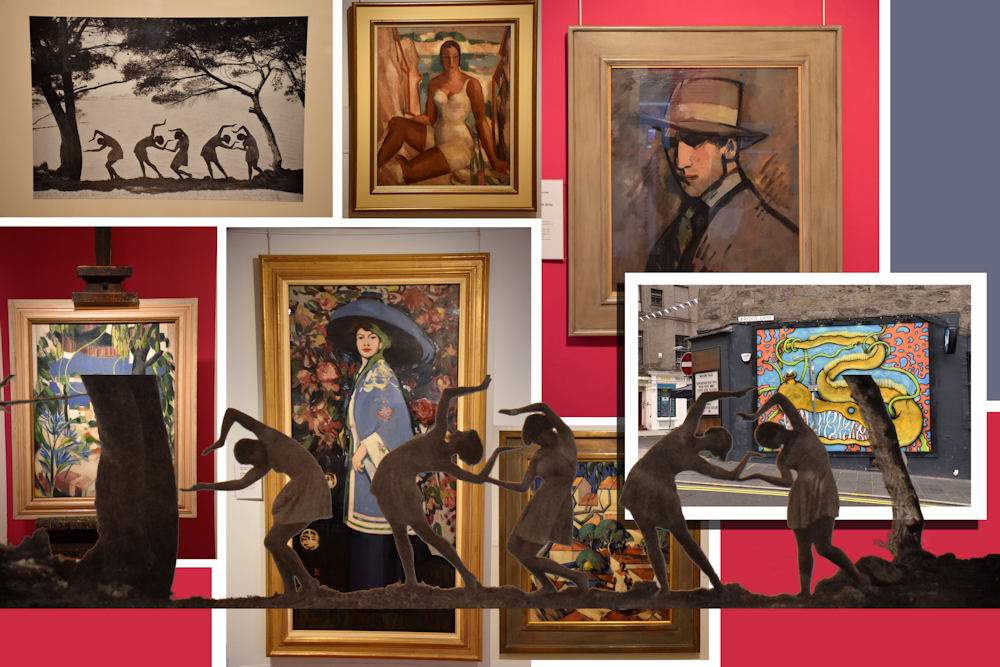 The Perth Museum and Art Gallery was full of unexpected wonders, such as the shadow installation, which reminded me of my favourite Christian Boltanski (as seen in Paris in 2019). Artists Walker & Bromwich's silhouettes of once common local mammals are cast across the gallery. Suggestive of cave paintings and mythological underworlds, the installation will provide a glimpse of possible future loss. Also shown is one of Beatrix Potter's watercolour rabbits.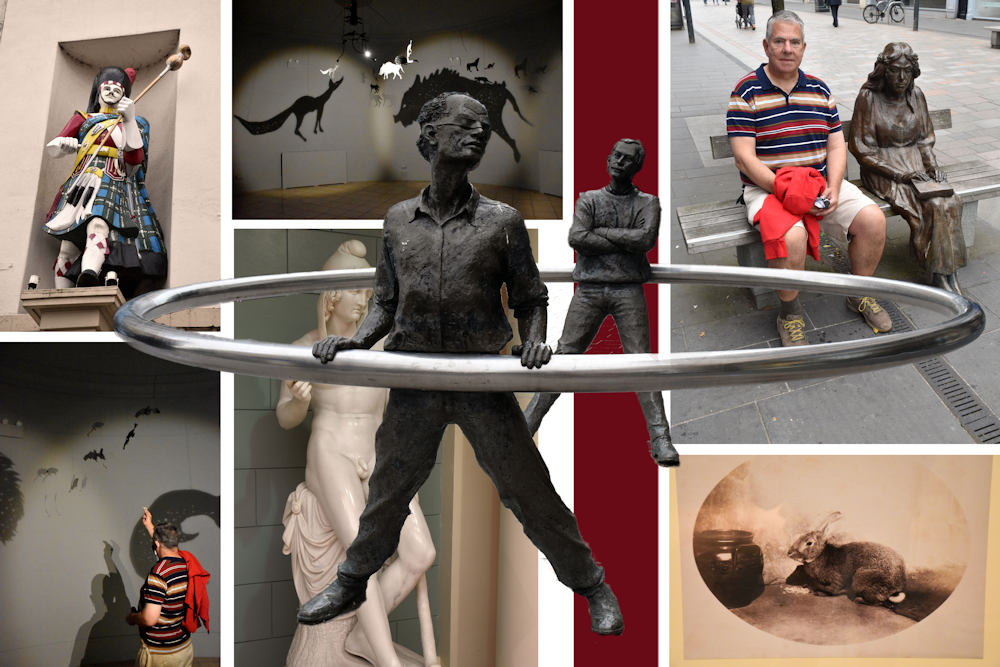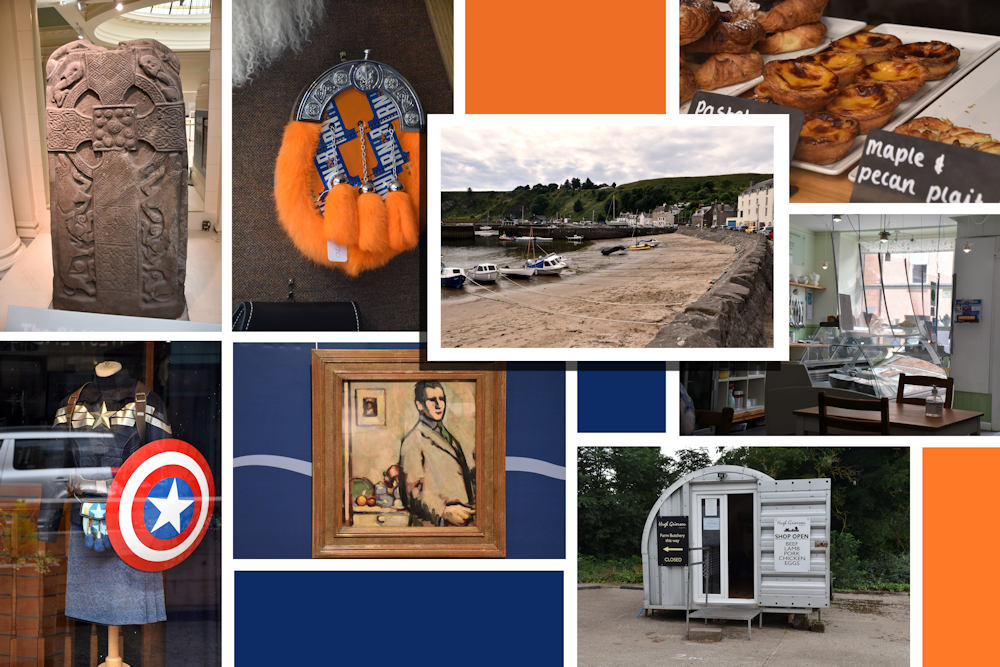 Lots of cool things, including an Irn Bru sporran. The coolest of all was the organic seller (bottom right), who leaves is products unguarded in a freezer with an honesty box to pay for what you take. We bought a chicken and sausages, which made for an amazing barbecue we shared with our AirBnB host, Bonny, and her father.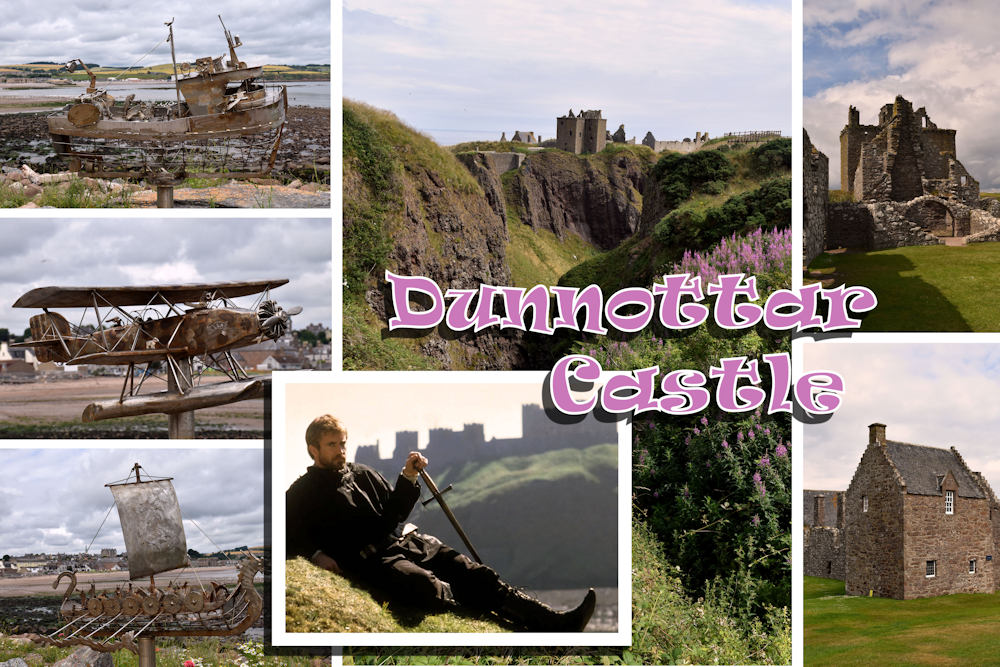 Stonehaven and Dunnottar Castle: full of history, but more exciting for me, the setting for the Mel Gibson/Glenn Close film of Hamlet.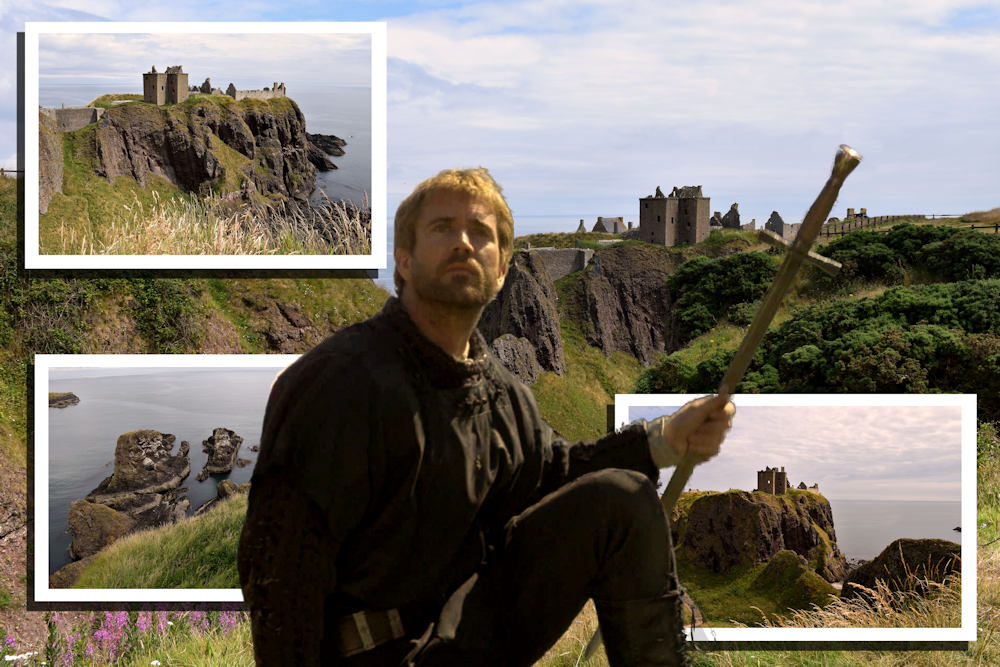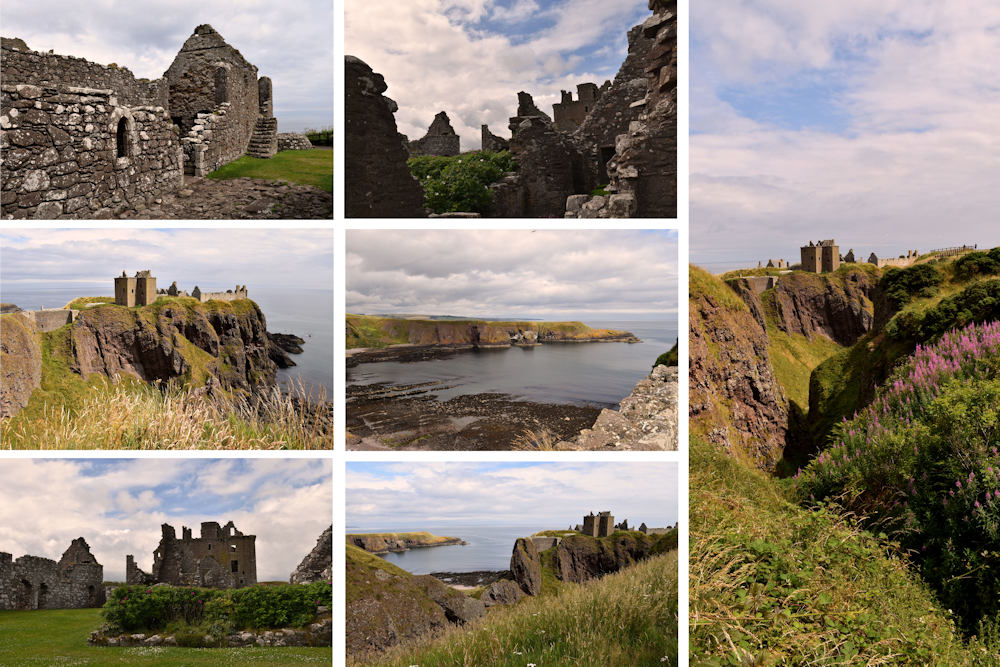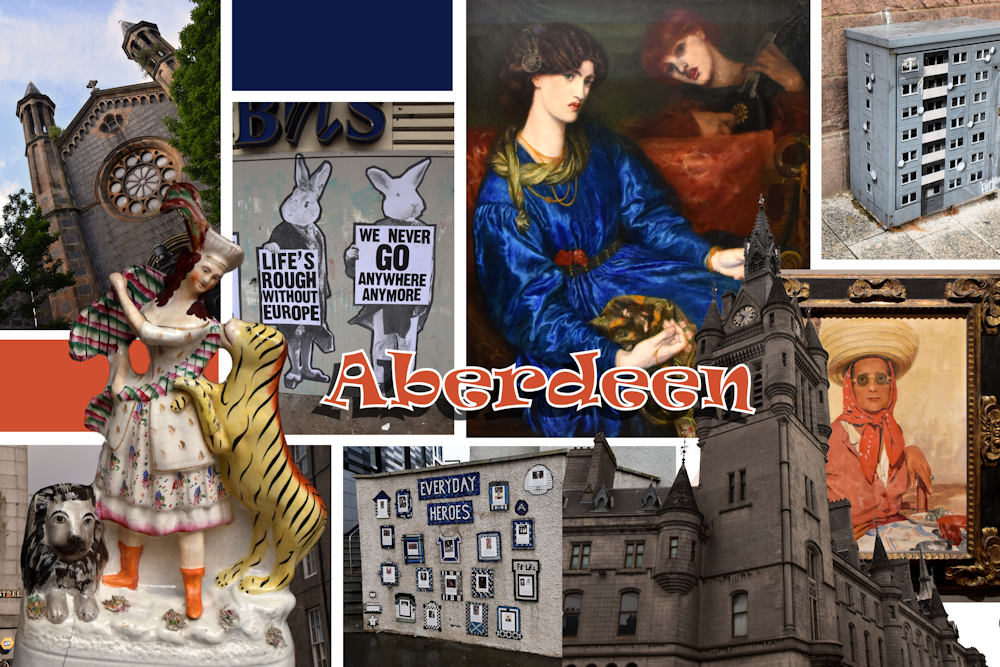 Aberdeen was full of art, and The Aberdeen Art Gallery and Museum was full of suprising treasures such as the Pre-Raphaelite painting and the statue of the woman being attacked by a tiger, which was based on a true historial story.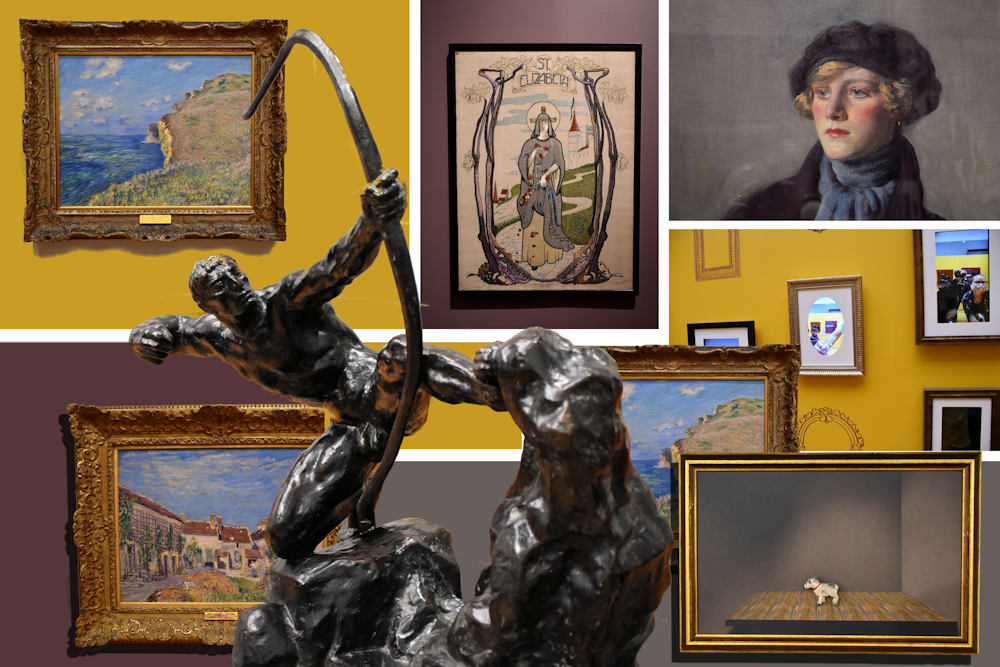 We saw art by Monet and Sisley and the sculpture is by Antoine Bourdelle, whose work we got to know in Paris, 2019. Tiny Cow enjoyed making an appearance in multiple works of art.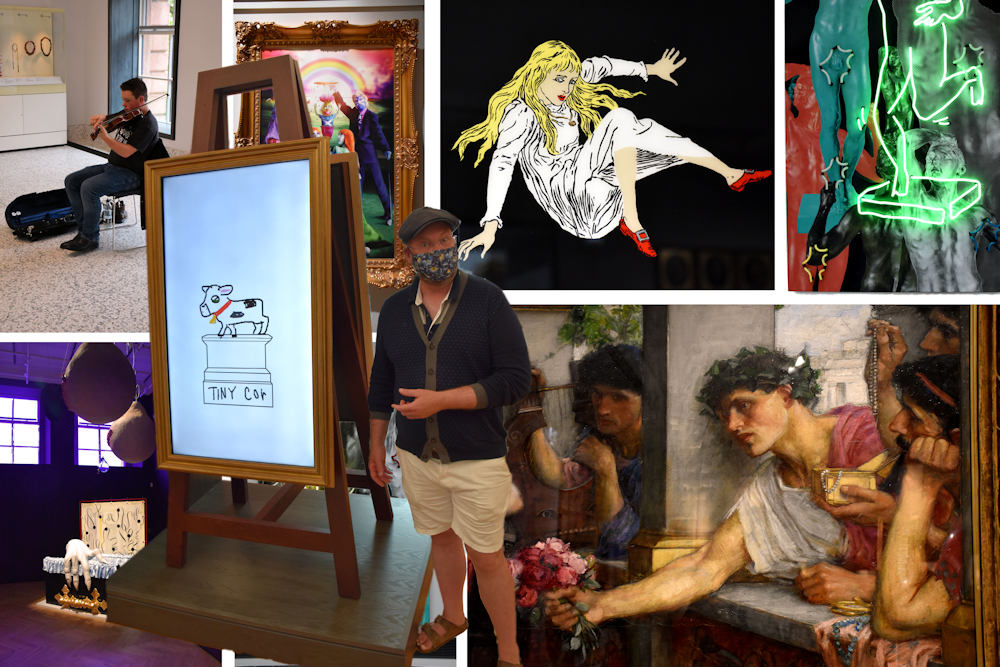 The folk musician, top left, was astonishingly good.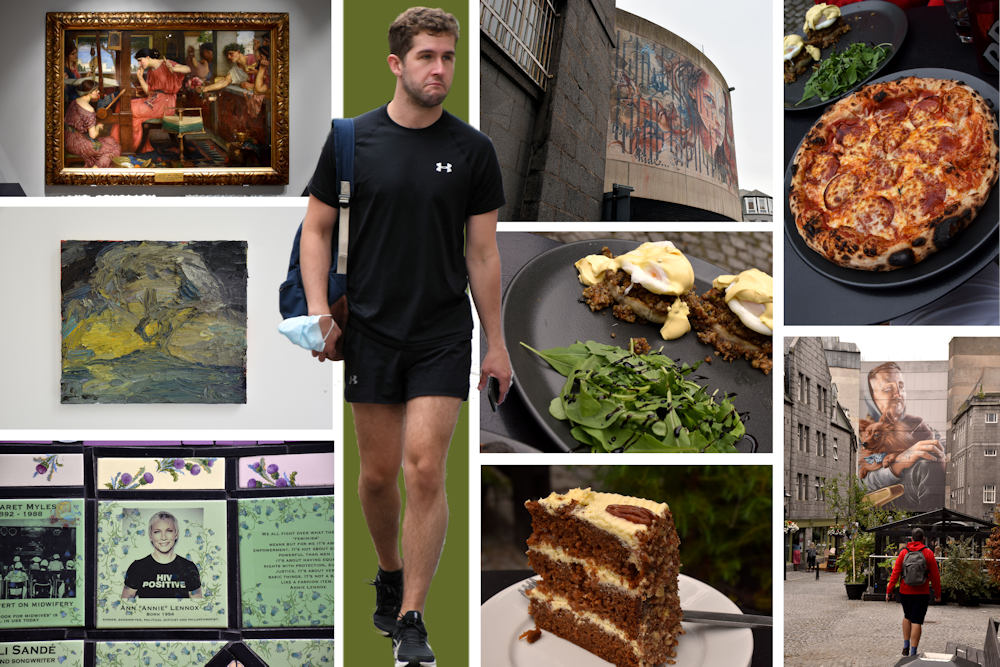 After the museum, we had a great lunch of pizza and vegetarian haggis eggs Benedict at the Contour Café.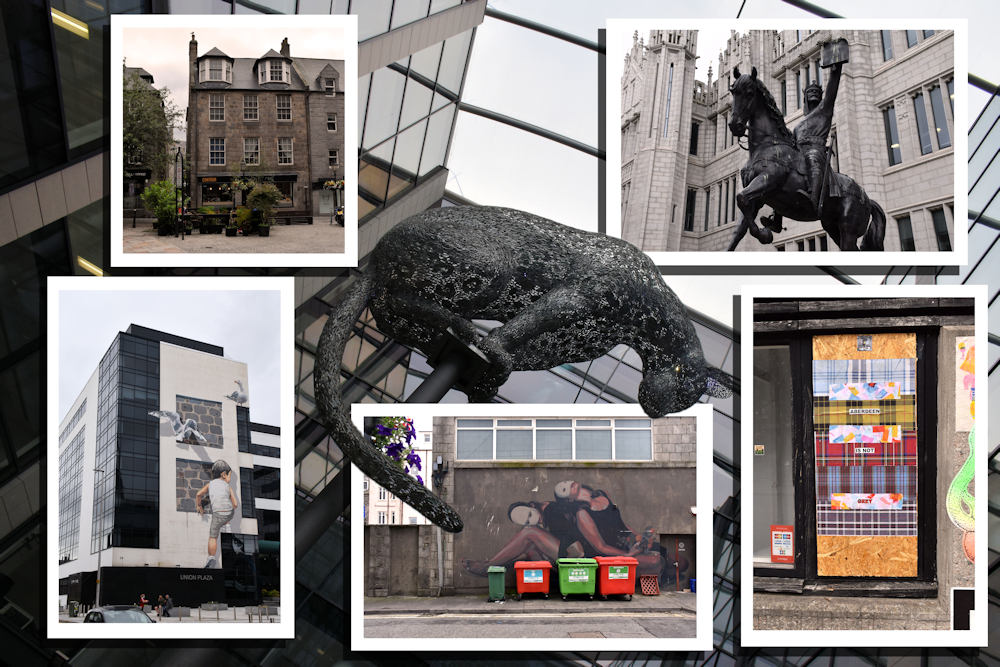 Street art on a grand scale and the giant indoor sculpture of a cheetah by Adam Scott called Poised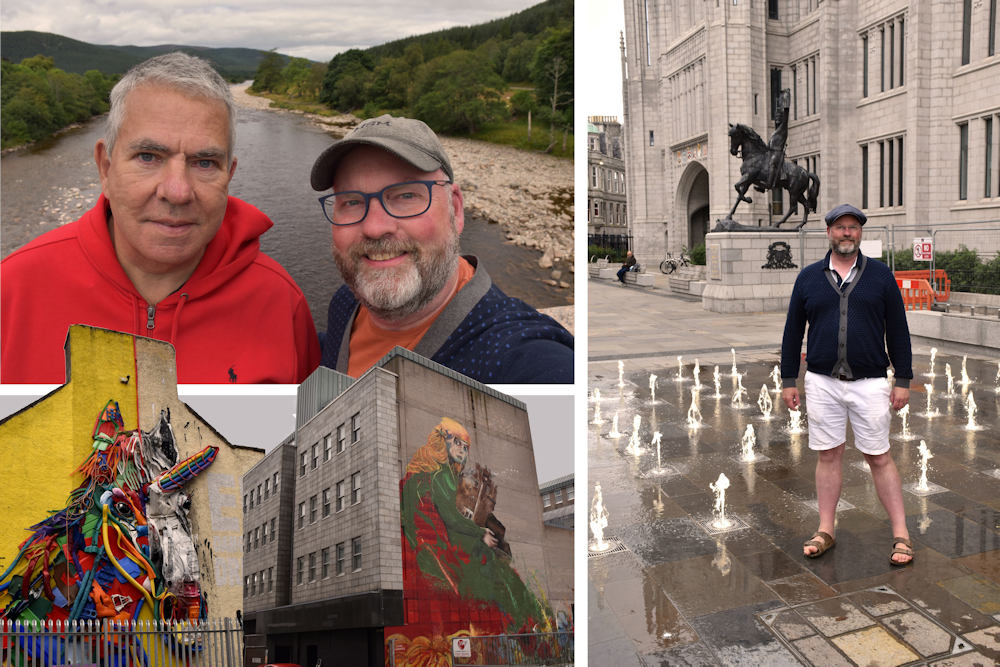 A few more photos from Aberdeen and one of us in Ballater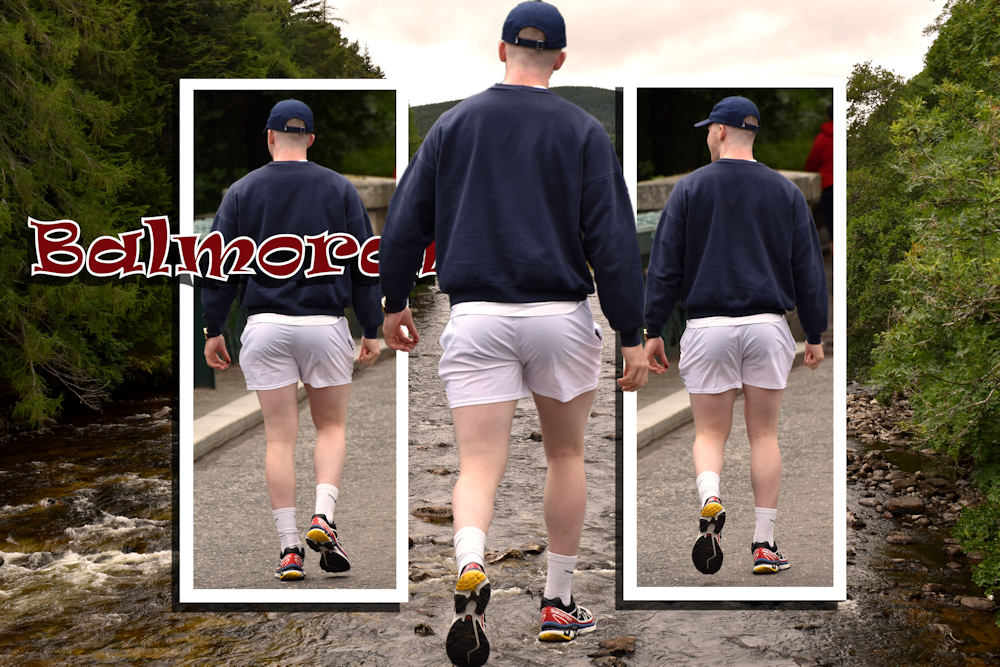 Balmoral Boy

The Queen was actually at Balmoral on the day we visited, but not officially. We were told that the next day, all the signs, rubbish bins, and tourist maps would be whisked away for her stay.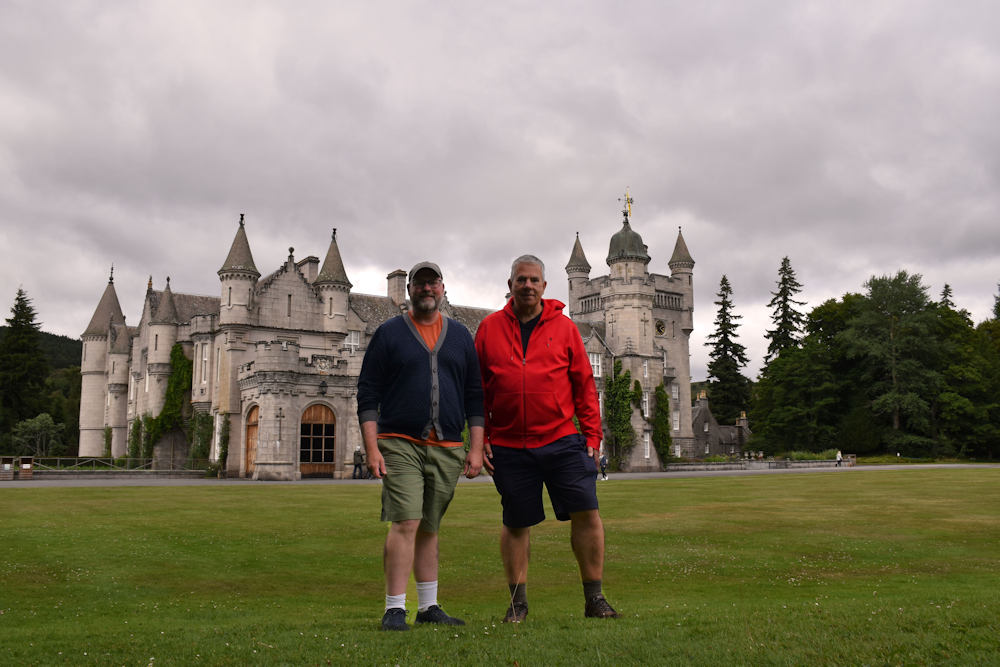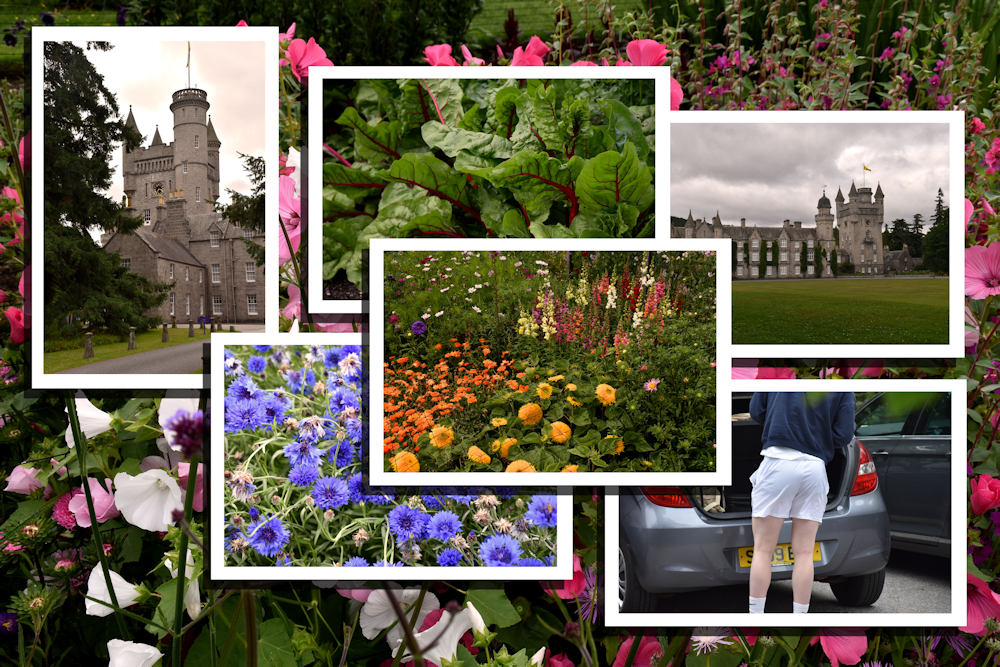 The vegetable garden at Balmoral was the nicest I'd ever seen.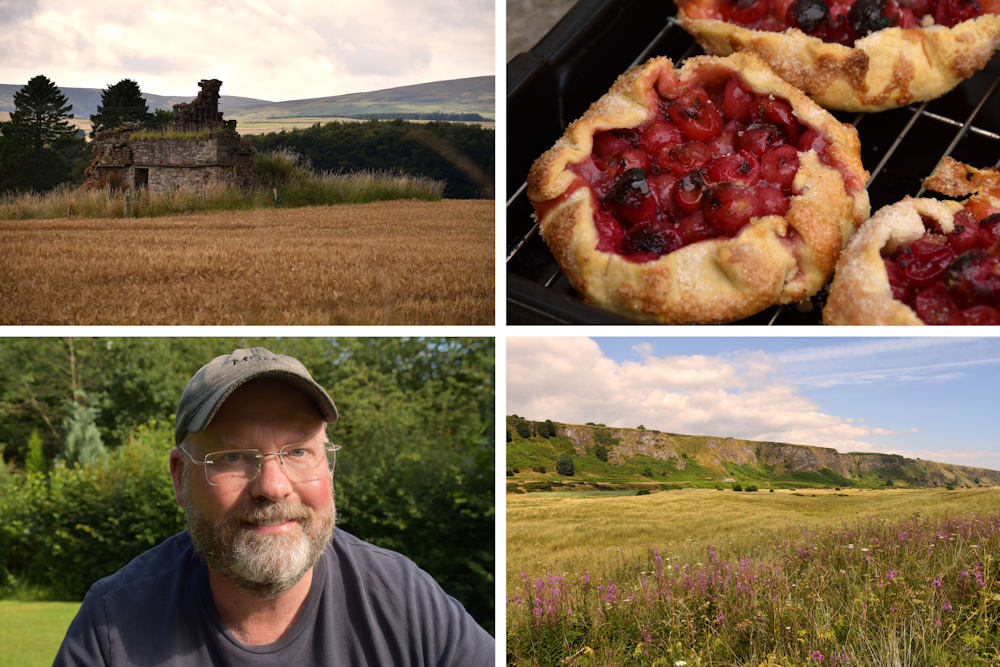 Some photos taken around our house near Brechin. We spent our evenings in deck chairs with whisky, watching bats and owls. We collected wild gooseberries and made these tarts to share with our host.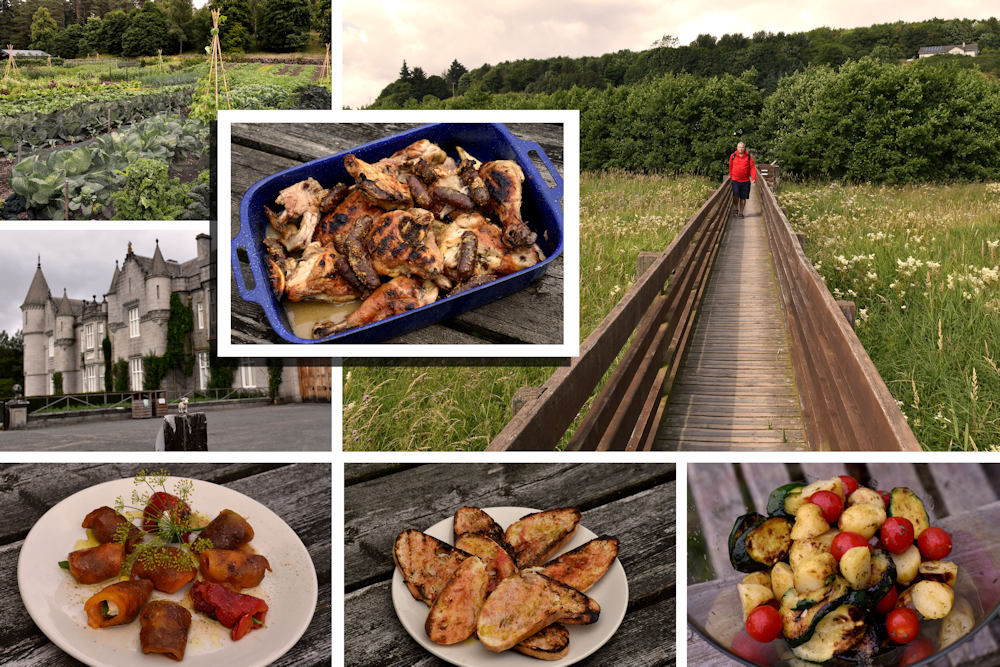 Tiny Cow at Balmoral, our barbecue meal, and Nick at St Cyrus nature reserve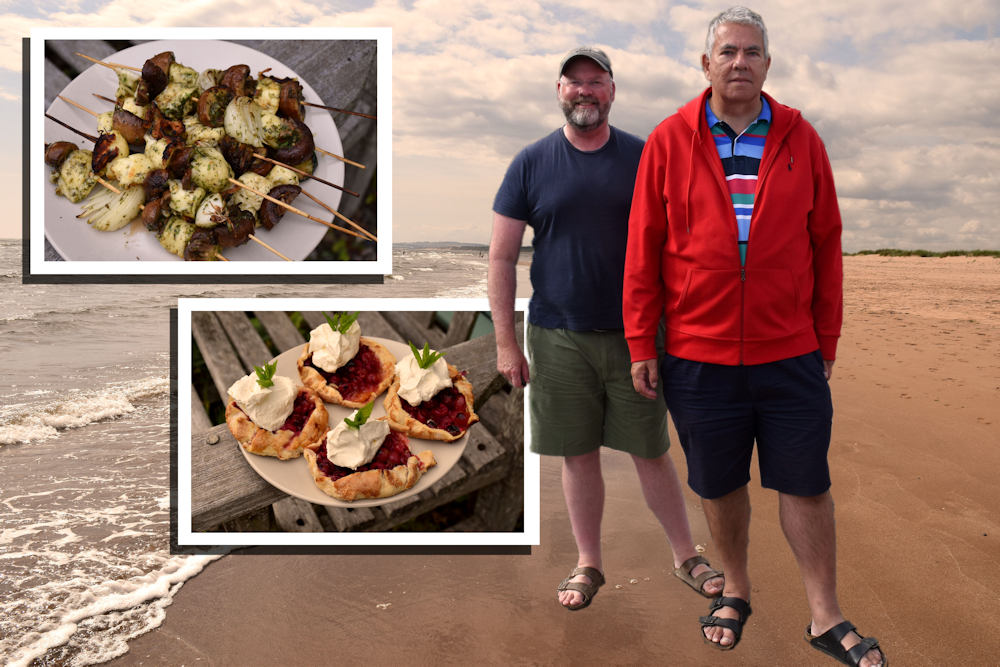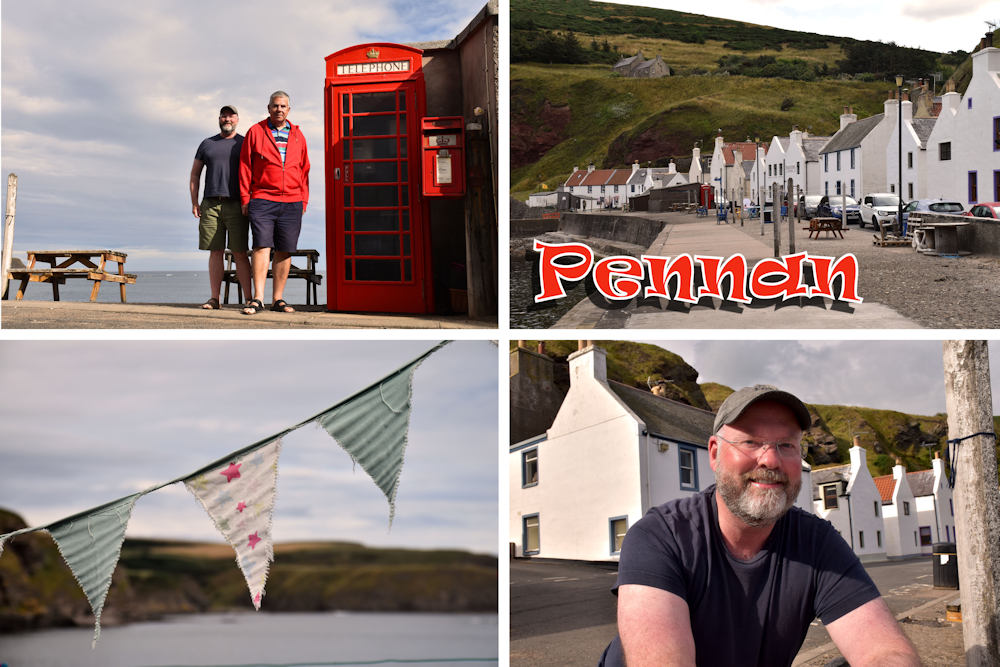 The highlight of our trip was an early morning visit to Pennan, where Local Hero was filmed. Another place we had all to ourselves.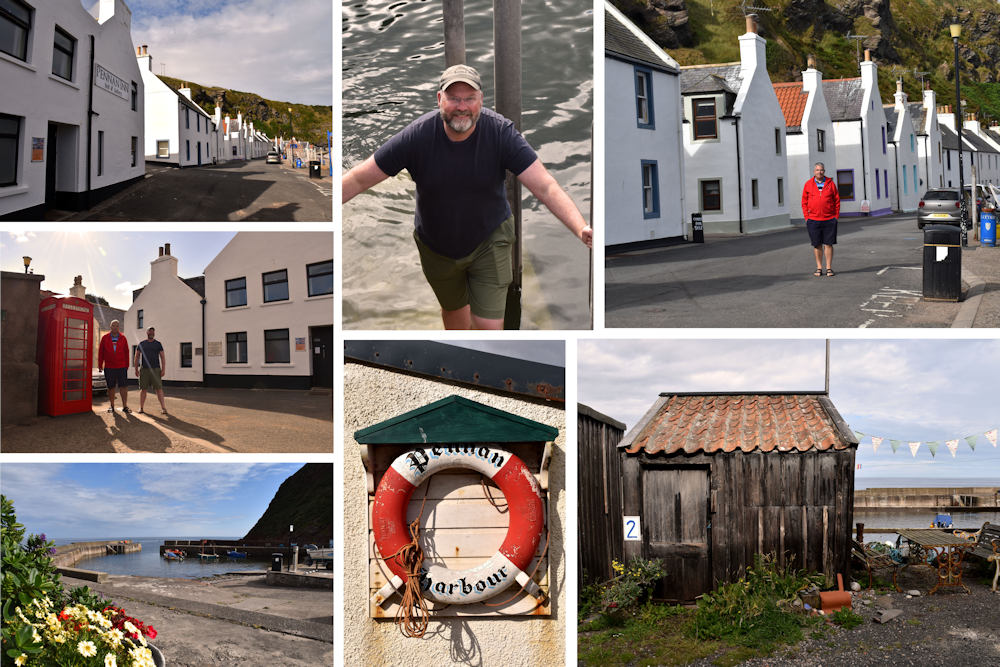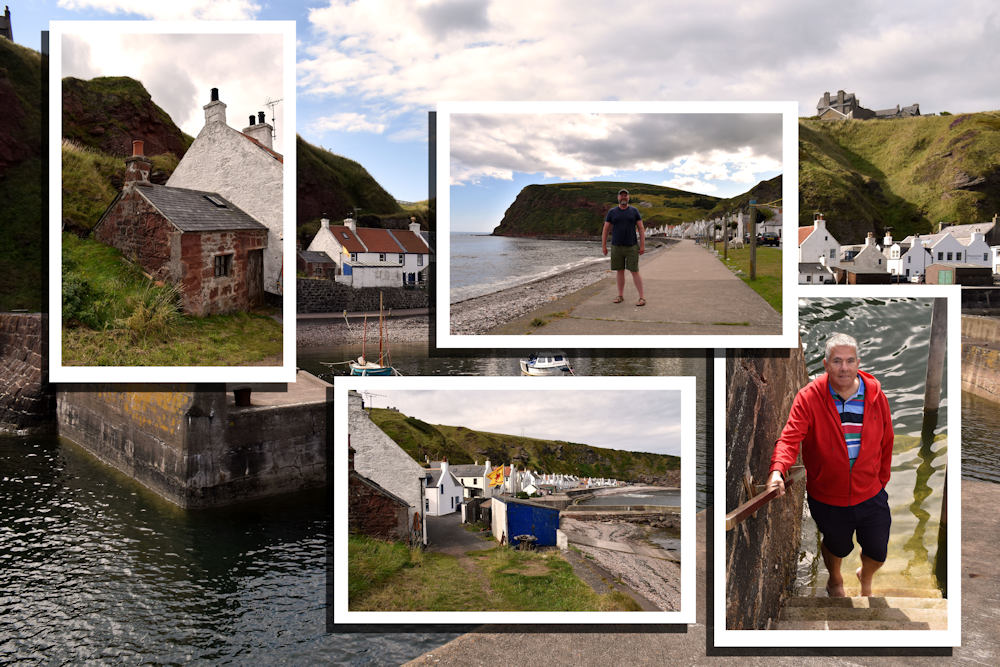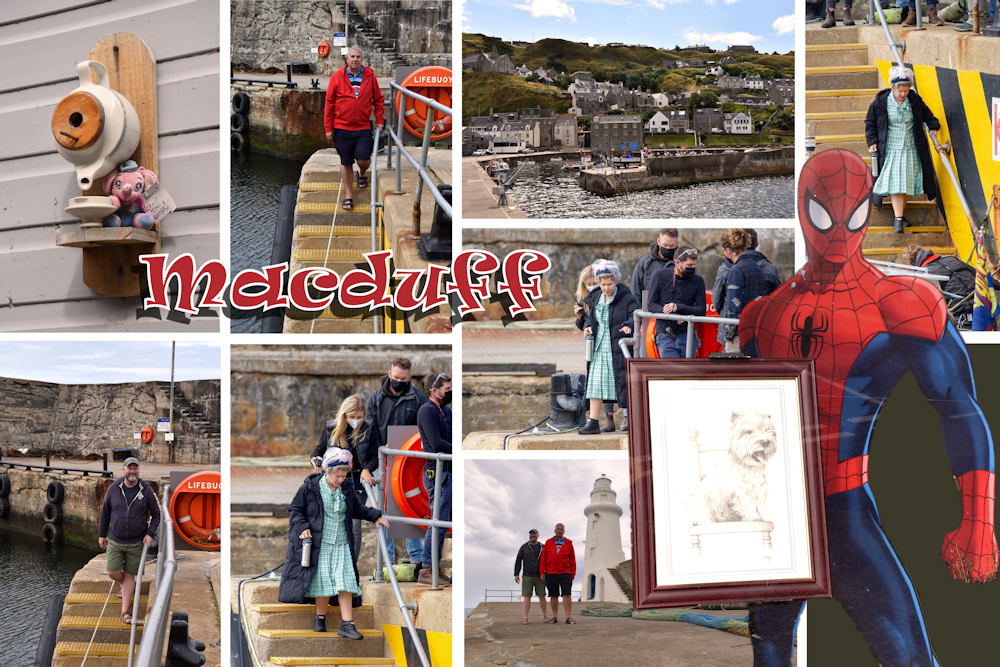 The day before we went there, Imelda Staunton was filming The Crown. We found the exact spot she visited.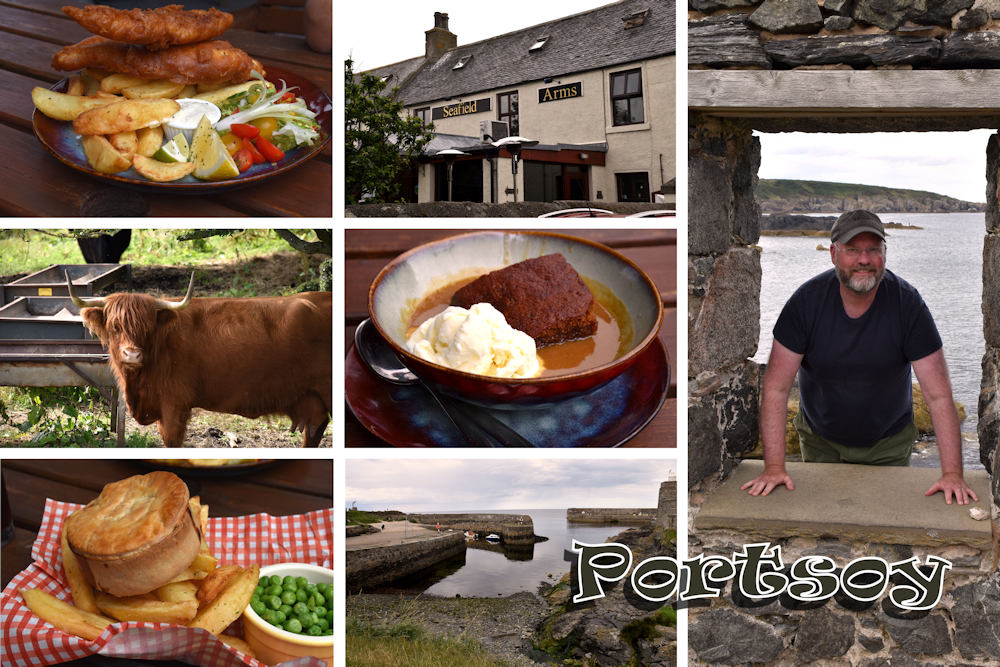 The most memorable restaurant food we had was at the Seafield Arms. The best fish and chips I can remember eating. Portsoy is another pretty fishing village and home to green marble that used to be exported to Venice.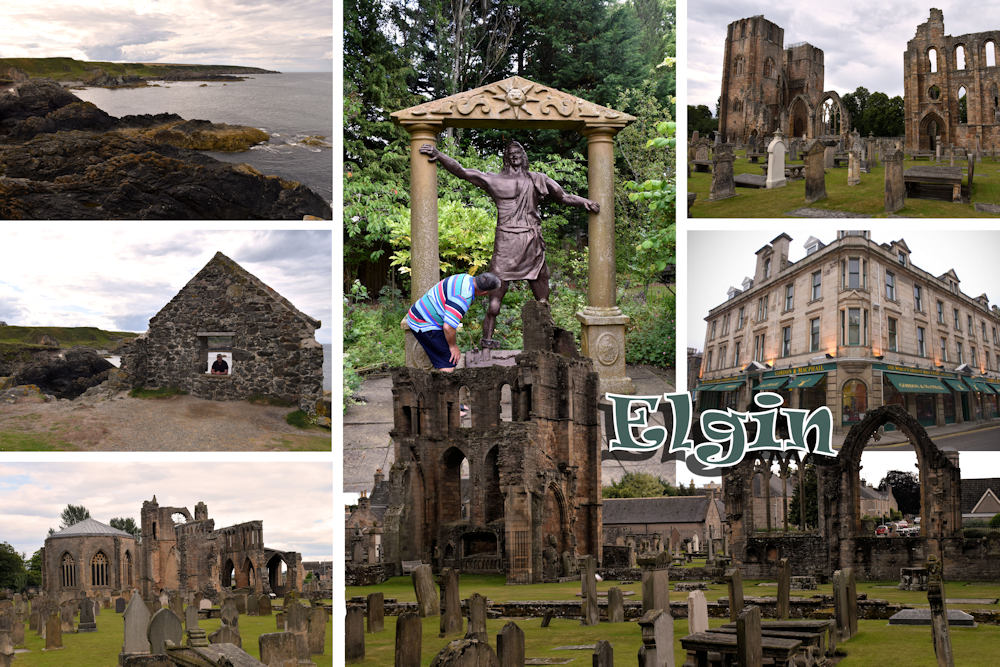 We bought three bottles of whisky at Gordon & McPhaill in Elgin. The ruined cathedral was very atmospheric.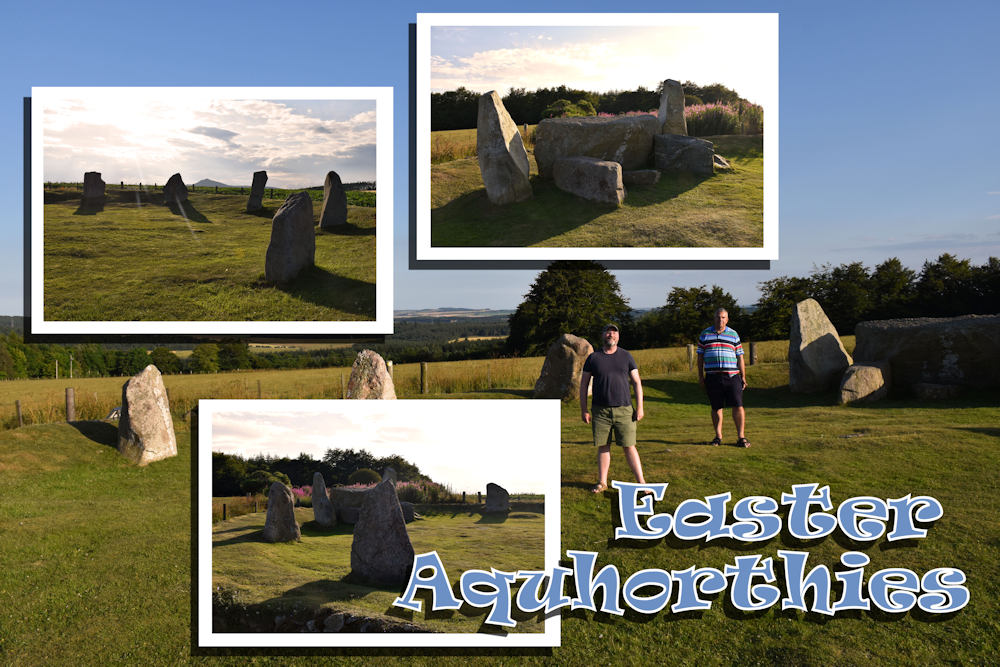 Easter Aquhorthies stone circle, located near Inverurie in north-east Scotland, is one of the best-preserved examples of a recumbent stone circle, and one of the few that still have their full complement of stones and the only one that has all its stones still standing without having been re-erected. We lay on the grass in the quiet centre of the stone circle and contemplated our place in history.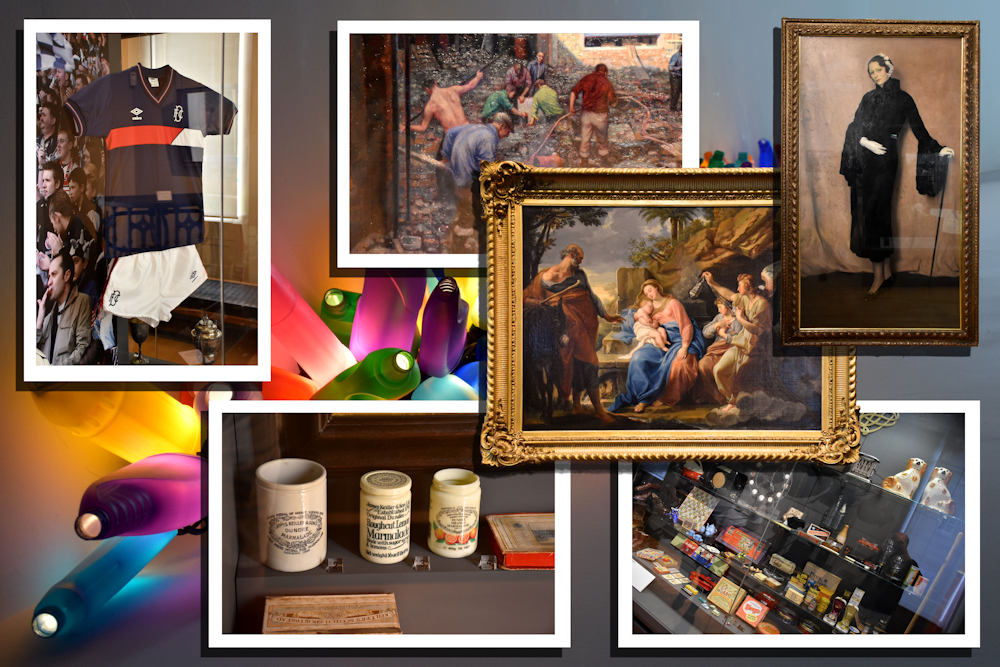 Back in Dundee, the McManus Art Gallery & Museum was packed full of treasures from Renaissance paintings to Dundee Marmalde pots, video games to footballers' shorts.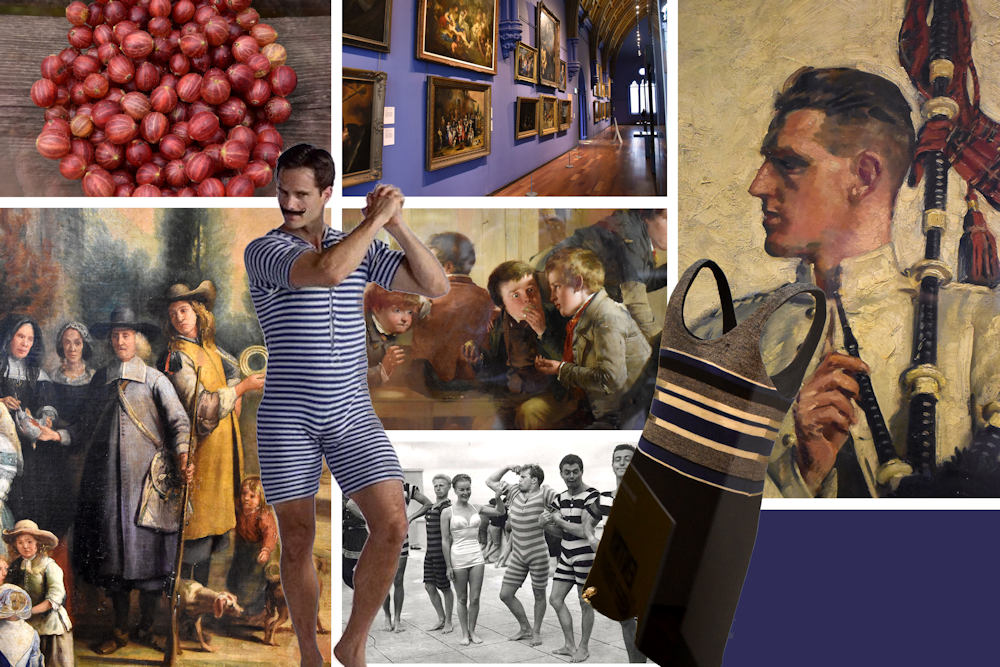 The olympic swim suit was tiny!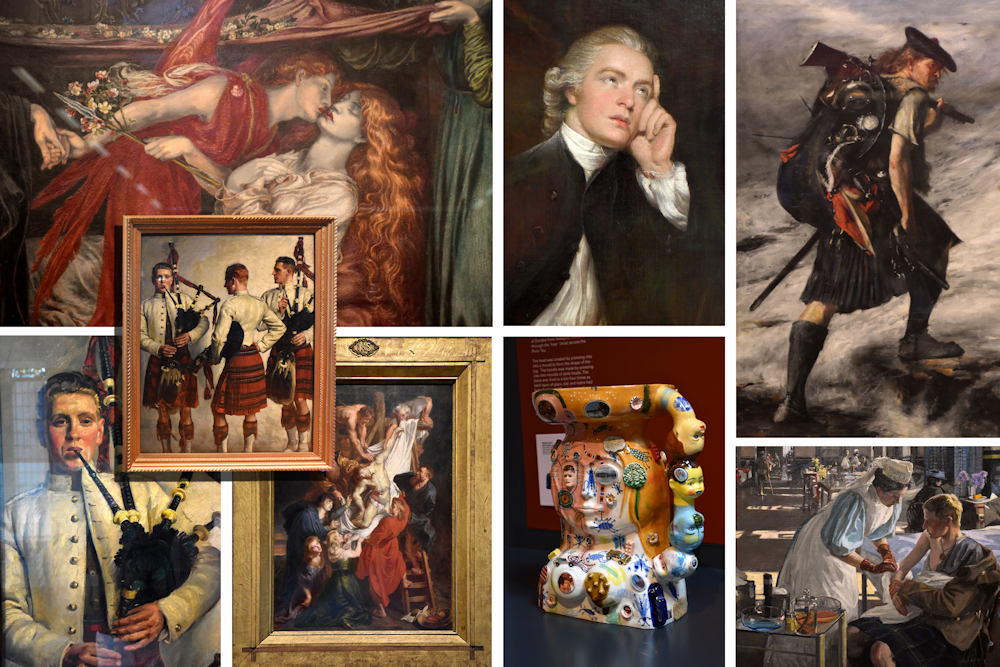 Some of our favourite works of art in the gallery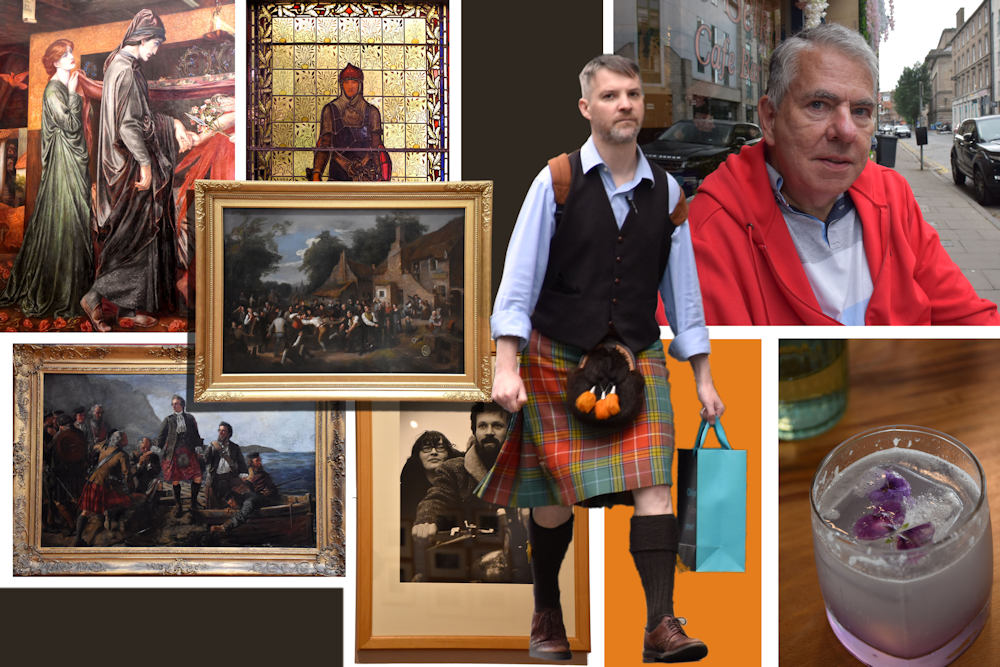 More McMannus, a lovely kilted man, and lavender cocktail at The Newport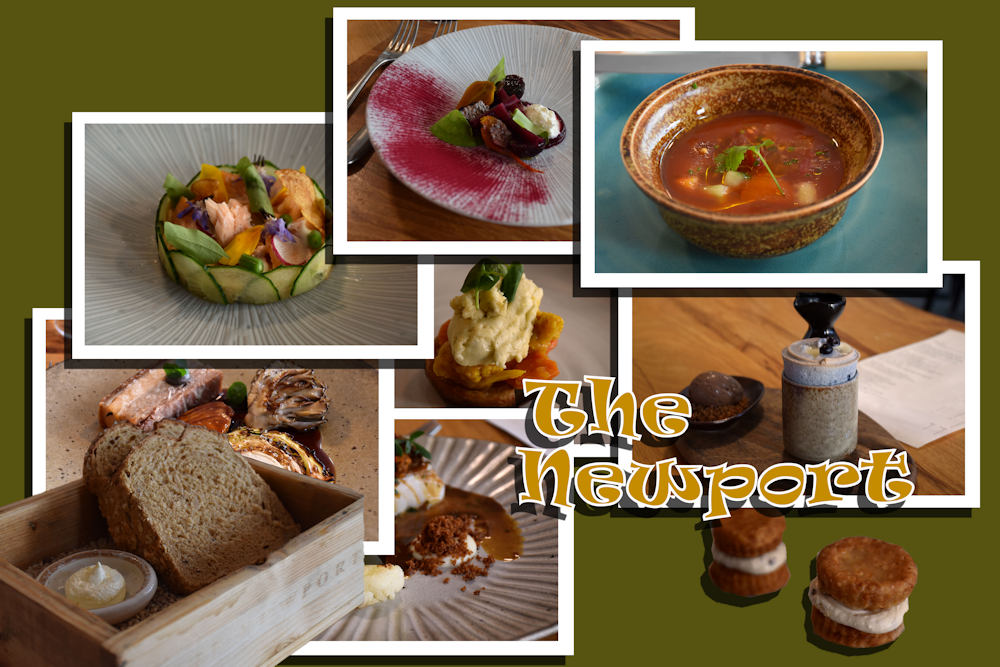 We had a gourmet dinner at The Newport, across the Tay River from Dundee. Dessert was our favourite: a miraculous blueberry soufflé with vanilla sauce, served with mint chocolate ice cream.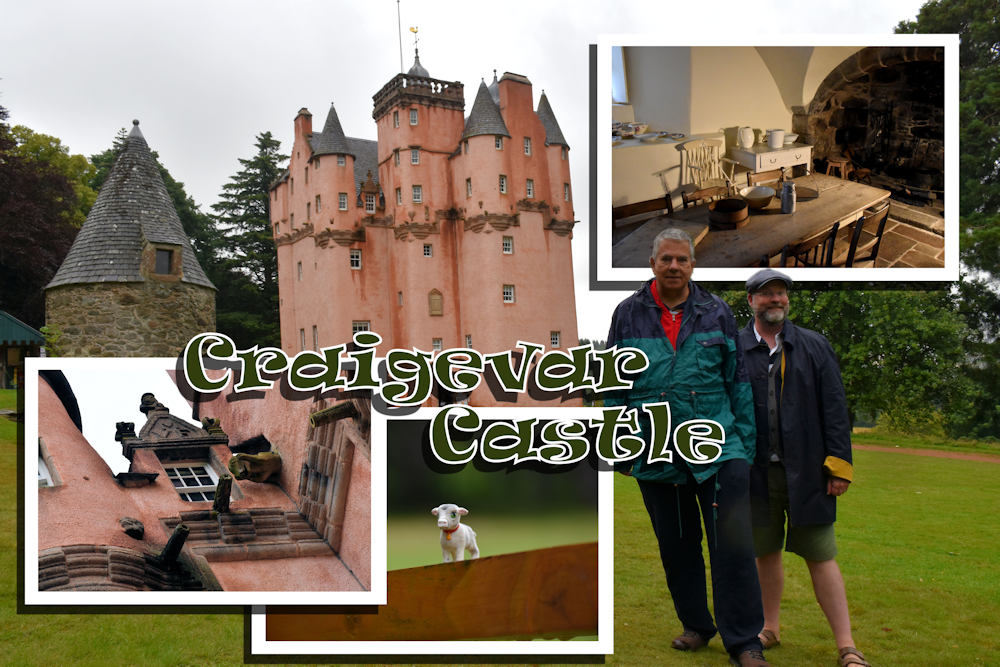 Tiny Cow loved visiting Craigevar Castle. The gargoyle bottom left is covering his ears because of the bagpiper above him.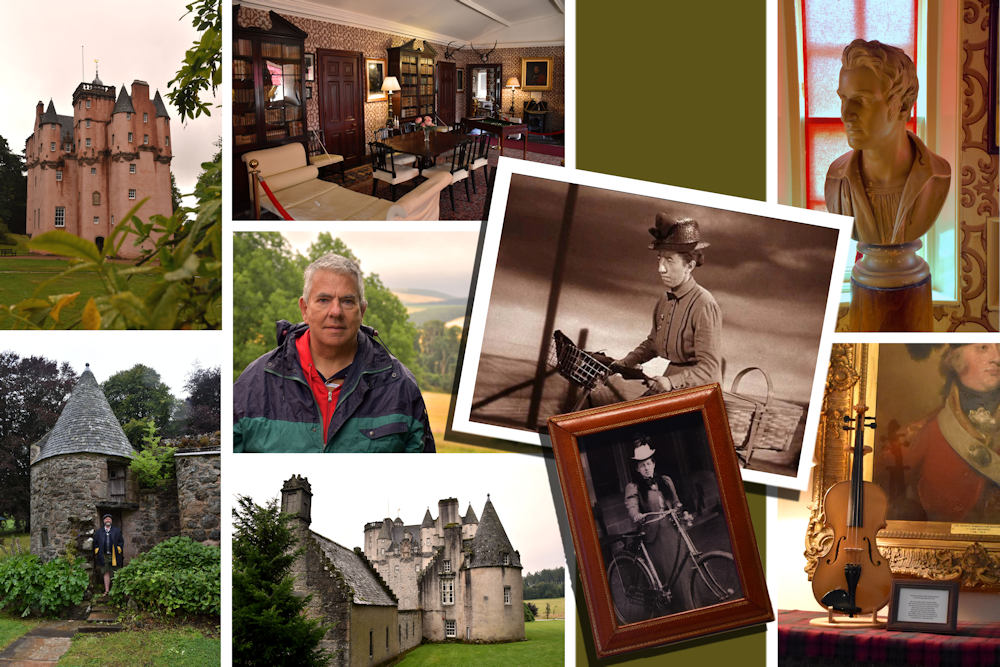 Castle Fraser seemed to be the ancestral home of Almira Gulch, also with a statue of Benedict Cumberbatch and a violin made out of wood from the estate.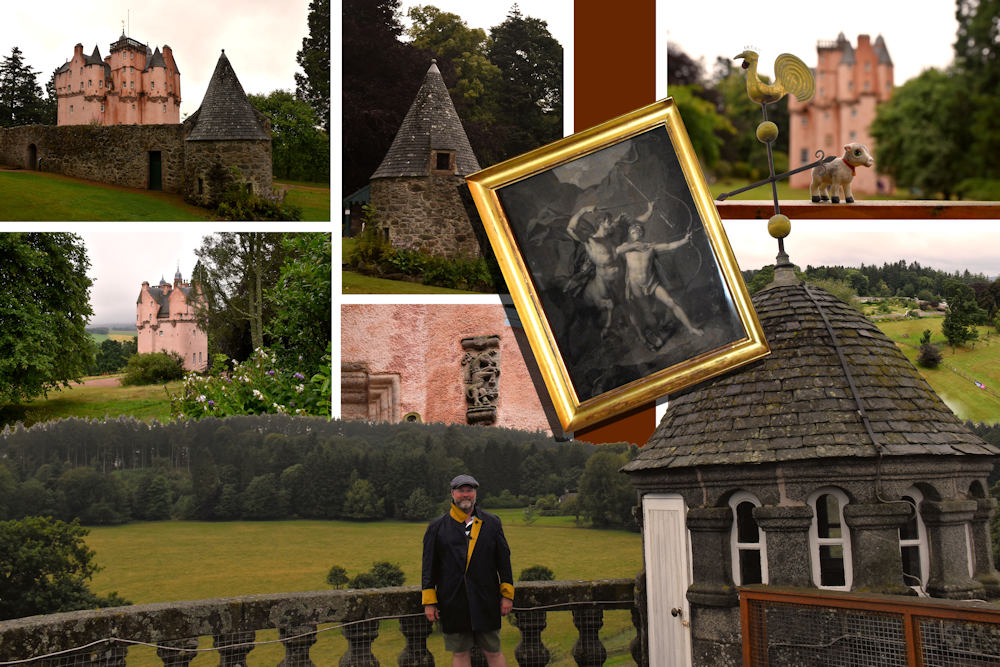 I've never seen Outlander, but it doesn't stop me from admiring its stars.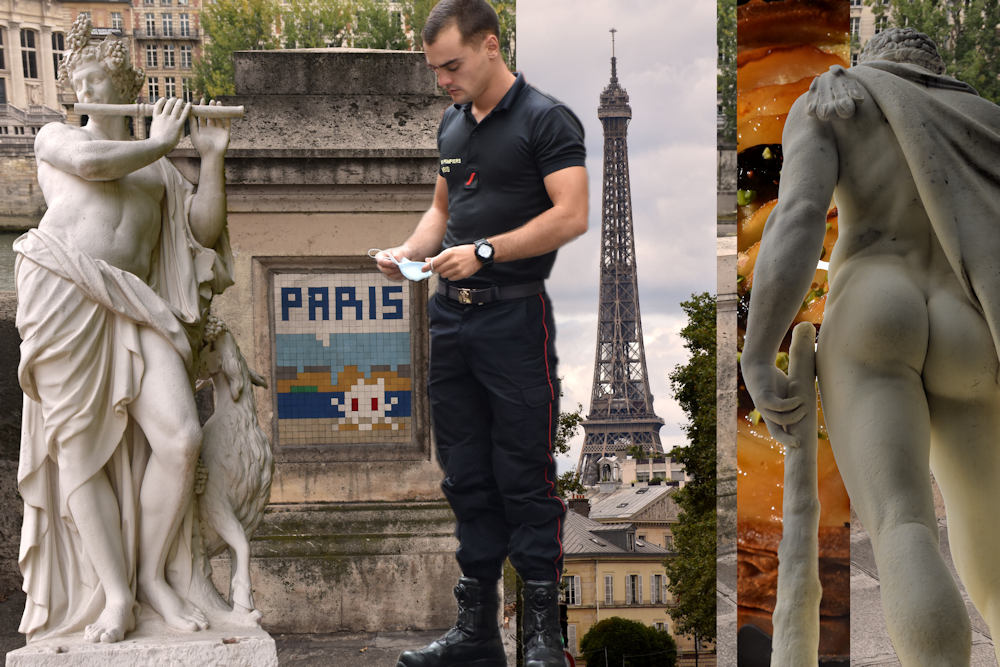 We never thought our planned trip to Paris would work out with all the travel restrictions, but, after wading through all the regulations and red tape, we found ourself back in our favourite city for an almost two week bread of Invader hunting and croissant testing. Click HERE to see our 2020 trip to Paris.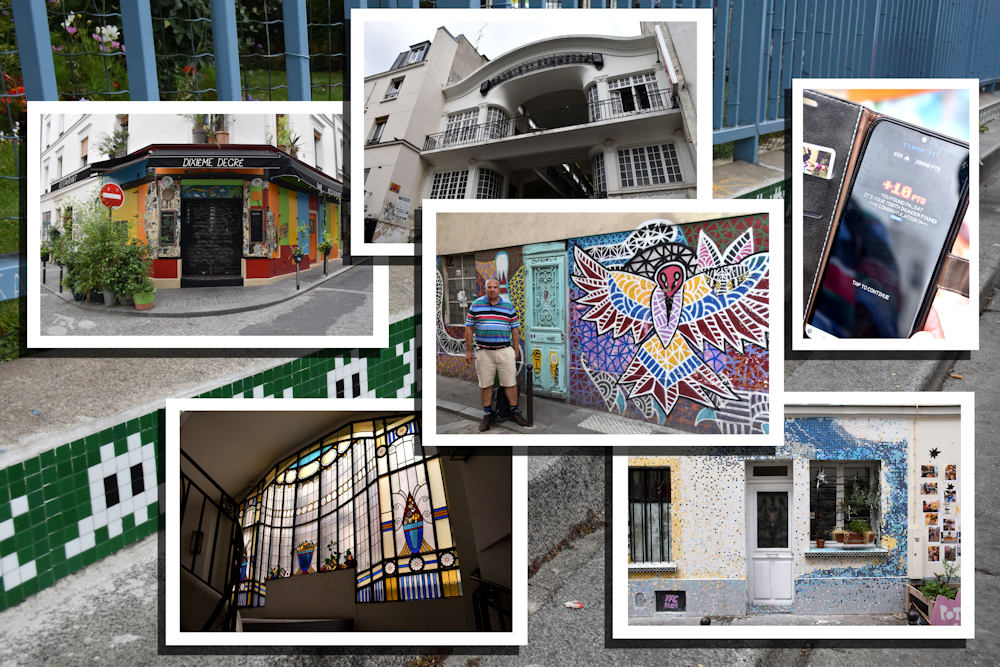 We stayed in the 10th arrondisement on the Rue Saint-Marthe. There were a couple of nice charities on our street: a place where people could get fresh fruits and vegetables for free and another place where homeless people were served hot meals at least twice a day. There were also quite a few Invaders nearby.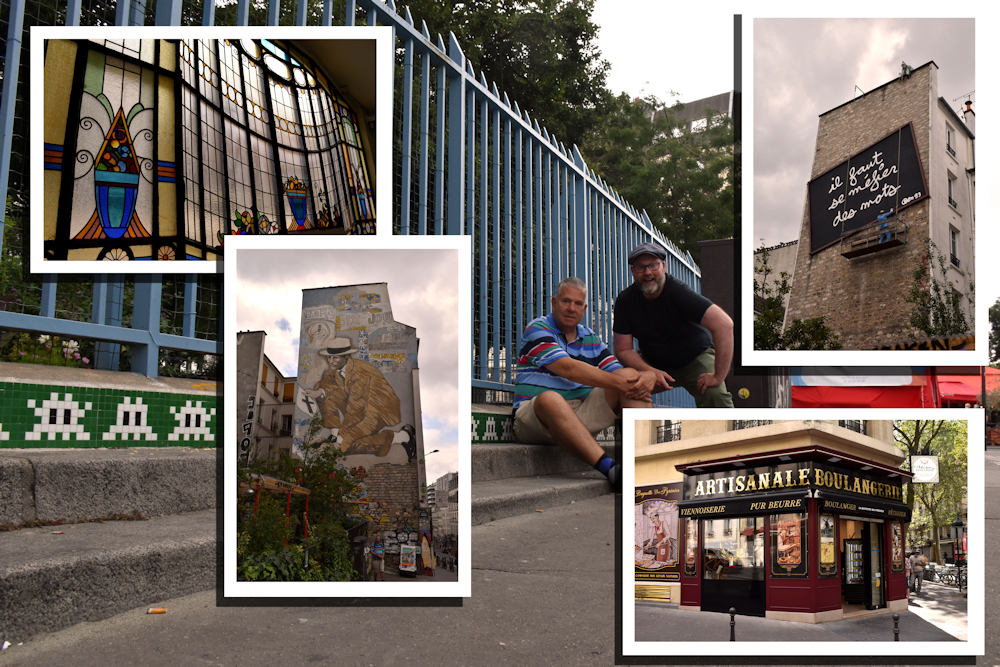 The longest of Invader's mosaics in the world, near the Belleville metro stop. In his book, the anonymous artist explains the scary process of installing it overnight.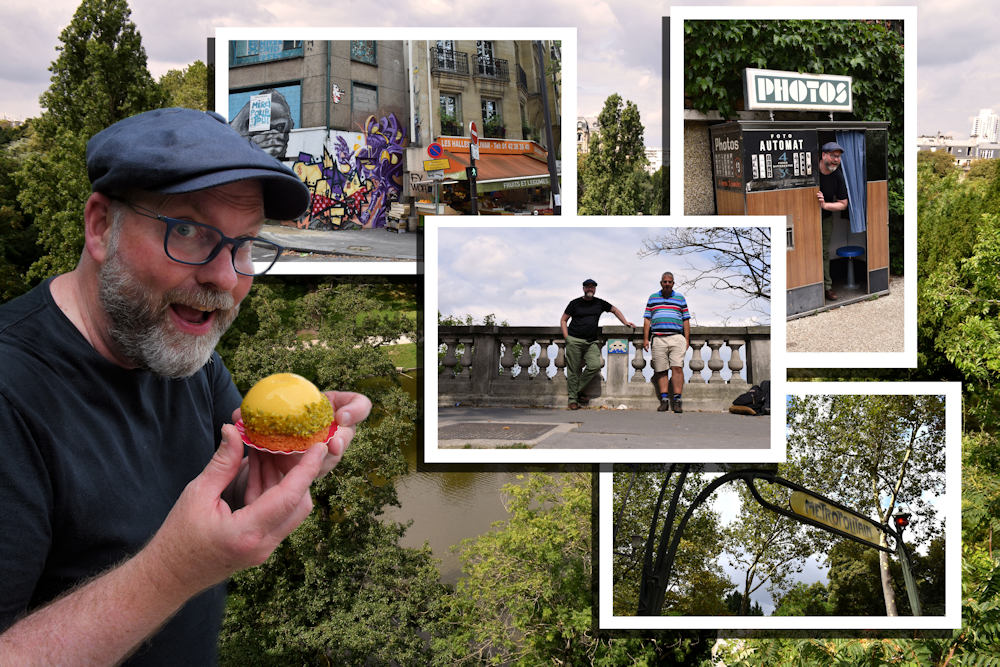 We had a picnic in the Parc des Buttes-Chaumont.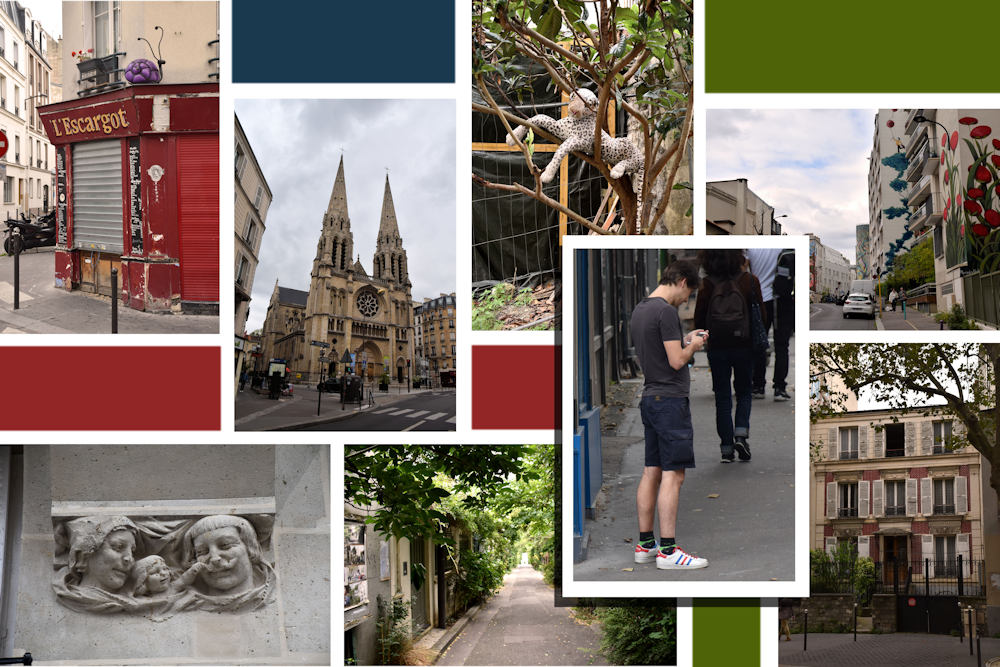 Our search for Invaders took us to lovely parts of Paris that we would never have found otherwise, including the leafy and artistic street Villa de L'Ermitage. The man in black was also flashing Invaders.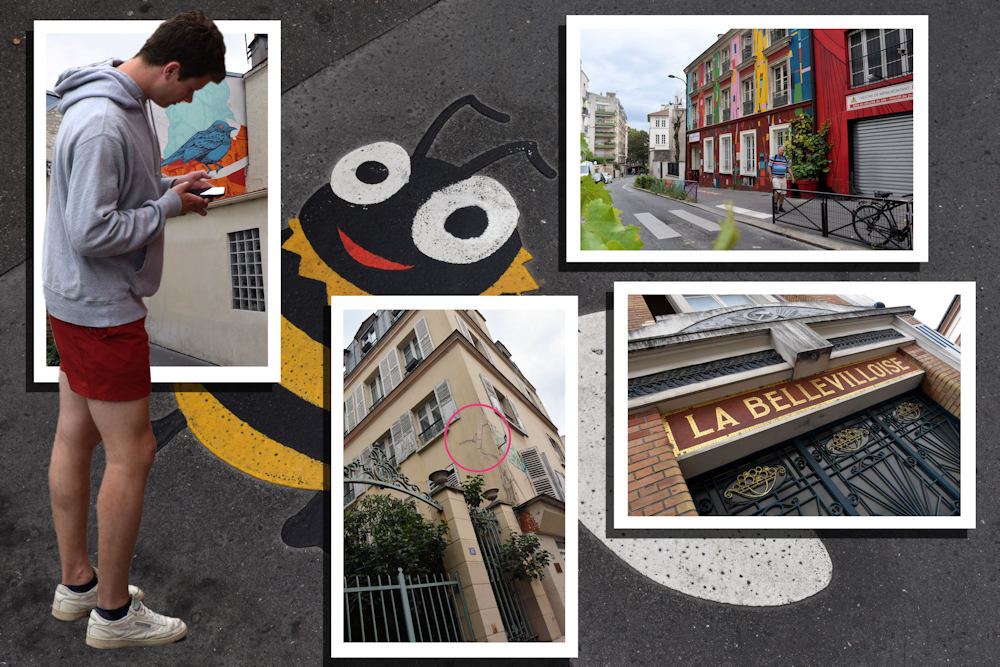 Street art, Art Nouveau, and tiny red shorts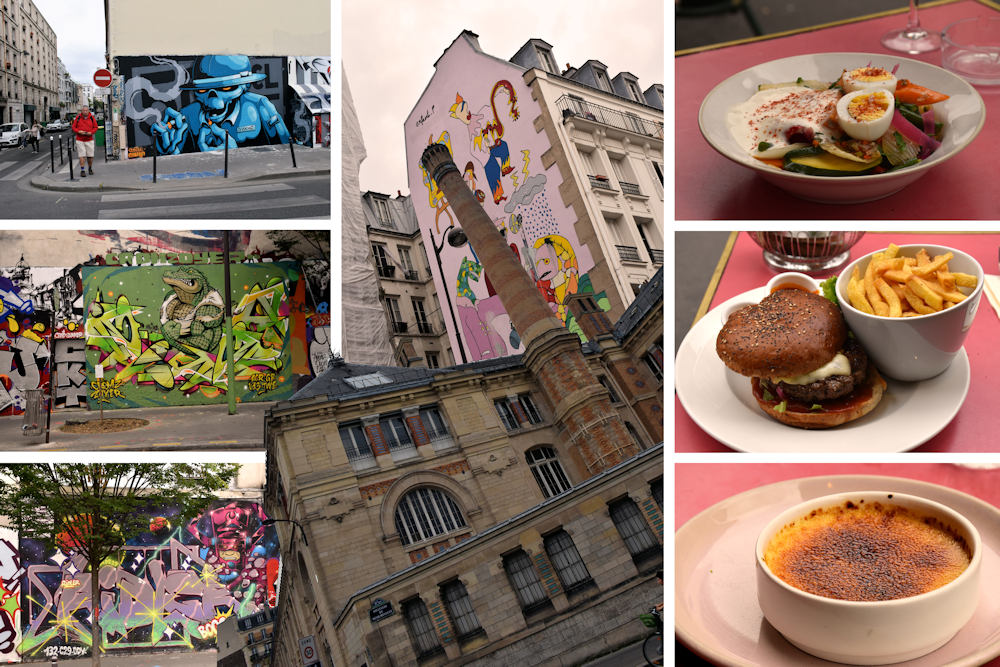 There was lots of street art in our area. The lunch was a nice way to rest our tired feet.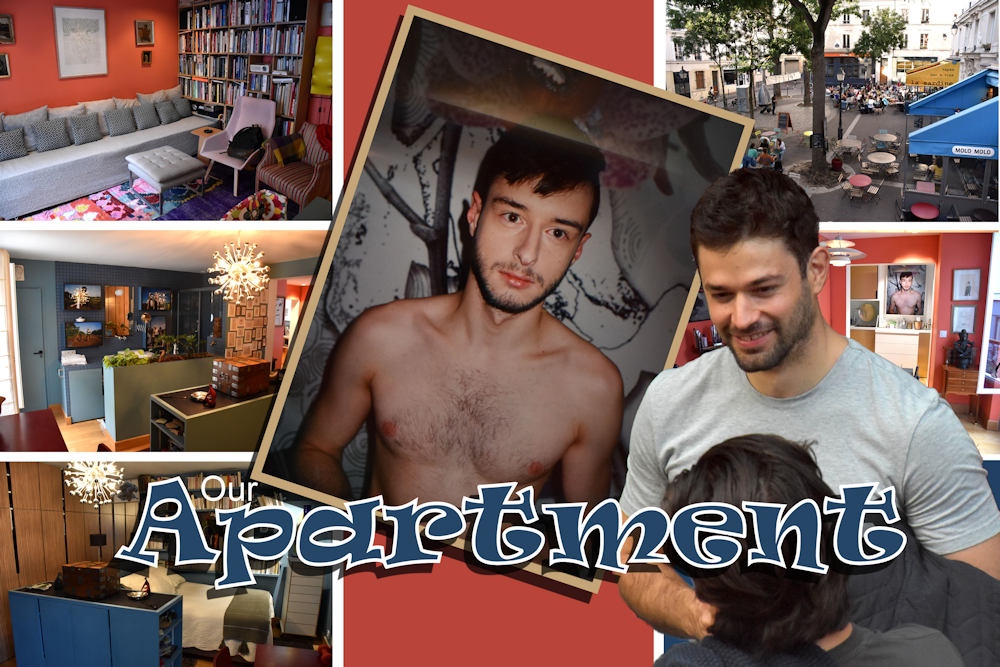 Obviously, our apartment was owned by a man with a beautiful sense of style and ingenious ways with storage. We enjoyed looking through his collection of art books and speculating who the shirtless man in the kitchen photograph was. We did have a mouse during the second week of our stay. The man in the grey shirt was one of many Boho visitors to the busy Molo Molo pizza restaurant in the square below our window.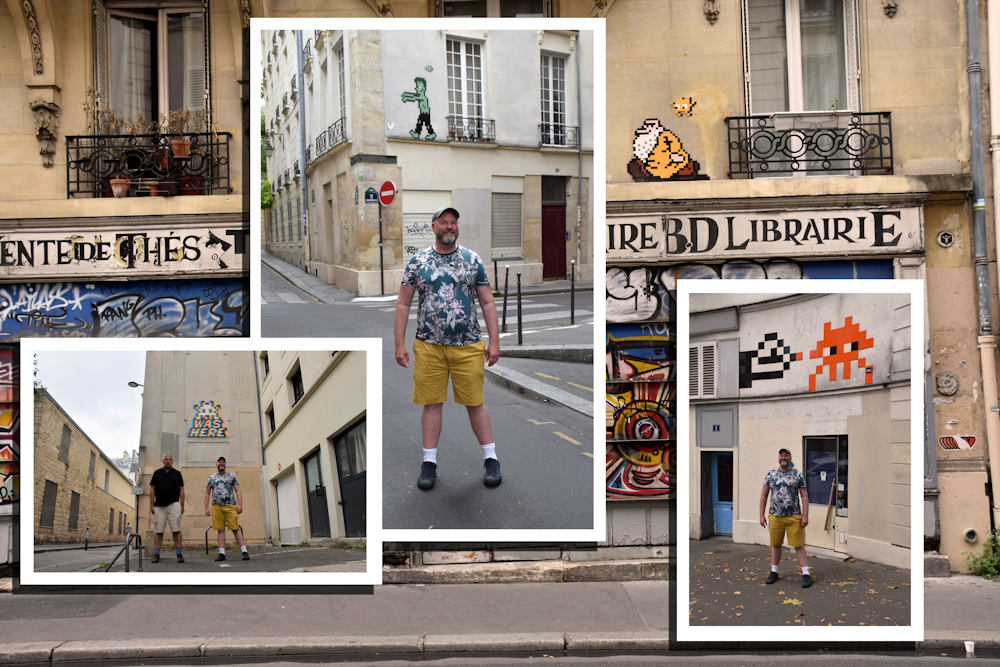 Some of the largest and most interesting Invaders seen on our trip. We'd seen Frankenstein's monster before but not yet flashed it.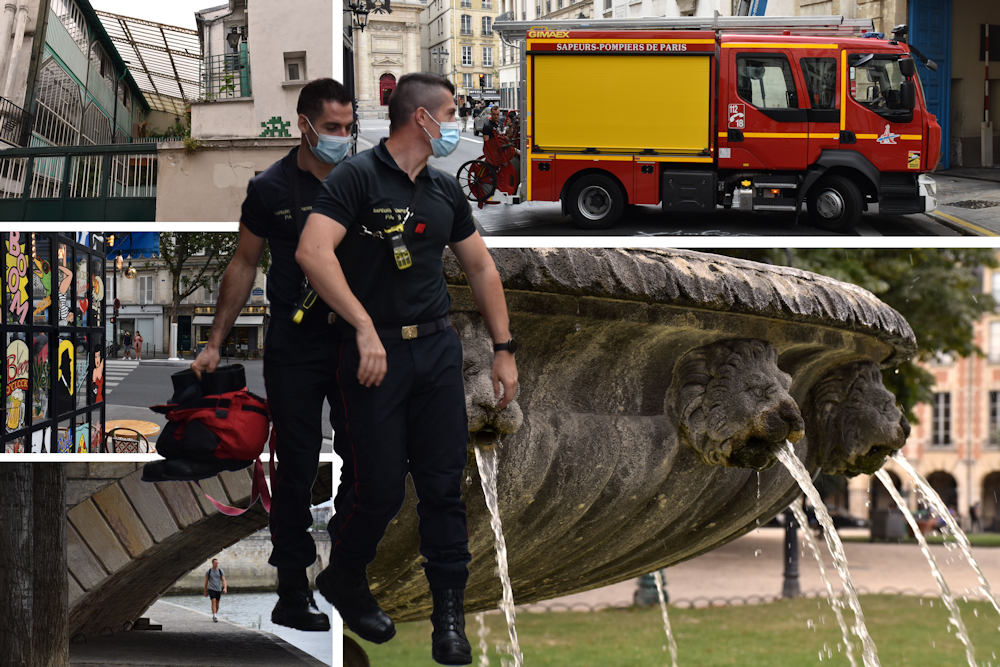 Every time we come to Paris, we see cute pompiers or firemen. This time was no exception, but this visit in 2018 has yet to be topped for homoeroticism.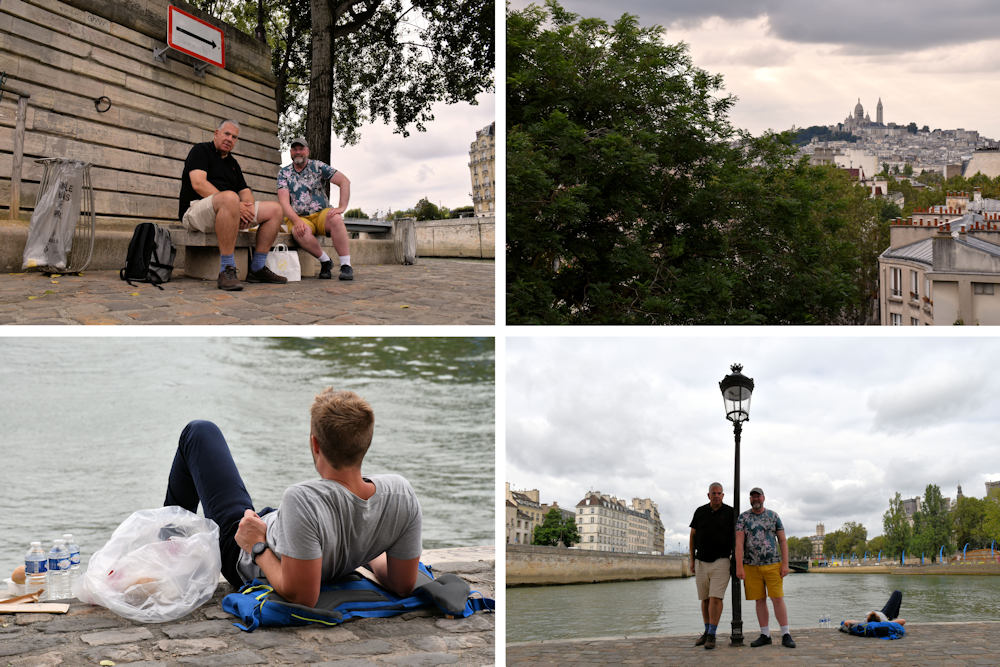 We had three picnics on our bench on the Île Saint-Louis, where we said our wedding vows in 2007.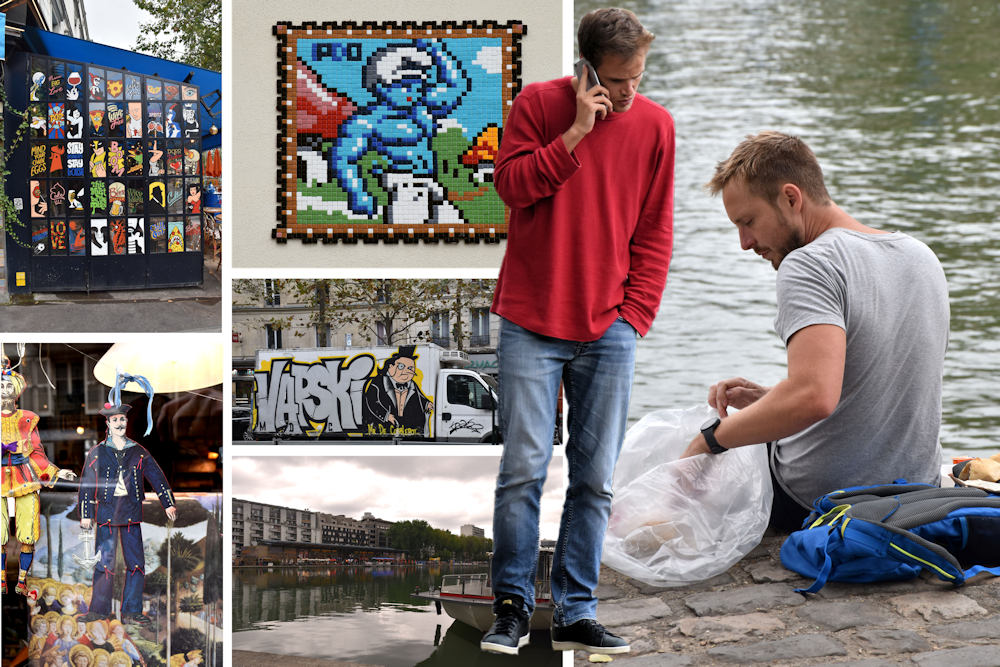 We shared our picnic spot with the man in the grey shirt. Other photos from the Canal Saint-Martin area.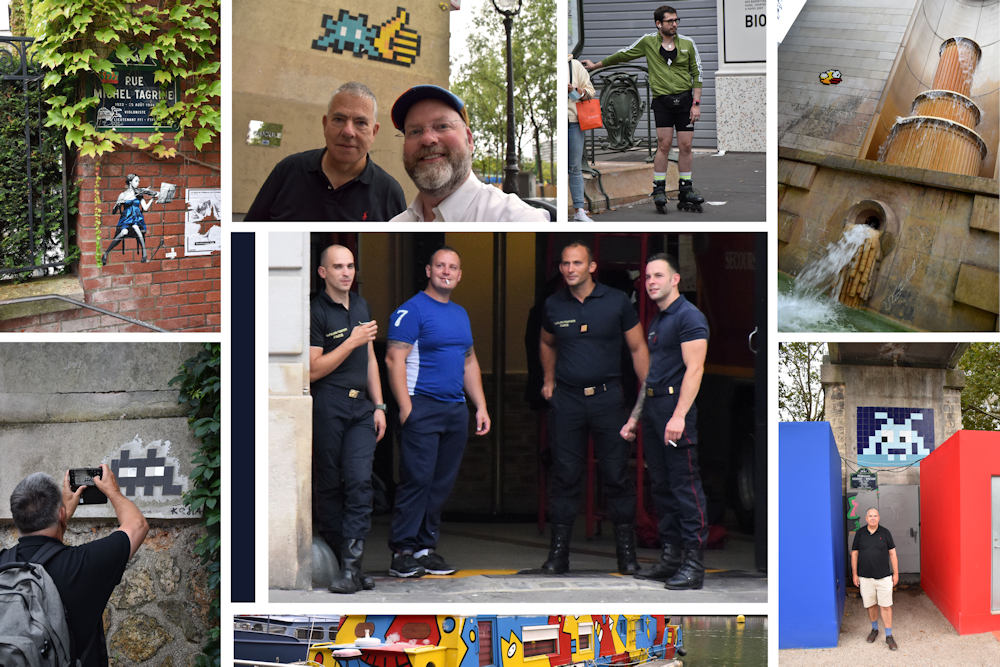 More Invader hunting, which took us back to the location of 2018's homoerotic fire station. The black Invader will probably be gone next time, as the building was about to be re-modelled. The Invader bird was removed last time and probably will be again, as it's been put on the fountain of the Jacques Ibert Municipal Conservatory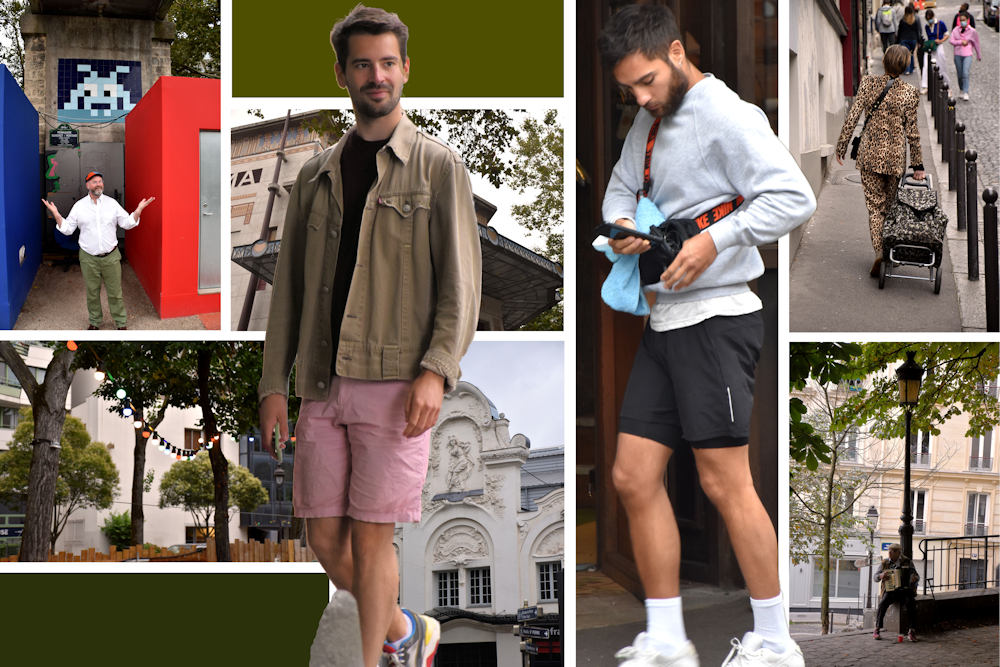 The two photos on the left were the last ones taken from my camera before we got mugged, an experience that altered the rest of our trip. We got pepper sprayed, I was pushed into the road and my glasses were smashed, but I held onto my camera with one finger while Nick hit and shouted at the attacker. There were lots of kind passers-by who stopped to help. I was shaken and bruised afterwards but am on the mend and new glasses are on order. The next day, we choose to do something comforting and restful, so we went to Montmartre, one of our favourite places.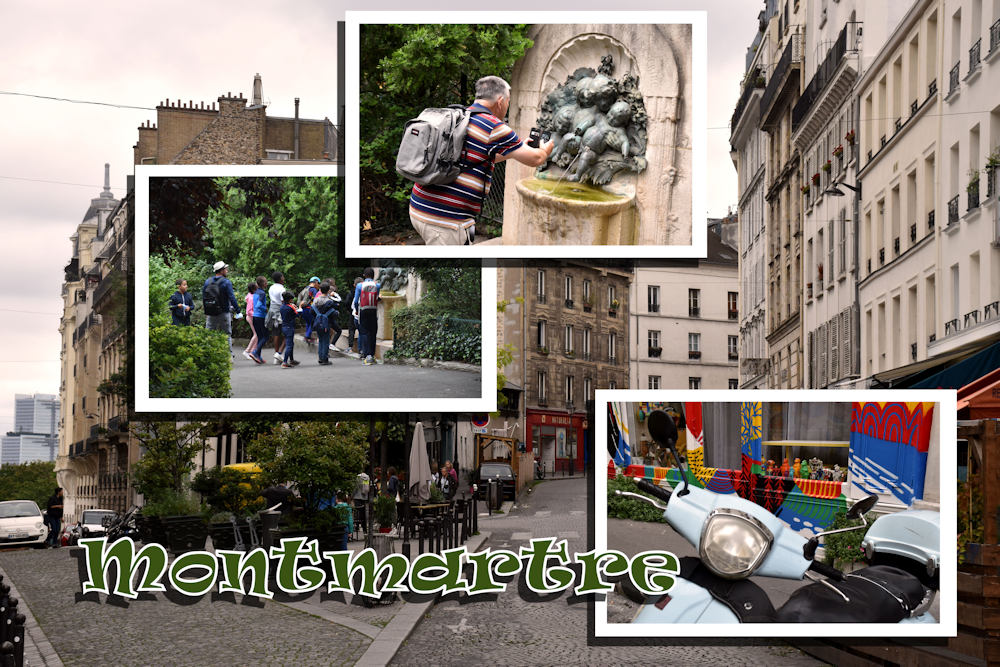 Although we'd been to Montmartre scores of times, we'd never seen this graphically funny fountain. As soon as we left, a group of school children rounded the corner and made lots of "Ewww!" sounds before posing for selfies. I liked the Sesame Street characters in the window behind the Vespa.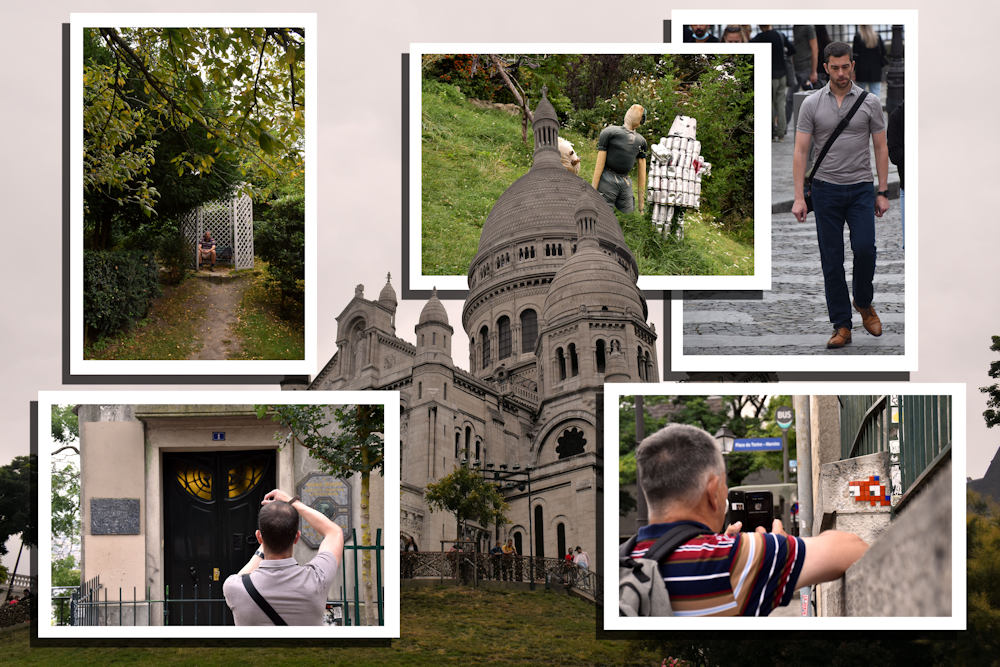 Artist Suzanne Valedon painted her husband sitting in this gazebo in the garden of what is now the Musée de Montmartre. We saw scarecrows near Sacré-Cœur, and Nick finally managed to flash the elusive fragmented Invader.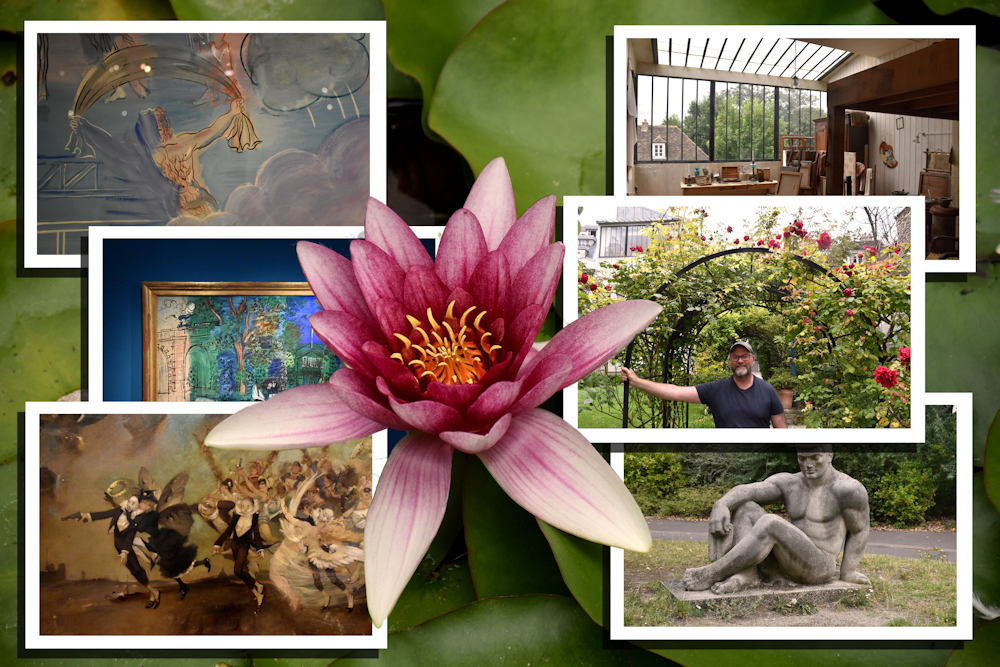 We last visited the Musée de Montmartre with family and friends at Christmas in 2019. This time, there was an exhbition of by Raoul Dufy. I hadn't noticed before the painting of Pierrot about to shoot himself.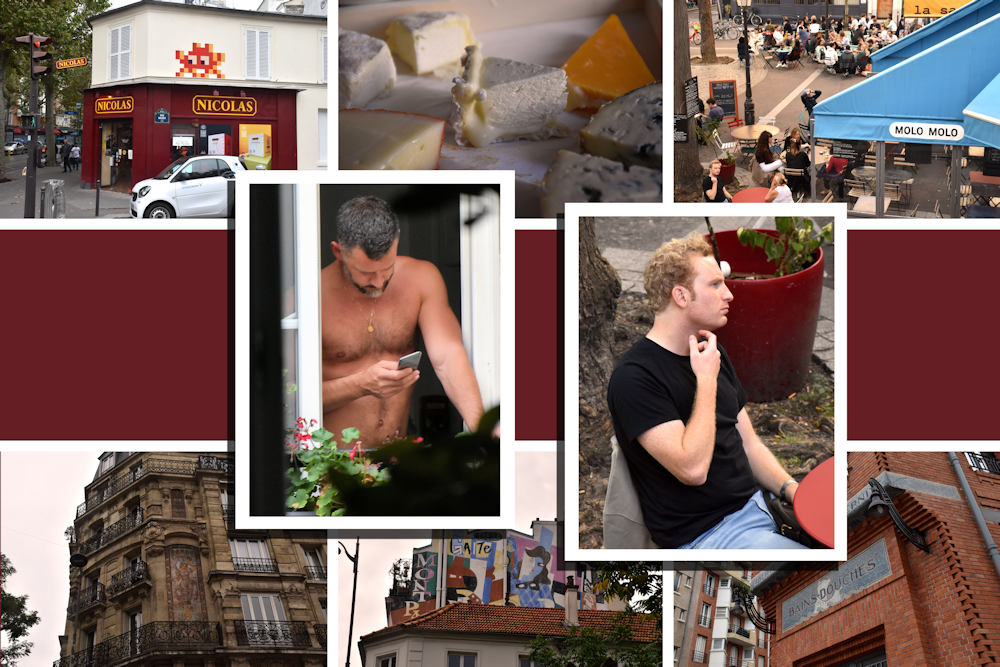 It seems that a factor of big city life is the neighbours who stand shirtless in their windows. We had the same thing in 2018 (Tea Towel Boy) and 2016 (Boxer Short Couple). Also shown was the best cheese, bought on the Rue Lepic.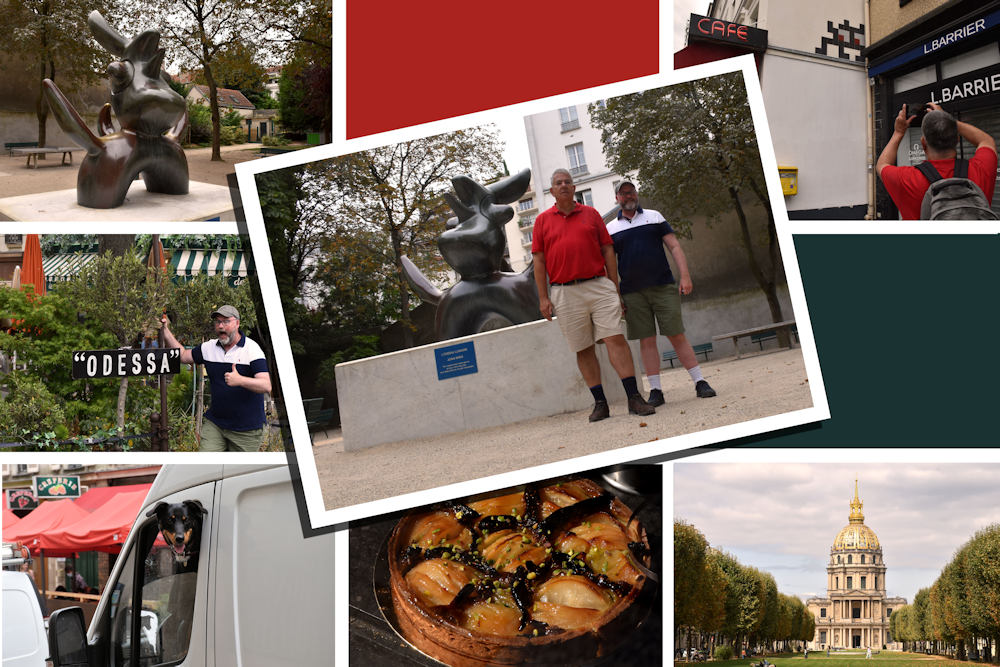 We happened upon a park with a bronze sculpture by Joan Miró. After hunting for more Invaders, we rested on the grass near the Dôme des Invalides.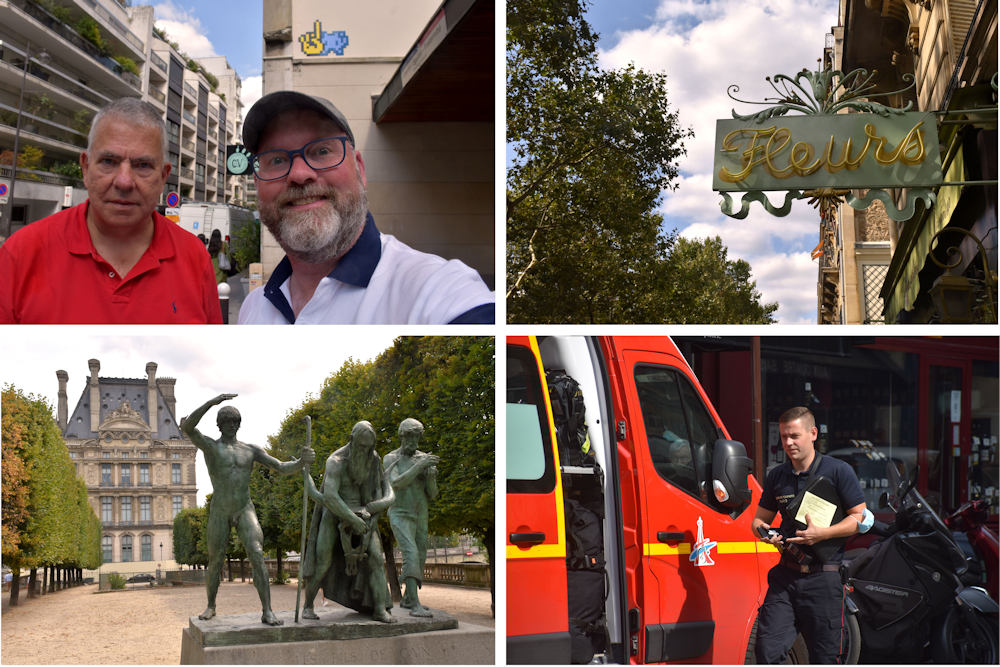 Our 800th Invader, statues of biblical figures wearing chaps, and another cute pompier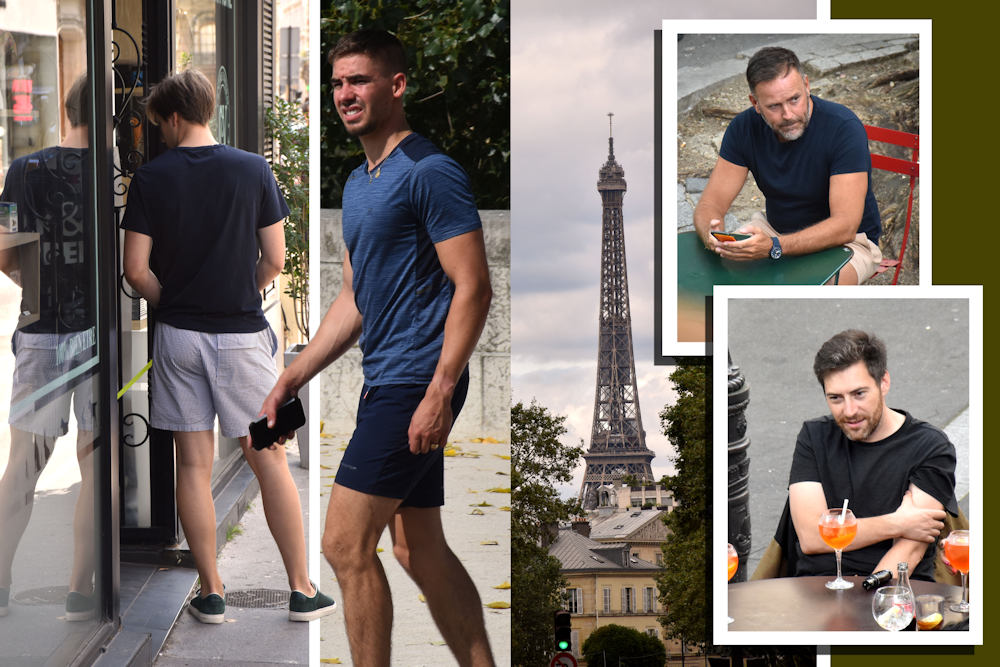 Some Parisian sights, including two at Molo Molo pizzeria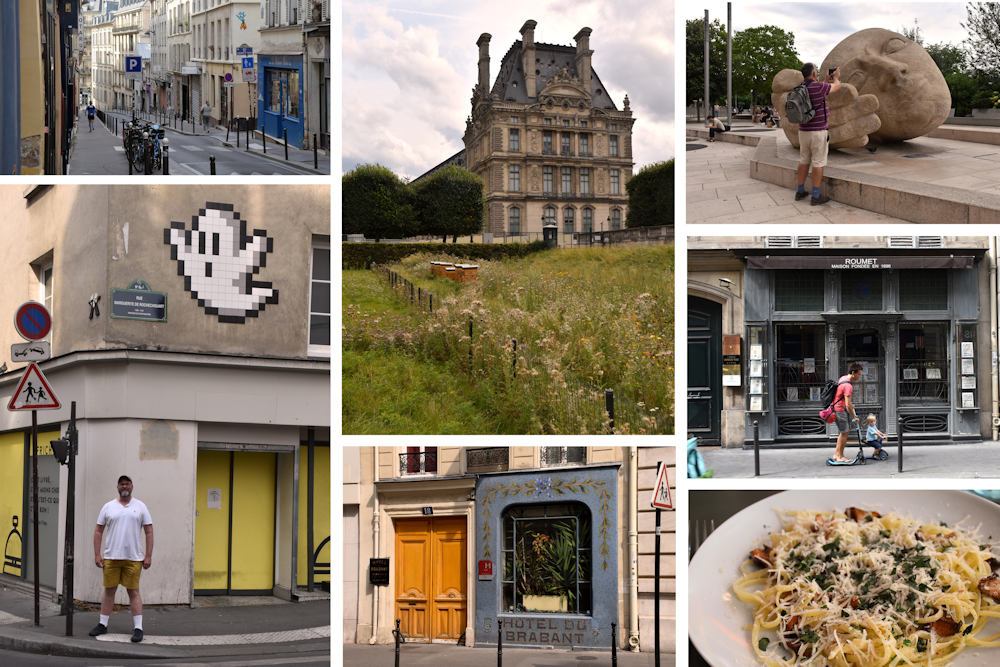 Invader hunting in the 18th led us to the Ghost, one of my favourites. We also saw beehives in the Tuileries Gardens. We bought some girolles and made pasta with them.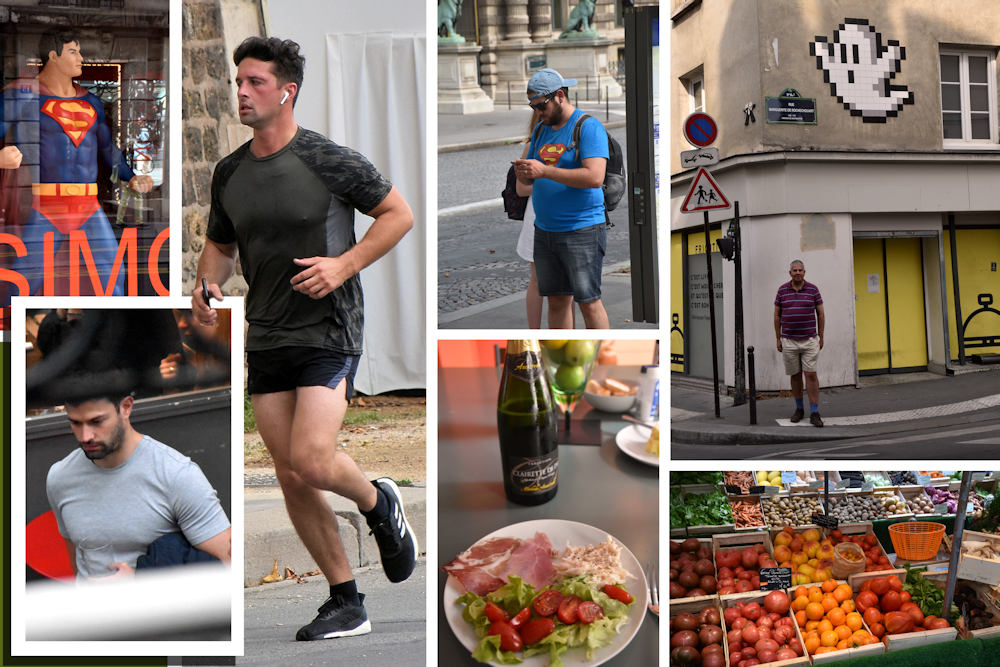 We saw Wonder Woman in the same shop window at Christmas last year. We saw another Superman for our collection.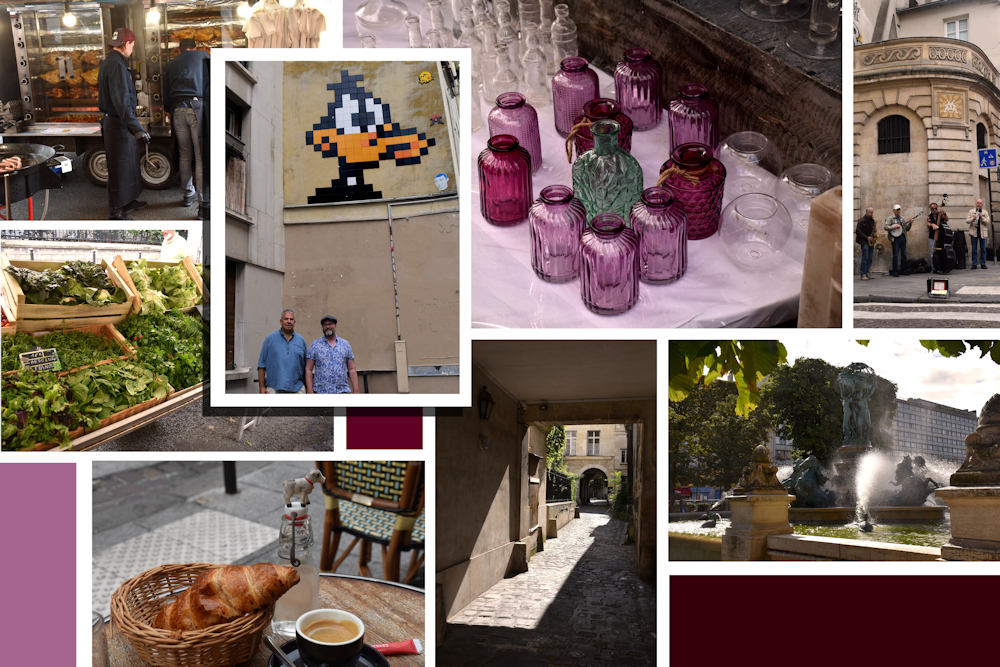 On Sunday, we returned to the Raspail market and bought half a roast chicken, which we ate on our bench. We stopped for coffee near the Rue Mouffetard, one of the oldest and liveliest streets in Paris. We heard this band playing music familiar from Woody Allen films. At first, we thought it was recorded. We sat and listned to them in the light rain.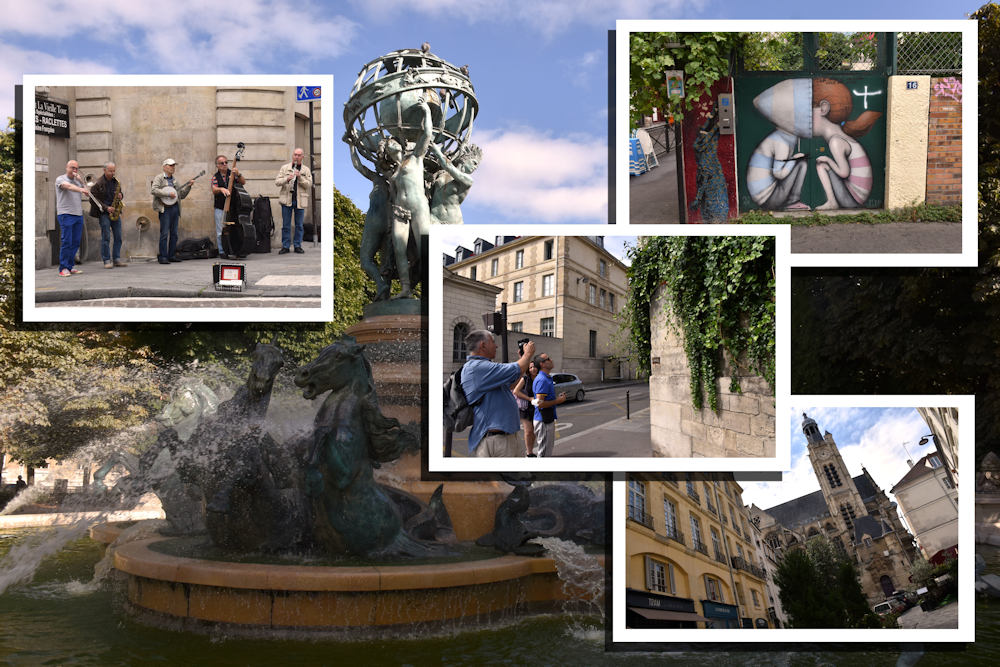 The street art was featured on mugs for sale on the Rue Mouffetard. Near the Panthéon, we found an Invader hidden under ivy that we couldn't flash. A couple showed up and tried to help, but they couldn't flash it either.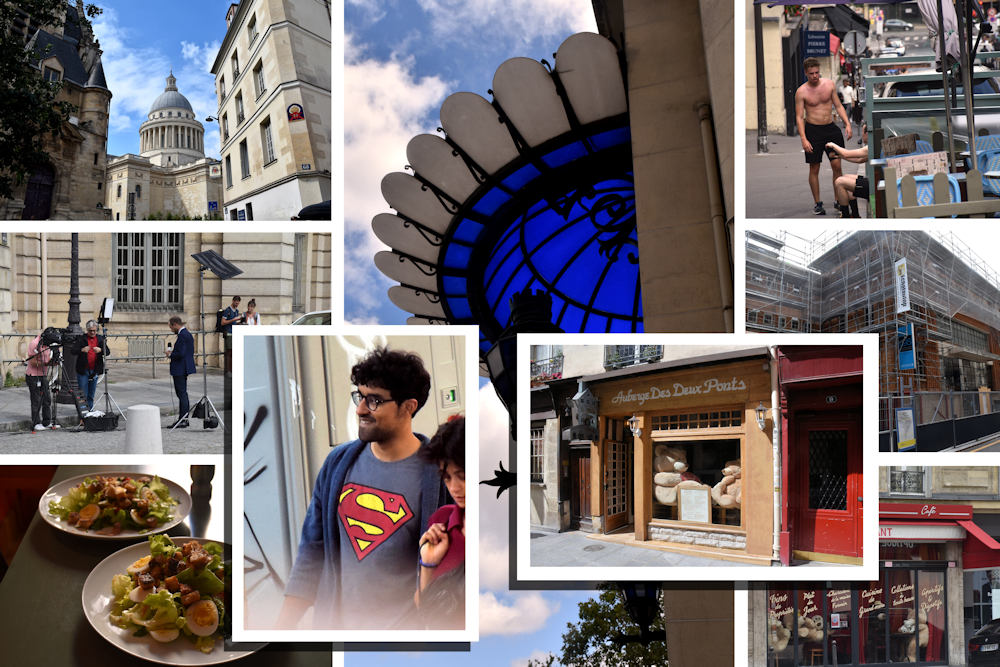 A television crew near the Panthéon, shirtless men on the street, the Art Deco swimming pool (under restoration until 2022) with an unflashed Invader inside, teddy bears in a restaurant window, another Superman, and dinner at home.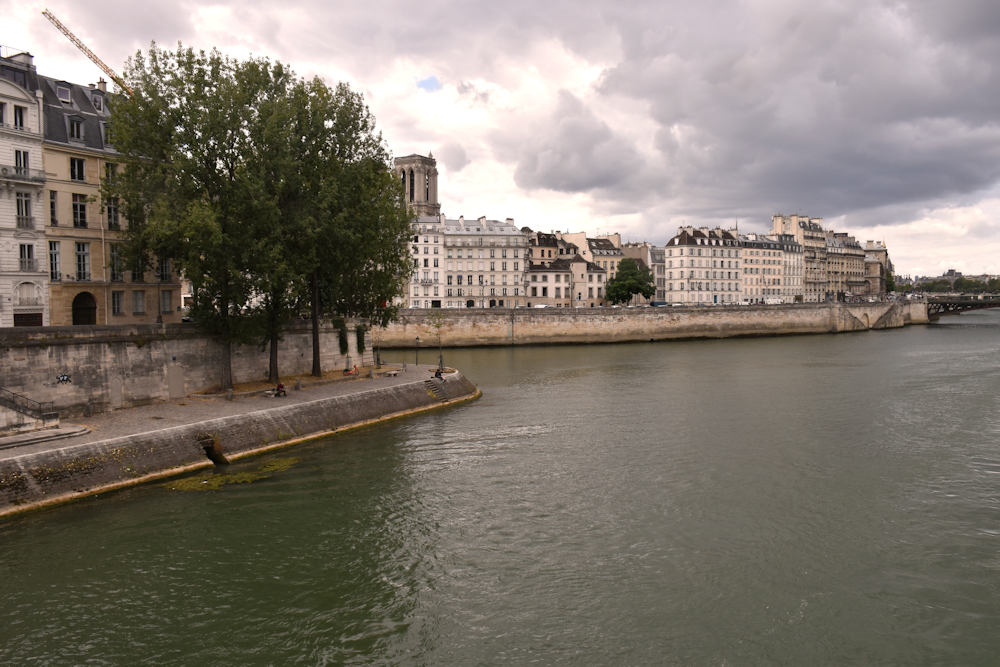 A beautiful view of the Île Saint-Louis, our bench, and the black Invader, with Notre Dame in the background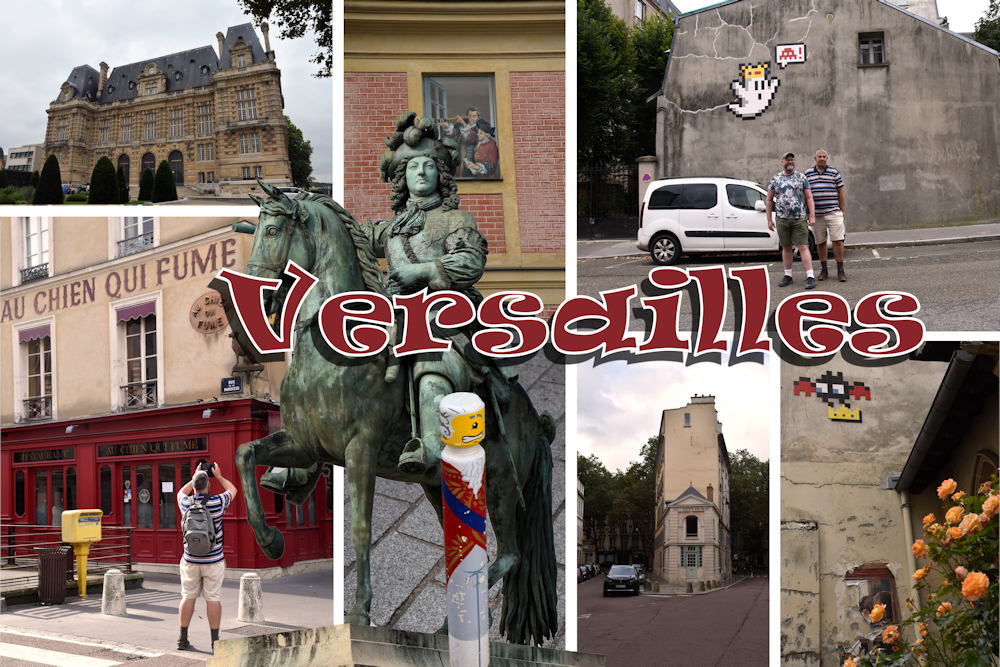 Monday, we took a day trip to Versailles to see the intricate, royal-themed Invaders there and walk around the palace gardens.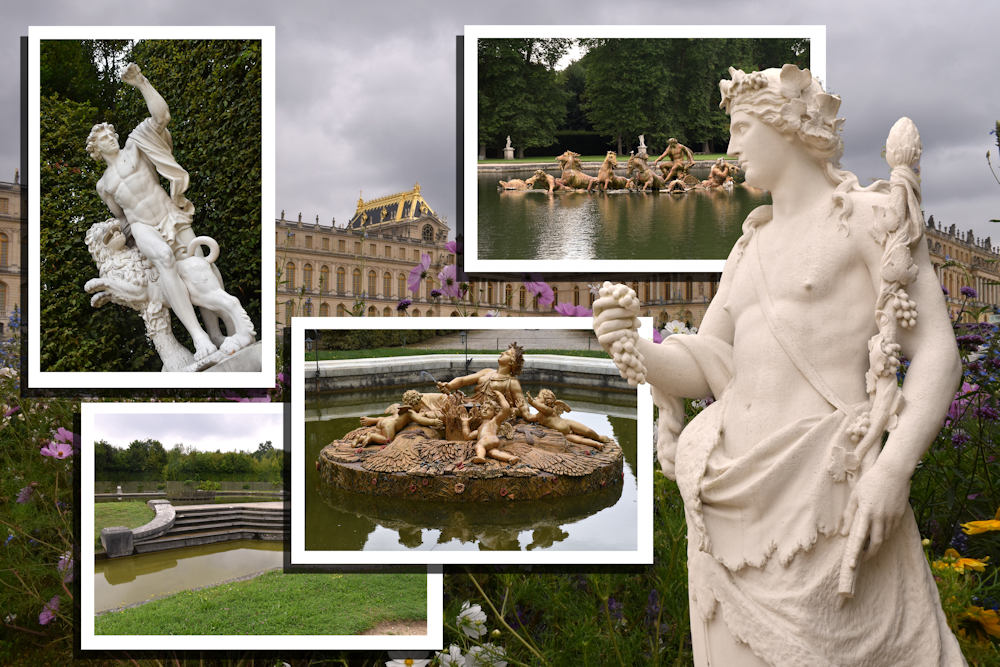 There were once Invaders hidden in the gardens, and we looked behind every statue, but they had all been removed. The fountains were pretty and the statues well-formed.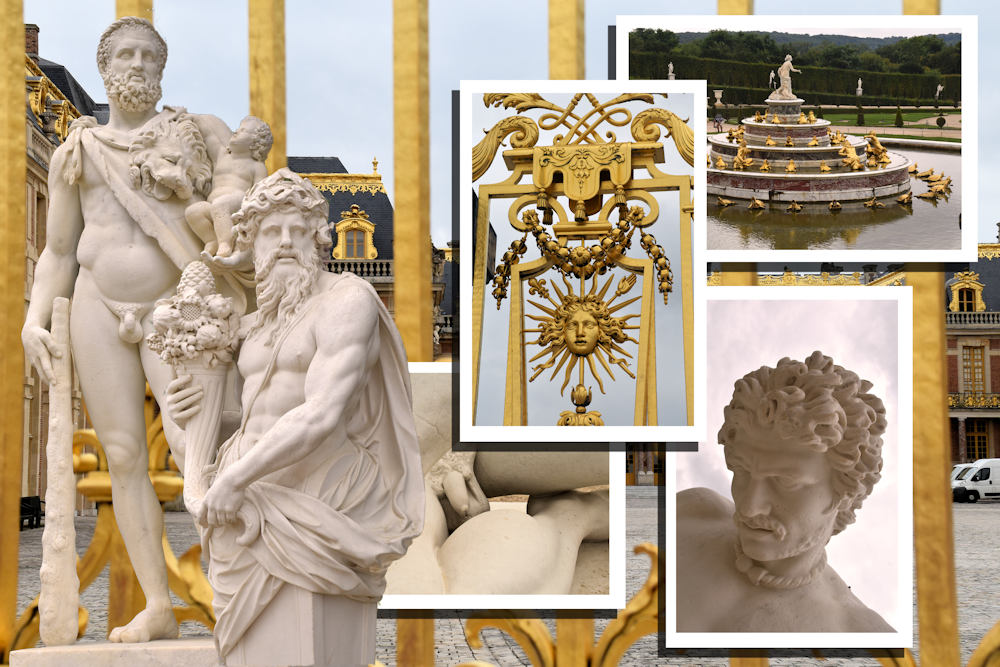 Marble nudity, including a very 1970s-looking mustachioed man.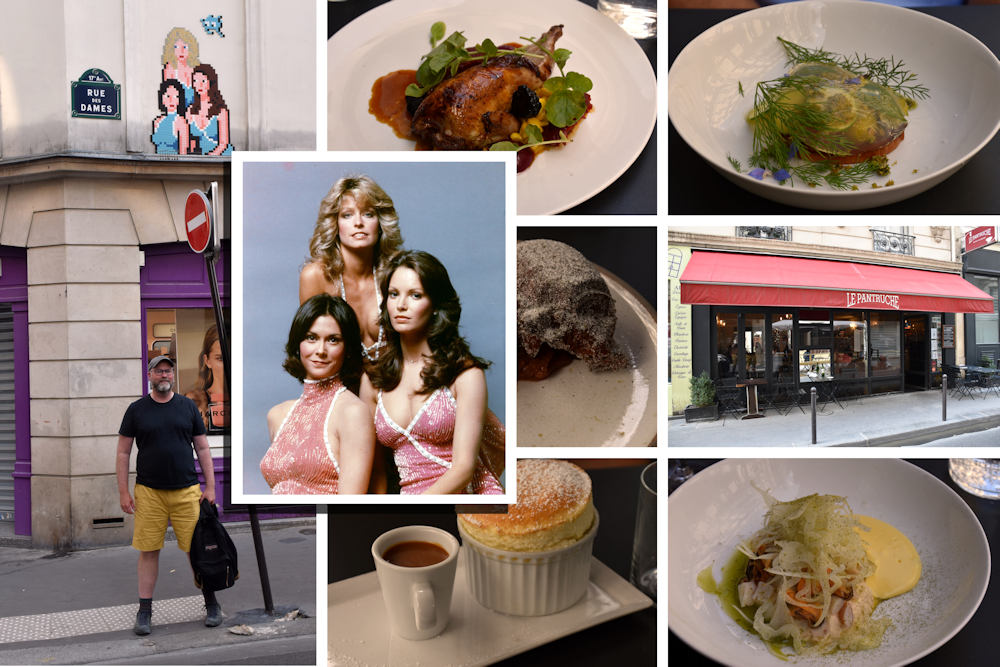 The third of my most sought-after Invaders, Charlie's Angels, and lunch at Le Pantruche with razor clams, quail, and Grand Marnier soufflé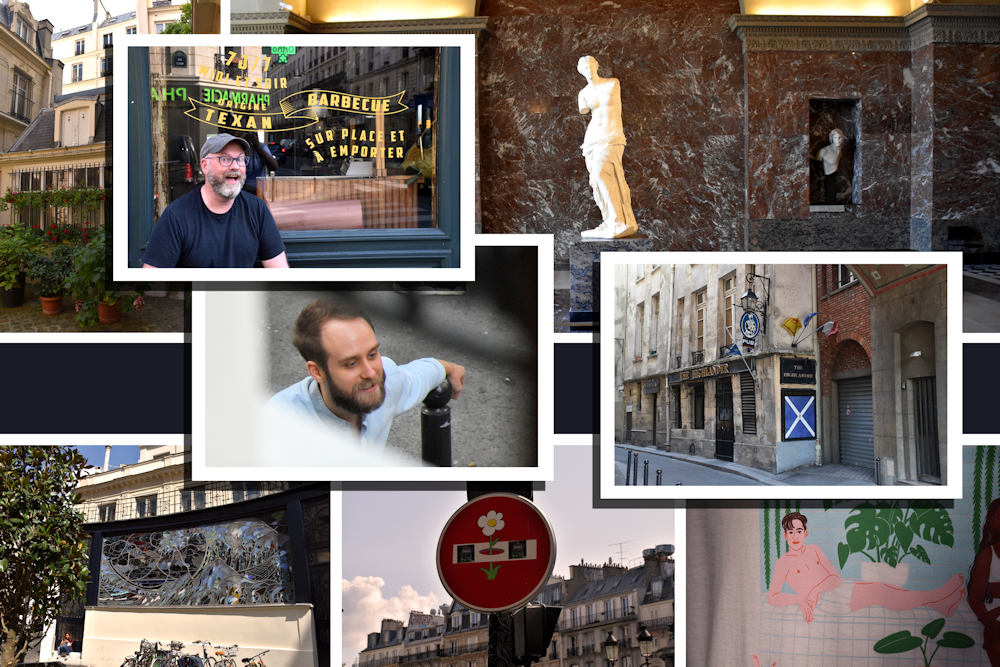 A Texas restaurant, a Scottish pub, some Clet street art, as seen in Florence, and the Venus de Milo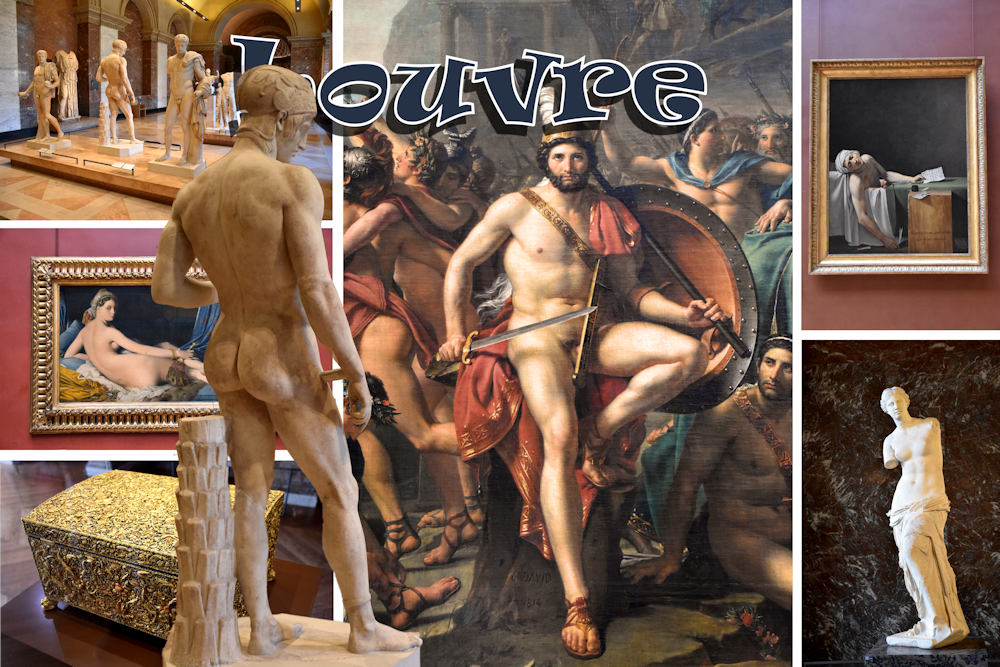 We went to the Louvre at 9:00 during the pandemic and found ourselves in front of masterpieces in empty rooms. A great time to visit!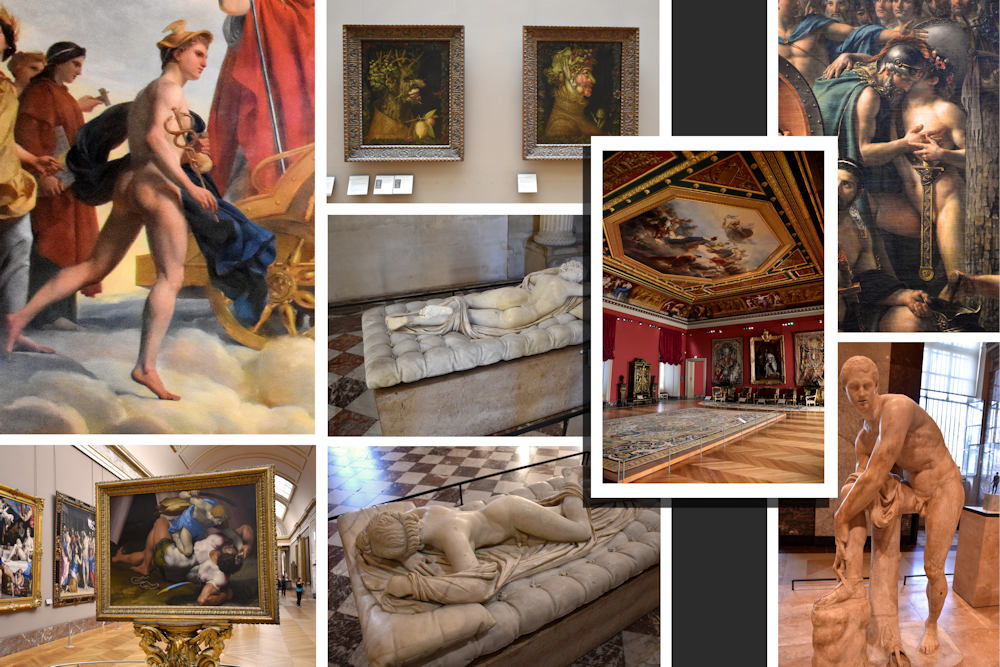 Some of the treasures of the Louvre, from throne rooms to Arcimboldo to Bernini's hermaphrodite cushion as seen in Rome.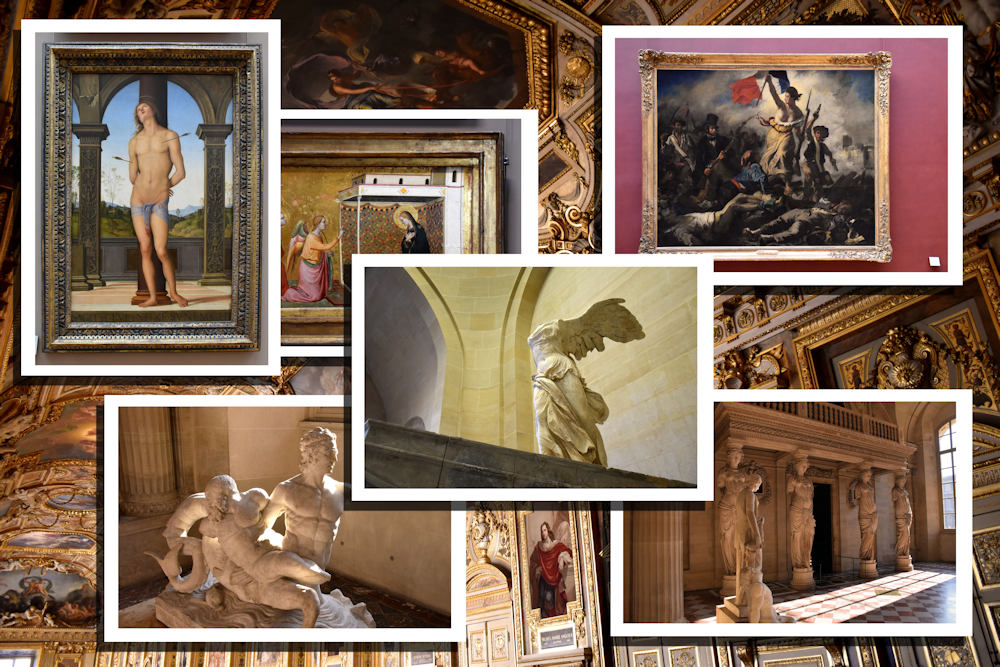 Saint-Sebastien, Fra Angelico, The Justice of Trajan by Delacroix, the Winged Victory and more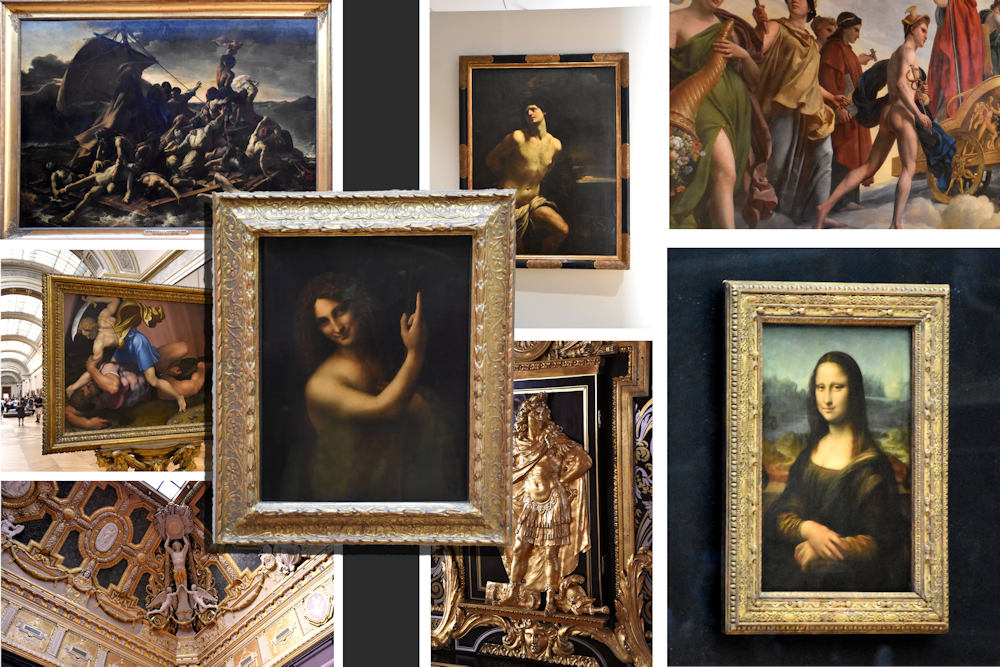 The Raft of the Medusa, and works by Leonardo da Vinci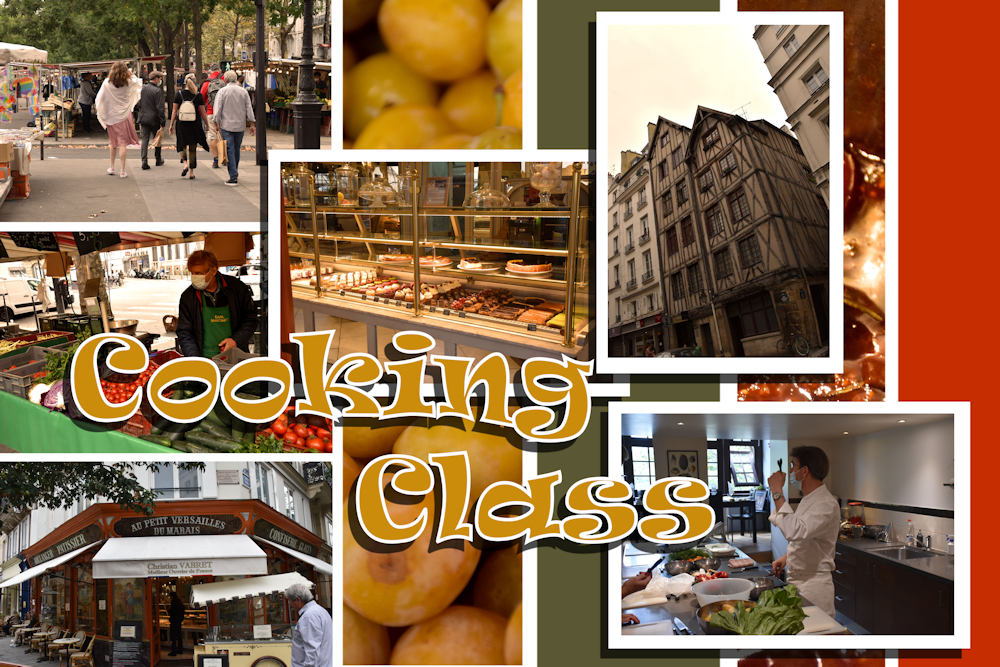 After our third bench picnic, we decided on a whim to book a cooking class with La Cuisine for our final day in Paris. I'm certainly glad we did! Chef Cyril took us to Bastille market, where we bought squid, duck, vegetables, figs, mirabelles, and cheese. We walked back, past a wonderful MOF (Meilleurs Ouvriers de France) bakery, which we will explore on our next visit.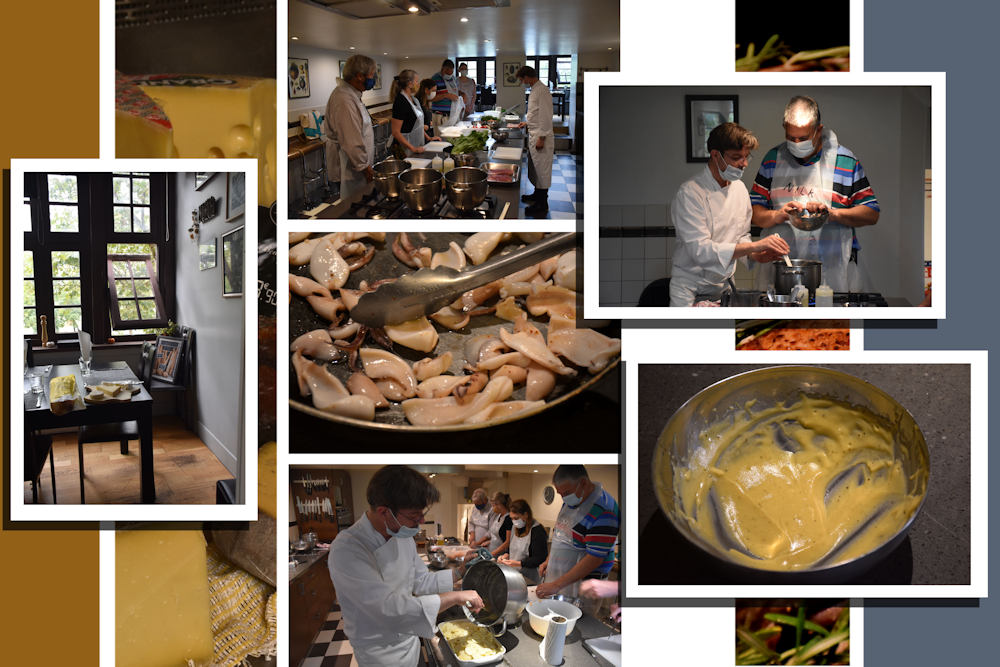 We learned how to perfectly cook duck breasts, make dauphinois potatoes and emulsify thick vinaigrette.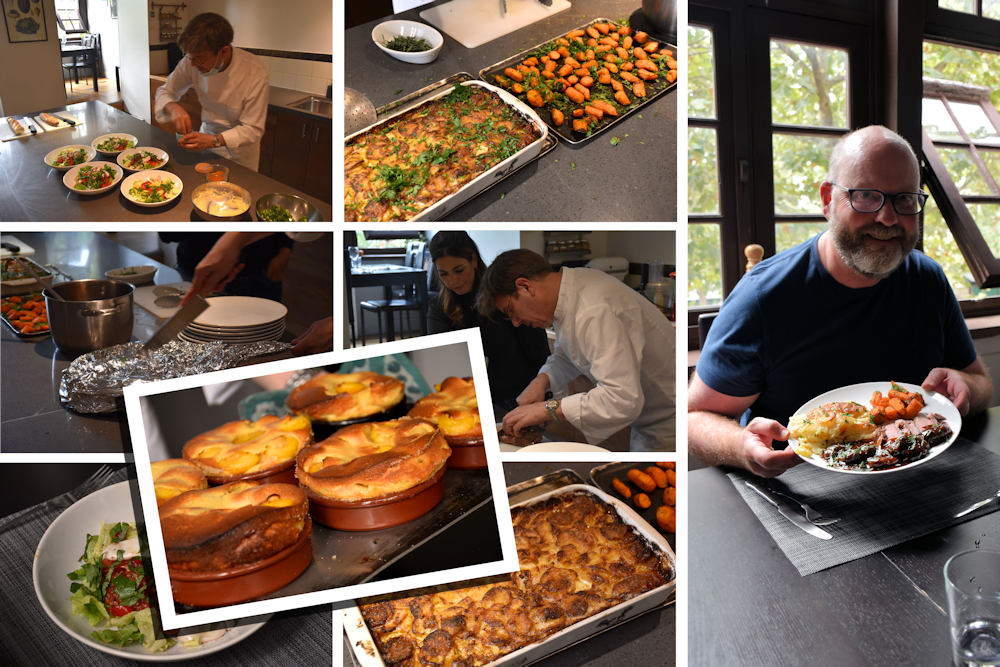 The finished dishes, including mirabelle clafoutis and roasted carrots